When you're thinking of gifts to give loved ones, we encourage you not to forget about those four-legged friends of yours—or their two-legged owners. For the most important dog lover on your list, here are 10 crochet dog blanket patterns you can make!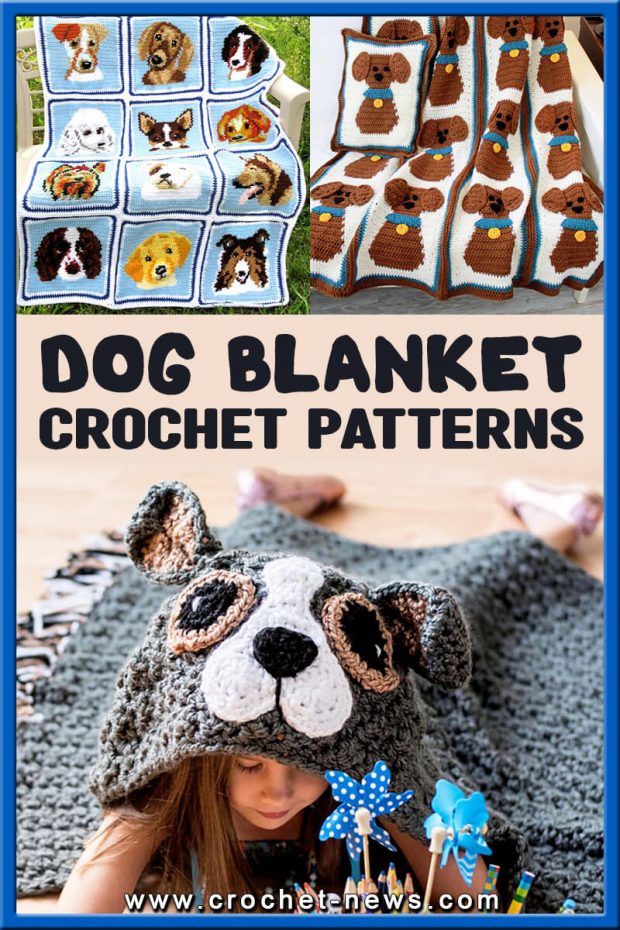 10 Dog Crochet Blanket Patterns
While many dog patterns center around things for the pooches themselves, what we have here are for humans but have a canine twist. These patterns aren't for the dogs to enjoy – they are for the people that love them!

1. Puppy Love Dog Blanket Crochet Pattern by Maggie's Crochet
Puppies are every where on this Puppy Love Blanket and Pillow Crochet Pattern. This cute crochet set is the perfect choice to decorate a boys room or for anyone that loves dogs.
The crochet dog blanket pattern is easy to make and features blocks of floppy ear puppies. The blocks are make separately so you make enough for a twin bed size or fewer for a lap-sized blanket.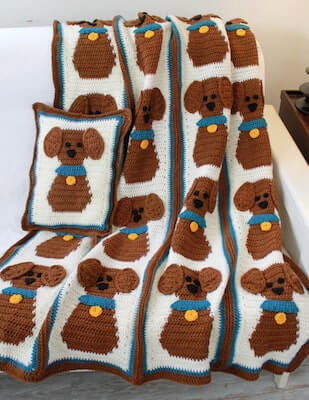 Get the Pattern by Maggie's Crochet here

2. Lovey Puppy Dog Blanket Crochet Pattern by Repeat Crafter Me
Puppies are known for being cute and cuddly, and this Puppy Dog Lovey is no different. Babies and toddlers will love nothing more than to curl up with this precious crochet baby blanket.
It combines sewing and crochet together, and the center is made of fleece fabric for extra warmth.

If you want to make this crochet pattern more feminine, think about using pink yarn instead of blue. It is sure to be something that they hold onto as an adorable keepsake for years to come.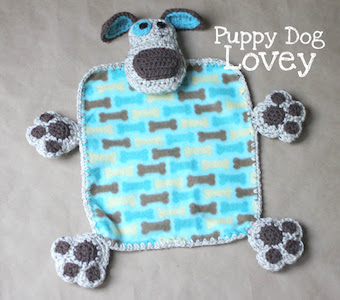 Get the Pattern here

3. Baby Dog Crochet Blanket Pattern by Owl B Hooked
This filet crochet baby blanket features a subtle, peek-a-boo puppy design with no need for several color changes or ends to weave in. Or add all the color your heart desires!

Simple, modern and unique, it makes for a special baby birthday gift. The size allows it to be used as a security or snuggle blanket through toddlerhood as well!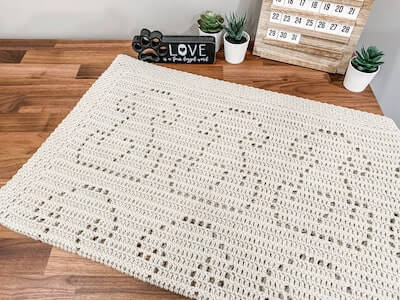 Get the Pattern by Owl B Hooked here

4. Crochet Dog Blanket Pattern by MJs Off The Hook Designs
Who can resist a cuddly cute dog blanket? Designed as a gorgeous hooded fringe throw – wrap yourself in the warmest puppy dog hug!

You will get all warm and fuzzy just looking at these little cuties! The best part is this blanket folds into a little pillow to display on your couch or bed.
For best results use the recommended yarn in these adorable colors!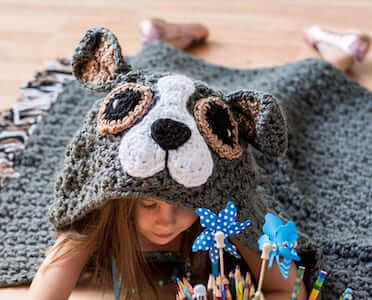 Get the Pattern by MJs Off The Hook Designs here

5. Paw Print Granny Square Crochet Dog Blanket Pattern by Crafty Kitty Crochet
This adorable and easy to make granny square is the perfect way to show your love for the pet(s) in your life! You can turn these granny squares into a blanket because it works up quickly and can be customized with all kinds of colors. What a great gift idea for any holiday or occasion!

The pet lover in your life will love the cute style of this little paw print square. It has the classic paw print motif, and the print could be either a dog's or a cat's – so it's great for both dog lovers and cat lovers!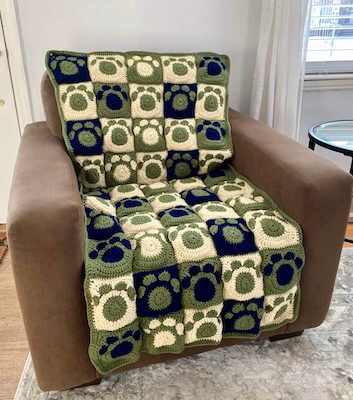 Get the Pattern here

6. Dachshund Dog Blanket Crochet Pattern by Hook Stitch Sew
For all Dachshund dog lovers out there, this blanket is for you! The pattern includes three sizes: 120cm x 75cm (4 dogs), 120cm x 110cm (6 dogs), and 120cm x 150cm (8 dogs).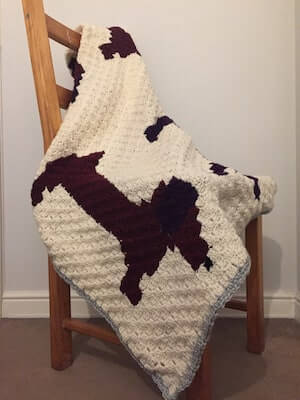 Get the Pattern by Hook Stitch Sew here

7. Crochet Puppy C2C Blanket Pattern by Repeat Crafter Me
So much cuteness in one blanket! Corner-to-Corner Crochet lets you turn almost any image into a pixel graph and then from a pixel graph, into a crocheted piece!

In this Puppy C2C Blanket, you will start with a 28×28 pixel square graph and used Corner-to-corner crochet with HDC stitches for a finished crochet piece of 18×18 inches.
The best part is you can continue to crocheting to make this blanket as big as you'd like!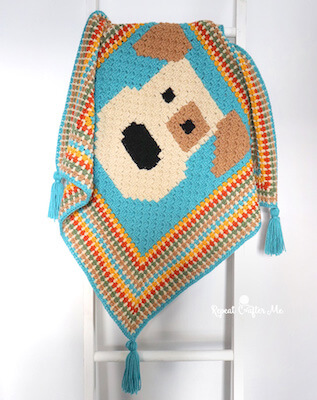 Get the Pattern here

8. Crochet Dog Blanket Pattern by Ink And Stitches Art
This blanket is designed to have a 20×60 pixel rectangle for the largest Great Dane pup, with seven 20×20 pixel small square dogs, and ten 20×40 pixel longer or taller pups.

This pattern is created in an attempt to use up stash yarn, but you can substitute colors or shades of colors should you find you don't have the exact one.
It makes for some wonderfully colorful blankets when we all get creative with our yarn choices and colors!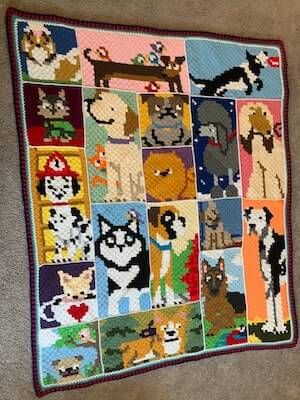 Get the Pattern by Ink And Stitches Art here

9. Draped In Dogs Afghan Crochet Pattern by Evelyn And Peter
Calling all dog lovers – this one's for you! This blanket is constructed using the corner 2 corner crochet method. The simple dog silhouettes are pleasing to the eye and perfect for beginners.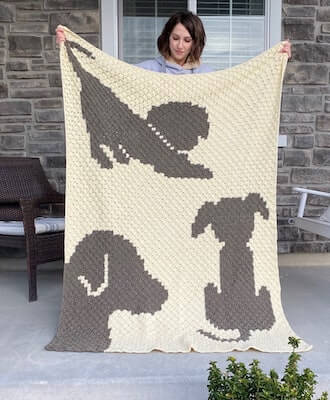 Get the Pattern by Evelyn And Peter here

10. Crochet Cuddly Canines Blanket Pattern by Craft Designs 4 You
A dozen adorable puppy faces adorn this beautiful crocheted afghan. If you are a passionate dog-lover, this is the best crochet pattern you are going to find out there if you want to express your love to the four-legged friends.
Get the Pattern by Craft Designs 4 You here
EVERY DOG- PERSON NEED A CROCHET DOG BLANKET. THOUGH WE HAVE A FEELING THE DOGS WILL LOVE A CROCHETED BLANKET OF THEIR OWN, AS WELL!
Inspire others by sharing your works on our Facebook Page. We'd love to know what everyone's making! The fun doesn't stop there either! Along with these gifts for dog moms, we also have some excellent dog gifts for the pups themselves.
Check out these crochet paw print patterns, crochet dog patterns, crochet dog sweaters, and crochet dog hat patterns. And if you're more of a cat person, don't fret–we have here crochet cat patterns for you, too.
For animal-themed blanket, check out these sea turtle crochet blankets, crochet cat blankets, crochet deer blankets, crochet cow blankets and crochet shark blankets.

What are you waiting for? Make those dog-obsessed friend a crochet dog blanket to love today!