Cat lovers rejoice! You'll love making these crochet cat blanket patterns almost as much as you love cats. Almost! Whether you have a friend who loves cats (or you love cats yourself!), these homemade blankets are sure to make a cat obsessed person in your life purrfectly happy!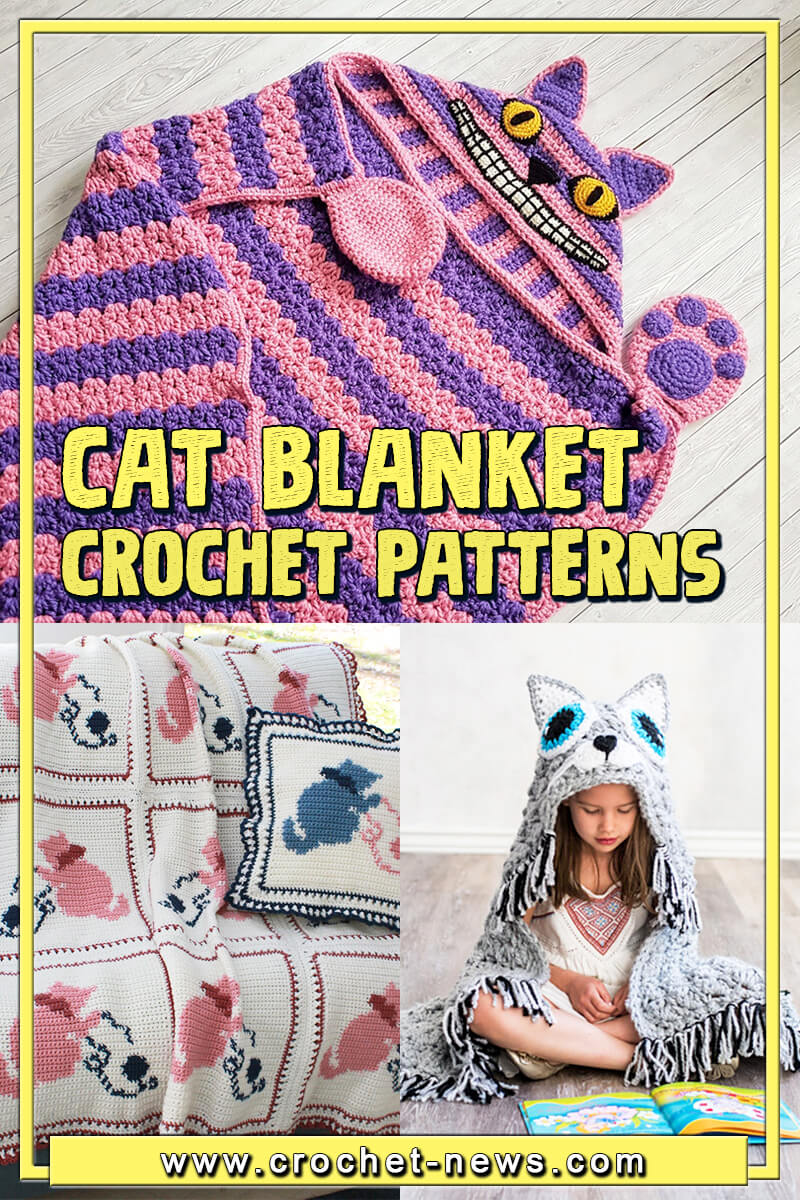 10 Cat Crochet Blanket Patterns
Crochet blankets with cat motifs are super adorable. After finishing one of these blankets for yourself, you can enjoy a nice cup of tea with your cat on your lap.
If your cat is too antisocial, at least you'll have a blanket full of furry little friends to keep you company!

1. Cheshire Cat Blanket Crochet Pattern by Crafting Happiness UK
What a great idea! This spooky Cheshire Cat Hooded Blanket is also a decoration for your room. Use it to keep warm and snugly, and when you are done with it, fold it and display it on your sofa, armchair or bed.

Leave out the face, keep the ears and turn this design into a cat hooded blanket by crocheting it in black, white, gray or brown. The possibilities are endless.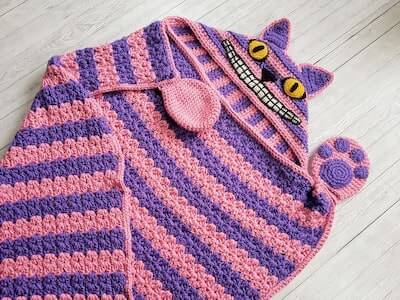 Get the Pattern by Crafting Happiness UK here

2. Crochet Kitty Blanket Pattern by Yarnspirations
How sweet is this blanket of whimsy that's perfect to adorn any kids room? Crochet in any shades you love, or make the warm version shown for your favorite little kitten.
This free crochet cat blanket pattern measures 32″ x 43″, it's the perfect companion to cuddle at naptime.
Get the Pattern here

3. Crochet Cat Afghan Blanket Pattern by Evelyn And Peter
This Crochet Cat Afghan Blanket is made using C2C stitches. It is an easy, repeatable pattern perfect for beginners. This blanket has three large cats in typical feline poses: a curious one peeking in, an alert one sitting upright, and another just regally lazing around.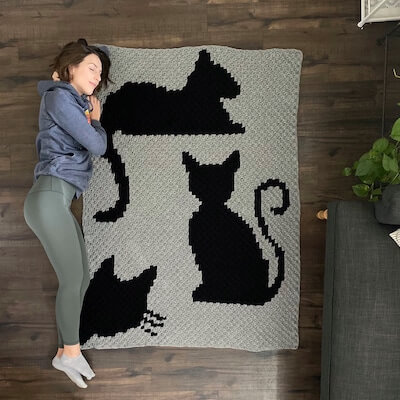 Get the Pattern by Evelyn And Peter here

4. Country Kittens Afghan Crochet Pattern by Maggie's Crochet
Crochet this Country Kittens Afghan Pattern to give your home some country charm. The delightful kittens playing with yarn are cute and easy to make.

Each kitten block is made separately and then stitched together to create this lovely afghan that will look nice on a sun porch or in a guest room.
Use the recommended colors in the pattern or any color combination that pleases your palette.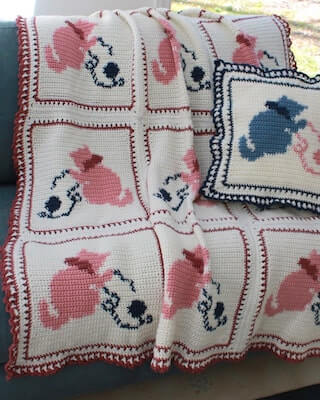 Get the Pattern by Maggie's Crochet here

5. Abstract Free Crochet Cat Blanket Pattern by Patterns Valley
Abstract Cats Blanket is a very spectacular pattern. The stitch used in the crochet pattern is not complicated and the blanket itself can be made in just one day.
If you like cats, this crochet blanket is just for you! Made with a beautiful "cat" stitch will delight every lover of these animals.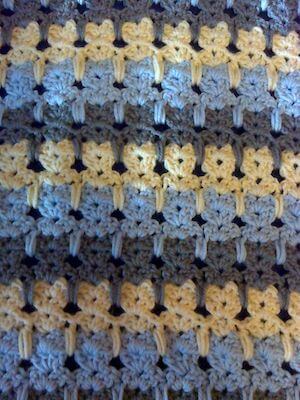 Get the Pattern here

6. Filet Crochet Cat Blanket Pattern by Owl B Hooked
If your baby loves cats, or if you want to decorate the nursery with these charming creatures, this Crochet Cat Blanket is the perfect option!

The written size allows it to be used as a security or snuggle blanket well into toddlerhood! Simple, modern, and gender-neutral design, it makes for an adorable and unique 1st birthday or baby shower gift!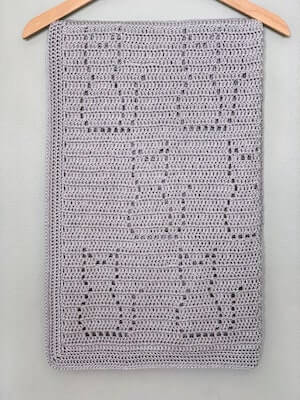 Get the Pattern by Owl B Hooked here

7. Crochet Cat Blanket Pattern by MJs Off The Hook Designs
This blanket is the Cats Meow! Designed as a gorgeous hooded fringe throw, wrap yourself in the warmest kitty Cat hug and forget your worries.

You will get all warm and fuzzy just looking at these little cuties! The best part is this blanket folds into a purrrfect little pillow to display on your couch or bed.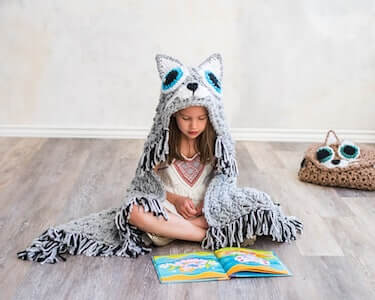 Get the Pattern by MJs Off The Hook Designs here

8. Colorful Cat Crochet Blanket Pattern by C2C Pattern Shop
If you are a passionate cat-lover, this is the best crochet pattern you are going to find out there if you want to express your love to the furry creatures.
The graph is 165 squares wide by 225 squares high. The cat crochet blanket would be approx. 42″ x 57″ inches using the recommended hook size and yarn.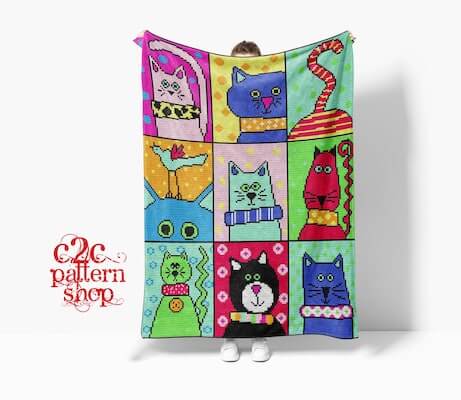 Get the Pattern by C2C Pattern Shop here

9. Spiral Kitty Lovey Blanket Crochet Pattern by Nicki's Homemade Crafts
This cute Spiral Kitty Lovey/Security Blanket is the perfect gift idea for a newborn baby or toddler! Made with 100% cotton yarn, this cute baby shower gift idea is can be made in any color you like and is the perfect baby keepsake!
Check out more adorable Crochet Lovey Patterns here.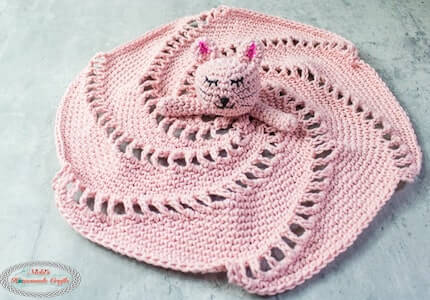 Get the Pattern here

10. Crochet Cat Lover Blanket Pattern by The Hat And I
Crocheting this Cat Lover Blanket will make you fall in love with the process, and as a baby shower gift or for your sweet baby, it will fill you with the satisfaction of making your own handmade creation.
Create a unique version or replicate one of the delightful colorways shown.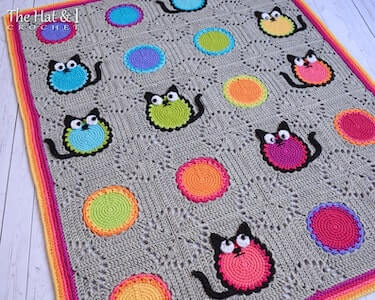 Get the Pattern by The Hat And I here
LET'S PAIR OUR FONDNESS FOR OUR FELINE FRIENDS WITH OUR LOVE FOR CROCHET TO MAKE A BEAUTIFUL CROCHET CAT BLANKET OR TWO FOR THE HOME.
We would love to see how it turned out. Share your finished snuggly blankets with us on our Facebook Page.
If you enjoyed this animal-themed blankets, you'll definitely love these crochet dog blankets, sea turtle crochet blankets, crochet cow blankets, crochet deer blankets and crochet shark blanket patterns.
Embrace your inner cat lady and enjoy these crochet cat patterns, crochet cat toy patterns, crochet cat hats, and crochet cat bed patterns, as well.
These crochet cat blankets are the perfect way to honor your four-legged sidekicks. What are you waiting for?