Does your cat spend her days asleep in a kitty coma? Want to bring out the little kitten in your catatonic Tom? Surprise and delight your cat with this collection of crochet cat toy patterns that will bring your kitty roaring back to life.
From mouses to fishes, balls and stuffy toys, your cat will be on the prowl again, looking for fun in all the right places.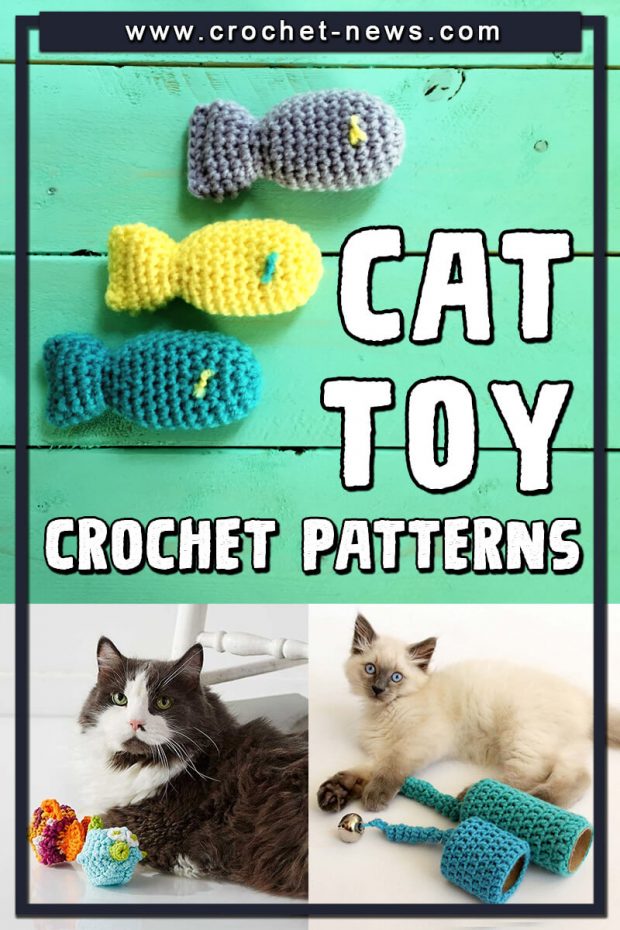 25 Cat Toy Crochet Patterns
Give kitty one of these homemade cat toys, and we promise they'll be wondering what other extraordinary things two-legged creatures like you are capable of!

1. Crochet Puffy And Stuffy Free Cat Toy Pattern by Yarnspirations
Have some feline fun with this Puffy and Stuffy Cat Toy Pattern. Cute crocheted cat toys for your favorite furry friend, this is a great crochet project for any animal lovers.
What color does you cat prefer? Whatever the style, you'll find them lovingly scattered throughout the house.
Get the Pattern here

2. Easy Crochet Cat Toy Pattern by Dabbles And Babbles
Turn a cardboard toiler paper roll into an awesome toy for you cat using your love of crochet! You can simply replace the roll when cat chews it up. This crochet cat toy is easy to make as a beginner's project.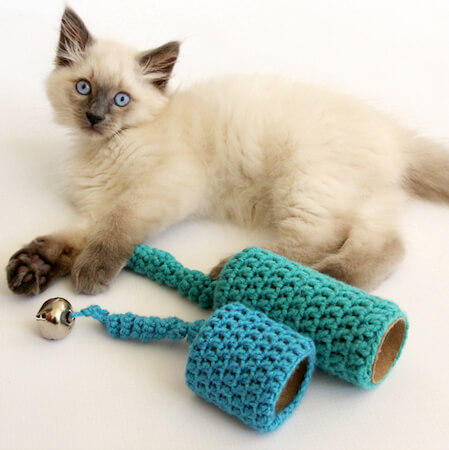 Get the Pattern here

3. Swirly Mice Toys For Cats Crochet Pattern by Julie Oparka
A quick and easy project that will bring a lot of joy to your furry little friends. These toys are so easy to make, that if they get lost under the sofa you can make more in no time!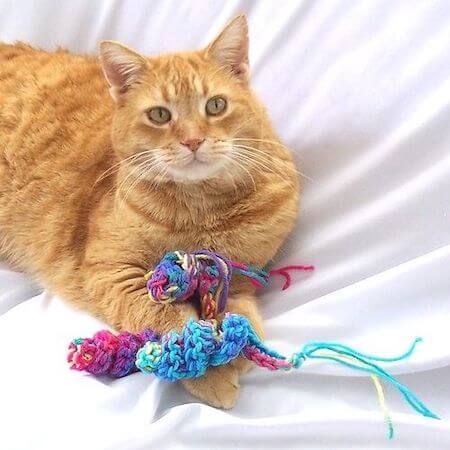 Get the Pattern here

4. 5 Quick Cat Toy Crochet Pattern by Crochet Spot Patterns
There are five patterns in this set: basic ball, stringy ball, fish, mouse, and spider. Each toy is designed to be easy to crochet so that your cat may have a toy right away. Because they are small, these crochet cat toys are ideal for cats who enjoy simulating hunting.
Stringy balls and spiders are ideal for string-loving cats. To play with your cat, attach any of these finished toys to a stick with a string. Add bells or catnip for extra entertainment!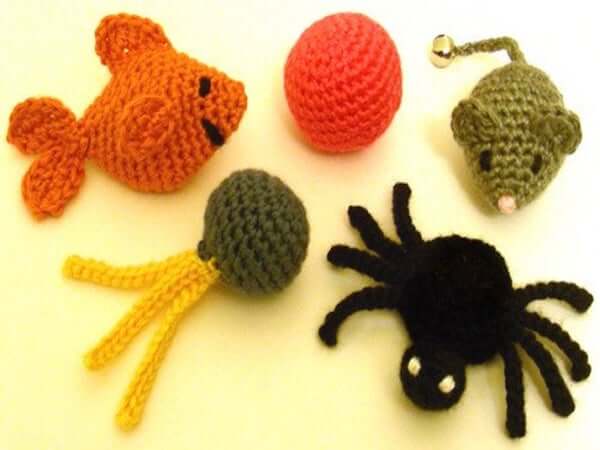 Get the Pattern by Crochet Spot Patterns here

5. Kick Stick Cat Toy Crochet Pattern by Dapper Cat Designs
These adorable crochet cat toys, which contain four tablespoons of catnip, will keep your kitty entertained for hours! The kick stick is long enough for your fanciful feline to bite and kick simultaneously.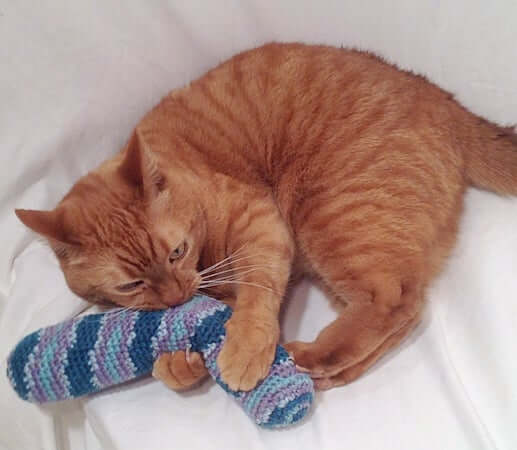 Get the Pattern by Dapper Cat Designs here

6. Sacred Mice Crochet Cat Toy Pattern by Yarn Artists
This Sacred Mice is the one thing your cat will probably prefer over the real thing. What makes these mice sacred are the thoughts that you hold in your mind as you crochet them.

Imagine that your love and concern create strands of energy that begin in your heart, travel through your arms and out your fingers, where they become entwined with the yarn and are woven into the finished mouse.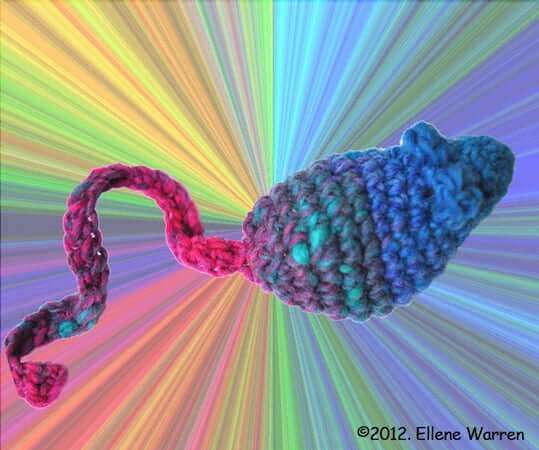 Get the Pattern by Yarn Artists here

7. Crochet Fish Cat Toy Pattern by Just Be Crafty
Make a few Crochet Fish Cat Toy in a variety of colors – your kitties will enjoy them! Simply add a few pinches of catnip while stuffing with fiberfill to transform them from ordinary crochet fish to cat toy.
To make these even more entertaining for your cats, get some string and tie one end to the fish mouth and the other end to a little wooden rod to resemble a fishing pole.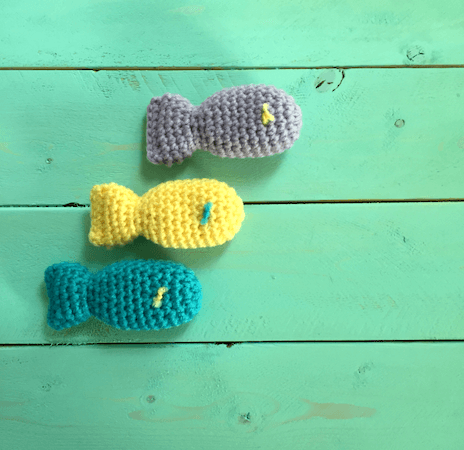 Get the Pattern here

8. Crochet Catnip Doobie Pattern by Madd Tea Party Boutique
This unique Catnip Doobie is the perfect gift for your catnip-loving friends. This crochet cat toy pattern is made of basic stitches and can be enjoyed as a cat toy, personal prop or christmas ornament.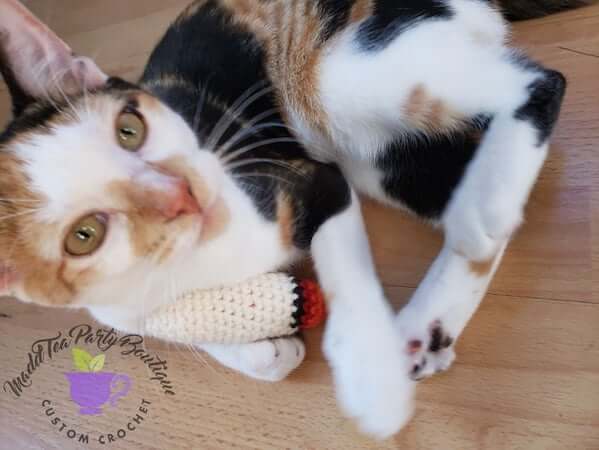 Get the Pattern by Madd Tea Party Boutique here

9. Big Ball Cat Toy Crochet Pattern by Melissa's Crochet Patterns
You know how cats love to play with balls of yarn. This one is all their own. You crochet their own really large ball and then maybe they'll leave your yarn balls alone. This pattern is so easy and you only need to know the most basic crochet stitches.

It's a little over three inches in diameter when completed so it's perfect for bigger kitties who like bigger toys. Plus, you can have it completed in about an hour or so.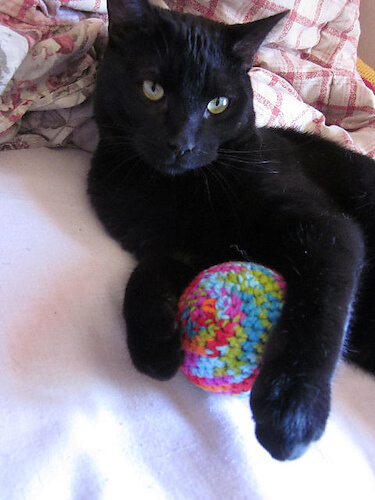 Get the Pattern here

10. Crochet Soft Cat Toy Pattern by Simply Collectible
Help your lovable sidekick feel super strong with this Soft Cat Toy Dumbbell Plushie. It's equally adorable as toys for baby or as photo shoot props. They're small, soft, and easy to crochet for all levels.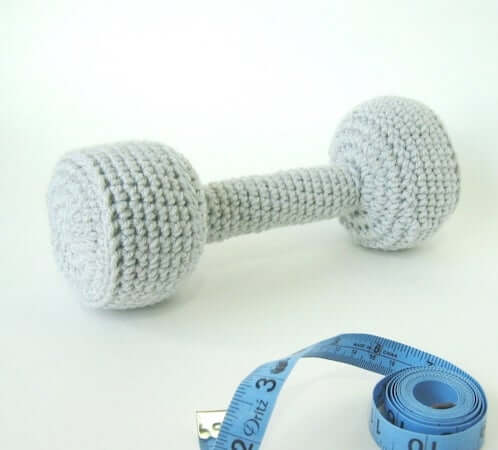 Get the Pattern by Simply Collectible here

11. Sushi Crochet Pattern by Ami Amour
Fill the sushi with catnip from your nearest pet store, or simply use this pattern to add to your collection of crochet food! This Sushi Crochet Pattern set includes the classic California Roll, Salmon, Tuna, Roe, Shrimp, and Tamago (Egg) Nigiris.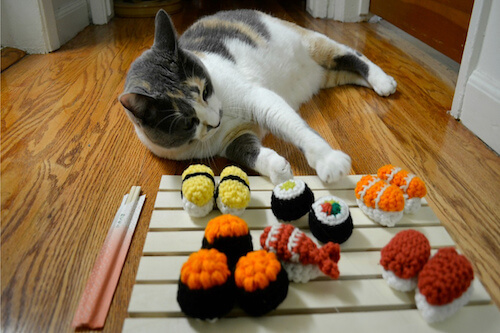 Get the Pattern here

12. Star Cat Toy Crochet Pattern by Pine Tree Crochet
You can add catnip to this toy to make your kitty want to play with it forever! With the added string, you can tie it to a door, a tree, or anywhere else they like to bat at toys.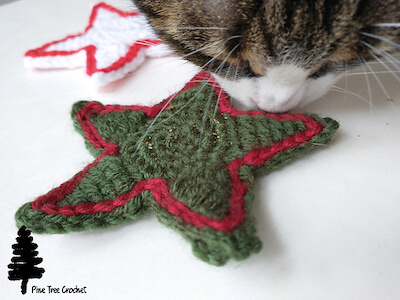 Get the Pattern here

13. Crochet Door Hanger Bouncy Cat Toy Pattern by Lion Brand
This is a fun and decorative way to keep your cat—and yourself—entertained. You can add a few more rounds to make it longer if needed. This cute bouncy toy is easy to make and doesn't take much yarn, making it perfect for those small stash balls.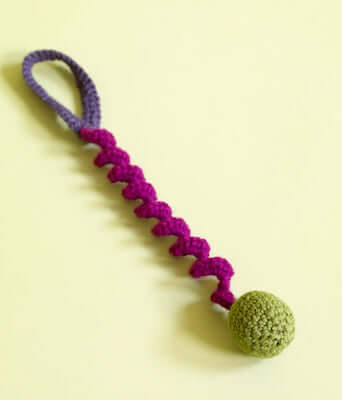 Get the Pattern here

14. Crochet Mushroom Cat Toy Pattern by Creatrix In The Matrixx
Bring woodland into your cat's play park with this Mushroom Cat Toy. It's the perfect size for your small cat's mouth, great to chase and battle around. Not only it will bring your cats endless hours of furry fun, but it will also look cute on your living room floor!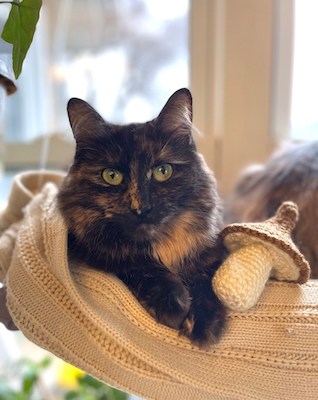 Get the Pattern by Creatrix In The Matrixx here

15. Cute Catnip Cat Toys Free Crochet Pattern by Creative Crochet Workshop
Just as the name suggests, these are cute amigurumi toys – starfish, cow, chicken, and teddy – for your kitty. You can make catnip or no-catnip versions.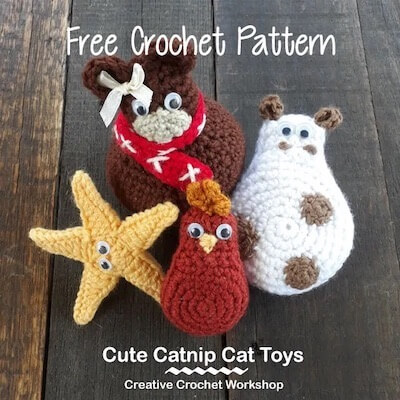 Get the Pattern here

16. Shrimp Crochet Pattern by Ghee Beans Crafty
Everyone needs a shrimp friend—your cat needs one, too! This small shrimp is so adorable! Not only the perfect toy for your furry little friends, but it could also serve as a table decoration or small gifts for friends and family.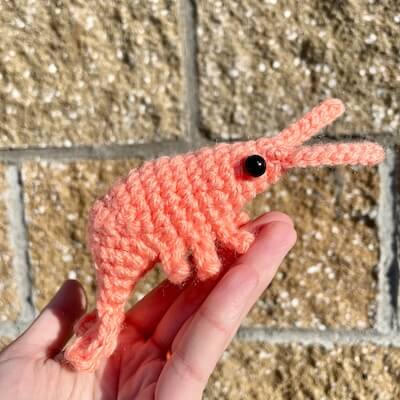 Get the Pattern by Ghee Beans Crafty here

17. Crochet Fishy Fun Cat Toy Pattern by Angel Bunny Creations
Your kitty will go wild for this sweet project. Since it's so small, you could make several in various colors and keep your kitty entertained for hours!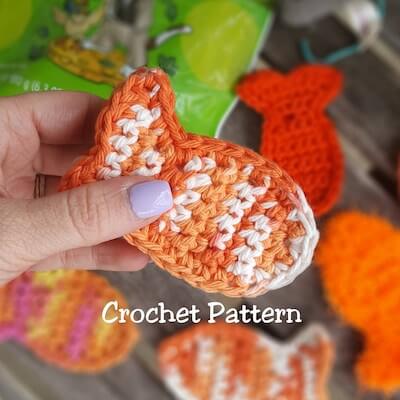 Get the Pattern by Angel Bunny Creations here

18. Crochet Cat Bed Pattern by Various Patterns
While this Crochet Cat bed isn't a cat toy, we know they every cat needs a place to hide — a little sanctuary to get away in when the house becomes too busy.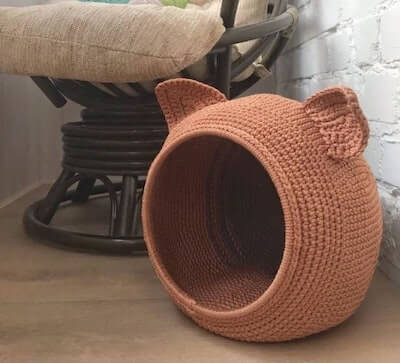 Get the Pattern by Various Patterns here

19. Crochet Crinkle Cat Toy Pattern by Crochet Spot Patterns
Make something with the same elements that attract cats featured in store bought toys, such as the crinkly sound and catnip smell.

Fill the toy with a crinkly material, like a parchment paper or cellophane paper, then add some catnip before closing it up. The pattern is very simple and works up quickly!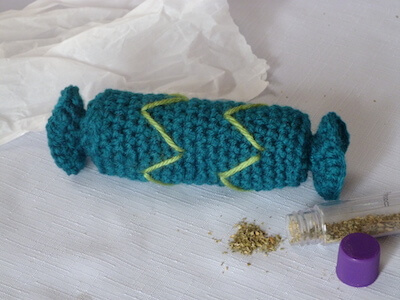 Get the Pattern here

20. Amigurumi Sardines Cat Toy Crochet Pattern by Lion Brand
Crochet a salty sardine as your cats new best friend! This Sardine will take just a few minutes to make and your cat will have hours of fun with it. The pattern includes instructions for a couple of different pieces your kitty can interact with.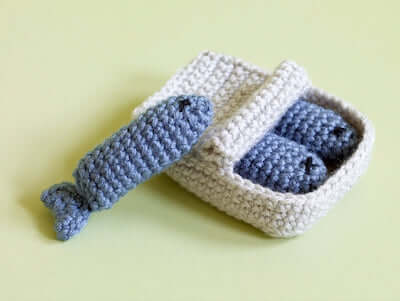 Get the Pattern here

21. Crochet Cat Toy Blanket Pattern by Loops Crochet Blog
Crochet this mini blanket for your kitty cats so that they can drag it all over the house. The crochet pattern is simple, and you can add tassels and jingle bells on the edges to keep your cat entertained.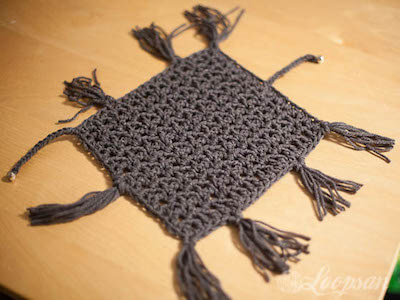 Get the Pattern here

22. Crochet Taco Cat Toy Pattern by Kristen Stevenson
Now your kitty cat friend can join in on Taco Night with their very own Taco Cat Toy! Playtime with your furry friend has never been so fun and adorable!

If you really like this little taco design, why not make yourself one and use it as a keychain? There is always room for customization when crafting!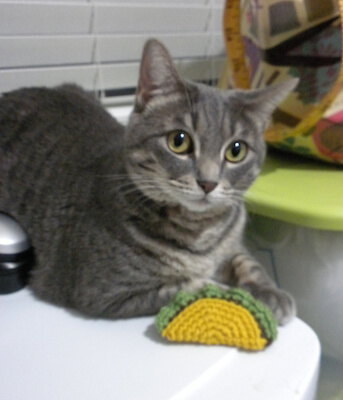 Get the Pattern here

23. Mini Donuts Cat Toy Crochet Pattern by Melissa's Crochet Patterns
Everyone loves a good donut—and it'll be no different for your feline friend after sinking their teeth into this treat! These Mini Donuts Cat Toys are a hole lot of fun!
They feature icing and sprinkles that pop just like that donut that always catches your eye on the shelf of your go-to spot!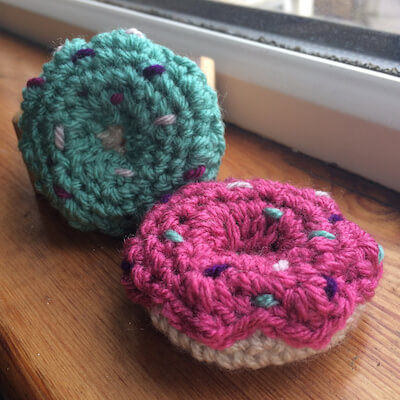 Get the Pattern here

24. Crochet Cat Toy Trio Pattern by LJ Yarn Addiction
This Cat Toy Trio includes a Catnip-filled joint, a pipe with bells inside, and a rasta-colored square filled with crinkly cellophane. These toys will appeal to all five senses: smell, sound, touch, and sight, and will keep your furry friend entertained for hours.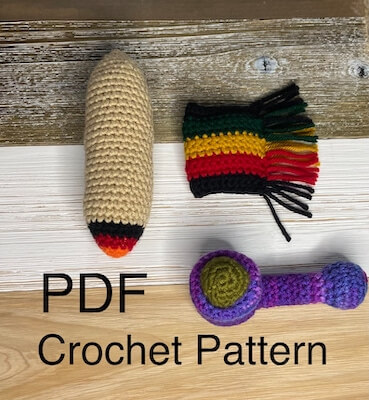 Get the Pattern by LJ Yarn Addiction here

25. Crochet Cat Hammock Pattern by Mataya Made
If there's one thing that all cats love to do, it's sleep! Adding different places for your cat to sleep is a great way to make sure they have plenty of enriching activities and areas to explore.
Most cats love to sleep off the ground or floor, so a cat hammock might be popular. Instead of buying a pre-made one, crochet a cat hammock that'll keep your little sentry comfortable, day and night.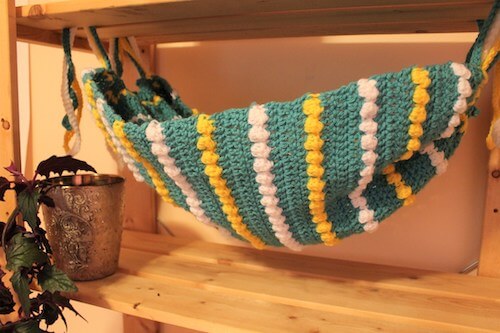 Get the Pattern here
You don't have to spend a ton of money on store-bought cat toys when these crochet cat toy patterns are just as fancy!
We hope these handmade toys get your creative juices flowing. We'd love to see the fruits of your labor! Share your creations with us on our Facebook Page!

Now that you've made fun toys that'll keep your furry friends busy for hours, it's time to make them cozy beds from these crochet cat bed patterns that they'll adore curling up in. After all, they deserve to know just how much you love them.
For more cat crochet projects, don't miss our crochet cat blanket patterns, crochet cat hats, crochet cat patterns and some crochet patterns for cats.
Whichever crochet cat toys you decide on, we're paw-sitive that any cat will love these handmade gifts!