Does your cat spend her days asleep in a kitty coma? Want to bring out the little kitten in your catatonic Tom? Surprise and delight your cat with this collection of crochet cat toy patterns that will bring your kitty roaring back to life. From mouses to fishes, balls and stuffy toys, your cat will be on the prowl again, looking for fun in all the right places.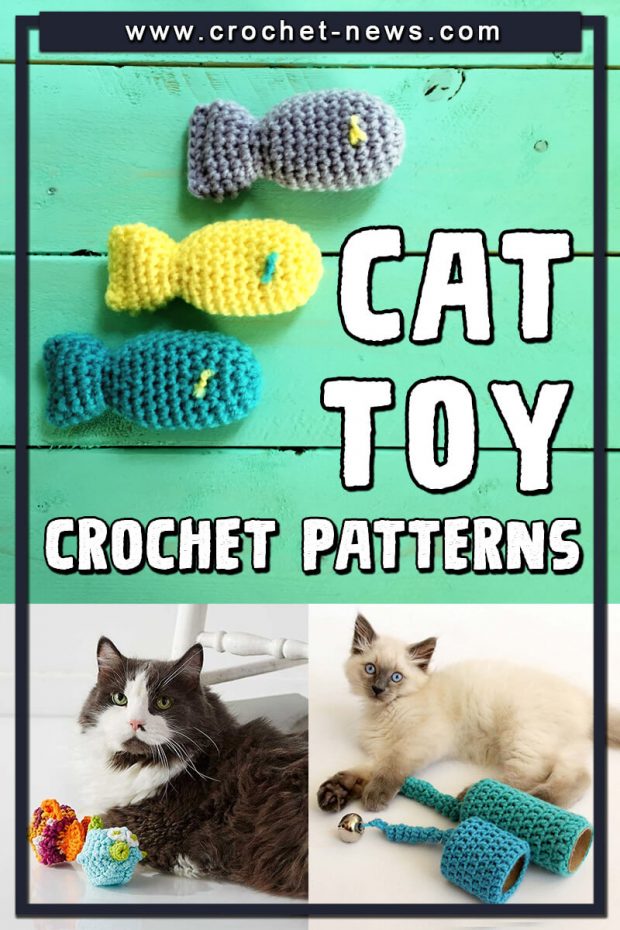 10 Cat Toy Crochet Patterns
Give kitty one of these homemade cat toys, and we promise they'll be wondering what other extraordinary things two-legged creatures like you are capable of!

1. Crochet Puffy And Stuffy Free Cat Toy Pattern by Yarnspirations
There's nothing fishy going on here – just adorable, 3″ fish toys that kitty will love. The pattern helps you complete these cute playthings in any colors you want. What shade does your cat prefer? No matter the look, you're sure to find them lovingly peppered throughout the house.
Get the Pattern here

2. Easy Crochet Cat Toy Pattern by Dabbles And Babbles
Here's a cute little free cat toy pattern that has a bell attached for extra playtime fun. A quick and easy crochet project, this makes a great pet toy project for beginners.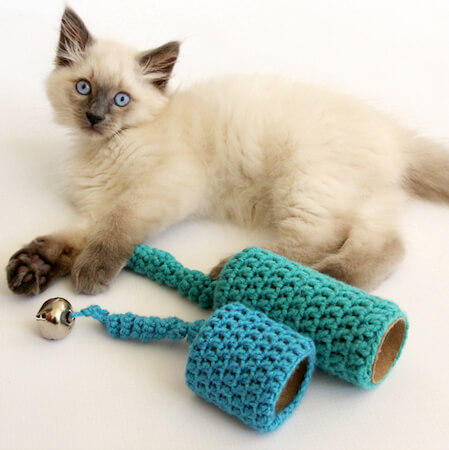 Get the Pattern here

3. Swirly Mice Toys For Cats Crochet Pattern by Julie Oparka
This is a beginner free cat toy pattern. Your cats will love these swirly mice toys and small dogs love them too! Make some fun gift's for your pet, and best of all, when they get lost under the furniture, you can crochet new ones in no time!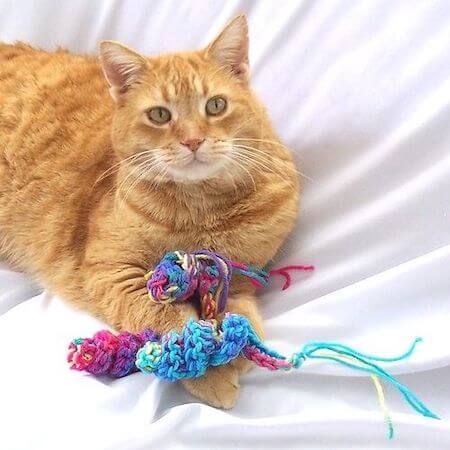 Get the Pattern here

4. 5 Quick Cat Toy Crochet Pattern by Crochet Spot Patterns
This set includes 5 patterns: basic ball, stringy ball, fish, mouse and spider. Each toy is designed to be quick to crochet so your cat can have an instant toy. These crochet cat toys are puurfect for cats that like to simulate hunting since the toys are small objects.

The stringy ball and spider are great for the string lover cats. Feel free to attach any of these finished toys to a stick with a string to play along with your cat. Add bells or catnip for extra cat fun!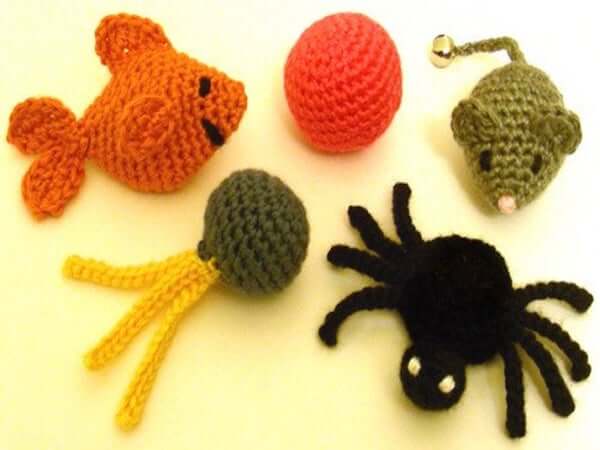 Get the Pattern by Crochet Spot Patterns here

5. Kick Stick Cat Toy Crochet Pattern by Dapper Cat Designs
These fun crochet cat toys will keep your fanciful feline busy for hours! The kick stick is long enough for your curious kitty to bite and kick at the same time. Filled with four tablespoons of catnip, these cat toys will keep your cat busy for hours!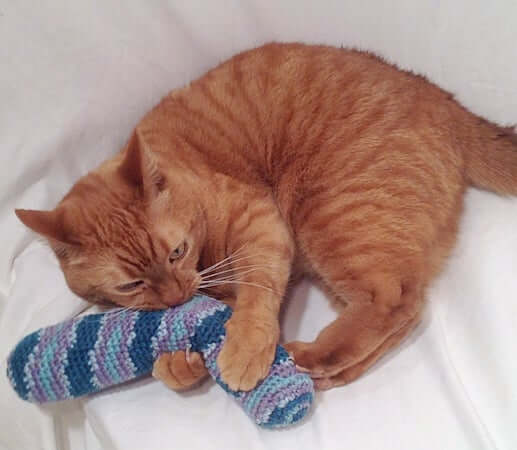 Get the Pattern by Dapper Cat Designs here

6. Sacred Mice Crochet Cat Toy Pattern by Yarn Artists
This Sacred Mice is the one thing your cat will probably prefer over the real thing. What makes these mice sacred are the thoughts that you hold in your mind as you crochet them.

Imagine that your love and concern create strands of energy that begin in your heart, travel through your arms and out your fingers, where they become entwined with the yarn and are woven into the finished mouse.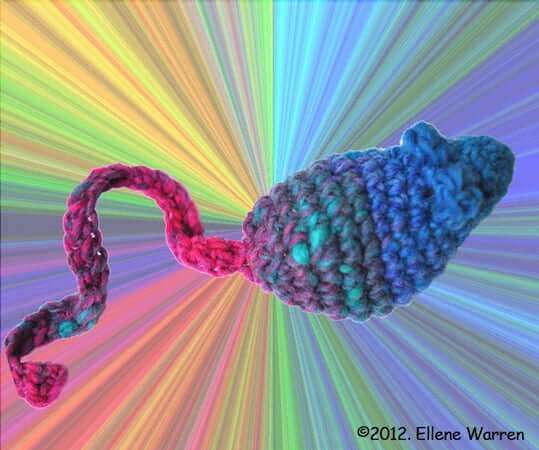 Get the Pattern by Yarn Artists here

7. Crochet Fish Cat Toy Pattern by Just Be Crafty
Whip up a few Crochet Fish Cat Toy in a couple different colors – your cats will love them! To take them from plain crochet fish to cat toy, just add a few pinches of catnip when stuffing with fiberfill.

Another idea to make them even more fun for your kitties would be to get some string and tie one end to the fish mouth and the other end to a small wooden rod to look like a fishing poll.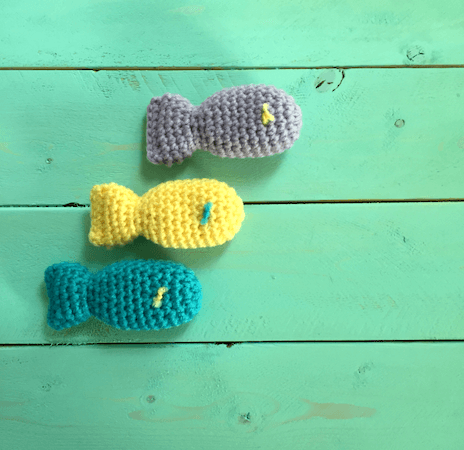 Get the Pattern here

8. Crochet Catnip Doobie Pattern by Madd Tea Party Boutique
This unique catnip doobie is the perfect gift for your catnip-loving friends. This crochet cat toy pattern is made of basic stitches and can be enjoyed as a cat toy, personal prop or christmas ornament.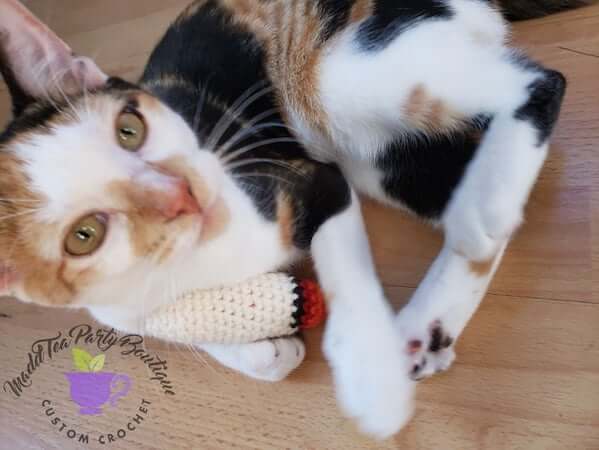 Get the Pattern by Madd Tea Party Boutique here

9. Big Ball Cat Toy Crochet Pattern by Melissa's Crochet Patterns
You know how cats love to play with balls of yarn. This one is all their own. You crochet their own really large ball and then maybe they'll leave your yarn balls alone. This pattern is so easy and you only need to know the most basic crochet stitches.

It's a little over three inches in diameter when completed so it's perfect for bigger kitties who like bigger toys. Plus, you can have it completed in about an hour or so.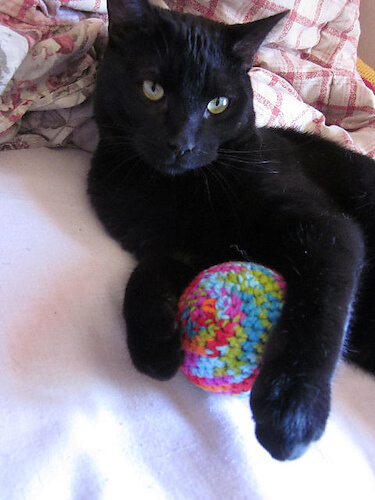 Get the Pattern here

10. Crochet Soft Cat Toy Pattern by Simply Collectible
Get physical with this super cute dumbbell plushie pattern! These are absolutely adorable as crochet pet toys or as baby photo shoot props. They're small, soft, and easy to crochet for all levels.

This easy crochet pattern for amigurumi makes life-size dumbbells for babies and pets. They weigh about as much as a small stuffed animal.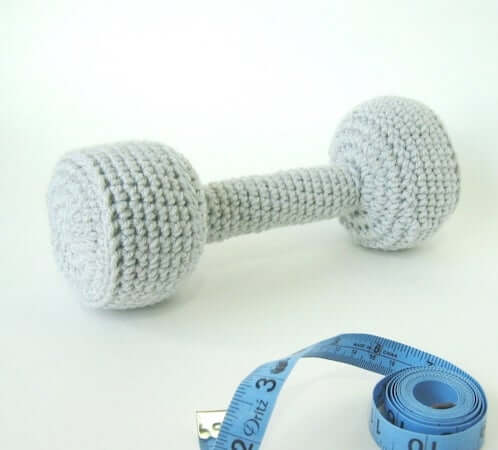 Get the Pattern by Simply Collectible here
You don't have to spend a ton of money on store-bought cat toys when these crochet cat toy patterns are just as fancy!
We hope these handmade toys get your creative juices flowing. We'd love to see the fruits of your labor! Share your creations with us on our Facebook Page!

Now that you've made fun toys that'll keep your furry friends busy for hours, it's time to make them cozy beds from these crochet cat bed patterns that they'll adore curling up in. After all, they deserve to know just how much you love them.
For more cat crochet projects, don't miss our Crochet Cat Blanket Patterns, crochet cat hats, crochet cat patterns and some crochet patterns for cats.
Whichever crochet cat toys you decide on, we're paw-sitive that any cat will love these handmade gifts!