Whether you're a proud cat parent, or love someone who does, we have the perfect crochet patterns for cats to feed everyone's obsession.
Cats are hard not to love. Sure, maybe they're not as friendly or as blindly loyal as dogs, but there's no more acrobatic, snuggly, playful animal around.
And don't even get us started on their floof, their tiny toe beans, and those mesmerizing cat eyes.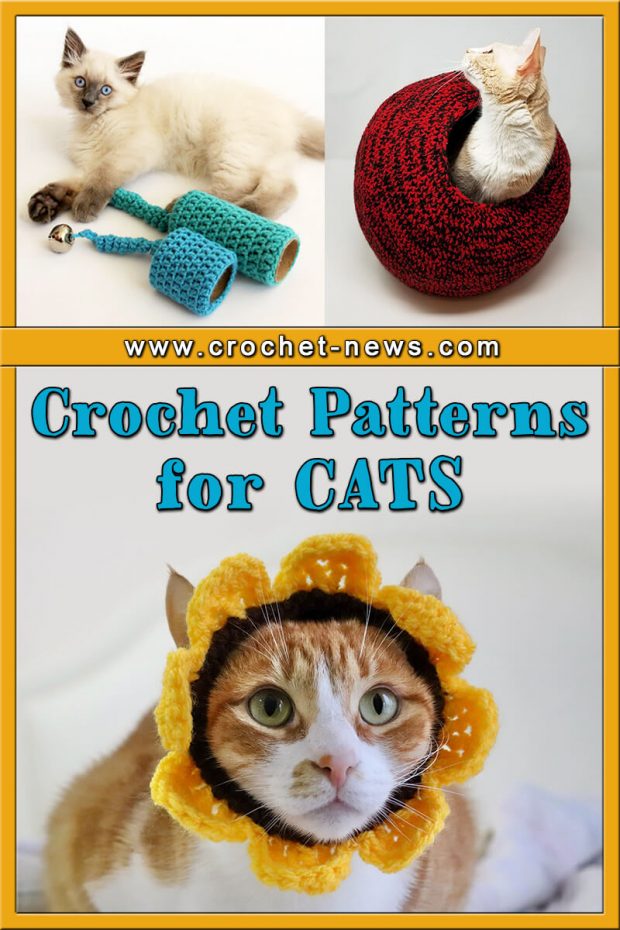 Whether you're looking for the perfect gift to impress your favorite cat person, celebrating your cat's birthday or "Gotcha Day" from the shelter, or you want to include Fluffy in your winter holiday celebrations, there's a wide range of gifts to delight, nourish, and pamper your kitty.
From toys to accessories, these crochet patterns for cats will make them stand out from the crowd!

1. Cowboy Hat For Cats Crochet Pattern by Pawsome Crochet
This fun and quick crochet pattern creates a little cowboy hat, complete with ear holes, designed to fit your smaller four legged friends.

It requires only a small amount of yarn, making it an excellent remnant buster. The hats were designed to fit most average sized adult cats and extra small dog breeds, such as Chihuahuas.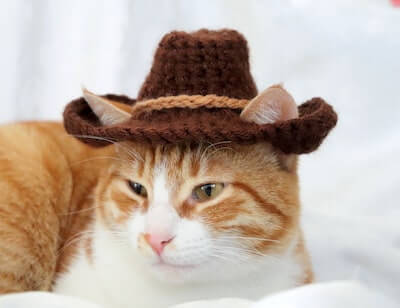 Get the Pattern by Pawsome Crochet here

2. Crochet Cat Stripes Sweater Pattern by Ideal Me
This crochet pattern (for cats or dogs) is so cute and has two little holes for your pets front two legs. There's ribbed banding around the neckline too so it's extra comfy for the little fella.

This crochet pet sweater pattern is made out of a super soft worsted weight yarn. The plymouth hot cakes are acrylic wool blends with built in color changes.
All the color shifts without having to weave in all the ends. This is the perfect snuggly yarn for a crochet pet sweater.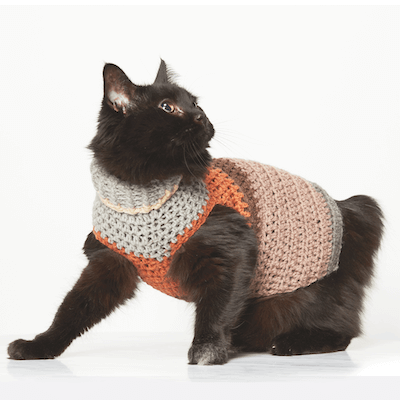 Get the Pattern here

3. Crochet Cat Tent Pattern by Lena-Marie Hoppe
Create this amazing boho tent for your cat with basic crochet techniques. You can do it even if you are a beginner! You will be jealous of his or her home, without a doubt!

Cats instinctively seek out small hiding spaces to feel safe and to stay warm. With this project, you can create simple, inexpensive cat tent that match your décor, making it easy to give your cat at least one or two to choose from!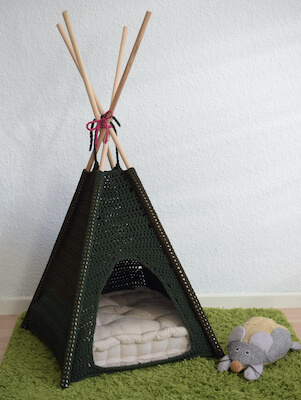 Get the Pattern here

4. Crochet Cat Couch Pattern by Red Heart
This divine crochet cat couch is the perfect way to keep kitty off your sofa while pampering her in perfect comfort. This couch is worked in a textured griddle stitch and features its own granny square afghan.

The pattern is made with a regal purple, but feel free to pamper your puss with any color that reflects her personality! Fill with foam and fiberfill, then seam together to complete.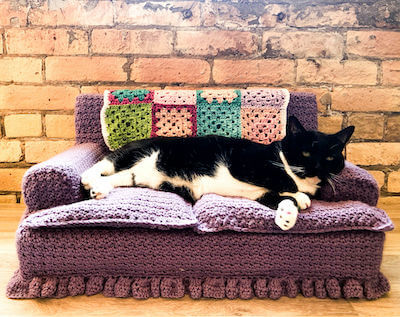 Get the Pattern here

5. Super Versatile Cat Bed Crochet Pattern by Crochet Spot Patterns
This pattern is for a simple cat bed that can be styled in 4 different ways! Try all the different styles and let your kitty choose which ones he/she likes the best. This cat bed is crocheted with super bulky weight yarn making the project quick to work up and thick and sturdy for your furry friend.

The bed is also design so that it can easier be slipped into the washing machine just in case it needs cleaning (be sure to choose a machine washable yarn).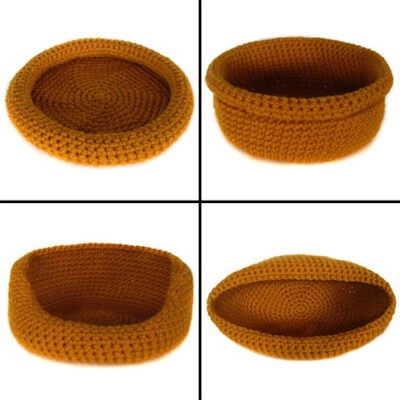 Get the Pattern by Crochet Spot Patterns here

6. Crochet Catnip Kick Stick Cat Toy Pattern by Dapper Cat Designs
These fun cat toys will keep your fanciful feline busy for hours! The kick stick is long enough for your curious kitty to bite and kick at the same time. Filled with four tablespoons of catnip, these cat toys will keep your cat busy for hours!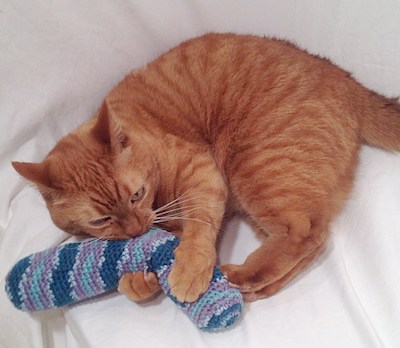 Get the Pattern by Dapper Cat Designs here

7. Stuffy Crochet Cat Toys Pattern by Yarnspirations
There's nothing fishy going on here – just adorable, 3″ fish toys that kitty will love. This pattern helps you complete these cute playthings in any colors you want. What shade does your cat prefer?
No matter the look, you're sure to find them lovingly peppered throughout the house.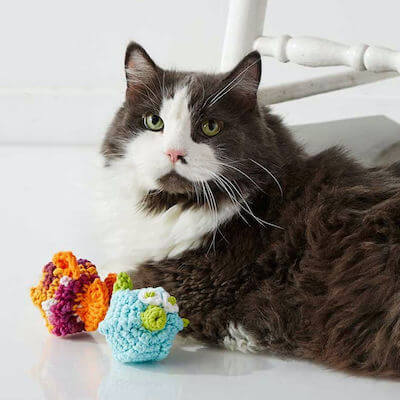 Get the Pattern here

8. Cat Pod Crochet Pattern by Alley Cats And Angels
Grab your crochet hook and make one of these super snuggly homes for your kitty or small dog! They'll love lounging and sleeping in these cozy pods.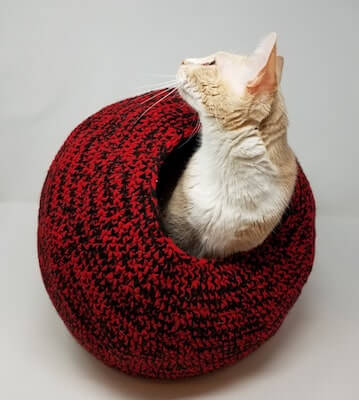 Get the Pattern by Alley Cats And Angels here

9. Crochet Kitty Cat Collar Pattern by Modern Needlepoint
Your kitty will be the most fashionable on the block after you crochet one of these great collars! This is simple and will cost you much less to make than those stiff, uncomfortable collars at pet stores.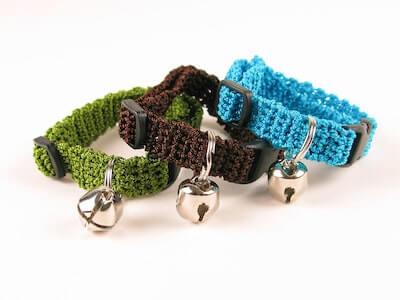 Get the Pattern by Modern Needlepoint here

10. Easy Crochet Cat Toys Pattern by Dabbles And Babbles
Here's a cute little crochet cat toys pattern that has a bell attached for extra playtime fun. A quick and easy crochet project, this makes a great pet toy project for beginners.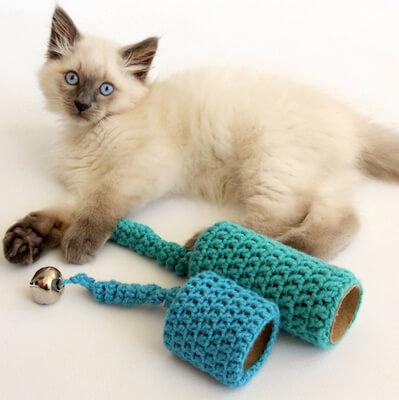 Get the Pattern here

11. Crochet Cat Cave Pattern by Dream A Little Bigger
Have a kitty that loves to hide away? Using the yarn you have on hand you can create a lovely crochet cat sack hideaway they'll just love!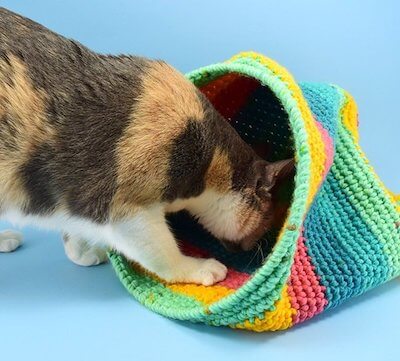 Get the Pattern here

12. Crochet Cat Hammock Pattern by Mataya Made
This Crochet Cat Hammock would be an adorable and luxurious cat accessory! This free crochet pattern is pretty simple and it is also the perfect project to use up random odds and ends of yarn!
Of course you can use any yarn you would like but you may need to adjust the amount of rows that you do to make sure that your hammock remains cat-sized.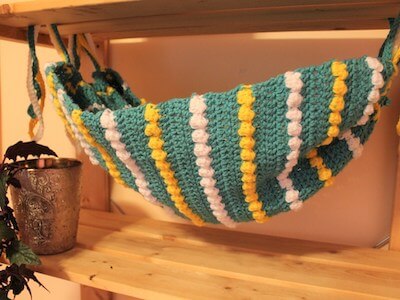 Get the Pattern here

13. Crochet Cat Flower Headband Pattern by Pawsome Crochet
This cute flower accessory can be worn either as a headband or a collar. It works up quickly and uses only a minimal amount of yarn. Substitute your favorite colors to make festive flowers that bloom all year round!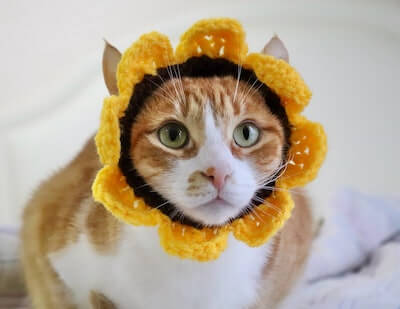 Get the Pattern by Pawsome Crochet here

14. Crochet Cat Toys Pattern by HCK Crafts
A quick and easy project that will bring a lot of joy to your furry little friends. These Crochet Cat Toys are so easy to make, that if they get lost under the sofa you can make more in no time!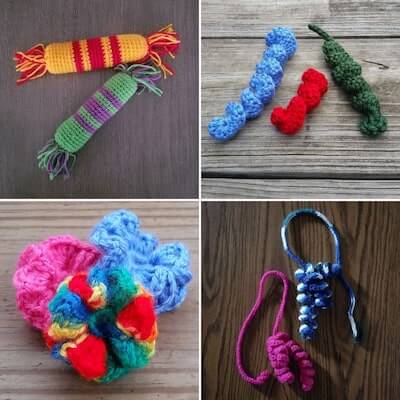 Get the Pattern by HCK Crafts here

15. Crochet Cat Toy Blanket Pattern by Loopsan Crochet Blog
A mini blanket that your cat can push around the house and have fun with. The design includes a couple of tassels and jingle bells, which cats love!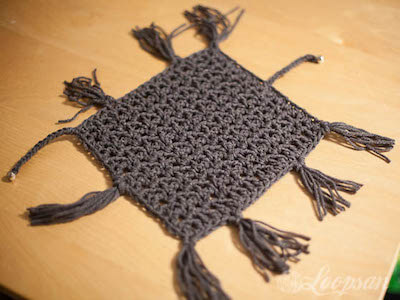 Get the Pattern here
THESE CROCHET PATTERNS FOR CATS WOULD BE PERFECT GIFTS – BECAUSE OUR FOUR-LEGGED MEMBERS LIKE PRESENTS TOO!
Just because you catch your cats playing with cardboard or sleeping on a stray towel doesn't mean that they won't appreciate a regal stuffed sofa bed or a crocheted collar.
Once you're done making some (or all!) of these crochet patterns for cats, we'd love for you to share some pictures of them on our Facebook Page!

With the exception of food and water, you can pretty much crochet anything that your cat or dog needs. Check out our fantastic list of patterns to make dashing crochet dog sweaters. Or you can make your kitty happy by crocheting him more toys that will keep him busy for hours, or treat him to a fluffy new bed to sleep on.

More pet-inspired crochet patterns:
10 Crochet Dog Blanket Patterns
10 Crochet Cat Blanket Patterns
These crochet patterns for cats are all worthy of making – why don't you crochet them all?