No matter how you cut it, some of our favorite pastimes are none other than sports. When you want to make something for the type of person (even if that person is you!) who can't turn away from the screen when their game is on, no doubt having a handful of these crochet sports patterns will grab their attention.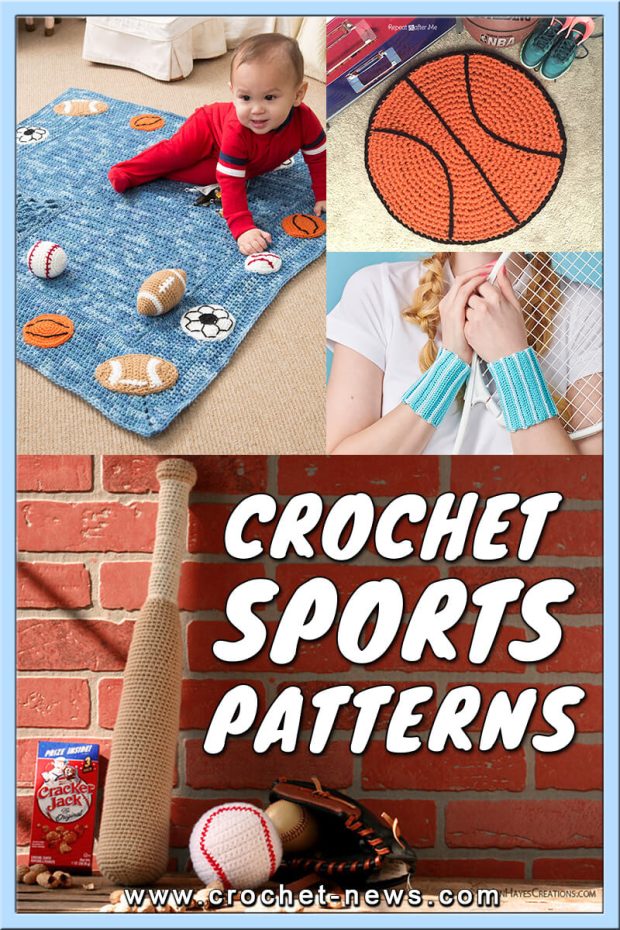 Sure, jerseys are a great option, but it's likely that the true stans already have their favorite player's jersey. Thankfully, you've got a lot more creative options than you think. These ideas below will hit the home run and score major points–you get the gist.

1. Crochet Sports Coasters Pattern by Sera Jaxon
Get your favorite sports fan and kids to actually use a coaster with this fun variety pack. Mix and match—baseball, basketball, football, soccer, tennis, and bowling. Made in a larger size (4 inches in diameter), they can easily accommodate mugs and pilsners.
Get the Pattern by Sera Jaxon here

2. Crochet Bowling Set Pattern by Petals To Picots
Little ones will love this adorable crochet bowling set! It is the perfect size for little hands and great for developing hand-eye coordination and spacial awareness. Perfect for playing indoors, the crochet bowling pins and ball are plush for quiet and damage free play. No worrying about damage to furniture or woodwork!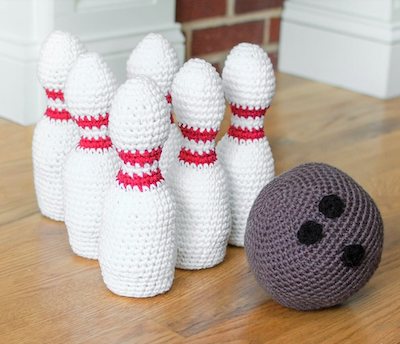 Get the Pattern here

3. Crochet Plush Football Pattern by Left In Knots
This beginner friendly crochet amigurumi football is a perfect free pattern to help the kids celebrate football season (think Super Bowl Sunday!) or as a perfect photo prop gift for your next baby shower.

This would be a perfect toy for the kids to throw around during the game, or it would even be a cute decoration for your snack table. And even if you aren't huge Super Bowl fans, this is still a fun toy to play with inside for the last long weeks of winter!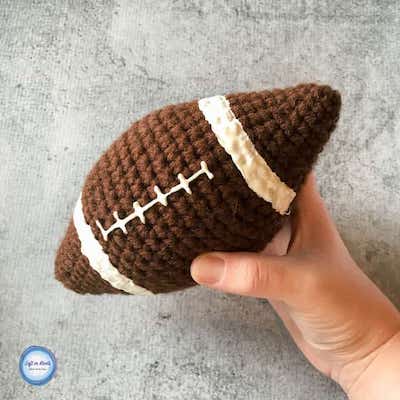 Get the Pattern here

4. Crochet Sports Ball Applique Pattern by Crochet Spot Patterns
This complete set includes 4 different crochet patterns: baseball, basketball, football, and soccer ball. The baseball pattern can be made in different colors to create a tennis ball or a softball!

These fun appliques are great to embellish blankets, hats, bags, or clothing (especially for boys). Just crochet a few of these appliques and sew them onto any item you wish to create a sport theme.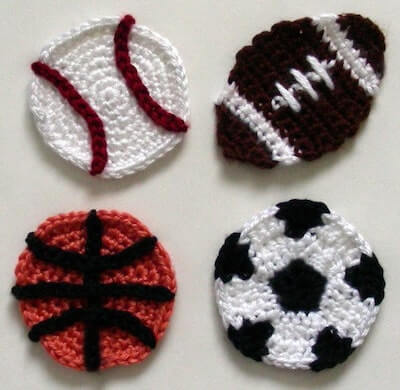 Get the Pattern by Crochet Spot Patterns here

5. Basketball Net Hat Crochet Pattern by Heart Hook Home
Is your family into basketball? This new ear warmer pattern for basketball lovers is sure to be a hit! This hat is worked from the brim up, making it a quick project.
These hats would be excellent for team photos if your child or grandchild is on a basketball team. It would also be a great seller at your next craft fair!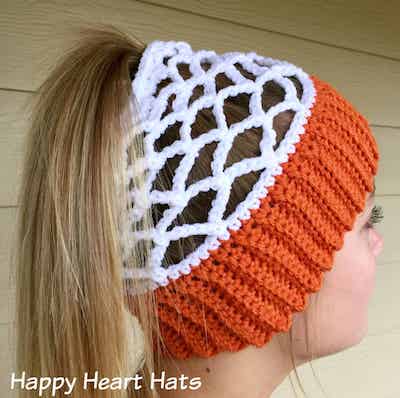 Get the Pattern here

6. Crochet Sports Pillow Pattern by Blue Mountain Crafts 20
This crochet sport package includes three patterns in one! You get the basketball, volleyball and football pillow patterns. This is simple enough for a beginner crocheter. You will need to know how to single crochet, single crochet increase and decrease, and how to change colors.

These pillows are perfect for gifts or use in your own home! And the use of blanket yarn makes it super soft and cuddly.
Learn how to change colors in crochet here.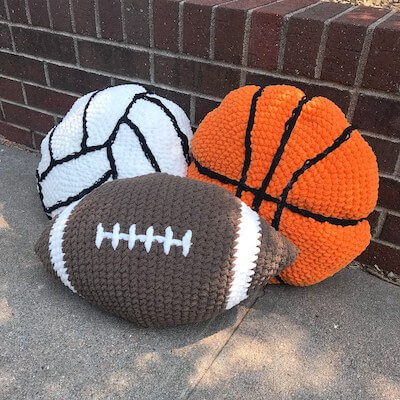 Get the Pattern by Blue Mountain Crafts 20 here

7. Crochet Basketball Hoop Backpack Pattern by Ekay G
This Basketball Hoop Backpack is perfect for any young basketball lover! It has the option of making a back pack or a cross body bag. It has one main compartment, with an easy option for an additional small pocket for a phone or wallet.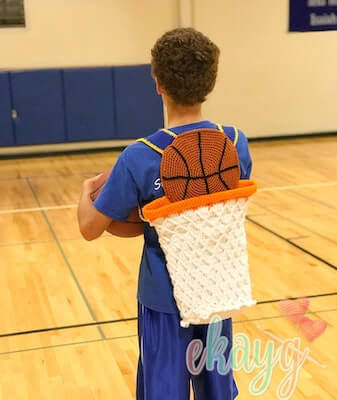 Get the Pattern by Ekay G here


8. Crochet Soccer Ball Pattern by Sahrit
This Crochet Soccer Ball is a great play size, it is fun to hold and can be used as a pillow just for cuddling or a fun Ball to play catch with! The pattern is so fun and easy you won't be able to stop at making just one! You might be making this in all sorts of colors!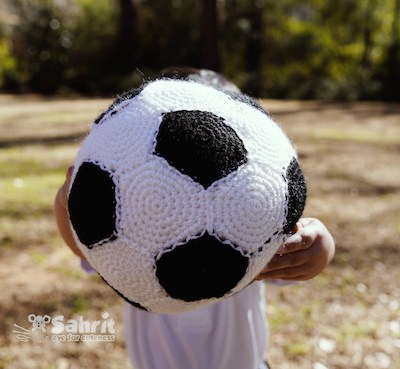 Get the Pattern by Sahrit here

9. Crochet Baseball Bat Pattern by Jen Hayes Creations
It's time to knock it out of the park with this free pattern for Crochet Baseball Bat! The pattern includes two versions: a decorative bat, but one that you could hold and swing like a real bat, and a version that would be more usable (you will create a center to the bat that is a bit more sturdy by adding a foam core made out of a pool noodle).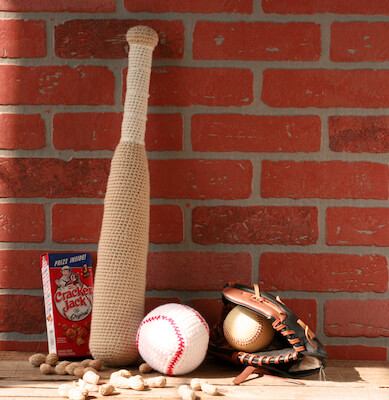 Get the Pattern here

10. Crochet Baseball Scrubby Pattern by Red Heart
It's almost bath time, so add playful fun to the clean-up ritual with this crochet baseball scrubby that any little slugger will enjoy! Stitch it quickly in any shades your child enjoys or keep it classic as designed!
Make a unique scrubby for each member of the family and get the whole home team excited about bath time!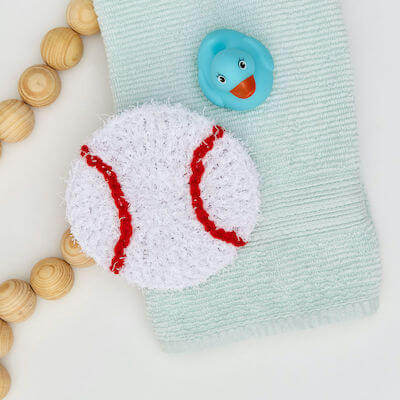 Get the Pattern here

11. Crochet Golf Set Pattern by Sky Magenta
This Crochet Golf Set is the perfect beginning golf set to introduce your kids to the game of golf. Everything your little pro will need is in this set: a golf ball, a golf tee, and club, all nicely tucked away in a golf bag. Isn't it cute?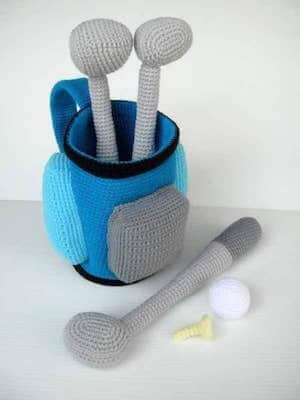 Get the Pattern by Sky Magenta here

12. Crochet Basketball Player Amigurumi Pattern by Crafty Is Cool Crochet
Crochet your favorite basketball player! This pattern shows you how to make a tall athletic body type doll in basketball shorts and a jersey with basketball shoes and a basketball! You can use the pattern to make any player you'd like, or just use the pattern to make your own creation.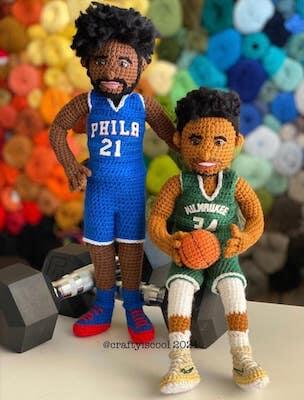 Get the Pattern by Crafty Is Cool Crochet here

13. Little Golfer Crochet Pattern by Briana K Designs
A hole in one set coming your way! This adorable set includes instructions for the visor, golf club, golf ball, and flag. A perfect way to showcase the game of golf in newborn pictures, or for a fun at home outfit.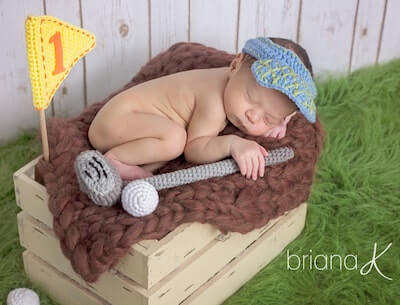 Get the Pattern by Briana K Designs here

14. Young Athlete Blanket And Rattles Crochet Pattern by Red Heart
For mini sports fans, craft this engaging crochet baby blanket with a 3D football, basketball or baseball that's perfect for tiny fingers to grab and throw. This creative original features an applique border of sports balls, plus a mesh pocket to store the 3D ball. It's an inspired project designed to captivate and delight baby's imagination.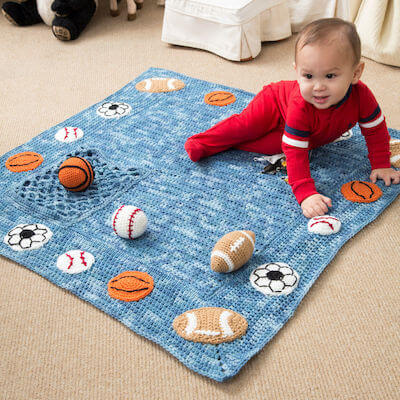 Get the Pattern here

15. Crochet Seventh Inning Stretch Pattern by Underground Crafter
Root for your favorite sports team with a crocheted mini flag! Use a dowel to provide structure. This pattern includes a photo tutorial for joining the flag to the mini flag pole cover.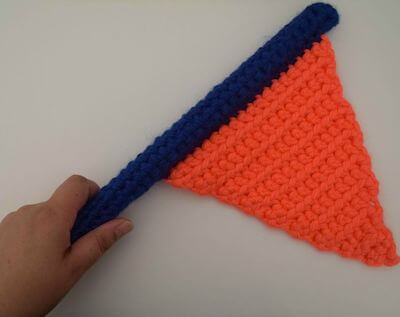 Get the Pattern here

16. Crochet Football Pattern by My Dear Knot
This football plush is so cozy and functional while still adding a beautiful herringbone texture! Use this as a statement pillow for a tiny bed or play area, or for a crochet plush football to throw around the house. This pattern is so quick and easy to work up, you'll have it finished in a few hours!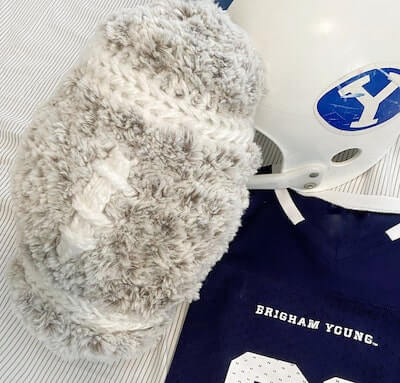 Get the Pattern by My Dear Knot here

17. Free Sweatbands Crochet Pattern by Gathered
You'll be serving aces when you learn how to make sweatbands with this free crochet pattern! These sweatbands are a great quick project that are sure to score you that advantage point. Make a pair for all sports player in your life!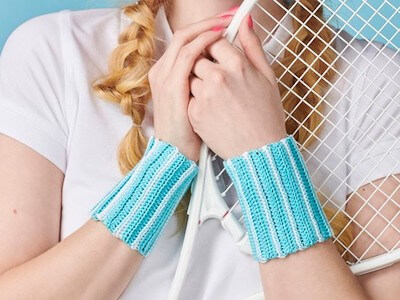 Get the Pattern here

18. Crochet Sports Baby Blanket Pattern by Aimee Hardy
This is a graph for a sports baby blanket. It is actually pretty simple and quick if you are familiar with c2c. It is perfect for any sports loving family expecting a new baby.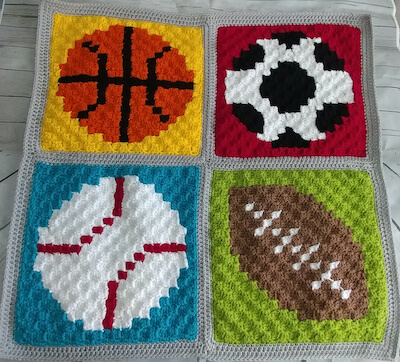 Get the Pattern here

19. Hockey Stick And Puck Crochet Pattern by Knot Monster
Budding hockey players and fans are sure to love this Hockey Stick and Puck set. Let your little hockey player practice their stick work with this crochet pattern. Slap shot for the win!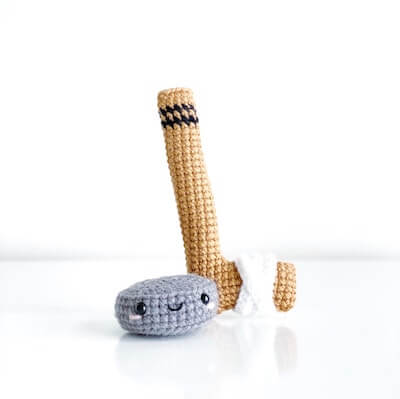 Get the Pattern by Knot Monster here

20. Crochet Sports Applique Pattern by Nella's Cottage
This cute little set of appliques includes 6 different crochet patterns: basketball player, baseball player, football player, hockey player, soccer player, and a cheerleader. They're great for adding to garments for sports fans!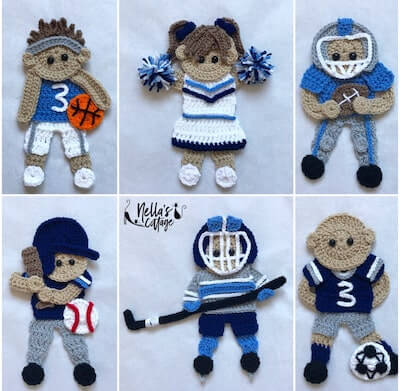 Get the Pattern by Nella's Cottage here

21. Crochet Basketball Rug Pattern by Repeat Crafter Me
If you love sports and basketball, you will love this quick and easy basketball rug. Proudly display your love of the game with this decorative rug that is great to place in any room. It's also a quick and easy project you can make in no time.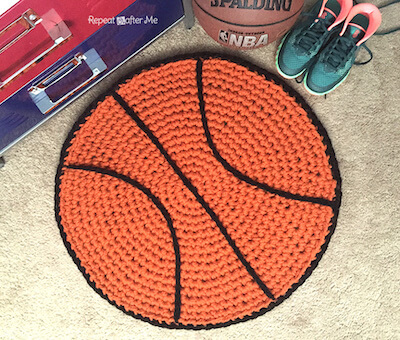 Get the Pattern here
WHETHER THE SPORTS FAN IN YOUR LIFE IS YOUR KID, YOUR SPOUSE, A FRIEND (OR MAYBE EVEN YOURSELF!), THESE CROCHET SPORTS PATTERNS HAVE YOU COVERED!
As always, we'd love to see your creation if you're willing to share it. Comment below or post on our Facebook Page to show off your works!
If you want another set of patterns to make for the diehard sports fan in your life, check these out: Crochet Golf Club Cover Patterns and Crochet Football Patterns for the Football Game Days.
Looking for something a little different this year for sports fans, athletes — and just about everyone else in your life? Try making some (or all!) of these crochet sports patterns today!