Have you put off changing colors in your crochet projects because it seems complicated? Get ready to start adding some new projects to your repertoire. Crochet changing colors is easy.
However, you need to know the right technique to do it seamlessly.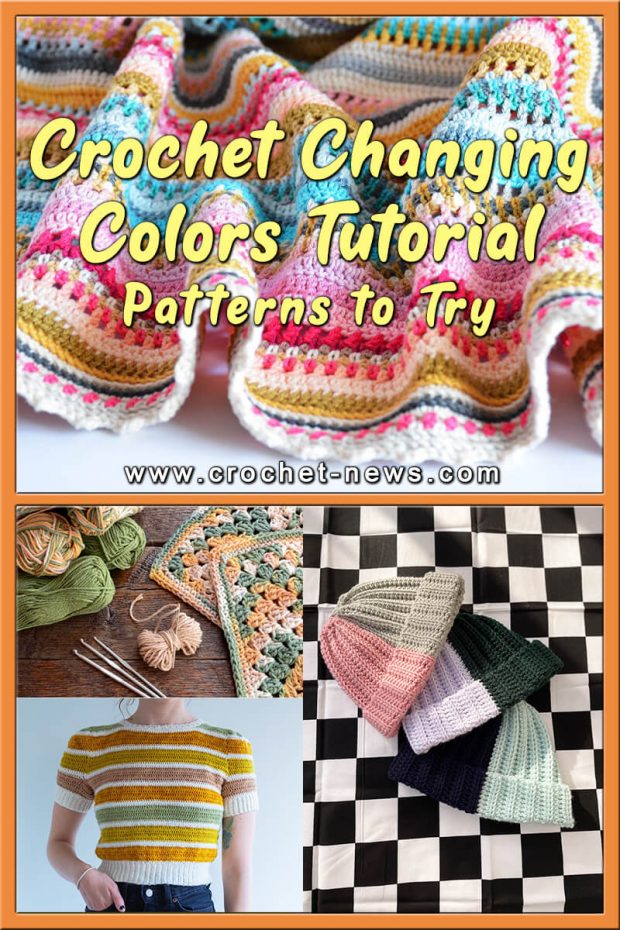 No matter what stitch you use, the method for crochet changing colors is the same. Below you will find our simple step-by-step crochet changing colors tutorial.
Once you see how easy it is, you will want to begin your first multicolored project.
What Crochet Patterns use Color Changes?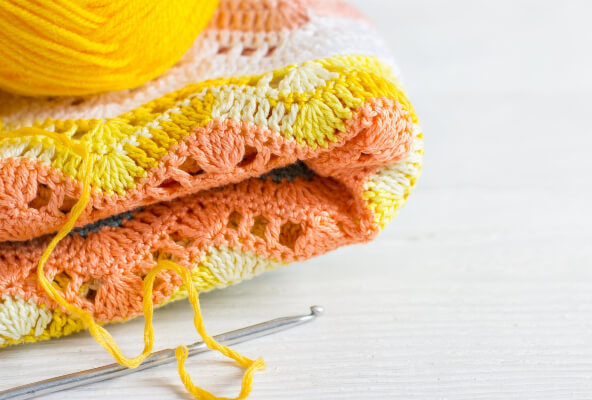 If you crochet, changing colors is hard to get away from. You will often find color changes in
Blankets
Hats
Scarves
Washcloths
Dishcloths
Sweaters
Handbags
Etc.
How to Change Colors in Crochet – Crochet Changing Colors
If you are ready to learn how easy it is to change colors while crocheting, grab your supplies. We are going to teach you the basic crochet changing colors technique used for single crochet.
However, the technique can be geared towards all stitches.
You will need:
Yarn
Coordinating Crochet Hook
Scissors
Crochet Changing Colors Tutorial: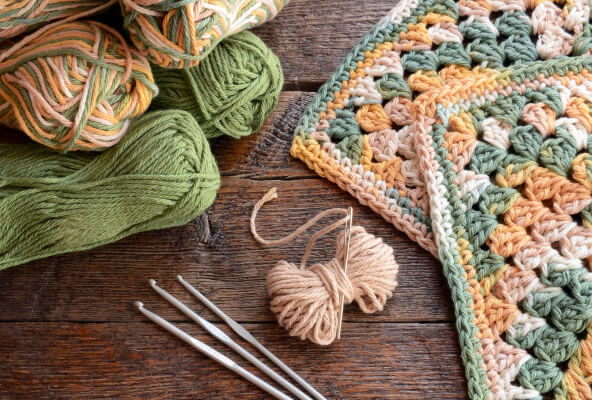 1. Begin by crocheting a foundation chain and add a few rows of single crochet stitches.
2. Stop where you want to change the color. Do not complete the single crochet. Push the needle through the stitch and yarn over. You should have two loops on the hook.
3. Drop the current color and grab the new color.
4. Fold the end of the new colors in half leaving about a 4-5" long tail.
5. Place the new color on top of the crochet hook where you folded it in half.
6. Pull the new color through the 2 existing hoops on the crochet hook.
7. Take your scissors and cut the old yarn. Leave about a 4-5" long tail.
8. Grab the tail of the old yarn you just cut and pull it to tighten the new color.
9. Pull on the new color along with the old color to adjust the new color into place on the hook.
10. Chain 1
11. Turn your project over.
12. Grab both loose ends of yarn (old color and new color) and hold them together on the back of the project.
13. Single crochet over both of the loose ends.
14. Continue single crocheting over both of the loose ends of yarn 6-8 times.
15. Grab your scissors and cut off the remaining loose ends of yarn.
Now that you know how easy it is to change colors, try a new crochet project.
10 Changing Colors in Crochet Patterns
Below are 10 crochet patterns that use the crochet changing colors technique.
1. Stripes & Colours Blanket Crochet Pattern by CrochetObjet
Brighten up any room in your home with this colorful blanket. The blanket is a joy to make because you get the see the pattern change with each repeat.
The blanket is made using 22 different cotton colors. Included are step-by-step tutorials with a lot of close-up pictures. You must be familiar with the basics of crochet and crochet changing colors.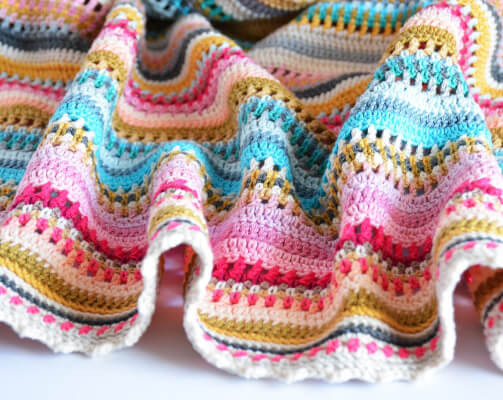 Find the Pattern by CrochetObjet HERE
2. Twisted Canyon Beanie Crochet Pattern by Sheepish Stitches
The Twisted Canyon Beanie has a fun design and a lot of texture. And to make it even better, it is topped off with a big, fluffy pom pom.
The knitting pattern is easy to follow. There are helpful photos to help with stitches and placement. The pattern offers four sizes with band measurements for newborn, toddler, teen, and adult.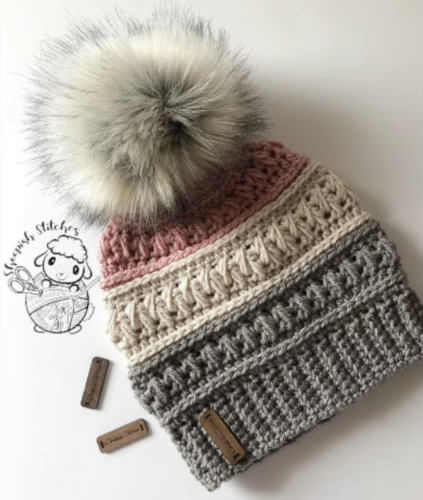 Find the Pattern by SheepishStitches HERE
3. The Louise Tee Crochet Pattern by handmadehannalouise
This is a very cute sweater pattern. You can have a lot of fun playing around with color combinations. It is a comfortable top to wear and looks super cute with a pair of jeans or a skirt.
Here is an advanced beginner-friendly pattern. It uses mainly double and half double crochets, along with some yarn over slip stitches for the ribbing. Sizes included range from XS to 5XL.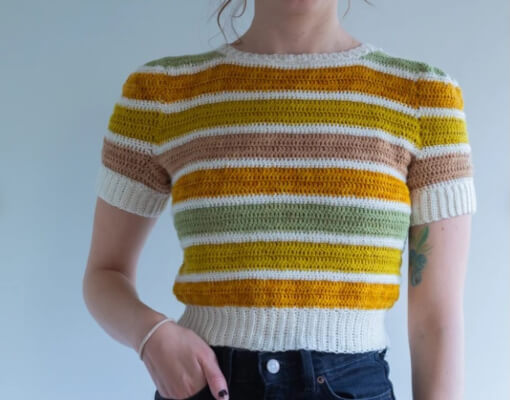 Find the Pattern by handmadehannalouise HERE
4. Crochet Checkered Shorts Pattern by CrochetWithLuvStore
Check out these unique checked shorts. The color possibilities are endless.
The pattern is advanced beginner-friendly. It uses basic crochet stitches with a little sewing. The pattern is written in English and uses US terminology. The pattern is made-to-measure to meet your sizing.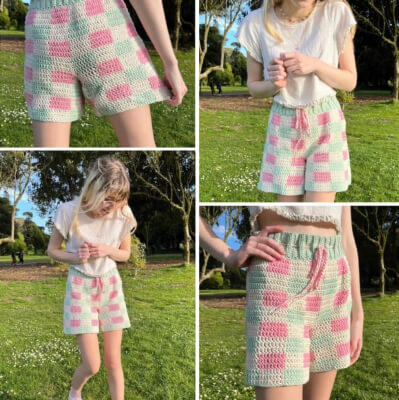 Find the Pattern by CrochetWithLuvStore HERE
5. Free Crochet Striped Velvet Cardigan Pattern by Nicki's Homemade Crafts
Are you looking for a crochet pattern for a cosy oversized cardigan? This one is easy and free! The cardigan is made with Crushed Velvet yarn by Yarnspirations.
To complete the cardigan, you will need 4 skeins of Crushed Velvet bulky yarn, a 5.00 mm hook, a tapestry needle, and scissors.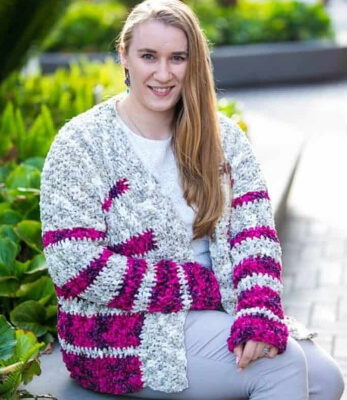 Find the Pattern by Nicki's Homemade Crafts HERE
6. Crochet Waffle Stitch Blanket Pattern by StitchingTog
Keep cosy and warm with this gorgeous and squishy waffle stitch crochet blanket. This throw would make a great gift for a baby shower, Mother's Day, or a housewarming.
The pattern includes three different sizes: baby blanket, small throw, and blanket size. The main stitches used include chain, double crochet, and front post double crochet.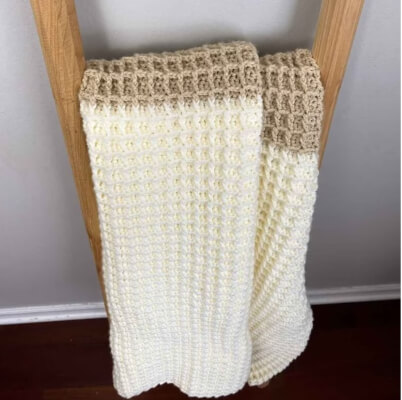 Find the Pattern by StitchingTog HERE
7. Paper Tiger Beanie Crochet Pattern by CloudNai
Children and teens will love this two-tone beanie. You can use neutral colors for a subtle design or fun bright colors that will attract attention.
The hat should take around three hours to make. You will need to know single crochet two together and crochet changing colors. It is a one size fits most pattern.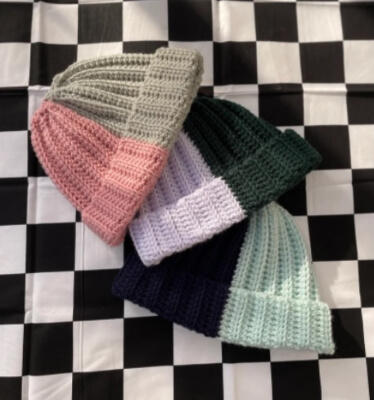 Find the Pattern by CloudNai HERE
8. Shell Stitch Baby Blanket Pattern by Amy Ramnarine
Are you looking for a crochet pattern that is a little more complicated? Here is a free baby blanket tutorial that requires you to use your new crochet changing colors knowledge time after time.
The intermediate level pattern will create a blanket that measures approximately 35 inches (88.9 cm) x 35 inches (88.9 cm). The final sizing will vary depending on how tightly, or loosely you crochet.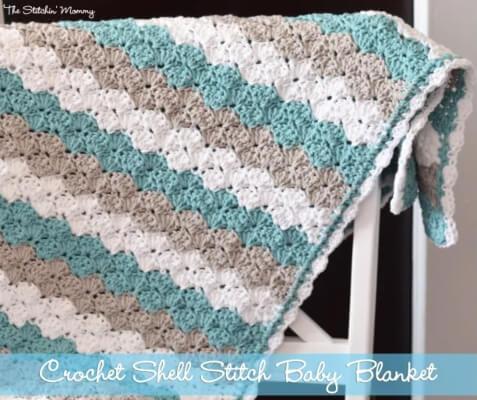 Find the Pattern by Amy Ramnarine HERE
9. The Kiara Bag Crochet Pattern by rubywebbs
This chunky bag will compliment any fall or winter wardrobe. This cabled bag works up very quickly and has a lot of texture.
The download includes links to YouTube instructional videos that will help you get started. You can use the crochet changing colors technique for this bag, or you can make it solid.
The pattern is available in two sizes: small 11 inches wide (27.94 cm) x 4 inches (10.16 cm) deep x 10 inches (25.4 cm) tall and large 11.5 inches (29.21 cm) wide x 4.75 inches (12.065 cm) deep x 11 inches (27.94 cm) tall.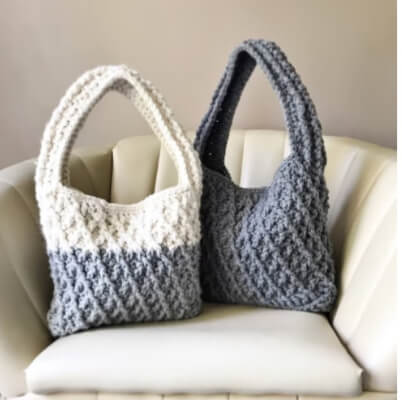 Find the Pattern by rubywebbs HERE
10. Placemat and Coasters Crochet Pattern by FlorSamoilencoDIY
Add a pop of color to your dining table with some fun placemats and coasters. These pieces would be ideal for a kitchen decorated with retro mid-century decor.
The crochet pattern uses an intarsia chart. If you do not know how to crochet with intarsia, don't worry! The designer has provided a lot of step-by-step photos, so it is easy to follow.
Required knowledge for this project includes half double crochet (US) / Half treble (UK), chain stitch, slip stitch, and crochet changing colors.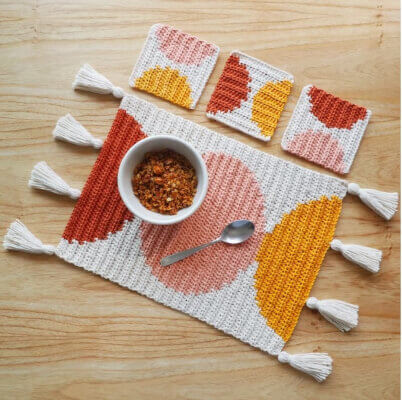 Find the Pattern by FlorSamoilencoDIY HERE
Now that you know the technique for crochet changing colors, give one of these patterns a try.
We'd love to see any of your work, share a pic over on our Facebook Page.
Crocheting is so much fun. And learning new techniques can open a brand-new world. If you have passed on patterns because you did not know this basic crochet changing colors technique, you no longer have to do so.