What crochet football pattern will you be making, playing with and wearing this year?
Have you and your friends already decided where you'll watch the big football game? Football fans love watching the big games together. Some even take it to the next level by wearing football-themed outfits.
As a crocheter, you won't have to worry at all because you can make your own!
To make your life easier so we compiled a few crochet football patterns you can choose from.
We even included patterns for your little ones, your babies, and even your pets! Check out the list and let us know which one you're going to make.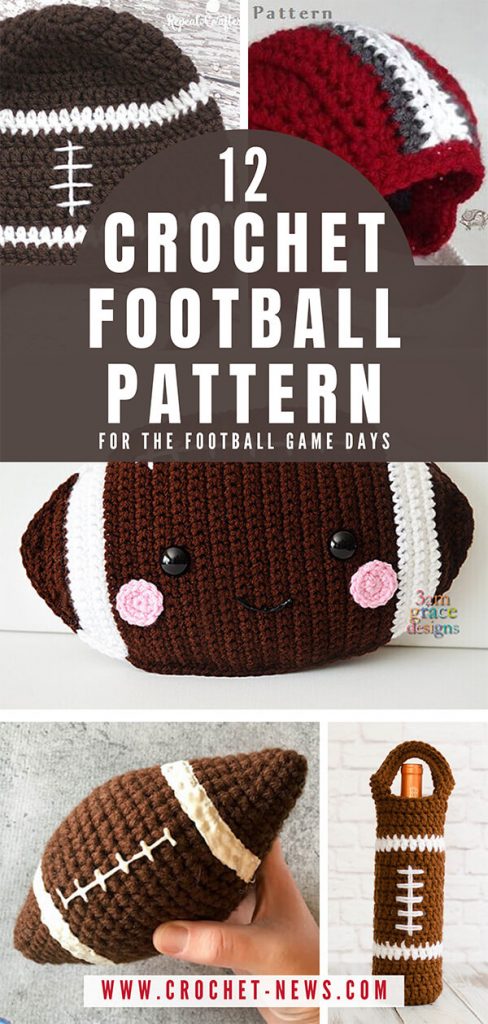 1. Crochet Football Pattern Hat with Earflap Pattern
Thinking of buying your little baby can wear for the big game? Why not make one for the whole family!
Since this pattern is available in all sizes, you can make one for your mom, dad, and even the other kids.
Gather the whole family and cheer for your favorite team. To make the crochet football hat more special, you can make it in the colors of each one's favorite team.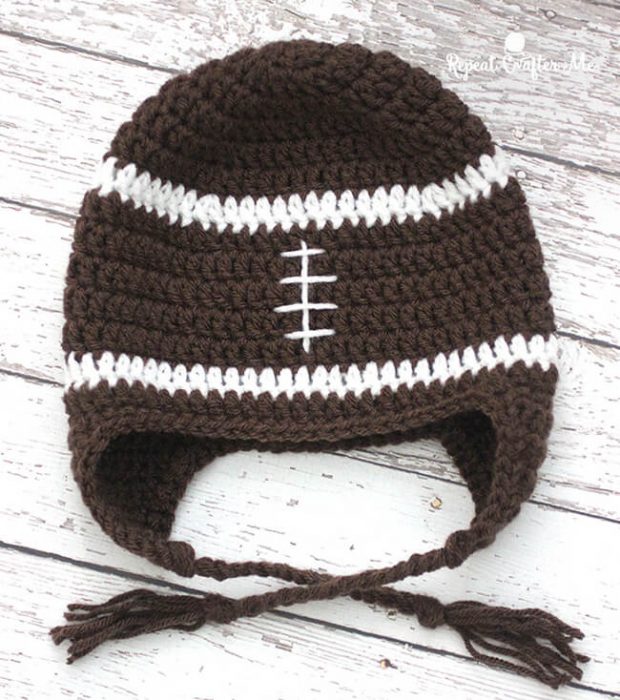 Get Crochet Football Hat With Earflap Pattern By RepeatCrafterMe here.
2. Cat Crochet Football Sweater Pattern By EnchantingCreations7
Do you love dressing up the whole family to watch the big games during the football season? If you have fur babies, you should also include them in the tradition!
This football sweater is the perfect crochet football pattern to make for your pets! You don't even have to worry about the struggles you'll have to go through just to put this on your pet because it slips easily through their head.
Plus it has ribbed edgings both in the neck and at the bottom for added style. In addition to that, this sweater can fit both cats and dogs!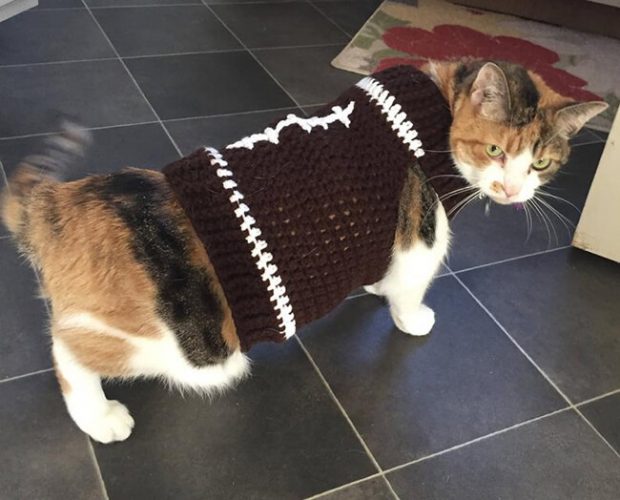 Get the Cat Crochet Football Sweater Pattern By EnchantingCreations7 here.
3. Free Baby Football Cocoon By Knotmydesigns
Having a hard time thinking of what to give your football buddy who just had a baby? Welcome him to this world by making him a baby football cocoon!
Warm and cozy, the little one will surely love taking his nap in his very own cocoon! It looks pretty plain and simple but you can add a few embellishments to it.
Make some football-related appliques or you can also crochet some pretty flowers. For added cuteness, you can also add pompoms to the beanie.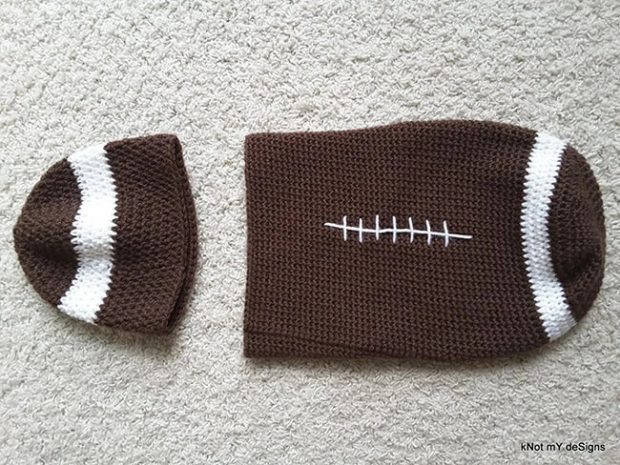 Get this Free Baby Football Cocoon Pattern By Knotmydesigns here.
4. Crochet Football Field Afghan Blanket Pattern By CrochetCouch
Want something big that definitely screams football? Some of the patterns in this list are football-themed but they can be too small for your preference. Well, here's one that's big enough and obviously related to football!
This huge 64 inches by 72 inches football afghan is the perfect pattern for you! If you feel cold while watching the games, you can cuddle with this to keep you warm. Also, you can use this as a blanket when you sleep to hopefully have some football-related dreams!
Get the Football Field in Afghan Pattern By CrochetCouch here.
5. Baby's First Crochet Football Helmet Pattern By OnePaisleyPig
Do you think you have a football star in the making? Make it a reality by making him this Baby's First Football Helmet!
Start supporting his future while he's young by creating this cute little helmet just for him. You can even customize if by using the colors of your little one's favorite team!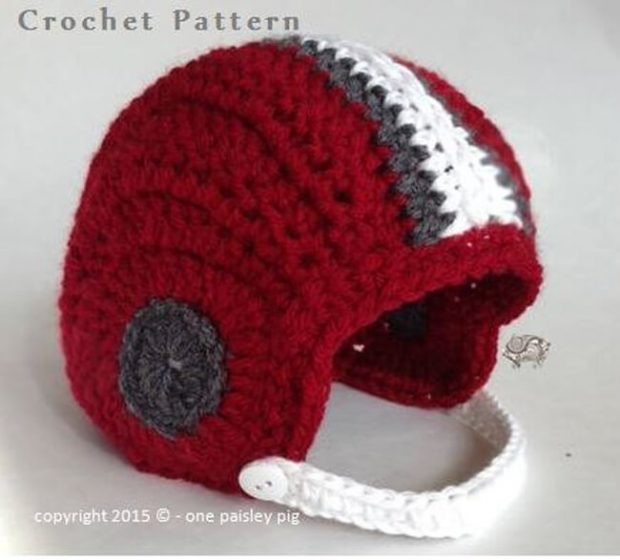 Get this Baby's First Football Helmet Pattern By OnePaisleyPig here.
6. Mini Football Amigurumi Pattern by Holycitystitchery
No, this is not a mistake. We have already listed a crochet football pattern for an amigurumi in this list, but this one's different!

If you're looking for a football amigurumi small enough to fit your pocket, this one is for you.
Aside from using it as a fall home decor or even pet toys, you can also use it as a keychain! To show your support to your favorite team, customize it by using their team colors. Plus, it can be a quick and easy-to-make gift too.
Get the Mini Football Amigurumi Pattern by Holycitystitchery here.
7. Football Amigurumi by Left in Knots
If you're looking for a crochet football pattern that's multi-functional, we're pretty sure you'll love this next pattern on the list.
This cute football amigurumi can be used as a decoration inside the house as well as a toy your children can play with. Gotta be careful though, it's stuffed and can knock things down.
To add the usual football embellish, a non-toxic puffy paint was used. But since most of you are more used to used yarns to add designs to your work, you can also use white yarn to add the embellishment.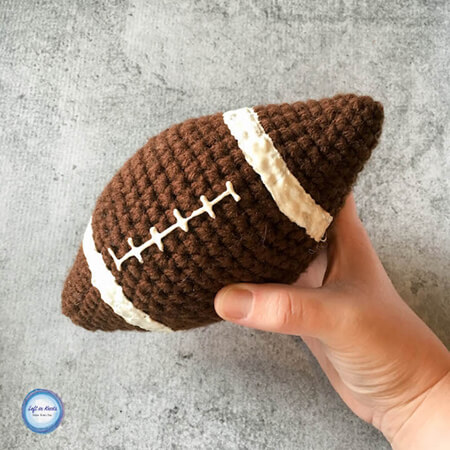 Free Amigurumi Football Pattern By Left in Knots here.
8. Football Appliques By OrchidandBees
Tired of thinking of a unique way to show your team spirit? Here's an idea, why not embellish your items with these football-themed appliques!
They're not only adorable, but they can also be used in a lot of ways such as adding these designs to your bag to show your love for football.
If you love wearing beanies, you can also sew the tassels to your favorite beanie.
In addition to that, you can also make a plain and simple blanket for your little one and embellish it using these appliques.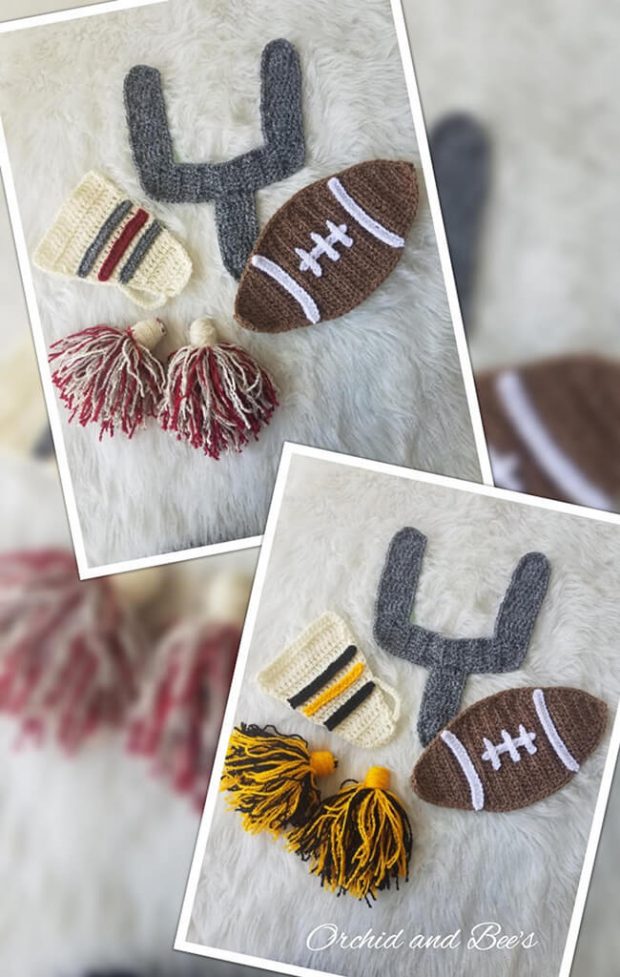 Get the Football Appliques Pattern By OrchidandBees here.
9. Crochet Football Diaper Cover Pattern By JonnaMartinezCrochet
Thinking of the perfect gift for your expecting friend? It may not look like your usual baby shower gift, but if you make it for a friend who lives and breathes football, we're sure this will turn out to be the best gift ever!
With all the details of this diaper cover, it's so easy to customize. You can change the colors and use the color of your friend's favorite team! In addition to that, you can also change it up a bit by using a unique looking button. 

Check out more crochet diaper cover patterns here.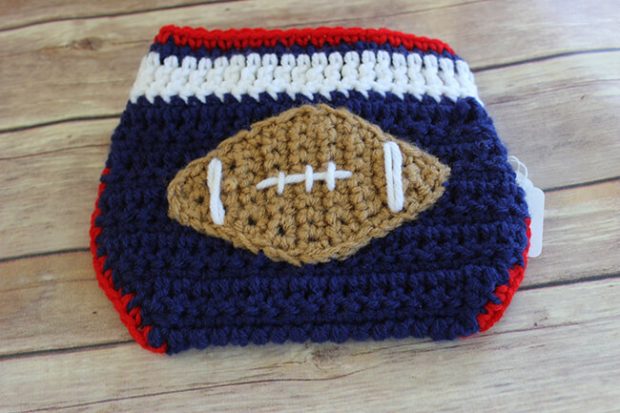 Get the Football Diaper Cover Pattern By JonnaMartinezCrochet here.
10. Football Kawaii Cuddler By 3amgracedesigns 
Are you having trouble marrying your love for cute pillows and football? Oh! Good thing someone made this KAWAII football cuddler!
This beginner-friendly pillow is so adorable but really easy to make. As long as you know your basic stitches, you'll surely be able to make one for yourself.
Basically, it takes a simple football cuddler and turns it into something cute by adding details like the blush, the eyes, and the mouth.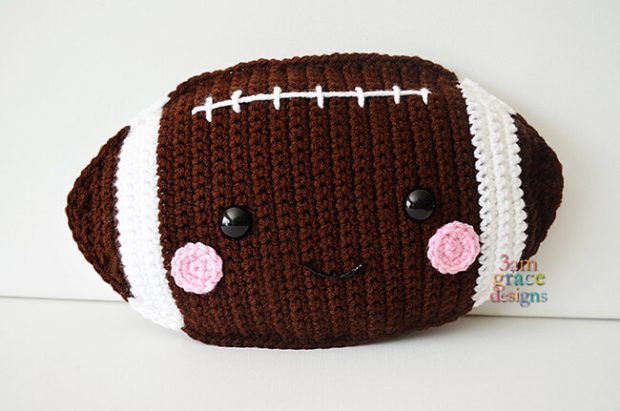 Get the Football Kawaii Cuddler Pattern By 3amgracedesigns here.
11. Crochet Football Wine Cozy By Croceht365Knittoo
Do you love gathering in one place and watching big football games with your friends? Well, you should volunteer to bring the wine next time!
Along with the wine, why not create this adorable football wine cozy that your host will definitely love! We're pretty sure it will be everyone's favorite. To make it more personal, you can use the colors of your friend's favorite team!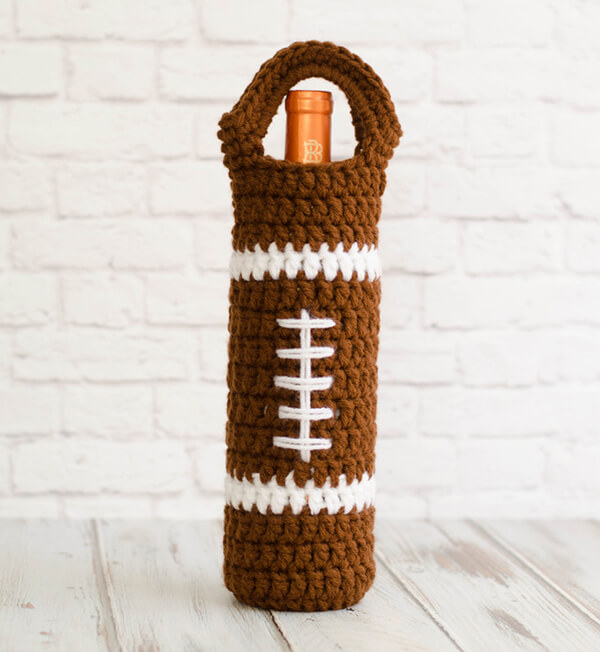 Get this Football Wine Cozy Pattern By Crochet365Knittoo here.
12. Baby Girl Crochet Football Hat Pattern By LisaCorinneCrochet
Thinking of making a football-themed garment for daddy's little girl but still want it to look feminine? You have to check out this baby girl hat with a crochet football pattern!
It's nice pink color gives it major feminine vibes. Additionally, the brown-colored edging works well as an accent.
The football applique adds a football touch to this cute little beanie! The tradition of wearing football-themed items during the big game will be a lot easier for your little girl with this hat.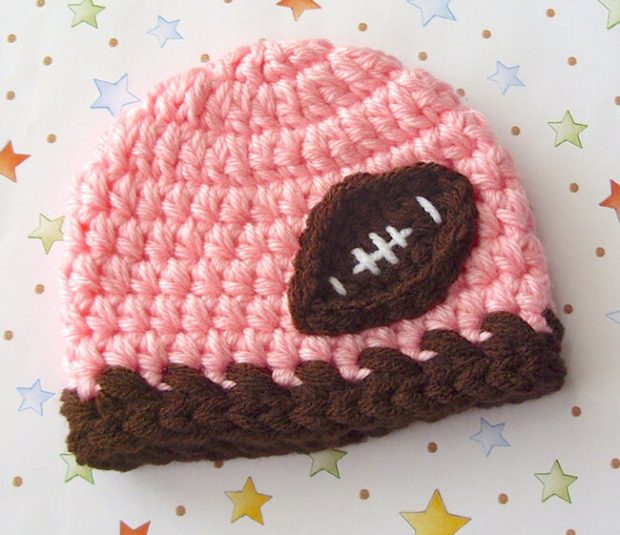 Get this Baby Girl Football Hat By LisaCorinneCrochet Pattern here.
Let Us Know What Crochet Football Pattern You're Working On This Season!
There you have it! We have completed the list of crochet football patterns you can make before the big football game arrives. Have you decided which one to take on this year?
We can't wait to see what you'll be using for the next game day! If you try anything on our list, share it with us by posting your works or your works in progress on our Facebook Page.
We have other patterns available on our website, for instance, you can also check out this FREE Varsity Crochet Raglan Sweater Pattern you can make for a comfy and outdoorsy look. You might also love these Crochet Sports Patterns.
Hope you found something to make for you, your whole family, or even for your friends with our list of crochet football pattern!