Do you want the cottagecore aesthetic without restricting your ribs? Make yourself a corset made entirely of yarn. Keep scrolling for the best crochet corset patterns, whether you're trying to invoke Regencycore at its finest, or love the idea of wearing a bustier top with your favorite pair of jeans.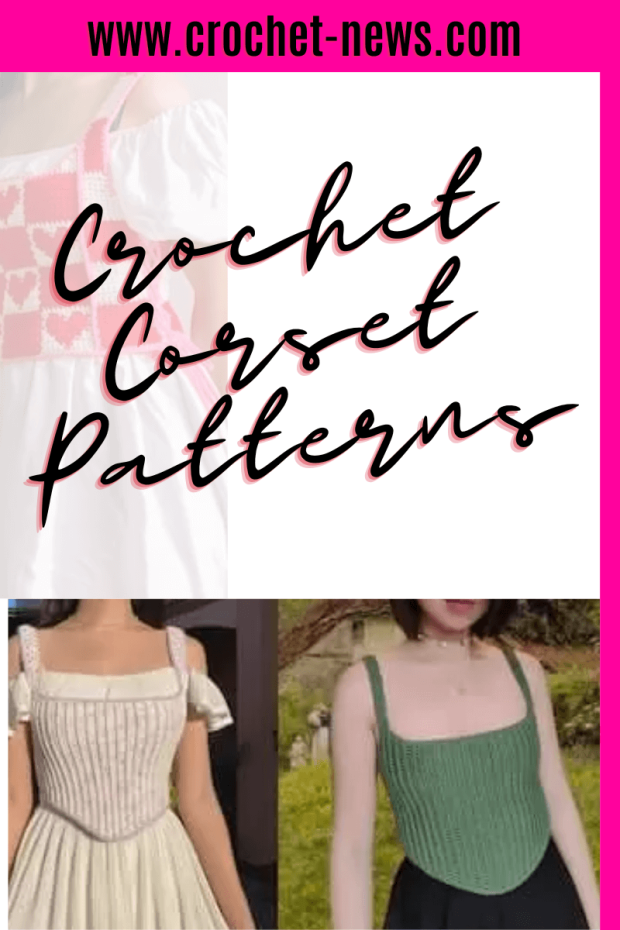 My personal favorite obsession at the current moment is the return of the corset. It's honestly, single-handedly the best way to give a certain something to the outfit I'm planning. First of all, I can pair it with any bottoms. Second of all, it gives me a bit of boost and doubles as a supportive bra. And third, it just looks so good.
15 Stylish Crochet Corset Patterns
Below, you'll see patterns for corset belts, underbust corsets, and bustier corset tops. I could go on endless about everything you can do with corsets, but I figured I'd let you look through some of my favorites and decide for yourself which one draws you in.

1. Crochet Bat Corset Pattern by Amy Crafted Shop
Learn how to make this bat-themed corset! A perfect and alluring top for Halloween or whenever you want.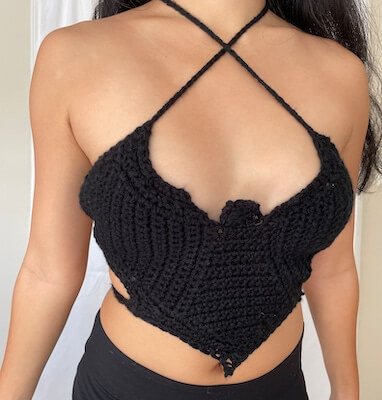 Get the Pattern by Amy Crafted Shop here

2. Renaissance Bodice Corset Crochet Pattern by Twisted Twig Crochet
Crochet this simple, versatile, and form flattering bodice this summer to wear to your favorite Renaissance Festival or just throw it on and head to the beach.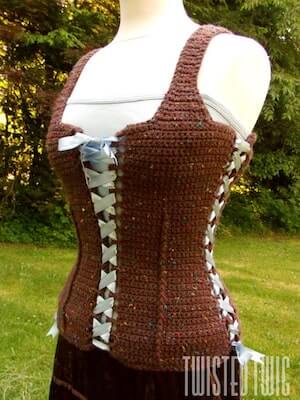 Get the Pattern by Twisted Twig Crochet here

3. Crochet Classy Corset Belt Pattern by Red Heart
Add style to you ensemble with this crocheted lace up belt. For a more slimming effect, choose a darker color yarn.
Find more crochet belt patterns here.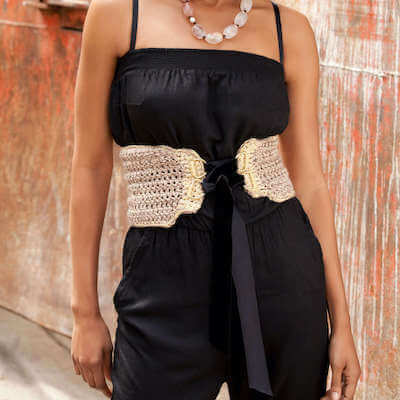 Get the Pattern here

4. Crochet Clamshell Lace Corset Belt Patern by Salty Pearl Crochet
Adding this beautiful crochet lace corset belt to a favorite maxi dress or tunic will help pull together your look and flatter your figure. Pair it with a tunic and some gladiator sandals for a killer beach look, or pair it with a flowy, high waisted maxi dress for a pretty way to draw out your figure.

The best part about wearing this corset is that it doesn't cinch tight to pull in your waist, it simply gathers the fabric at your waistline to create a visual break. It's so comfortable!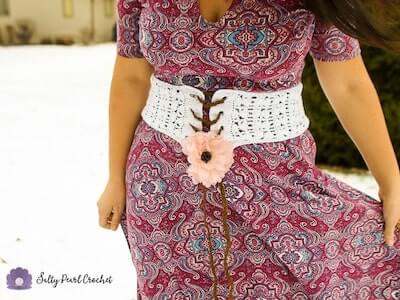 Get the Pattern here

5. Ivy Crochet Corset Pattern by Lilly Louisa Crochet
This Ivy Crochet Corset is perfect to pair with jeans or a skirt for a fresh spring/summer look. It ties in the back with a corseted back with vine appliques sewn on. The pattern can be easily added or subtracted to to make it bigger or smaller.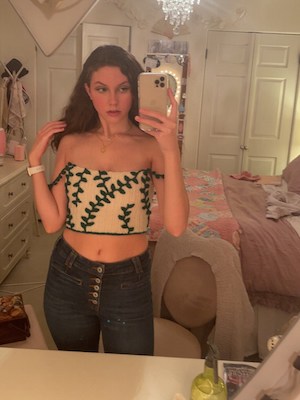 Get the Pattern by Lilly Louisa Crochet here

6. Crochet Steampunk Corset Pattern by Sarah Jane Jackson
Want to show your Steampunk style? This Corset can add that little bit of steampunk to any outfit. This is a stunner and perfect for a variety of cosplay.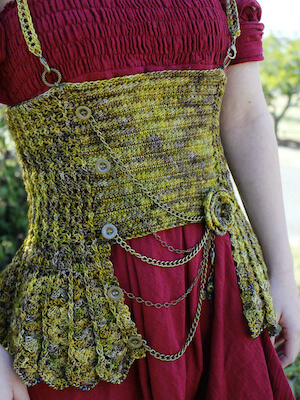 Get the Pattern here

7. Crochet Underbust Corset Pattern by Diana Pico
Make your cottagecore dreams come true with this crochet corset. This corset makes any casual outfit automatically more elaborate. Accentuating your curves and adding a pop of color. Match it with a button up, a long t-shirt, a sundress, the possibilities are endless!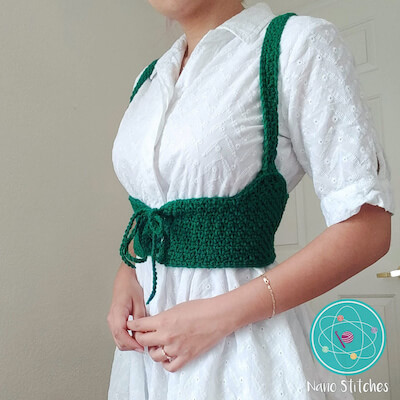 Get the Pattern here

8. Elise Corset Crochet Pattern by Lanka By Me
Design a flattering corset that's adjustable with this Elise Corset. This pattern will make a nice tie front top that's essential for your pool side wardrobe. Style it with your favorite bikini and your holiday tan! (Discover stylish bikini crochet patterns here.)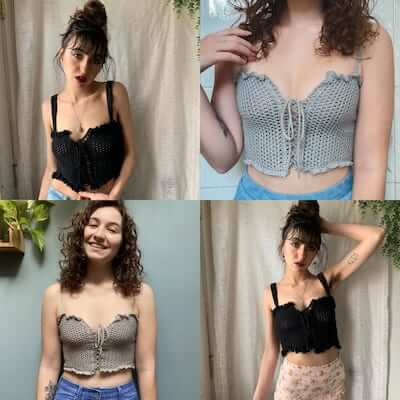 Get the Pattern by Lanka By Me here

9. Crochet Juliette Corset Pattern by I Will Crochet
This Juliette Corset is suitable for intermediate beginner crocheters. This design uses aran-weight yarn and the combination of two basic crochet stitches: half double crochet and slip stitch to create the perfect cottage-core aesthetic.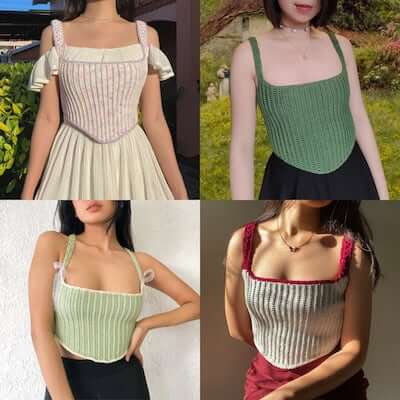 Get the Pattern by I Will Crochet here

10. Giorgi Corset Top Crochet Pattern by Skein Studios
This Giorgi Corset is a modern crochet take on the classic Victorian corset, fused with elements from the 21st century. It is a crocheted garment that replicates the boning detail and lace-up back of the Victorian classic.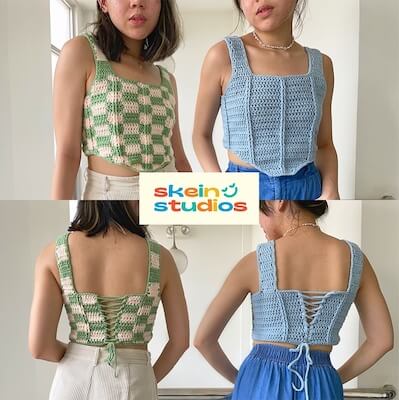 Get the Pattern here

11. Iracebeth Crochet Corset Top Pattern by Hookloops Ph
This Iracebeth Corset Top Pattern is a graded pattern for sizes XS to XL. It is a very beginner-friendly tapestry crochet project. The finish top can be worn with a cute puff sleeved top underneath if you want to have cottage core vibes or as is if you want a trendier way of styling it!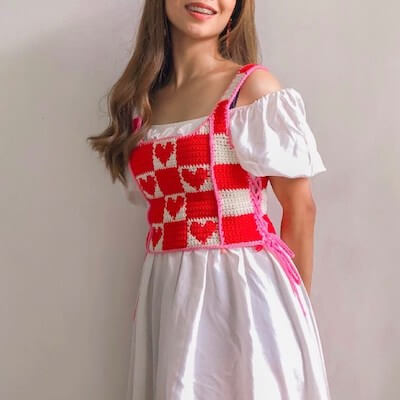 Get the Pattern by Hookloops Ph here

12. Crochet Kaleigh Corset Belt Pattern by Yommy Crochetlogy
Add flair to your ensemble with this lace-up crochet corset belt. It is great for outfits with oversize dresses and shirts because it helps to stylize your figure. The best part is that this pattern explains how to measure yourself to fit all body types.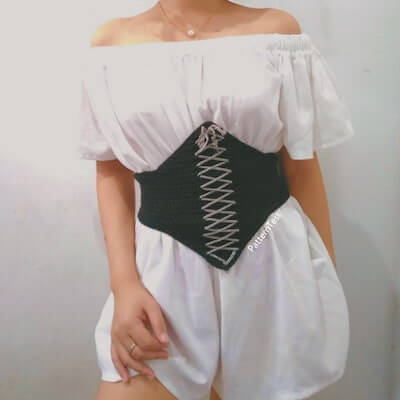 Get the Pattern by Yommy Crochetlogy here

13. Crochet Laced Up Corset Top Pattern by Bloodi Mary Art
This Laced Up Corset Top is so easy yet very satisfying to make and to wear. I can't miss the chance to crochet my version for this summer! The front corset is so flirty and it adds some extra interest to the final overall look, while the picot stitch helps you get the prettiest edge ever.
Get the Pattern by Bloodi Mary Art here

14. Crochet Veronice Sheer Lace Corset Pattern by Yommy Crochetlogy
This Veronica Sheer Lace Corset is lacy and perfect for this Halloween. It is a nice mix of romantic and sultry with a sprinkle of nostalgia. This piece is easy to make and even easier to style!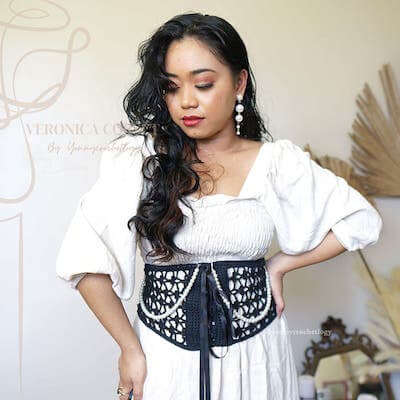 Get the Pattern by Yommy Crochetlogy here

15. Mermaid Front-Lacing Corset Crochet Pattern by Transatlantic Crochet
Dive into this rewarding project—perfect for cosplay or cottagecore and academia aesthetics. The design is simple enough for novices but adaptable enough for advanced crafters. It is easy to make and fun to wear!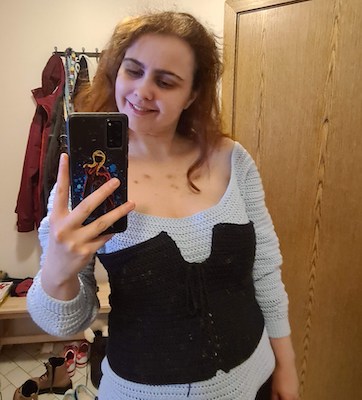 Get the Pattern by Transatlantic Crochet here
CORSETS ARE ABSOLUTELY EVERYWHERE THIS SEASON AND THESE CROCHET CORSET PATTERNS ARE PERFECT FOR JUMPING INTO THIS TREND.
One of the best things about sharing crochet patterns is getting to see what our wonderful community makes with them! Share your crochet creations with us on our Facebook Page. We'd love to check them out!
If you are wanting to try your hand at making clothing, we have more stylish pieces for you in our crochet clothing and crochet accessory archives. There is a little something for everyone, from crochet bralettes, halter tops, and cardigans to men's and children's sweaters, and even fun hats, socks, and mittens!
Gone are the days of tight, restricting corsets. Make your own version of these crochet corset patterns today!