Crochet yourself one (or more) of these fabulous crochet cardigan patterns. Whether it's long, short, or cropped, you'll find plenty of styles for ladies, men, children, and babies.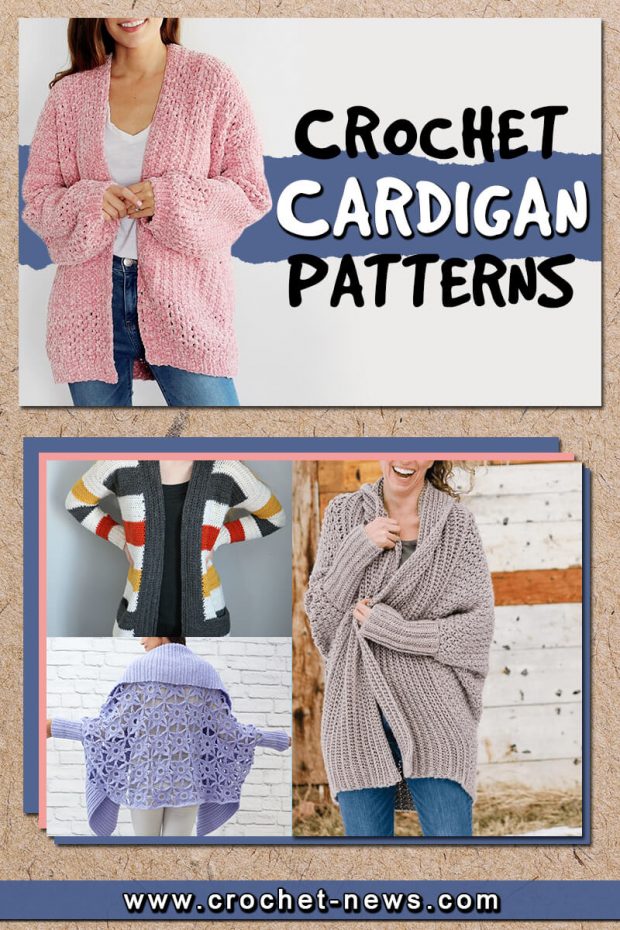 These open-front sweaters are a wardrobe staple because they are easy to throw on with all kinds of outfits, adding just the right amount of warmth no matter the time of year.

Choose from cozy chunky cables, luminous lace, simple or bold designs – or make them all!

1. Easy Crochet Cardigan Pattern by Make And Do Crew
The basic stitch pattern and very easy construction of this Easy Crochet Cardigan make it perfect for beginners who want to make their first wearable garment.

Made with extremely soft yarn for a cozy-but-not-too-bulky look, you'll find yourself reaching for this cardigan over and over again.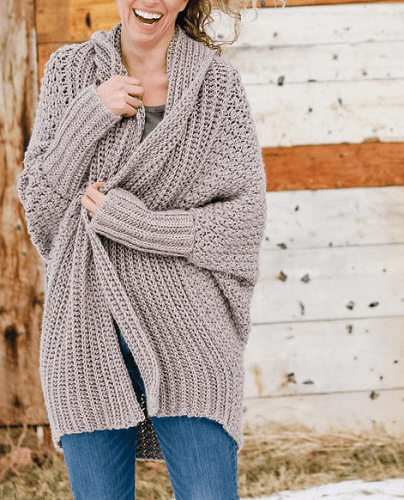 Get the Pattern by Make And Do Crew here

2. Rosewood Crochet Cardigan Pattern by All About Ami
Thanks to AllAboutAmi you no longer have to endure the chilly air in your office with this Rosewood Cardigan Crochet Pattern.
We all want to be able to move around easily while working right? Well, with this relaxed and slouchy cardigan, you get both the warmth and comfort you always need!
This cardigan crochet has cozy pockets and a gorgeous collar, and is perfect for beginners since it uses the simple single crochet!
ABOUT THE YARN
The yarn used in this piece is a Coboo Yarn, a lightweight yarn made of 50% cotton and 50% bamboo. It is soft and lightweight perfect for everyday cardigans!
Because its only 50% cotton, it's a great option for warmer climates. It's not as thick as other cardigans that are usually made using thicker yarns.
With lots of yarn colors to choose from, you can make multiples in different colors. Wear the color that fits your mood!
ABOUT THE PATTERN
This crochet cardigan pattern may look really simple but it actually has a lot of details if you look at it closely. The cardigan is worked mostly using single crochet in the front loop only.
Aside from the delicate details on its edging and collars, slouchy and relaxed cardigan also has pockets. Now you don't have to carry all your essentials by hand!
MATERIALS
3.5, 4, and 6 mm hooks
Coboo Yarn – level 3 DK lightweight yarn (see below for yardage) – 50% cotton/50% rayon from bamboo in "Mauve"
Yarn needle
Lock Ring Stitch Markers
Cork garment tag by Brickbubble (optional)
With this Rosewood crochet cardigan, you'll say goodbye to boring office outfits and hello to an elegant yet comfy getup!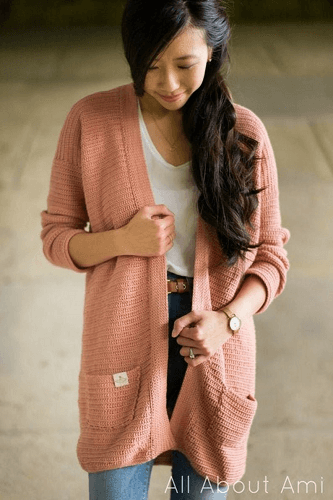 Get the Pattern here

3. Cozy Coed Cardigan Crochet Pattern by Heart Hook Home
This Cozy Coed Cardigan is perfect for men or women, and ranges from adult small to 4XL tall!

The pattern is created using vertical rows. The body of the cardigan is made up of all half double crochet while the edging used both front post/back post half double and front post/back post double crochet.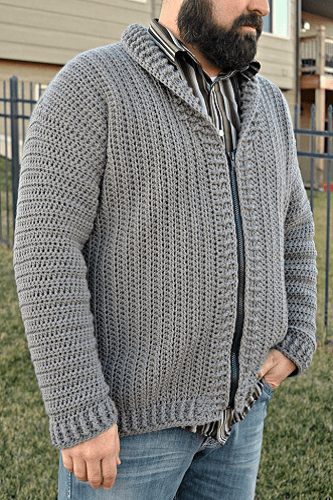 Get the Pattern here

4. Kaleigh Crochet Cardigan Pattern by Ruby Webbs
If you like warm and cozy, then you will adore this Kaleigh Cardigan. Made with worsted weight, size 4 yarn, this classic cardigan works up quickly and can be made in 5 sizes (Women's XS, S, M, L, and XL).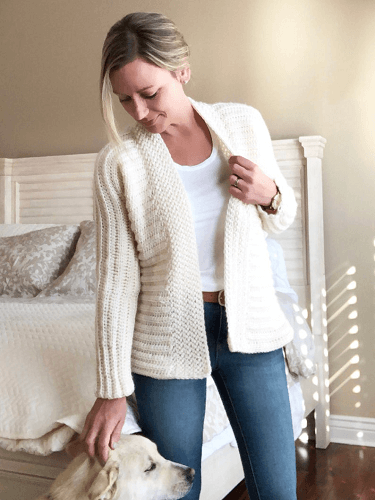 Get the Pattern by Ruby Webbs here

5. Easy Crochet Cardigan Pattern by Sewrella
This adult sized crochet cardigan can be worked up simply and easy! It only using a few rectangles, some seaming, and a trim.

It is a great project for those still new to the craft – great for an adventurous beginner. It is the perfect size and weight – not too chunky but soft, plush, and warm.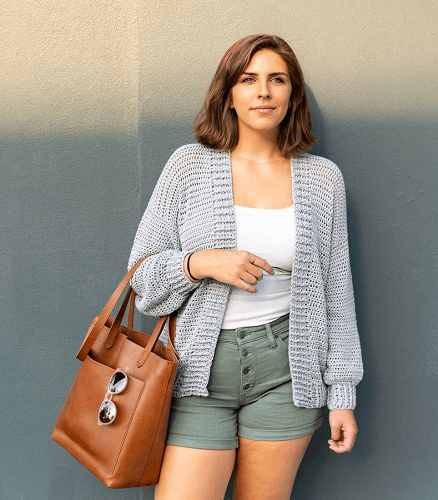 Get the Pattern by Sewrella here

6. Free Crochet Cardigan Pattern by One Dog Woof
This basic cardigan is made with a fast-moving half double crochet stitch and a chunky yarn, which means you can finish this garment fast enough to not lose interest in it!

This free crochet cardigan pattern hits just below the waist and is comfortably loose in the body while not getting overly bulky.
You'll have a new addition to your wardrobe that can be worn all day, any day.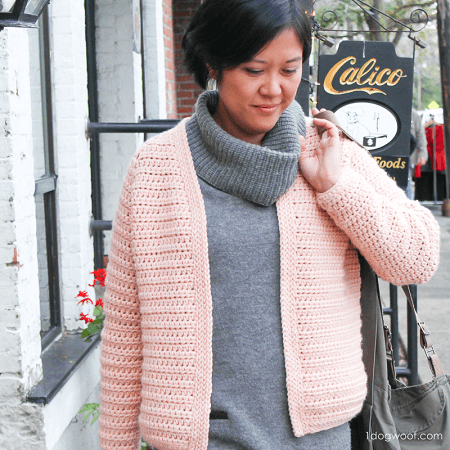 Get the Pattern here

7. Butterfly Crochet Cardigan Pattern by E'Claire Makery
This crochet cardigan will make you look like you have butterfly wings! Its simple construction is gathered in the back, which gives it the effect of butterfly wings.

This free crochet cardigan pattern is made using the crystal stitch, which is similar to the granny square stitch. It's a super easy pattern for beginners, that's great if it's your first crochet garment.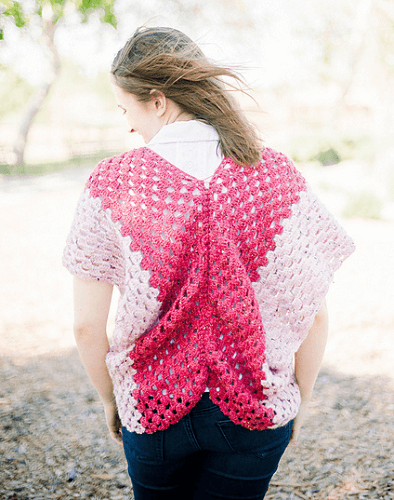 Get the Pattern here

8. Crochet Velvet Cardigan Pattern by Lakeside Loops
Crochet this Luxe Velvet Cardigan using velvet (or any bulky weight yarn you prefer)! It is airy and oh so soft. It drapes beautifully and is the perfect cardigan for any season.

This pattern is very beginner-friendly (it's so easy!) and the cardigan works up quickly, is easy to construct, and will look beautiful layered over jeans, leggings, or your favorite loungewear!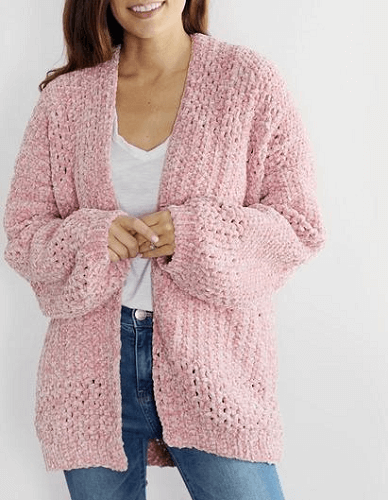 Get this easy crochet cardigan pattern here

9. Longline Cardigan Crochet Pattern by Mama In A Stitch
This stunning light Longline Cardigan features a lengthy fit and an ultra-soft fabric. The hints of vintage lace and the amazing drape make it a showstopper!

Wear it with your cut-offs this summer and your jeans this fall. You should be comfortable with basic crochet skills and stitches in order to make this fun cardigan.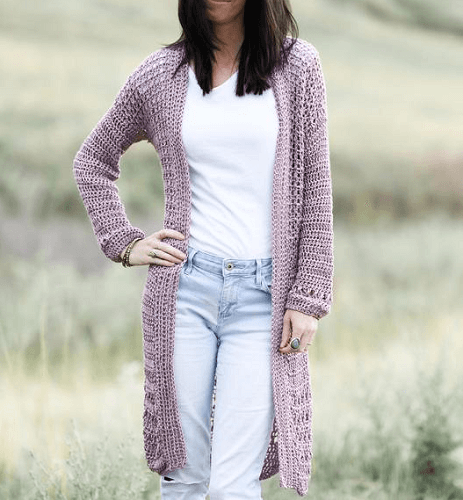 Get the Pattern by Mama In A Stitch here

10. Crochet Dog Cardigan Pattern by Yarnspirations
The colorwork comes easily on this Crochet Dog Cardigan with a lively personality! The body is worked in Red Heart Super Saver Fair Isle and features a contrast button band, collar, and sleeves in Red Heart Super Saver.

It's a satisfying project that features back loop single crochet ribbing, buttonhole, and simple shaping techniques to keep it interesting. Customize shades to complete a captivating cardigan for your favorite canine!

You may also want to check out these Crochet Dog Sweater Patterns for more ideas!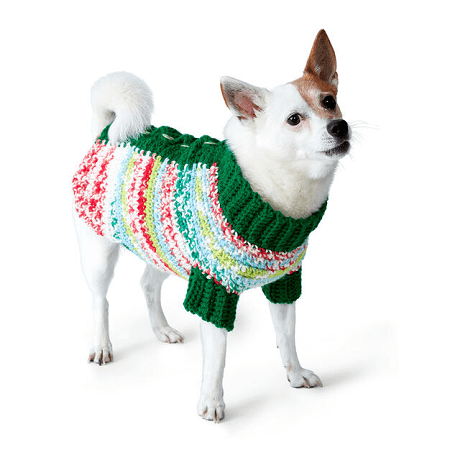 Get the Pattern here

11. Crochet Baby Cardigan Pattern by Wooly Wonders Crochet
This Crochet Baby Cardigan Pattern includes sizes from newborn up to age 5. This piece will certainly keep the baby super warm in the winter thanks to the great texture in the design.

The bulky yarn means it stitches up quickly so the baby can enjoy it faster. Easily customize for any little recipient by swapping out colors or considering different button choices.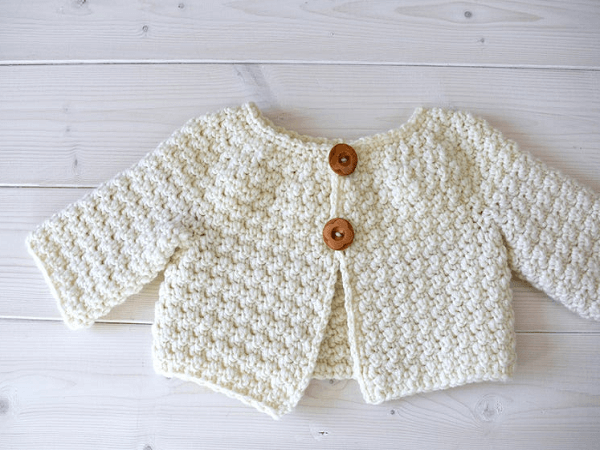 Get the Pattern by Wooly Wonders Crochet here

12. Granny Lace Crochet Cardigan Pattern by Red Heart
This jaw-dropping Granny Lace Crochet Cardigan combines smart cardigan styling with the comfort of an easy-fit shrug.

Stitch using a heavenly soft yarn to create floral motifs with a soft, brushed texture. Lavender color makes it real, but choose your favorite shade for a tone you may enjoy more.

Tip: Try using 2 colors – one for the body and one for the ribbing.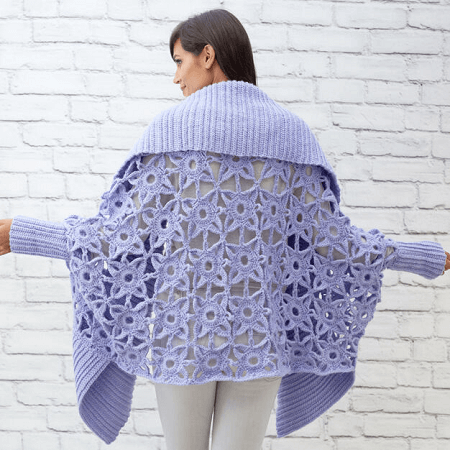 Get the Pattern here

13. Free Crochet Cardigan Pattern by Knitcro Addict
This cardigan sweater is beyond comfortable, beginner-friendly and it looks amazing! You can wear it open or spruce it up a little with a belt if you want to look a little more fashionable.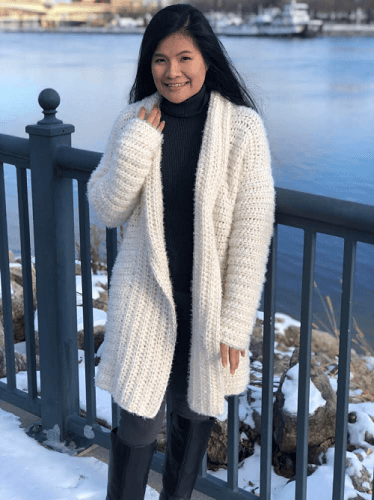 Get the Pattern here

14. Pleated Cardigan Crochet Pattern by Kat Goldin
Crocheted with the softest silk and alpaca, this Pleated Cardigan wraps you in a light cloud. With its airy stitches and simple gathers, it makes an elegant addition to your wardrobe.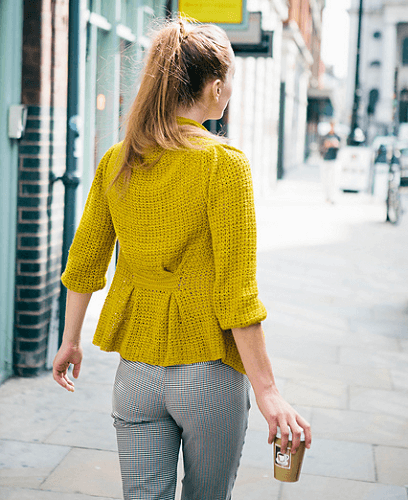 Get the Pattern by Kat Goldin here

15. Crochet Striped Cardigan Pattern by MJs Off The Hook Designs
This Crochet Striped Caridgan Pattern is simple and quick to make. It's lightweight for layering through all four seasons and the fit is worked right into the pattern for you.

Herringbone double crochet stitch is used to create an arrow like effect. The pattern features a set in pockets and ribbed cozy collar.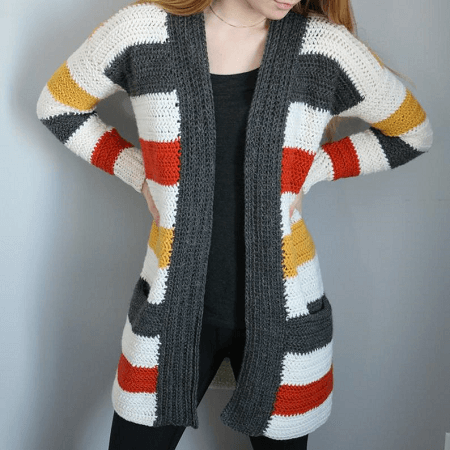 Get the Pattern by MJs Off The Hook Designs here

16. Mountain Harvest Cardigan Crochet Pattern by Colorado Shire
As the cool crisp fall weather rolls in cozy up with the Mountain Harvest Cardigan. Paired with a cup of tea and a warm piece of pumpkin pie this long, elegant, and cozy cardigan will be your go-to.

The super simple design make for an easy project, it is completely made out of solid granny squares with easy construction and step by step photos. The Mountain Harvest Cardigan would be a lovely and fairly quick to make gift for a friend or yourself.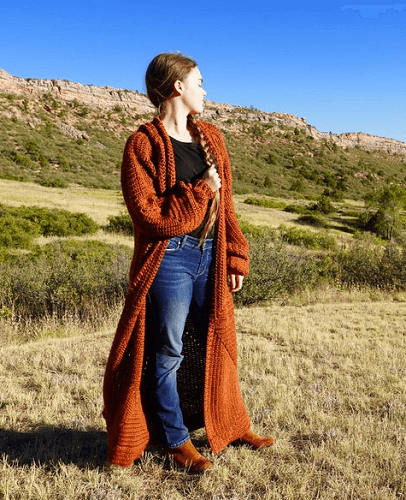 Get the Pattern by Colorado Shire here

17. Chunky Hexagon Cardigan Free Crochet Pattern by The Snugglery
If you've never crocheted a hexagon cardigan before, you are in for a treat. This Chunky Hexagon Cardigan might just be your new favorite way to crochet cardigan!

Two hexagons, crocheted just like a 6 sided, solid granny square for, both the body and sleeves of this cardigan at the same time.

Done in super bulky yarn for instant gratification and methodical sleeve decreases to make this chunky project an everyday, wearable piece.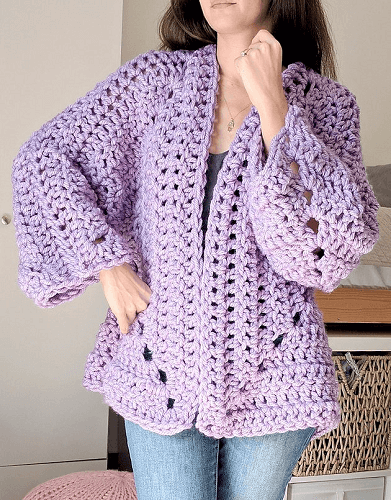 Get the Pattern here

18. Crochet Cropped Cardigan Pattern by Evelyn And Peter
If you struggle with cardigans that stop at the hip and make you look boxy, this Crochet Cropped Cardigan is for those who have a waist they want to show off to the world!

You can easily dress this design up or down – wear it on country walks with jeans and gumboots or pair it with ankle boots for a chic, brunch look!
Get the Pattern by Evelyn And Peter here

19. Crochet Chevron Spring Baby Cardigan Pattern by Crochet For You
This Chevron Spring Baby Cardigan is a simple pattern made with the chevron crochet technique. This baby cardigan has a cute look with short sleeves. Also, it looks great with any color combination!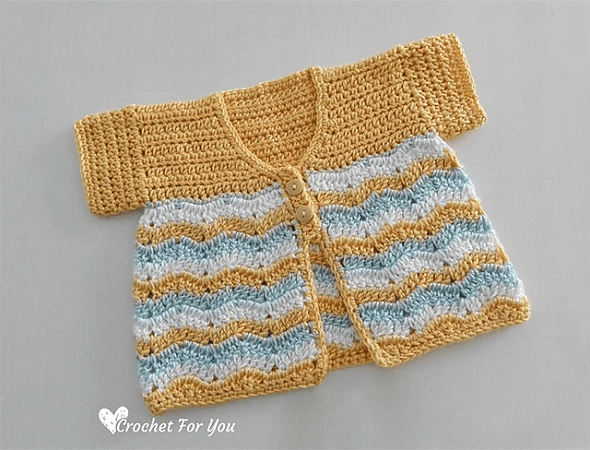 Get the Pattern here

20. Diamond Cardigan Free Crochet Pattern by Yay For Yarn
This loose-fitting, oversized cardigan features an easy-to-work diamond eyelet stitch pattern, which makes decorative holes in the fabric.
Those little holes allow air to pass through the fabric, helping to make the cardigan breathable.

The cardigan can be styled in many different ways to create stylish outfits for spring, summer, and fall. It would look great as a beach cover-up as well!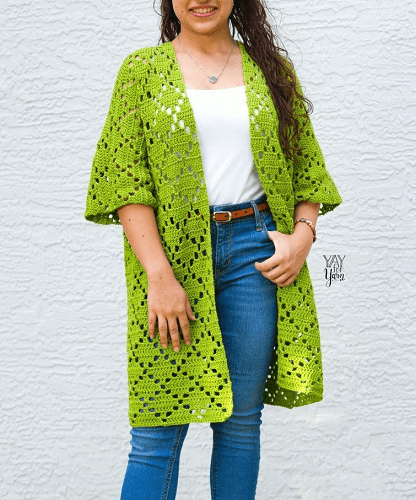 Get the Pattern here

21. Crochet Lacy Summer Cardigan Pattern by For The Frills
Light and airy, this Crochet Lacy Summer Cardigan is the ultimate summer project! Simple crochet stitches and chains combine to create a drapey lace cardigan, that's a lot easier to crochet than it seems!

With a relaxed, comfy fit, this cardigan pairs well over jeans, dresses, or use it as a cover-up at the beach!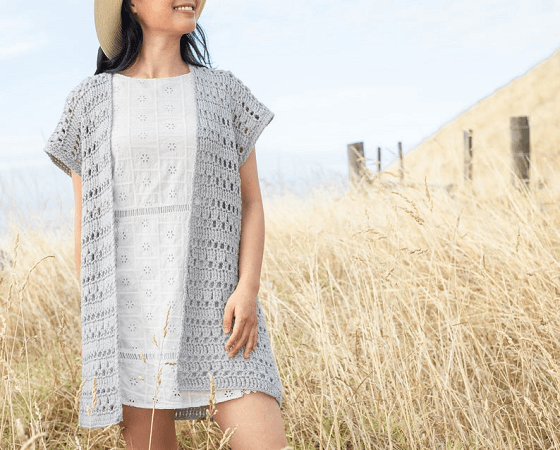 Get the Pattern by For The Frills here

22. Crochet Chunky Cabled Cardigan Pattern by Kseniya Design
Loose, cozy fabric, and an oversized fit make this one of the comfiest cardigan ever! It would make a wonderful gift for you or your loved ones.

This Chunky Cabled Cardigan features minimal shaping and basic stitching, making it a super easy project that just about anyone can be proud to crochet and wear!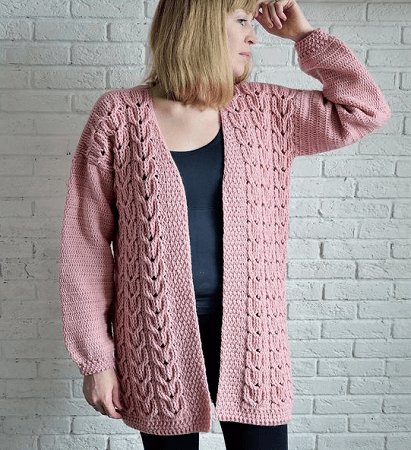 Get the Pattern by Kseniya Design here

23. Baby Cardigan Crochet Pattern by Kerry Jayne Designs
This delightful Baby Cardigan has been crocheted using DK yarn and worked in one piece, so there are no parts to sew together.

The textured cluster stitch pattern is pretty from both sides and the cardigan is reversible up until you sew on the button! Designed with comfort in mind, this baby cardigan has a fairly loose fit to easily fit over baby clothes.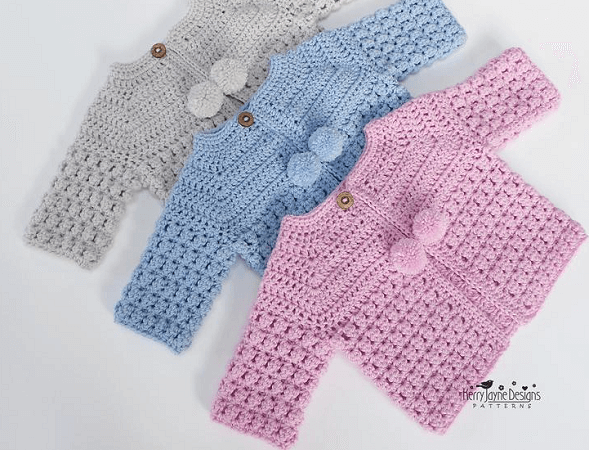 Get the Pattern by Kerry Jayne Designs here

24. Oversized Free Crochet Cardigan Pattern by Delia Creates
If you've ever felt the comfort of wearing an oversized cardigan, you know how cozy it is. Kids love that same comfort, so why not crochet this classic style that works for boys and girls.

This Oversized Free Crochet Cardigan Pattern comes in just one size, but if you have a bit of crochet experience you would be able to alter the size of the basic shapes and the count for the ribbing.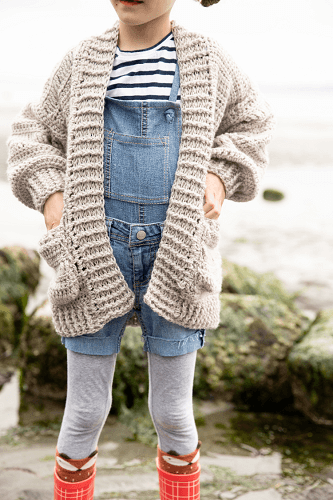 Get the Pattern here

25. Webwork Crochet Cardigan Pattern by Megmade With Love
This is a crochet pattern for the Webwork Cardigan, an open-front, airy cardigan that features a super cool stitch design. It works well with so many outfits, a great staple in your closet for warmer weather!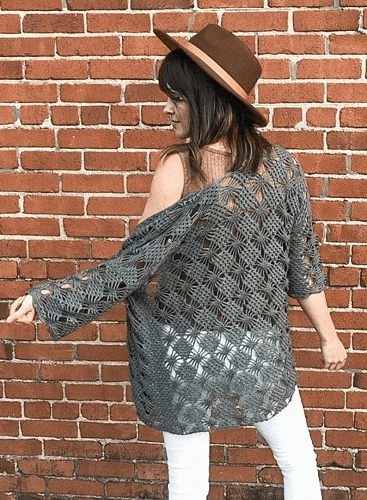 Get the Pattern by Megmade With Love here

26. Boho Duster Cardigan Crochet Pattern by Hooked On Homemade Happiness
The Boho Duster Cardigan Crochet Pattern is just what you need for fall! It's long, comfy, and has a fun flare at the hips and in the sleeves.

Don't let the extra-long length of this duster to worry you. It's finished up quicker than you might think. It would be so cute to wear this with skinny jeans and booties. So grab your favorite worsted weight yarn and get started!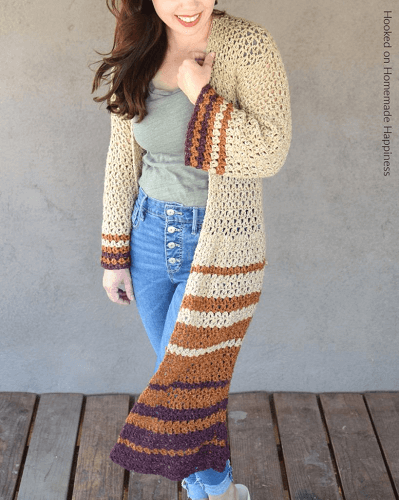 Get the Pattern here

27. Cascade Cardigan Crochet Pattern by All About Ami
This Cascade Cardigan is an elegant and contemporary piece with a gorgeous drape! Crochet this chic and oversized sweater that has a knitted look to it with variations of the half double crochet stitch!

The finished dimensions are 30.5″/77 cm for the height of the sweater and 24.5″/62 cm across the body. Tips to modify the sizing are given in the pattern.
Get the Pattern by All About Ami here

28. Matisse Hexagon Crochet Pattern by The Missing Yarn
Colorful hexagons combine to make a fun and funky cardigan. This Matisse Hexagon Crochet Pattern is written for sizes small to extra large. It's the perfect stash-buster, which can be adapted to any worsted weight yarn in any color combination, to suit anyone's personal style.
If you want more hexagon patterns, check out our Hexagon Crochet Blanket and Crochet Hexagon Patterns.
Get the Pattern by The Missing Yarn here

29. Alchemy Cardigan Crochet Pattern by Jess Coppom
Whether you're new to garment crocheting or an old pro, this Alchemy Cardigan will transform what you think is possible with a hook, some yarn, and your own two hands.

This lightweight piece is perfect to toss on for some summer stargazing or layer with a long-sleeve shirt in the colder months.
A few modern details, like cuffed sleeves and wooden buttons, ensure this cardigan will be a wardrobe staple for years to come.
Worked sideways to create flattering vertical rows, the entire cardigan is made with different applications of a simple double crochet stitch.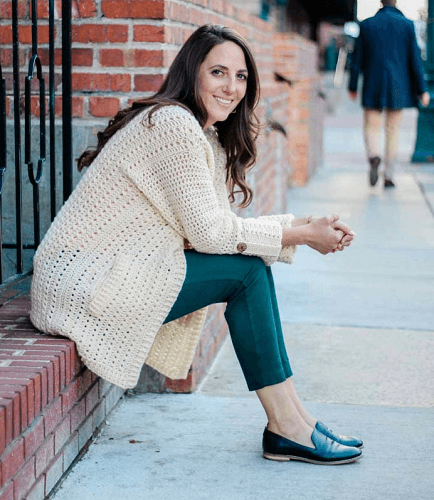 Get the Pattern here

30. Crochet Hooded Cardigan Pattern by The Velvet Acorn
This Hooded Cardigan is designed with comfort and everyday wear in mind. The thumb holes on the cuffs are optional.

The simple construction and details allow this design to be knit up in many different fibers and colors sure to fit your own personal style.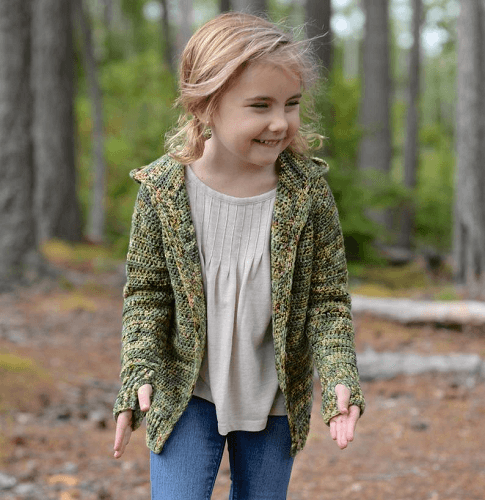 Get the Pattern by The Velvet Acorn here

31. Mathilda Easy Crochet Cardigan Pattern by Knitting With Chopsticks
This Mathilda Easy Crochet Cardigan Pattern is a fun beginner-friendly woman cardigan pattern. The oversized puffed sleeves and elegantly fitted waistline make it a great item to have in your wardrobe.

Warm and comfy with an elegant touch. Use fun bright colors like me or more classic natural tones to match any outfit. Great to dress up a pair of jeans or a skirt, you'll wear this non-stop!
Get the Pattern here

32. Crochet Reversible Cardigan With Pockets Pattern by TCCDIY
On one side of this unisex Reversible Cardigan features piping along the sides, arms, and shoulder and when flipped a classic single tone cardigan making it great for anyone that appreciates options.

There are 4 sets of roomy pockets attached to this piece, two on either side of the front panels so you'll have pockets no matter what side you want to wear that day.

Having refined ribbing as the main design element it's perfect for any color scheme, bright or neutral.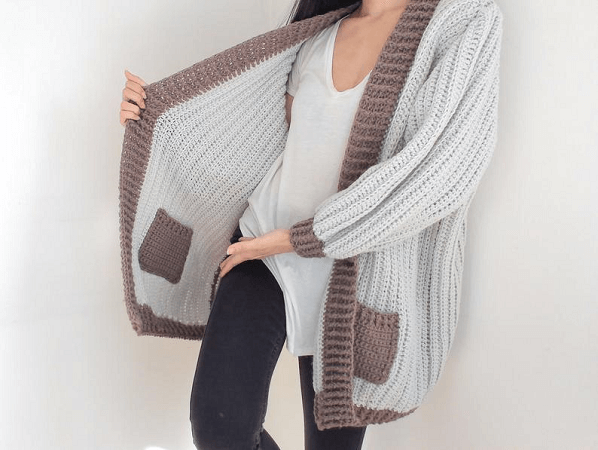 Get the Pattern by TCCDIY here
33. Haven Bobble Cardigan Crochet Pattern by Make And Do Crew
With a super easy construction based on a rectangle, this Haven Bobble Cardigan Crochet Pattern is playful, fast, and perfect for beginner to advanced crocheters.
You'll love watching it come together with zero increasing or decreasing!

Quick working, luxuriously chunky yarn, and a playful bobble stitch come together to make a crochet cardigan that will feel like a haven from the winter chill.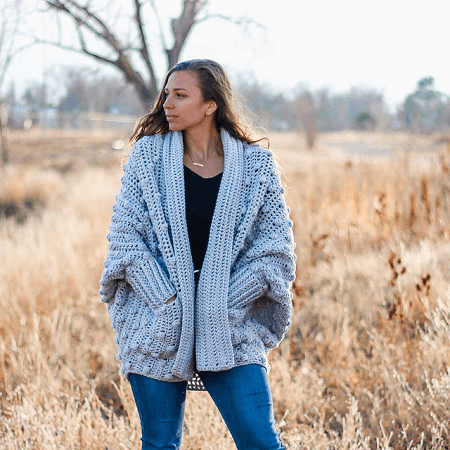 Get the Pattern here


34. Crochet Ruffle Sleeve Cardigan Pattern by Sewrella
Get ready for the warmer months with this Crochet Ruffle Sleeve Cardigan that's as easy to make as it is stunning to wear.

If you've never made your own clothes, let me tell you straight away – this one is as easy as it gets. There is absolutely no shaping, there is gauge leniency, and we just double crochet along until this baby is done!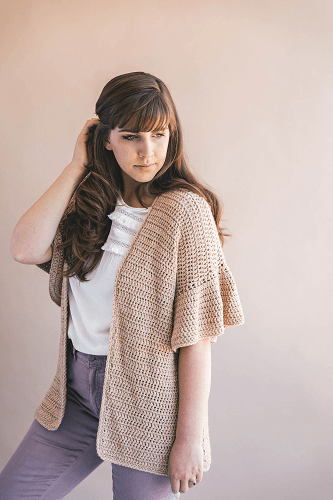 Get the Pattern here

35. Coastal Fog Chunky Cardigan Crochet Pattern by Hopeful Honey Designs
Shield yourself from the brisk winter weather with this Coastal Fog Chunky Cardigan, perfect for layering over any outfit as you enjoy an evening stroll along the beach.

From the boxy silhouette to the simplicity of the design, this snuggly cardigan is a quick weekend pattern that is sure to become a wardrobe staple.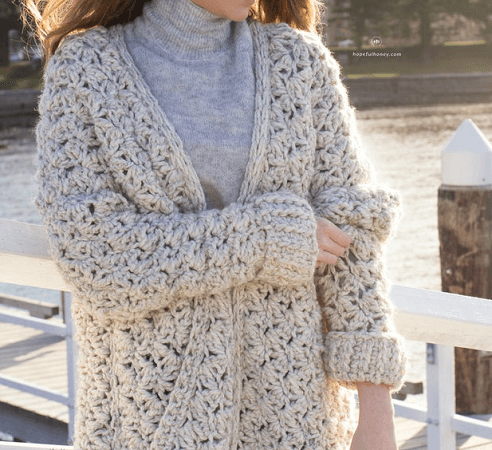 Get the Pattern by Hopeful Honey Designs here

36. Watson Waffle Crochet Cardigan Pattern by Lakeside Loops
Crochet this beautifully textured cardigan using the popular waffle stitch! This Watson Waffle Crochet Cardigan is a chunky sweater that looks so cozy with its long length, bulky feel, and large pockets.

This cardigan works up very quickly, is easy to construct, and will look beautiful layered over jeans, leggings, or your favorite loungewear!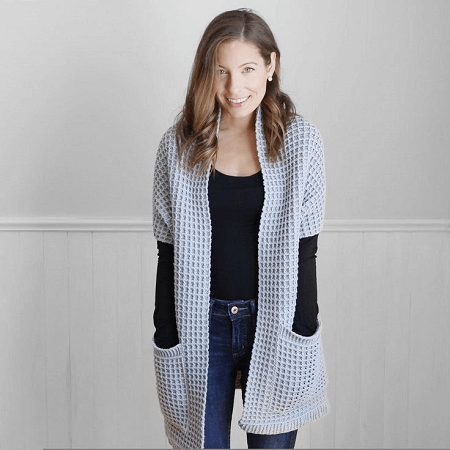 Get the Pattern here

37. Buffalo Check Cardigan Crochet Pattern by Joy Of Motion Crochet
This Buffalo Check Cardigan is a fun crochet cardigan for women. The pattern includes sizing from XS to 5XL.

It features a fashionable plaid stitch, with beautiful ribbing. The cardigan is made with two strands of yarn at all times, to get the buffalo plaid look.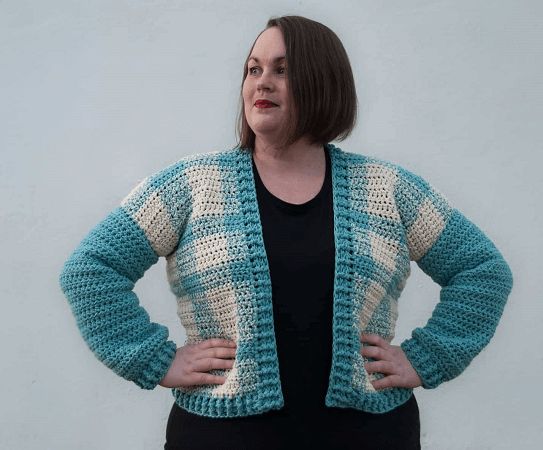 Get the Pattern by Joy Of Motion Crochet here

38. Crochet Cardigan Pattern by Kandiana
This cardigan will surely be a head turn! You won't believe how easy it is to make a lightweight, bishop-sleeved cardigan that's perfect for spring and winter.

This piece has beautifully finished sleeves with a fig motif. It's a stunning crochet design that should be in every fashionable wardrobe!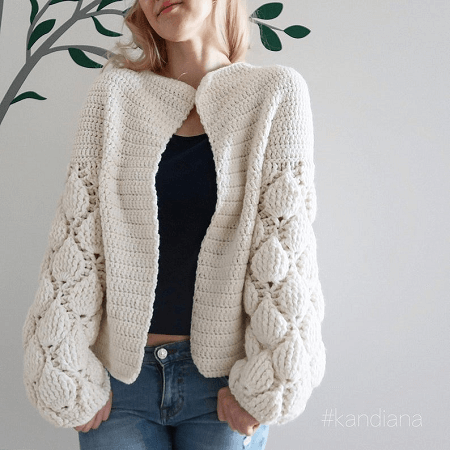 Get the Pattern by Kandiana here

39. Cuddly Free Crochet Cardigan Pattern by For The Frills
This Cuddly Cardigan is cozy, snuggly, and comfy! It's an incredibly soft and squishy cardigan and is great with any outfit.
Wear it over jeans, with a dress, or for lazing around the house, this simple crochet cardigan is wonderful for layering!

It features a loose body with roomy sleeves finished with a simple knit-look ribbing. The clean and modern look to this cardigan means that it can be worn with literally anything!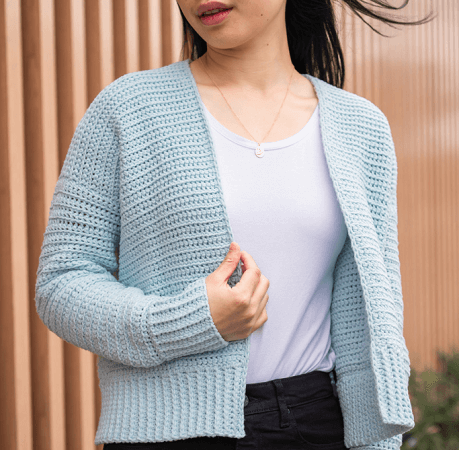 Get the Pattern here

40. Crochet Manhattan Cardigan Pattern by Red Heart
Old is new again on this versatile Crocheted Shell Stitch Cardigan. Crochet it in soft shades, stitch it as shown, or make it all one shade.

Whether worn at the office or out for an afternoon coffee with friends, this Manhattan Cardigan is a pretty layer with a smart casual look that adds retro flair to any outfit.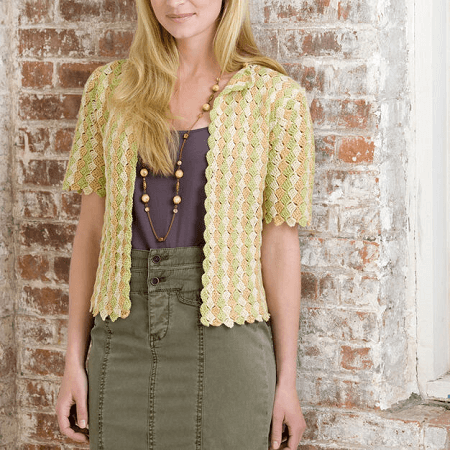 Get the Pattern here

41. Temescal Cardigan Crochet Pattern by Peter Franzi
Four different crochet cable-stitch patterns cavort across the surface of this traditional Temescal Crochet Cardigan with bottom-up construction.

Use back post double crochet and front post double crochet to create crochet cables on the front, back, and even the sleeves of this men's crochet cardigan.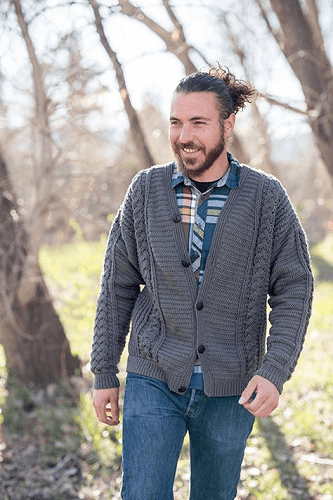 Get the Pattern by Peter Franzi here


42. Falling Leaves Crochet Crochet Cardigan Pattern by
There will always be that special bond between a grandmother and her very first granddaughter. But as she turns one, do you have any gifts ideas yet?
Well, how about making a yearly tradition of making her a handmade cardigan until she's eight! With this Falling Leaves Crochet Cardigan Pattern, you can make a gift that can symbolize your never ending love and care for her.
DAINTY CROCHET CARDIGAN PATTERN WITH LEAVES DETAILS
Like the other patterns they created, this falling leaves crochet cardigan pattern by Mon Petit Violon is intricate and dainty! A cardigan perfect for sweet little girls like your granddaughter.
Although the whole piece is filled with varying textures and patterns, the standout detail in this cardigan is the little leaves around it's collar. It's a nice contrast to the tight-knit stitches on the upper part of the cardigan.
ABOUT THE YARN
How about making this cardigan crochet a traditional gift every year? Use different yarn color every year for variation. It will definitely be a present she will look forward to every year.
Little girls usually love pinks! Why not start with a pinkish color like this Sprightly Acrylic Worsted Yarn in Misty Pink. This yarn comes in lots of nice solid colors, choosing the yarn for the next few years won't be a nightmare.
ABOUT THE PATTERN
What really sets this pattern apart from other cardigans are the details. With all the intricate details needed to complete this piece, this pattern is intended for intermediate crocheters.
Even though it's worked in one color only, the details are noticeable because of the tiny spaces perfectly made by the pattern. It's also a nice way to keep your little girl cool when she wears it during the summer.
The falling leaves near the collar of the cardigan is the main highlight of this piece. Instead of adding lots of leaves to contrast the plain stitches at the top of the cardigan, the leaves are placed evenly to leave a breathing space.
Worried about what to do with the cardigans after your granddaughter grows out of it? These cardigans would make such nice keepsakes when they no longer fit your little girl.
SKILL LEVEL
Intermediate
MATERIALS
FINISHED SIZE
19 in, 21.25 in, 23.5 in, 26.25 in, 28.25 in, 30.75 in
Time to bring out the yarn and hook and prepare for a day of crocheting! With this Falling Leaves Crochet Cardigan Pattern, may you remember all the heartwarming memories you shared with your granddaughter in the past year.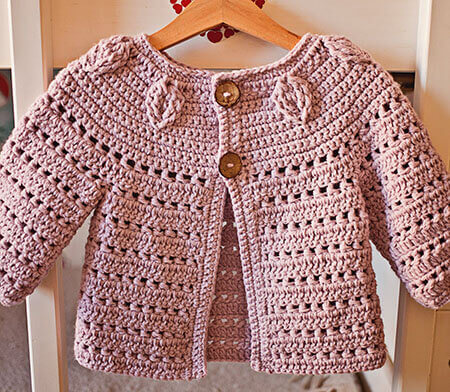 Get pattern here.
It's time to dust off your crochet hooks and make something special for yourself with these crochet cardigan patterns!
Let us know which project you will be making by sharing a pic of your finished pieces on our Facebook Page. We would like to see you wrapping around in your new handmade hideaway!

In my opinion, you can never have too many crocheted wardrobe pieces, so here are more crochet patterns that will keep you busy, stylish, and warm. Wanting to try a Winter crochet poncho, 21 Crochet Coat Patterns, or maybe more crochet sweaters?

Grab your hooks and your favorite shades of yarn, and start hooking some gorgeous crochet cardigan patterns!