Move beyond granny squares and get ready for crochet hexagons! Hexagons are quick and easy to make and can be combined in a myriad of ways to create a huge range of projects – from garments and accessories to home décor.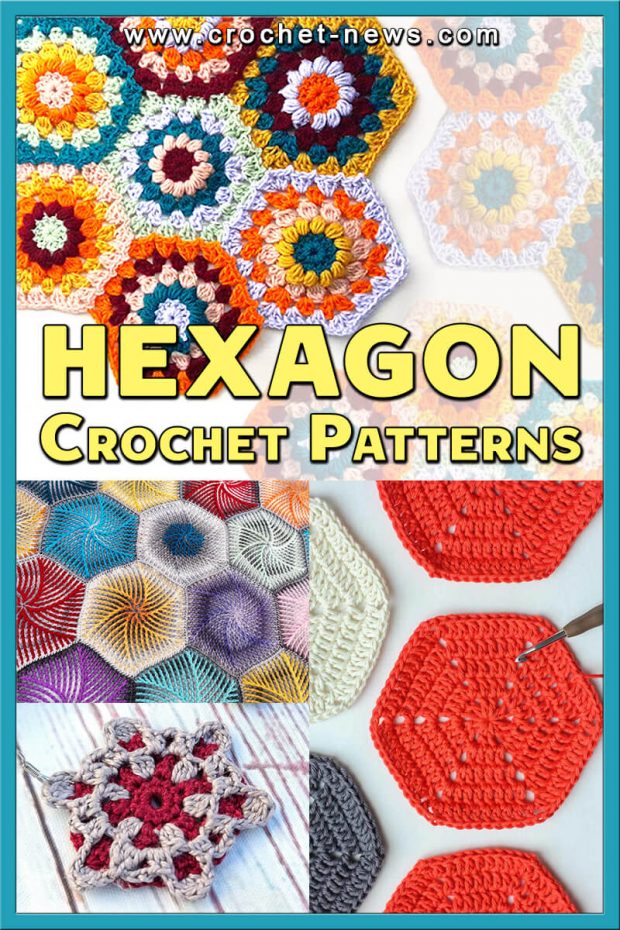 This refreshing twist on the classic granny square will get you excited about the possibility of the humble six-sided polygon and how it can be used to create gorgeous projects.
Simply pick your favorite pattern and get crocheting, or mix and match the blocks to create your own unique project!

1. Simple Solid Hexagon Crochet Pattern by Whistle & Ivy
This basic crochet hexagon can be anything! Use it to make a seat cushion, wall hanging, tree skirt, or a whole blanket!
This solid hexagon crochet pattern is easy to work up, and has a great shape. This pattern is a perfect beginner's pattern and only uses 2 stitches: the half double crochet (hdc) and slip stitch (sl st).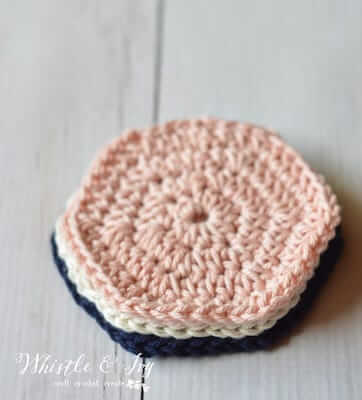 Get the Pattern here

2. Starlight Crochet Hexagon Pattern by Leonie Morgan
This crochet hexagon has a big star in the center. Great for winter projects and, when worked in cotton or linen, a fun beach blanket!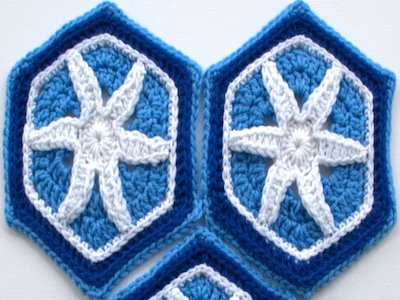 Get the Pattern here

3. Crochet Merry-Go-Round Hexagons Pattern by Des Maunz Designs
These little hexagons has a pretty popcorn flower center to give it texture. It also features some Moss Stitch like detail.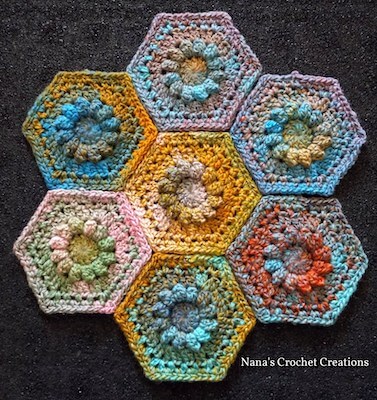 Get the Pattern by Des Maunz Designs here

4. Swirly Candy Brioche Crochet Hexagon Pattern by Beba Blanket Designs
This Swirly Candy Textured Hexagon Pattern is a very relaxing pattern but also something new and different to try and to learn. It's created using brioche technique which creates not only an incredible effect but a thick texture as well.

You can work a continuous any size hexagon or join the motifs to create blanket, sweater, bag, rug. The pattern requires at least two contrasting colors. It's a perfect stash busting pattern as well.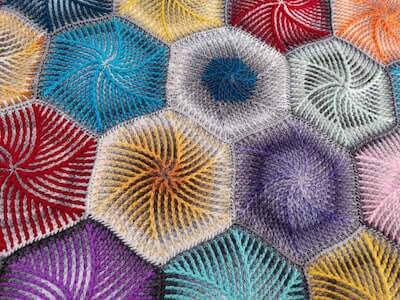 Get the Pattern by Beba Blanket Designs here

5. Crochet Flora Hexagon Pattern by Saraphir
This is a 5-in-1 pattern for 1 flower and 4 ways to make a hexagon around it. The flower stays the same throughout the pattern, but the hexagon changes in size and style.

The hexagons can be used for cushion covers, blankets, bags, clothes, etc. – the only limit is your imagination! You can use yarn made from any fibre and in any thickness for making these hexagons.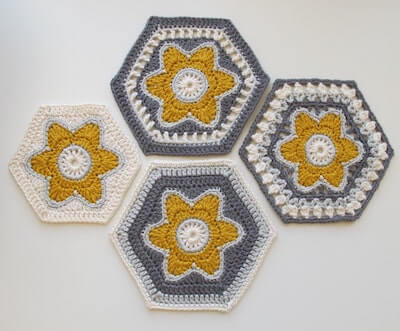 Get the Pattern by Saraphir here

6. Crochet Flower Hexagon Pattern by Kathryn Senior
Crocheted flowers and hexie motifs are a perfect match. You love these worked up in a rainbow of colors — just join them together for an afghan full of gorgeous blooms.

If joining's not your thing, these motifs stand on their own as placemats, too. Add a few extra rounds with your final color until you have the size you need.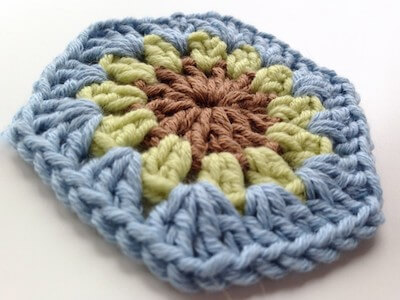 Get the Pattern here

7. Crochet Hexagon Granny Square Pattern by Elealinda Design
Crocheting granny squares is always fun, because they are quickly made and a great project to take along!
This pattern is not a typical granny "square", because it is no square at all, but a hexagon! Its six walls are elaborated accurately fitting, so that it is very easy to assemble them to greater objects.
Get the Pattern by Elealinda Design here

8. Crochet Spiral Hexagon Pattern by TC Designs UK
This pattern gives you instructions to make a hexagon motif with a raised spiral design. Make as many as you like – they are perfect for stitching together into a cushion cover, seat pad, blanket or throw.
Get the Pattern by TC Designs UK here

9. Sunburst Crochet Hexagon Granny Square Pattern by Morine's Shop
This sunburst hexagon fuses the classic granny square and basic solid hexagon patterns to create a gorgeous stylish crochet motif with a sunburst center.

There are so many fun uses for this colorful hexi. A bunch of these would make a super cool cushion, throw, tote bag or even a top! The ideas are endless.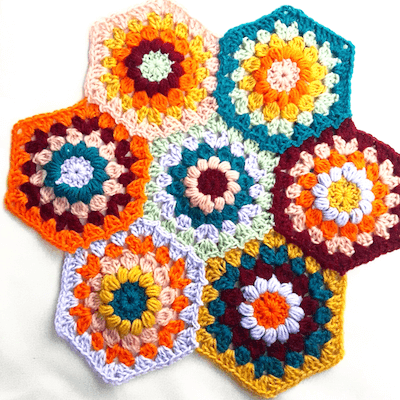 Get the Pattern here

10. Crochet Hexagonal Slice Blanket Pattern by Yarnspirations
This crochet throw boasts bold blocks of color! To create your blanket, you'll simply crochet 6 triangles and sew them together to make one big cozy hexagon.

So much fun to do, the pattern will teach you tassels, double crochet, increases, chain, plus sewing and assembly techniques. It's bound to become a family favorite, so you may want to make more than one!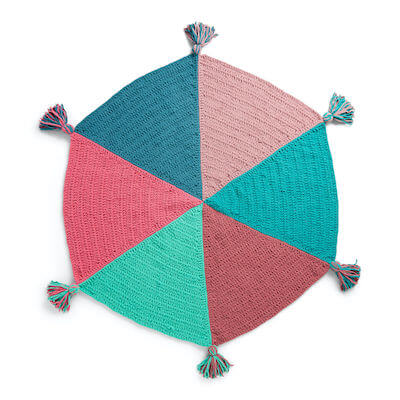 Get the Pattern here

11. Crochet Sunflower Hexagon Pattern by Opal Crochet Creations
This Sunflower Hexagon Crochet Pattern is perfect for making gorgeous sunflower creations! It is a simple pattern that can be used to make anything from pillows, to blankets and hand bags.
Also see: Crochet Sunflower Patterns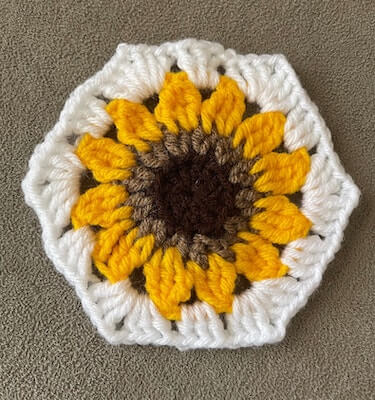 Get the Pattern by Opal Crochet Creations here

12. Single Crochet Hexagon Pattern by Instructables
This is a very easy crochet hexagon pattern that is worked entirely in single crochet stitches. This crochet hexagon is very dense, making for a terrific warm textured blanket when multiple forms are stitched together. It would also make a great dishcloth if it worked as an individual hexagon in cotton yarn.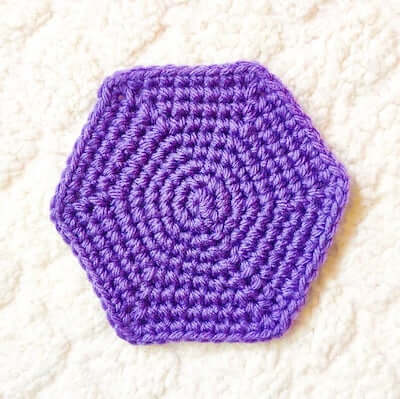 Get the Pattern here

13. Interlocking Crochet Hexagon Pattern by Leonie Morgan
This crochet hexagon has twisted loops running up each corner giving the hexagon a nice, tactile feel. The twisted loops are made of 10 chain stitches and are pulled through each other to form a plait.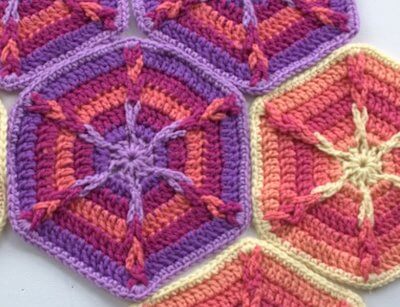 Get the Pattern here

14. Crochet Starlight Hexagon Pattern by Rebecca Wilson
Get stars in your eyes with this delightful modern crochet hexagon pattern! It features an overlaid star that will bring a piece of the night sky into your next project. The pattern also includes a matching half hexagon motif, so it would be perfect for a blanket!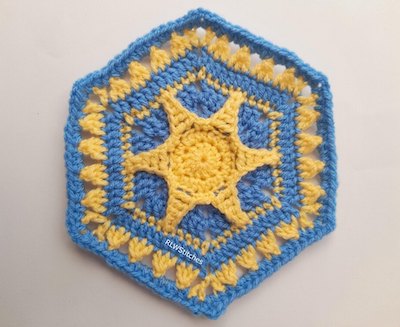 Get the Pattern by Rebecca Wilson here

15. Crochet Brisk Elegance Hexagon Pattern by Cheryl Dee Crochet
Just as in nature, this snowflake hexagon pattern gives rise to many possibilities. Even without the overlay crochet, this hexagon is beautiful and ripe for experimentation with different color combinations.

Adding even one round of the overlay adds another dimension. Then, going one step further to the second round of the overlay will have you crocheting furiously to keep up with all the ideas bursting from your creativity!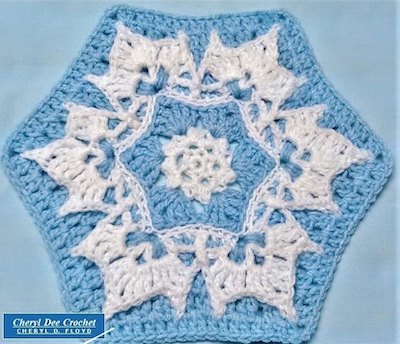 Get the Pattern by Cheryl Dee Crochet here

16. Crochet Heart Hexagon Pattern by My Picot
Wouldn't it be fun to have a Crochet Heart Hexagon to include in some of your Valentine's crafts! Use this pattern to make blankets of any size, table runners, cushions or anything else that you feel could use a little love.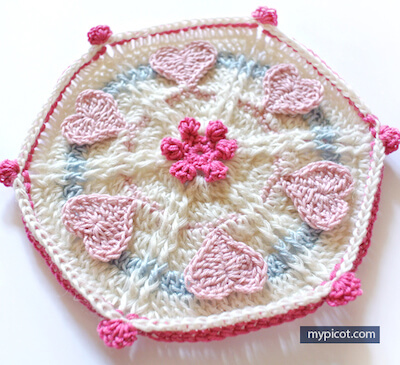 Get the Pattern here

17. Free Reversible Hexagon Crochet Pattern by Bliss This
Who doesn't love a good hexagon motif? What you will love most about this pattern is that it is reversible and each side is completely unique. You'd never know from looking at one side what the other looks like. Such fun!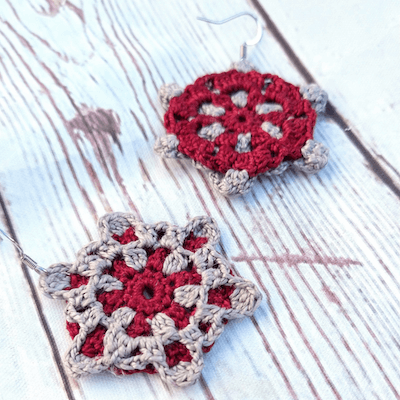 Get the Pattern here

18. Crochet Granny Hexagon Pattern by Itch For Some Stitch
Granny hexagons are a super fun way to use up your yarn stash! Plus, they are extremely versatile. You can use them to make blankets, bags, coats, and more. Think of all the various designs you can do, especially since each hexagon can be made in a multitude of colors or just one color.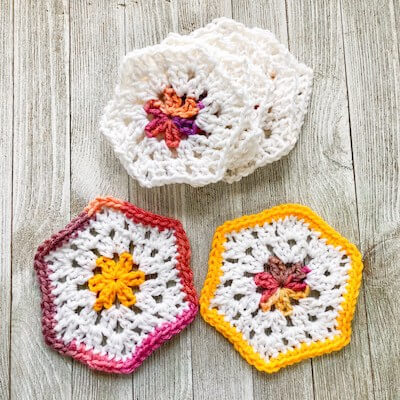 Get the Pattern by Itch For Some Stitch here

19. Basic Crochet Hexagon Pattern by Make And Do Crew
Once you understand how this basic crochet hexagon pattern works, you can use it to make hexagon afghans, patchwork pillows, rugs, wallhangings or even clothes.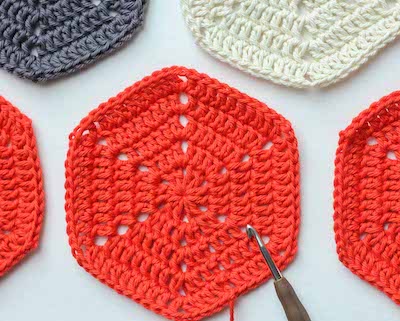 Get the Pattern here

20. Crochet Wind Flower Hexagon Pattern by Mijo Crochet
Puff stitches are used at the center of the flower to add texture. The unique choice of a two-color design here sets the floral center apart from the edge of the hexagon. Put a bunch of these together to make a crochet garden.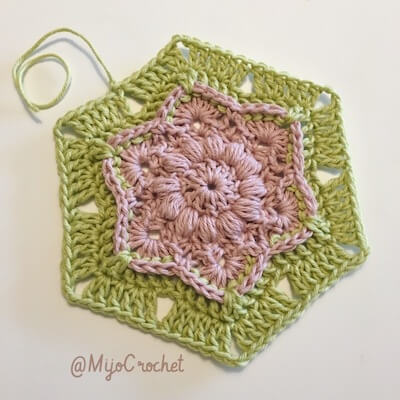 Get the Pattern here

21. Crochet Textured Hexagon Pattern by Rebecca Wilson
This textured hexagon is a great way to practise new stitches and techniques. It's designed to be worked up in one colour so your stitches have maximum impact!

The block is worked in the round and from the front, using a range of stitches. The pattern is for the full hexagon and matching half hexagon motifs.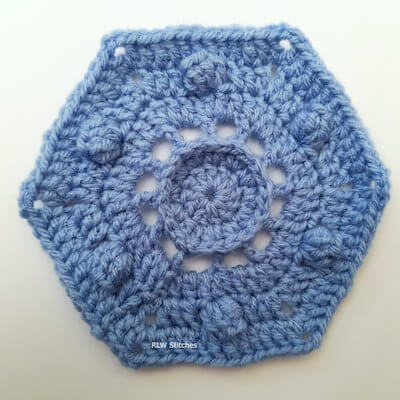 Get the Pattern by Rebecca Wilson here
TRADITIONAL OR MODERN, VIBRANT OR SUBTLE, THE POSSIBILITIES OF THESE CROCHET HEXAGON PATTERNS ARE ENDLESS!
Crocheted hexagons are the perfect portable project to stash in your purse. Start some today, even if you don't know what they'll become once they're all grown up! Once you're done, remember to share your finished hexies on our Facebook Page.

If crocheting motifs are your jam, here's our list of Crochet Square Patterns that are small enough to carry with you when you're on the move! If you haven't gone hexagon crazy, of course!
We say break out of the box and mix up your motifs. These crochet hexagon patterns deserve some time on your hooks!