There's nothing like a lovely crochet sunflower pattern to ensure your home will be bright amd summery even on cloudy August days. These patterns include a blanket, a tote bag, home decor, and more!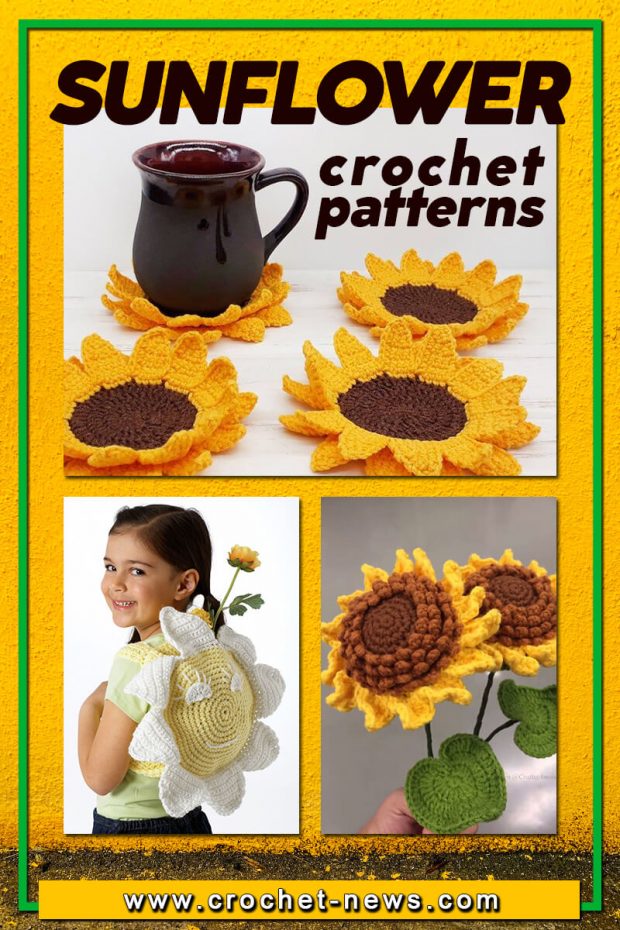 Sunflowers resemble the sun therefore they symbolize vitality and happiness as well as friendship. The ideas below will let you enjoy the motif for much longer than the real thing. Feast your eyes with these beauties!

1. Crochet Sunflower Cushion Pattern by Pippa Patterns Crochet
Decorate your home for spring and crochet a bright Sunflower Cushion. It's perfect to decorate any sofa, bedroom, nursery, or kids' room. Whip it up in its traditional colors or be creative and use different colors of your choice instead. It will still look good either way!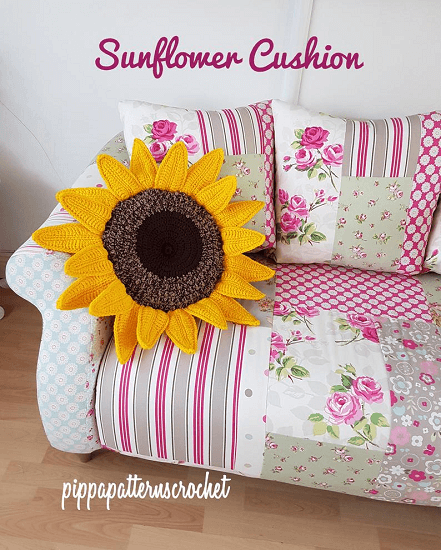 Get the Pattern by Pippa Patterns Crochet here

2. Crochet Sunflower Bag Pattern by Yarnspirations
Featuring a happy sunflower to lift everyone's spirits, this Crochet Sunflower Bag is truly a project of beauty! Use yarn in yellow and white color to shape the sunny variation shown, or make a unique version in shades you dream up.

Let's celebrate the season and get this bag ready to carry some springtime blossoms!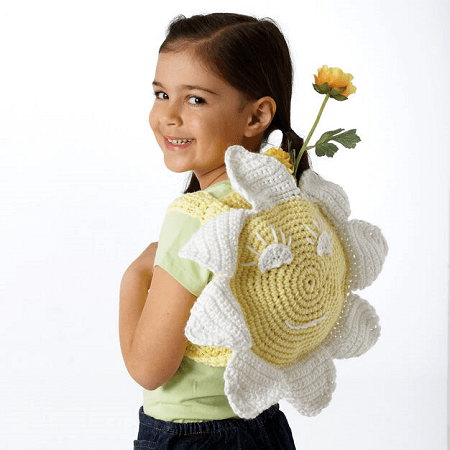 Get the Pattern here

3. Crochet Sunflower Pattern by Happy Patty Crochet
This Crochet Sunflower, inspired by the award-winning Soraya variety, a short petal, lush wonder, is a true beauty and quite the explosion of happiness!
They are a perfect gift for someone special and will make any lonely corner bright as the sun.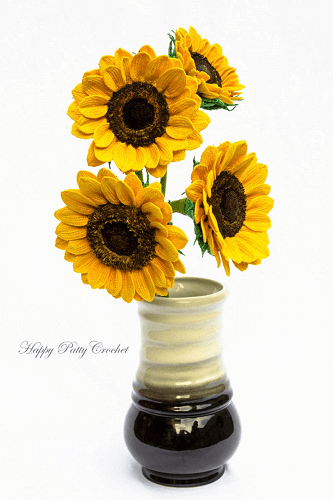 Get the Pattern by Happy Patty Crochet here

4. Sunflower Pocket Shawl Crochet Pattern by Kathy Lutz Designs
This Sunflower Pocket Shawl is the perfect accessory for chilly
fall days when you just want the perfect wrap with pockets. The Sunflower Motif on the pocket is perfect for the autumn tones
and changing leaves.

The finished size is 68″ long by 15″ wide (without fringes) and
78″ long by 15″ wide (with fringes).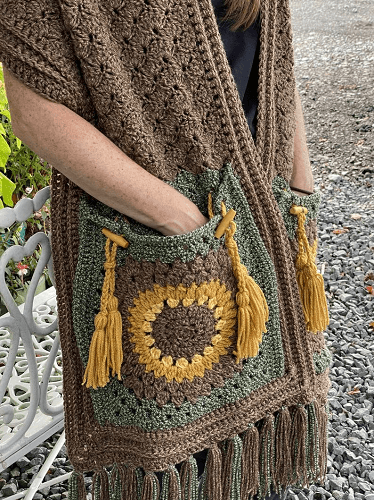 Get the Pattern by Kathy Lutz Designs here

5. Sunflower Bouquet Free Crochet Pattern by Craftsy Amore
If you are looking for a gift of flowers that keeps on giving, this Sunflower Bouquet Free Crochet Pattern makes crochet sunflowers the perfect gift.

This sunflower is pose-able and will look delightful in a vase, perhaps even mixed in with other crochet flowers or faux flowers.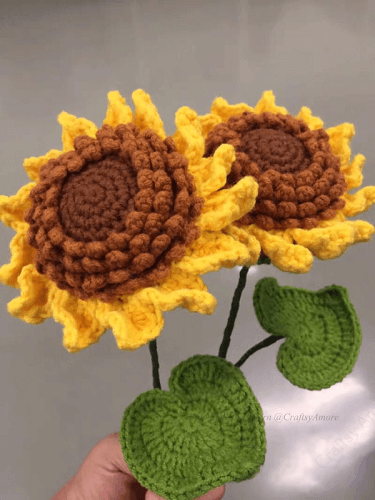 Get the Pattern here

6. Sunflower Granny Square Crochet Pattern by Sew Happy Creative
Based on a traditional granny square pattern, this Sunflower Granny Square Crochet Pattern looks beautiful in any shade you choose and would make a beautiful blanket or cushion blanket.

Here are 42 Crochet Square Patterns for more ideas.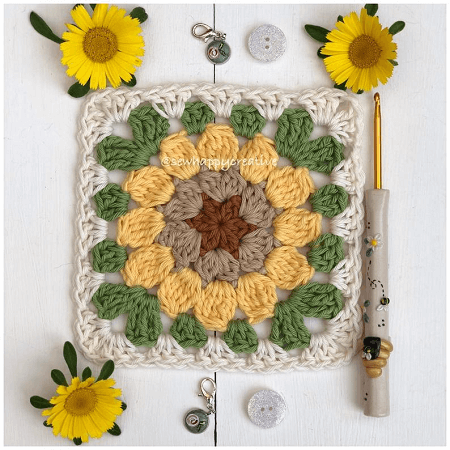 Get the Pattern by Sew Happy Creative here

7. Sunflower Crochet Pattern by Knot Monster
This crochet sunflower will stay with you much longer than a real one. It will certainly brighten up the living room or the kitchen. If you are invited to a party, bring it as a gift!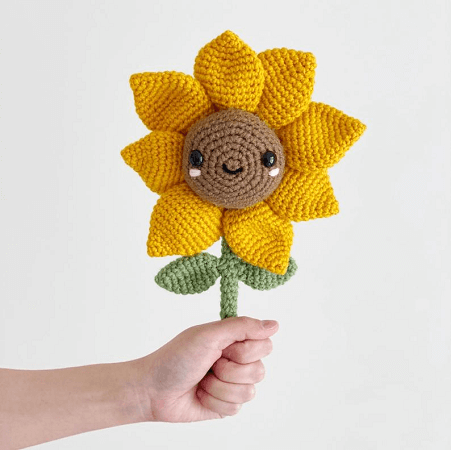 Get the Pattern by Knot Monster here

8. Crochet Sunflower Brooch Pattern by Cynthia Banessa
We all need a bit of sunshine sometimes, why not work up this cute sunflower to use as a brooch, hairlclip, or to dress up a bag. You could also use this pattern for doing other types of flowers – just change the colors!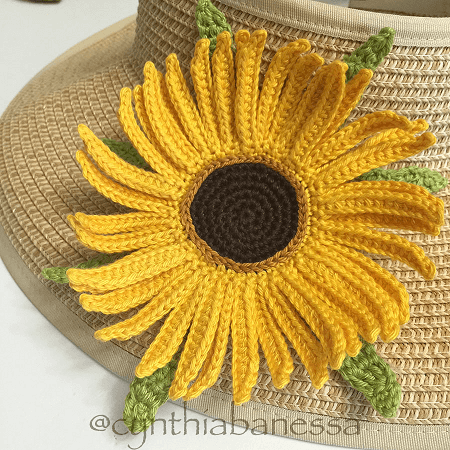 Get the Pattern here

9. Crochet Sunflower Applique Pattern by LTK Cuties
This Crochet Sunflower Applique is multidimensional, multiuse, and so pretty! What project will you use it for first? You can attach it to sun hats or headbands as well as use it as a keychain for your bags. The choice is yours!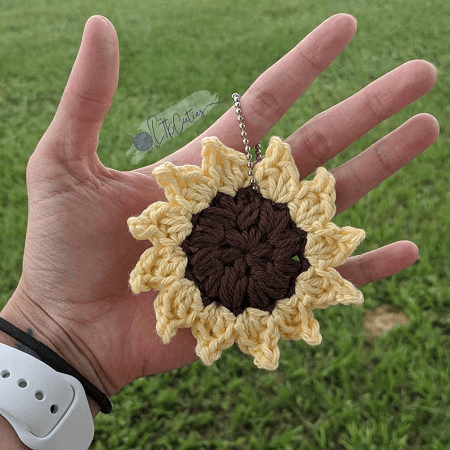 Get the Pattern by LTK Cuties here

10. Sunflower Pot Holder Free Crochet Pattern by Nana's Crafty Home
The only stitches you need in your crochet arsenal for this Sunflower Potpattern are sc, hdc, double and treble. The main body of the panels are made with single crochet stitches and the petals of the sunflower use a combination of hdc, dc & treble to create each petal.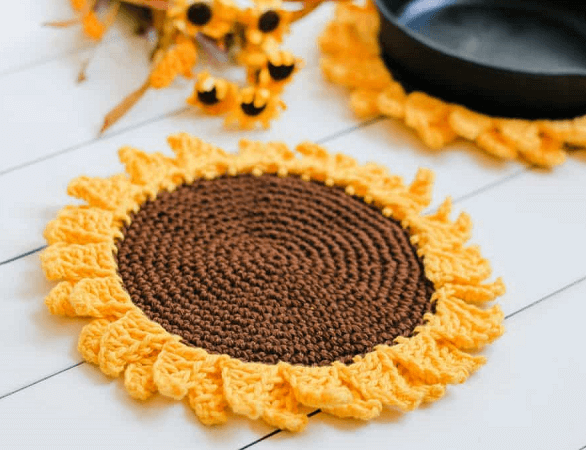 Get the Pattern here

11. Micro Crochet Sunflower Jewellery Pattern by Steffi Glaves
This Micro Crochet Pattern shows you how to make a dainty little sunflower and jewellery set – pendant, dangle drop earrings and ear studs. It can be easily scaled up for a cute brooch, charm or appliqué for other projects, by using 4 ply or double knitting yarn.

The flower motifs in this pattern are super tiny, measuring just 1.5cm across, and would make a gorgeous treat for yourself or a gift for someone else.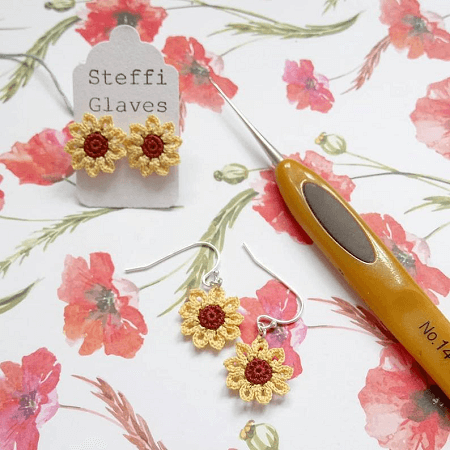 Get the Pattern by Steffi Glaves here

12. Crochet Sunflower Baby Outfit Pattern by AMK Crochet
This crochet pattern gives you the instructions so that you can make an adorable newborn sunflower bonnet hat with a cocoon. It's the perfect addition to spring newborn sessions!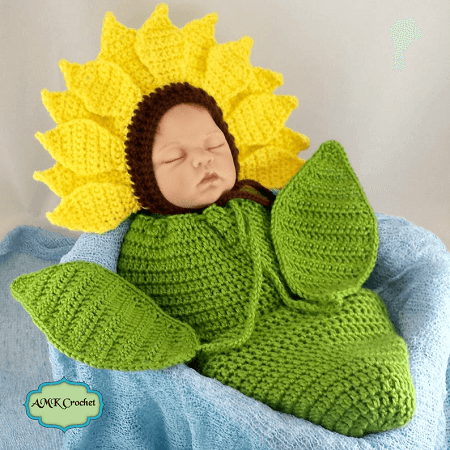 Get the Pattern by AMK Crochet here

13. Crochet Sunflower Amigurumi Pattern by Aradiya Toys
This little Crochet Sunflower Amigurumi is such a precious decoration. Will you keep it or givr it to someone special? Either as a centerpiece for your table or a cute desk accessory. this little buddy will bring you joy!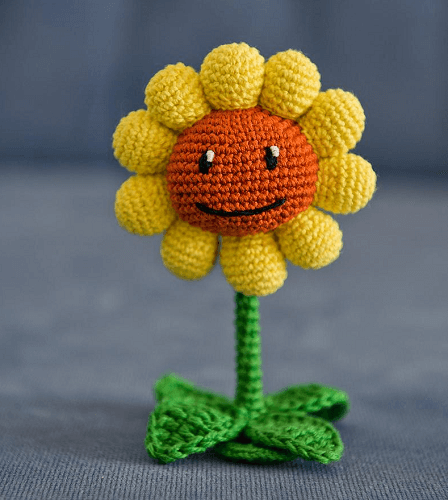 Get the Pattern by Aradiya Toys here

14. Sunflower Bag Crochet Pattern by Crochet 365 Knit Too
Made from a bunch of crocheted granny squares, this Sunflower Bag harks back to the carefree duds of the '60s and '70s. It is the perfect fashion accessory for your spring and summer outfit!

The finished purse is 11 inches wide by 19 inches tall (including handles). It's super casual and perfect size.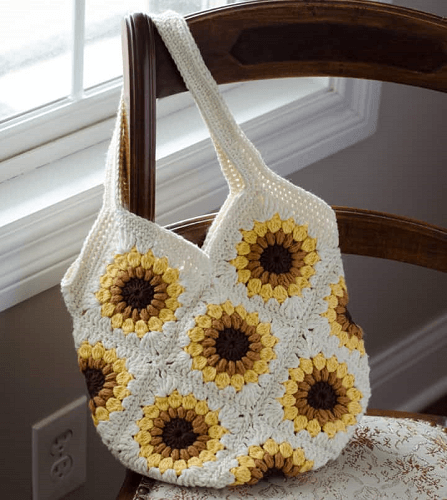 Get the Pattern here

15. Sunflower Crochet Hat Pattern by Auburn Craft
Crocodile stitches give this Sunflower Crochet Hat a great texture. This pattern is available in different sizes. You can make matching hats for mothers and daughters in your family to brighten up cold days. Awesome project, right?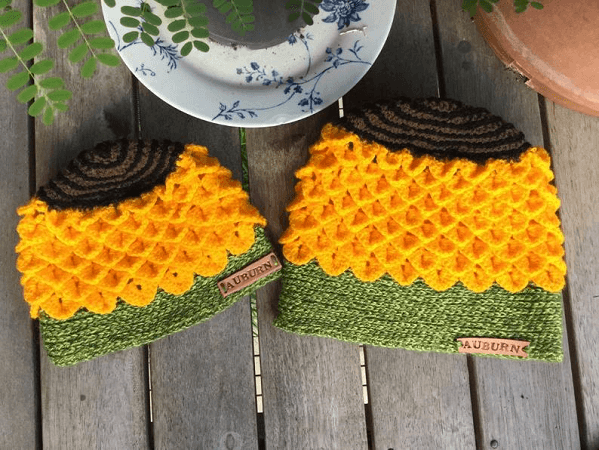 Get the Pattern by Auburn Craft here

16. Crochet Sunflower Baby Booties Pattern by Meinuxing
Add some personality to your little one's wardrobe this spring with these Crochet Sunflower Baby Booties!

This crochet pattern is designed in baby sizes of 0 – 12 months. So, if you have little sunshine on the way, then these tiny sunflower booties will keep even the tiniest tootsies warm and looking cute!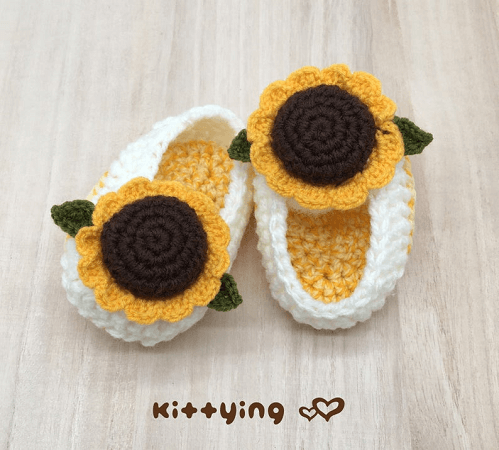 Get the Pattern by Meinuxing here

17. Chubby Happy Crochet Sunflower Pattern by Croochet
This Chubby Happy Crochet Sunflower is absolutely adorable. It's the perfect way to brighten up your home. It will be a great display on your desk or office and wou;d be a welcome addtition to any windowsill!
Get the Pattern by Croochet here

18. Velvet Sunflower Scrunchie Crochet Pattern by Ekay G Crafts
Make your own Velvet Sunflower Scrunchie with this free crochet pattern! Super soft, and makes any bun a little bit fancy!

It doesn't use up much yarn so it's a fantastic stash busting crochet project to clear space for all that new yarn!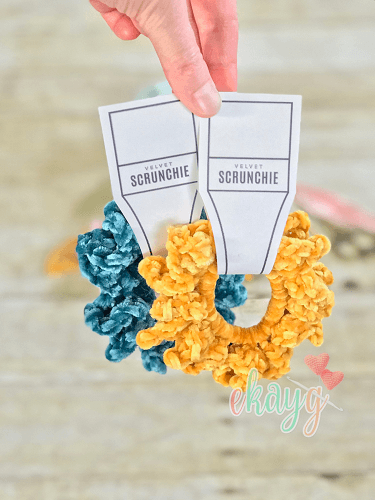 Get the Pattern here

19. Sunflower Square Blanket Crochet Pattern by Crafty Kitty Crochet
Plant an entire sunflower patch without leaving your favorite comfy chair with this beautiful crochet pattern!

The size of the blanket can be adjusted depending on how many squares you make, so the blanket can be anything from a baby blanket to a king sized bedspread, so feel free to get creative!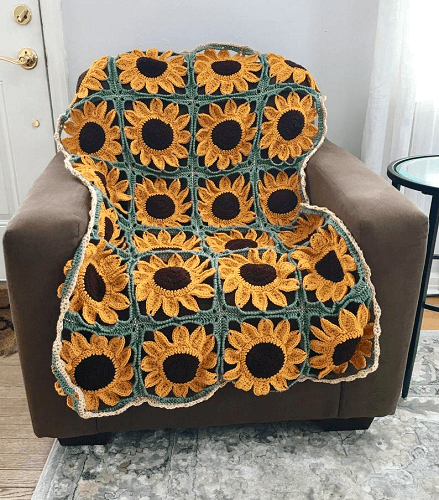 Get the Pattern by Crafty Kitty Crochet here

20. Crochet Sunflower Throw Pillow Pattern by While They Dream
This Sunflower Throw Pillow uses several different stitches to create a beautiful, interesting textured throw pillow. A gorgeous, modern accent piece for your home.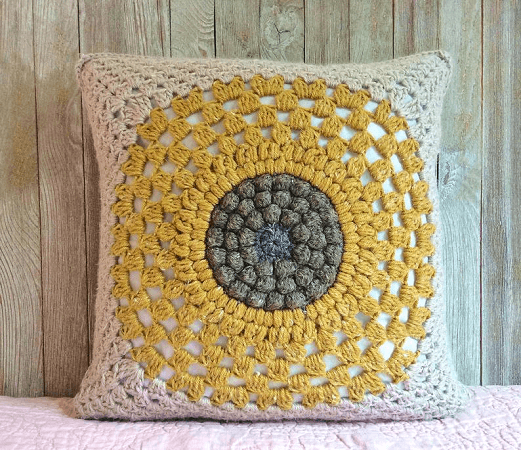 Get the Pattern by While They Dream here

21. Pincushion Free Sunflower Crochet Pattern by Hollypips
This Crochet Sunflower Pincushion would make a lovely gift for someone crafty. This is very handy around the home and it make an excellent little gift which you can whip up quickly.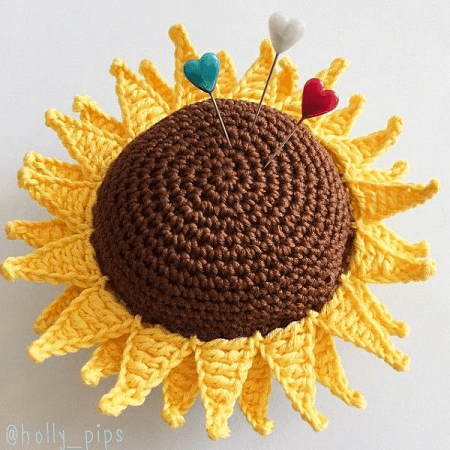 Get the Pattern here

22. Crochet Sunflower Coasters Pattern by Amigurumi Patterns PDF
These Crochet Sunflower Coasters are a great way to use up scrap yarn you have on hand and even though they look fantastic, bright, and cheerful in sunflower themed colors, it would also look great in other colors as well!

These lovely coasters are quick and easy to make, so why not make a whole set of them?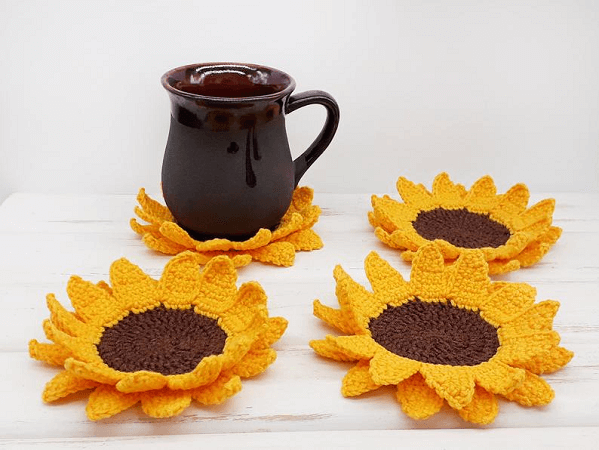 Get the Pattern by Amigurumi Patterns PDF here

23. Potted Sunflower Crochet Pattern by Yarn Blossom Boutique
For those of you with no green thumb, this Potted Sunflower Amigurumi will always be there to brighten up your day. You can even embroider a face on it to give it a personality. This potted flower would make an excellent gift to a child or an adult.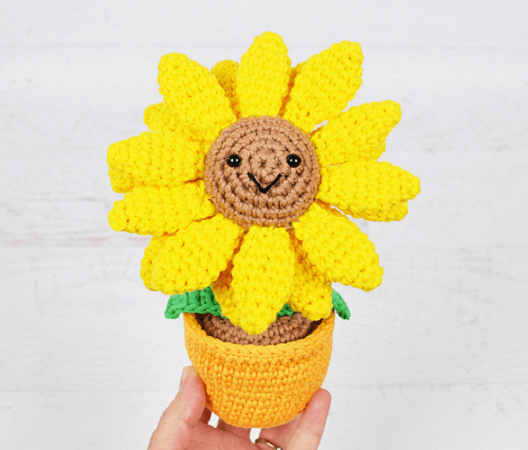 Get the Pattern by Yarn Blossom Boutique here
Why not make a sunflower of some sort with these crochet sunflower patterns an enjoy the summer vibe of a sunflower all year round?
Inspire others by sharing your works on our Facebook Page. We'd love to know what everyone's making! And also, be sure to check all our other crochet flower patterns, crochet orchids, flower bouquets that are waiting to be made!

For now, have fun making your flowers with these crochet sunflower patterns!