When I started crocheting, some of my favorite things to make were crochet flowers. They were quick, easy, and they gave me a chance to try different techniques in bite-sized patterns. One of my favorites are these crochet pansy patterns. Pansies come in so many different colors and color combinations, giving me plenty of room to be creative!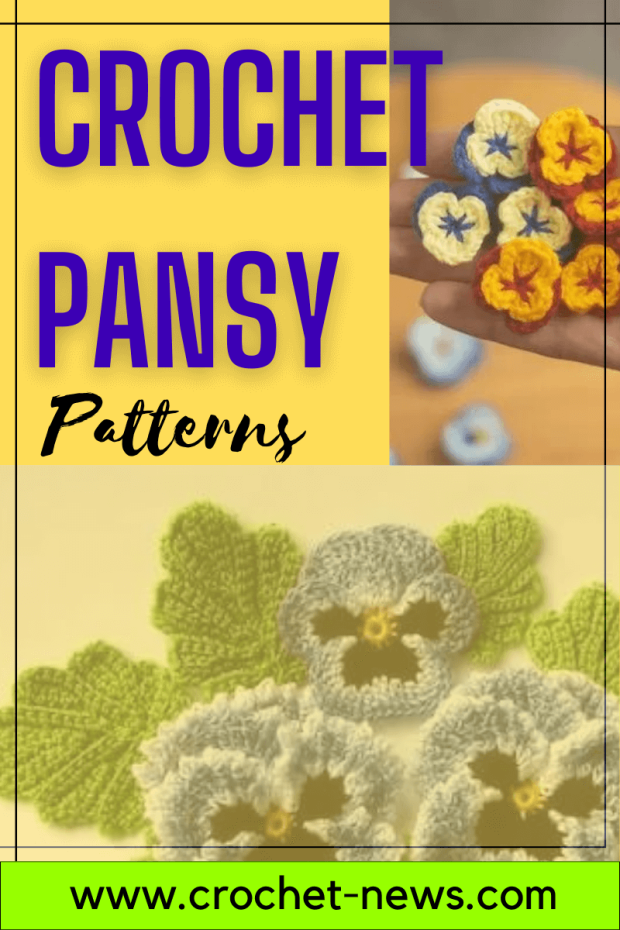 These crochet pansy patterns will let you create some gorgeous pansy flowers, and the best part is they'll remain gorgeous. No wilting, no nostalgic petals falling-off experience, just a lasting unbeatable beauty, so treat yourself to a lovely bunch and surprise a loved one, too. They make up in a few minutes so grab your favorite yarn in a selection of colors!

1. Crochet Pansy Bouquet Pattern by Yarnspirations
Nothing lasts forever, except this beautiful pot of pansies that stays fresh and never wilts. Crochet in the spring shades shown, or imagine your own perfect bouquet. Invest some time on this cheerful project that's thoughtful for Mother's Day or anytime.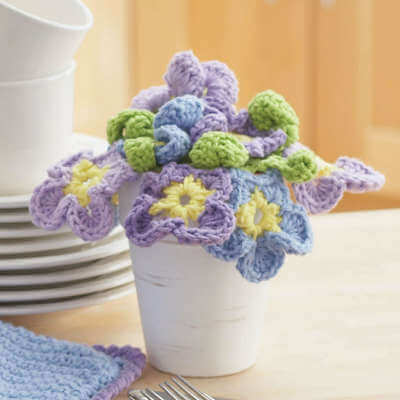 Get the Pattern here

2. Pansies Potted Plant Crochet Pattern by Planet June
Depending on your climate, pansies can be among the earliest flowering plants in spring, but you don't even need to wait that long to add color to your day! The word pansy is derived from the French pensée ('thought') and there's no better way to show someone you're thinking of them than with a cheerful crocheted pansy.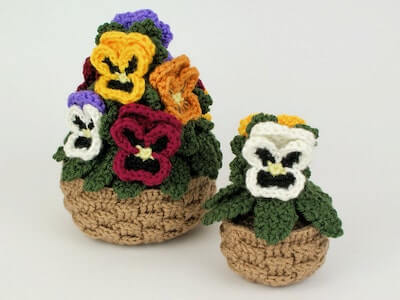 Get the Pattern by Planet June here

3. Parade Blanket Crochet Pansy Free Pattern by Felted Button
Worked in colorful join-as-you-go strips, this Pansy Parade Blanket looks like little rows of climbing pansy petals. Make it in any colors you wish and any yarn weight — bust your stash to suit your style. And easily make it any dimensions you want!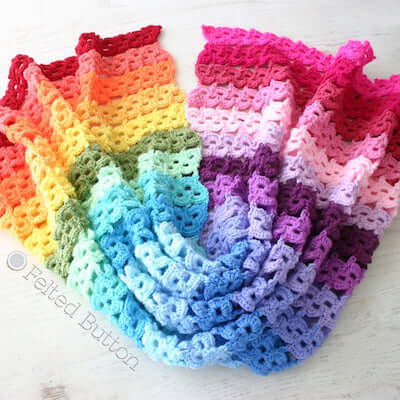 Get the Pattern here

4. Crochet Pansy Cushion Pattern by Pippa Patterns Crochet
Pop this pretty pansy cushion on your sofa and inject an instant splash of color to your surroundings!
Get the Pattern by Pippa Patterns Crochet here

5. Vintage Pansy Star Doilies Crochet Pattern by Maggie's Crochet
Now you can create your own set of doilies using this pattern and any mix of colors you can imagine! Crochet it using the colors it was originally done in or go crazy and crochet a pansy that defines you. Any way you go about it, you will have a lovely end result!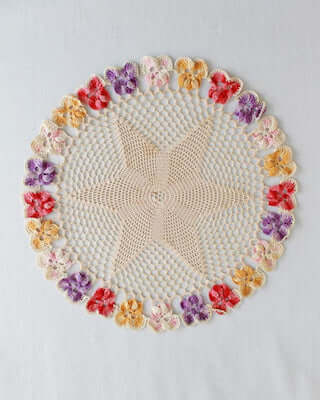 Get the Pattern here

6. Crochet Pansy Pattern by Happy Patty Crochet
Here's a crochet pattern for a Pansy Pattern (of the viola tricolor, hearsease type). Pansy needs no introduction as its one of the most (if not the most) popular pot flowers — this elegant beauty is a pleasure to make and a pleasure to look at.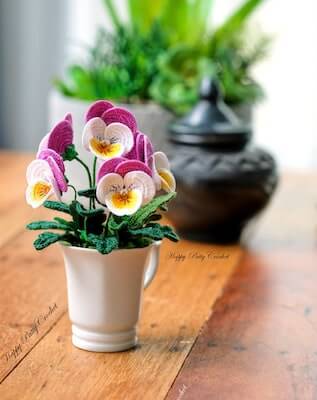 Get the Pattern by Happy Patty Crochet here

7. Crochet Pansy Towel Topper Pattern by Yarnspirations
This pretty, pansy towel topper makes a fun project for your kitchen, or give it as a novelty gift. Easily crochet your creative vision using you favorite colors. It's a durable finish on this lighthearted piece that makes any kitchen look bright.
Get the Pattern here

8. Afghan And Pillow Set Pansy Crochet Pattern by Maggie's Crochet
Spring is in bloom inside your home with the Afghan And Pillow Set. These early blooming flowers are some of the first to brighten flower gardens in the spring.
Now you can enjoy them all year with this delicate throw and matching pillow made from worsted-weight yarn. The crochet pansy flowers are made separately and sewn onto the quilt for a gorgeous afghan.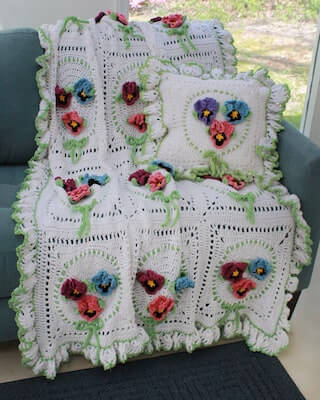 Get the Pattern by Maggie's Crochet here

9. Crochet Pansy Garden Tea Cosy Pattern by TBee Cosy
This tea cosy is embellished with crochet pansies. It's a beautiful, feminine accent that adds a touch of spring to any table. This statement piece is also the perfect project for a special occasion gift.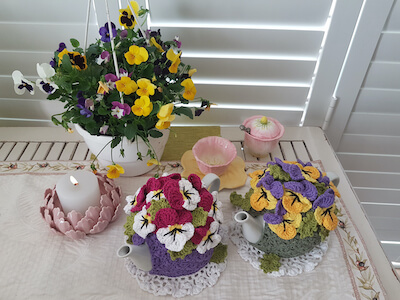 Get the Pattern here

10. Crochet Pansy Flower Pattern by Moara Crochet
The Pansy is the little flower with the colorful face which comes in a huge range of bright beautiful colors. Therefore you can use any yarn from your stash to create these little flower gems in just a few minutes.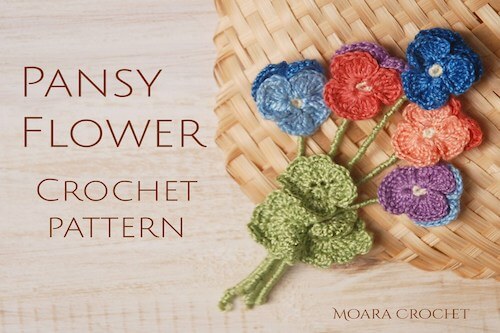 Get the Pattern by Moara Crochet here

11. Crochet Pansy Pattern by Yarn And Chai Design
Now you can learn how to crochet your very own pansy flower with this pattern. Make one and add it as an applique to a crocheted bag, hat, or afghan. Use any color combination you want to work up this crochet flower pattern. Adding embellishments such as small beads are optional, but add a nice finishing touch.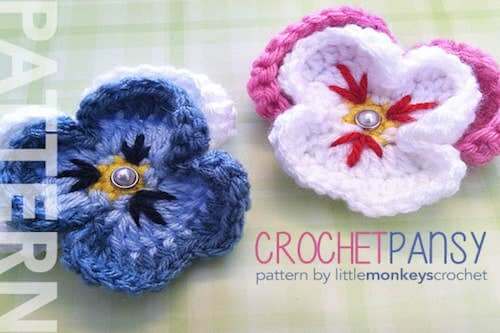 Get the Pattern by Yarn And Chai Design here

12. Crochet Kitchen Pansies Pattern by Crochet Village
Welcome Spring into your kitchen with these pretty pansies. They are all made out of worsted weight yarn; the basket is made with 2 strands of yarn and would be a pretty gift for someone special.
Have fun with left over yarn and make the pansies all different color combinations. The pattern pack includes instructions for the placemat, napkin ring and basket!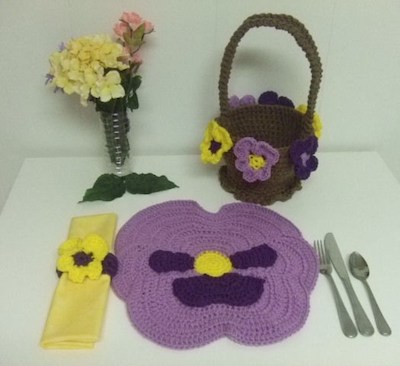 Get the Pattern by Crochet Village here

13. Crochet Pansies Pattern by Mufficorn
This Crochet Pansies Pattern gives you a lot of ideas! You can make different flower jewelry, crochet flower garland, flower pin or any other embellishment!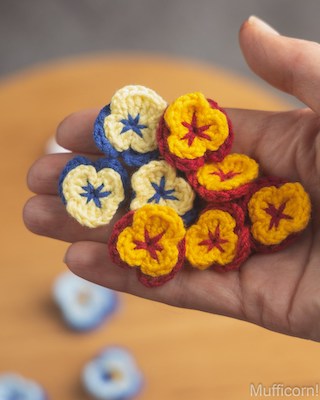 Get the Pattern by Mufficorn here

14. Irish Crochet Pansy Pattern by Fox Stitch Design
You will not find a more realistic Pansy pattern anywhere. When you use natural looking colors it looks real at first glance! They make lovely appliques & brooches or attach a wire stem and make a bouquet of Spring flowers.

Each color uses a continuous thread (there won't be million ends to deal with!) and it's made as one piece, no assembly required when you are done crocheting!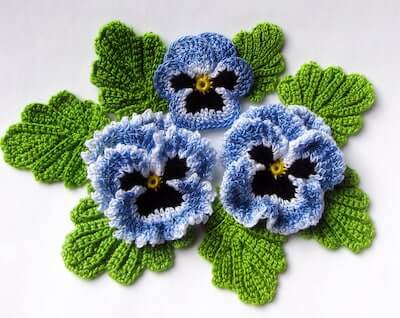 Get the Pattern by Fox Stitch Design here

15. Crochet Pansy Throw Pattern by Red Heart
Add a feminine touch to your cottage with this charming crocheted throw. First you crochet the hexagons then leaves and pansies are added.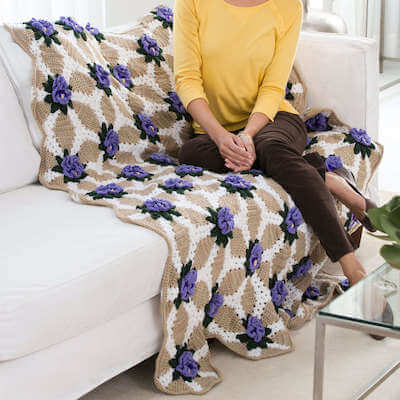 Get the Pattern here
I HOPE YOU LOVED THIS ROUNDUP OF CROCHET PANSY PATTERNS.
Do you love crochet flowers as much as I do? I have a treat for you! Here are more crochet flower patterns to whip up next:
Let me know if you try any of these flowers. Do leave a comment down below or share pictures with me on Facebook. We'd love to see your final products!
For now, enjoy making a classic, vintage-looking bloom with these crochet pansy patterns!