Crochet flower patterns are always popular, and crochet roses are among the best of the bunch. Use these crochet rose patterns below to learn how to crochet one!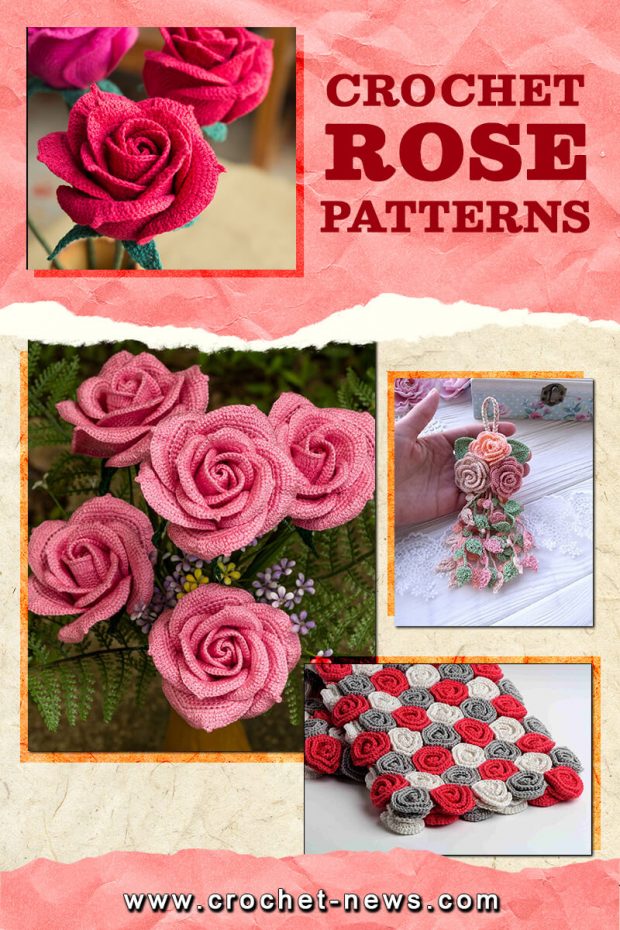 Crochet rose is much better than a rose. Why do you ask? It blooms all round the year in every color you want and what's more, you made it all by yourself!

Not only are they easier on the wallet than fresh roses, but they'll obviously last much longer, and you won't have you worry about any wilting at your warmest summer dinner party.

1. Crochet Rose Pattern by Happy Patty Crochet
Are you looking for a unique new challenge for your crochet bag of tricks?
The crochet rose pattern we've found is a perfect addition to any crochet enthusiast's arsenal.
Plus, two bonus patterns that combine beautifully with this pattern to create amazing bouquets and floral arrangements!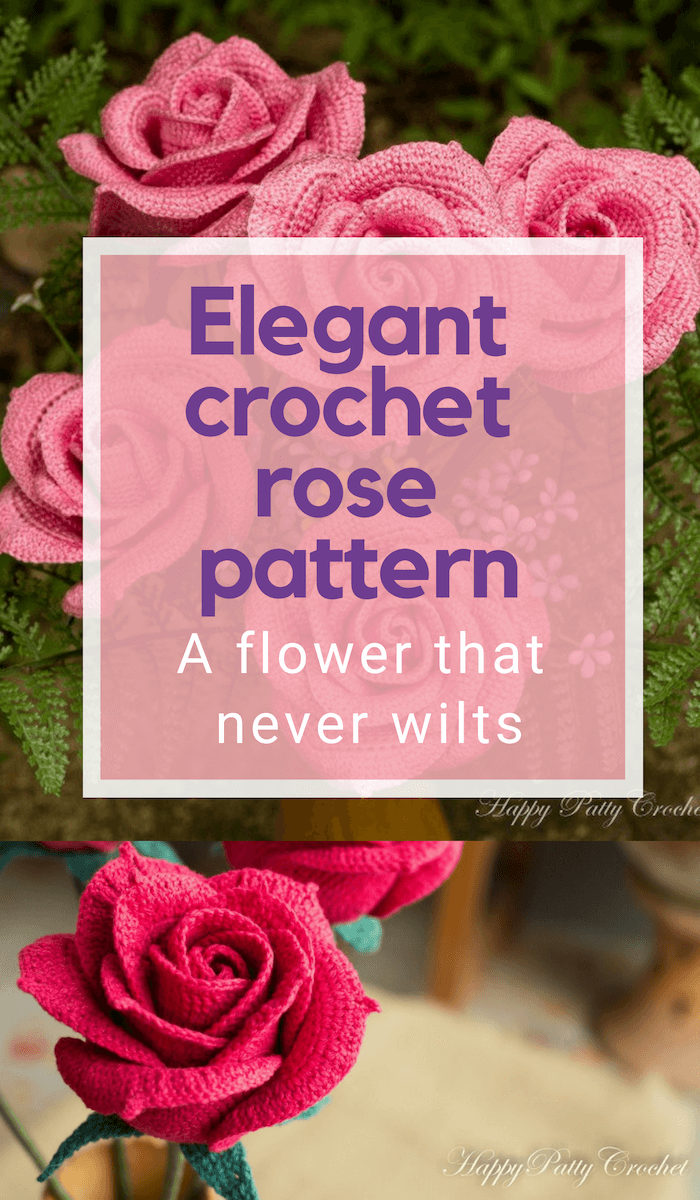 For more information on the pattern and where to find it, please keep reading!
Why a Crochet Rose?
I love all types of flowers. From simple small phlox blooms to large grandiose hydrangeas and everything in between.
Each bloom is unique, from the size and shape of the petals to the individual color striations. But, the one thing I don't love is how quickly they die.
My husband even knows not to buy expensive flowers for me because I don't like how quickly they die! So it is rare that we ever have roses in our house!
What a wonderful idea then to crochet some beautiful roses, in any color or colors that I choose, that will never die!
With crochet roses, you can make just one or several. If you decide to make several you can create a beautiful bouquet.
By mixing and matching colors you can create even more interest! Because each rose is made individually you can easily customize how you use them.
You can use them in combination with other flowers in arrangments or add to other decor. You can adorn handbags, hats or your hair with these beautiful roses as well!
Add a pin to the back of one to make it easy to add to different bags, dresses, sweaters, anywhere you'd like!
Crochet roses in spring colors to make a spring wreath. Or you can work up some in red and white to make Christmas roses for a garland on your fireplace mantel.
Crochet some green vine to attach them to and make your own spring and summer garland. Make some beautiful wedding centerpieces and accessories!
Really, the possibilities are endless!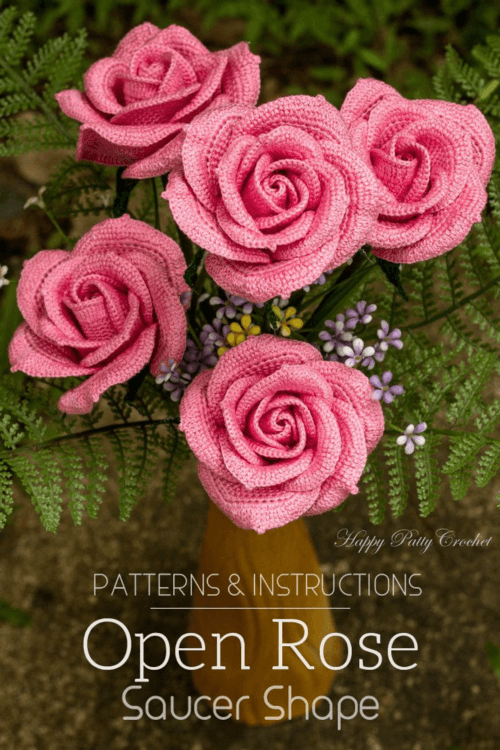 About the Crochet Rose Pattern
This pattern by Happy Patty Crochet is an Instant PDF download that will be emailed to you immediately upon purchase.
It is a fairly easy pattern to follow and contains both diagrams and photos to help you as work through the pattern.
If you are not practiced in working with small hooks and crochet thread it may take some getting used to when you begin working this pattern.
The pattern includes
Multiple diagrams
US Crochet terms
Photo tutorial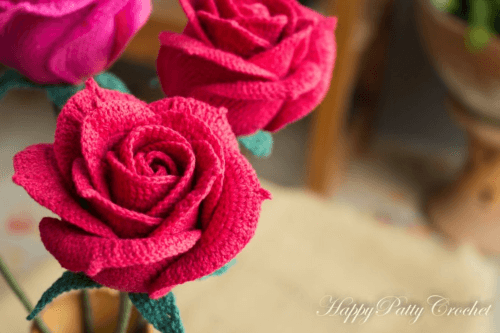 Skill Level
Beginner to Intermediate
Materials Needed
Crochet thread in your choice of color or colors
Crochet hook size 1.0 mm
Finished Size
4.7″ high and 3.1″ wide (if using the thread and hook size in the tutorial)
The fun thing with this pattern is that you get to adjust the finished size according to the hook size you use.
If you use a smaller hook, the finished rose will be smaller and it will be larger with a larger hook.
Bonus
The designer suggests combining this crochet rose pattern with two other patterns: the closed rose and the half-open rose.
When you combine these three patterns in a bouquet or arrangement, you will have three different stages or blooming represented.
Mix and match colors for your blooms to have even more pop!
Happy Patty Crochet offers a pattern set of all three here.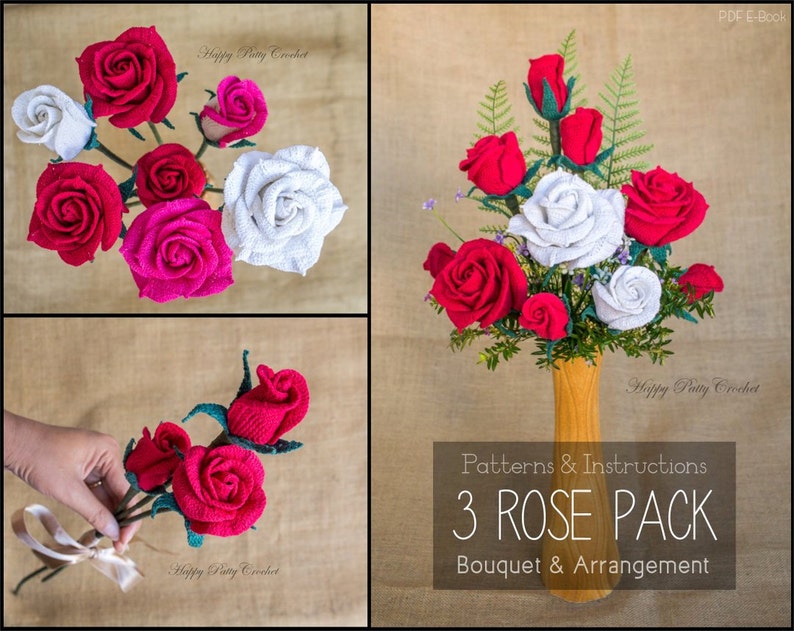 I hope you've enjoyed this little foray into the beginning of a crocheted garden! This is a wonderful pattern for a crochet rose to add to your collection. Just let your imagination run away with this crochet rose pattern and have fun!

2. Rose Bouquet Crochet Pattern by Yarnspirations
Flowers brighten-up any space, so craft together a dozen roses in the colors that inspire your world. Display your bouquet as a cheerful centrepiece, window accent or any other creative use you dream-up.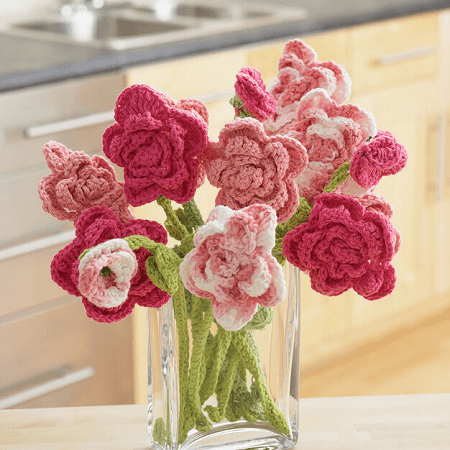 Get the Pattern here

3. Mini Crochet Rose Pattern by Happy Patty Crochet
These adorable mini crochet roses are perfect applique for anything from an earring and necklace, to a hairclip, bag, or a hat. Crocheting several of these blossoms would allow you to make a beautiful brooch or a stunning mini bouquet.

These delicate flowers are small in size but are as eye-catching as many larger flowers (or more). Try them in pastel colors for beautiful outdoor table decoration.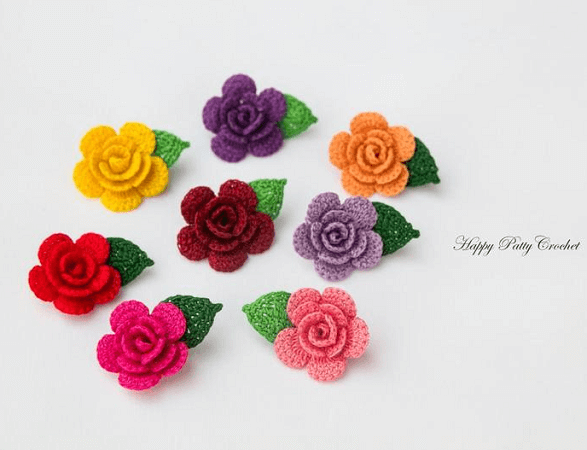 Get the Pattern by Happy Patty Crochet here

4. Crochet Rose Cushion Pattern by Pippa Patterns Crochet
Try your hand at this fascinating Crochet Rose Cushion that adds a decorator's touch to your bedroom or sofa. The pretty ruffle texture can be achieved in any color you want.

Let your imagination take you to the version that's beautiful to you. It adds an inviting touch of softness, so stitch one for the guestroom too.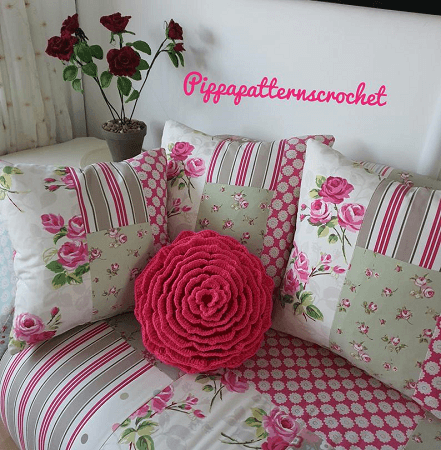 Get the Pattern by Pippa Patterns Crochet here

5. Crochet Rose Field Baby Blanket Pattern by Sweet Crocheterie
This Crochet Rose Field Baby Blanket would make an amazing gift for anyone or a terrific addition to your own blanket collection. It would make an amazing photo prop! The roses create a rich and thick blanket, warm and cuddly.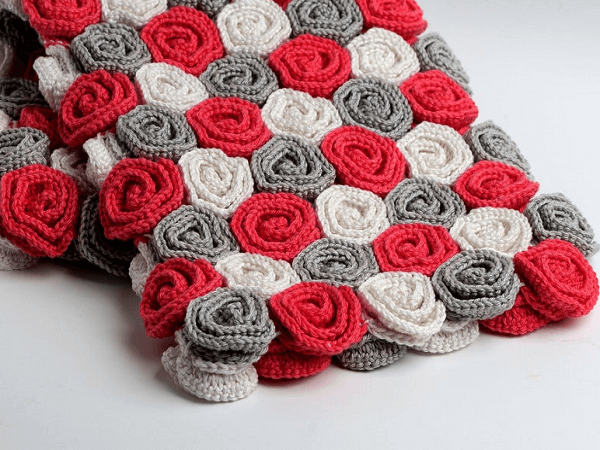 Get the Pattern by Sweet Crocheterie here

6. Roses Crochet Purse Pattern by Mama In A Stitch
How sweet is this little bag with all the pretty crocheted roses? You only need to know how to single crochet for the purse portion. It is made in two pieces and seamed along the bottom and sides. This Roses Crochet Purse is a lovely way to take crochet flowers on the go!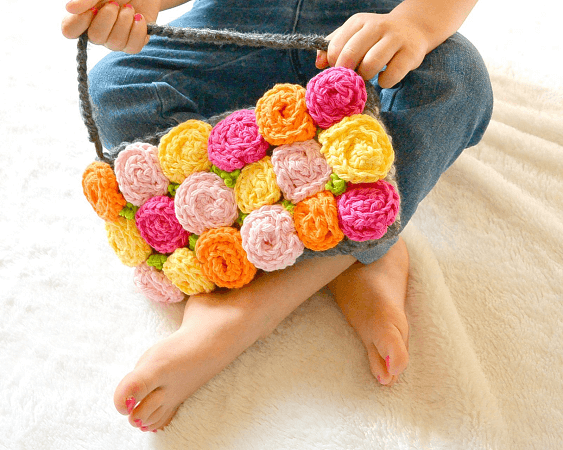 Get the Pattern here

7. Crochet Rose Tree Pattern by Renirumi
While inspiring yourself to garden, why not crochet garden-themed crochet flowers. This Crochet Rose Tree Pattern will be a great springtime decoration for your desk or workshop or a lovely gift for someone special on Valentine's Day.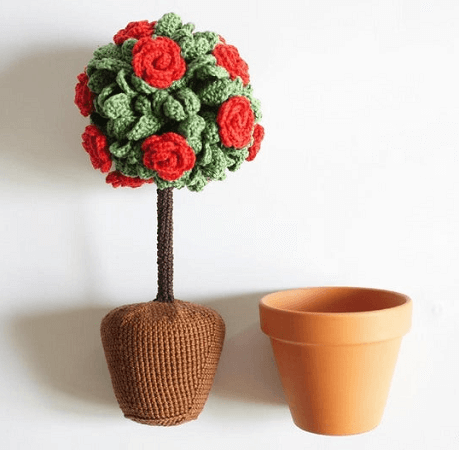 Get the Pattern by Remirumi here

8. Centifolia Rose Headband Crochet Pattern by Mon Petit Violon
This Centifolia Rose Headband Crochet Pattern is an easy pattern that will only require a small amount of yarn and two contrasting color yarns. You can make it in any size.

Approximate measurements for each age included in this pattern. An adorable flower on a simple headband is sure to be a hit for any occasion!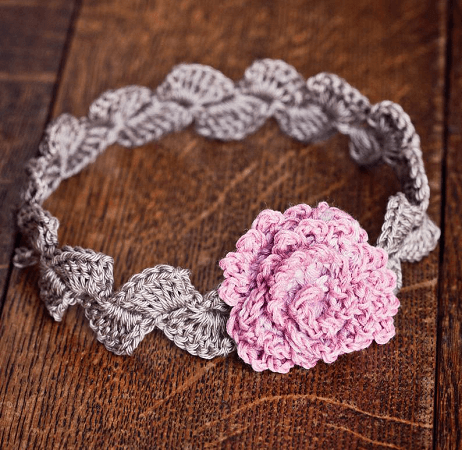 Get the Pattern by Mon Petit Violon here

9. Crochet Origami Rose Pattern by Naztazia
This Simple Origami Rose Flower is a nice crochet project for beginner to advanced crocheters. It is made with double crochet stitches then rolled into shape.
Because it's quick and easy, you only need small amounts of yarn for this project and it's a great way to use up scraps of yarn!
Get the Pattern here

10. Rose Bush Scrubbie Set Crochet Pattern by Crochet Spot Patterns
Inspired by the rose bushes in a garden, this set includes rose-shaped scrubbies and green cleaning cloths. The scrubbies and cloths can be displayed in a cute flower pot to resemble a rose bush, making it a great gift idea and decoration for your home.

The rose-shaped scrubbies are crocheted with ordinary yarn and nylon netting held together to create a rough texture that's great for scrubbing.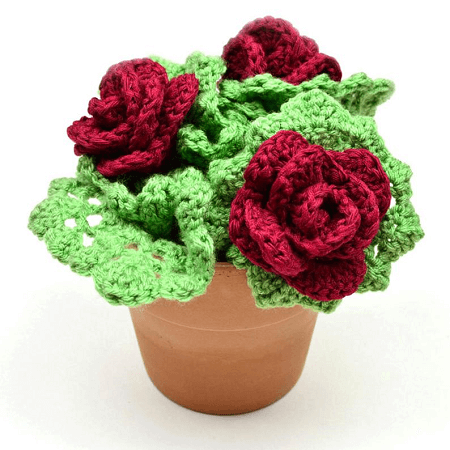 Get the Pattern by Crochet Spot Patterns here

11. Quick And Easy Crochet Roses Pattern by Sewrella
These crochet roses are so cute, and probably one of the quickiest little flowers you'll ever make. Don't worry about how complicated this shape looks, it's 2 simple rows and a little sewing!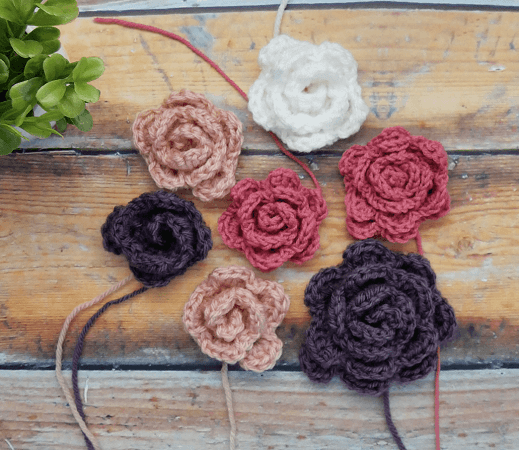 Get the Pattern here

12. Rose Garden Baby Shoes Crochet Pattern by Holland Design
These little mary janes are just the thing for your precious little girl. The pattern includes directions for sizes newborn to 18 months.

This Rose Garden Baby Shoe features an ankle strap with button closure for a secure fit. You can crochet the roses (as shown), or these look great with fabric roses sewn on instead.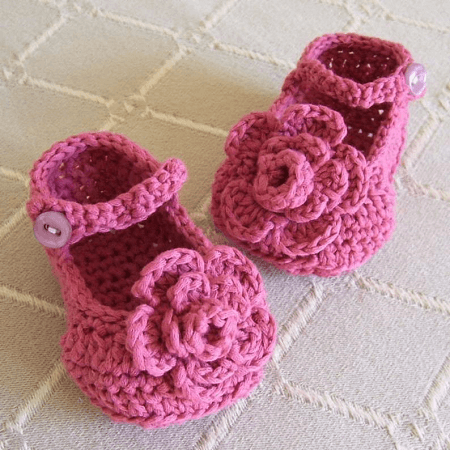 Get the Pattern by Holland Designs here

13. Cottage Rose Warmer Crochet Pattern by The Hat And I
Keep your ears warm this winter! This Cottage Rose Warmer Crochet Pattern comes with a feminine rose pattern to crochet and uses as an embellishment!
This headband pattern includes 5 sizes from newborns to adults. A lovely headband for the ladies and sweet babies!
Get the Pattern by The Hat And I here

14. Crochet Stem Rose Pattern by Happy Patty Crochet
This Rose is in a bud shape and is pretty much the all-time favorite wedding flower, or the flower to give for a special someone.

Crochet a few of this elegant Rose to make delicately beautiful decor, or several to make a stunning bouquet. Following the instructions with the recommended material, you'll get a 2.4"/6cm blossom.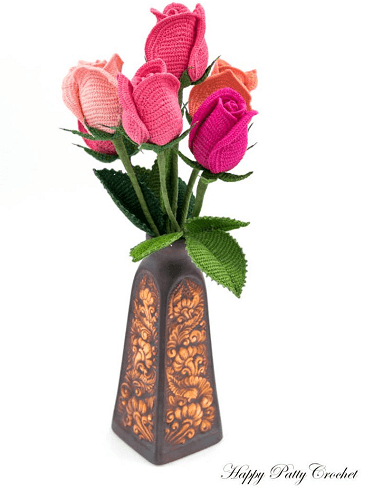 Get the Pattern by Happy Patty Crochet here

15. Crochet Rose Garland Pattern by Yarnspirations
Crochet something cheerful with a graphic rose garland that features densely crocheted roses along a leafy vine. Practice a variety of stitches, like double crochet, half double crochet, and more.

This fun and easy project is a playful craft that's perfect for decorating a party room or adding a fun accent to your home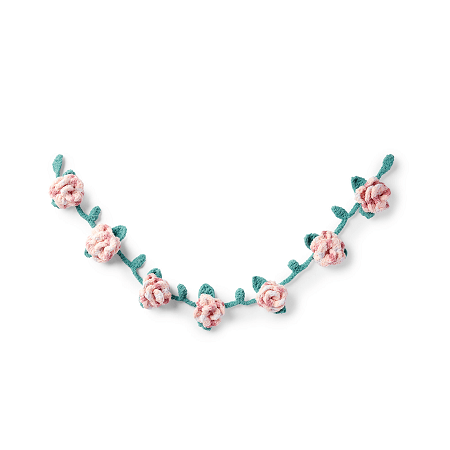 Get the Pattern here

16. Rose Granny Square Crochet Pattern by Crafty Kitty Crochet
Making three-dimensional roses is such a beautiful and rewarding craft endeavor! If you love floral crochet, then making these roses will be a lot of fun.

These beautiful, textured, three-dimensional rose granny squares would look lovely as a blanket, pillow, scarf, tote bag, or just about anything else – so feel free to get creative!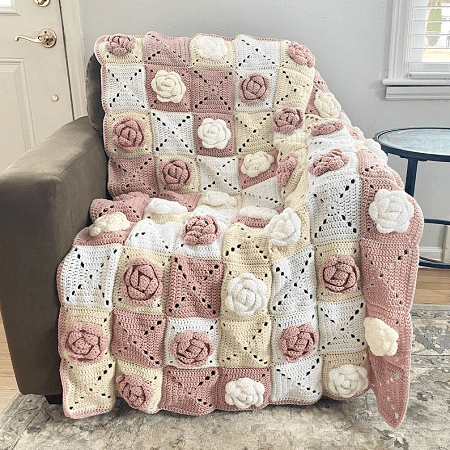 Get the Pattern by Crafty Kitty Crochet here

17. Roses Crochet Earrings Pattern by Lucia Knit
Following the instruction, you will be able to crochet tiny and elegant earrings in the shape of roses wreaths. Such earrings will be a perfect gift for those who love roses and likes gardening.

These micro crochet roses are made with sewing thread and a crochet hook 0.4 mm. The pattern is suitable for bigger hooks.
Get the Pattern by Lucia Knit here

18. Potted Rose Crochet Pattern by Yarn Blossom Boutique
This delightful potted rose makes a wonderful gift for someone special. Bring a ray of sunshine to someone's life and brigten up a dull day. Alternatively craft one for yourself, it's a great piece to keep small and precious items in.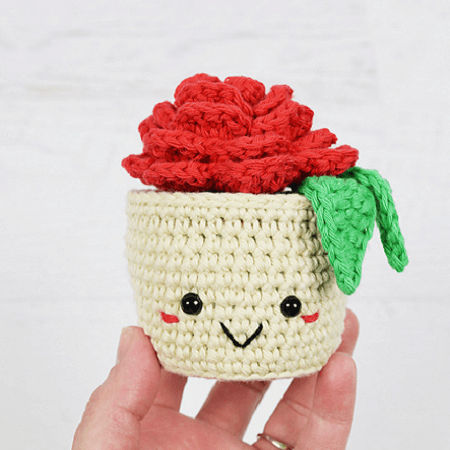 Get the Pattern here

19. Crochet Rose Pattern by Emma Crochet Design 4 U
Valentine's Day is around the corner, he or she will be for sure be amazed by these delicate crocheted flowers. Make them in several colors as shown or make all of the roses red for a more classic and realistic look.
Get the Pattern by Emma Crochet Design 4 U here

20. Crochet Rose Wreath Pattern by Petals To Picots
This crochet rose pattern is so super easy – just two simple rows and you're done! It's perfect for adding accents to your home decor or wearable accessories.

Crochet up a bunch along with some buds and leaves to make a whole bouquet or use them to decorate a wreath. There are so many possibilities.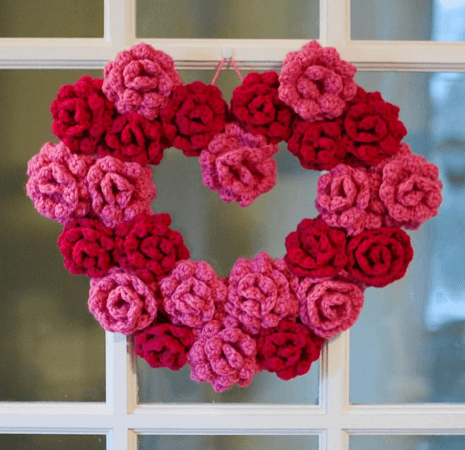 Get the Pattern here

21. Ruffled Rose Baby Blanket Crochet Pattern by The Wannabe Grandma
This timeless, vintage-inspired blanket makes a gorgeous baby shower gift and an instant heirloom. The finished blanket measures approximately 28 inches wide by 41 inches long.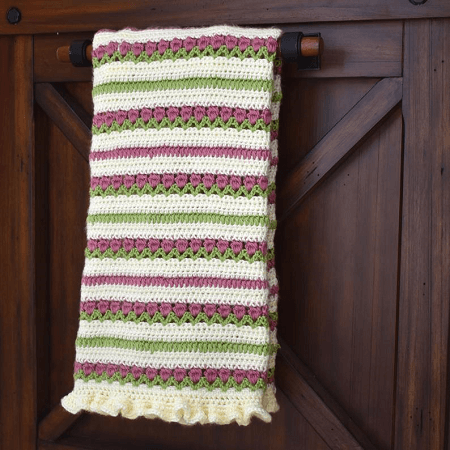 Get the Pattern by The Wannabe Grandma here

22. Free Easy Rose Crochet Pattern by Skip To My Lou
This free easy rose crochet pattern is the perfect project to add a little beauty to your world. This crochet rose pattern works up quickly. It would be a perfect embellishment for a crochet hat or crochet headband. Try them on a hairband or clip for an extra pretty hair accessory!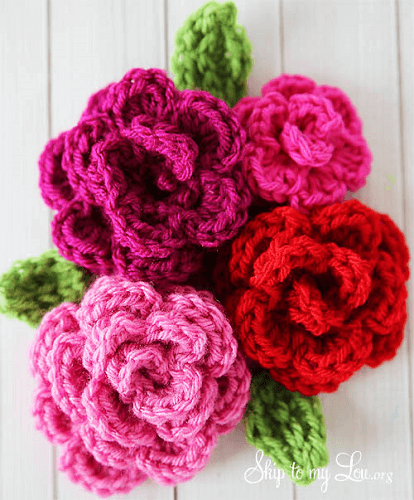 Get the Pattern here

23. Rose And Lace Doily Crochet Pattern by Yarnspirations
This lacy filet crochet doily is created with a timeless rose design that makes it attractive for tables, buffets, dressers and more. Your project begins in any shade that inspires your creativity.

It's an elegant accent that brings distinction to a room, softening the feel of modern spaces, as well as country and traditional décors. Where will you display your first project?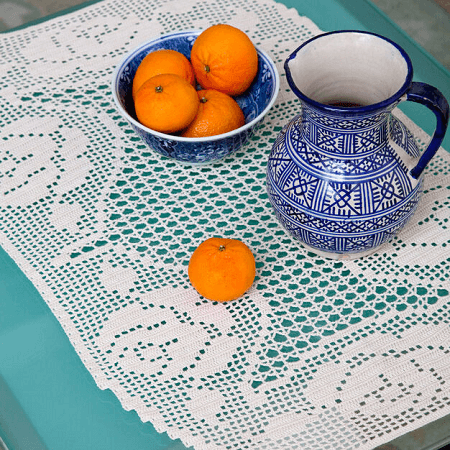 Get the Pattern here

24. Crochet Rose Pattern by Vi Tasja
Use this embellishment as a scarf pin or attach it to a headband or bag – wear it, love it, or gve it awy as the perfect handmade gift.

If your favorite cardigan or jacket needs a little sprucing up, what better way than to add a cute crochet rose? Enjoy mixing up the colors to design your own blooms!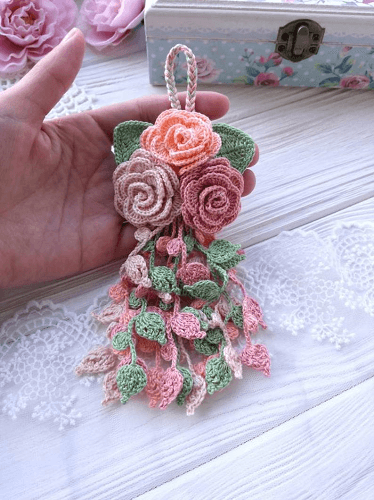 Get the Pattern by Vi Tasja here

25. Crochet Rose Pot Holder And Dishcloth Pattern by Yarnspirations
Gingham patterning and cross-stitching give these rose-themed accessories a country kitchen feel. Shape your pieces in the desired colors to complete these pieces that are durable and ultra-absorbent. They make a lovely set that you give for no reason at all.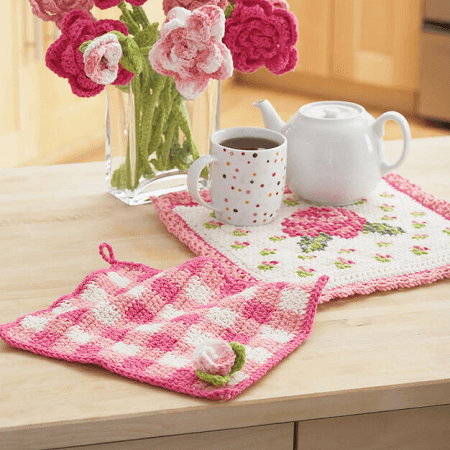 Get the Pattern here

26. Crochet Rose Garden Necklace Pattern by Sweet Crocheterie
This Crochet Rose Garden Necklace Pattern is so quick to make, and you can finish it in an hour or two! Exude elegance by wearing this dainty necklace around your neck.

If you prefer to wear it subtly, you can also wear it as an anklet, a bracelet, or even a headpiece. Create one in the color that fits your outfit.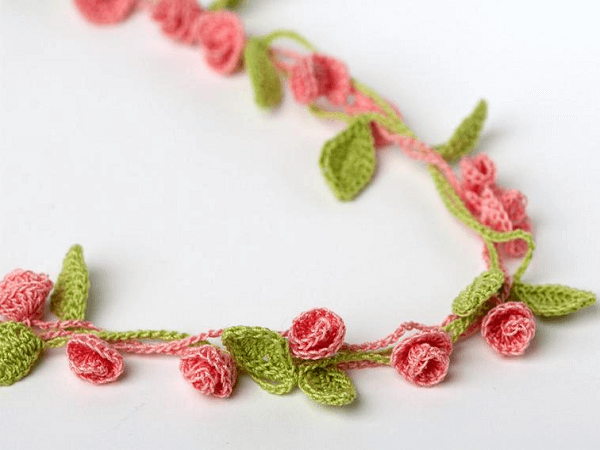 Get the Pattern by Sweet Crocheterie here

27. Wild Rose Shawl Crochet Pattern by Yarnspirations
Your skills take center stage on this delicate and lacy, crocheted shawl that's perfect for the bride, or paired with any outfit to complete a carefree boho look. It's a cherished gift for the big day, yet versatile enough to dress up a less formal occasion.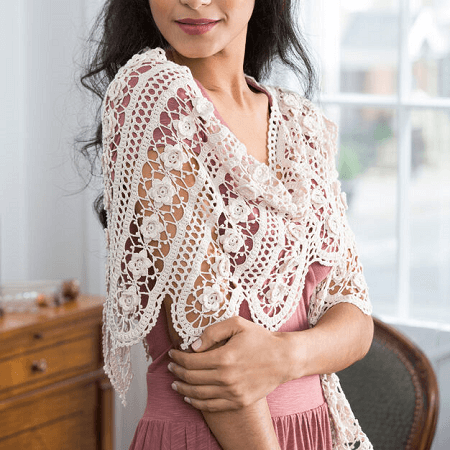 Get the Pattern here
Celebrate someone special with a crochet rose today – especially if that someone special is yourself!
Inspire others by sharing your works on our Facebook Page. We'd love to know what everyone's making!

What would you like for Valentine's Day? Maybe a heartfelt gift and some flowers. What if I told you there is something that could fulfill these two desires at once. Crochet flower bouquet is that something. Check it out!
We know that you're itching and ready to crochet up a dozen crochet roses. Enjoy making friends!