Hats and beanie are always a favorite crochet project and these 32 Easy Crochet Hat Patterns are sure to delight the crocheter and the wearer!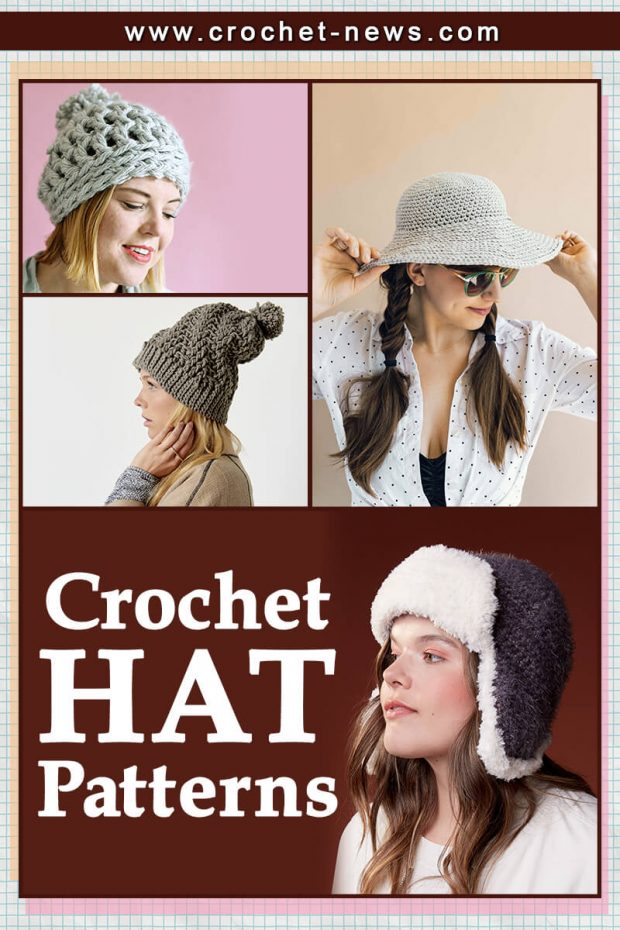 From bitty baby hats to bulky teen favorites and detailed women's hats to understated choices for men, we've rounded up some of the best patterns available.

Hats can be as simple or as complicated as you want, and they work on pretty much anyone. So no matter where you are in your crocheting journey, you can knock out all these hats!

1. Easy Crochet Hat Pattern by The Easy Design
This Easy Crochet Hat Pattern is a simple and modern hat and very quick to make. This is a great everyday hat with fun texture, one color or combination of colors, and embellished with a Faux fur pompom!

Take a moment to imagine this hat in other colors. You can personalize it in colors that you love best and it will be easy for you to turn a yarn ball into a trendy and stylish piece.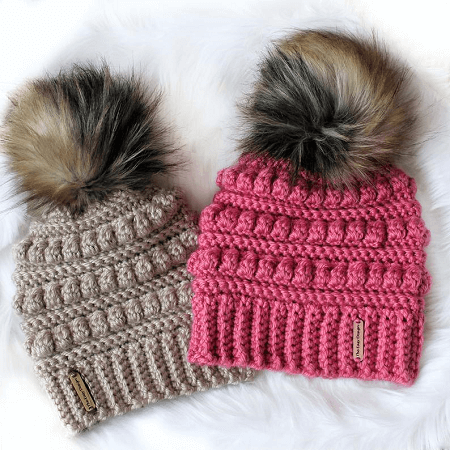 Get the Pattern by The Easy Design here

2. Mountain Range Hat Crochet Pattern by Wild Sapling
This Mountain Range Hat Crochet Pattern is for a stylish yet practical hat inspired by nature. Whip it up in your favorite earth colors!

If you are a nature lover, adventurer, or outdoor enthusiast, you will love this warm and comfy fitting hat complete with a yarn pom pom or fur pom pom.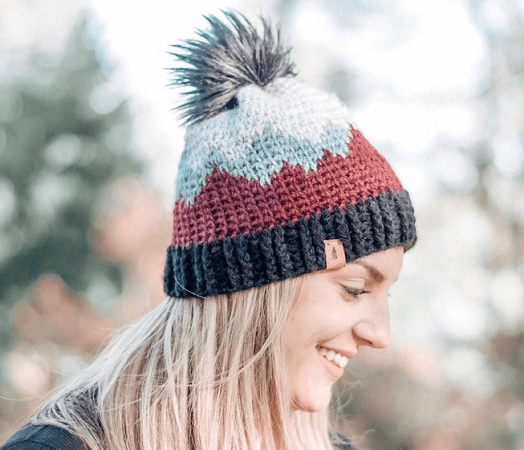 Get the Pattern by Wild Sapling here

3. Crochet Trapper Hat Pattern by Yarnspirations
Look to this fur-trimmed Crochet Trapper Hat to keep you toasty through the coldest of days.

Featuring irresistibly cozy fur yarn, this pattern is worked as a spiral in linked double crochet for a nice dense texture, and features fur-lined ear flaps and brim for comfort and warmth.

It's a unique project that adds style and flair to all sorts of outdoor adventures!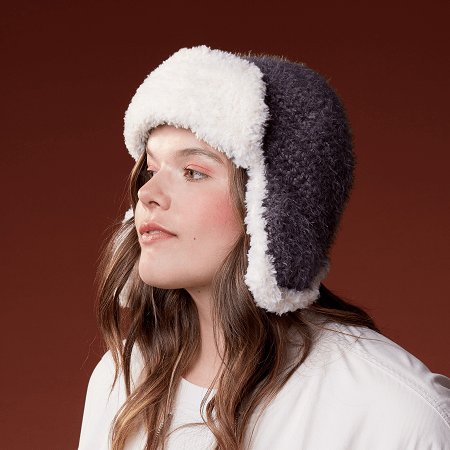 Get the Pattern here

4. Crochet Love Bug Slouchy Hat Pattern by Left In Knots
Use this Crochet Love Bug Slouchy Hat Pattern to make a modern crochet slouchy hat using hand-dyed yarn or worsted weight yarn of your choice.

Finish it with faux fur pom pom and you have a chic addition to your winter wardrobe.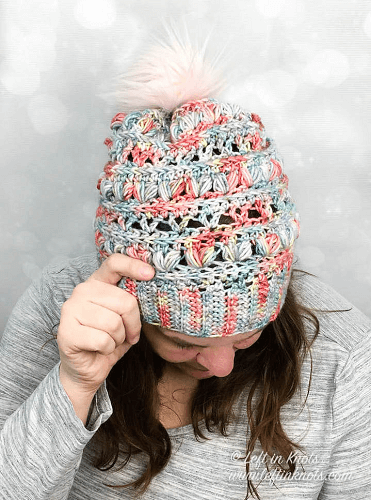 Get the Pattern here

5. Crochet Cable Hat Pattern by Mon Petit Violon
This Crochet Cable Hat is your perfect winter accessory. The texture is very soft but thick at the same time, cables add wonderful texture and perfect shape, the brim can be made in one layer or double, depends on what fits you better.

Bonus – it is great for girls and boys, and includes sizes for everyone!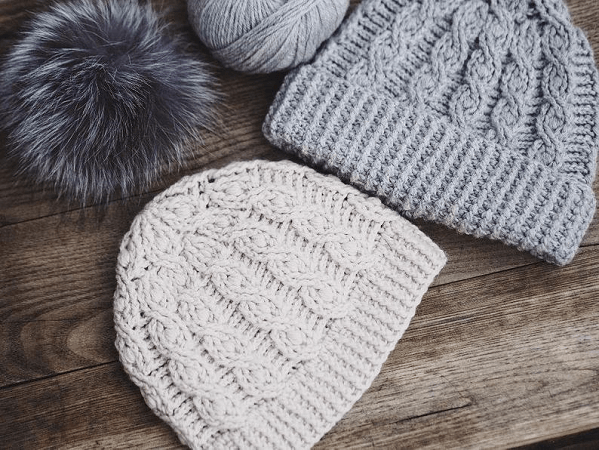 Get the Pattern by Mon Petit Violon here

6. Striped Crochet Hat Pattern by Alyse Crochet
This Striped Crochet Hat is a sweet and sophisticated beanie featuring a ribbed brim and beautiful stripes of color!

This beanie hat is made using a new technique that creates pretty little knit-look stripes with no extra ends to weave!

The hat brim measures approximately 17″ around (stretches to over 21") and 2.5" wide, and the finished hat measures approximately 9.5" long. You can easily customize your hat to fit any size!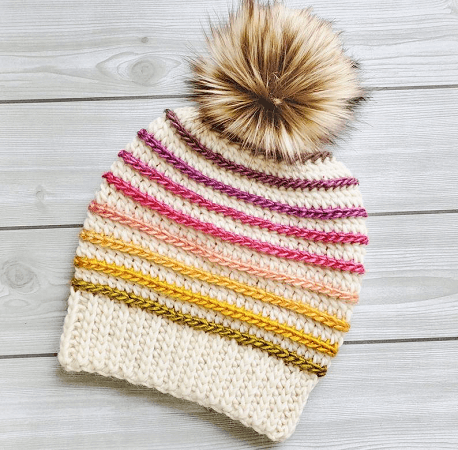 Get the Pattern by Alyse Crochet here

7. Crochet Chevron Beanie Hat Pattern by E'Claire Makery
Preppy, bold, and oh so cozy, this super chunky chevron women's crochet winter hat is just the accessory you need for your wardrobe!

The red and gold chevron pattern adds a unique twist to the classic ribbed hat, and the tapestry crochet colorwork creates such a beautiful fabric.

Whether it's to show school spirit, cheer on your favorite team, or you just love the colors, this free crochet hat pattern will quickly become your go-to crochet beanie!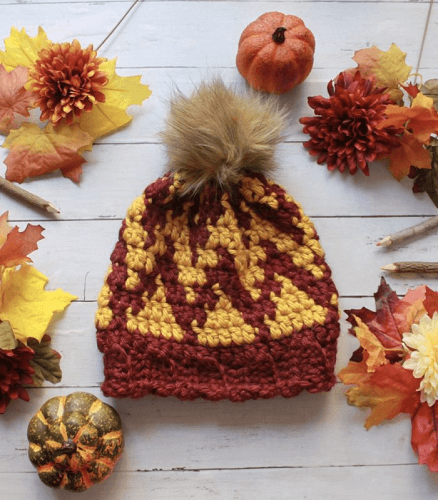 Get the Pattern here

8. Crochet Hat Pattern by The Hat And I
Surprise someone with the cutest crocheted hat ever. This Crochet Hat Pattern included instructions to make a raccoon hat, a fox hat, and a deer hat!

You'll love how adorable each hat will look once completed, and you can even use it to make a sweet gift for an upcoming baby shower or birthday celebration.

This crochet hat pattern includes sizing for both kids and adults, so family members can each have their own hat!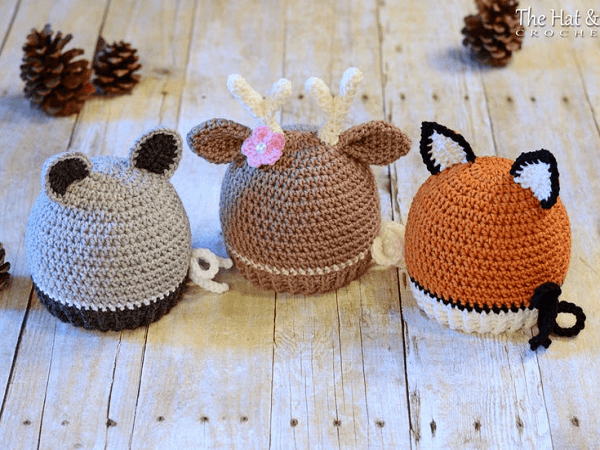 Get the Pattern by The Hat And I here

9. Winter Chill Beanie Free Crochet Pattern by Rich Textures Crochet
Once the really cold weather hits, it's always nice to have a thick, bulky weight beanie to throw on! That's exactly what you'll find with this crochet pattern for the Winter Chill Beanie.

This hat is very quick to work up! It is made using a super bulky weight yarn and only nine rounds. Once you have a handle on the pattern, it will work up in one to two hours.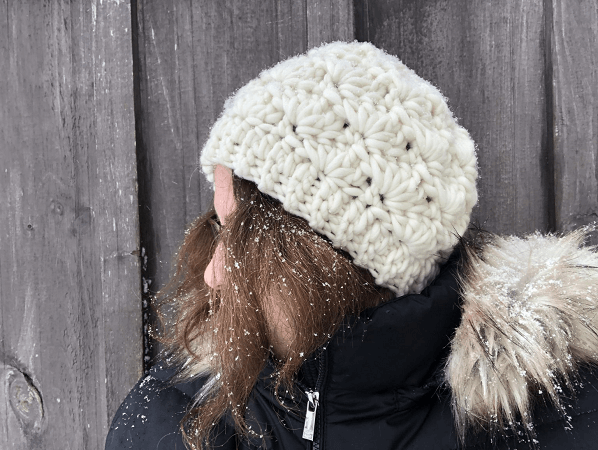 Get the Pattern here

10. Ribbed Bucket Hat Crochet Pattern by Shop Daisy And Dime
This Ribbed Bucket Hat is the perfect addition to your summer wardrobe, giving 90's vibes to any outfit you pair it with!

This beginner-friendly bucket hat crochet pattern is a quick and easy summer project, and the ribbed stitching throughout gives a fun texture to the hat.

A weight 4 cotton yarn is highly recommended to complete this project, however any yarn can be used.

Use a hook that is several sizes smaller than recommended on your yarn label to give this bucket hat structure, or opt for the recommended hook size to produce a more floppy hat.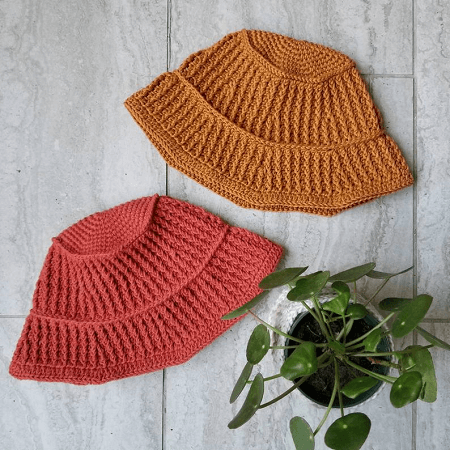 Get the Pattern by Shop Daisy And Dime here

11. Chunky Waffle Stitch Crochet Hat Pattern by Ruby Webbs
To the store, dropping the kids off at school, or going for a hike in the woods – this Chunky Waffle Stitch Crochet Hat is sure to keep you warm and looking sharp through all of your cold-weather adventures.

The clean simple lines and cozy thickness of the waffle stitch will have your heart! This hat is soft, stretchy, and can be made in a variety of sizes. Color-blocked or solid, this beanie is a winner either way.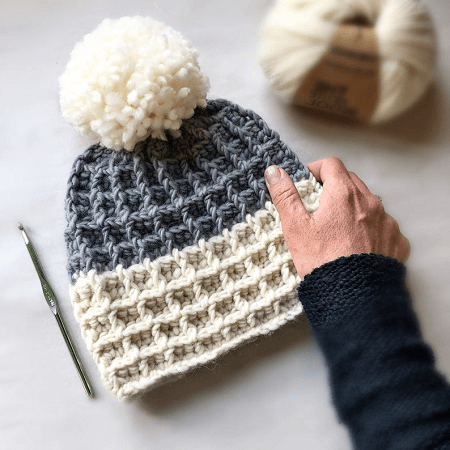 Get the Pattern by Ruby Webbs here

12. Plaid Crochet Hat Pattern by Evelyn And Peter
Whip up this cozy Plaid Crochet Hat Pattern for a classi winter accessory. It's a simple pattern made fun through the color changes.

Absolutely perfect for the holiday season, this is a very easy hat to make and the perfect gift that anyone will be absolutely delighted to receive,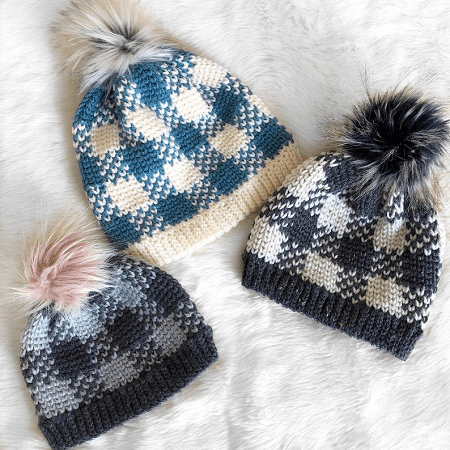 Get the Pattern by Evelyn And Peter here

13. Moss Stitch Beanie Hat Crochet Pattern by Dabbles And Babbles
There are advanced techniques like tapestry crochet to create bold colorwork designs. However, there also are really easy stitch patterns that use two colors and still have that graphic appeal.

That's the case with this beanie hat crochet pattern worked in an easy crochet moss stitch.

This crochet pattern is really simple and the moss stitch is a lot of fun to crochet. It's made with two colors and has a big pom pom on top.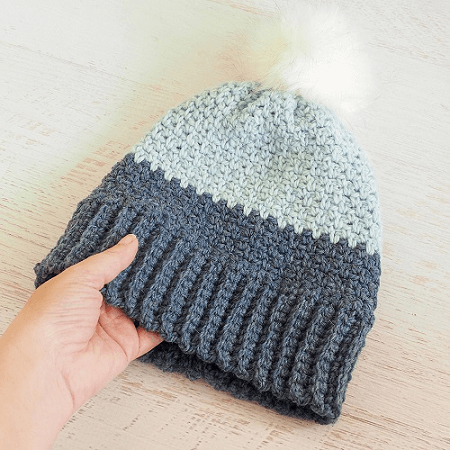 Get the Pattern here

14. Crochet Newsboy Hat Pattern by Simply Made By Erin
This Crochet Newsboy Hat Pattern creates a relaxed hat with a small visor and cute button strap. This hat is stylish, easy to crochet, and keeps the sun out of your eyes.

Great for men and women alike, this is a must-have accessory for the fall and winter months. As a matter of fact, this hat is so fun and easy to make that you may find yourself making one in all your favorite colors!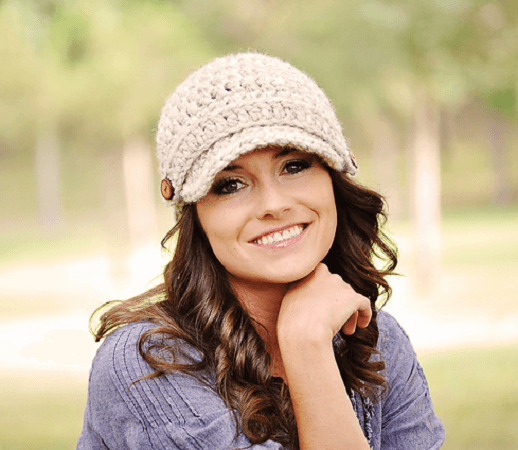 Get the Pattern by Simply Made By Erin here

15. Jane Frost Hat Crochet Pattern by Mamachee
This Jane Frost Hat Crochet Pattern looks hard but it's really pretty easy and fun to make. One look at this richly cabled crochet hat and you know you're staying warm when the temperature drops.

It is designed in one shade to really showcase the eye-catching stitchwork, so just select your favorite color and get started today!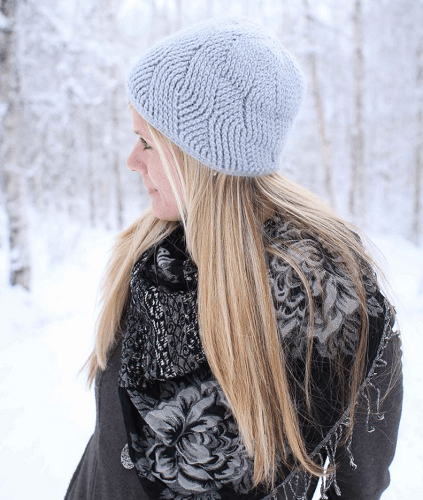 Get the Pattern by Mamachee here

16. Hyland Men's Hat Crochet Pattern by Yarn And Chai
This Hyland Men's Hat Crochet Pattern was designed to work for all sizes. It has just the right amount of slouch and uses a very guy-friendly yarn called Jeans.

Of course, despite its name, this hat isn't just for the guys. It would make a great girls' hat too! Guys and girls, toddlers through adults, will love this modern unisex slouch!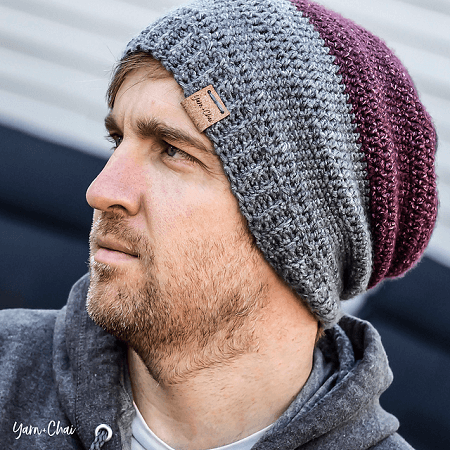 Get the Pattern here

17. 30 Minute Easy Chunky Crochet Beanie Pattern by Persia Lou
This easy chunky crochet beanie works up in just 30 minutes! This free pattern will have you making gifts for friends and family in no time.

A super chunky yarn and a ridiculously huge hook are what make this hat go so quickly. The whole hat only has seven rounds – perfect for last-minute holiday gifts!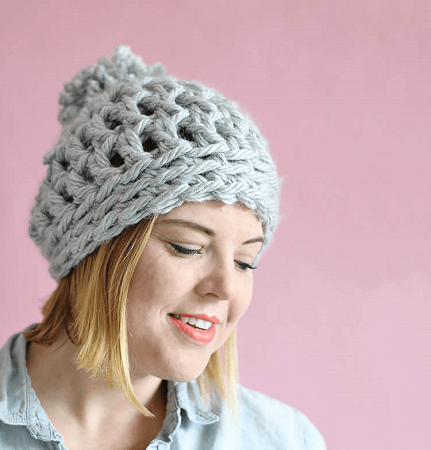 Get the Pattern here

18. Crochet Bowler Hat Pattern by The Hat And I
This Crochet Bowler Hat is a simple, elegant, and timeless hat that's lovely in the fall, winter, spring, and, worked in cotton yarn, a fab hat for sunny days. Flip the brim up and you'll have a bowler hat for the boys too!

Step up your cool-weather style with this sophisticated hat that looks like it was made by a high-end milliner.

Keep it neutral or let it stand out using a brighter shade. It's a piece of distinction that appeals to fashion mavens everywhere!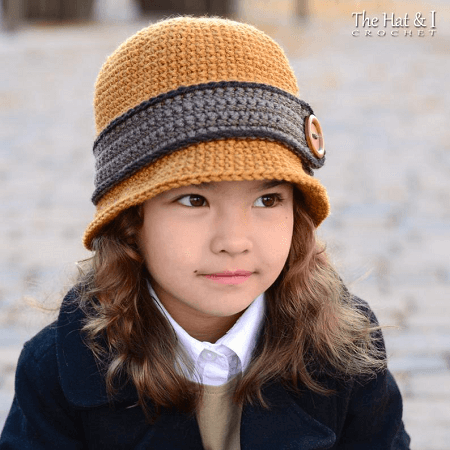 Get the Pattern by The Hat And I here

19. Pompom Hat Crochet Pattern by A Crazy Sheep
Great for all ages, this Pompom Hat features tassels and pom-poms. Perfect for babies, toddlers, kids, teens, and adults!

How much fun is this lively crochet hat, complete with bouncy pom poms? You can also attach a button or flowers to put your own unique mark on this hat.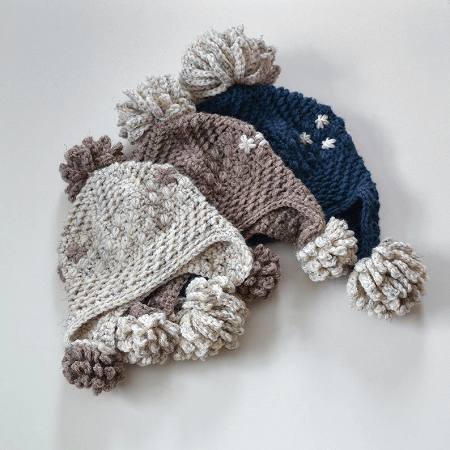 Get the Pattern by A Crazy Sheep here

20. Newsboy Hat Crochet Pattern by Injenuity
Crochet your child a timeless Newsboy Hat without losing the authentic "sewn" quality and shape. The best part – this is a nearly-no sew project. The only part that's sewn is at the very back, and only a simple 30-second whip-stitch job.

You can use a double strand of worsted weight yarn or a single strand of bulky weight yarn, and either way, it's a nice, quick project. Use cotton for spring and summertime, and a warmer fiber for fall and winter.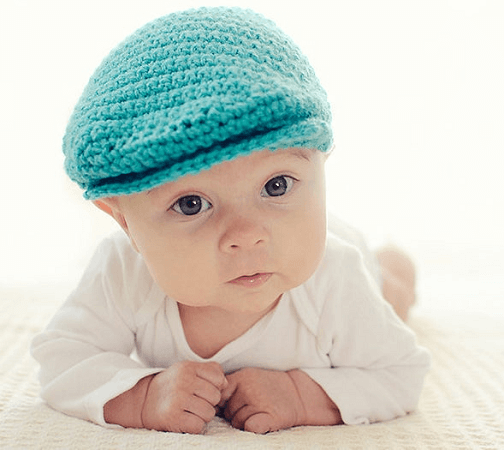 Get the Pattern by Injenuity here

21. Two Tone Fair Isle Hat Crochet Pattern by Ideal Me
When it comes to easy fair isle crochet patterns, this Two-Tone Fair Isle Hat is perfect. This is the perfect hat for someone who loves color and design.

The little details make all the difference and set this hat apart from the rest. And the pattern is easy to work which makes it fun and fast!

Pick up your hook and two skeins of your favorite colors, and get to work on this simple project.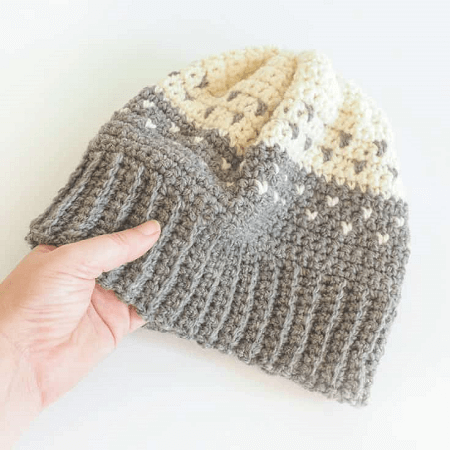 Get the Pattern here

22. Fluffy Winter Hat Crochet Pattern by Wilmade
This Fluffy Winter Hat is made with the softest and warmest fluffy yarn out there! With a crochet hook size 12mm, this hat works up in less than an hour and guarantees warm ears this winter.

Prepare for many people who want to touch and feel the fluffiness on your head! This Fluffy Winter hat is available in sizes toddler, tween, and adult.

The body and pom pom are made with single crochet stitches. The brim is made with double crochet stitches and front post double crochet stitches to add some texture.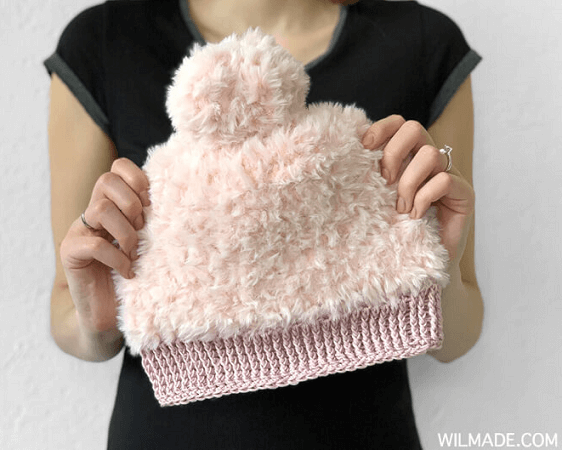 Get the Pattern here

23. Hippie Crochet Hat Pattern by It Was Yarn
This Hippie Crochet Hat is a great stash-busting hat. The color combinations are endless! This colorful hat is ideal for autumn or spring. Choose your favorite colors and in a short time, you can wear a beanie that spreads a good mood!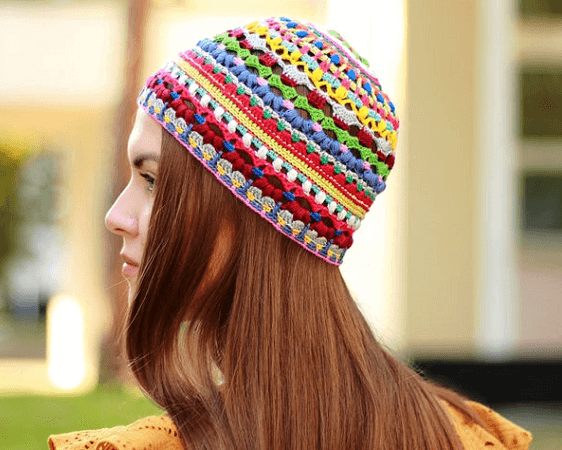 Get the Pattern by It Was Yarn here

24. Crochet June Sun Hat Pattern by Sewrella
This Crochet June Sun Hat works up fast with the bulky category 5 weight yarn, but don't let the weight fool you – this hat is so lightweight and breezy for when that sun is beaming down on you.

Add flair to suit your style to really personalize this piece, or leave it as is! You could add colorful pom poms with other scrap yarn, adorn it with embroidery, iron on a patch, or just tie a feminine ribbon around the crown.

Style it with your favorite swimsuit and sandals, or accessorize gal's brunch with a pretty sundress. Who doesn't love a piece as versatile as this one?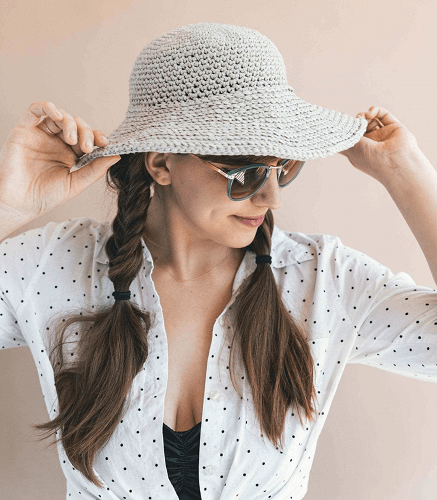 Get the Pattern here

25. Crochet Pixie Hat Free Pattern by Malloo Knits
This is inspired by the woodland and the magical creatures. A Crochet Pixie Hat that will look adorable on your little human. It includes sizes from newborn to child and head circumference from 13" to 20".

It is made out of loose slip stitches, all in the front loop only. The texture is just lovely don't you think?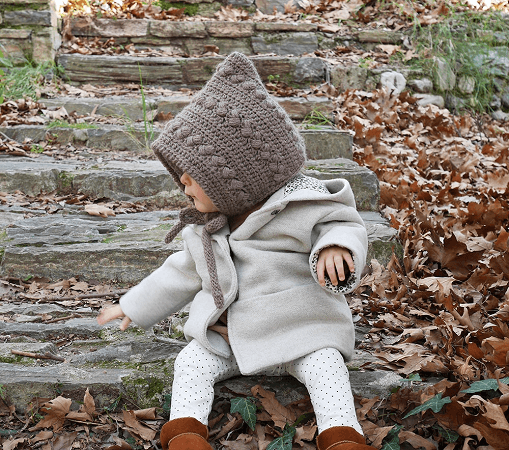 Get the Pattern here

26. Crochet Fox Hat Pattern by The Friendly Red Fox
If you love foxes, then this Crochet Fox Hat Pattern will therefore be one of your favorites! It's a cute little cover for your (or your little one's!) head, perfect for the other fox fans out there.

You can make it as decorative or simple as you want. The pattern includes the instructions for the basic and "furry" face. You can make sizes toddler, child, and teen/adult.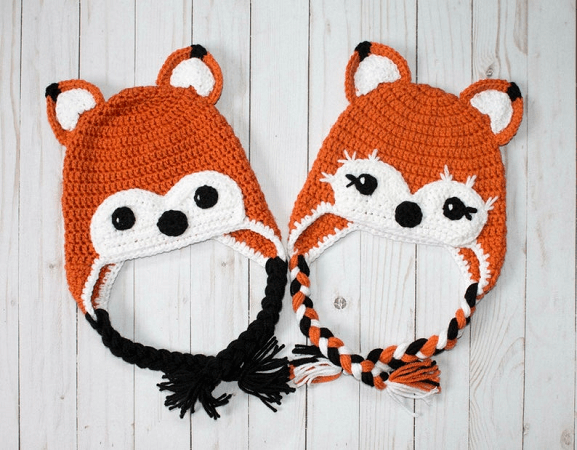 Get the Pattern by The Friendly Red Fox here

27. Crochet Monster Hat Pattern by TLH Patterns
This pattern is for the adorable customizable monster hats! Each monster is unique because you can customize it any which way you choose!

You can choose to have one eye, three eyes, etc. Any colors on the hat, and customizable ears and/or spikes. The options are endless!

Your monsters will have so much fun wearing these silly faced monster hats! Big and small monsters, boy and girl monsters, make one for every monster you know.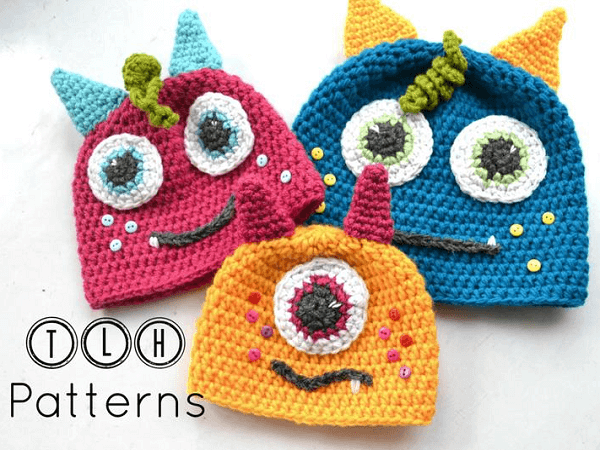 Get the Pattern by TLH Patterns here

28. Bobble Beanie Crochet Pattern by Daisy Cottage Designs
Use this free Bobble Beanie Crochet Pattern to create an adorable crochet hat for anyone on your gift list. Cozy and warm, it's the perfect winter hat.

This is a boho-inspired beanie with lots of fun texture that will add an extra bit of cuteness to your and your little one's outfit. Just imagine twinning with your little one in this cute beanie!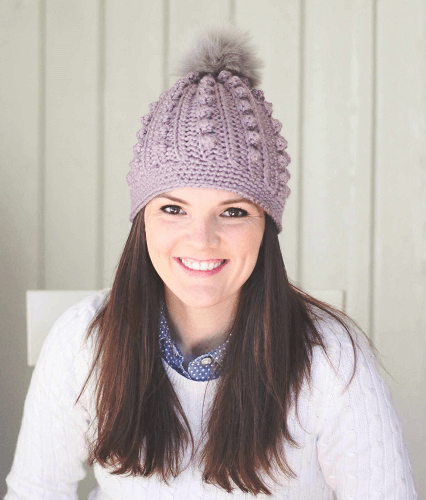 Get the Pattern here

29. Boho Crochet Lace Summer Hat Pattern by Kirsten Holloway Designs
This beautiful Boho Crochet Lace Summer Hat is a crochet pattern fit for all your warm-weather adventures.

It's made using a wool/nylon blend sock yarn, which is unusual for summer, but it is so lightweight and comfortable you'll hardly know you're wearing anything on your head!

The boho style hat pattern is meant to embody the loveliness of a garden with the free-spirit of a field of wildflowers.

It's filled with delicate floral accents, including a sunny floral motif at the top, and uses a variety of stitch patterns. You won't get bored making this captivating crochet design!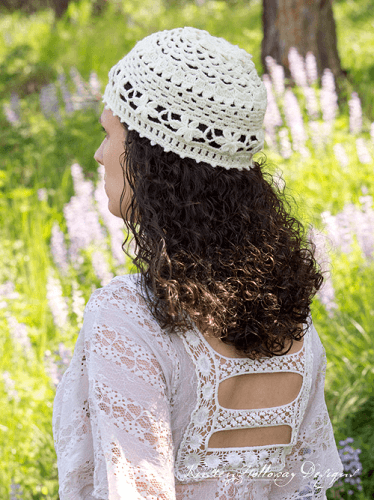 Get the Pattern here

30. Easiest Crochet Hat Pattern by Jonna Martinez Crochet
A cozy textured pattern enhances the warmth of these cute crochet hats for the whole family.

Worked using basic stitches – single crochet, half double crochet, single crochet back loop, and half double back loop – this Easiest Crochet Hat Pattern is a fun and quick project!

Whip up a meaningful surprise for the gang to wear on your next outdoor family adventure!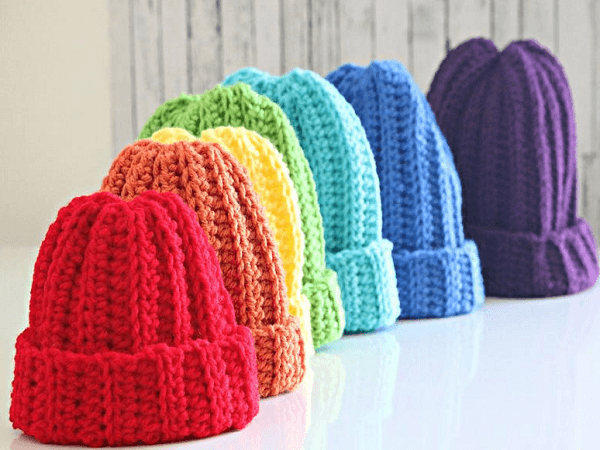 Get the Pattern by Jonna Martinez Crochet here

31. Stepping Texture Hat Crochet Pattern by Yarnspirations
Choose your favorite color to create a winter hat that shows off your individual style. This Stepping Texture Hat is one size fits all piece that makes a chic addition to your winter wardrobe, so go ahead and explore the fabulous looks of the season!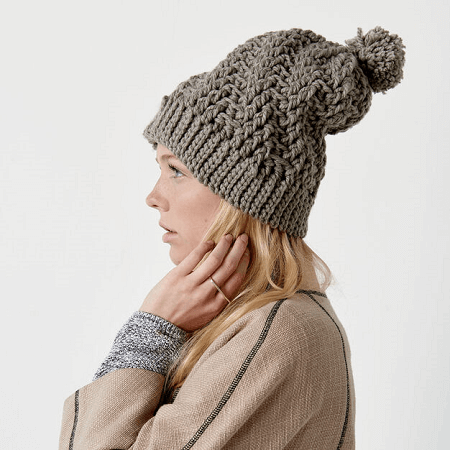 Get the Pattern here

32. Embossed Crochet Hat Pattern by Outstanding Crochet
This Embossed Crochet Hat is a loose-fit hat that showcases 3D climbing vine details created with the Embossed Crochet technique. Whimsical and fun, this hat will impress without stress!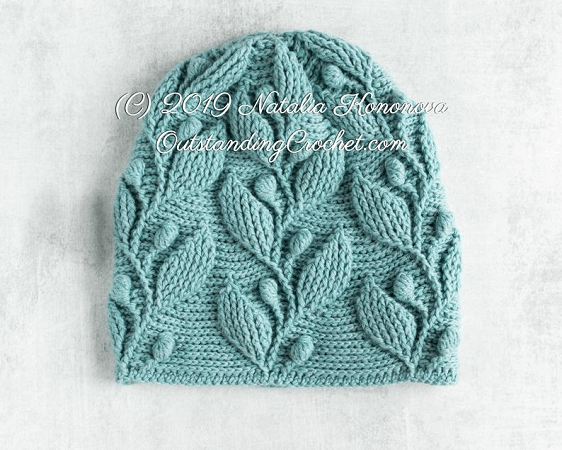 Get the Pattern by Outstanding Crochet here
With all these crochet hat patterns, you're just a skein of yarn away from easy, effortless style!
Change the crochet stitches, play with colors, and add details to make a basic hat just a bit more special. If you've got a beautiful end result – and of course you do – show it off! Share it on our Facebook Page. We'd love to see it!

Looking for more hat patterns? Check out our huge collection of Crochet Hat Patterns that are all trendy and stylish!

No doubt, these crochet hat patterns are a great project for beginners and a quick one for all lovers of crochet craft.