Aloha! Are you looking for Lilo and Stitch gift ideas? Whether surprising a super fan or treating yourself to a bit of cute and fluffy fun, these crochet Lilo and Stitch patterns are here to help!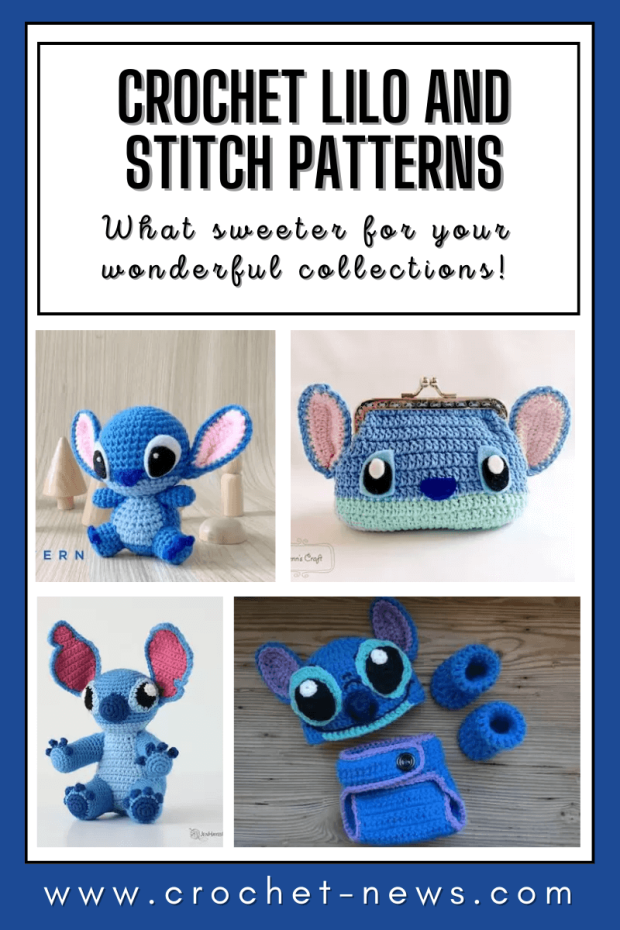 12 Crochet Lilo And Stitch Patterns
Lilo & Stitch are two characters from various movies and even a TV series who which people have fallen in love with. If you love the little human Lilo Pelekai or the genetically engineered dog Stitch, they are both so adorable it's no wonder there are so many crochet-related ideas for fans to make. From toys to wearables, you'll find the perfect project to make for the huge Lilo and Stitch fan!

1. Crochet Stitch Amigurumi Pattern by Marvels Co
Bring home the adventures of Disney's Lilo and Stitch with this adorable Stitch plush toy. This lovable alien is made with amazing detail making Stitch the perfect companion for hugging!

2. Lilo And Stitch Amigurumi Free Crochet Pattern by Ami Amour
Just look how adorable Stitch is with his open mouth and those cute little sharp teeth! His other features include of course his wide ears, and his cute little paws with claws on them. He also has dark blue body markings on his back.

This Stitch Amigurumi is designed so you can make him in different various poses with the same pattern. Depending on how you sew him during the assembly, you can have pose him standing up with his arms stretched out. He can also be sitting with all 4 limbs to the ground.
Get the Pattern here

3. Crochet Stitch Hat Pattern by Tina Crochet Patterns
This Stitch hat will show off your love for your favorite blue alien! With embroidered features and 3D ears, everyone will know just how much you love Disney's Stitch! The best part? The pattern includes newborn to adult sizes, so you can make one for everyone!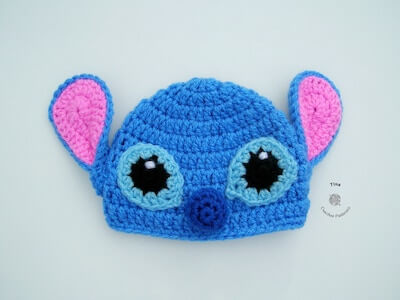 Get the Pattern by Tina Crochet Patterns here

4. Crochet Stitch And The Gang Pattern by Chonticha Design
For those who love the spin off films and TV series, there are plenty of other lovable characters in the Limo & Stitch universe. For those who want to make Stitch and his many friends will absolutely love this bundle which includes pattern instructions for Stitch, as well as other aliens Leroy, Angel, and Reuben.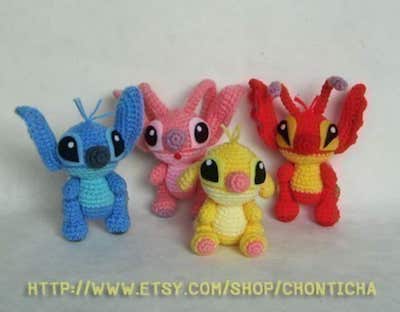 Get the Pattern by Chonticha Design here

5. Crochet Stitch Phone Case Pattern by Medaami Patterns
As if Stitch could get any cuter — just did! And so helpful, too, because his adorable face is plastered all over this phone case, which helps protect your device from bumps and bruises.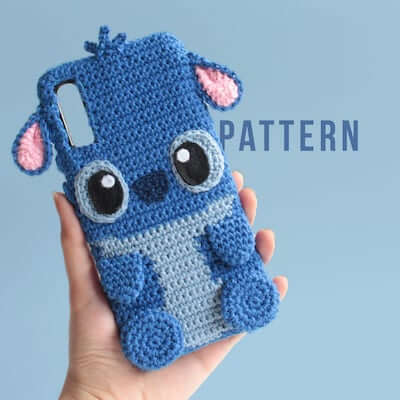 Get the Pattern by Medaami Patterns here

6. Lilo And Stitch Crochet Pattern by Katy Mimi Toys
Say aloha to this adorable Lilo and Stitch duo! Featuring embroidered details and a soft-feel finish, it makes the perfect cuddle companion or memorable keepsake!
Get the Pattern by Katy Mimi Toys here

7. Crochet Stitch Amigurumi Pattern by Jen Hayes Creations
The crocheted Stitch is approximately 8.5 inches (22 cm) tall from toes to the top of his ears. Although the pattern looks complicated, it is very well written which makes it appropriate even for amigurumi beginners.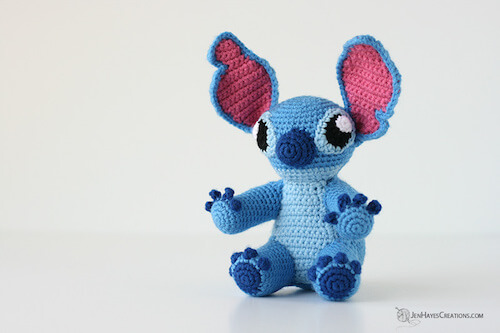 Get the Pattern here

8. Free Lilo And Stitch Amigurumi Keychain Pattern by Ollie + Holly
In case you don't have time to make a big amigurumi Stitch or you don't have enough blue yarn, here is a tiny Stitch that will require less time and material. This lilo and stitch free crochet pattern will be perfect as a keychain/bag charm.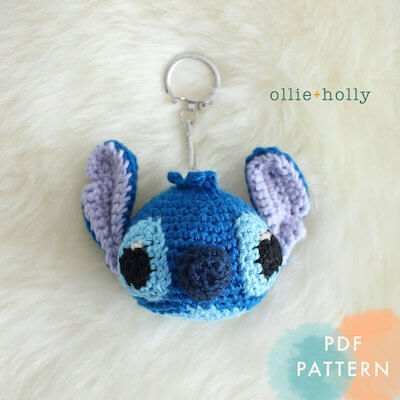 Get the Pattern here

9. Crochet Lilo And Stitch Coin Purse Pattern by Lenn's Craft
Celebrate your top Disney film, on-the-go with this Lilo & Stitch purse. Complete with Stitch's ears, this adorable accessory is sure to make storing change much more fun!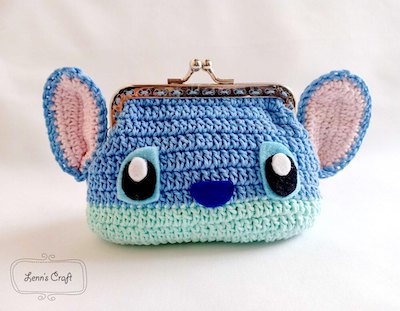 Get the Pattern by Lenn's Craft here

10. Stitch Amigurumi Pattern by Ami 4 Giving
I know a ton of people, including myself that would love to have one of these little Stitch crocheted dolls to cuddle! Look at those ears! The approximate size of this little guy is 6 inches tall, 8 inches wide, and 3 inches deep, He only weighs in at about 3 oz! So cute!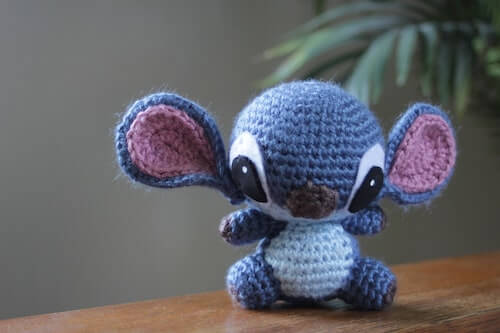 Get the Pattern by Ami 4 Giving here

11. Crochet Stitch Newborn Outfit Pattern by Dani Rose Design
How adorable a baby will be when dressed up in this Stitch outfit? This cute ensemble has all the bright colors and vivid details of the original character. Parents won't want to miss our on this sweet outfit that will offer ideal photo opportunities of the baby.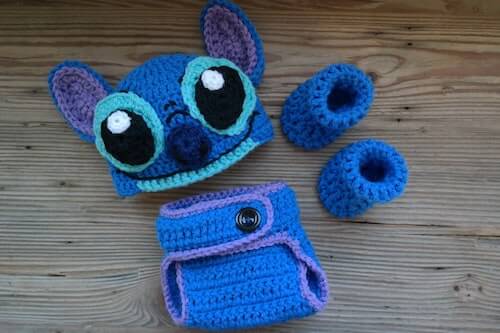 Get the Pattern by Dani Rose Design here

12. Crochet Stitch Amigurumi by Art 13 Amigurumi
World's sweetest space invades holds a heart as a gift for his favorite huggable human. Stitch is made especially in plush yarn, has about 38cm and comes with a very fluffy heart pattern. This passionate plush is a Valentine's Day gift from out of this world.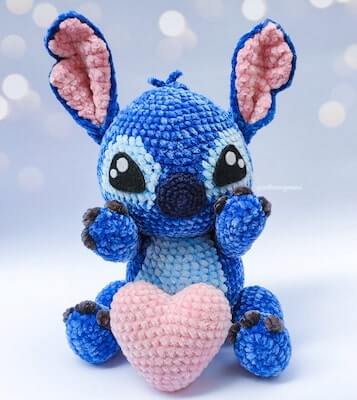 Get the Pattern by Art 13 Amigurumi here
THESE CROCHET LILO AND STITCH PATTERNS WILL MAKE A WONDERFUL ADDITION TO ANY DISNEY COLLECTION.
Show your love by sharing your finished pieces with us on our Facebook Page. I'd love to see your projects!
If you're looking for more Disney-inspired crochet patterns, we've got you covered! Bring the magic of Disney to your crochet hooks with these patterns:
You will surely have a blast whipping up your favorite crochet Stitch and Lilo patterns today!