This Frozen: Olaf Amigurumi pattern creates a real life Olaf Snowman that kids and kids at heart will both love!
Olaf is the friendliest snowman you'll ever know.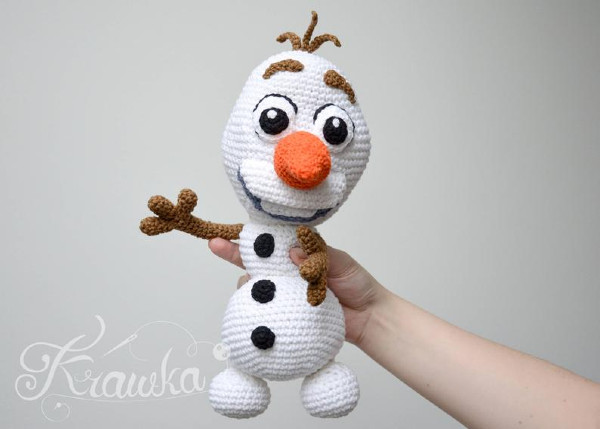 For the mothers out there, I know that by now, you're probably sick and tired of watching Frozen again and again. Now, you have an alternative choice: Frozen 2!
What a hook this series is to your kids!
From costumes, backpacks, and to anything Frozen designed item out there, I know your kids desire for them. So today, I'm introducing to you this Olaf crochet pattern by Kamila Krawczyk!

The carrot-like orange nose, it's big black eyes, the three brown hair strands and twigs that act as the arms are descriptions I know you and your kids are very very very familiar with!
This crochet olaf pattern creates an exact realistic Olaf Snowman, as seen in the movies.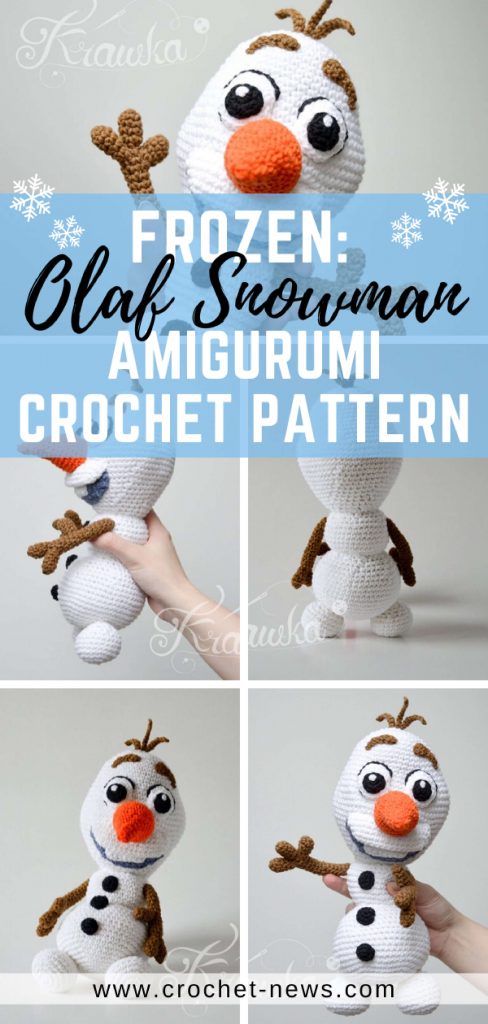 Kids will definitely love this olaf crochet pattern as most kids are a fan of the movie Frozen and very familiar with this well-loved character, Olaf Snowman.
Another thing is, this crochet olaf pattern is ideal for this winter season. But for sure, the kids' Frozen obsession isn't just for winter season. I know for a fact that it's all year round!
So all year round, this Olaf amigurumi can be your kids' companion.
Scroll down to know more about this crochet olaf pattern.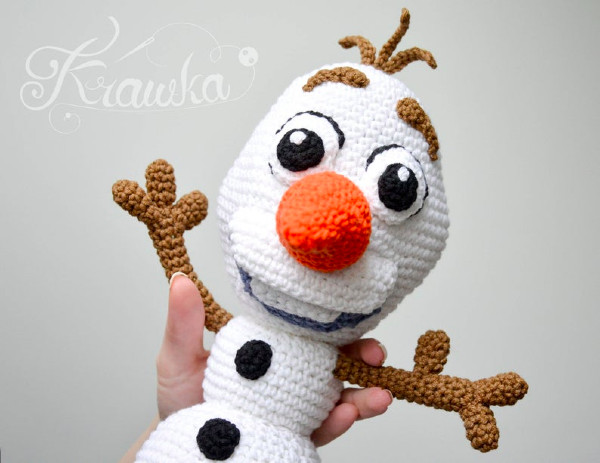 SKILL LEVEL FOR THIS OLAF CROCHET PATTERN
Medium to advance crocheters

MATERIALS FOR CROCHET OLAF PATTERN
Yarn – 174 yards (159 meters) for 50 g
– weight Sport / 5 ply (12 wpi)
Gauge – 24 to 30 st is 4 inches (10 cm)
D Hook – 3.25 mm

FINISHED OLAF AMIGURUMI SNOWMAN MEASUREMENT
The finished crochet olaf snowman is 32 cm (12.5 inches) tall.

STITCHES FOR THE OLAF SNOWMAN
This crochet olaf pattern requires a sharp eye on the detail to create an equal size of the body parts such as eyes, eyebrows, feet, and arms.
To successfully create this olaf crochet pattern, you must know some basic crochet stitches: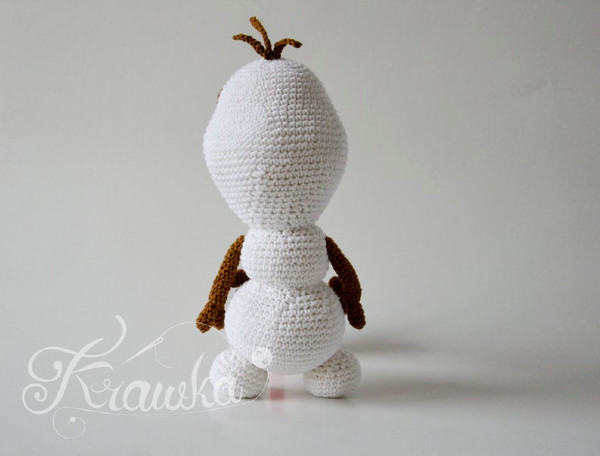 Don't have kids of your own? It's okay. You can make this olaf amigurumi for your niece or nephews or for your friend's kids. Or maybe for your friend who still loves to go to Disneyland and is still obsessed with anything Disney.
You can even make it for yourself! After all, the magic of childhood that Disney brings, never ends!
Let it go, let it go
And I'll rise like the break of dawn
Let it go, let it go
Despite the famous song from the Frozen movie, I know it's hard to let go of this Frozen: Olaf Snowman Amigurumi Crochet pattern. To start doing this pattern, click the link below:
Christmas is just around the corner. Here are our Favourite Crochet Christmas Pattern Lists
CREATE YOUR OWN REALISTIC OLAF SNOWMAN WITH THIS OLAF AMIGURUMI PATTERN!
So once you're done making your own crochet olaf pattern, do share some pictures of your very own olaf amigurumi on our Facebook Page!
Enjoy your Olaf Crochet Pattern!