Crochet Keychains are the perfect DIY because they're small and don't take very long to make – plus, the style possibilities are limitless!
So, you have a totally stylish bag, but when you look inside? One huge disaster. We can relate.
One purse staple, in particular, that is usually a mess is our keys. Today, we're taking that cluster from drab to fab!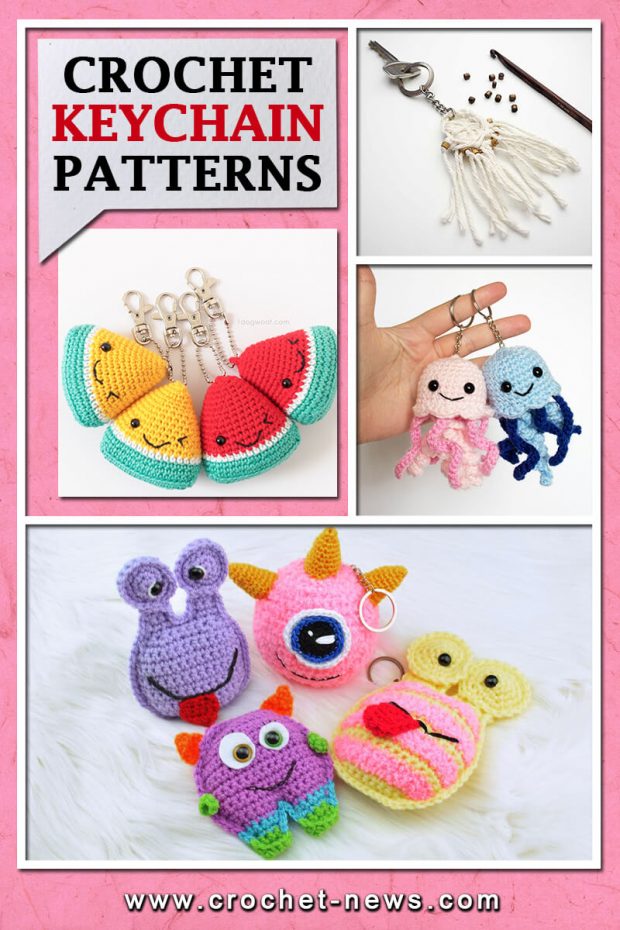 27 Crochet Keychain and Keyring Patterns
Whether you've been wanting to keep yourself organized or looking for an easy way to personalize your handbag, these 27 Crochet Keychain and Keyring Patterns are cute and crafty go-to.


1. Sea Friends Amigurumi Keychain Crochet Pattern by Airali Design
Sea Friends is a collection of 4 amigurumi characters. A Narwhal with silver horn, a cute little fish, a simple starfish and graceful shell.

Their size is between 5 and 12 cm (2 and 4 ¾ in) which make them quick to crochet and perfect as little gifts, keychain charms or party favors!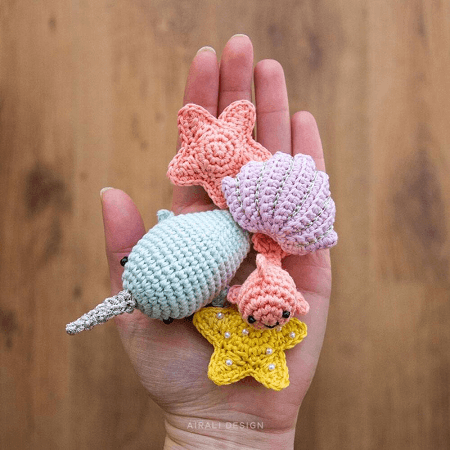 Get the Pattern by Airali Design here
2. Crochet Sombrero Keychain Pattern by Repeat Crafter Me
Thank your designated driver with a super cute Crochet Sombrero Keychain! A pattern that works up quickly and is fun and festive for the holiday. These sweet little sombrero could also be used as an ornament, party favor, or zipper pull on a backpack.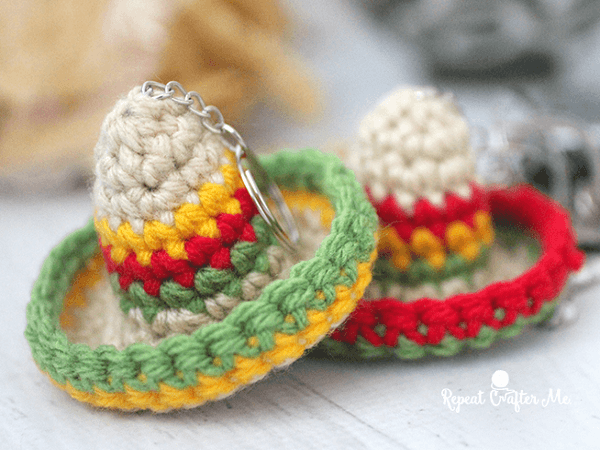 Get the Pattern here

3. Swooning Hearts Amigurumi Keychain Crochet Pattern by Handmade By Hennek
Not only would these swooning hearts look good on a set of keys you can also attach it to bag zippers or as a charm for your bag.

These heart amigurumi keychain can be made in many creative ways. You can make them in any weight of yarns and colors. The color combinations are numerous!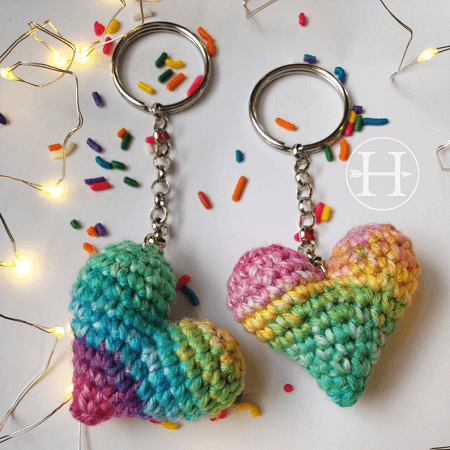 Get the Pattern by Handmade By Hennek here

4. Crochet Halycon Keychain Pattern by Christina Ann Studios
This Halycon Keychain is a fresh new keychain, perfect for the spring season. You can use yarn scraps to whip up these keychains in a flash for markets, craft shows, and last-minute gifts.

This crochet keychain pattern creates a wristlet keychain, but instructions are also included to customize your keychains to your style. Ideas include a lanyard length, chunky version, other possible materials, and more!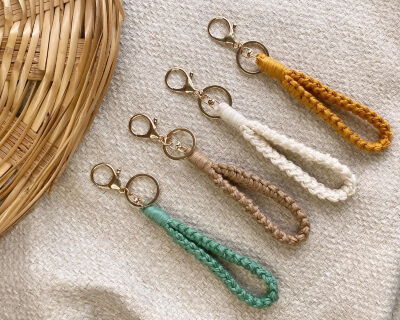 Get the Pattern by Christina Ann Studios here

5. Crochet Ice Cream Cone Keychain Pattern by The Friendly Red Fox
These Ice Cream Cone Keychains are so fun and quick to make! Perfect pool side project, don't you think? These little crochet keychains would be so cute on a little back pack or bag, too! Or leave off the chain and you have a cute pretend ice cream cone!

They are about 3 inches tall. They would be a great gift, or perfect to sell at a craft fair or just for yourself. Either way, you will have so much fun, you won't stop until you have made one in every color!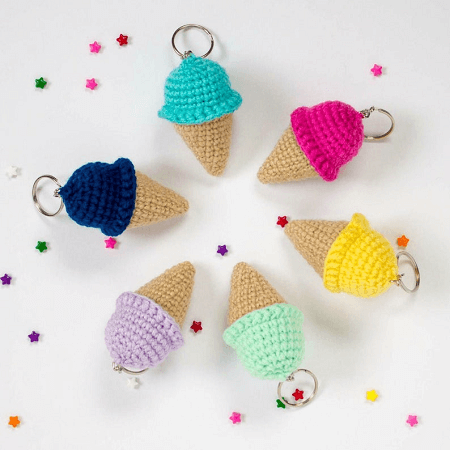 Get the Pattern here

6. Cheery Cactus Keychain Crochet Pattern by Wee Warrior Crafts
Need a cute stash busting project? This keychain doesn't take much time to make, and it looks adorable! Its the perfect thing to crochet for craft fairs, or to give out as party favors or a gift! This Cheery Cactus Keychain will be a great companion that you can carry around, wherever you go!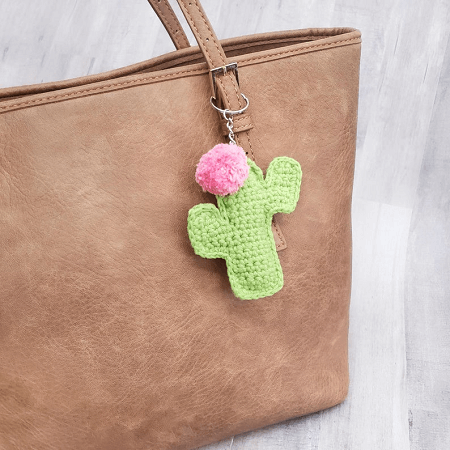 Get the Pattern by Wee Warrior Crafts here

7. Fish Keychain Crochet Pattern by Olino Hobby
This fish keychain will become a unique and unusual decoration for your keys, bag, or backpack. Or it will be a great gift for a fish lover or fisherman. The best thing about this project is you choose your favorite yarn colors!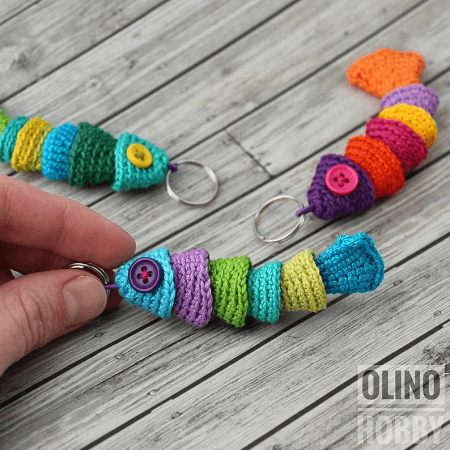 Get the Pattern by Olino Hobby here

8. Crochet Flip Flop Keychain Pattern by Whistle And Ivy
This cute Crochet Flip Flop Keychain would make a fun easy gift or a nice addition to your summer craft booth. These cuties are made with cotton fingering yarn and are so fun to mix and match colors.
Get the Pattern here

9. Crochet Pencil Keychain Pattern by Yarn Blossom Boutique
This pattern includes instructions to make these cute crochet pencil key chains. They are so easy and fun to make and they make the cutest gifts. Also, included in the pattern are printable gift tags!

These cute crochet keychains are so much fun to make and they make the perfect little gifts for teachers and classmates for the end of the school year! You can hang it onto handbags, backpack, or hanging on your keys.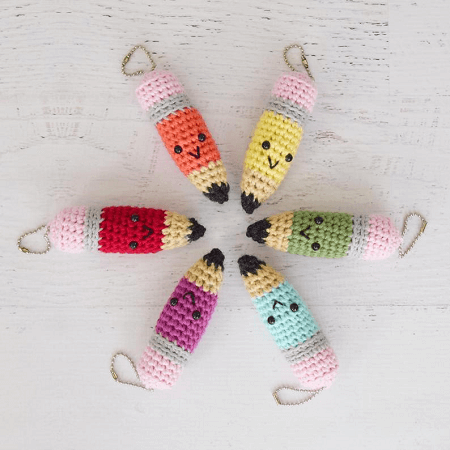 Get the Pattern by Yarn Blossom Boutique here

10. Pineapple Keychain Crochet Pattern by Spin A Yarn Crochet
This itty bitty Pineapple Keychain would make the perfect little bag charm or accessory for a fun summer outfit. The best part about these is how quickly you can whip them up.

The pattern uses the diamond stitch to create the Pineapple-y texture and made in separate pieces worked in flat rows and then joined together to give them that unique 2-D look.

This adorable little guy has just 4 separate pieces and weighs in at a whopping 9 cm (3.5 inches) from the top of the leaves to the bottom of the Pineapple.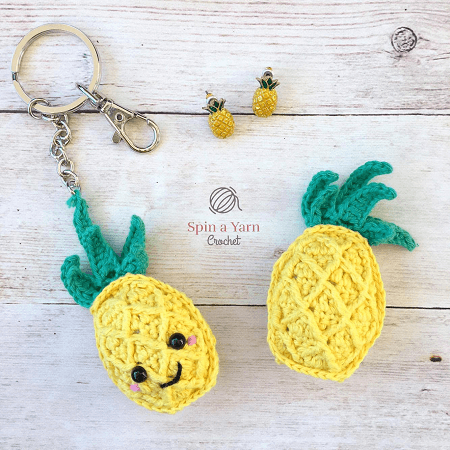 Get the Pattern here

11. Crochet Keyring Owl Pattern by Em Sa Crochet
Very simple, cute, and quick to make, this adorable Crochet Keyring Owl Pattern is sure to put a smile on your face! These cute owls are very easy to make and a great little stash buster. What else could you ask for? Great pattern for fast thank you gifts, charity, or craft markets, they are so fun to make!

This is a detailed instruction with pictures on how to crochet this amigurumi keychain owl but to make it you still have to know the basics of crocheting (chain, single crochet, double crochet, etc)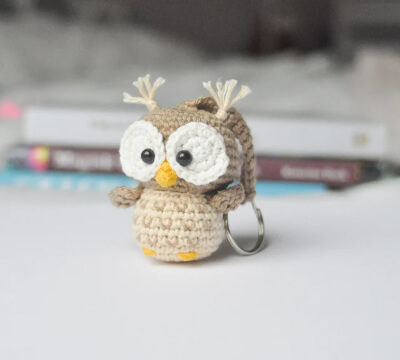 Get the Pattern by Em Sa Crochet here

12. Crochet Lip Balm Keychain Pattern by Knot Mama Made
This is a beginner friendly crochet pattern to make your own lip balm key chain! No more having to dig around for your Chapstick. These are perfect for your purse, clutch, keys, diaper bag, and backpacks. These are also great for Market prep! They use very little materials and take little time to create.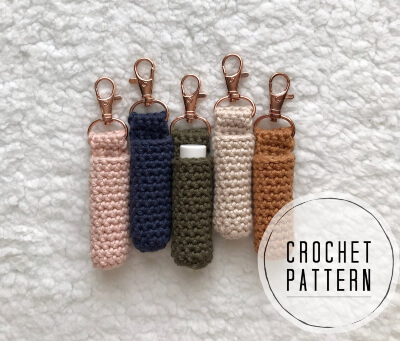 Get the Pattern by Knot Mama Made here
13. Watermelon Keychain Crochet Free Pattern by 1 Dog Woof
Here's a free crochet pattern for smiling slices of watermelon keychains. These keychains are perfect for teachers' gifts or stocking stuffers!

It's cute, it's small, and you can whip up a batch of these in an evening for all the people on your list! So what better way to bring in the summer than with little smiling slices of watermelon?
Get this Watermelon Keychain Crochet Free Pattern here

14. Chain Of Hearts Keyring Crochet Pattern by Kath Baena
If you have plenty of scrap yarns in your stashes and you don't know yet what to do with them, you better try this Chain Of Hearts Keyring Crochet Pattern.

They are perfect as personalized gifts and souvenirs for all occasions as well. Make it from several different colors for you and your loved ones!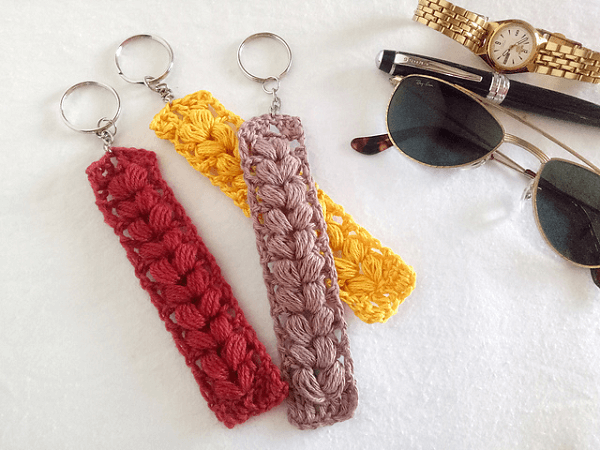 Get the Pattern here

15. Taco Keychain Crochet Free Pattern by Green Fox Farms Designs
This Taco Keychain Crochet Free Pattern is quick to make and uses a Magic Circle. It makes a fun gift for a new driver, fancy up your kids' backpacks, or stocking stuffers for all the kids and teens in your life!

Add a fun face to really personalize your Taco Keychain, whatever strikes your fancy. No matter how you make it, your keychain is sure to be a hit!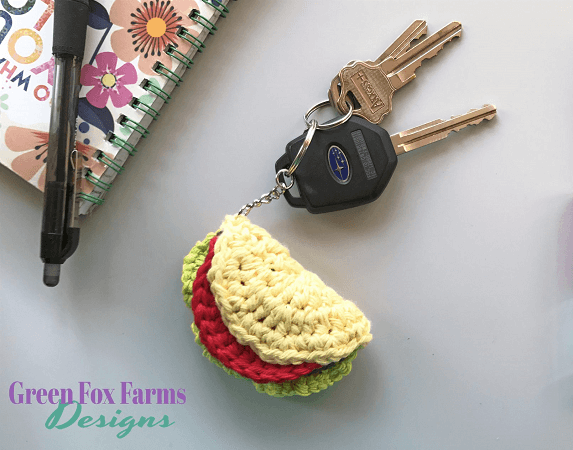 Get the Pattern here

16. Pocket Monsters Keychains Crochet Pattern by Passionate Crafterr
These cute Pocket Monsters Keychains are big enough so your keys will never be lost again if you use them as a keychain. You can use them to cheer up your kids school bags, trick or treat bags for Halloween.

They are best made with DK weight yarn or light worsted in any color you choose. You can also use fancy yarn to give the monster more texture.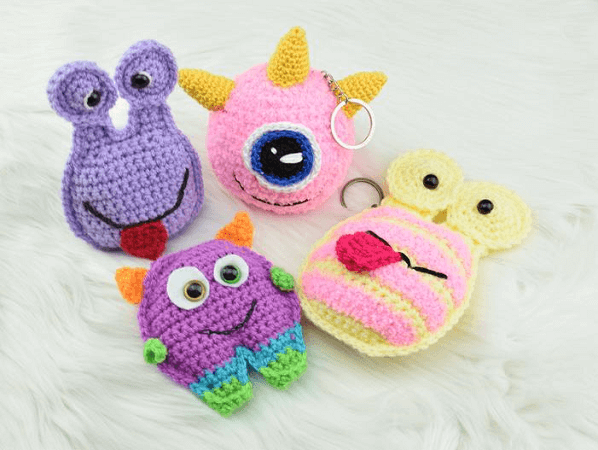 Get the Pattern by Passionate Crafterr here

17. Crochet Donut Keychain Pattern by Baby Cakes Studios
These donut keychains are perfect for all ages! The little ones can use them as okay food just leave off the keychain part for them.

School-age kids can attach them to their backpacks or lunchboxes and everyone else can use them on their keys. And of course, people who are old enough to drive can put them on their car keys!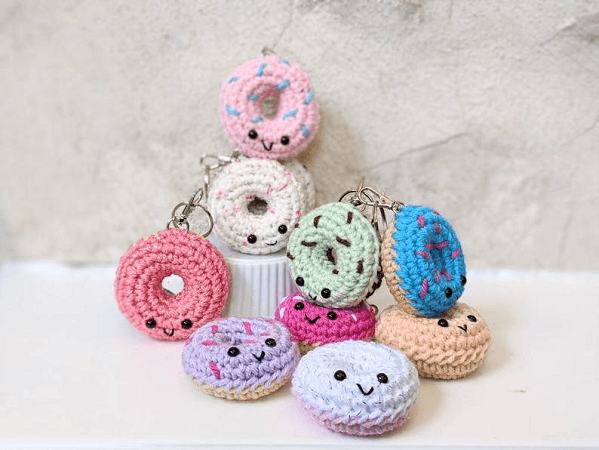 Get the Pattern by Baby Cakes Studios here

18. Crochet Boho Fringe Keychain Pattern by Joy Of Motion Crochet
You're going to love this super quick crochet project for the Crochet Boho Fringe Keychain. Literally, you won't need more than about 20 minutes to make it!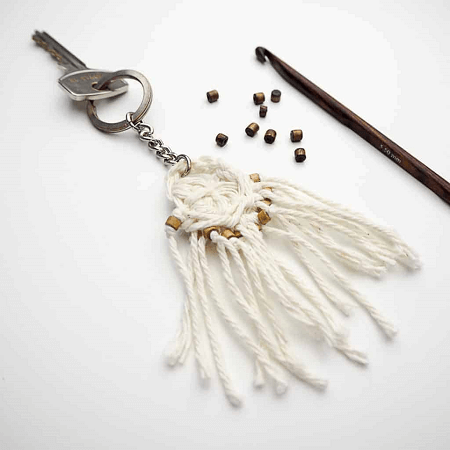 Get the Pattern here

19. Little Voodoo Keyring Crochet Pattern by Mikado Cutes
This Little Voodoo Keychain is probably the cutest voodoo doll you've ever seen! A little embroidery is used to add character to these dolls.
You can embroider the stitches wherever you like and use whatever color you like. Voodoo's height is 6.5 -7 cm / 2.56 – 2.76 inches, if used stated materials. Aren't they adorable?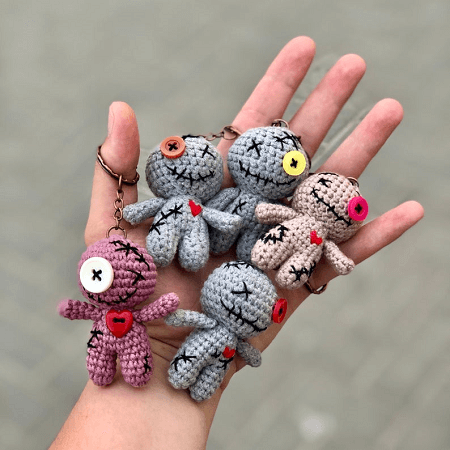 Get the Pattern by Mikado Cutes here

20. Puffy Stuffy Unicorn Keychain Crochet Pattern by Ekay G
This Puffy Stuffy Unicorn Keychain is designed to be quick and easy and super squeezy! Great for craft show stockings, and wonderful gifts, these unicorns are sure to be a hit! You can make about 4 with one ball of Bernat Blanket yarn, and it is made entirely with single crochet.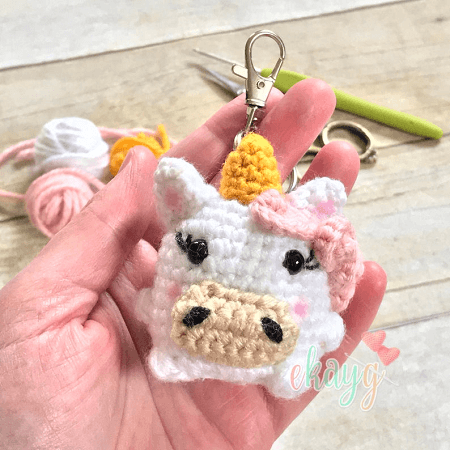 Get the Pattern by Ekay G here

21. Crochet Smiley Emoticon Keychain Pattern by Red Heart
Beginners, grab your hooks and make a bunch of these happy little Smiley Emoticon Crochet Keychains! You'll always have a smile in your pocket when working in colors that lift your spirit.

With so many shades that inspire from Red Heart Super Saver, you can complete a selection to give away at your child's birthday party, or to everyone in the office.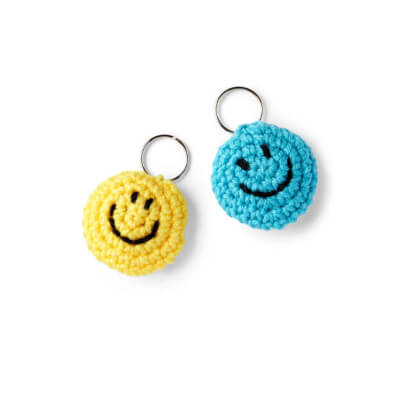 Get the Pattern here

22. Rainbow Keychain Crochet Pattern by The Ville Crochet
Make some cool Rainbow Keychains to attach to everything you own. It is boho, modern and fun addition to any keys or bag. Whip them up in one solid color or use some colorful ones to brighten up anyone's day!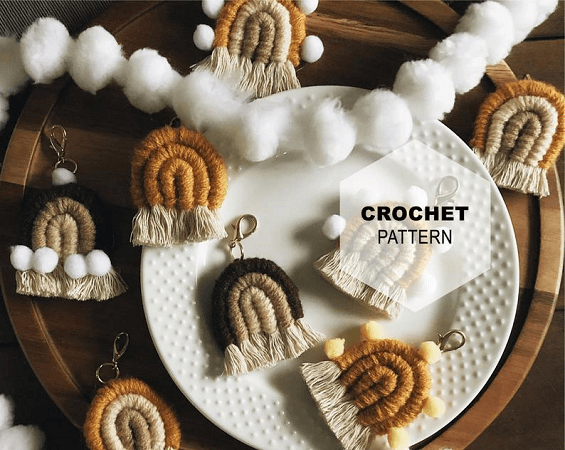 Get the Pattern by The Ville Crochet here


23. Book Keyring Crochet Pattern by Nerd With Yarn
Embrace your inner bookworm with this Bookworm Keychain Crochet Pattern! This little accessory is quick to make and you can use the yarn you already have.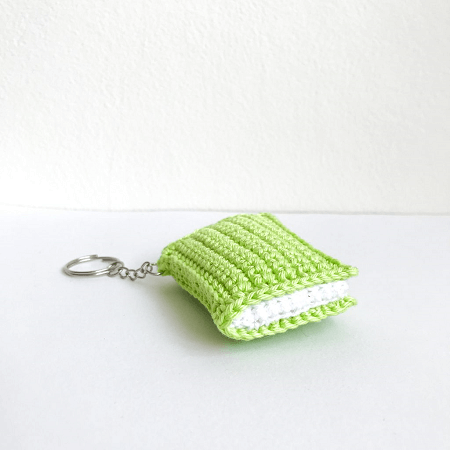 Get the Pattern here

24. Crochet Granny Squares Keychain Pattern by Yarn Plaza
Granny Squares Keychain makes your keys trendy! It is crocheted with the cheerful shades of Catania Fine who create a colorful bunch.

Of course, you can choose how much Granny Squares you will crochet and how long your keychain will be. Crochet a bracelet with less or crochet more and make it a key cord.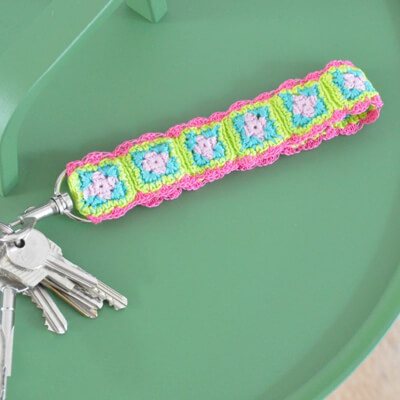 Get the Pattern here

25. Keychain Pouch Crochet Pattern by Wildwood Crochet Store
This Keychain Pouch is so adorable and the crochet pattern is quick and easy to work up, hook up a batch to give as little gifts.

They make a handy keychain purse, a cute housewarming token, dorm keyfob, dice bag, earbud storage, stitch marker pouch, a sweet crochet accessory or maybe a gift idea for secret santa!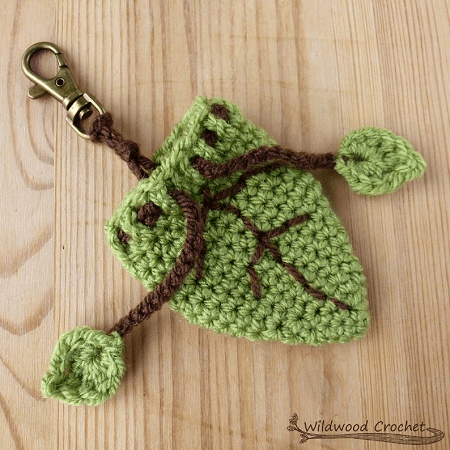 Get the Pattern by Wildwood Crochet Store here

26. Crochet Jellyfish Keychain Pattern by The Friendly Red Fox
This little Crochet Jellyfish Pattern makes a keychain that is about 4 inches tall, but that includes the wavy tentacles. Perfect size for keychains, or as a little backpack friend.

Very quick, this will become a fan favorite for when you need a quick make! You will need to know how to use a magic circle, single crochet, and how to increase and invisible decrease to make one.
Check out more Crochet Jellyfish Patterns here.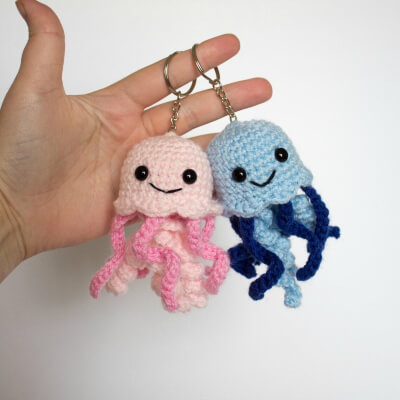 Get the Pattern by The Friendly Red Fox here
27. Bear Amigurumi Keychain Crochet Free Pattern by Meemanan
I can't tell you how many times I've lost my keys and had to replace them then, later on, I find them somewhere I had inconspicuously left them.
Most of the time, they would just slip my mind and become unnoticeable in my surroundings. Of course, I never used a keychain before. I used to think they were tacky like something a traveling salesman would have.
That's until I saw the cutest one yet; a Bear Amigurumi Keychain Crochet. It caught my eye and realised that it's absolutely adorable.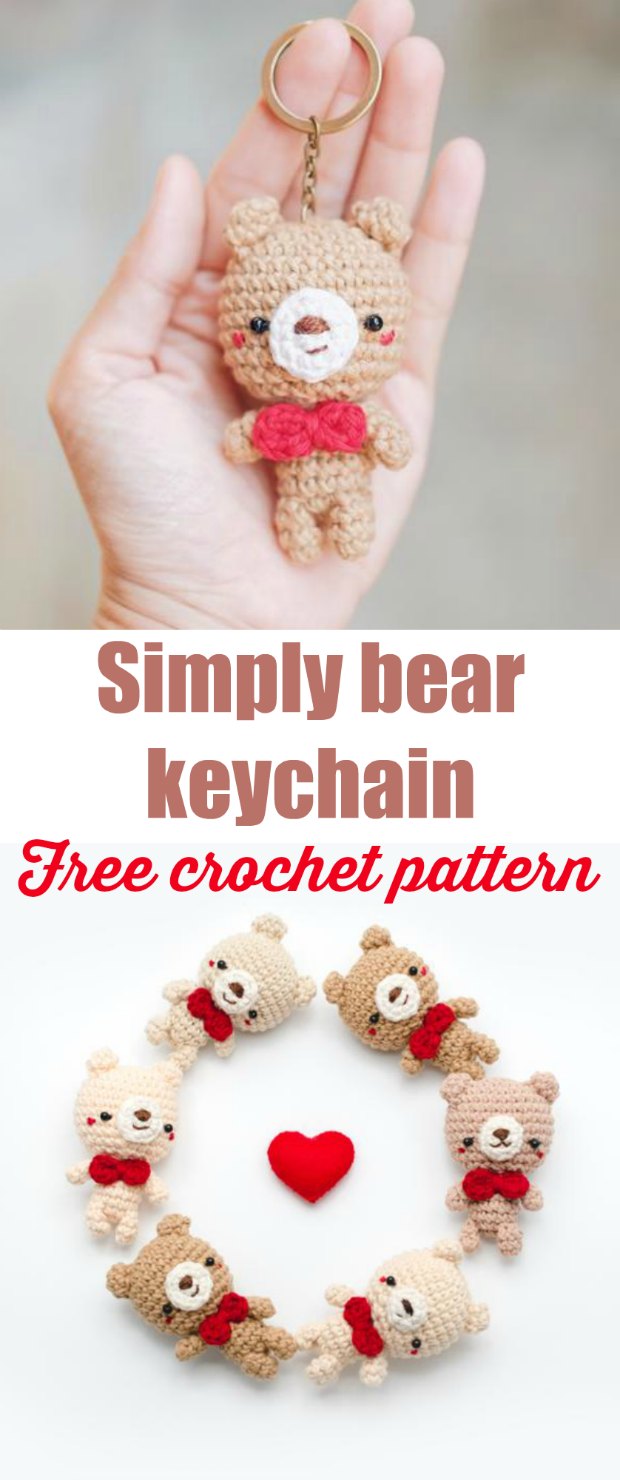 I had to make it, it would solve my lost key problem. And I got to crochet away at something stunning for the afternoon. I have to tell you I don't lose my keys anymore. Mostly because I'm always busy looking at the cute bear attached to them.
You don't require much to make the crochet bear keychain. All you will need is in your basic crocheting kit and a few things from your local arts and crafts store.

Simply Bear Amigurumi Crochet Keychain
Cotton 4 ply yarn of your choice
black beads
embroidery thread
crochet hook
Finished Size: Approximately 1 3/4 inches (wide) x 3 1/4 inches (height).
Easy To Follow Directions With Plenty Of Pictures
The instructions for making the crochet keychain simply bear amigurumi pattern comes in a tutorial and a PDF. The directions are easy to follow. They are explained quite well both in American and United Kingdom English so you have a choice.

Unlimited Amount Of Design Possibilities
There are countless ways to design your amigurumi keychain, especially, when it comes to the color of the bear. Most people just go for the standard brown bear cliché but you are free to color your bear however you want.
Let your imagination lose you can even make a one with more than two colors if you wish. Something different I tried was using different thickness of yarn to make my bear fluffier. It looks absolutely adorable in my hands.
It had me twirling my keys like I just bought a brand new Jaguar. Some gemstones will definitely add some sparkle to your cute bear.
This Bear Amigurumi Keychain Is The Perfect Gift
This amigurumi keychain makes a perfect gift for a loved one. Make one for your better half so he can stop asking you for his keys every goddamn morning.
Make one for your sister of a friend just to tell them you love them and it doesn't have to be a special occasion for you to appreciate them.
You can also use the amigurumi keychain as a decorative piece in your house, just place a few around your home and they are bound to get noticed.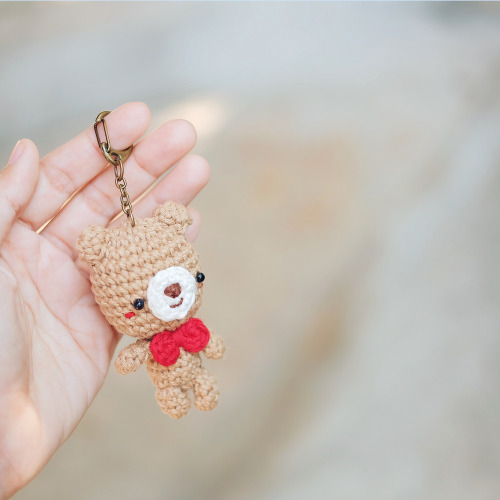 If you wanted something cute and fun to work on the Bear Amigurumi keychain crochet is the thing. Or if you just have a problem with losing your keys like me well… need I say we found our saving grace?
Download the keychain crochet free pattern here
Crochet Keychain Frequently Asked Questions
How do you crochet a keychain?
You can make a keychain out of any crochet or amigurumi pattern by adding a simple ball chain and lobster clasp to your amigurumi. You can find lobster clasps and ball chains online or at a local craft store.
Otherwise, just reuse the ones from old keychains! You can make your keychains in your favorite color. With the beautiful colors of yarn available, you can have one for every day of the week!
What yarn is best for crochet keychains?
When choosing yarn, I prefer cotton because it is durable, easy to wash, and comes in a variety of colors. However, any yarn will work just fine! Keep in mind that if you use a heavier weight yarn than the pattern calls for, your keychain will be larger.
If you use a lighter yarn than the pattern calls for, your keychain will be smaller. In fact, you can use this trick to resize your keychains — just make sure to use the appropriate hook size for the yarn.
Can you easily crochet a keychain?
There are so many different types of keychains that you can find a pattern for every skill level. Gauge isn't really that important for this type of project, you use a small quantity of yarn and you use mostly basic stitches such as chain (ch), slip stitch (sl st), single crochet (sc), double crochet (dc), and occasionally a treble crochet (tr).
How long does it take to crochet a keychain?
It depends on the pattern, as well as your speed! However, most of the keychains in this list work up from 30 minutes to a couple of hours. So they're perfect last-minute gifts to crochet.
What else can crochet keychains be used for?
The fun thing is that when you make one of these crochet keychains, you can use it for many other things as well. For example, you could hang one on your kid's backpack for school, use it as a little charm, or use it to fix a broken zipper!
Would you be able to say no to these charming crochet keychains? Yeah, we wouldn't be able to either.
Don't miss our crochet keyring mini purse video tutorial. Once you're done making these awesome patterns, be sure to share some finished pictures on our Facebook Page. Tell us about what you created and how you did it!

If you're looking for crochet bag patterns to match your crocheted keychains, for either around the home as a laundry basket, or yarn basket. to the must-have bag, purse, or clutch to take out on the town or to that special lunch, we got you!

Test a handful of these Crochet Keychain Patterns to gift, and get inspired to design your own!