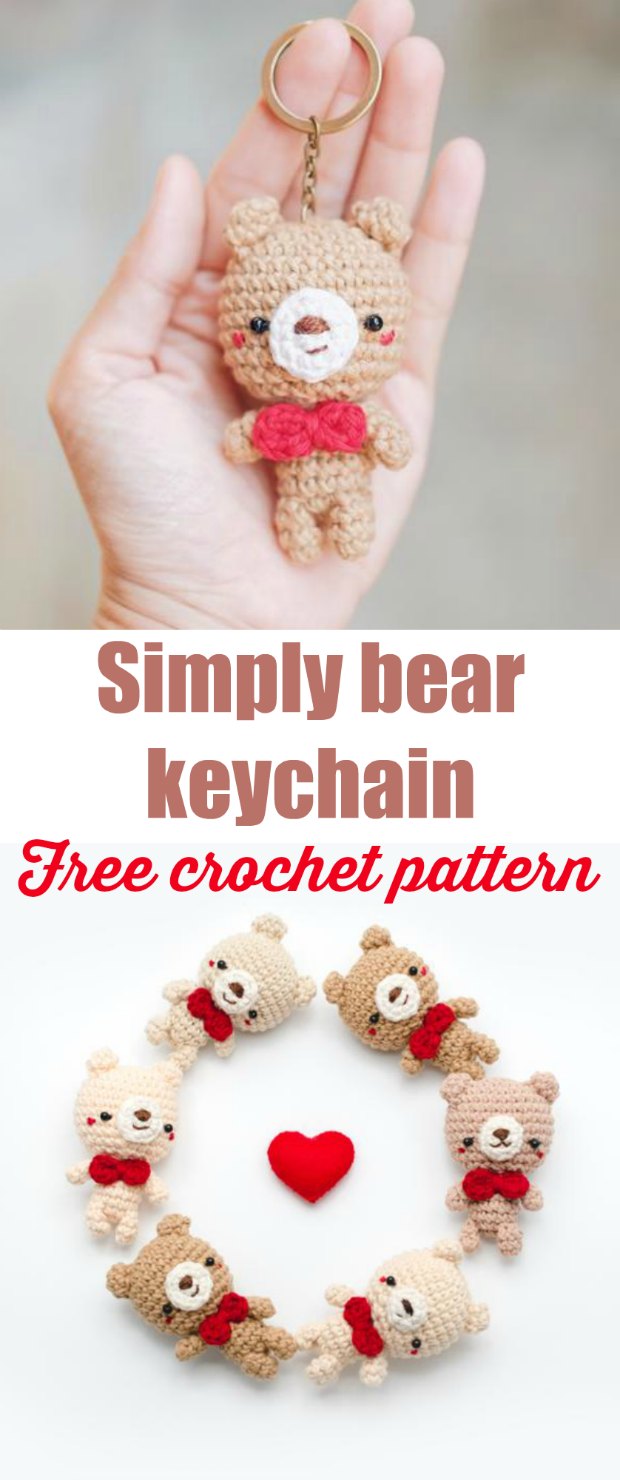 Amigurumi Crochet Bear Keychain
I can't tell you how many times I've lost my keys and had to replace them then, later on, I find them somewhere I had inconspicuously left them. Most of the time, they would just slip my mind and become unnoticeable in my surroundings.
Of course, I never used a keychain before. I used to think they were tacky like something a traveling salesman would have. That's until I saw the cutest one yet; a crochet keychain simply bear amigurumi. It caught my eye and realised that it's absolutely adorable.
I had to make it, it would solve my lost key problem. And I got to crochet away at something stunning for the afternoon. I have to tell you I don't lose my keys anymore. Mostly because I'm always busy looking at the cute bear attached to them.
You don't require much to make the crochet bear keychain. All you will need is in your basic crocheting kit and a few things from your local arts and crafts store.

Simply Bear Amigunrumi Crochet Keychain
Cotton 4 ply yarn of your choice
black beads
embroidery thread
fiberfill stuffing
crochet hook
Finished Size: Approximately 1 3/4 inches (wide) x 3 1/4 inches (height).
Easy To Follow Directions With Plenty Of Pictures
The instructions for making the crochet keychain simply bear amigurumi pattern comes in a tutorial and a PDF. The directions are easy to follow. They are explained quite well both in American and United Kingdom English so you have a choice.
They are also rich with illustrations, diagrams, and pictures so you get to know exactly what you are making and how to make it. Now making an amigurumi doll is somewhat technical and you may require some skills to make one.
But, not to worry if you are a beginner, it may take a bit longer but if you follow the instructions in detail you will have your own cute crochet keychain bear too.

Unlimited Amount Of Design Possibilities
There are countless ways to design your crochet keychain simply bear amigurumi pattern, especially, when it comes to the color of the bear. Most people just go for the standard brown bear cliché but you are free to color your bear however you want.
Let your imagination lose you can even make a one with more than two colors if you wish. Something different I tried was using different thickness of yarn to make my bear fluffier. It looks absolutely adorable in my hands.
It had me twirling my keys like I just bought a brand new Jaguar. Some gemstones will definitely add some sparkle to your cute bear.
This Crochet Keychain Is The Perfect Gift
The crochet keychain simply bear amigurumi pattern makes a perfect gift for a loved one. Make one for your better half so he can stop asking you for his keys every goddamn morning.
Make one for your sister of a friend just to tell them you love them and it doesn't have to be a special occasion for you to appreciate them.
You can also use the amigurumi bear as a decorative piece in your house, just place a few around your home and they are bound to get noticed.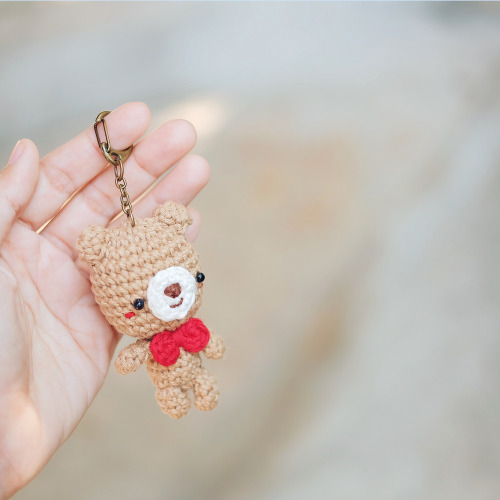 If you wanted something cute and fun to work on the free crochet keychain pattern simply bear amigurumi is the thing. Or if you just have a problem with losing your keys like me well… need I say we found our saving grace?
Download the free crochet bear amigurumi pattern here