These 51 Crochet Purse Patterns range in all sizes and go with every personality. Pick a purse that's small and handheld, or pick one that's larger and spacious.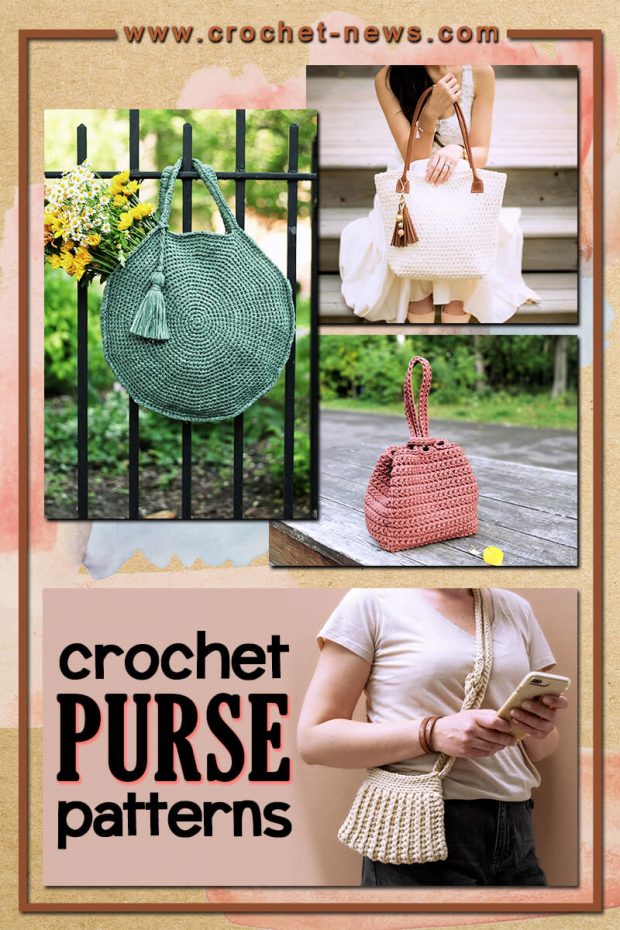 51 Crochet Purse Patterns for your everyday outfit
Finding the perfect bag in stores is just more challenging than you would think, so we say DIY your way into greatness. If you carry a purse around as much as everybody does, you are going to need to make several of these!

1. Capri Circle Bag Crochet Pattern by Alexandra Tavel
This Capri Circle Bag isn't just this season's must-have accessory – it's a classic shape with timeless appeal that's sure to be a staple for years to come.

The simple construction and sophisticated look will have you whipping these up in every shade of the rainbow! It can also easily be adjusted for smaller, larger, or deeper bags (this one is about 2.5″ deep).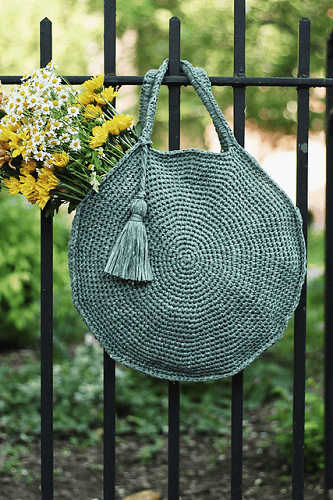 2. Crochet Handbag Purse Pattern by Kseniya Design
This Crochet Handbag Purse Pattern has one handle, for which it can be hung on a hand or shoulder. It is crocheted using a T-shirt yarn, but it can also be crocheted from a cord of suitable thickness.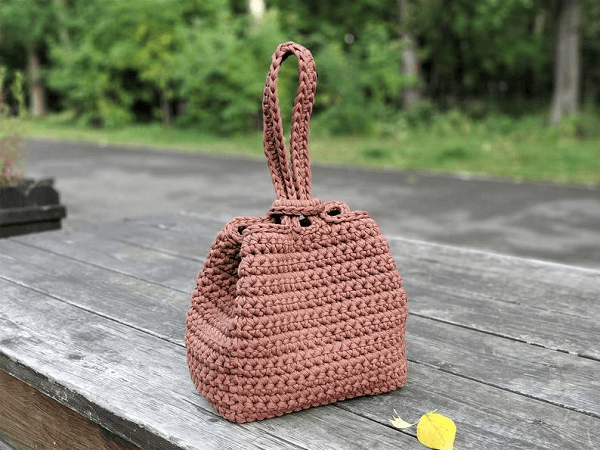 Get the Pattern by Kseniya Design here

3. Crochet Toddler Purse Pattern by A Crafty Concept
This Crochet Toddler Purse would be perfect for a little girl! A great gift idea, it is soft and durable for her adventures!

The finished size of the purse is about 4.5 inches tall and 4.5 inches wide. From strap to fringe the entire bag is about 22 inches.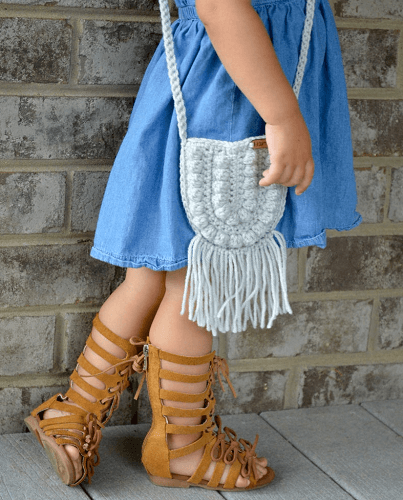 Get the Pattern by A Crafty Concept here

4. African Flower Purse Crochet Pattern by Craft Passion
If you're a fan of the African flower motif, here's an exciting new project! Crochet this purse in neutral colors or vibrant tones for a fresher look.
Get the Pattern here

5. Crochet Circle Purse Pattern by Mama In A Stitch
Chunky yarn, bobbles, and tight stitch-work make this the perfect carryall for the fall and winter months.

Made with washable 100% acrylic, this purse can withstand your walks through the cold, subway rides, and use from the little ones. Large enough to hold your water bottle, wallet, phone, and more. Enjoy this bobbly, chunky, purse all year round!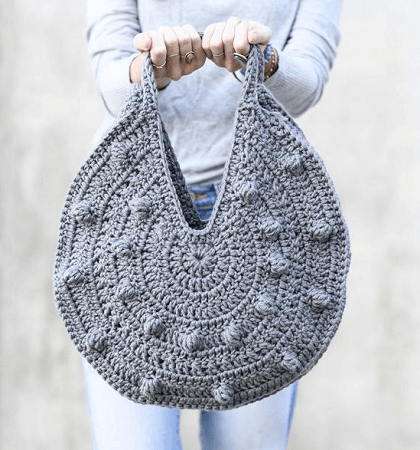 Get the Pattern by Mama In A Stitch here

6. Crochet Cross Body Bag Free Pattern by Megmade With Love
This Cross Body Bag is made up of using the waistcoat (or knit) stitch and creates a super simple texture that you will love. And the fact that it's made with super bulky yarn means incredibly fast work-up.

It's the perfect cross-body purse and pairing it with beautiful suede leather and antique brass notions? It will possibly be your favorite combo!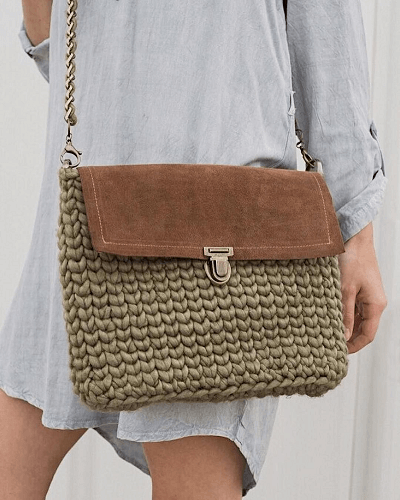 Get the Pattern here

7. 4 Season Crochet Purse Pattern by Knitcro Addict
With this 4 Season Crochet Purse Pattern, you'll be ready for any date! It's the perfect size to fit your phone, wallet, and keys.

This crochet purse design is also great for craft fairing, so if you have the hardware and the yarn, now's a good time to build up your inventory with a few of these.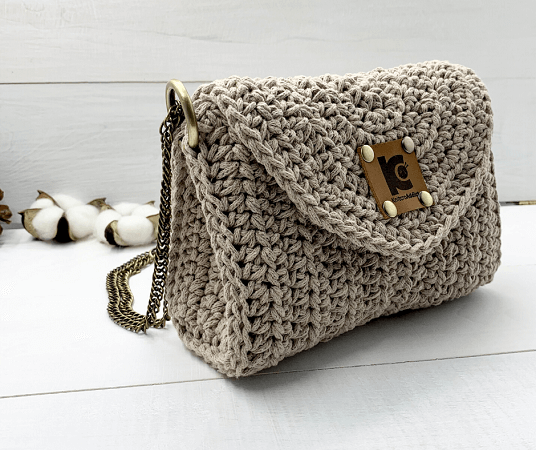 Get the Pattern here

8. Crochet Coin Purse Pattern by The Hook Hound
Keep your cash, cards, or even craft supplies handy with this adorable Crochet Coin Purse. Use this pattern to make the pouch, then sew it into a metal frame to keep your belongings safe inside!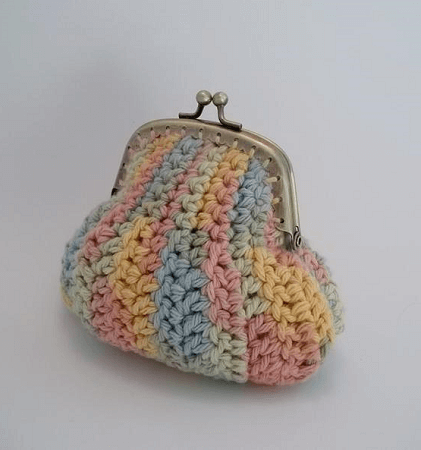 Get the Pattern by The Hook Hound here

9. Amigurumi Pineapple Purse Crochet Pattern by All About Ami
Crochet this sweet and adorable pineapple purse to hold your essentials using the solid shell stitch! This functional amigurumi is sure to bring a smile to everyone's faces.

With its drawstring, you can cinch this adorable purse shut and carry it on your wrist!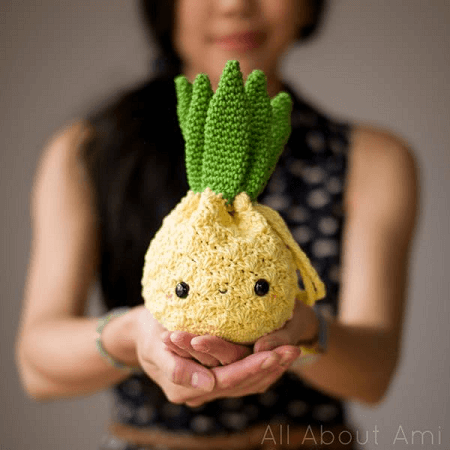 Get the Pattern here

10. Crochet Yummy Purses Pattern by Gingersnap Boutique
This Crochet Yummy Purse Pattern includes instructions to create a cupcake purse, strawberry purse, and 2 color versions of the watermelon purse. Also included are instructions to crochet the strawberry "blossom" – a bonus to use on the purse, or to use as a hair clip.

These purses, when finished, are approximately 5.5″ in diameter, and 6″ – 6.5″ tall. Perfect for little girls to fill with their treasures, and also perfect for mommies when they don't need a larger bag.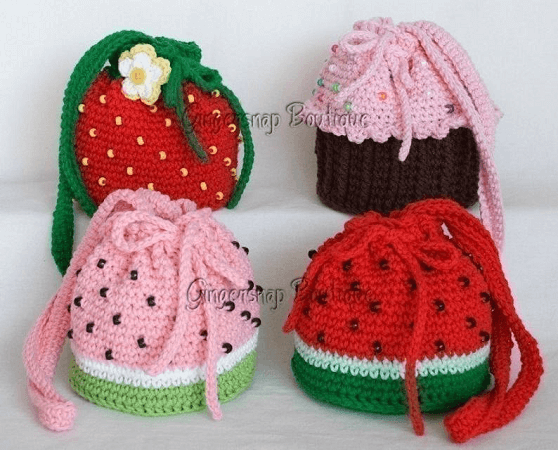 Get the Pattern by Gingersnap Boutique here

11. Street Fair Crochet Boho Purse Free Pattern by Make And Do Crew
Channel your flower child with this speedy bohemian purse made from two fun circles.

Using two strands of yarn held together and simple crochet techniques, this boho bag comes together quite easily and is the perfect size to fit a wallet, phone, and water bottle for an evening concert or dinner out.

Whether you're a hippie at heart or just want to add some boho charm to your wardrobe, this crochet bag makes for a satisfying, useful, and stylish project.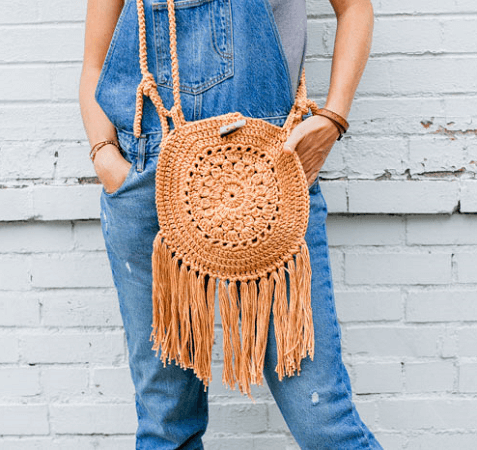 Get the Pattern here

12. Easy Boho Evening Purse Crochet Pattern by King And Eye
This Easy Boho Evening Purse Crochet Pattern is perfect for beginners as it is quick and as it's made with T-shirt yarn it really doesn't matter if the shape is slightly wonky! Hook up this gorgeous crochet purse pattern to match your new outfit, or to give as a quick gift!
Find more Tshirt yarn projects here.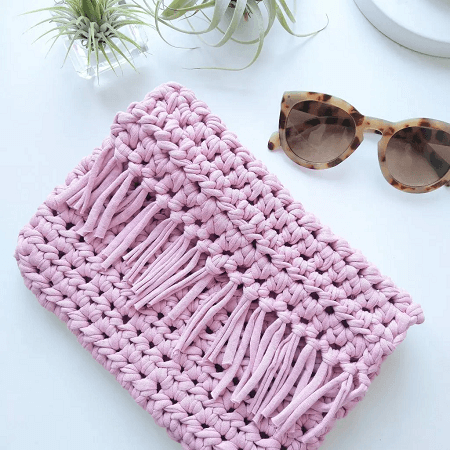 Get the Pattern by King And Eye here

13. Crochet Penny Purse Pattern by Sincerely Pam
This Crochet Penny Purse Bag has incredible structure, tons of room, and just enough pockets making it the perfect purse for everyday use!

The two-tone exterior is right on trend and the crocheted handles are sturdy and durable thanks to the rope hidden inside!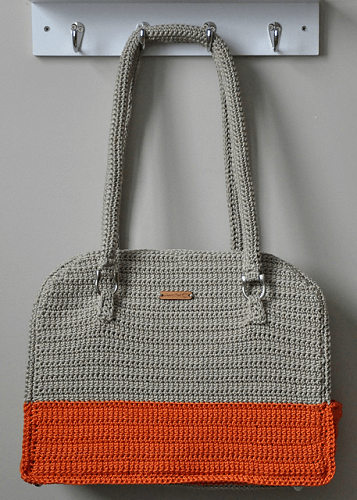 Get the Pattern here

14. Crochet Heart Purse Pattern by The Easy Design
Looking for an adorable purse that's a little different? Then you'll love this so easy way to Crochet Heart Purse, whose design is different from everything you've seen so far!

Crochet this beautifully textured bag using an amazingly simple pattern with simple stitches! It is sure to complete any super cool look for the day!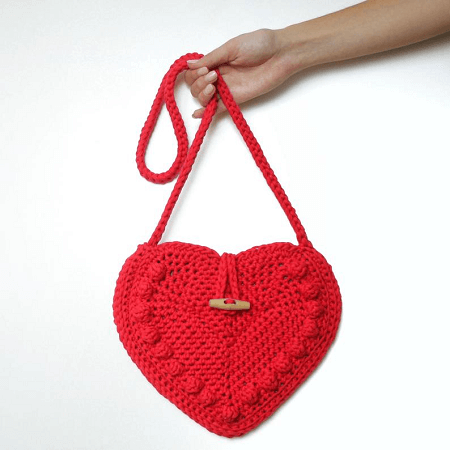 Get the Pattern by The Easy Design here

15. Square Flap Shoulder Bag Crochet Pattern by Pierrot
This minimalist Square Flap Shoulder Bag would be perfect for the office, especially if you choose high-quality yarn in a neutral black, brown, gray, or navy.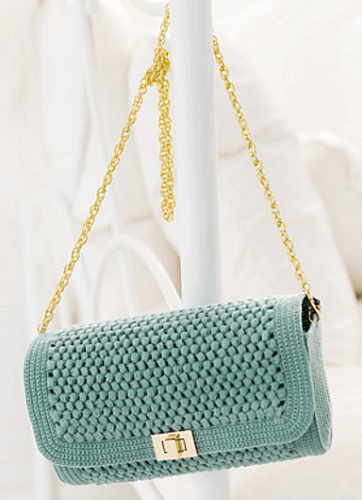 Get the Pattern here

16. Raffia Clutch Purse Crochet Pattern by Darling Jadore
Beautiful, classic crochet stitches and subtle eyelet lace combine to create this Raffia Clutch Purse – a stylish must-have purse for summer that's fun and easy to make!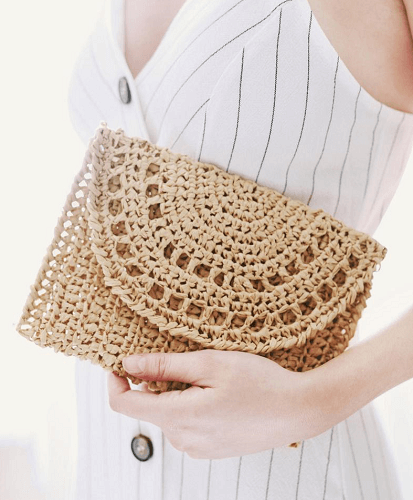 Get the Pattern by Darling Jadore here

17. Crochet Posey Purse Pattern by Yarnspirations
With just a little time you can crochet this unique purse in any color. Use it to tote your current crochet project, or make it your everyday bag of choice.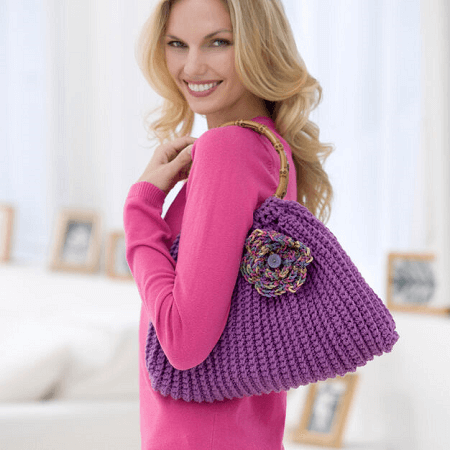 Get the Pattern here

18. Star Stitch Crochet Purse Pattern by Stephanie Lau
Crochet this gorgeous Star Stitch Purse with amazing texture and a flat base! Add chic crochet handles, leather handles, a tassel or a bag charm to dress it up!

You will need 6 skeins of cotton yarn for the purse and 1 skein of contrasting color for the handles!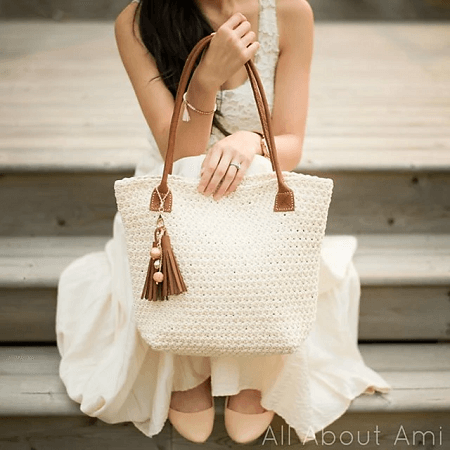 Get the Pattern by Stephanie Lau here

19. Crochet Sunflower Purse Pattern by Crochet 365 Knit Too
Are you looking for a unique purse to show off your love of Sunflowers? Look no further! This Crochet Sunflower Purse Pattern is the perfect fashion accessory for your spring and summer outfit.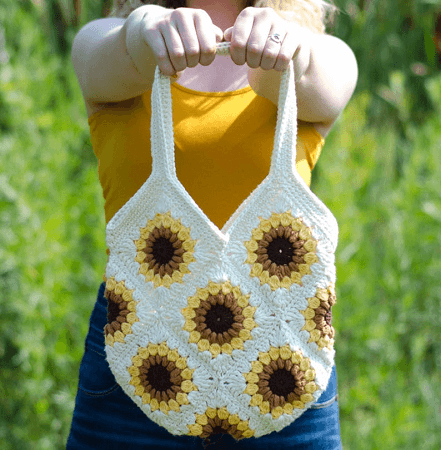 Get the Pattern by Crochet 365 Knit Too here

20. Crochet Granny Square Purse Pattern by Kathy's Crochet Closet
This pretty Crochet Granny Square Purse features cute quatrefoil granny squares! It is crocheted with sturdy mercerized cotton yarn in a seamed granny square design.

The stitches used in this project are chain, double crochet, half double crochet, single crochet, reverse single crochet, triple crochet, and slip stitch.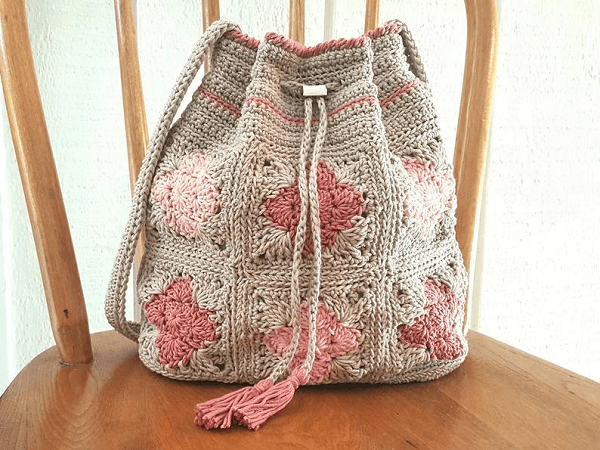 Get the Pattern by Kathy's Crochet Closet here

21. Riviera Tote Crochet Pattern by One Dog Woof
This Riviera Tote is pretty sophisticated yet casual enough for a Sunday stroll. It will be your all-season carry-all, perfect for farmers' market flowers, or your latest crochet project.

Soft and sturdy, this uniquely shaped tote uses the waistcoat stitch to evoke the knitted or woven feel of straw bags.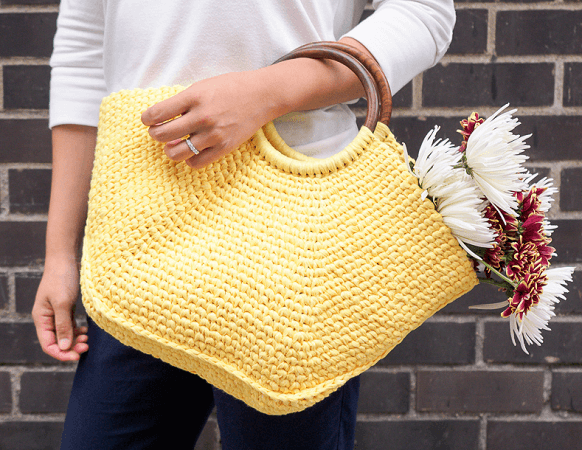 Get the Pattern here

22. Evelyn Crochet Summer Clutch Pattern by The Lakeside Loops
This beginner-friendly Evelyn Crochet Summer Clutch Pattern is the perfect accessory to add to your Summer wardrobe. This purse is modern and fun with cute tassel details.

It's the perfect size for date night or lunch with friends! Choose tassel colors to complement your white sundress one day and your colorful romper the next – so many possibilities!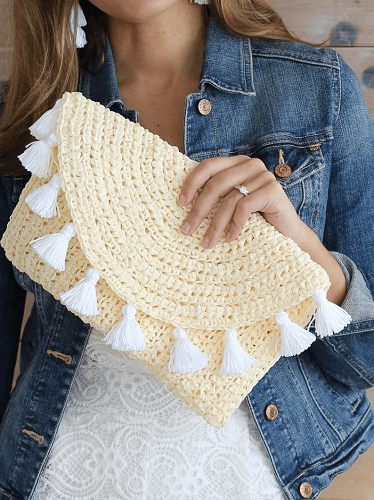 Get the Pattern by The Lakeside Loops here

23. Embellished Paisley Purse Crochet Pattern by Red Heart
Why carry a bag that looks like all the others when you can crochet one that reflects the crochet-lover in you? This bag is just the right size and is easy to crochet. The colorful paisley design is added with easy to learn cross-stitch.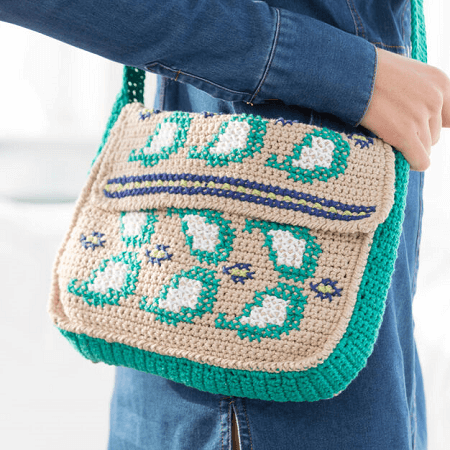 Get the Pattern here

24. Crochet Round Purse Pattern by Two Of Wands Shop
Take your ensemble to the next level with this fashion-forward circular crossbody purse! This purse is designed to fit all of your essentials for your next adventure.

The round shape is this season's "it" bag, and with an adjustable strap, front pocket, and tongue closure, your friends will be shocked you made it yourself!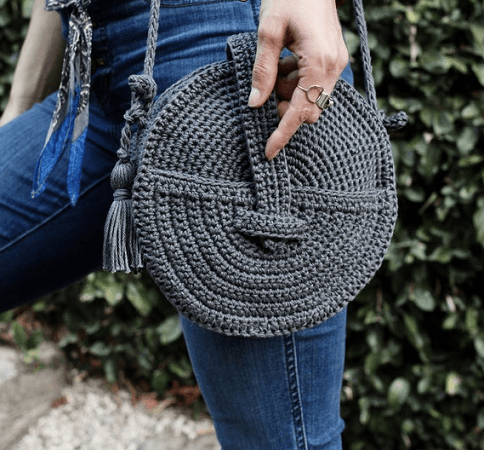 Get the Pattern by Two Of Wands Shop here

25. Bohemian Chic Crochet Purse Pattern by Crazy 4 Crochet Momma
This adorable Bohemian Chic Crochet Purse is a great crochet bag pattern for beginners and looks great with any outfit.

This is a simple yet chic purse that's oh so fun to wear. Going out for the night? This bag is big enough for your phone, wallet, make-ups, keys, and a few other essentials to help you rock the night!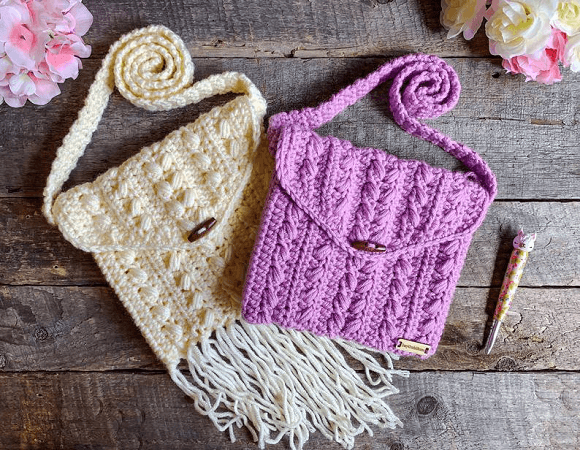 Get the Pattern by Crazy 4 Crochet Momma here

26. Diana Crochet Handbag Pattern by Divine Debris
This Diana Purse is textured, stylish, and simple. It's made with worsted/medium weight yarn and very easy to follow, making it quick to work up.

While the photo only shows two colors, you could easily go wild and create this purse in as many or few colors as you would like. Put your own stamp of creativity on this straightforward yet lovely design.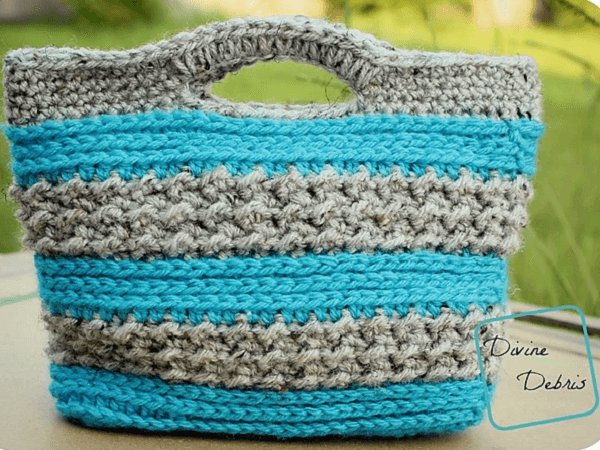 Get the Pattern here

27. Rings And Roses Irish Crochet Purse Pattern by Crochet N Beads
This Rings And Roses Purse is an evening bag in Irish Crochet, The roses have beads for accent and are double-sided around the edging, so they are just as beautiful on one side as the other.

The purse body measures 7 inches across, not counting the rose edging. Drawstring closure with stuffed roses for accent. The design is done in size 30 thread.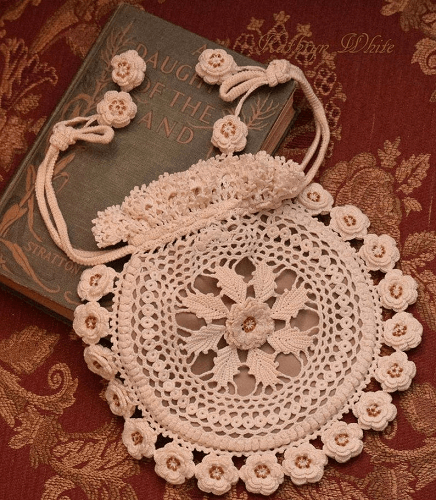 Get the Pattern by Crochet N Beads here

28. Instagram Purse Crochet Pattern by Once Upon A Cheerio
Here comes a cute Instagram Purse for someone who loves Instagram. The only parts that require sewing for this project is the lens. The knitted look of the body of the bag is created using half double crochets in the third loop.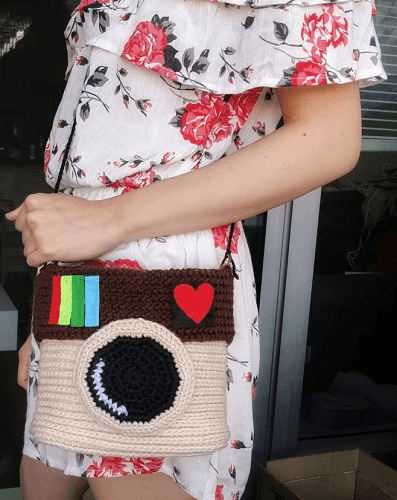 Get the Pattern here

29. Crochet Unicorn Purse Pattern by Kayte Dids
This Crochet Unicorn Purse will make cute little gifts for your little ones. If your little one loves purses and unicorn, she will certainly love this beautifully designed unicorn purse.

The pattern is worked in half double crochet, and the purse, ears, and strap are worked up in one piece. The finished purse measures 8in tall and 7in wide. The strap can easily be adjusted for other ages.
Get the Pattern by Kayte Dids here

30. Festival Fringed Crochet Purse Pattern by Mama In A Stitch
This boho Festival Fringed Crochet Purse Pattern is crocheted with the cute berry stitch, giving it great texture. It's made with worsted weight cotton yarn and a US size H crochet hook. Such a fun summer crochet project!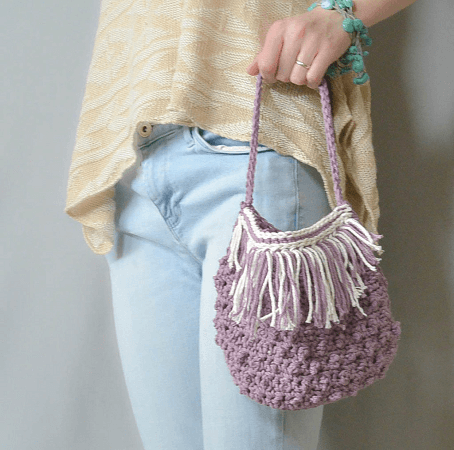 Get the Pattern here

31. Crochet 3D Flower Purse Pattern by Zoom Yummy
This gorgeous flower purse features a dual-sided floral pattern. The flowers on this crochet bag have a unique 3D look.

The finished product that you can create with this pattern is about 11 inches (28 cm) wide and 20 inches (50 cm) high. And you will love it!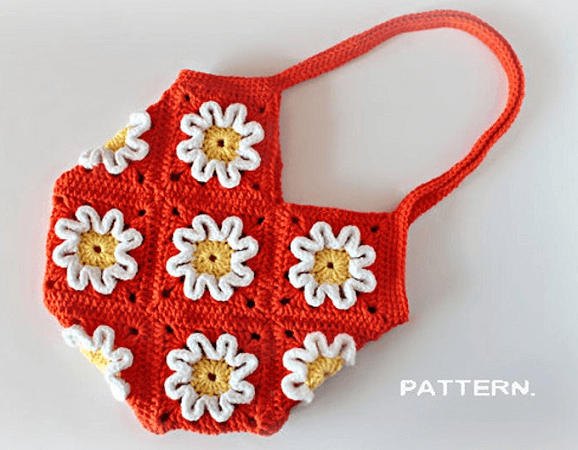 Get the Pattern by Zoom Yummy here

32. Crochet Crossbody Bag Pattern by Yarn And Colors Shop
Keys, wallet, phone, lipstick – these are all essentials you want to take with you when you are leaving the house. This cool Crossbody Bag can store those essentials for you and will make sure you'll look on-trend this spring/summer.

It's nice and sturdy because you'll crochet using two to three strands at a time. So, choose your favorite color of Zen and get your crochet hooks ready!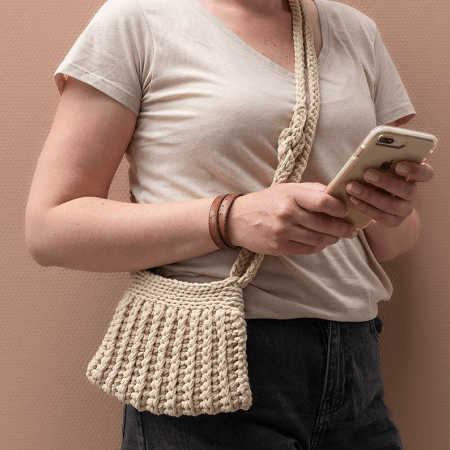 Get the Pattern by Yarn And Colors Shop here

33. Mosaic Crochet Beach Bag Pattern by Alyse Crochet
This Mosaic Crochet Beach Bag is a sturdy, stylish summer tote inspired by Greek patterns and design! This tote features a stunning mosaic crochet design and rustic braided handles for extra strength and style.

This bag is designed to resist stretching and holds plenty of weight, so whether you're vacationing in the Greek Islands or just chilling at your local pool, this tote is sure to hold everything you need!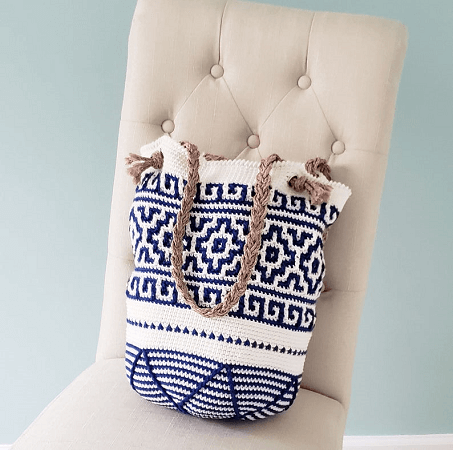 Get the Pattern by Alyse Crochet here

34. Crochet Urban Squares Purse Pattern by Yarnspirations
Combine mod-retro squares and long-wearing yarn for this Crochet Urban Squares Purse Pattern that is very today. Choose any three of your favorite colors for a totally unique accessory!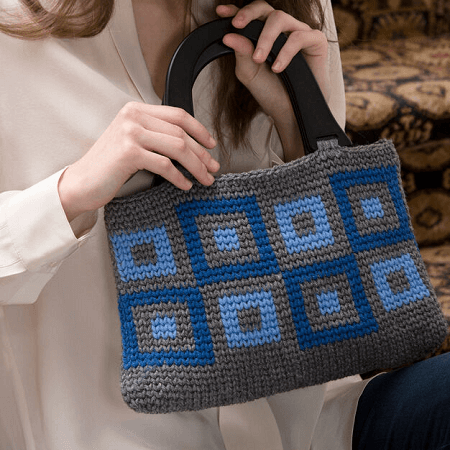 35. Easy Crochet Crossbody Purse Pattern by Sewrella
This Easy Crochet Crossbody Purse is small and compact, and super easy to make. The pattern is quick and easy – you can make one in under an hour!

This is an easy level crochet pattern, and the techniques you will need to know are single crochet, double crochet, working in the third loop only, working in the round, and slip stitch.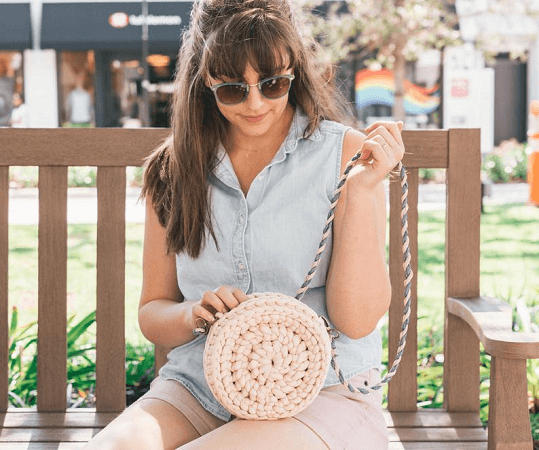 Get the Pattern by Sewrella here

36. Crocodile Stitch Crochet Purse Pattern by Knitcro Addict
This project is an intermediate crochet bag using a crocodile stitch. It turns out really cute and it's very handy for everyday use.

Perfect for those upcoming holiday parties, a beautiful and elegant purse. For an added touch of glamour, you can attach a pearl or bead to the center of the crocodile stitches.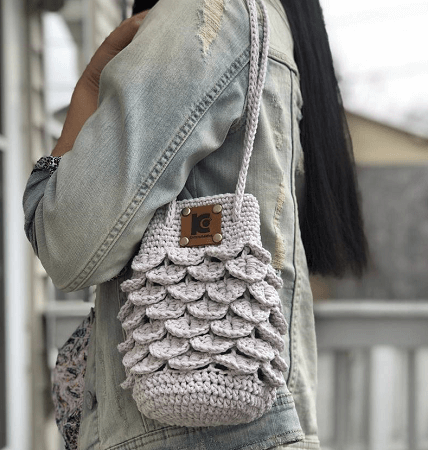 Get the Pattern by Knitcro Addict here

37. Small Ruffle Purse Crochet Pattern by Yay Crochet Patterns
The best thing about this beautiful Small Ruffle Purse is that it's quick and easy to make – perfect for beginners!

Crochet your very own one-of-a-kind ruffle purse with your choice of handle and yarn color! The finished product measures 12 inches wide (at widest point) x 6 inches tall x 2½ inches deep.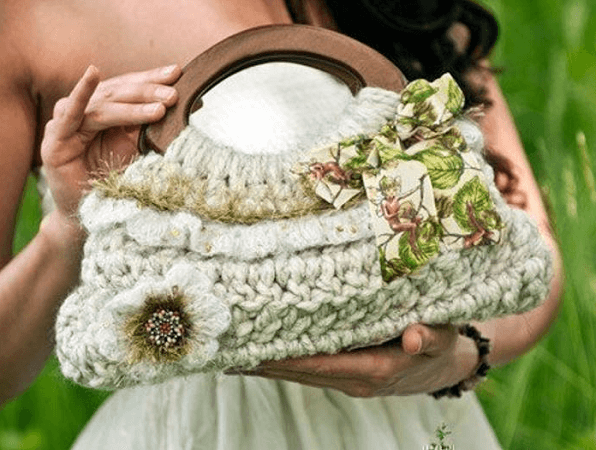 Get the Pattern by Yay Crochet Patterns here

38. Crochet Seed Stitch Purse Pattern by My Merry Messy Life
Here's a free crochet purse pattern using the crochet seed stitch for the little girls in your life. This is easy to make and is so cute!

You will love the seed stitch, as it gives it a scalloped look. It also makes the bag strong and has a tight weave. The great thing about this bag is you can design it any way you like by changing the yarn color.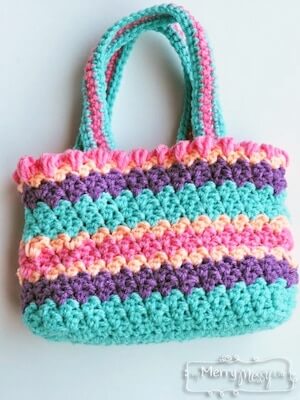 Get the Pattern here

39. Free Crochet Purse Pattern by The Loopy Lamb
This Bobblelicious Bag is a fun, free crochet purse pattern that is made of super chunky bobble stitches. Once it is assembled, it kind of looks like a pillbox bag. The chain style strap gives it a professional touch that will make your friends wonder where did you buy it!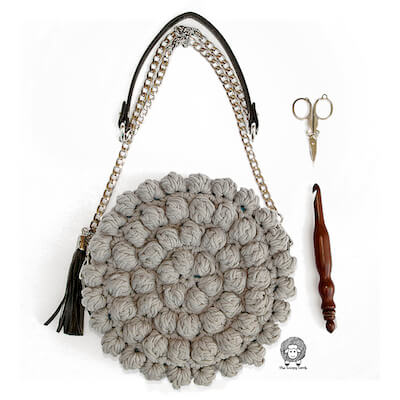 Get the Pattern here

40. Renaissance Mini Purse Crochet Pattern by Yarna Shop
How cute is this mini handbag-style purse! Hooked up in thick fabric/T-shirt yarn and finished off beautifully with a purse lock and chain strap, it just screams of high fashion!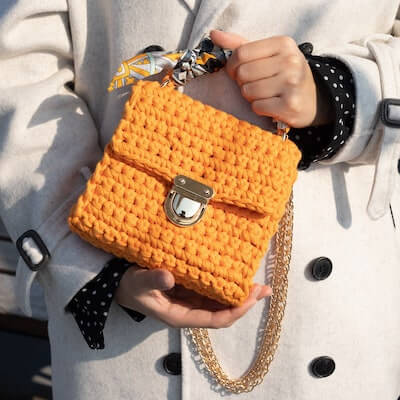 Get the Pattern by Yarna Shop here

41. Bunny And Bear Crochet Purses Pattern by Lakeside Loops
This beginner friendly crochet pattern makes the cutest bunny or bear purse for the little one in your life. The sweet face is easy to create and the straps can be crocheted to any length for children of all ages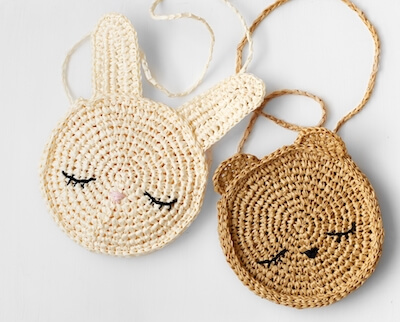 Get the Pattern here

42. Fringed Chevron Purse Free Crochet Pattern by Yay For Yarn
This Fringed Chevron Purse is the perfect summer accessory! Worn cross-body style, this bag features a bold chevron design and plenty of long, chevron-cut fringe.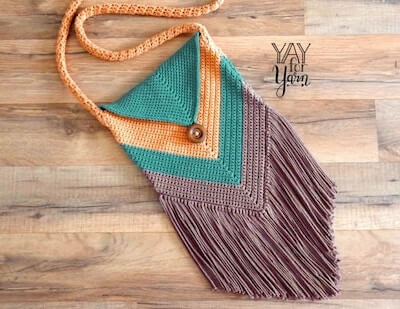 Get the Pattern here

43. Flower-Shaped Crochet Purse Pattern by Avondale Patterns
This is a crochet pattern for a sweet little flower-shaped girls handbag. Make lots of them and you can have your own little garden!

The design creates a spacious purse with a textured center, contrasting border and button closure. The bag measures approx 5in/12.5cm across and down with a 37.5in/95cm strap.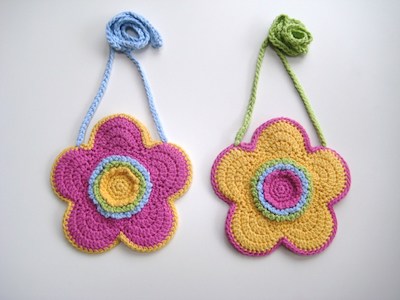 Get the Pattern by Avondale Patterns here

44. Crochet Alpine Purse Pattern by Brittany Alice Crochet
This crochet purse is perfect for the beginner looking to practice their skills with a quick and easy project! The pattern is written using single crochet, double crochet, and front post double crochet.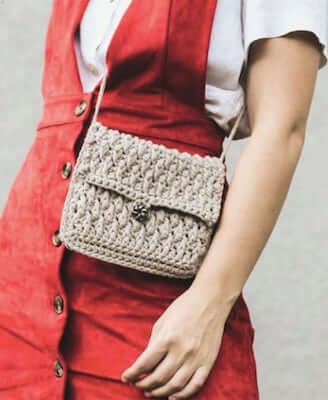 Get the Pattern by Brittany Alice Crochet here

45. Easy Boho Crochet Purse Pattern by Salty Pearl Crochet
Sometimes, the best crochet projects come from easy crochet patterns for beginners. There's not anything fancy about this little Boho Crochet Purse Pattern, but it's still packed with style!

You can make this easy crochet purse pattern in just about 90 minutes, with just about 90 yards of yarn. (That's less than one skein, if you use a solid color!)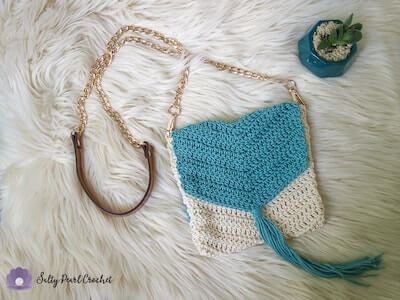 Get the Pattern here

46. Wristlet Purse Free Crochet Pattern by Knitz N Purlz
If you want a small purse or clutch when you run for quick errands and need to grab just the essentials like keys, wallet and phone with me or when you have to make a quick trip and need your hands to be free, the wristlet come to the rescue!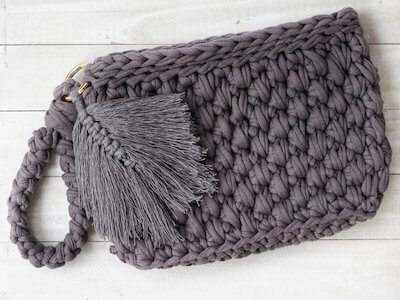 Get the Pattern here

47. Crochet Waffle Purse Pattern by Eclectic Jess Crochet
Make a statement with this deliciously fun big waffle bag! What exactly is that statement? How about, "I love breakfast!" or "look at this giant waffle!"

Either way, you'll have a unique, eye-catching accessory that is sure to be a conversation starter. Both fun and functional, the bag measures 12″ in diameter to hold all your essentials and even a few extras.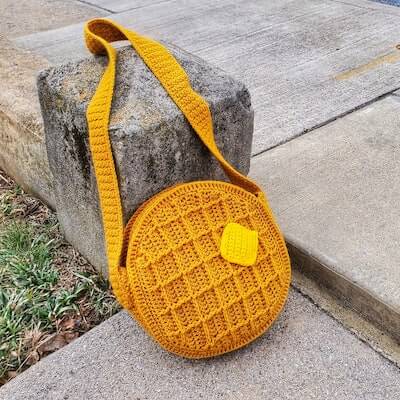 Get the Pattern by Eclectic Jess Crochet here

48. Mini Raffia Crochet Purse Pattern by I Love Create Store
Are you a fan of handmade high quality accessories made by yourself? Ever thought of having a trendy crochet raffia bag? If both are yes, you are lucky to find this pattern for this wonderful summer eco-friendly bag!

Just imagine how proud you will be to answer that it was made by you! This bag will be a perfect accessory for travelling in summer vacations or for everyday use and will perfectly suit your summer outfit.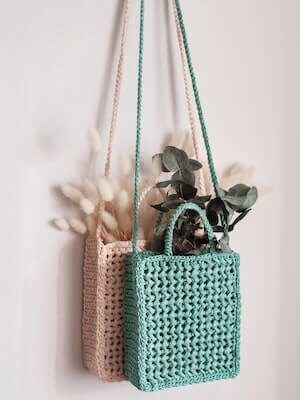 Get the Pattern by I Love Create Store here

49. Watermelon Coin Free Crochet Purse Pattern by Repeat Crafter Me
We think this crochet watermelon coin purse is cute as a button and cannot wait to make them for ourselves. Have you ever tried crocheting with a zipper?
What a great way to keep all that loose change! The perfect gift for birthday and Christmas presents.
Watermelon Coin Purse Materials:
– All-Purpose Plastic Zipper 7″-Bright Green
– Vanna's Choice Yarn in Fern, White and Raspberry
– Sharp crochet hook
– Crochet Hook, Size G, 4.0mm
– Micro Rounds Embellishment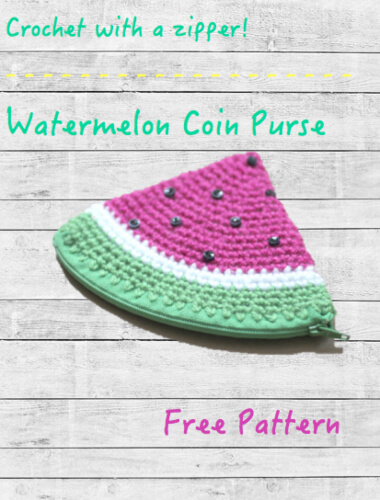 Get Pattern here
50. Free Crochet Purse Maya Pattern by Fabienne Chabrolin
There are three things Mayans are famous for, art, architecture and an unparalleled knowledge of mathematics and astrology. This crochet purse maya pattern has nothing to do with Mayan pyramids or the Mayan calendar. It, however, draws inspiration from Mayan art.
The crochet purse maya pattern is genuinely one of those stunning pieces that will get heads turning when you hit the streets. It is the ideal project for any leftover colored yarn you may have tucked away.
The pattern is available for free which makes it that much easier for an amateur crocheter. The technique is pretty straightforward, nothing too complicated. Once you get started I can give you any assurances you won't get hooked. You'll get the hang of it in no time.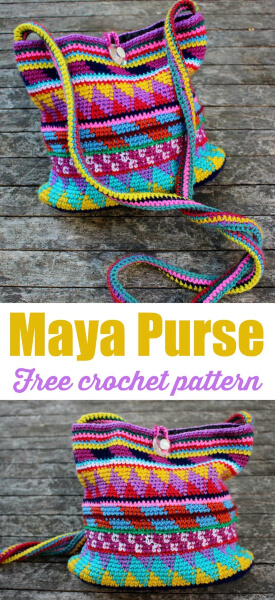 51. Crochet Zipper Bag Tunisian Pattern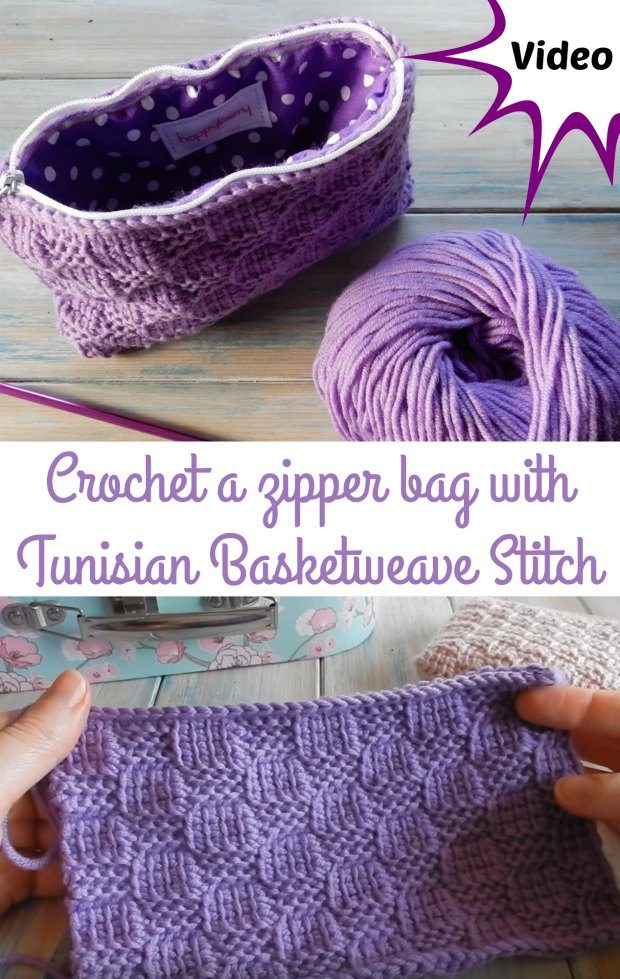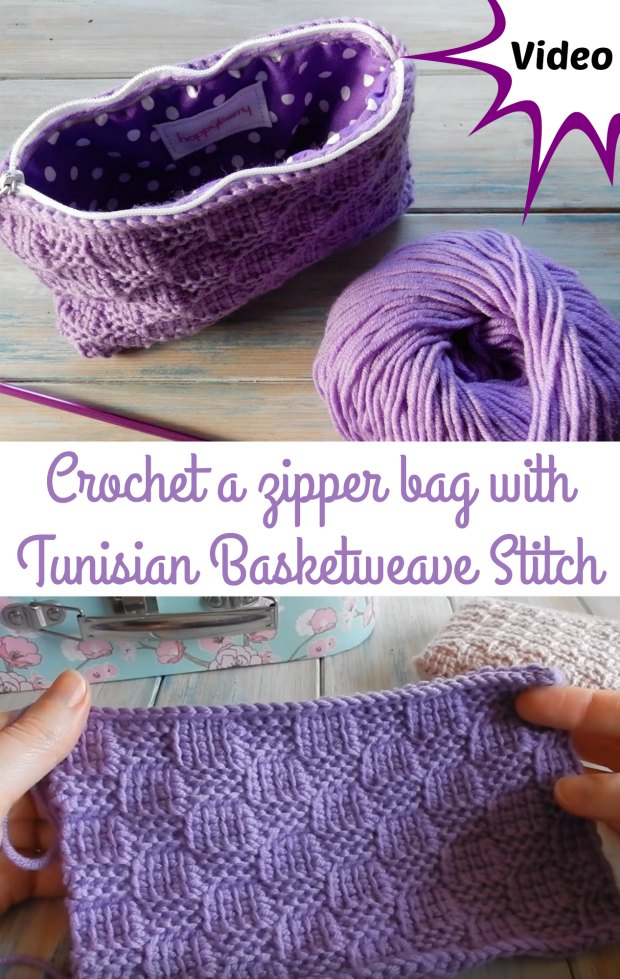 The beauty of the crochet zipper bag Tunisian pattern is that it is not limited to just what is contained in the tutorial. There is actually a lot of room in the pattern to get creative with. It's a bag you will be carrying around with you after all so it might as well look stunning.
Try to change up the colors; instead of just a solid block of color you can combine a few to make your bag even more unique and beautiful. It is either that or you could try making the bag in different blocks of color.
You can also try adding some rind stones or some light bead work to add some spice to your crochet zipper bag Tunisian pattern.
Crochet Zipper Bag Materials
5 mm crochet hook
worsted weight yarn – Red Heart Super Saver in purple
One 100 gr/ 3.52 oz (200 m/ 218 yd) skein of fine 100% cotton in purple color.
Yarn bowls or box with holes
One 13.8"/ 35 cm ring pull metallic zipper
Stitch markers
Crochet Purse Patterns Frequently Asked Questions
How do you crochet a purse?
A crochet purse pattern is typically rectangular or round in shape. If it's rectangular, you'll probably go back and forth in rows. If it's circular, you'll need to count carefully and increase the number of rows as the circle grows larger and larger.
What crochet stitches are used to make a purse?
Some common crochet stitches used for purses includes chain stitches, single crochet, half double crochet, slip stitch, slip knot, and more.
What is the best yarn to make a purse?
It is essential to choose the right yarn for crocheting a purse. The most durable crochet bags are often made from alternative fibers such as hemp or nylon or from durable yarns that can withstand wear and tear. Choose fibers that will not stretch even when wet.
Cotton yarns and synthetic yarns are both excellent choices. While the goal is to make a long-lasting purse out of lightweight yarns, bulky, worsted weight, or super bulky yarns are also good choices for crochet purses.
What weight yarn is best for a crochet purse?
DK and heavier yarn weights are ideal for bags. I haven't seen many bags made with yarn that are lighter than DK. A medium-weight yarn, such as worsted, is typically used.
Do crochet purses need to be lined?
Adding a fabric lining to your crochet purse makes it sturdier and looks better. Because of the fabric lining, your valuables will not fall through the stitches, and no one will be able to see what you're carrying in your bag.
You'll never run out of space to carry things when you start hooking your way through these crochet purse patterns!
Be sure to post the purses you make to our Facebook Page and for more lovely ideas check our Crochet Backpack Patterns, Crochet Wallet Patterns, Crochet Tote Bag Patterns, and Crochet Keyring Mini Purse Pattern.

Oh and don't forget about the fun part: answering "hey thanks, I made it!" when people compliment it.
Switch up your look or gift a friend with one (or more) of these crochet purse patterns!