The best wallets are designed for two purposes. One, to keep your most important valuables safe, secure, tidy, and within easy reach. Two, as beautiful objects that are a pleasure to behold. After all, we use our wallets every day. We want them to look sophisticated too.
If you are looking for a new wallet, do not go for a boring store-bought piece that everyone else is carrying. Here are the best crochet wallet patterns you need to get your hands on!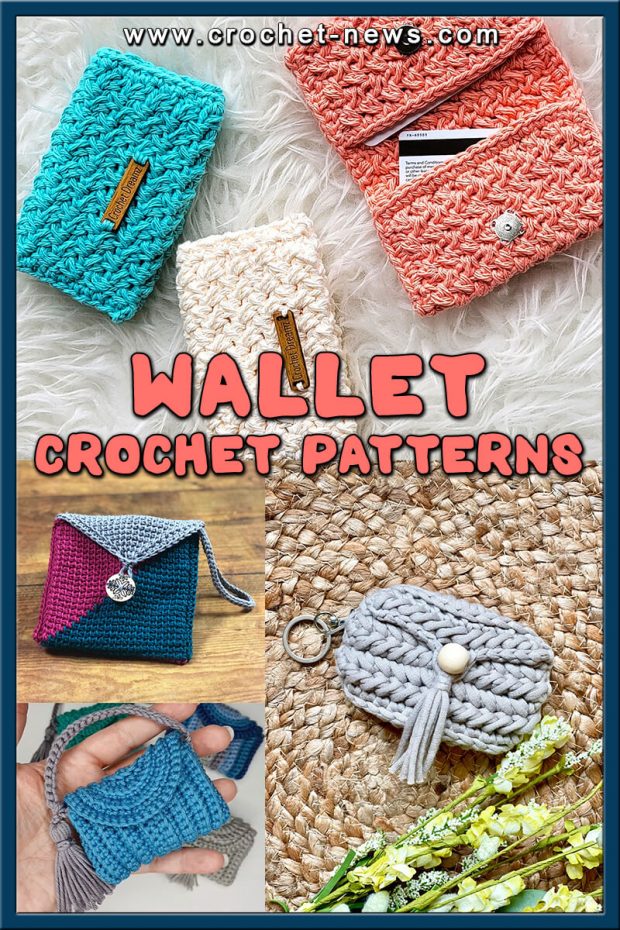 17 Crochet Wallet Patterns
Everyone appreciates a nice wallet, but if you make it yourself, you'll love it even more and use it with pride! Look no further than these inventive projects for a large wallet to hold all of your credit cards and receipts, or a smaller one to hold all of your loose change!

1. Astrid Wallet Crochet Pattern by I'm Quite Smitten
Make your own wallet with both fashion and function in mind. Features include: a center divider to keep your money and cards separate; room for a cell phone; a zipper so all your valuables won't spill out; feature design on both front and back; and a cute and handy tassel zipper-pull for easy access.

This 8″ X 5″ boho wallet is light-weight, durable, and roomy, giving its forever girl the option to toss in her cash, cards, hair ties, and even her cell phone.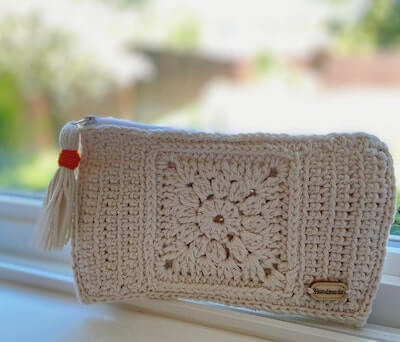 Get the Pattern by I'm Quite Smitten here

2. Crochet Chevron Hearts Wallet Pattern by Krazy Kabbage
This beautiful Chevron Hearts Wallet is perfect for keeping coins or cards safe and secure.
This delicate design is full of love with a plethora of little hearts. It may look intricate but is actually a simple yet addictive pattern that you will want to make over and over. Add a lining and zipper to finish off your project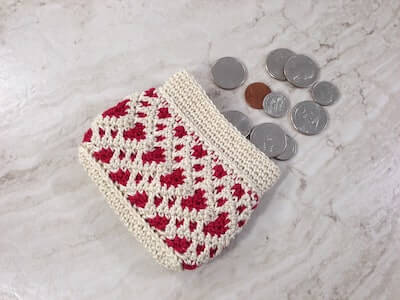 Get the Pattern by Krazy Kabbage here

3. Easy Crochet Wallet Pattern by Traverse Bay Crochet
Create this cute easy crochet wallet with this easy to follow pattern! Fun to make a in a variety of colors and easy to create with a zipper enclosure.
Get the Pattern here

4. Crochet Buddy Wallets Pattern by Buddy Rumi
These six super cute, quick and easy to make, crochet wallets are the perfect gifts for friends and family! They are fun to make and very useful. You can keep cards, money or other small valuables!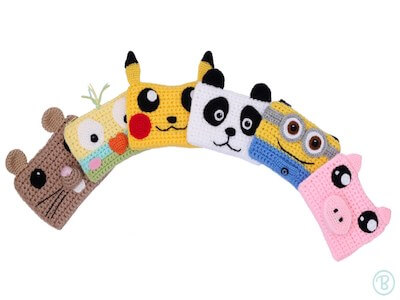 Get the Pattern by Buddy Rumi here

5. Embossed Heart Wallet Crochet Pattern by Clair De Lune Fiber Art
This Embossed Heart Crochet Wallet is the perfect little project to dip your toes into embossed crochet, and it's a stash buster! Work it all in one color to emphasize the relief image, or make it pop with a contrasting color.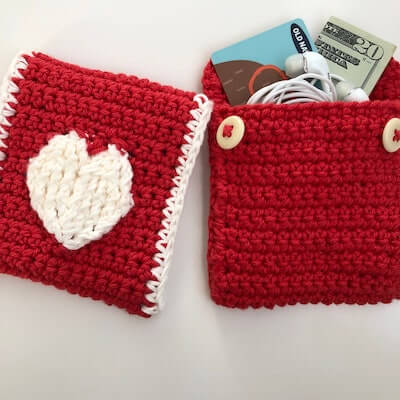 Get the Pattern by Clair De Luna Fiber Art here

6. Beaded Free Crochet Wallet Pattern by Instructables
If you're just starting out with crochet and only know how to double crochet and single crochet, but want to make something a little more than just scarves and washcloths, this beaded wallet is a good beginner project.

Before you start crocheting this wallet, you string beads on the yarn. And as you crochet, you slowly incorporate the beads in a certain pattern.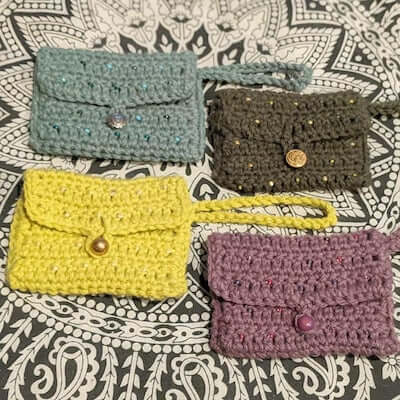 Get the Pattern here

7. Free Crochet Wallet Pattern by Just Be Crafty
This free crochet wallet pattern is pretty simple, it's comprised of just two long crocheted rectangles, folds, and slipped stitches. This adorable little wallet is perfect for all of your on-the-go needs and features pockets for holding credit cards, a checkbook, and cash.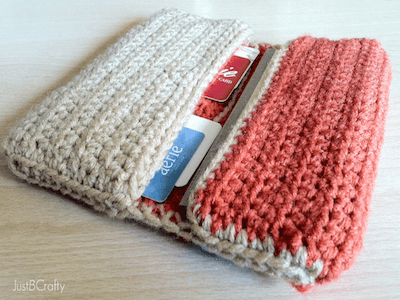 Get the Pattern here

8. Crochet Granny Square Wallet Pattern by The Good Shnit
Turn a classic crochet granny square into your own clutch wallet! This pattern provides full instructions for creating your personal wristlet style clutch including how to add a fabric lining. Take a fun retro granny square and make it modern.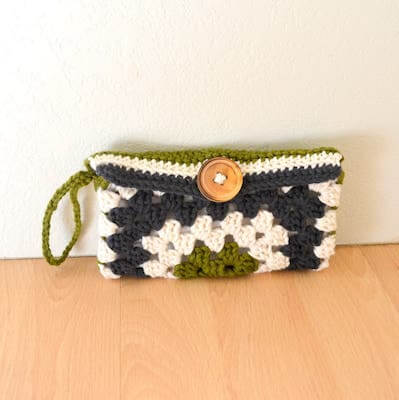 Get the Pattern by The Good Shnit here

9. Strawberry Card Case Wallet Crochet Pattern by Simple Sunny Stitches
Add a creative touch to your gift card with this adorable strawberry card holder that doubles as a functional gift for regular cards!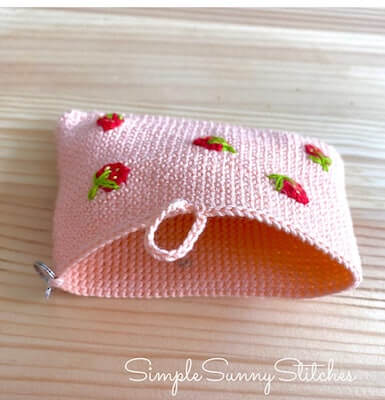 Get the Pattern by Simple Sunny Stitches here

10. Crochet Mini Wallet Pattern by Wee Bee Uniques By Julie
These mini wallets are great for party favors. Crochet up a bunch and add a small thank you note with a bit of candy. Make them in all pink or all blue and you have a wonderful baby shower favor. Your guest will be sure to remember your lovely gathering!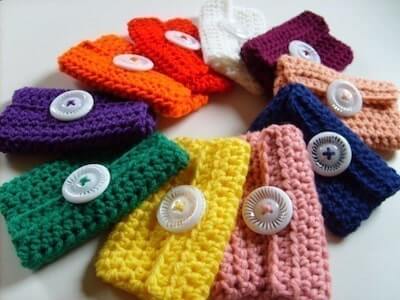 Get the Pattern by Wee Bee Uniques By Julie here

11. Crochet Wool Striped Wallet Pattern by Moogly
This Crochet Wool Striped Wallet is great for anyone who loves a little custom organization. The crochet stitches are simple but the result is eye-catching and you can add as many pockets as you like to make it suit your own needs.
Get the Pattern here

12. Crochet Coin Purse Wallet Pattern by Crochet Beja
Learn how to make a beautiful crochet coin purse by following this tutorial. If you are a wallet girl and love to keep your coins and cards in a cutesy coin purse, then this project is surely for you.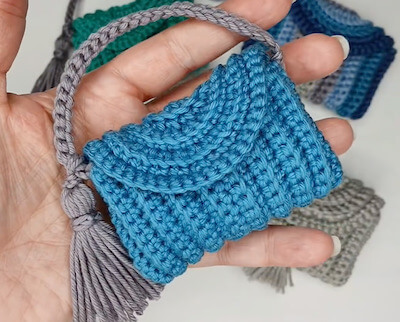 Get the Pattern here

13. Crochet Multipurpose Wallet Pattern by My Rose Crochet
This Multipurpose Wallet is perfect accessory to carry Passport, cell phone, business cards and some cash with you. It can hold up to 7″ cell phone, passport, 4 to 6 cards and two zippered pockets for cash and valuables.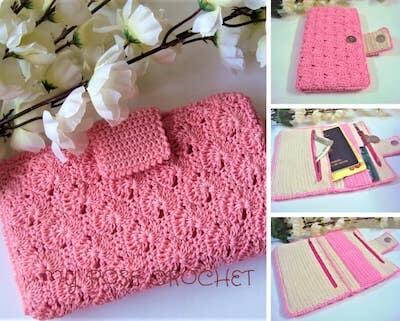 Get the Pattern by My Rose Crochet here

14. Tunisian Color Block Wristlet Crochet Pattern by Creations By Courtney
Jump into the Tunisian Crochet trend by making this Tunisian Color Block Wristlet. You will create an alternating color block look by learning how to make a color change in tunisian simple stitch, and learn how to make increases at the beginning and end of a row.
This wristlet creates a solid fabric that make this great for carrying notions in a project bag, or as a wallet to grab for a quick errand. This uses a small amount of three colors of worsted weight cotton, so it's great for using up scrap yarn.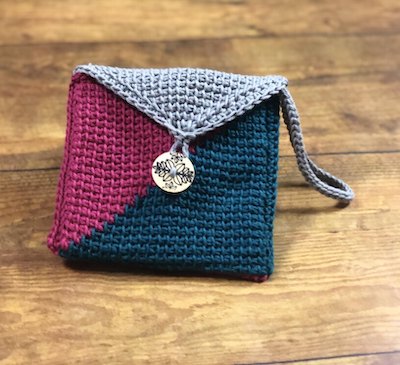 Get the Pattern by Creations By Courtney here

15. Easy Crochet Wrist Wallet Pattern by Nicki's Homemade Crafts
This free pattern is called Easy Crochet Wrist Wallet because it is truly simple to crochet and makes the ideal quick and efficient storage option for any time during the day. You can add your DIY accessories such as stitch markers, measuring tape, or tapestry needles.
Get the Pattern here

16. Card Holder Free Crochet Wallet Pattern by Crochet Dreamz
This crochet credit card holder is great for a quick gift or to sell at craft fairs. It has a beginner friendly construction and made by folding a simple rectangle. Try using up your leftover cotton yarn to make this!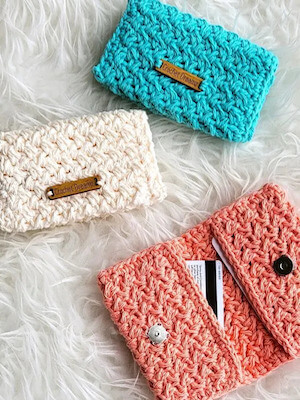 Get the Pattern here

17. Amaryllis Keychain Wallet Crochet Pattern by Days Crochet NC
This adorable little keychain wallet is the perfect size for running errands. Add a wrist strap or a swivel clasp, and you can keep what you need handy on your wrist or your belt buckle. It makes a great gift and is a hot seller for vendor markets!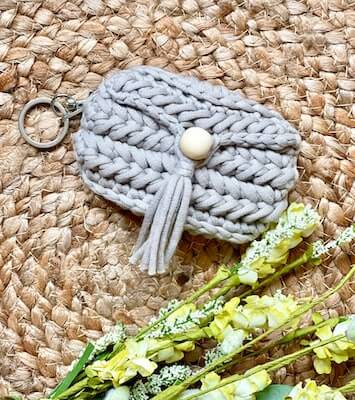 Get the Pattern by Days Crochet NC here
YOU DO NOT NEED TO SPEND A LOT OF BUCKS ON BUYING NEW WALLET WHEN YOU CAN MAKE ONE WITH THESE CROCHET WALLET PATTERNS.
Do you love projects like these? Here are some more crochet purse and bag patterns you can whip up next! From festival purses to market bags, we've got you covered!
Take pictures of every bags you make from all these patterns and share it over to us on our Facebook Page. We hope this post helped you out at your search for your next handmade projects.
Go grab a small amount of yarn and devote a little amount of time making these crochet wallet patterns today!