We beg the question — how to crochet handbag? Not only do they look extremely stylish, but they're also incredibly helpful when it comes to storing all your bits and bobs. From fashionable to functional, there's something for everyone in this round-up of Crochet Handbag Patterns.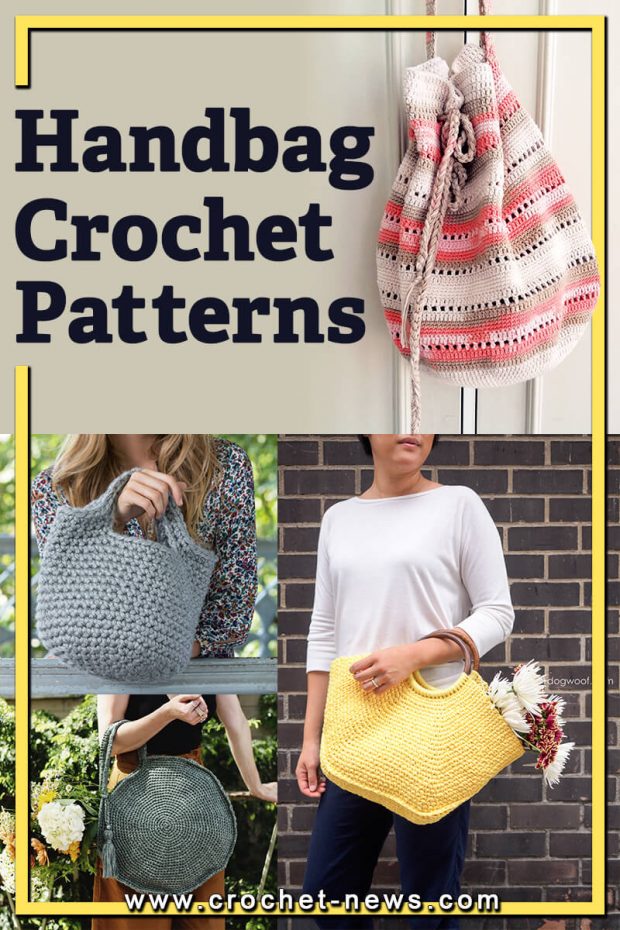 People say that a handbag can make or break a whole outfit. Handbags are an absolute must-have when about your daily activities, whether you're going to brunch, work, or the grocery. Where else would you put your essentials and valuable items, right?
Whether you are looking a handbag for office, traveling, sports safety, computer or cosmetic bag, these crochet handbag patterns are sure to delight!

1. Crochet Charming Handbag Pattern by Red Heart
Spice it up with this crochet handbag that adds a pop of color to your everyday look. Let's make one that suits your style by stitching in the round with chunky yarn.

Thanks to the thick yarn, it's a project you'll finish fast – so fast that you can make a colorful selection to match everything in your closet! It's so quick and versatile, you'll need a few extras as fashionable gifts too!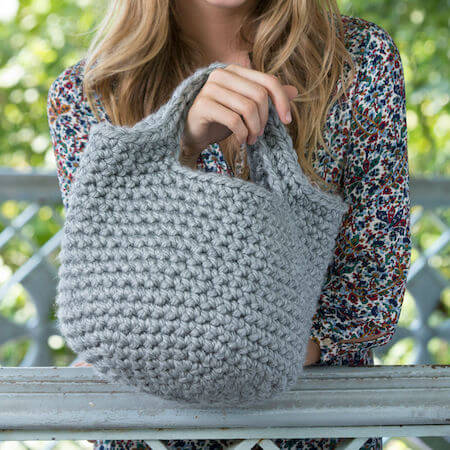 Get the Pattern here

2. Seaside Handbag Free Crochet Pattern by My Accessory Box
Try this super easy and free crochet handbag pattern. This Seaside Handbag Crochet Pattern is very straight forward yet so elegant and suitable for any summer trip outfit. Use up your yarn stash and make it in many different color combinations!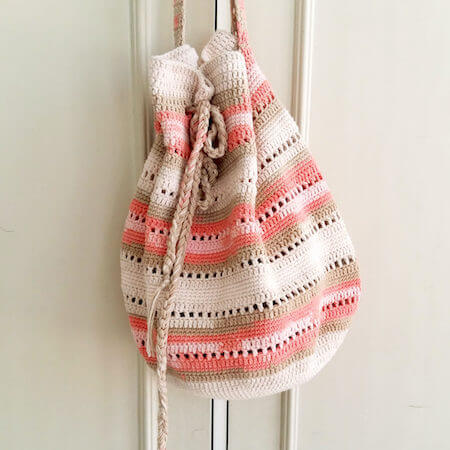 Get the Pattern here

3. Crochet Summer Handbag Pattern by The Easy Design
Looking for a summer bag pattern that's a little different? Then you'll love this so easy way to crochet Celia Summer Handbag! A beginner pattern makes this beach bag /urban bag a rewarding project that's ready for fun in the summer.

If you use a bulky yarn you obtain a large bag and if you use a worsted yarn you obtain a medium/urban bag. But any yarn can be used with the appropriate hook size to customize the bag to suit anyone!
Get the Pattern by The Easy Design here

4. Crochet Handbag Purse Pattern by Kseniya Design
This Crochet Handbag Purse Pattern has one handle, for which it can be hung on a hand or shoulder. It is crocheted using a T-shirt yarn, but it can also be crocheted from a cord of suitable thickness.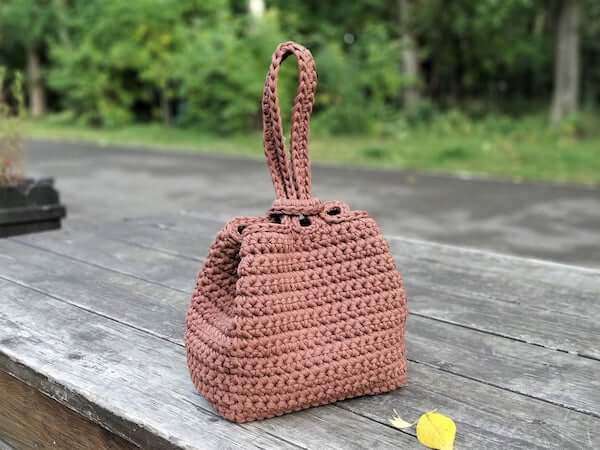 Get the Pattern by Kseniya Design here

5. Crochet Sweet Simple Handbag Pattern by Naztazia
This is a good beginner purse, tote, or bag, to start with, especially if you know the chain and single crochet stitch. This is crocheted in the round, specifically in a spiral, and then the straps are added at the end.

This pattern uses magnetic snaps, which are a great alternative to just a button or a zipper. Because the hand bag is crocheted with 2 strands of yarn held together, it is very sturdy, durable, and does not need a lining.
Get the Pattern here

6. Herringbone Handbag Crochet Pattern by Yarn And Hooks
This Herringbone Stitch Crochet Handbag is a useful, comfortable and stylish accessory every woman should have in a closet. This versatile crochet handbag is only 9-10 inches but still big enough to store yarn, books and many different kind of accessories. The bag is lightweight and expandable as well.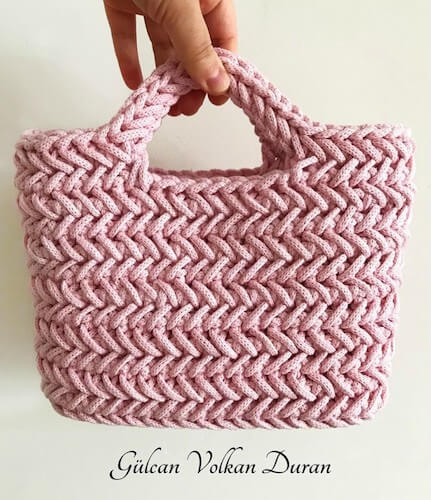 Get the Pattern here

7. Mermaid Tail Handbag Crochet Pattern by The Yarn Conspiracy
This standout bag is all about the details! Crocheted in your favorite colors and the beautiful crocodile stitch, the process is just as fun as showing off the finished product!
Make your daily routine a little more magical with this Mermaid Tail Handbag! It's the perfect accessory for any mermaid lover, and it's also just in time for back to school!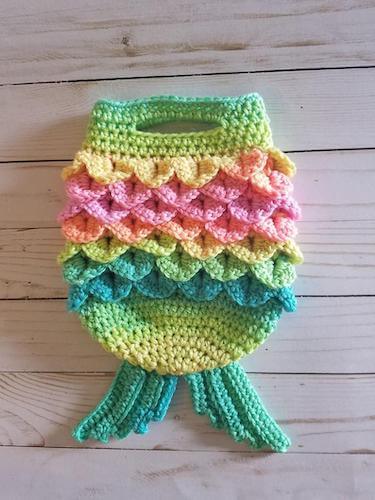 Get the Pattern by The Yarn Conspiracy here

8. Capri Circle Bag Crochet Pattern by Two Of Wands
The circle bag isn't just this season's must-have accessory – it's a classic shape with timeless appeal that's sure to be a staple for years to come. The simple construction and sophisticated look will have you whipping these up in every shade of the rainbow!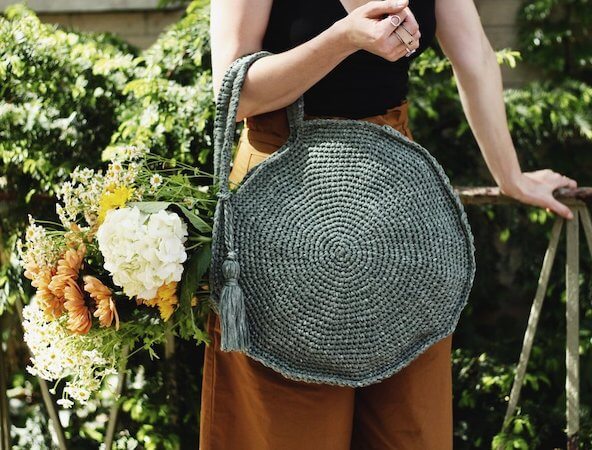 Get the Pattern here

9. Boardwalk Bag Crochet Pattern by I Like Crochet
Carry a tote this summer that can hold all of your summer essentials. Great for holding fruit and other market finds, this bag will be your new favorite out of your collection of crochet handbags.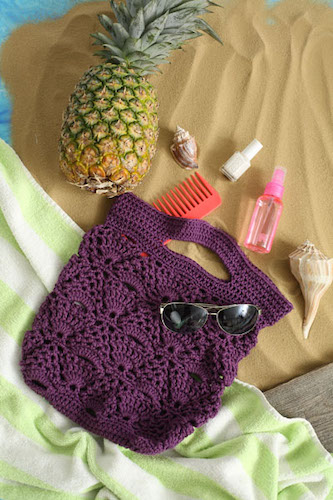 Get the Pattern here

10. Braided Handbag Crochet Pattern by Rebecca's Stylings
This elegant Braided Handbag is perfect for carrying your latest project or daily necessities. It has an intricate Aran cable motif on the front and back sides, and uses a basic and durable stitching on the sides and bottom.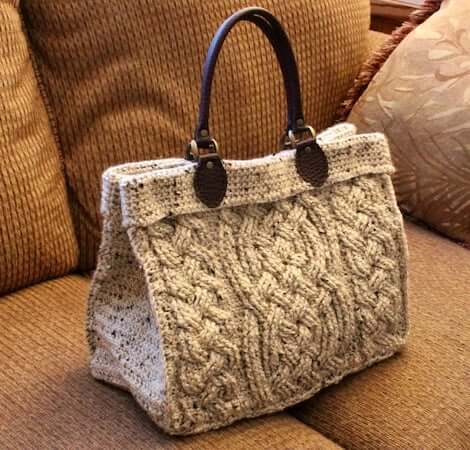 Get the Pattern by Rebecca's Stylings here

11. Italian Spy Handbag Crochet Pattern by Linda Dean Crochet
If you want a handbag that can carry the essentials, not weigh a lot, and one that I can comfortably keep close, this Italian Spy Handbag fits that build. It is a simple pattern that uses less then one skein, and utilizes a simple tight stitch.

But, just because it is worked in single crochet do not under estimate the overall effect of the fabric, or how it can easily show your mistakes. The pattern is worked in one piece, and then folded and seamed.
There is an option to stiffen the sides and bottom, and options for the finishing edge.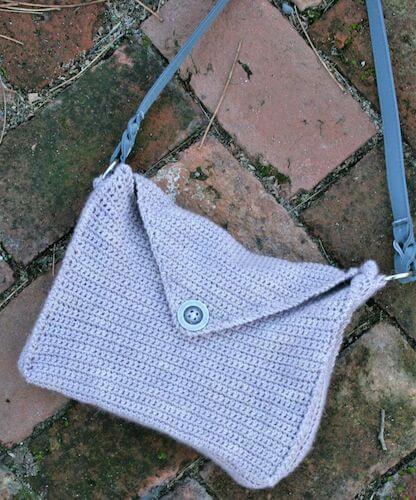 Get the Pattern here

12. Infinity Crochet Cable Handbag Pattern by Briana K Designs
This Infinity Crochet Cable Handbag is not only a fashionable and stunning as a tote or purse, but also has a never before seen technique in cabling called Infinity Crochet. The biggest benefit of this technique is no holes!
This bag can be lined with fabric, but not necessary to keep everything inside the bag. No worrying about pens, jewelry, change, keys, or anything else falling through the old style crochet cable holes.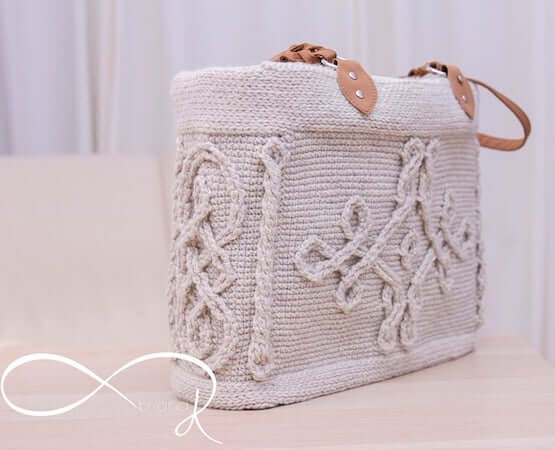 Get the Pattern by Briana K Designs here

13. Heart Tote Bag Crochet Pattern by Red Heart
Use this juicy Heart Crochet Tote Bag to carry your work-in-progress knit or crochet projects, books, crafting supplies and more! The shape makes it so much fun to work on, so let's stitch using the featured color, or select whatever color you enjoy most.

It's a themed project that also doubles as an original gift bag for Mother's Day, anniversaries, birthdays and more!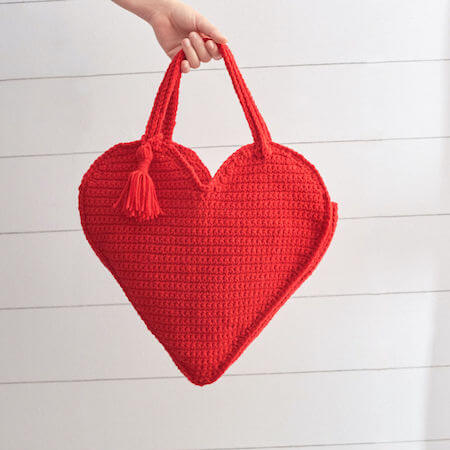 14. Cabled Zig Zag Handbag Crochet Pattern by Crafting Friends Design
Add a beautiful touch of texture and cables to your style with the stunning Cabled Zig Zag Handbag Crochet Pattern! This bag is beautiful in a solid color to use for special occasions such as weddings.
Keep it a little more casual for everyday use with variegated yarn or use a rainbow of colors for something fun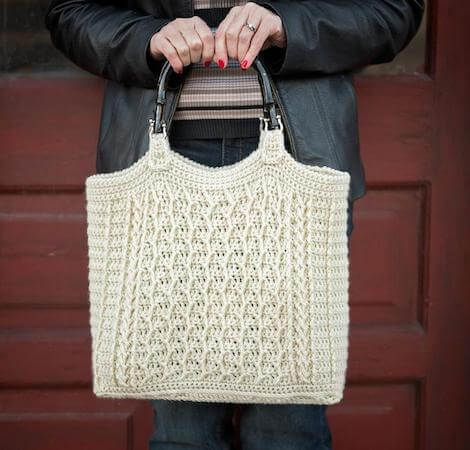 Get the Pattern by Crafting Friends Design here

15. Planned Pooling Crochet Handbag Pattern by My Poppet Makes
This Planned Pooling Crochet Handbag is so lovely with its cute bamboo handles. The planned pooling technique is not for beginners, but if you are a fairly confident crocheter or want to challenge yourself, give this crochet tote bag pattern a try!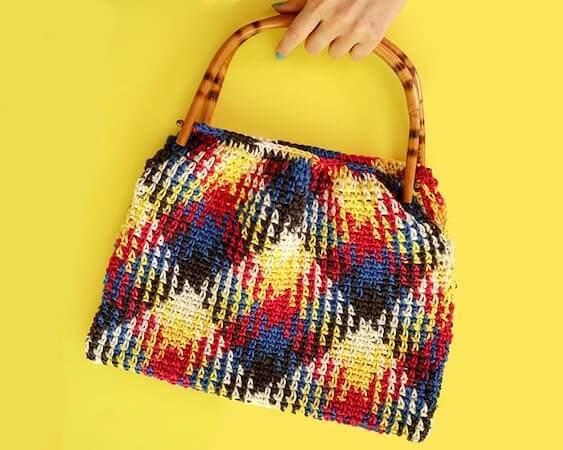 Get the Pattern here

16. Houndstooth Handbag Crochet Pattern by A Crocheted Simplicity
This Houndstooth Handbag is a very versatile bag as it can be made in any color combo and made for a variety of uses such as toting around your latest yarn projects or just the latest in your purse collection!
Adorn with different accessories for varying looks.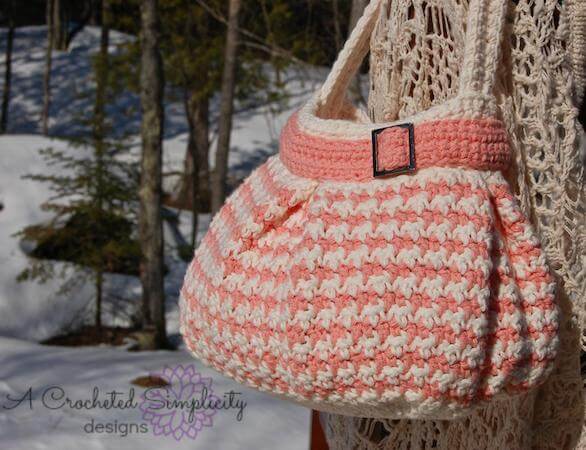 Get the Pattern by A Crocheted Simplicity here

17. Regency Reticule Crochet Pattern by All About Ami
Channel your inner Elizabeth Bennet with this elegant and romantic Regency Reticule! This drawstring handbag adorned with luxurious tassels is such a classic way to hold your essentials!

If you're looking for an original, but simple gift for your friends or family, this handbag can be a really useful one, as it's great to carry your essentials around. Such an easy and beautiful project!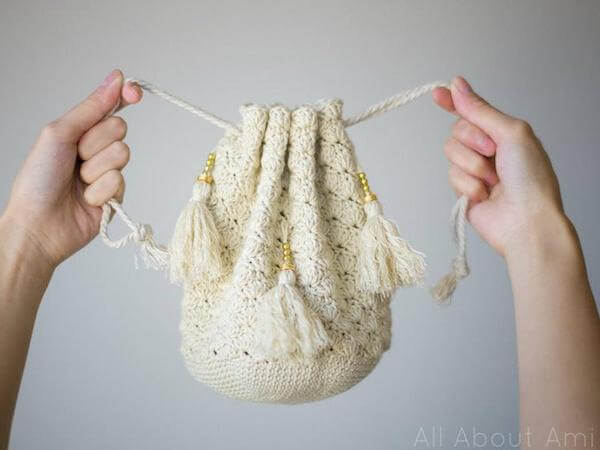 Get the Pattern by All About Ami here

18. Cotton Waves Circular Crochet Handbag Pattern by My Accessory Box
Are you ready for the summer? If not, you need to make this cheerful summer inspired handbag that can be used a beach bag too. This fun handbag will be great for everyday shopping and running your errands across town.
The finished size is 28×28 cm and you can make it in any color combination you like!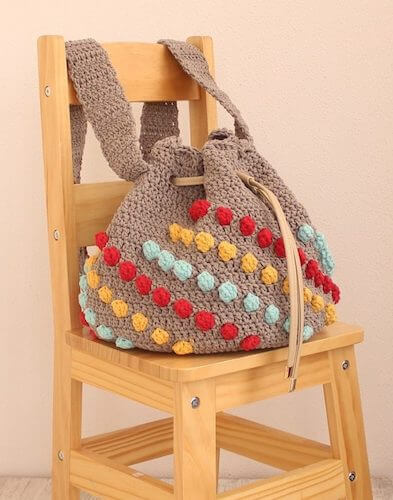 Get the Pattern here

19. Whitney Tapestry Tote Crochet Pattern by Divine Debris
Combine tapestry and color blocking in this intricate and original bag design. Using the inspiration of nature, this bag has flower petals, leaf collections, and a little argyle finish that should make this bag engaging to make and fun to look at when you're done.
The pattern is written for only 1 size but the multiple is included in the notes so you can make it larger if you'd like.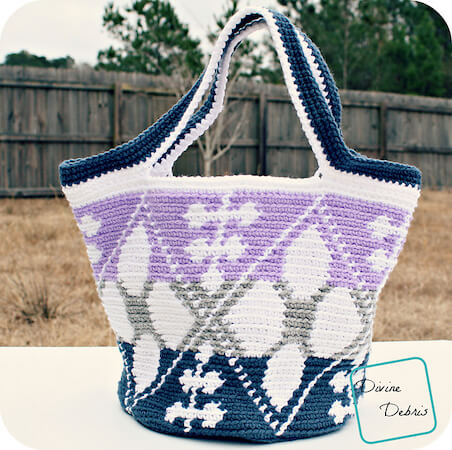 Get the Pattern here

20. Riviera Tote Crochet Pattern by 1 Dog Woof
This Riviera Tote is pretty sophisticated yet casual enough for a Sunday stroll. It will be your all-season carry-all, perfect for farmers' market flowers, or your latest crochet project.

Soft and sturdy, this uniquely shaped tote uses the waistcoat stitch to evoke the knitted or woven feel of straw bags.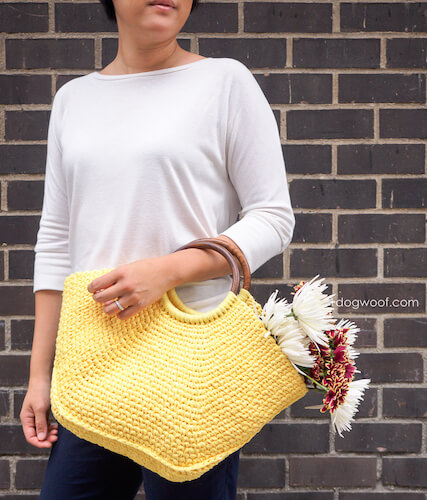 Get the Pattern here

21. Bobbles Circle Tote Crochet Pattern by Mama In A Stitch
Chunky yarn, bobbles, and tight stitch-work make this the perfect carryall for the fall and winter months. Made with washable 100% acrylic, this purse can withstand your walks through the cold, subway rides, and use from the little ones.
Large enough to hold your water bottle, wallet, phone, and more. Enjoy this bobbly, chunky, handbag all year round!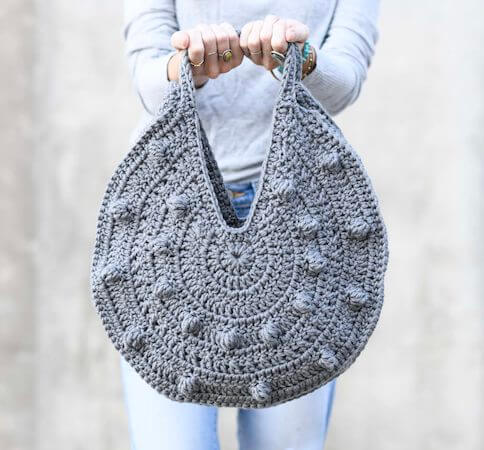 Get the Pattern here

22. Small Ruffle Handbag Crochet Pattern by Yay Crochet Patterns
The best thing about this beautiful Small Ruffle Handbag is that it's quick and easy to make – perfect for beginners! Crochet your very own one-of-a-kind ruffle purse with your choice of handle and yarn color!
The finished product measures 12 inches wide (at widest point) x 6 inches tall x 2½ inches deep.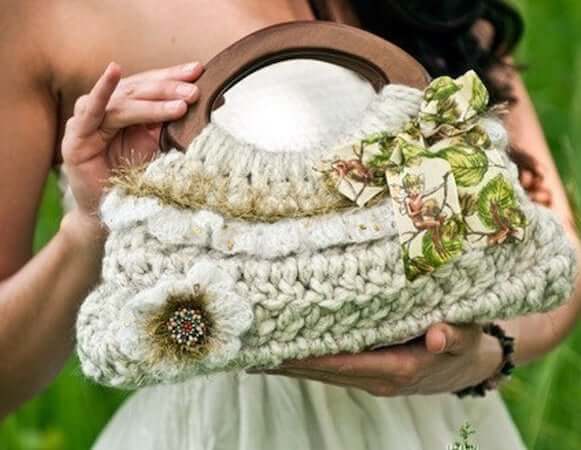 Get the Pattern by Yay Crochet Patterns here

23. Crochet Beach Party Handbag Pattern by Yarnspirations
Hit the next Beach Party in style with this super cute bag! Front and back are worked separately in a striking granny stitch. The handles are made by crocheting around existing plastic purse handles and then attached to the bag with a simple slip stitch.
A bold tassel is just the right finishing touch to this cool take on a beach tote!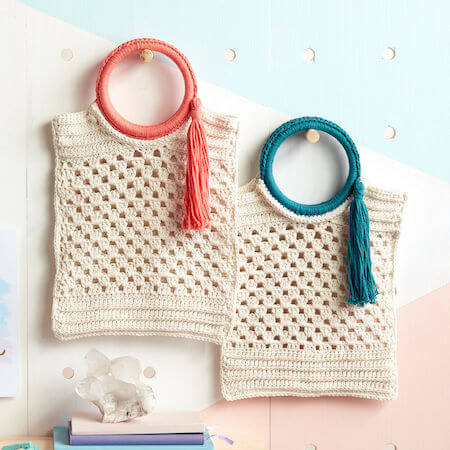 Get the Pattern here
THE BEST PART OF ALL THE BEAUTIFUL CROCHET HANDBAG PATTERNS IS DECIDING WHICH ONE YOU'LL MAKE FIRST!
When you're done, flaunt your creations on our Facebook Page. Pretty sure everyone else would love to see them!

If you're a bag lady like most of us, you might also enjoy these Crochet Market Bag Patterns, Crochet Backpack Patterns, and Crochet Tote Bag Patterns. Oh and don't forget about the fun part: answering "hey thanks, I made it!" when people compliment it.

Carry your goodies in style by whipping up a crochet handbag pattern now!