Our tutorial will easily guide you through each step of the crochet waistcoat stitch.
You will be able to add this fun and unusual stitch to your crochet repertoire in no time.
Below you will find our step-by-step guide as well as a link for a great pattern to practice your new stitch!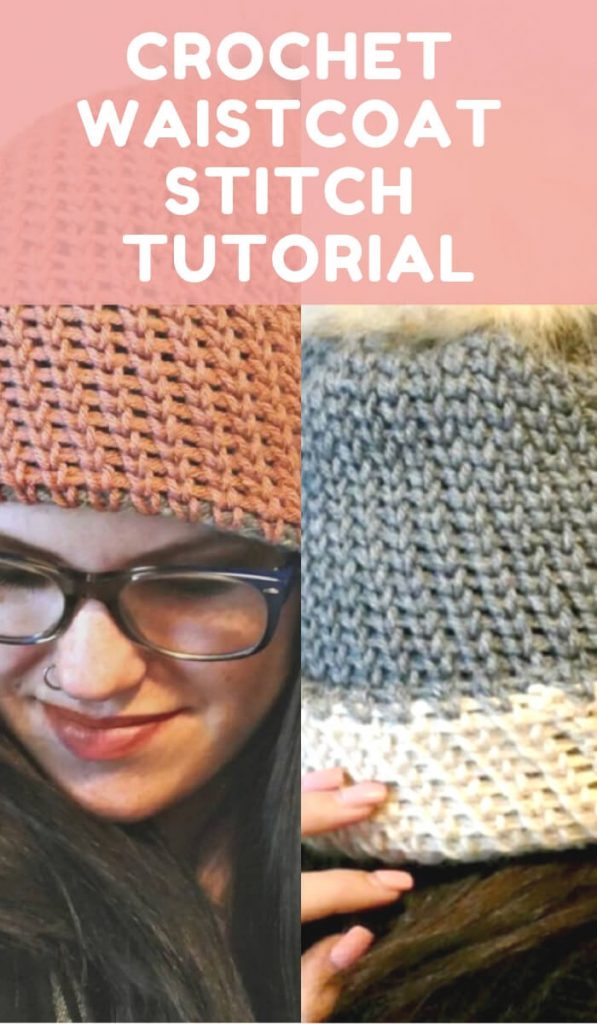 What is the Crochet Waistcoat Stitch?
Another crochet stitch that results in a look akin to the knitted stocking stitch is the waistcoat stitch. If you can work a standard double crochet stitch then you can work this one!
If you're unfamiliar with the stocking stitch in knitting, it creates a "V" shape-row after row.
Unlike other crochet stitches, the waistcoat stitch looks great on either side when worked in one color. If you work it in two colors, you will have a wrong side and right side.
If you need to hide the wrong side, try adding a fabric lining as a perfect solution!
This is a great stitch if you like the look of knitted items, but aren't keen on knitting itself.
What Can You Use the Crochet Waistcoat Stitch for?
Because this stitch creates a dense finished product it is ideal for crochet handbags. But, the density also helps to keep you warm so it works great for afghans and hats as well!
The dense result also works very well for potholders, hot pads and placemats. All of which can make quick and unique homemade gifts!
Remember to play with different weighted yarns and sized hooks to come up with even more options!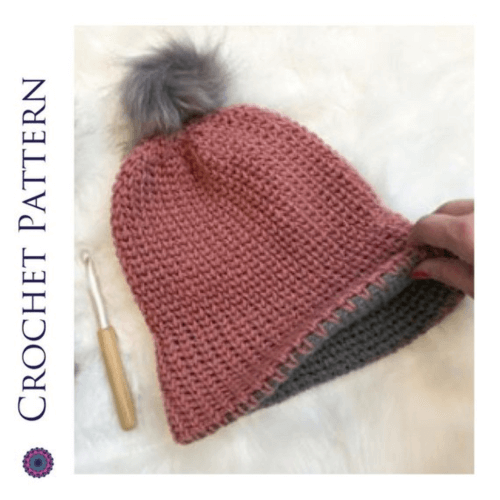 How to Work the Crochet Waistcoat Stitch
It is a good idea to keep your stitches loose to make inserting the hook easier. If tension is difficult for you, try using a different size hook.
You can work the crochet waistcoat stitch either flat or in the round.
The waistcoat stitch is worked the same as a standard double crochet stitch, except that you will work your stitch inside the double crochet of the previous row. (That's why you need to keep loose tension!)
Foundation Row: Start off by chaining 25 stitches to create a flat practice swatch, or chaining 6 to begin your first round. Go ahead and make your first round if you're going to work in the round.
Row 1: Crochet a full row (or round) of double crochet stitches.
Row 2: Into the first double crochet of the row (or round), insert your hook into the lower "V". Then yarn over and draw up a loop onto your hook. Yarn over again and draw through both loops that are now on your hook. Repeat to the end of the row (or round).
Repeat row 2 to your desired length.
If you work a flat piece, you will have to break the yarn at the end of every row, making it much more tedious than working in the round.
This stitch looks particularly wonderful when each row (or round) is worked in a different color, showing off the "V's" created by this stitch!
Double Brim Crochet Waistcoat Stitch Beanie
This pattern by MadeWithATwist is a great way to practice the crochet waistcoat stitch. It is for a slouchy beanie, which is very fashionable right now, and is reversible!
You can wear all one color on either side, or roll the brim up for dual colors. Add a faux fur pom pom like the pattern suggests, or you can leave it off if faux fur isn't your style.
It is a PDF download so it's available immediately. And Pamela Grice of Made With A Twist offers her valuable help if you purchase the pattern from her.
Now you can add the waistcoat stitch to your list of stitches to work with for creating your own patterns. You can watch your projects take on the look of knitting without battling two needles!
Use different weight yarns and different textures as well as colors to play with the crochet waistcoat stitch and really make it your own!