Add a bit of fun to your kids' study time by making a cute yet functional crochet pencil case for them! Giving them a gift will surely motivate them to do their best.
Make it a bit more personal by choosing a pencil case crochet pattern that suits their interests. We prepared some crochet pencil case patterns that little boys and little girls will absolutely love!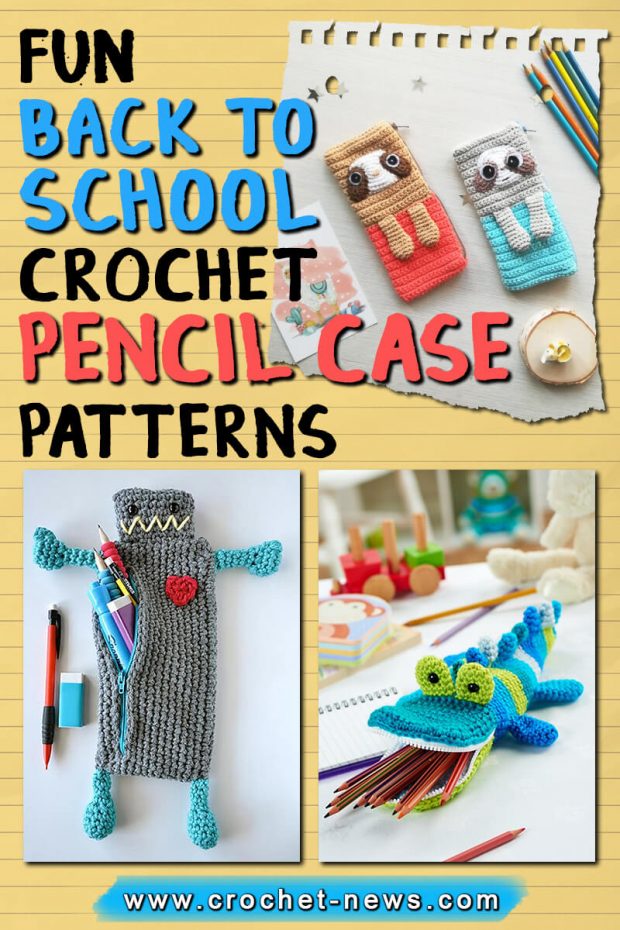 21 Fun Back to School Crochet Pencil Case Patterns

1. Mister Snaps Crochet Pencil Case Pattern By Irene Strange
Add an element of fun to your little one's study time by working on this Mister Snaps crochet pencil case pattern free! Worked in four-row stripes with different colors, you can try different color combinations to suit your little one's personality.
To make this 34 cm long crocodile crochet pencil case, you will need a Let's Get Crafting Knitting & Crochet Acrylic Aran yarn, a 5.5 mm crochet hook, and safety eyes.
As long as you know the basic stitches, you will be able to breeze through this pattern. You only need to know the following stitches: chain, double crochet, and double crochet two together.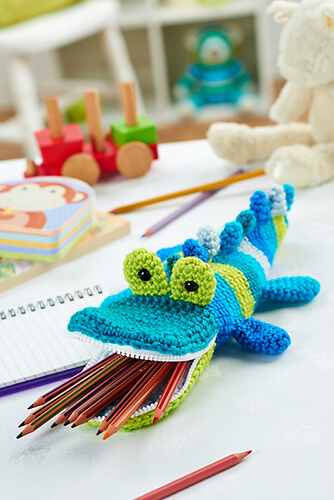 Get the Free Pattern Here
2. Handy Crochet Pencil Bag Pattern By LoopinglyMade
Create a handy little case for all your writing needs with this crochet pencil bag.
To make this crochet pencil case you will need the following materials: 90 meters DK yarn in the color of choice, 50 meters DK yarn in white for trimming, 3.5 mm hook, zipper, embroidery thread, and a tapestry needle.
You will only use the basic stitches – single crochet and double crochet stitches – for the pencil case crochet pattern and for the white trimming. However, sewing is required to attach both the trimming and the zipper.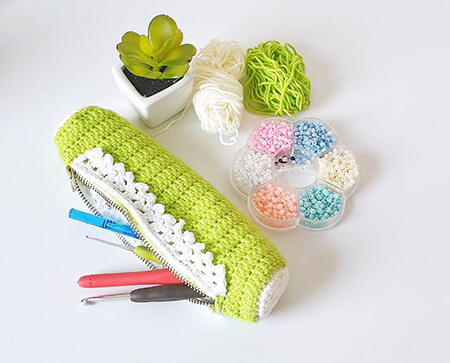 Get the Handy Crochet Pencil Bag Pattern By LoopinglyMade Here
3. Robot Crochet Pencil Case Pattern By BySincerelyPam
If your kids are a huge fan of robots, they will surely love this cute robot crochet pencil pouch from BySincerelyPam. This 4 inches x 8.5 inches crochet pencil case even has a zipper to keep everything safely inside.
To make the robot crochet pencil pouch including the arms and legs, you will need 2 worsted weight yarns in different colors, an H hook, zipper, a sewing needle, and a thread.
Adding the smallest details like the safety eyes, the zigzag lines for the mouth, and the cute little heart will complete its look.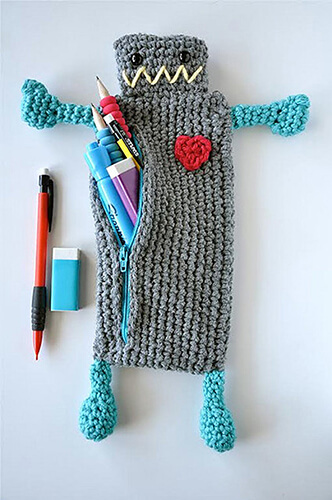 Get the Robot Crochet Pencil Case Pattern By BySincerelyPam Here
4. Totoro Crochet Pencil Case Pattern By MariiArts
Keep all your writing essentials organized and secured in this 13 cm by 17 cm Totoro pencil case crochet pattern complete with a zipper!
This detailed pattern is easy to understand and has lots of pictures to guide you throughout the whole crocheting process.
If you want to perfectly copy Totoro's color, you can use the grey yarn color of the 50% acrylic and 50% cotton New Cancun by Katia. You will also need a few other colors to add details like the eyes, nose, whiskers, and leaf.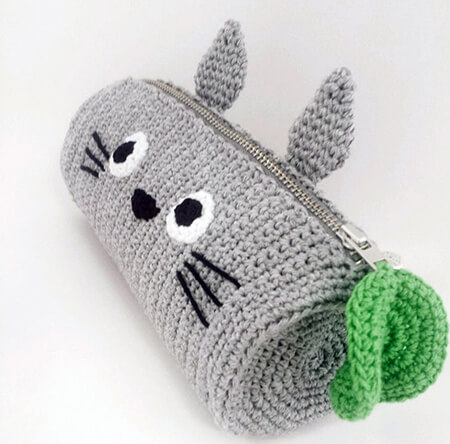 Get the Totoro Crochet Pencil Case Pattern By MariiArts Here
5. Cute Sloth Crochet Pencil Bag Pattern By NustyUA
Because sewing is involved in this 8 inches Sloth crochet pencil bag, this pattern is better suited for advanced beginner crocheters.
The pattern you will receive is written in US terminology and comes in 8 pages of step-by-step instructions with photo tutorials.
Working on this pattern requires YarnArt Jeans Yarn in colors beige, orange, brown, and white, and a 2.5 mm crochet hook.
Other materials you will need for the details are cotton cloth, thread for sewing, a zipper, black and white felt for the eyes, and a needle.
Get the Cute Sloth Crochet Pencil Bag Pattern By NustyUA Here
6. Unicorn Crochet Pencil Case Pattern By Emma Irlam
Kids who love unicorns will surely love this 10.5 inches by 3 inches unicorn pencil case crochet pattern. Written in US terms, the 12-pages intermediate level pattern includes photos and lists all the materials you will need to complete the pattern.
Looking for the perfect DK yarn to use will not be a problem, you can easily buy them from here. Other than the yarn, you will also need a 3mm crochet hook, and 12 mm safety eyes to add the details.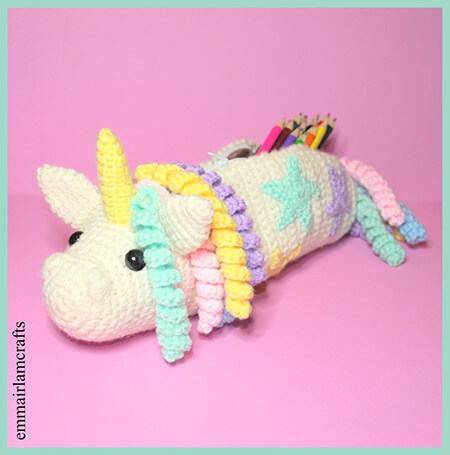 Get the Unicorn Crochet Pencil Case Pattern By Emma Irlam Here
7. Bernat Crochet Pencil Pouch Pattern By Yarnspirations
Make sure your little kids will not lose any of their school materials with this crochet pencil pouch made using Bernat Super Value Yarns.
If you want to copy the exact colors used in this pattern, you will need the following colors: Baby Pink, Soft Grey, Bright Yellow, Oatmeal, Black. However, Bernat Super Value Yarns offers a wide range of colors so feel free to use other combinations.
Measuring 11 inches by 3 inches, this crochet pencil case is quite easy to make. You can even add a little button to secure the flap of the pencil case crochet to keep every pen and pencil inside.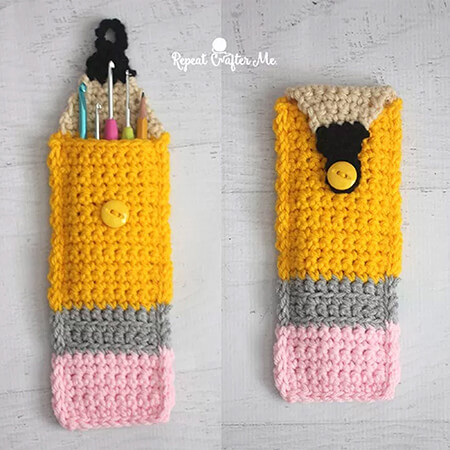 Get this Free Pattern Here
8. Deer Crochet Pencil Pouch Pattern By Sepand Design
If you're looking for the perfect first day of school gift for the kids, we recommend working on this Deer-inspired crochet pencil pouch beginner pattern.
The designer recommends using the Paintbox Yarns Simply DK yarn and a 4mm crochet hook size to achieve the 20 x 12.5 cm size.
However, feel free to use other yarn weight or your leftover yarns from other projects. Make sure to use a crochet hook size suitable with the yarn you will use.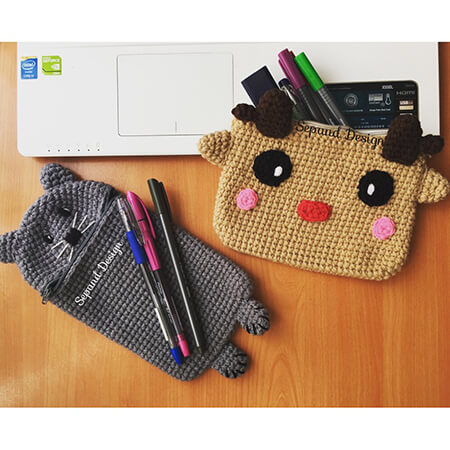 Get this Deer Crochet Pencil Pouch Pattern By Sepand Design Here
9. Sloth Crochet Pencil Bag By Ashley Parker
Inspire your kids to study more by gifting them this cute little sloth crochet pencil bag they can use in school. With its 4.75 inches x 8 inches size, this can also function as a clutch, a hook case, or a makeup bag.
Even though it is worked in rounds, this pattern is easy enough for beginners. Here are the materials you'll need to start working on this pattern: Red Heart Super Saver Solids – Buff, Bernat Premium – Cafe au Lait,Loops and Threads Impeccable – Brown , 2 – 18mm Mushroom/Shank Buttons or Safety Eyes, Tapestry needle, 7 inches zipper, Sewing Needle, and thread.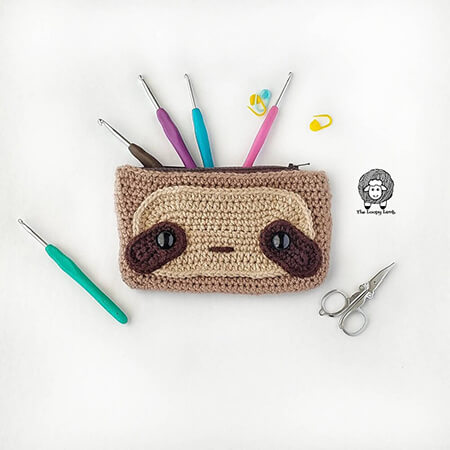 10. Journal Crochet Pencil Pouch Pattern By BlackstoneDesigns
If you're always on the go and prefer something more compact, you can work on this slim and simple crochet pencil pouch. Slide it over your notebook cover and carry your favorite pens and pencils with you wherever you go.
For this 6.5 x 1.75 inches quick project, you will need at least 30 yards of any worsted weight cotton yarn, a 4mm hook, and a few more materials that are listed in the pattern.
The final output can be a little plain, but you can always add your own design and personalize it.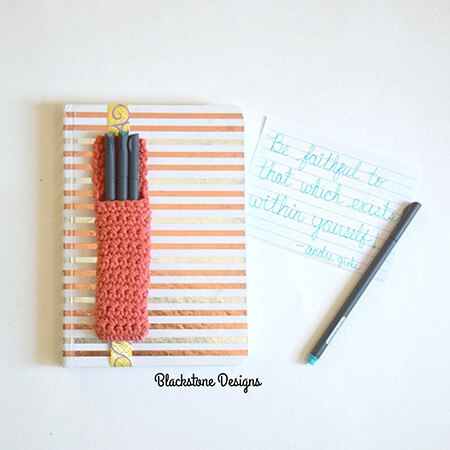 Get this Journal Crochet Pencil Pouch Pattern By BlackstoneDesigns Here
11. Back to School Crochet Pencil Bag By mrsOlgaKnits
Another great back to school gift is this cute animal crochet bag! This multi-purpose crochet pencil bag pattern is available both in English and Russian.
The pattern detailed description of the whole process including photos you can refer to while working on the crochet pencil case. You can use both thin and thick yarns, you just have to use the correct hook size.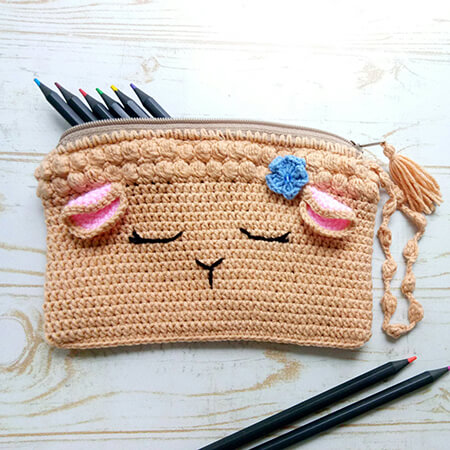 Get this Back to School Crochet Pencil Bag By mrsOlgaKnits Here
12. Crochet Pencil Case or Pouch By Crochet Dreamz
This Crochet Pencil Case is one of the cutest patterns we have ever seen. We realise it's a little late for 'back to school' projects, but this simply couldn't wait until next year. How cute is this!
We think kids of all ages would love it and of course you can use whatever colors, and make up whatever monster you like.
How about making one in school colors, or team colors, or to match a favorite cartoon character. The designer says…
I am excited to present this cute Back to School Monster pencil case! Every year I think of coming up with a Back to School project and end up finding no time. I made the one in blue and orange first and my little girl loved it. She requested one in pink and orange, so I whipped up a second one.

Made using mostly single crochet stitches and cotton worsted weight yarn, it turned out pretty sturdy. I am sure this will keep the kids entertained in their free time. You will need a matching zipper for the pouch. I didn't find an orange zipper and had to use a blue one.

If you are intimidated by the zipper, the pattern explains in detail how to attach the zipper. Hey, there is a first time for everything! You can do this.
Crochet Pencil Case or Pouch, Free Crochet Pattern Materials:
Hooks – H (5 mm) and F(3.75mm)
Thread and Sewing needle for attaching the zipper.
Size
Finished size:
6
.5 inches wide and 9 inches long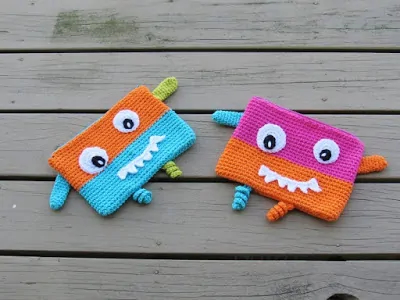 Get this Free Pattern Here

13. Crochet Roll-Up Pencil Case Pattern by Red Heart
How about this fun, roll-up pencil case as a beginner crochet project? This project is really fun, and you can customize it to fit other tools like crochet hooks, knitting needles, and more!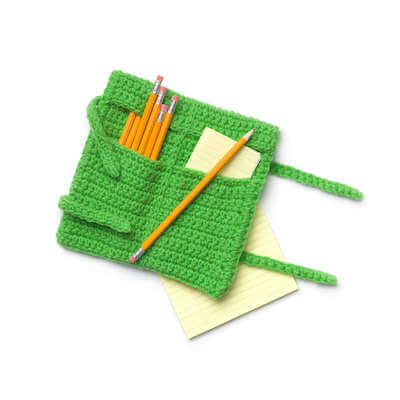 Get the Pattern here

14. Crochet Rainbow Pencil Case Pattern by Paula R
Craft this cheerful rainbow case that teenagers love – just in time for back-to-school! Complete it using any colors of the rainbow for a bright case that keeps everything tucked inside.
It's so versatile, make one as a smart storage solution for crochet hooks, too.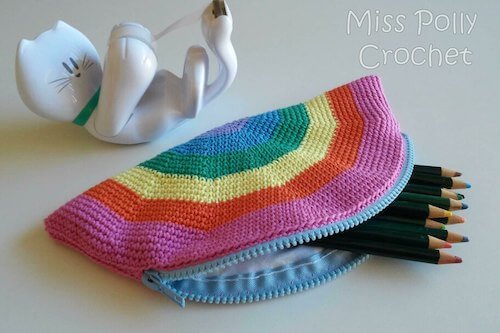 Get the Pattern by Paula R here

15. Crochet Dinosaur Pencil Case Pattern by Crochet Spot Patterns
This Crochet Dinosaur Pencil Case is so precious! It's simple for anyone starting out, and completely free. The zipper runs along the spines of the dinosaur's back, so that you can store your favorite pens (or crochet tools!) inside while this little buddy catches some Zs.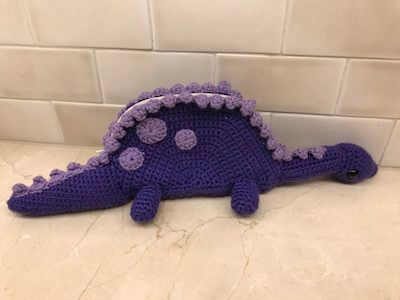 Get the Pattern here

16. Crochet Candy Stripe Pencil Case Pattern by Fiber Flux
This cheery Crochet Candy Striped Pencil Case is made with bright fun colors in vivid candy coated tones that are finished off with a beaded tie closure.
It's the perfect project for using up your yarn scraps!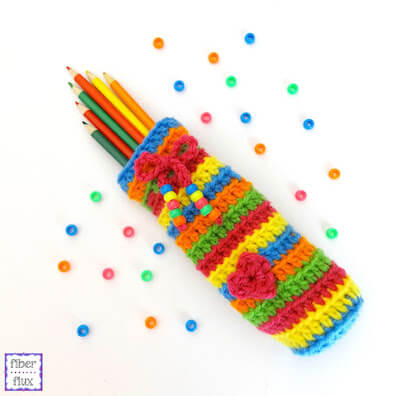 Get the Pattern here

17. Crayon Pencil Case Crochet Pattern by Sunflower Cottage Crochet
This is the cutest crayon shaped pencil case you will ever see! Fully lined and with zipper closure, this will hold all your little one's pencils, pens, crayons, and more.
Customize your colors to suit what your little one likes.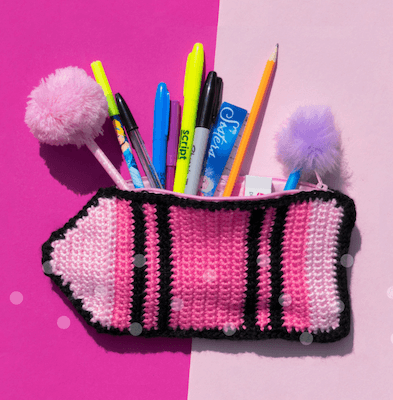 Get the Pattern here

18. Granny Square Crochet Pencil Case Pattern by Smaatterier
Make yourself a cute and trendy pencil, pen, makeup, or crochet hook case out of granny squares! This pencil case is the perfect way to add a homespun touch to your desk or school supplies.
It really is a simple project and a great way to keep beautifully organized.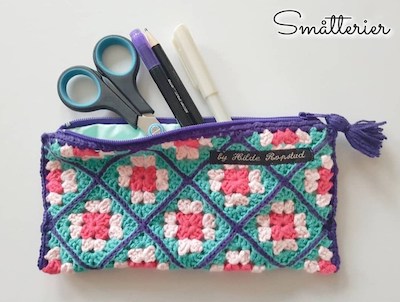 Get the Pattern by Smaatterier here

19. Crochet Puppy Pencil Case Pattern by Nusty UA
Whether you're at school or at work, there's always writing to be done. And when there's writing, there's pens, pencils, rulers. and other stationery – so why not keep it all in one place with this cute Crochet Puppy Pencil Case?

This adorable dog design will bring a smile to your face each time you reach for your pens, and it's a fun, speedy crochet project, too.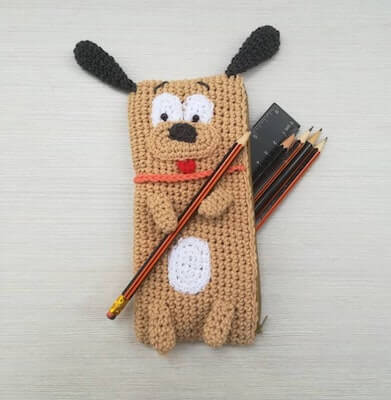 Get the Pattern by Nusty UA here

20. Free Crochet Pencil Case Pattern by Rosina Northcott
Whatever you put inside, this free crochet pencil case is a quick corner-to-corner crochet project that allows you to be creative!
You can opt to make the 'Write Stuff' design by following the chart, but because this free pencil case crochet pattern is constructed in corner-to-corner (C2C) crochet, you can get creative!
Just grab some squared paper and make your own design – why not try customising it with a name or your own message!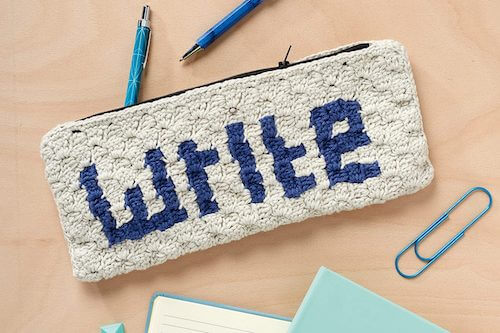 Get the Pattern here

21. Faux Knit Crochet Pencil Case Pattern by Whistle & Ivy
This darling crochet pencil pouch features a cute knit-look stitch that is easy to work! It's perfectly sized to keep your favorites handy!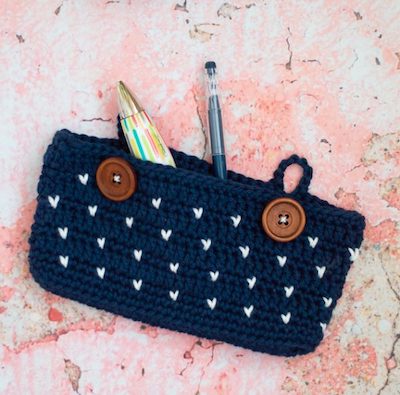 Get the Pattern here
Also see: Crochet glasses case patterns and laptop bag crochet patterns
Crochet Pencil Case for a More Enjoyable Study Time
We made sure to add a wide variety of designs in this crochet pencil case patterns list to cover the interests of every child! We're pretty sure you're able to find one that perfectly fits your little ones will love.
With all these great designs, we're excited to know which you decided to work and how many you made! Make sure to post your works on our Facebook Page so we'll know which patterns caught your eyes.
If you're looking for other back-to-school crochet patterns, check out this list of crochet bookmarks and crochet lanyard patterns you can work on!
We hope you enjoyed making a crochet pencil case for your kids, and we hope your little ones enjoyed using them as well!