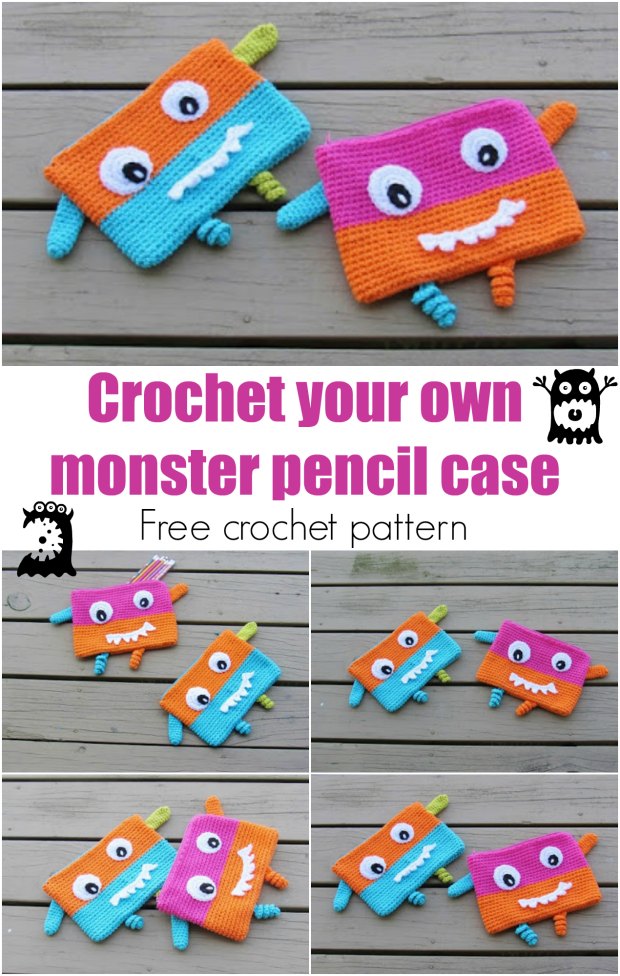 Crochet Pencil Case
This Crochet Pencil Case is one of the cutest patterns we have ever seen. We realise it's a little late for 'back to school' projects, but this simply couldn't wait until next year. How cute is this!
We think kids of all ages would love it and of course you can use whatever colors, and make up whatever monster you like.
How about making one in school colors, or team colors, or to match a favorite cartoon character. The designer says…
I am excited to present this cute Back to School Monster pencil case! Every year I think of coming up with a Back to School project and end up finding no time. I made the one in blue and orange first and my little girl loved it. She requested one in pink and orange, so I whipped up a second one.

Made using mostly single crochet stitches and cotton worsted weight yarn, it turned out pretty sturdy. I am sure this will keep the kids entertained in their free time. You will need a matching zipper for the pouch. I didn't find an orange zipper and had to use a blue one.

If you are intimidated by the zipper, the pattern explains in detail how to attach the zipper. Hey, there is a first time for everything! You can do this.
Crochet Pencil Case or Pouch, Free Crochet Pattern Materials:
Hooks – H (5 mm) and F(3.75mm)
Thread and Sewing needle for attaching the zipper.
Size
Finished size:
6
.5 inches wide and 9 inches long