If you have a pair of eyeglasses or sunglasses that you want to protect and keep clean, then you will love these 14 Crochet Glasses Case Patterns we have for you!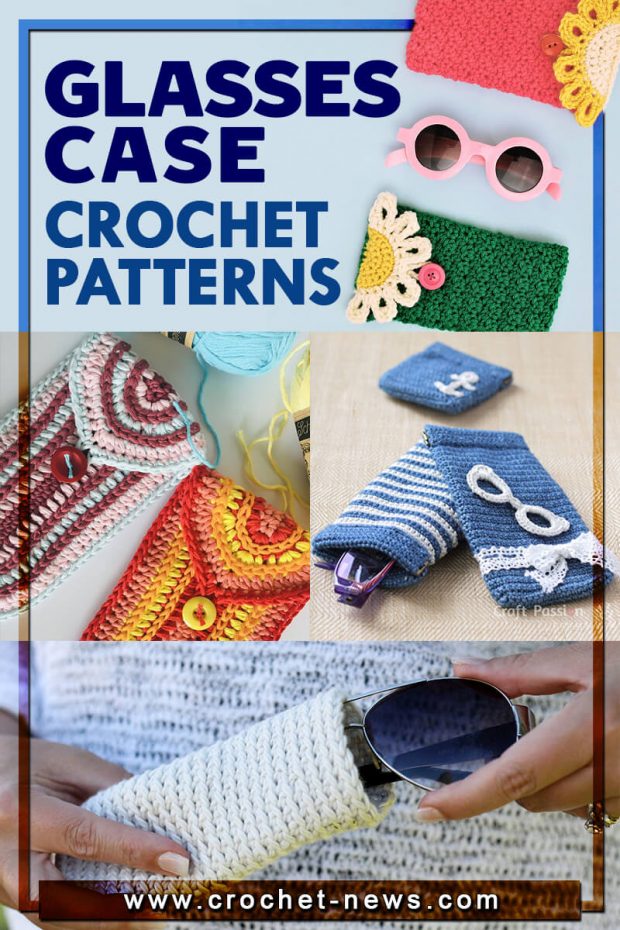 Everyone wears some form of glasses. Whether they're sunglasses, reading glasses, or medically prescribed glasses, you need something to store and transport your fragile eyewear.
Having a glasses case is a lifesaver in those moments. A cute one makes a lovely accessory. Sure to grab the attention of those around you! Not only these cases keep your glasses safe, but they themselves look marvelous!

1.
Crochet Glasses Case

Pattern by Craft Passion

This glasses pouch crochet pattern is so simple. Crochet your own glasses pouch which will look amazing and protect your glasses from any scratches or damage. You can make it in any color you desire to make it easier to find so you can never misplace your glasses again. With a squeeze flex frame so your glasses will never fall out makes it extremely easy and simple to use.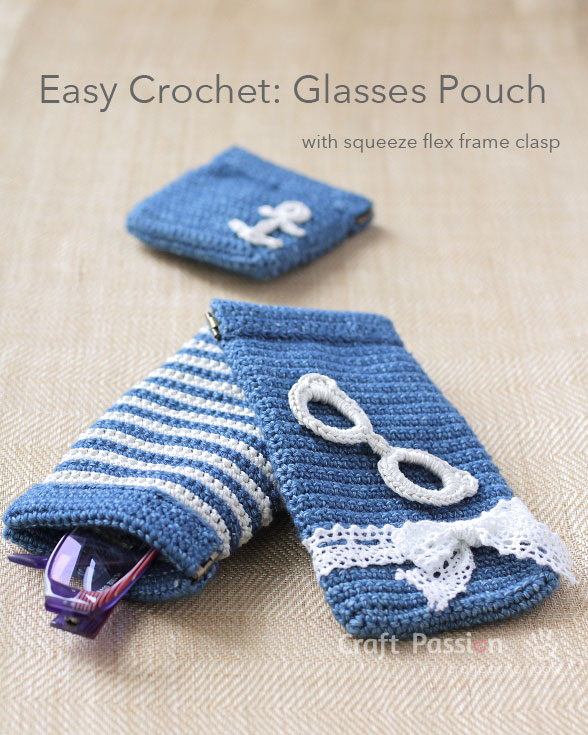 Materials & Tools needed:
1. Super Fine Yarn / Fingering/ Sock Yarn / Baby Yarn / 4 Ply Yarn, Cotton
2. Crochet Hook 2.5mm
3. Squeeze Flex Frame, 8.5cm. You may want to buy 10cm width for bigger sunglasses.
4. Tapestry Needle
5. Long Nose Pliers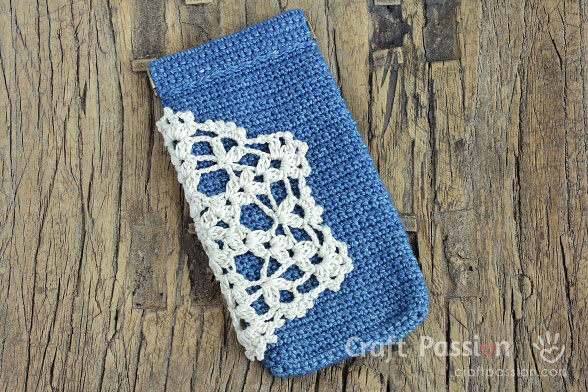 2. Crochet Sunglasses Case Pattern by Lullaby Lodge
This is a crochet pattern to make this pretty case, perfect for your sunglasses, kids' pencils, or crochet hooks. A great way to use up scraps of yarn leftover from other projects. The pattern uses the advanced technique of surface crochet.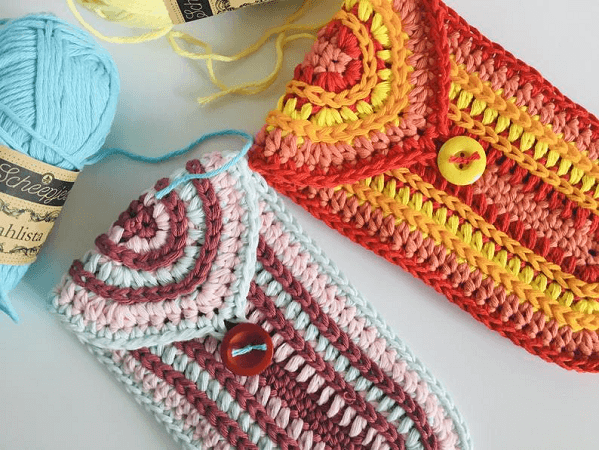 Get the Pattern by Lullaby Lodge here

3. Dynamite Eyeglass Case Crochet Pattern by Red Heart
This stylish crochet case is a thoughtful gift for anyone who wears specs, whether it's sunglasses or prescription eyewear. The legendary smoothness of the soft yarn is safe against delicate lenses, protecting them from scratches and nicks.

It's a quick enough project that you can make many for gifting, so select favorite shades and customize a case for everyone you love!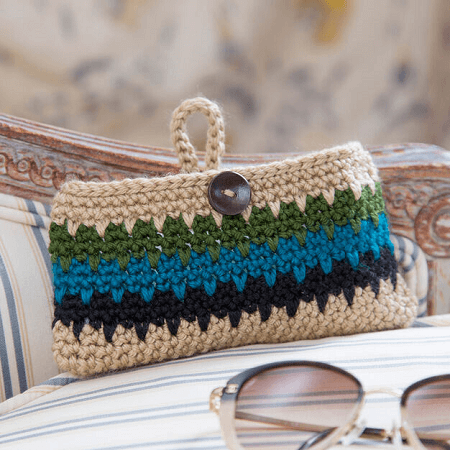 Get the Pattern here

4. Crochet Sunglasses Pouch Pattern by CAAB Crochet
This Crochet Sunglasses Pouch is super easy to whip up quickly and toss into your purse to protect your sunglasses! It is a very beginner-friendly pattern, but fun and unique enough for crocheters of all levels to enjoy.

This would make a great gift or quick and easy item to sell. A very practical and customizable project!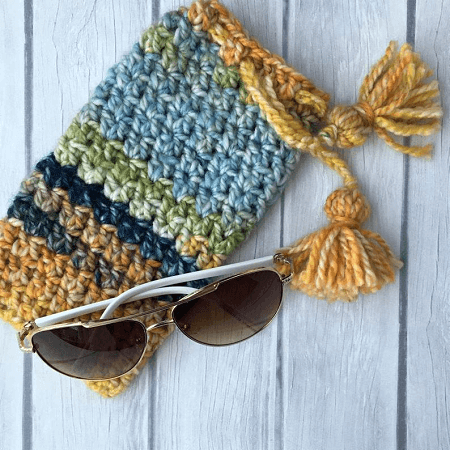 Get the Pattern by CAAB Crochet here

5. Easy Crochet Sunglasses Case Pattern by Loops And Love Crochet
These crochet sunglasses cases are quick to work up and lots of fun! Whether you are working in stripes or tapestry crochet, there are endless color possibilities to choose from!

To make this Easy Crochet Sunglasses Case, you'll need to choose the main color and an accent color. A solid color combined with a variegated color makes a fun combination. Or you can stripe two or more of your favorite colors!
Get the Pattern by Loops And Love Crochet here

6. Happy Daisy Crochet Sunglasses Pouch Pattern by Persia Lou
Keep your favorite sunnies safe in this cute floral crochet glasses pouch. This Happy Daisy Crochet Sunglasses Pouch is a free crochet pattern that is simple and quick to make. The pouch is a simple little glasses or sunglasses case with a cute graphic floral flap.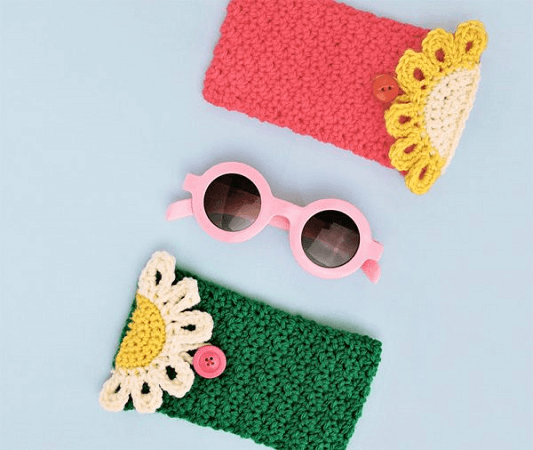 Get the Pattern here
7. Free Tunisian Crochet Sunglasses Case Pattern by Gathered
Try some Tunisian crochet with this quick and easy sunglasses case! This makes a perfect gift. It fastens with a clever little strap and loop, and a single button – pick colors to suit your gift recipient.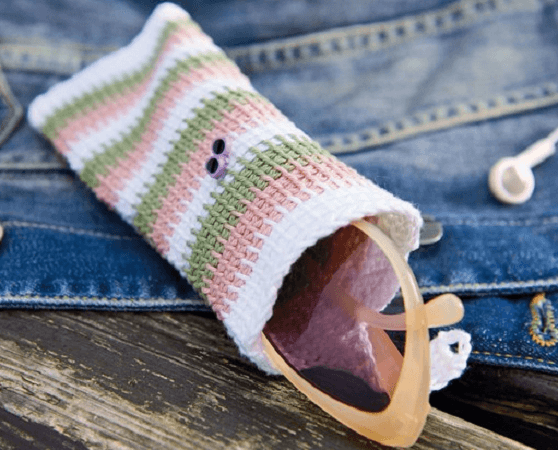 Get the Pattern here

8. Crochet Rainbow Sunglasses Pouch Pattern by Highland Hickory Designs
This Crochet Rainbow Sunglasses Pouch Pattern is so fun! It works up quickly and easily and the little cloud detail at the top is completely adorable.

This pouch can hold many different items other than just a pair of sunglasses. You can carry your reading glasses, cell phone, keys, money, child's trinkets, seashells – anything small really.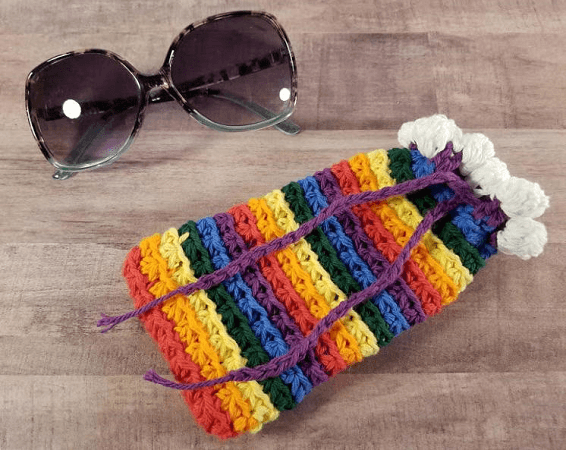 Get the Pattern by Highland Hickory Designs here

9. Crochet Club Sunglasses Case Pattern by Kate Eastwood
This Crochet Club Sunglasses Case is a fun and bobbly glasses case, and whether it's for your sunglasses or everyday glasses, it will certainly add a little bobby fun to your life!

The case is made in cotton yarn so is easily washable and is worked in DC with two different bobble rows, worked alternately, to give the finished staggered bobble effect.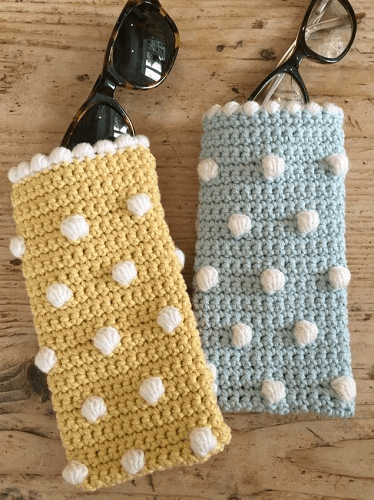 Get the Pattern here

10. Pineapple Drawstring Sunglass Bag Crochet Pattern by The Crafter Life Shop
Get ready for some fun in the sun this summer with a Pineapple Drawstring Sunglass Bag to hold those sunglasses when not in use! This would be sweet for summer and the bright yellow color would be hard to miss!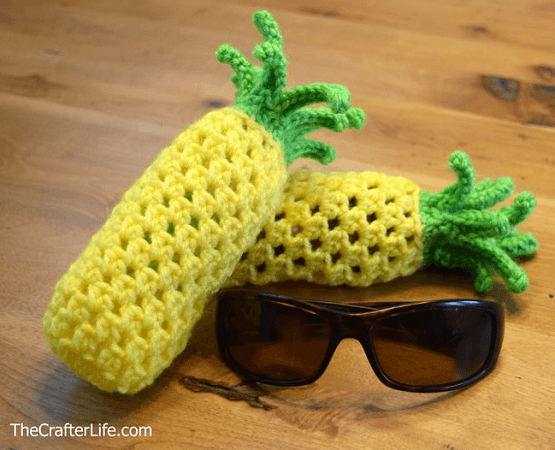 Get the Pattern by The Crafter Life Shop here

11. Houndstooth Sunglass Case Crochet Pattern by Itch For Some Stitch
This Houndstooth Sunglass Case is a classy addition to your summer accessories! Designed to fit an extra-large glass or you can use it as a simple pouch to carry small trinkets – keys, cards, chapstick, etc.

You are only limited by your imagination! No matter what you choose to use it for, this Houndstooth pattern will add just a hint of sophistication to your summer!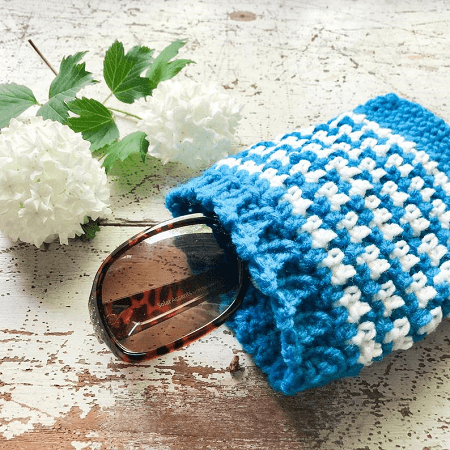 Get the Pattern by Itch For Some Stitch here

12. Ombre Sunglasses Case Crochet Pattern by The Hook Nook Life
This Ombre Sunglasses Case is the perfect summer accessory to keep your sunglasses safe and stylish in your bag or purse. If you can single crochet and have basic sewing skills, this project can be finished in an hour or two.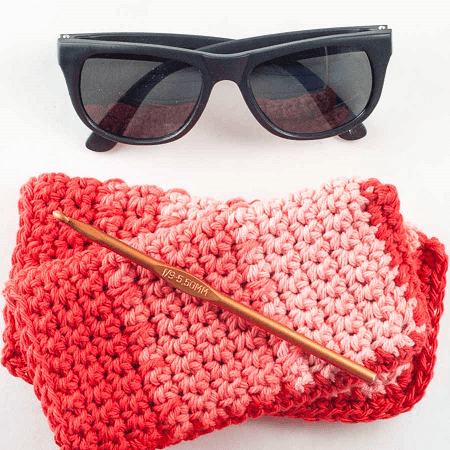 Get the Pattern here

13. Granny Square Glasses Case Crochet Pattern by Hobby Craft
Keep your glasses safe and stylish with this cute Granny Square Sunglasses Case. Made from mini granny squares this is a great project to take with you on the go and you can make it in an afternoon in time for your next holiday.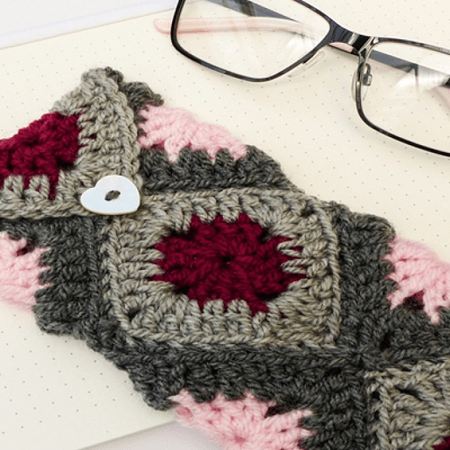 Get the Pattern here

14. Chevron Sunglasses Case Crochet Pattern by Lauren Elizabeth
The pattern makes a chevron glasses case in 2 sizes. The Vertical case has a little more room for larger sunglasses, while the Horizontal version would be better for readers or thinner glasses.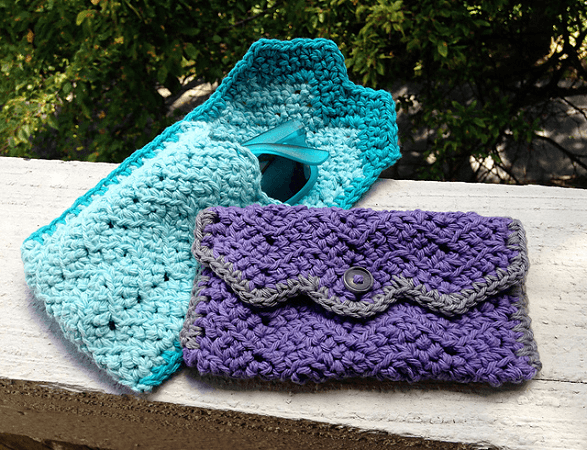 Get the Pattern here

Get creative with these crochet sunglasses case patterns that are fun and practical!
Change up the colors, stitch patterns, or yarn weights to suit your preferences. Be sure to post your finished sunglass cases on our Facebook Page so we'd be updated!
Once you have finished your crochet case projects, check our round-up of Crochet Phone Case Patterns, Crochet Pencil Case Patterns, Crochet Hook Case Patterns and Laptop Crochet Pattern.

You can check other crochet accessories or if you want to go beyond just accessory, and looking for larger projects, you may also check our collection of patterns for blankets, clothing, home decor, and more!
Quick, relaxing, and fun – these crochet sunglasses case patterns are perfect for mindless crocheting and gifts!