Have you been wondering how to crochet puff flowers and put together a crochet piece everyone will love? Well, our crochet puff flower written pattern and video tutorial is the perfect guide to creating stunning crochet puff flowers.
That's not all…
By the end of this article, you will not only be confident enough to make a couple of these flowers, you are going to enjoy showing off your new creations.
The best part?
Each flower only takes 10 min to make and you will be able to mix and match all your favorite colors. To come up with the most amazing puff flower collection.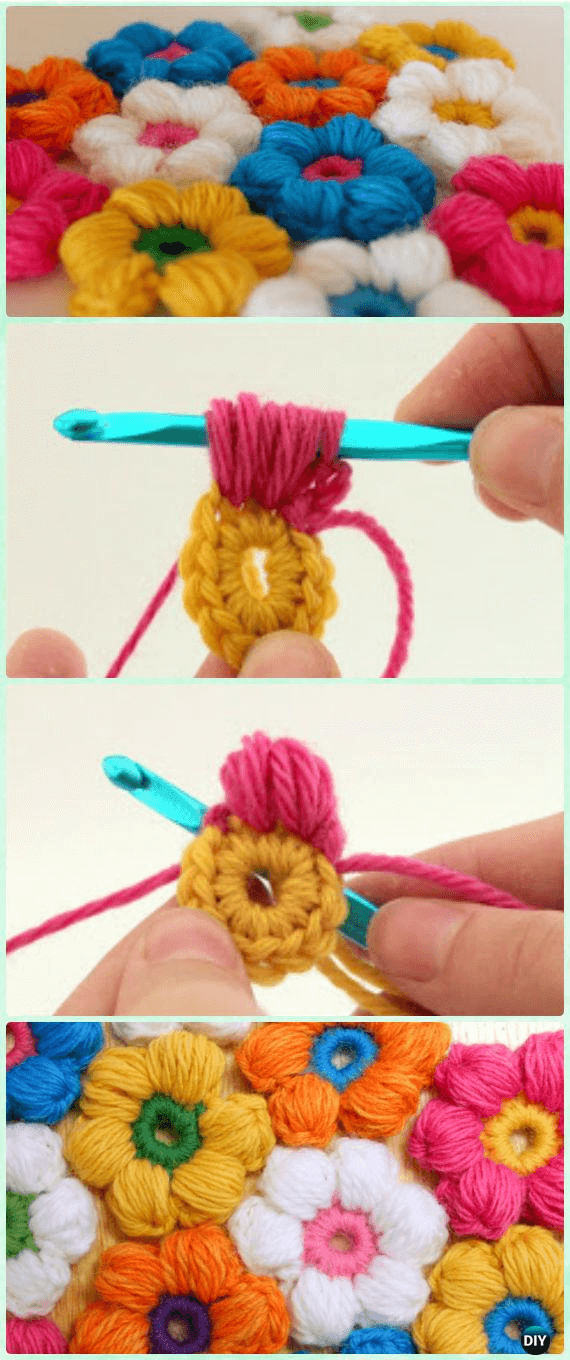 Crochet Puff Flower Tutorial For Beginners
The crochet puff flower pattern is the prettiest thing we've come across in a few weeks. At least that's the feeling with everyone at Crochet News! The design is a six petal puffy flower crochet stitch that can be used to assemble a beautiful item such as a super-cuddly blanket all on its own.
You can also use the crochet puff flower pattern to create cute embellishments on other craft or crochet projects you might have running. We have both a written step by step tutorial and a video tutorial on the same just for you.
Depending on what you prefer and your level of skill, you'll soon have this new stitch pattern, stitch-perfect in no time at all.

Puff Flower Pattern Materials:
A 4mm or size G crochet hook.
A yarn needle.
Any brand of worsted weight yarn in 2 colors.
Scissors
Crochet Stitches Needed
*Slst: Slip stitches
*Ch: Chain stitch
*Slst: Slip stitch
*Sc: Single crochet
Crochet puff flower items are hugely popular which is no surprise really, these babies look absolutely amazing.
The puff flower blanket is my personal favorite but before we can talk about all things blankets and flowers, I'll show you how to crochet a puff flower for beginners step by step.
How To Crochet A Puff Stitch Flower
Chain 4, slip stitch to the first chain to form a loop.
Round 1, -Chain 1, work 12 single crochets into a loop.

Round 2 – slip stitch into first chain, *Ch 3
Yarn over and insert the hook into the same Yarn over once more and pull up a loop as long as your beginning in Ch 3 to form a long loop.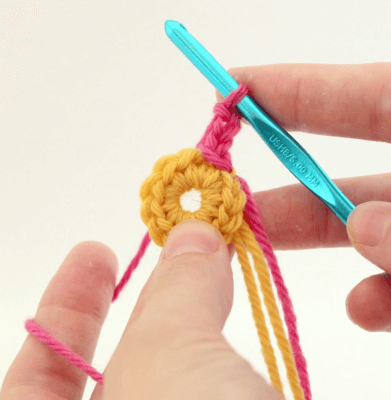 Yarn over and insert the hook into the same Yarn over again and pull up a long loop twice. Then, yarn over and insert the hook into next stitch then yarn over and pull up in a long loop. Yarn over and insert the crochet hook into the same stitch. Yarn over once more and pull up a long loop. Do this 2 times.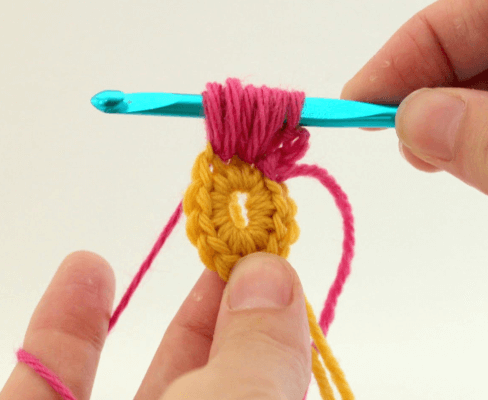 Chain stitch 3. Yarn over and insert the hook into next stitch. Yarn over and pull up in a long loop. Then, yarn over and insert the crochet hook into the same stitch and proceed to yarn over and pull up again in a long loop.

Repeat this 2 times then yarn over, insert your hook into next stitch and yarn over and pull up a long loop. Yarn over and insert hook into the same stitch and do a yarn over then pull up in a long loop. Do this 2 times. Yarn over again and pull through all the loops on your hook.
Chain stitch 2 and slip stitch into the same
Fasten off then proceed to weave in the ends.
The finished flower should have a diameter of about 2 inches. The skill level required here is intermediate although beginners are welcome to attempt this project.
A single crochet puff flower shouldn't take you more than ten minutes from to start and finish. For an easier experience, use both the written instructions and the crochet flowers tutorial.
Crochet Puff Flower Video
Colors And Crochet Puff Flower Patterns
The beauty of crochet flower patterns is in the colors you choose. There are no restriction on what colors you can choose, so get as creative as you can.
If you like, you can collect several pairs of colors that go well together and crochet a bunch of these puff flowers. Now to the exciting part, what can you do with the finished crochet puff flowers?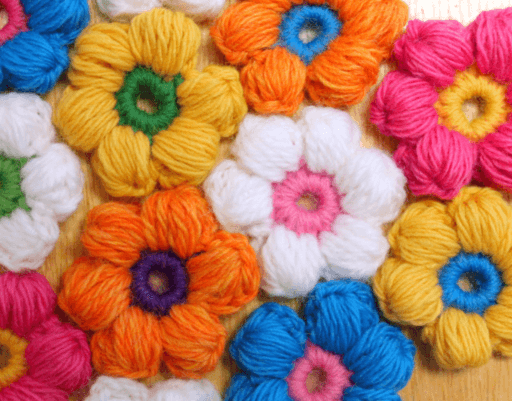 Almost anything you can think of. As earlier mentioned, you can use these flowers to make beautiful baby blankets or even adult-sized blankets.
You don't have to stop there, why not try a colorful afghan to stay warm in on chilly nights? You're going to love just how much you can do with these puff flowers.
Another Crochet Puff Flower Design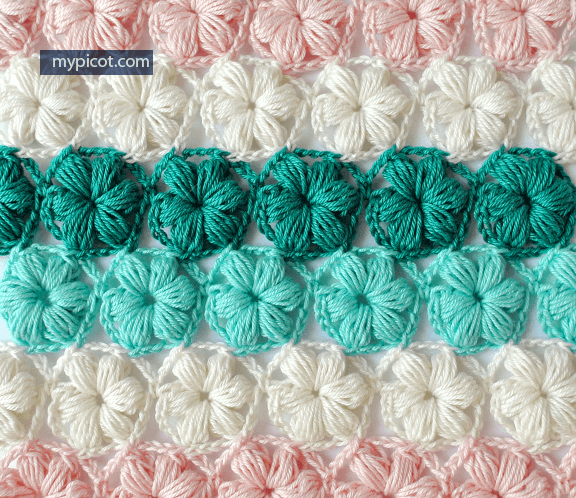 Thanks To 
Mamachee for the awesome pattern and images.
Find the written tutorial here
Another Puff Stitch Flower Pattern – Free Written Crochet Tutorial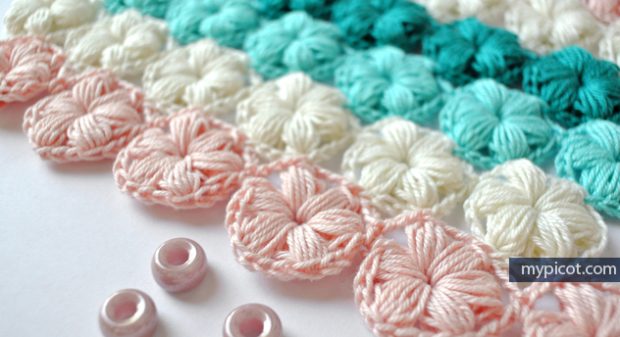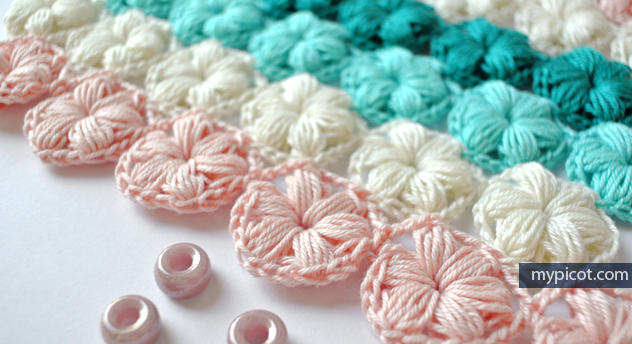 For this puff stitch flower pattern, there is no set yarn weight that you must use. It, however, depends on the gauge you intend to realize with the stitch. It goes without saying that the heavier the weight of yarn used, the bigger the flowers will emerge. So, take your time to decide what gauge and brand of weighted yarn you need for your project.
You can get as creative, and imaginative as you please. For best results, it is recommended to use a variety of colors with this puff stitch flower pattern.
The more colors you throw in, the better, after all, we're dealing with flowers here. All in all, there are some basic materials you require which are as follows below;
Any brand of worsted weight yarn which is approximately five yards for each flower.
A 5.5 mm or U.S size 8 crochet hook.
A darning needle.
A pair of scissors.
Free Puff Flower Pattern Tutorial
For inexperienced crocheters, the pattern can be purchased and afterward downloaded in PDF format. But there are free instructions for the pattern below, it just can't be downloaded.
There are detailed instructions that accompany the pattern, written in concise American English. There is also extensive use of standard U.S knitting terms and abbreviations that make the project that much easier to accomplish.
Some abbreviations you might come across in this pattern include;
Pf: Puff Stitch.
Slst; Slip Stitch.
Sc: Single Crochet.
YO: Yarn Over.
Making The Crochet Puff Stitch Flowers
The puff stitch flower pattern is composed of two rounds of puff stitches arranged to form the flowers' petals. The flowers are great as embellishments on hats and headbands, purses and clothing items. As mentioned, the flowers are more famously sewn together to create baby blankets or a rustique rug.
The flower patterns make use of the magic ring to begin in the round. The technique would be in itself a bit tricky for beginners, and it is therefore recommended to make an effort to learn the basics first. With that out of the way, you can commence perhaps your biggest project yet.

Puff Stitch Flowers Pattern Here
We Hope You Enjoyed These 2 Puff Stitch Flowers, Which Will You Make First?
What would be a better gift for a baby shower than a flower baby blanket? I cannot honestly think of anything better than that, well, other than a million dollars of course. So go on, gather the supplies and get to work on these simple yet amazing puff flower crochet patterns.