If you haven't been swept up by the e-reader craze yet and you're still reading physical books, you probably need a bookmark to mark your spot when you're finished reading.
Reading is a personal thing, so I think your bookmark should be personalized as well! And there's no better way to personalize something than to craft it yourself!
Read on for Crochet Bookmark Patterns that will delight, captivate, and preserve your reading progress!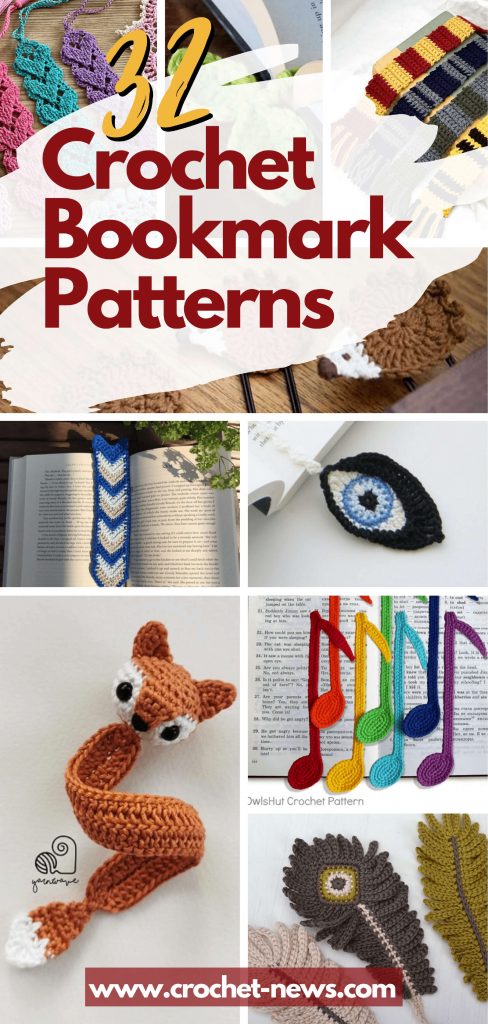 1. Frog Bookmark Crochet Pattern by Supergurumi Shop
Frog lover in your life? Time to whip up this amigurumi frog bookmark crochet pattern! Super simple crochet bookmark pattern, super quick and super adorable! What's not to love?!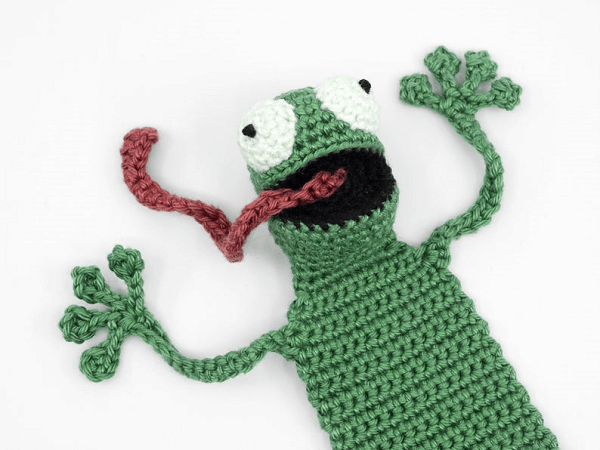 Get the Pattern by Supergurumi Shop here

2. Crochet Eyes Bookmark Pattern by The Curio Crafts Room
Why not make a creepy eye bookmark for yourself? Aside from using these as bookmarks, the possibilities for these crochet eyes are endless! You may want to use them on dolls or any other amigurumi figures.
These would also look great as an embellishment to your bags, clothing, and even phone covers!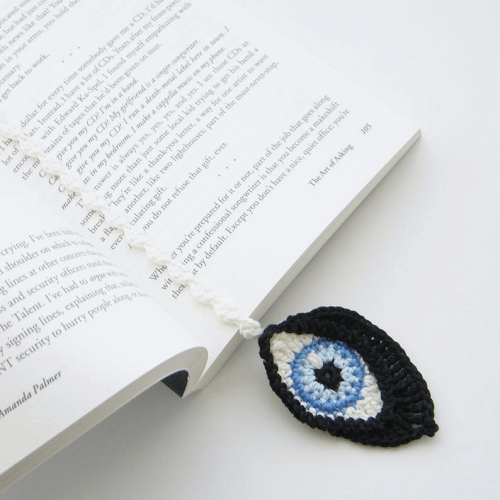 Get the Pattern by The Curio Crafts Room here

3. Crochet Striped Bookmark Pattern by Knot My Designs
How amazing and sweet are these crochet pencil bookmarks?! They would make great teacher gifts or a gift for a little one. This striped design can be worked in your school colors to show off some school spirit.
You could also leave the tops off and have a simple rectangular bookmark instead of the pencil design.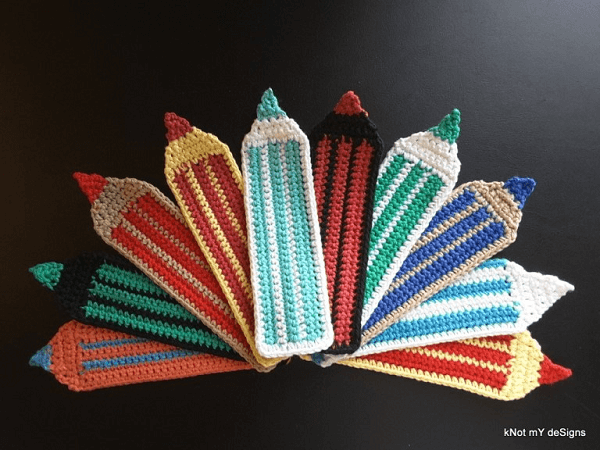 Get the Pattern here

4. Crochet Flower Bookmark Pattern by The Little Treasures
Are you missing springtime and everything that goes with it? Why not press some flowers in your favorite book, crochet flowers that is!
This crochet flower bookmark pattern is a fun project for every crocheter, no matter their skill level. With its simple stitches and beautiful design, this is a bouquet that's sure to put a smile on someone's face!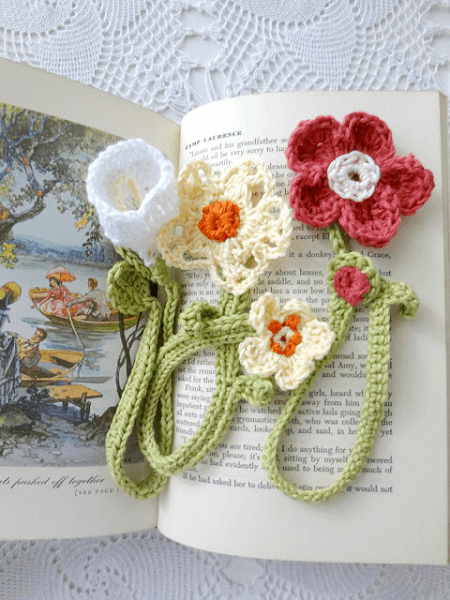 Get the Pattern here

5. Crochet Cross Bookmark Pattern by Lyubava Crochet
This cross bookmark is a great accessory for keeping your place in your favorite book or bible. It is light, retains its shape and won't leave marks on the pages. These are great Christmas presents for a Sunday School Class or other religious groups.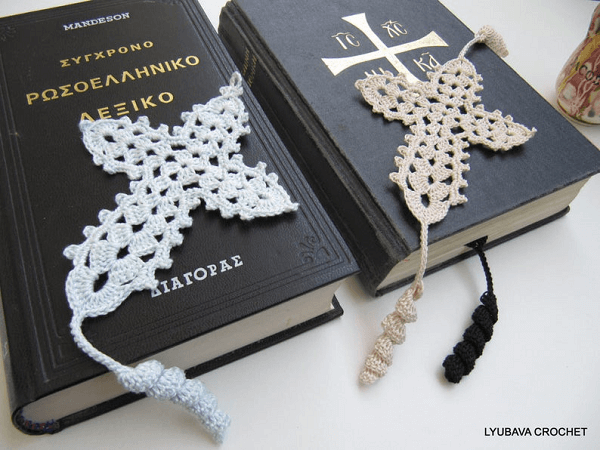 Get the Pattern by Lyubava Crochet here

6. Crochet Meadow Bookmark Pattern by LTK Cuties
As you can see, a design doesn't have to be complex for it to work well as a bookmark. Choosing a beautiful variegated yarn will give this design that added extra touch.

This bookmark is a simple and mindless pattern that can be whipped up in no time.
Get the Pattern by LTK Cuties here

7. Chevron Bookmark Crochet Pattern by Rich Textures Crochet
This easy stack of pretty arrows has a kicky little tassel on the end. The color changes give you the perfect stripes. This is a pattern that you can work in almost any color combination.
You could make the design again and again and never get bored with it. Plus it fits any book.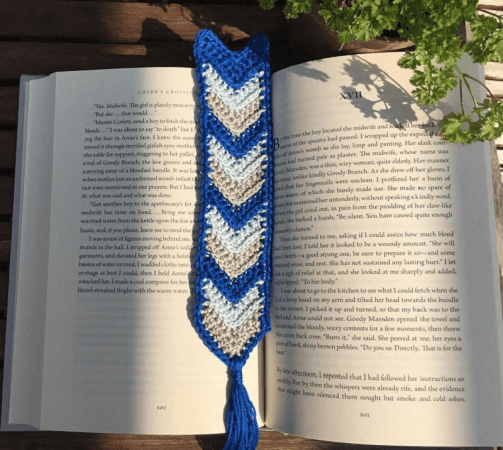 Get the Pattern by Rich Textures Crochet here

8. Crochet Rainbow Bookmark Pattern by Yum Yarn
Use this quick and easy crochet pattern to make your own happy rainbow bookmark! This happy little rainbow will give you joy as soon as you open your book.
It's a simple striped crochet bookmark pattern topped off with a smiling little cloud. What a precious little design.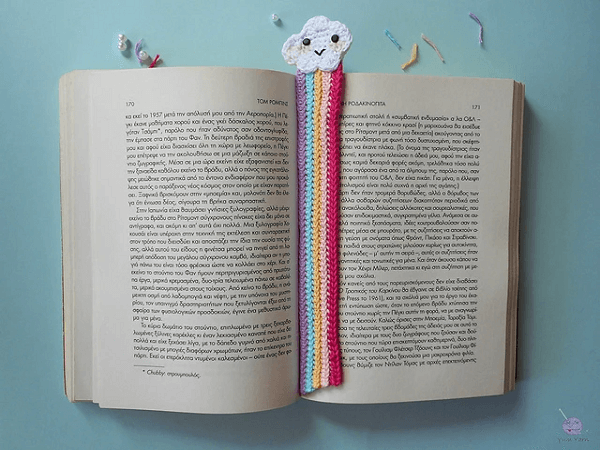 Get the Pattern here

9. Crochet Fan Bookmark Pattern by Crochetroo
Perfect for the book lover in you or someone you adore! This crocheted fan bookmark is sure to keep the page of your favorite book. Do have fun, as they are quick and easy once you get the hang of the fans. As a gift, they are always appreciated.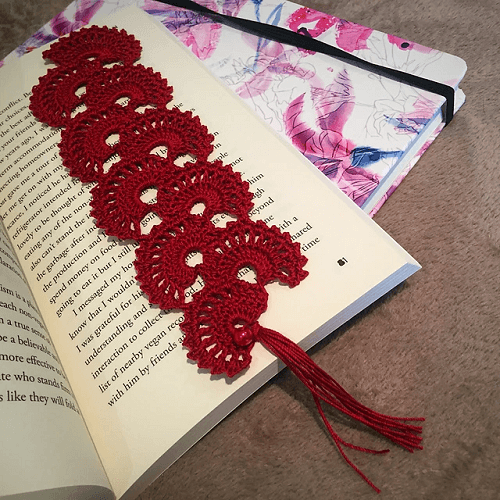 Get the Pattern here

10. Crochet Simple Fox Bookmark Pattern by Yarn Wave Shop
Crochet a cute little bookmark buddy to keep you company while you read! This happy chappy is an avid reader and would love to live inside your favorite book. He would make a fabulous page finder for any fox lovers. A great gift for children, too!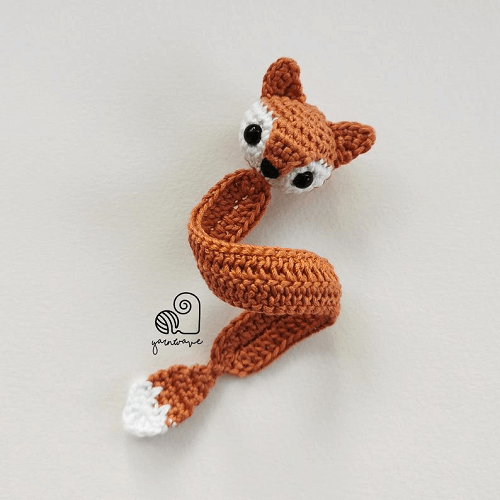 Get the Pattern by Yarn Wave Shop here

11. Heart Bookmark Crochet Pattern by Knitted Patterns
This is a crochet pattern for a lovely heart bookmark pattern. It is the perfect gift for someone you love or as a personalized Valentine's gift!
It's not your typical bookmark. Instead of putting the bookmark between two pages, you put it on the corner of your page.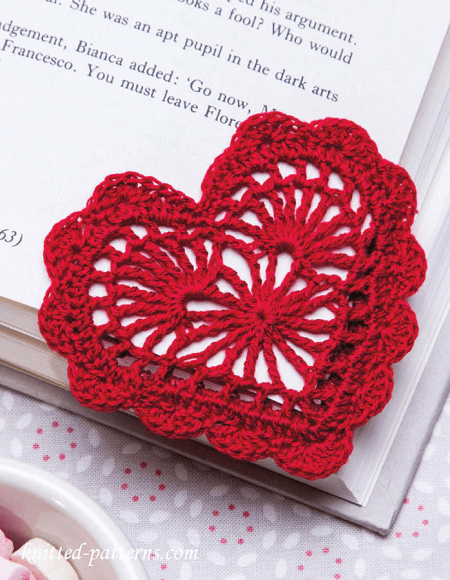 Get the Pattern here

12. Boho Feather Bookmark Crochet Pattern by A Crazy Sheep
Opt for this pretty feather with a rustic boho look. This pattern includes 10 different feathers in boho hippie style that are perfect for a bookmark, a dreamcatcher or any other creative project.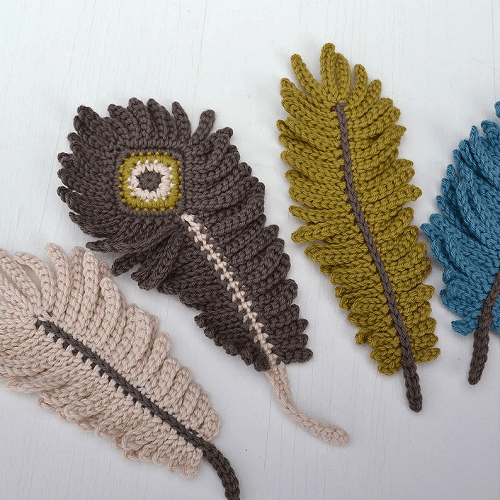 Get the Pattern by A Crazy Sheep here

13. Higher Love Bookmark Crochet Pattern by Julia Hart
This design doesn't so much resemble a bookmark as a piece of very fancy and expensive jewelry. It's very suave and sophisticated and will make an ideal handmade gift for the elegant and discerning reader. Do you know of anyone deserving, aside from yourself?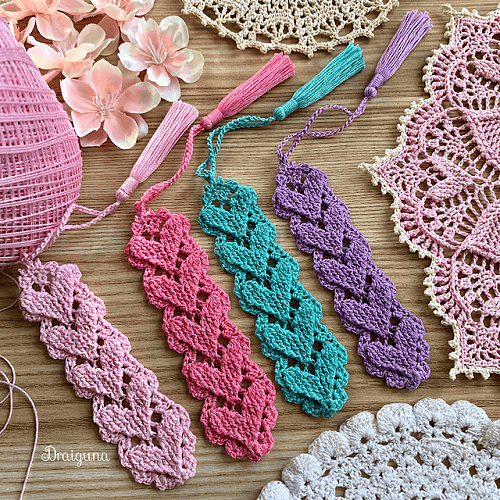 Get the Pattern here

14. Notes Bookmark Crochet Pattern by Little Owls Hut
These bookmarks can be made in any color you like. An ideal gift for book lovers and music lovers. These musical notes can make your life lyrical and in full rhythm. Another great pattern to try!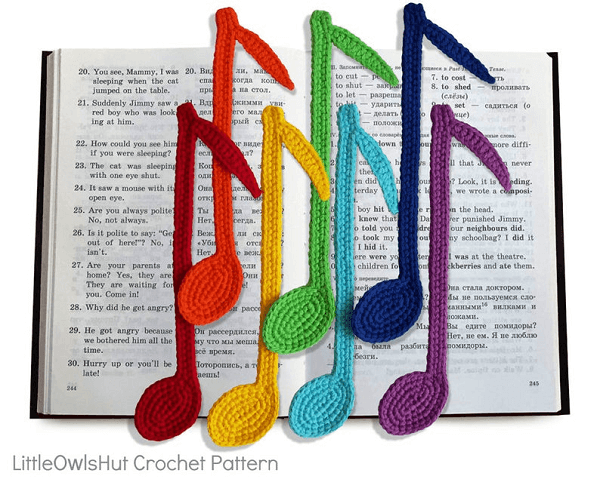 Get the Pattern by Little Owls Hut here

15. Peacock Feather Bookmark Crochet Pattern by The Curio Crafts Room
This crochet bookmark in the form of a peacock feather would make for a lovely and original birthday, teacher or Christmas gift. The possibilities for this motif are endless.
You could make garlands, wall hangings or embellish box lids, cards, hats, bags or key chains. Just enjoy playing around with them!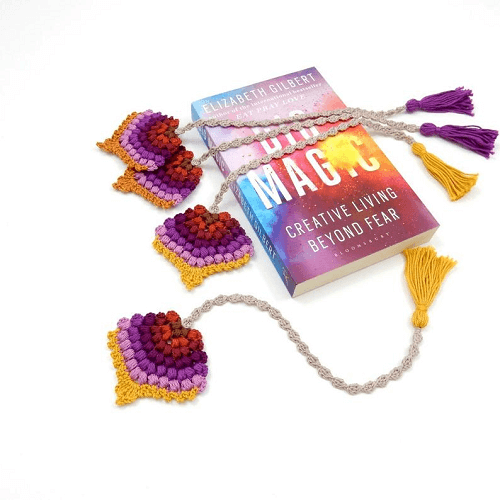 Get the Pattern by The Curio Crafts Room here

16. Crochet Bookmark Pattern by Miizoo
Instead of using a scrappy piece of paper for a bookmark, crochet this easy bookmark pattern and use it to mark your reading pages. Try for the sweeter color of yarns.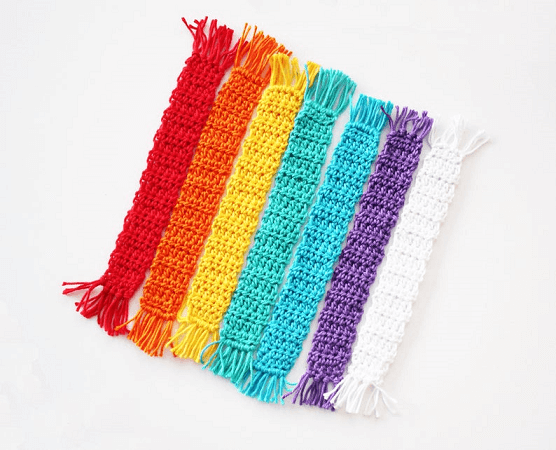 Get the Pattern by Miizoo here

17. Crochet Cupcake Bookmark Pattern by Yum Yarn
A sweet treat for food and book lovers, a cute cupcake bookmark! A project that combines it all; crochet, books, food, and pom-poms. Plus it's super quick and easy! You don't have to worry about eating it, just enjoy the way it looks.
Get the Pattern here

18. Harry Potter Bookmark Crochet Pattern by Left In Knots
Go back to Hogwarts in style with these four Harry Potter house scarf inspired bookmarks! You still have time to make yourself or your favorite Harry Potter fan this cute and functional scarf bookmark.
Be ready to read the next Harry Potter book and mark your place while keeping your pages pristine.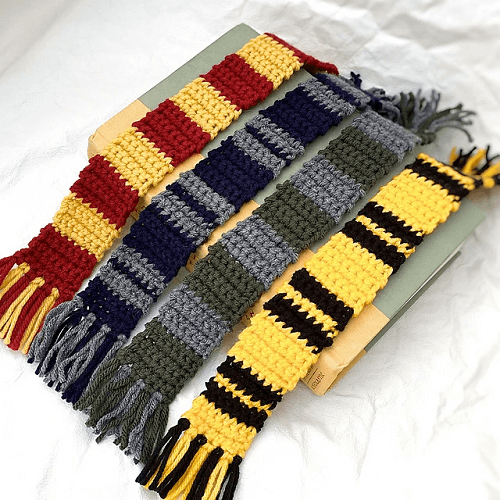 Get the Pattern here

19. Rat Bookmark Crochet Pattern by Supergurumi Shop
More suited for the library than the kitchen, this crocheted rat bookmark is a fun amigurumi project which has been crocheted in spiral rounds and rows.
This rat bookmark will remain faithful to you and will remember your last read page in your favorite books.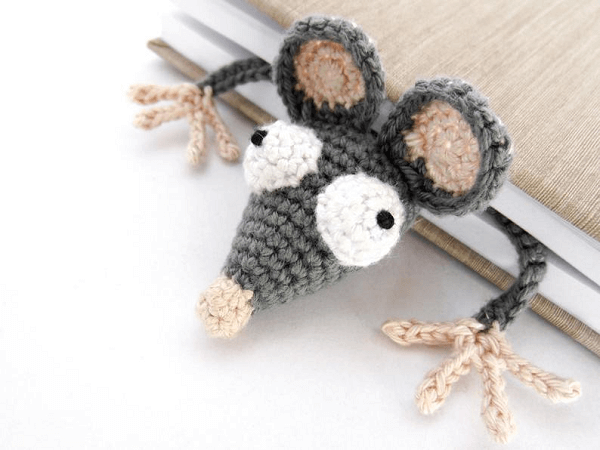 Get the Pattern by Supergurumi Shop here

20. Nerdy Bookworm Bookmark Crochet Pattern by Heart Hook Home
What is more precious than an adorable little bookworm?! This bookworm bookmark! He's green, he's nerdy and he loves to hold your place for you until you're ready to pick up that book again!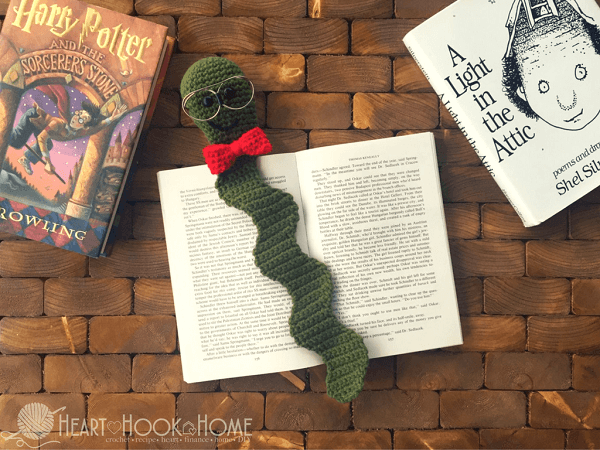 Get the Pattern here

21. Crochet Summer Reading Bookmark Pattern by Fiber Flux
Perfect for catching up on your favorite book, this summer reading bookmark makes a fabulous and thoughtful gift to go along with a book or perhaps for someone in your book club too.
Crocheted with pretty thread in a lovely lace stitch, this bookmark is finished off with elegant crystal and glass beads.
Get the Pattern here

22. Crochet Budding Leaf Bookmark Pattern by Tying An End
Isn't it so cute how the leaves are peaking out of the book? It is self-standing leaves so it looks like it's actually growing from the book! Another perfect gift idea for your bookmark friends!
Want more leaf patterns? Check out our Crochet Leaf Pattern List.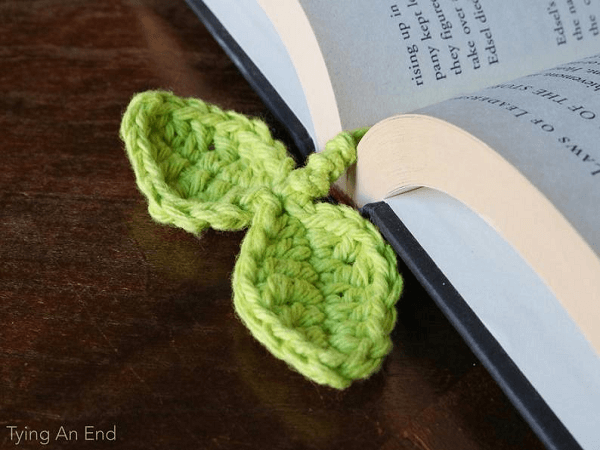 Get the Pattern by Tying An End here

23. Lace Crochet Bookmark Pattern by Petals To Picots
Keep your place with this pretty lace crochet bookmark pattern. This easy crochet bookmark pattern gives such an elegant outcome for a super quick and easy project. This Crochet Lace Bookmark would look great in many different colors!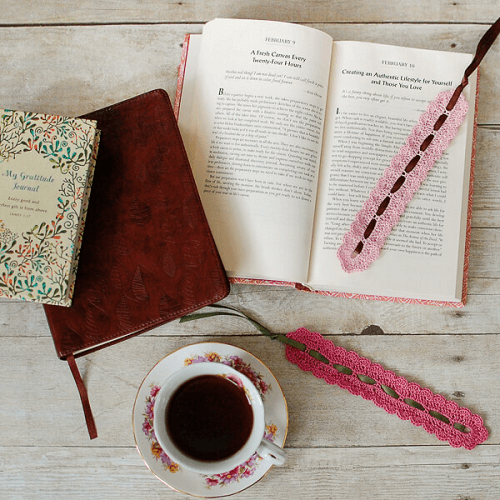 Get the Pattern here

24. Chess Bookmarks Crochet Pattern by Little Owls Hut
You can multitask your entertainment experience by crocheting a whole set of yarny chess pieces. Now, if you finish your book, you can always corner someone for a game.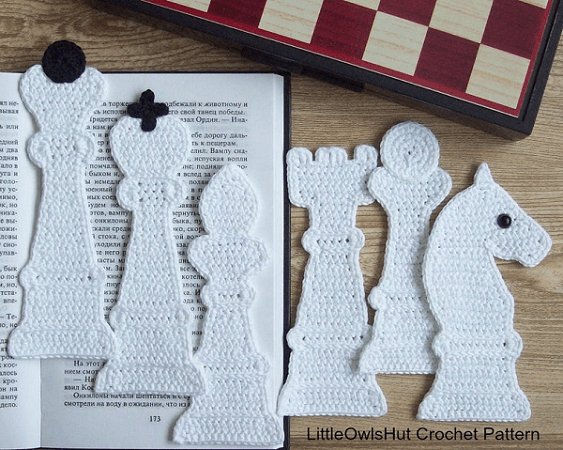 Get the Pattern by Little Owls Hut here

25. Duck Bookmark Crochet Pattern by Heart Hook Home
This little duck bookmark is perfect for Easter baskets and excellent for young readers. If you are brand new to amigurumi this is also a great little project to get your feet wet! Isn't he just quacktastic?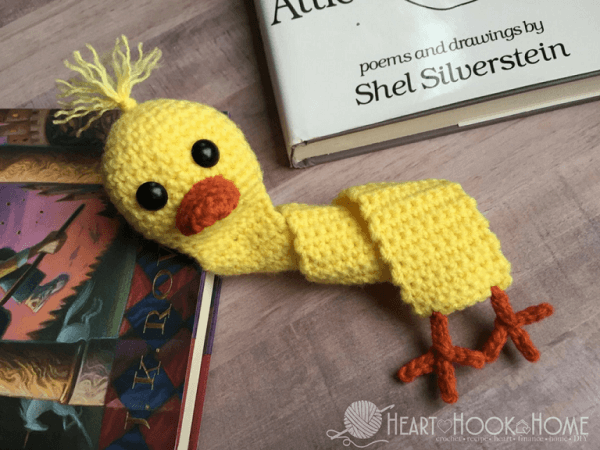 Get the Pattern here

26. Crochet Bookmark Pattern by Pops De Milk
This design is similar to the motif-built crochet bookmarks. However, it's worked in one piece. There are several ways to create such a design. You could work it top down.
Alternatively, you could crochet a chain for the vertical center of the bookmark and then work around entirely around the chain to make the bookmark.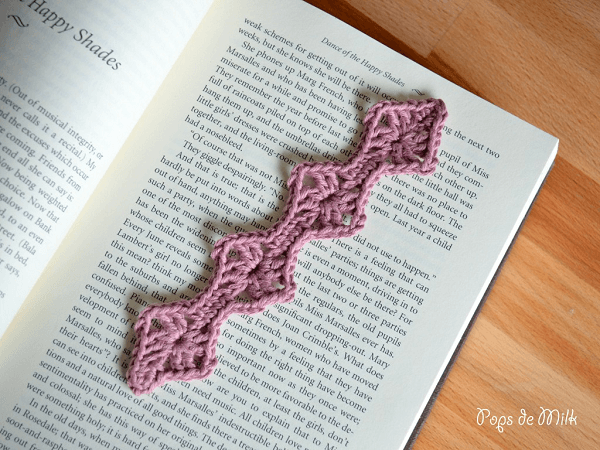 Get the Pattern here

27. Making Waves Bookmark Crochet Pattern by Rich Textures Crochet
The lazy days of summer lend themselves well to putting your feet up and reading that perfect summer book. Why not dress up your summer reading with this fun free crochet bookmark pattern for the Making Waves Bookmark.
The wave and chevron stitch is fun to work, can be worked in a variety of colors and is quick!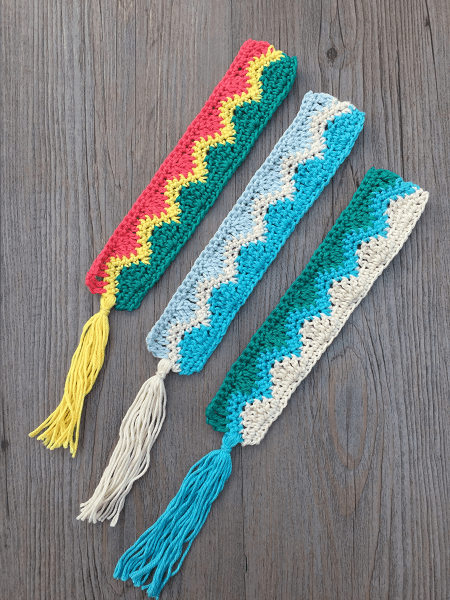 Get the Pattern here

28. Crochet Hedgehog Bookmark Pattern by Emma Crochet Design 4 U
This cute hedgehog pattern is unlike the others, as it is attached to a paper clip rather than being something that goes into your book. You will like the alternative of the cute critter sitting at the top of the book, as it eliminates some of the bulkiness of having a crochet piece inside your pages if your book pages are on the thinner side.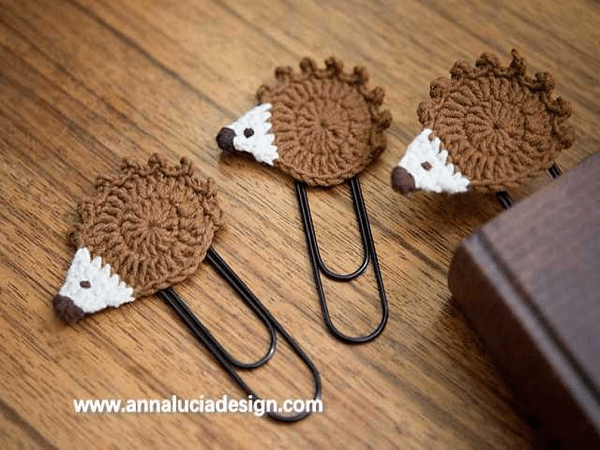 Get the Pattern by Emma Crochet Design 4 U

29. Tunisian Feather Bookmark Crochet Pattern by Poppy And Bliss
This pretty feather is easy and quick to make and easily achievable with only just the basic knowledge of Tunisian crochet. There are so many ways you can use them to decorate all sorts of things.
Make a dreamcatcher inspired wall hanging, dangle them off a basket or bag, and of course bookmarks! Get our written pattern here.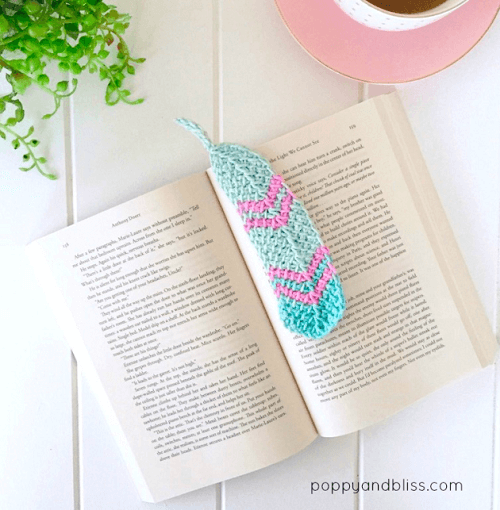 Get Poppy an Bliss pattern here.

30. Crochet Butterflies Bookmark Pattern by Olga Poltava
The skill level of this crochet project is intermediate. This pattern involves treble crochets and double treble crochets, as well as double treble clusters. This pattern can also be used as a beautiful lace edging or trim. Simply crochet until you have a lace ribbon of the desired length.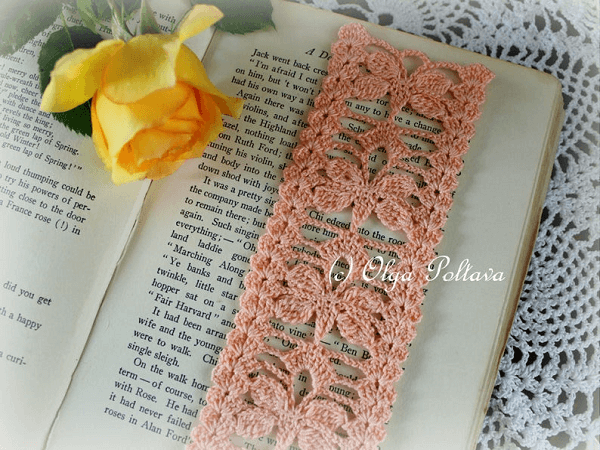 Get the Pattern by Olga Poltava here

31. Crochet Botanical Bookmark Pattern by Fiber Flux
The Botanical Bookmark is a lovely little project to add a little beauty to reading time. Pretty little blossoms are accompanied by two hanging leaves that are easy to add on. This bookmark makes a perfect handmade gift too to go along with a great book!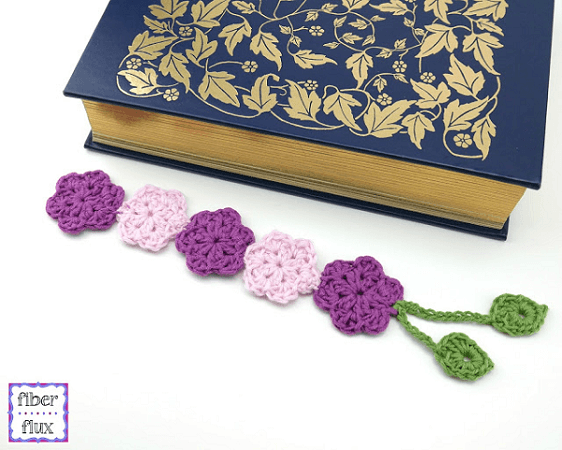 Get the Pattern here

32. Happy Monster Crochet Bookmark Pattern by A Crocheted Simplicity
This monster likes to eat books! Put this little bookmark on the corner of the page and you will be sure that the monster will let you know where you've finished.
This Happy Monster Bookmark is a super quick little project that requires a minimal amount of both yarn and time.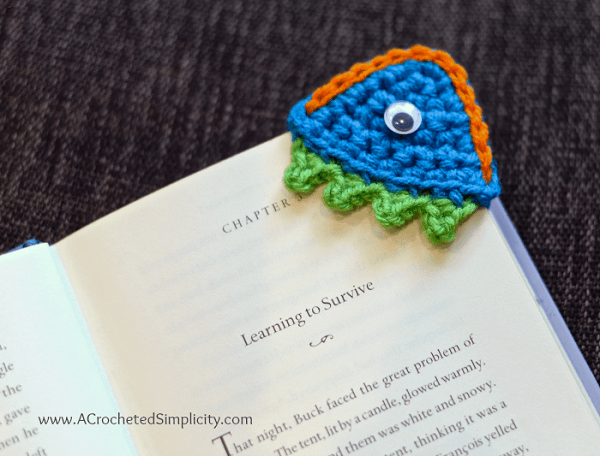 Get the Pattern here
Crochet Bookmark Frequently Asked Questions
Why crochet a bookmark?
Crochet bookmark patterns incorporate all the beginner's skills we hope to impart upon you while being a small enough project for you to actually finish, which will leave you feeling proud of and empowered by your new skills! Plus, they are perfect for so many reasons.
They're small, so you can easily craft a lot of them in a short amount of time. Instant gratification projects like these are great stress-relievers. You can also make a bunch of them to give away as lat-minute gifts during the holiday season.
How long does it take to crochet a bookmark?
Some of the easy crochet bookmarks in this list take under 30 minutes (approximately) to make from start to finish. They're one of the quickest crochet projects you can complete.
Because you can make them quickly, they're great items to sell at craft shows or as gifts for your bookworm friends.
How many stitches should a bookmark have?
When it comes to the number of stitches required to crochet a bookmark, the number varies. On average, you should stitch a chain of 13, but for the most accurate results, make sure to measure the length of your book as you go.
WE HOPE THAT YOU FOUND 'THE BOOKMARK' AMONG THESE BOOKMARK PATTERNS TO SUIT YOUR PURPOSE AND MATCH YOUR PSYCHE AS WELL.
Let us know if you decide to make one of these patterns and share a photo on our Facebook Page. We'd love to see how it turned out!
For more crochet gift ideas, click here. These will make perfect thoughtful gifts to show the special people in your life that you are thinking of them!
Enjoy making your own with these crochet bookmark patterns and start reading in style!