Though not always considered essential, rugs provide comfort and warmth of hard floor surfaces, while adding aesthetics to a room's design. But the hunt for the right rug is not always easy.

Whether you've been holding back on buying one because you haven't found the right style, size, or price range, we've got good news: You can make one to fit all of those parameters by making some of these crochet rug patterns.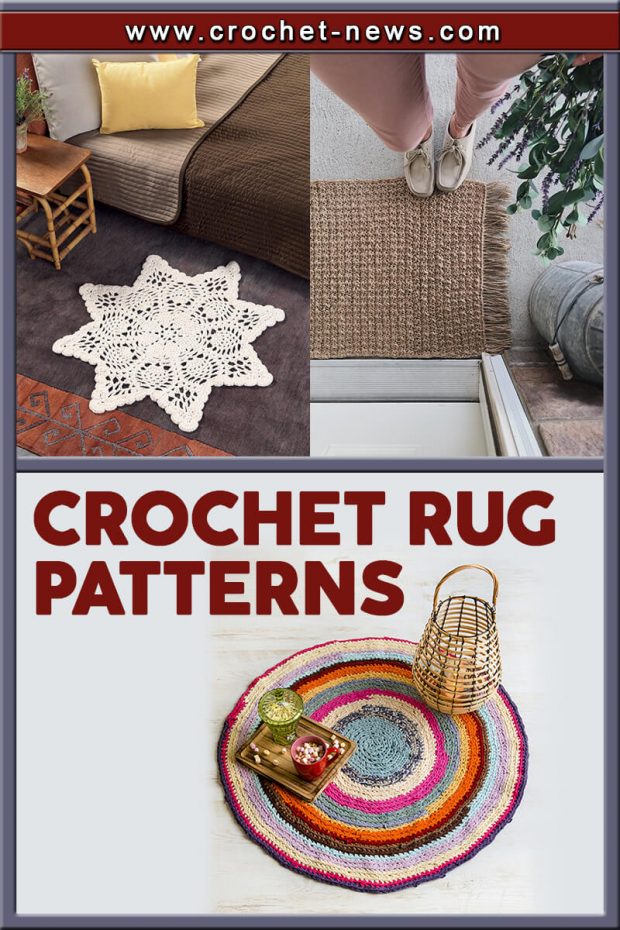 Want a fast, easy project that makes a great gift and great stash-buster? Take a look at these rugs and mats that you can customize for any home decor and any room in the house including kitchen, bath, living room, entry, and more!

1. Crochet Checkerboard Rug Pattern by Red Heart
Everyone loves the versatility of a 2-tone checkerboard pattern, and this diy crochet rug stands among the best! Choose any contrasting shades to really bring out the pattern, or make it as designed for a crisp, clean look. Add it to a bath-themed gift including soaps, candles and a handmade scrubby to complete a luxurious gift for any occasion!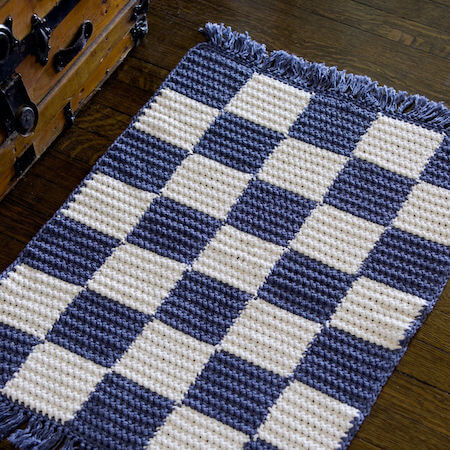 Get the Pattern here

2. Crochet Bear Blanket Rug Pattern by Make And Do Crew
Perfect as a rustic throw, child's play mat or nursery rug, this cuddly bear is sure to keep you cozy while you hibernate. Because it's made entirely with single crochet, you'll quickly get the hang of feeling for your stitches in the furry yarn and finish this fun project in no time.

The finished blanket rug is quite generously sized and the bear's head serves as a perfect built-in pillow. Adjust the fur color to customize your own polar, grizzly or panda bear.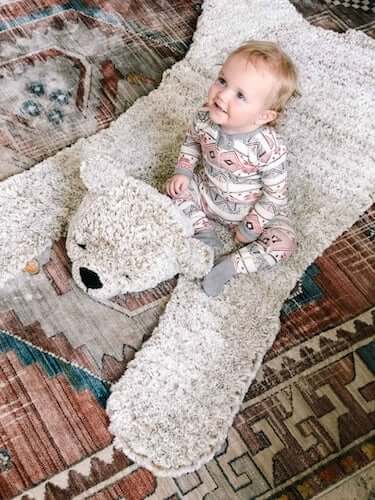 Get the Pattern by Make And Do Crew here
Also see: Faux Skin Nursery Crochet Bear Rug Pattern

3. Crochet Modbob Rug Pattern by The Cozy Knot Crochet
This Modbob Rug is a simple but modern standard 2′ x 3′ rug that is sure to be a favorite cozy and decorative accessory for the bathroom, kitchen, or entryway to your home. The bulky yarn and simple center stitching make this rug a pretty quick make, and it is perfect for your own home or as a housewarming, wedding, birthday, or Mother's Day gift.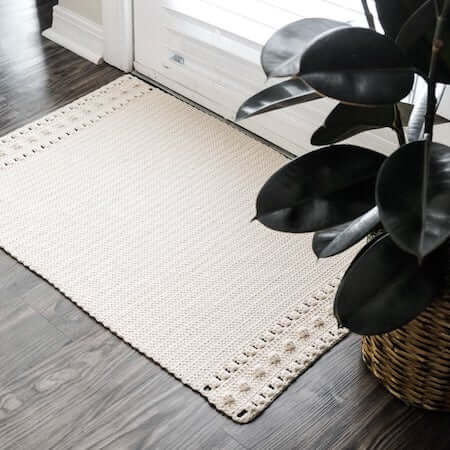 Get the Pattern by The Cozy Knot Crochet here

4. Chunky Doily Free Crochet Rug Pattern by Craft Foxes
Think you have no patience for crocheting doilies? Think again! Stitched on a giant hook with three strands of yarn held together, this Chunky Doily Rug Crochet Pattern works up quickly and makes a major statement in any room.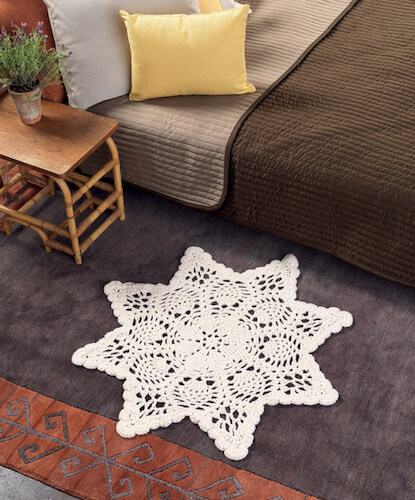 Get the Pattern here

5. Crochet Stonegate Rug Pattern by Darling Jadore
Classic, simple crochet stitches combined with small tassels makes this Stonegate Rug a timeless home décor item and a super fun and easy crochet project to follow! Seamlessly crocheted flat using only simple stitches and techniques, this rug whips up in no time!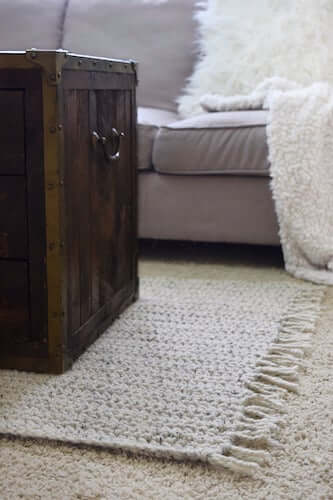 Get the Pattern by Darling Jadore here

6. Crochet Woodland Fox Rug Pattern by Deborah O Leary Pattern
Add a little bit of woodland whimsy to a baby nursery. This sweet rug is adorable and easy to make. It is made with hardy, inexpensive acrylic yarn that washes well and holds up to foot traffic.

This adorable fox rug measures approximately 27 inches in diameter and comes in a wonderful pumpkin orange and off-white. Wouldn't this perfect in a kid's room?
Get the Pattern by Deborah O Leary Pattern here

7. Unicorn Plush Baby Rug Crochet Pattern by Clouds By Iris
Add a splash of magic to your nursery or playroom with this fabulous unicorn plush baby rug – and you don't need a hook because this one is made using arm crochet! Don't worry if you've never tried arm crocheting before, the pattern is very detailed with lots of photographs.

It's best worked up with puffy yarn because the puffier the yarn the softer and more magical looking the finished unicorn!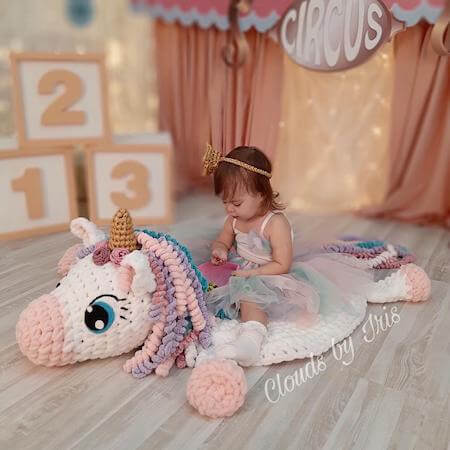 Get the Pattern by Clouds By Iris here

8. Crochet Round Fringe Rug Pattern by Yarnspirations
Create a fresh and modern crochet rug that adds a pop of color to any space. Crochet this project in the round to create a squishy circular rug with lots of personality. The main body is constructed in single crochet, with wonderful fringe to add playful flair! What's better yet, is that it is machine washable and dry-able making it an ideal choice for this cheerful piece.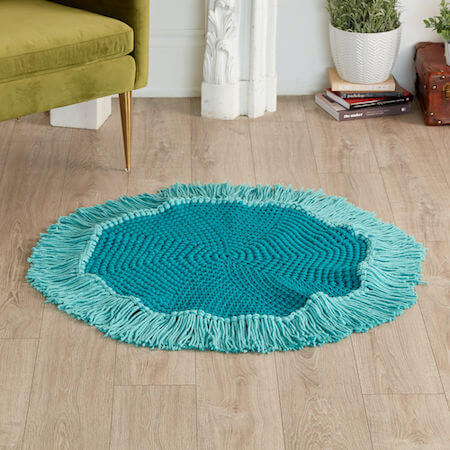 Get the Pattern here

9. Crochet Textured Rug Pattern by Cream Crop Crochet
If you're looking for a bigger project to take on this season, check out this Textured Crochet Rug Pattern. It's made up of alternating rows of single crochet, double crochet, and the bobble stitch. The rug also uses fringe detailing and decorative tassels to really make it stand out.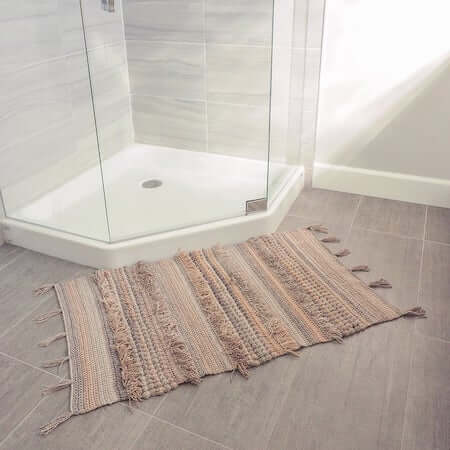 Get the Pattern by Cream Crop Crochet here

10. Crochet Bathroom Rug Pattern by Kathy's Crochet Closet
This plush and cozy bath mat is a great beginner crochet project. The only stiches used are chain and single crochet. The project works up quickly using super bulky yarn and a large size P (11.5mm) crochet hook. The bumpy texture feels great on your bare feet and the rug can be machine washed and dried. This rug would also make a great kitchen rug.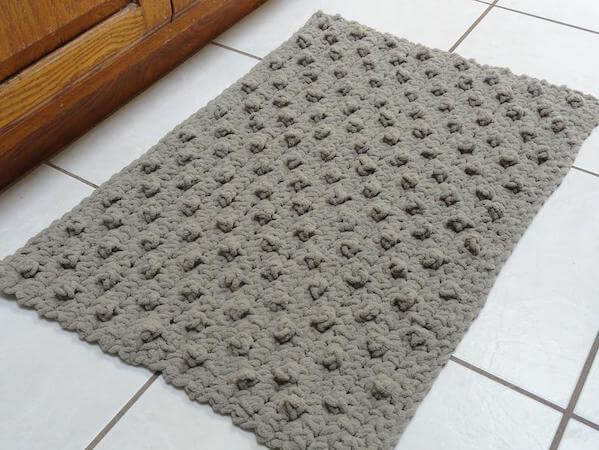 Get the Pattern by Kathy's Crochet Closet here

11. Free Crochet Cushy Rug Pattern by Pattern Paradise
The Cushy Rug is a great way to add a bit of color, warmth and softness to your home! This rug is so easy and works up so quickly in the bulky yarn, that you will want to make several! You will love these little mats for the bathroom, side of a bed, entrance or even as a soft hang out space for the cat!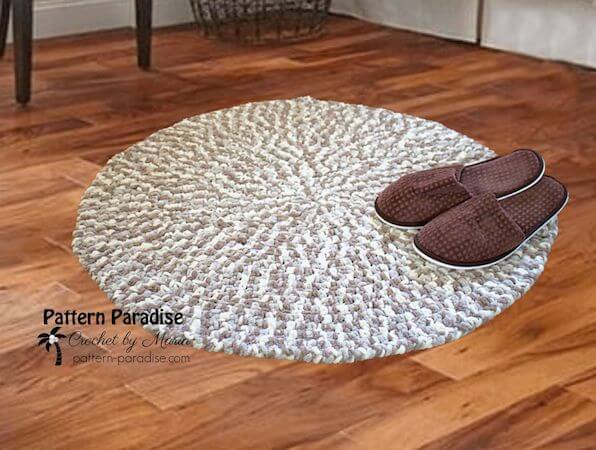 Get the Pattern here

12. Super Chunky Rug Crochet Pattern by Midknits
This Chunky Doily Rug is crocheted using six strands of acrylic yarn to create a modern over-sized rug. By crocheting the pattern and ending at different rounds this pattern shows you how to make 8 different sizes of rugs that all have their own unique style. With pictures and written instructions included with the pattern, this is an easy to follow how-to.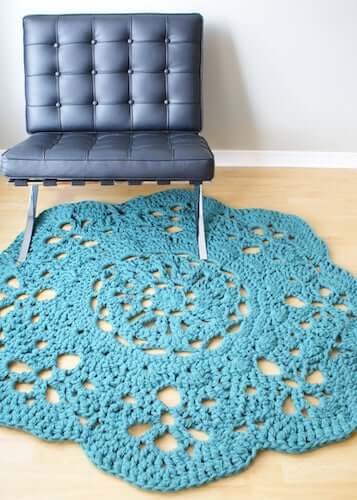 Get the Pattern by Midknits here

13. Striped Hourglass Area Rug Crochet Pattern by Moogly
Sometimes, it's the rug that really brings the room together! This Striped Hourglass Area Rug features a modern geometric design, combined with texture, coziness, and a gorgeous rainbow of color stripes – make it the colors of your coziest decor with this free crochet pattern.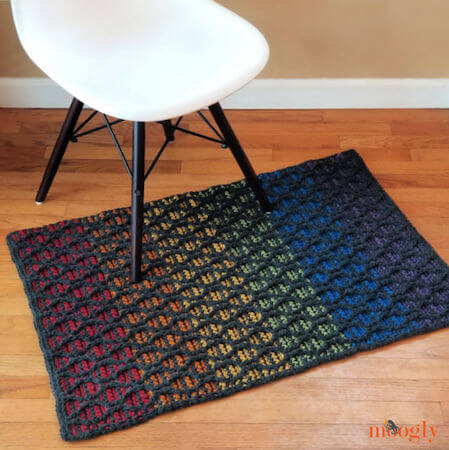 Get the Pattern here

14. Basket Weave Crochet Rug Pattern by B.Hooked Crochet
Personalize your room with a handmade rug you can enjoy for years. With a few skeins of super bulky yarn you can whip up the perfect accent rug for your room. The texture of this Basket Weave Rug is thick and squishy under your feet.

With this project you'll get to practice crocheting post stitches which are used to create the basket weave texture. It's a breeze to memorize once you find a rhythm so you can really enjoy the process.

Learn the Crochet Basket Weave Stitch here.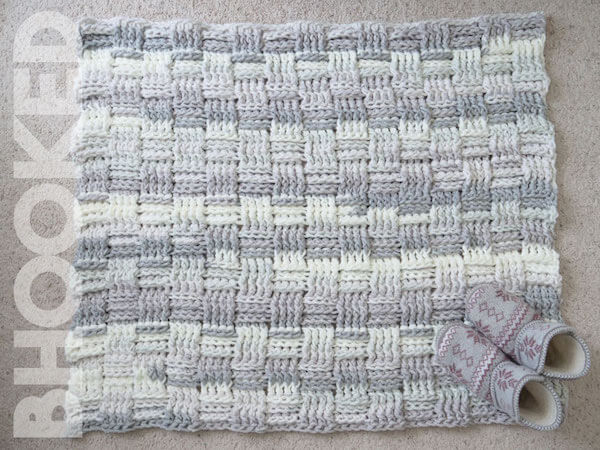 Get the Pattern here

15. Quick And Easy Crochet Rug Pattern by Teal And Finch
This pretty and functional mat is great for the bathroom, kitchen, nursery, or anywhere you want to brighten up a room! If you're new to crochet or consider yourself a beginner, this is a good project to start with. It's easy to follow and the stitch pattern is a basic circle, a good skill to know for a crocheter. Plus, you will use jumbo yarn and a big hook, so it goes by pretty fast.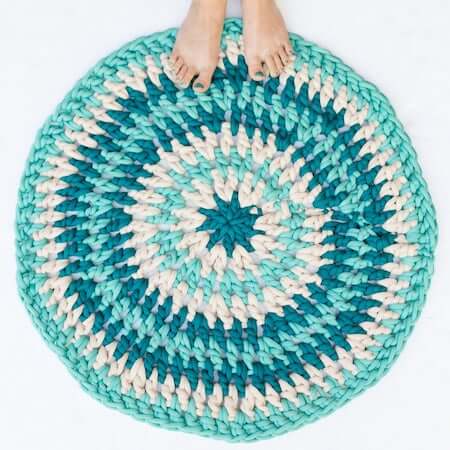 Get the Pattern by Teal And Finch here

16. Free Tapestry Crochet Rug Pattern by E'Claire Makery
Made from durable yarn, this crochet rug pattern is perfect for bath time with your little ones. It's a beginner-friendly tapestry crochet rug pattern that is a great first time tapestry crochet pattern. You can totally customize the colors to match your bathroom too!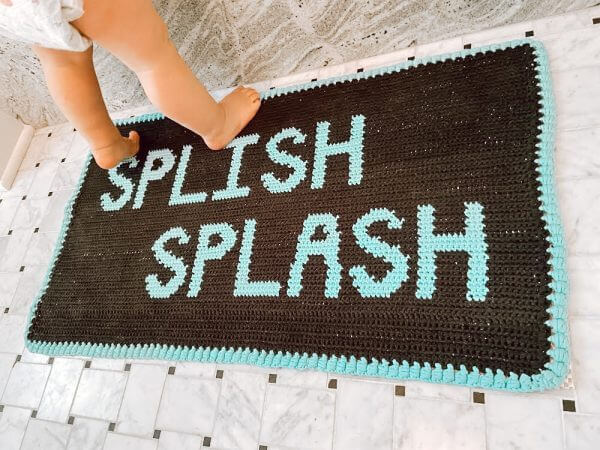 Get the Pattern here

17. Crochet Lace Rug Pattern by Lilla Bjorn Crochet
This Crochet Lace Rug Pattern consists of three repeats. And though the pattern is written for one size it can also be used for making a small doily (central part) or medium rug. It can serve both as a rug for bathroom, bedroom, kid's room or even living room but also as a table decoration.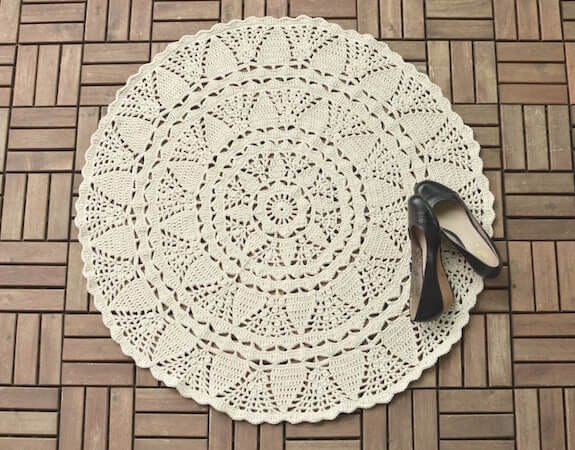 Get the Pattern by Lilla Bjorn Crochet here

18. Crochet Textured Jute Rug Pattern by Megmade With Love
This rustic and Textured Jute Rug is a fun and simple little pattern that will be perfect for your front door or could even be made into a cool runner for your kitchen. A stitch called "mini puff stitch" is used, which is basically half a puff stitch. This stitch also adds some good weight to the rug so it's not too flimsy.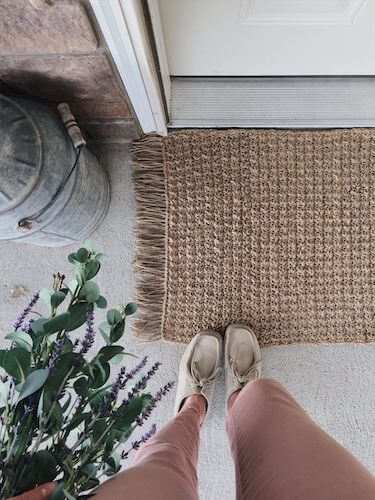 Get the Pattern here

19. Crochet Scrap Yarn Rug Pattern by Traverse Bay Crochet
Wonder what to do with your leftover odds and ends of cotton yarn? Try this easy Crochet Scrap Yarn Rug! What better way than make something myself that would be vibrant and colorful for the season! It is so easy to work up, this is a great project to do in front of the TV that you don't have to think much about.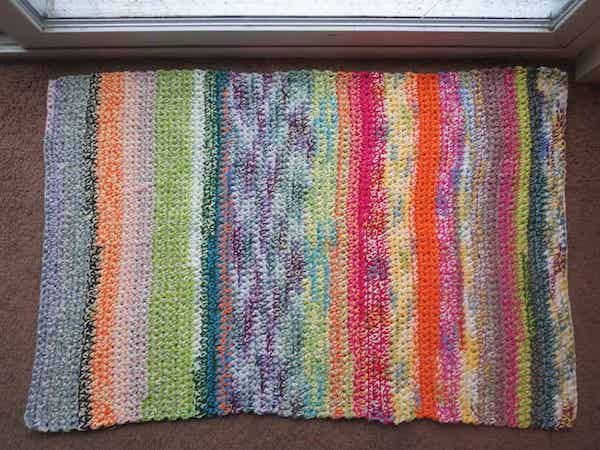 Get the Pattern here

20. Crochet Sunflower Rug Pattern by Nazara's Fine Crafts
Bring a bit of light and sunshine into your house with this detailed sunflower rug. Perfect for a country kitchen, floral sun room, sunflower nursery, or anywhere you can think of. Can also alter colors to make a Poinsettia, Daisy, or any large petaled flower.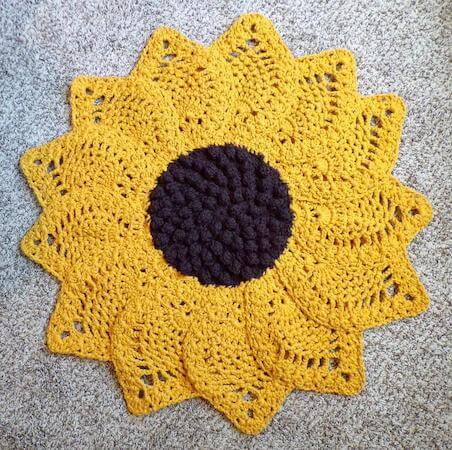 Get the Pattern by Nazara's Fine Crafts here

21. Crochet Rocket Rug Pattern by Yarnspirations
Make tummy time a blast with a soft crochet rug that's out of this world! Use your imagination to invent a mat that features colors you like. Babies are sure to dream of taking a rocket trip with this playful addition to their room! Practice crochet, single crochet and color blocking to complete this entertaining pattern.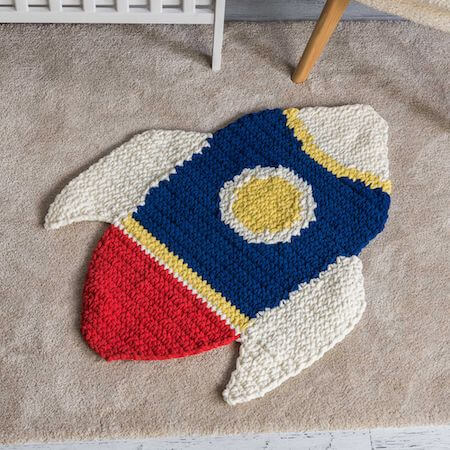 Get the Pattern here

22. Camping In Cornwall Rug Crochet Pattern by Look At What I Made
This Camping in Cornwall Rug is big and squishy, and the colors are so very pretty. The rug has a lot of surface detail/texture. It includes overlay, ruffled flowers, popcorns, and bobbles, and lots of back post stitches.

The mandala-based design is so decorative and simply vibrating with spring charm. If you want to make something beautiful, here is the pattern you need!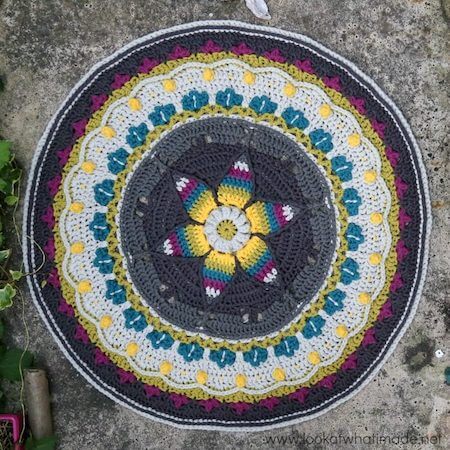 Get the Pattern here

23. Crochet Retro Owl Rug Pattern by Ira Rott Patterns
This super bulky Retro Owl Rug will create a perfect accent in your modern home or nursery room. It is made from 3 strands of medium weight yarn held together, which is a super fun technique. This looks beautiful in natural tones as it does with bright and there are so many ways you can personalize it to complement your decor.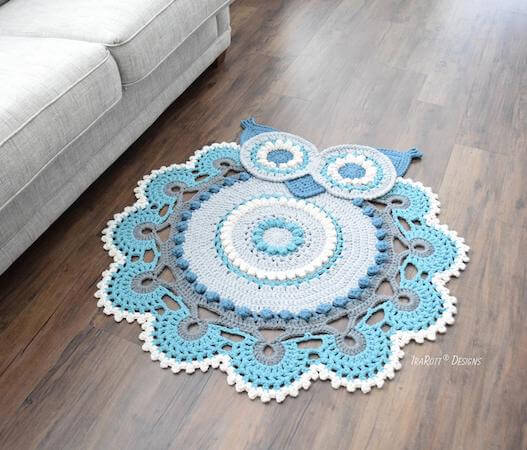 Get the Pattern by Ira Rott Patterns here

24. Crochet Rug Pattern by Gathered
Keep your tootsies cosy with this simple crochet rug pattern. It's the make your giant crochet hooks and chunky yarns have been waiting for!

This is a perfectly simple, adorable rug for all of you who are just starting your adventure with crocheting. If you want to create something colorful and big, go for a circular rug like this one. Will you stick with these lovely colors?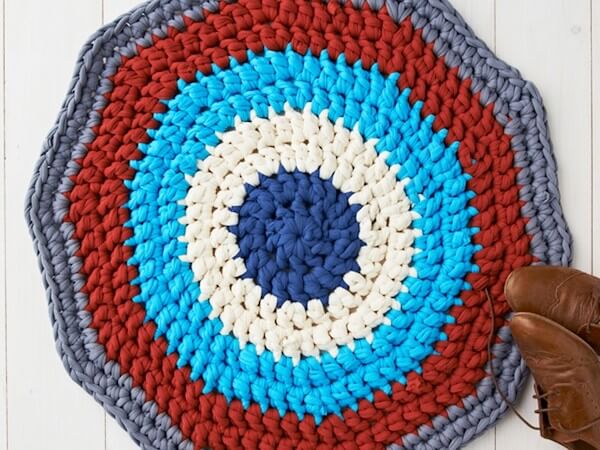 Get the Pattern here

25. Crochet Loop Stitch Lawn Rug Pattern by Moogly
This Crochet Loop Stitch Lawn Rug features a unique stitch, but in an easy to memorize pattern – and the end result is just a whole lot of fun! Single crochet is crocheted from the right side of the rug, and loop stitches are worked from the wrong side – and the loops create a luxurious texture for underfoot!

Wish this rug came in a different size? No problem – there's no stitch multiple, so you can just go ahead and make it as many stitches wide as you like, and keep going until you have the length you want!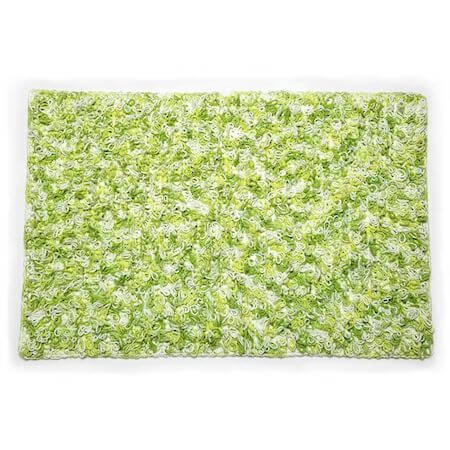 Get the Pattern here

26. Crochet Aztec Harvest Rug Pattern by The Cozy Knot Crochet
This Aztec Harvest Rug Crochet Pattern is a perfect DIY gift for a wedding, engagement, shower, housewarming, birthday, or Mother's Day – or just a great addition to your own home for your kitchen, entryway, bathroom, etc! The pattern features a pretty Fall/Autumn color inspired geometric pattern worked in the tapestry crochet technique.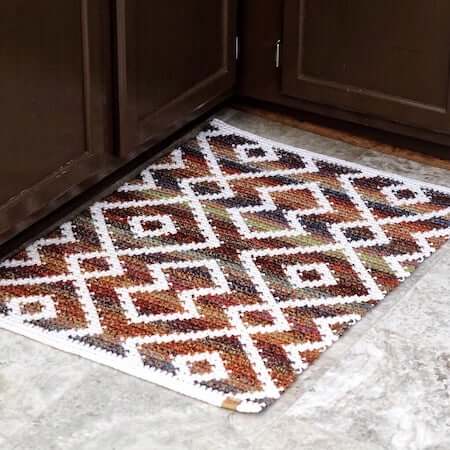 Get the Pattern by The Cozy Knot Crochet here

27. Crochet Outdoor Rug Pattern by Sewrella
This Crochet Outdoor Rug Pattern is super simple, and only requires single crochets and slip stitches. Easy, peasy. You can even change the message to anything you want. It could say "Welcome" or "Love" or even stitch on some sort of other applique! We suppose you could leave it blank, but where's the fun in that?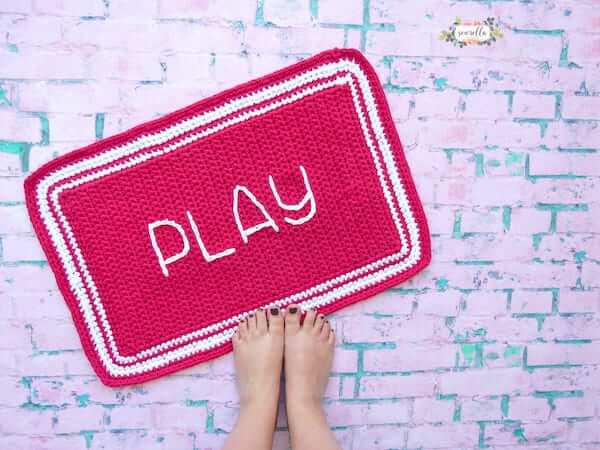 Get the Pattern here

28. Crochet Flower Rug Pattern by Golden Lucy Crafts
This diy crochet rug is made from individual flower motifs that are sewn together. It will look great in the bathroom or along side your bed. The pattern includes instructions for the four flower motifs and a pattern for the leaf motif. You can make such rug in any size or shape by making more or fewer numbers of motifs and arranging them in different ways.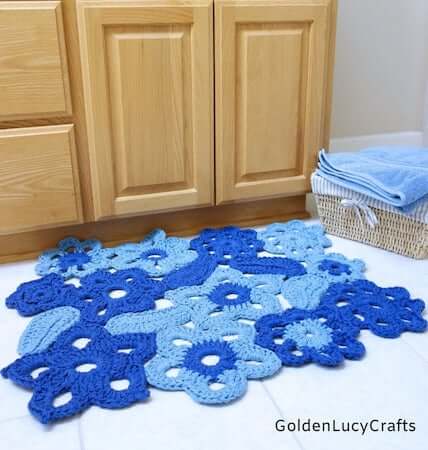 Get the Pattern by Golden Lucy Crafts here

29. Crochet Comforting Rug Pattern by Red Heart
Whether you rest it on a carpet or over a bare floor, this lacy crochet rug brings warmth and elegance to any space. Stitch it in a neutral tone or imagine a personality that's inspired by another gorgeous color. If using over hard flooring be sure to apply a non-skid rug backing to prevent slipping.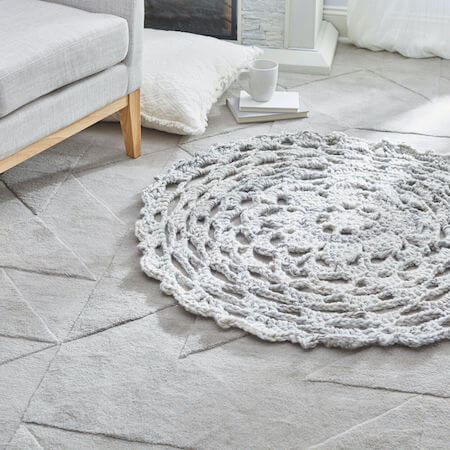 Get the Pattern here

30. Cosy Flower Rug Crochet Pattern by Look At What I Made
This Cosy Flower Rug uses three strands of yarn held together to create a sturdy fabric with a subtle ombre effect. The size is easy to customise too. You are, of course, free to change your colors to better reflect your own story!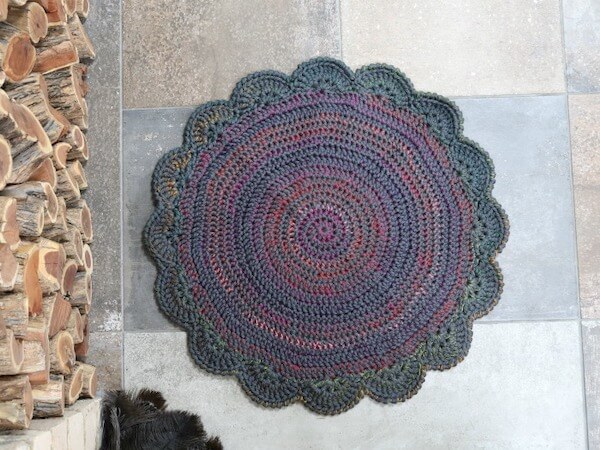 Get the Pattern here

31. Free Crochet Rag Rug Pattern by The Spruce Crafts
Upcycle your old T-shirts, sheets, and even towels by making a crochet rag rug, perfect to serve as a bath mat or kitchen sink rug. The rug is small, but its visual impact is dramatic, thanks to the vibrant colors. The finished rug typically measures about 23 inches wide by 18 inches high.
Get the Pattern here

32. Rag Rug Crochet Pattern by Amimon
This Rug amimon crochet rag rug is something which will take your breath away. Just look at this amazing rug. It looks very organic, almost like some kind of microbe under a microscope – we love it.

Crochet Rug Amimon Rag Rug
This Crochet Rug amimon rag rug is a recycling project using up all the old clothes and fabrics you have hanging around, that perhaps aren't good enough for the thrift store or for restyling. Cut your fabric into strips, use scraps of yarns and threads and go to town with your design!
More Crochet Decor Patterns Here
WOULD YOU DECORATE YOUR HOME WITH A CROCHET RUG? IF SO, WOULD YOU STICK WITH NEUTRAL SHADES OR GO WITH SOMETHING A LITTLE MORE COLORFUL?
Share your thoughts by leaving a comment below or by showing your finished crocheted rugs on our Facebook Page. We love seeing your creations!

For more decorative patterns for your home, check out this page for Crochet Decors. We have tons of patterns you can choose: Placemats, Table runners, Tablecloths – you name it!