Some things never go out of fashion and this delicately pretty crochet tablecloth patterns promise to be a timeless addition to your crochet library.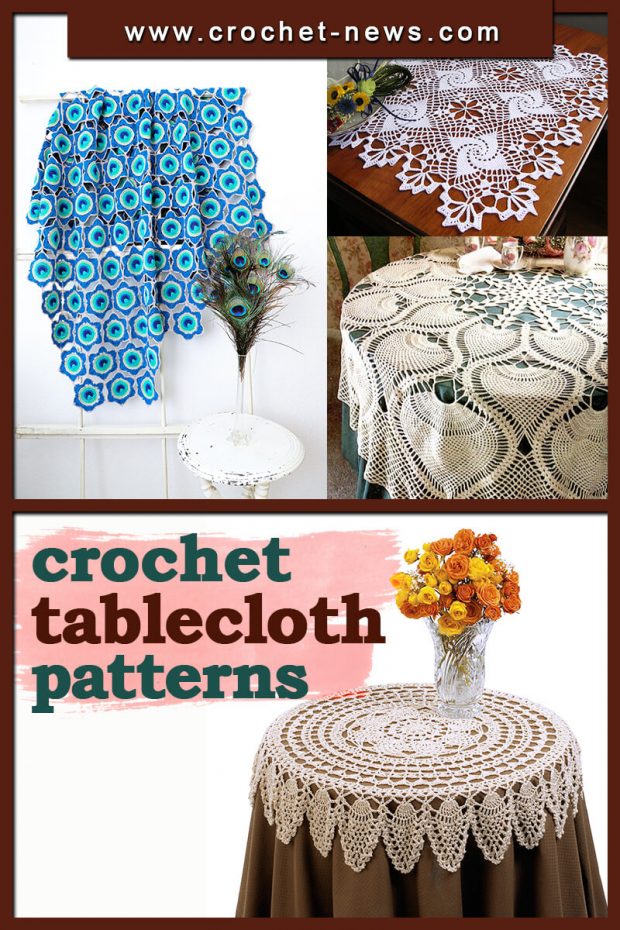 Making your own tablecloth is an easy way to express yourself in your home, and to create a truly unique aesthetic.

The style of your tablecloth is totally customizable. Looking for a beachy theme? Try a dip-dyed tablecloth. Want a vibrant, bold statement piece? Go for vivid colors and add hints of metallic thread and linings.

If you are classic through and through, go for a clean white that can dress up any table setting. The options are endless!

1. Crochet Lace Tablecloth Pattern by Mondo TSK
This Crochet Lace Tablecloth can mainly be used for aesthicallu covering tables. This is a perfect addition to your dining table, room decor,
or can be a really nice gift!

When using the indicated hook and a cotton yarn, the size of the finished tablecloth is about 40 x 40 cm.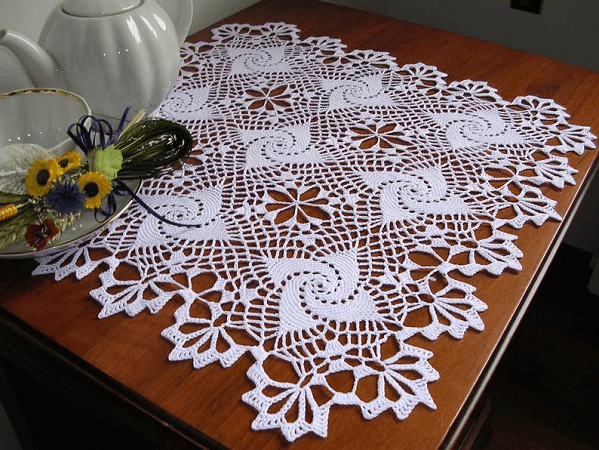 Get the Pattern by Mondo TSK here

2. Heirloom Pineapple Tablecloth Crochet Pattern by Pearl Shore Cat
The fantastic oversize Heirloom Pineapple Tablecloth Crochet Pattern is sure to be a masterpiece in your home! A traditional symbol of warm hospitality, the pineapple pattern is a favorite choice for tablecloth and doily designs. The finished tablecloth is 72″ inches in diameter.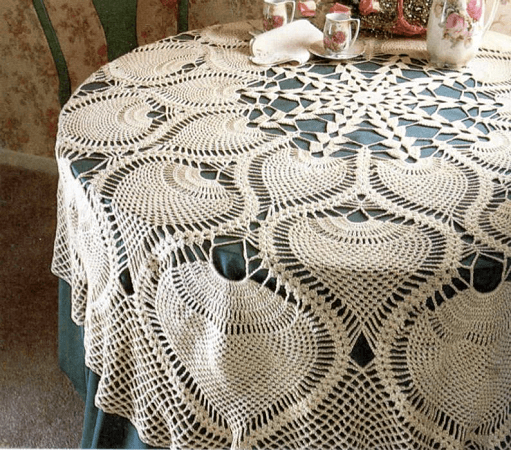 Get the Pattern by Pearl Shore Cat here

3. Luxurious Swirl Crochet Tablecloth Pattern by In Threadible Home
Creating a Luxurious Swirl Crochet Tablecloth is like crocheting up a dream! The finished design as a doily measures 32 inches in diameter using approximately 1625 yards of size 10 crochet cotton and a size 7 hook.

Make them in bright, festive colors, calm neutrals, or any combination of colors that suit your decorating style! This crochet pattern is quite simple but deceptively fancy-looking!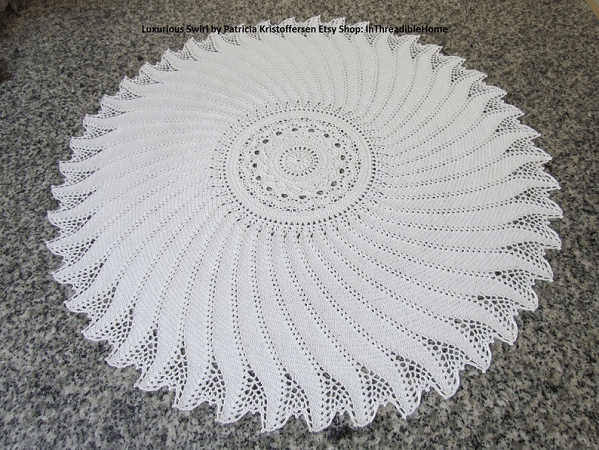 Get the Pattern by In Threadible Home here

4. Crochet Flowering Peacock Motif For Tablecloth Pattern by The Curio Crafts Room
This Crochet Flowering Peacock Feather Motif is a peacock feather blooming into a lovely flower.
It is a join-as-you-go (JAYG) motif with instructions on how to make a throw/afghan/blanket and a table runner or tablecloth and coasters, which look fabulous in all kinds of color combinations.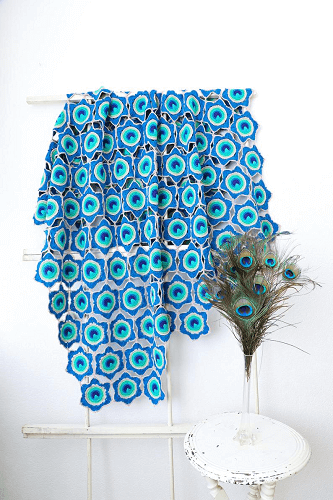 Get the Pattern by The Curio Crafts Room here

5. Tablecloth Crochet Pattern by PDF Knitting Crochet
This tablecloth has a flower pattern design that repeats throughout the tablecloth. This beautiful piece will add old-world elegance and charm to any of your events. It measures approximately 55 x 56 inches (140 x 143 cm) when made with cotton yarn.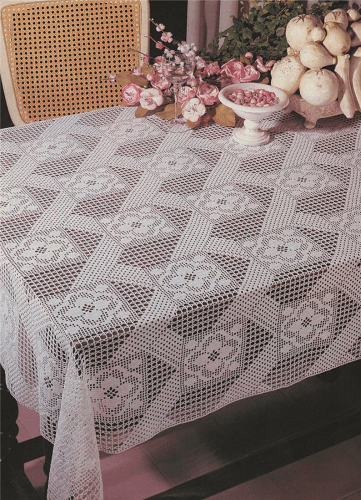 Get the Pattern by PDF Knitting Crochet here

6. Crochet Flower Tablecloth Pattern by Emma Crochet Design 4 U
If you love flowers and hexagons, turn these 2 elements into a beautiful flower hexagon motif. It is a simple but yet very pretty motif even for a beginner.

You can use this motif to make a tablecloth, a blanket, a scarf, and even clothes. When it comes to imagination, the sky is the limit!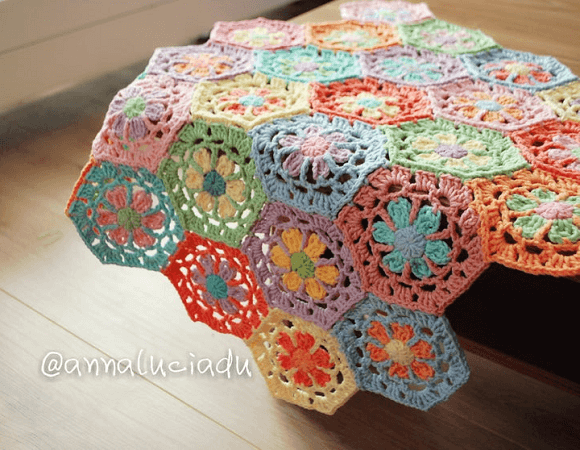 Get the Pattern by Pattern Emma Crochet Design 4 U here

7. Doily Tablecloth Crochet Pattern by Gull 808
Reminiscent of ocean waves with a stylized sun center motif, this Crochet Doily Tablecloth is a striking decorator accent when displayed in a modern living space.

Stitch it as designed, or imagine a different theme for your room. Add a pop of color by displaying this piece on an accent table, shelf, buffet table, and more.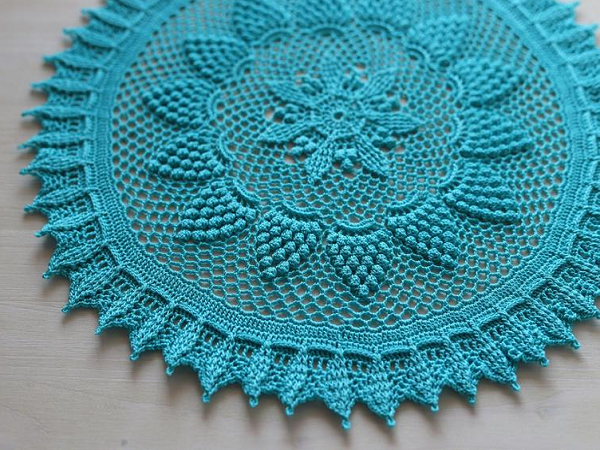 Get the Pattern by Gull 808 here

8. Lace Tablecloth Crochet Pattern by Magic Hook Crochet UA
Delicate and lacy, this fine Lace Tablecloth is indeed a showpiece that stands out in any home! If you know a fan of tablecloths, this classically inspired project is an ornamental gift of elegance and warmth.

According to the napkin scheme, you can also crochet a beautiful dress or skirt for a girl from this pattern.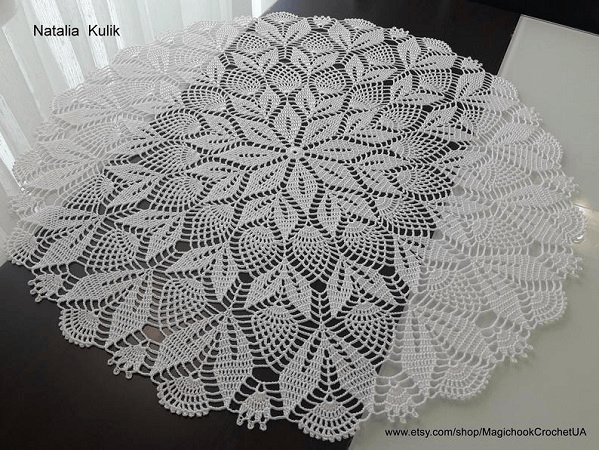 Get the Pattern by Magic Hook Crochet UA here

9. Crochet Round Tablecloth Doily Free Pattern by My Accessory Box
This is an easy Crochet Tablecloth Round Doily Pattern that is very nice looking, cute, and easy to do.

The rounds are very typical with a steady increase in the number of stitches. But what makes this tablecloth so special, is the flower framing. Try making the flowers it in multiple colors!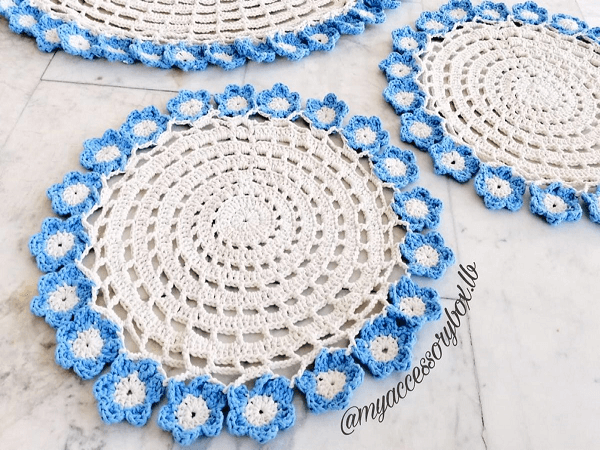 Get the Pattern here

10. Table Topper Crochet Pattern by Yarnspirations
Add softness to space with this pineapple crochet lace table topper featuring Red Heart Luster Sheen.

When placed over a solid color tablecloth, the natural tone shows off the lovely stitchwork. Or, display it atop a bare wood surface to bring out the natural wood tones.

It's versatile as designed but would look just as impressive in any shade that matches your space.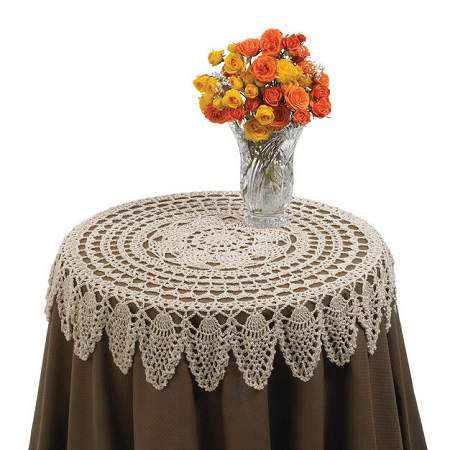 Get the Pattern here

11. Crochet Tablecloth Free Pattern by Yarn Plaza
This cheerful tablecloth is the perfect item to do so! Doesn't the cheerful color makes you want to start right away?
This tablecloth is crocheted using a filet crochet technique. When working according to the pattern chart you create a beautiful pattern in your work.

It's called 'drawing with your crochet hook and designed a floral pattern that constantly will be repeated. This way you'll get a cheerful floral tablecloth.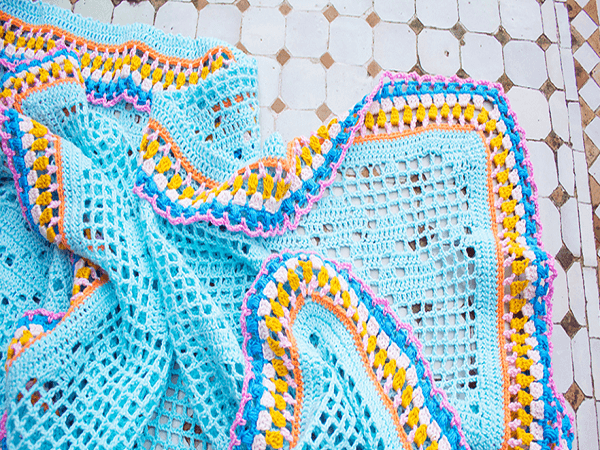 Get the Pattern here

12. Crochet Square Motif For Tablecloth Pattern by Sculptural Crochet
Using this Crochet Square Motif Pattern you can crochet a pretty motif for a tablecloth or blanket, mini doily, or a carpet. You can use it as a tablecloth, cabinet cover, or anywhere else you want to use.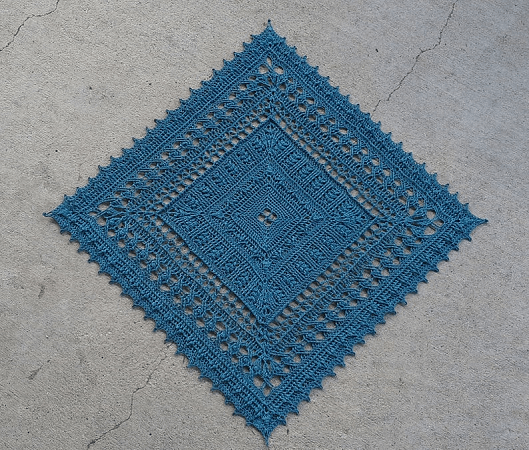 Get the Pattern by Sculptural Crochet here

13. Crochet Circular Tablecloth Pattern by Home Decor Pattern PDF
Just because you might not be a master of charts, don't let that scare you away from this Crochet Circular Tablecloth Pattern. It has a chart pattern that is quick and easy to follow. The finished tablecloth looks great and perfect for any occasion.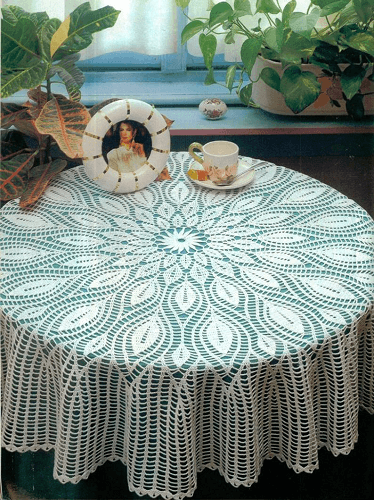 Get the Pattern by Home Decor Pattern PDF here

14. Easy Crochet Tablecloth Pattern by Knit Wear Handmade Ai V
Just imagine how attractive this tablecloth/table runner will look with a large candle centerpiece and some green foliage. You can use it from one season to the next to dress your table stylishly!

Make this Easy Crochet Tablecloth Pattern with two or more colors and you will be surprised how it will add extra depth to the look.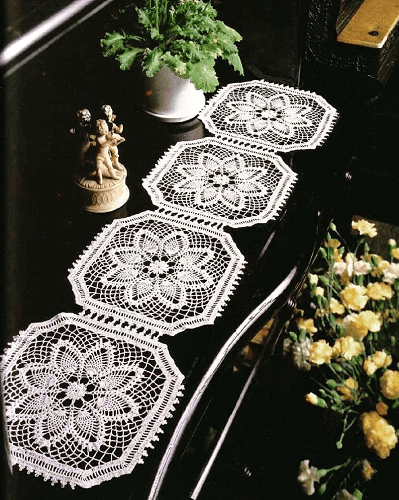 Get the Pattern by Knit Wear Handmade Ai V here

15. Oval Pineapple Tablecloth Crochet Pattern by LJ Crystals And Crochet
The subtle pineapple motif is delicate on this oval tablecloth – whether made to enhance a tropical decor or not. It's an impressive project that can easily become an heirloom quality gift to be passed down from generation to generation.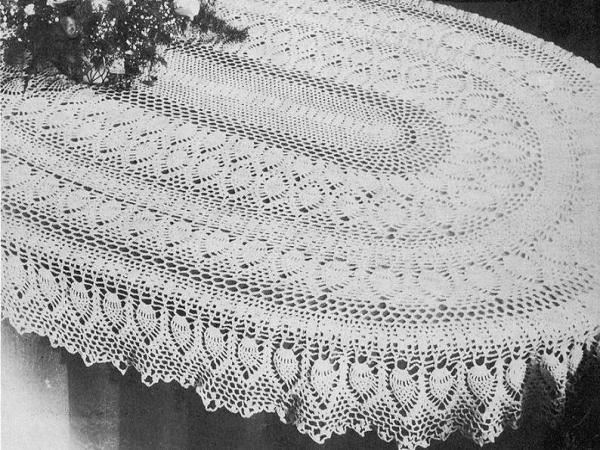 Get the Pattern by LJ Crystals And Crochet here
Tablecloths are relatively costly. But with a crochet tablecloth pattern, you can typically save at least half of its cost, which making tablecloths that still look fantastic.
Try out a gorgeous and practical project, like making one for your table setting, and see just how easy it can be! When you're done, please post your works on our Facebook Page for everyone to see!
For more decorative patterns for your home, check out this page for Crochet Decors. We have tons of patterns you can choose from.

We hope it helps! Happy creating your favorite crochet tablecloth pattern!