Princess Crown Crochet Placemat
This crochet placemat is durable and washable. It will handle the messiest of eaters. Do you have a very special little prince or princess at home? Then they should be treated like royalty at the dinner table.
This diy placemat also helps to soak up any spills and protect your table from food that 'escapes'. You can even roll it up and take it with you for eating out, picnics etc.
Basic Skills Necessary:
Materials For Your Crochet Placemat:
Download the free crochet placemat tutorial here

2. Crochet Placemat Pattern by DeBrosse NYC
Functionality and aesthetic merge effortlessly in this crochet placemat. Cotton cord allows for a sturdy finish, while an interesting take on a common stitch creates a whirlwind texture.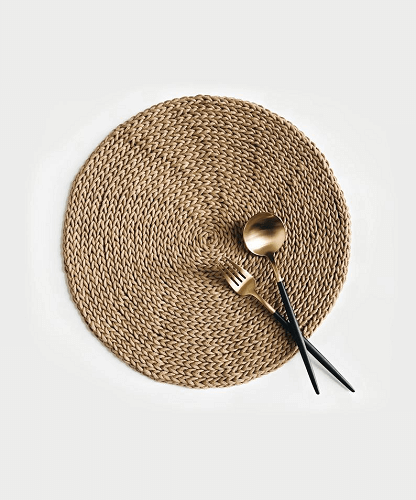 Get the Pattern by DeBrosse NYC here

3. Dog Bone Placemat Crochet Pattern by DAC Crochet
We all love our four-legged friends but when it comes to eating their food, you can end up with mess everywhere! Solution? Crochet a Dog Bone Placemat in a stylish bone shape.

The standard size easily accommodates 2 small or medium food/water bowls and the larger size easily accommodates up to 3 food/water bowls or 2 large bowls; best for large dogs.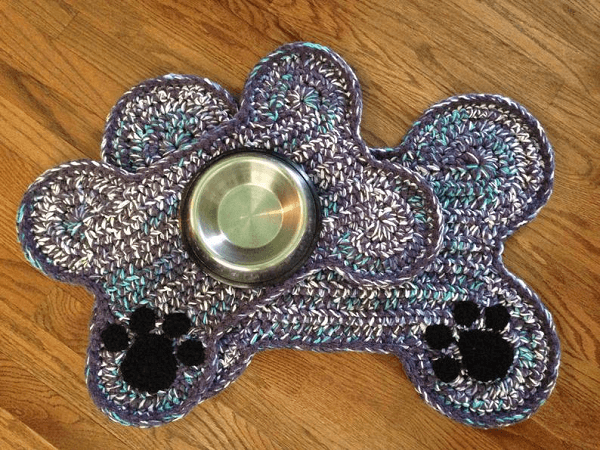 Get the Pattern by DAC Crochet here

4. Mosaic Basketweave Crochet Placemat Pattern by Red Heart
You don't need to spend big bucks to bring new life to the kitchen when you can stitch up a set of Mosaic Basketweave Crochet Placemats to brighten it up!

Bring your crocheting skills to the table with this pretty 2-color set featuring tones or find the color combination that perfectly complements your space.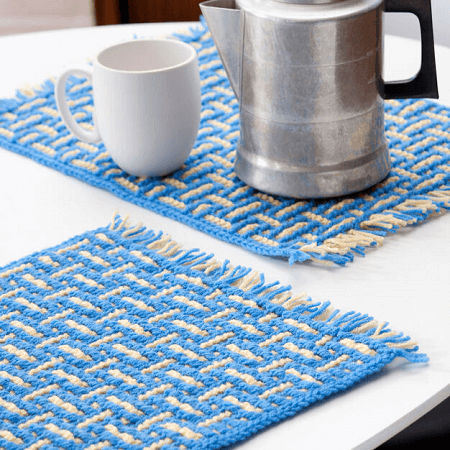 Get the Pattern here

5. Color Block Placemat Crochet Pattern by Yarn And Chai Design
Brighten up your table with these bold, modern Color Block Placemats.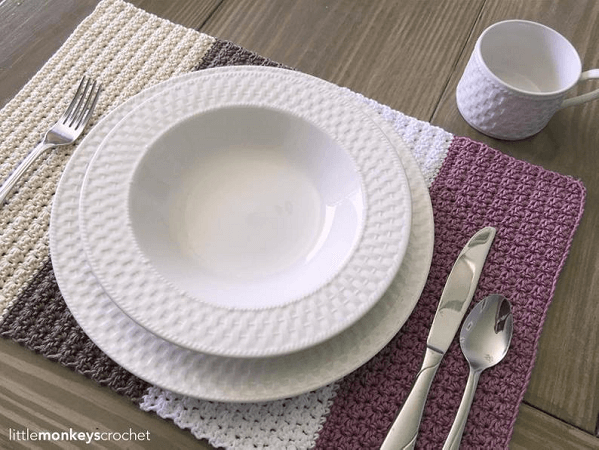 Get the Pattern by Yarn And Chai Design here

6. Rustic Jute Placemats Free Crochet Pattern by Petals To Picots
Add a rustic yet chic accent to your table with these pretty Jute Crochet Placemats – make a set for yourself or give as a gift!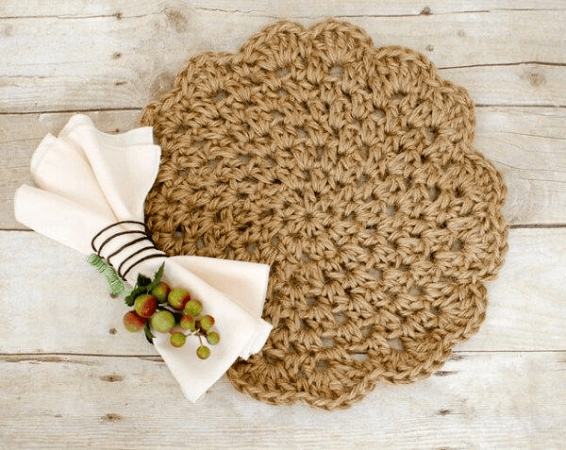 Get the Pattern here

7. Crochet Doily Placemat Pattern by Simply Made By Erin
Get the Pattern by Simply Made By Erin here

8. Pineapples Crochet Placemat Pattern by Yarn Godess
In this reversible Pineapples Crochet Placemat, three pineapple motifs are joined, and then a small border added.

While the pineapples themselves are fairly simple, the motif border is a bit complex. This is definitely a project for an experienced crocheter.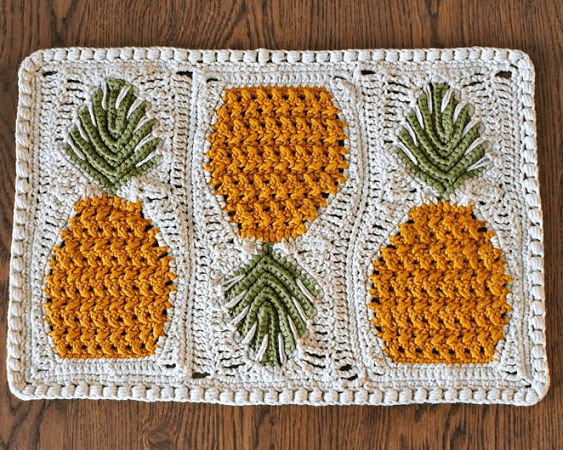 Get the Pattern by Yarn Godess here

9. Boho Placemat Crochet Pattern by For The Frills
Elevate your summer DIY home décor with these easy Boho Crochet Placemats! These tablemats are the perfect complement to a summer dining table set up and the coaster size is great for a cozy mug of tea or a fun, summery drink!

Crocheted using 2 strands of cotton yarn held together in a simple spiral construction, this easy crochet pattern comes in 3 sizes – mini (coaster size), midi (fruit bowl + vase size) and maxi (tablemat size).

The unravelled fringe adds a fun touch of whimsy to add a boho chic feel.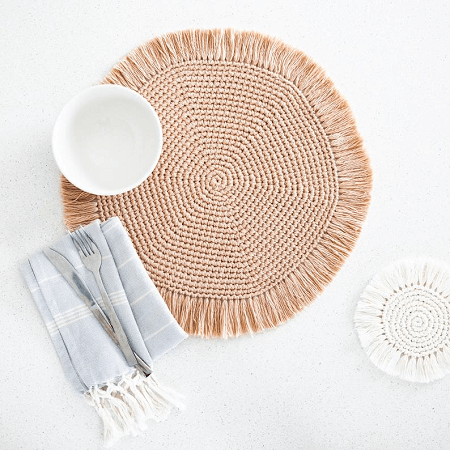 Get the Pattern by For The Frills here

10. Crochet Spring Gingham Placemats Pattern by Itchin For Some Stitchin
These Crochet Spring Gingham Placemats are a lovely way to brighten up your household this spring.

Perfect for dressing up your springtime brunch or Easter table top! Place it beneath a plant, vase, picture frame, or other decorative piece to add a touch of pastel fun to your home decor!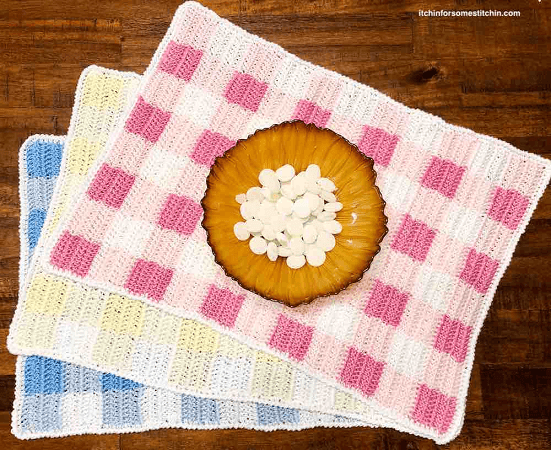 Get the Pattern here

11. Crochet Pumpkin Placemat Pattern by Highland Hickory Designs
Wouldn't your seasonal or holiday table look so cute with this Crochet Pumpkin Placemat at every place setting? It certainly would!

This placemat is incredibly versatile this time of year. You can use it from the beginning of fall until the beginning of the Christmas season!

Constructed of basic granny squares, these mats work up quickly and easily. The solid granny squares also allow less crumbs to fall through onto your table or tablecloth.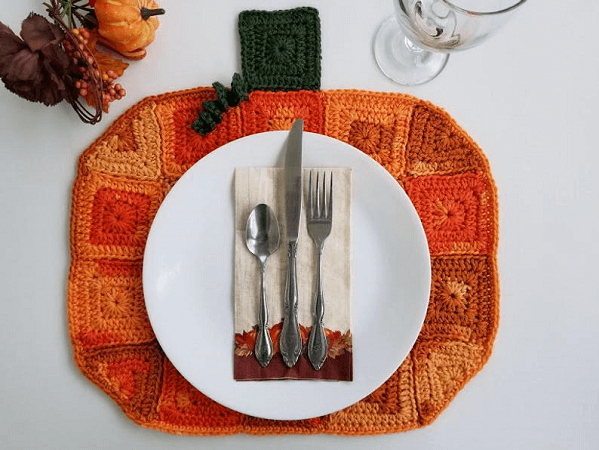 Get the Pattern by Highland Hickory Designs here

12. Mad For Plaid Crochet Placemat Pattern by Yarnspirations
Give your table a plaid update with these stylish classics! Make a set in the color scheme to match your home. If you know a plaid lover, this Mad for Plaid Crochet Placemat makes a thoughtful gift for them.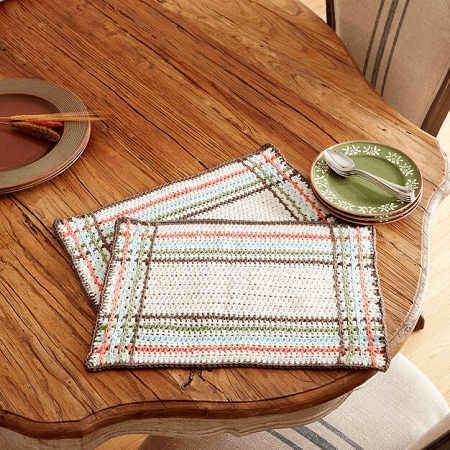 Get the Pattern here

13. Harlequin Placemat Crochet Pattern by Sewrella
This Harlequin Placemat is fun and whimsical, adding a touch of flair to any table! Crochet this with a cotton yarn so that it is durable for washing when it gets dirty. It works up rather quickly and is a great intermediate project.

This is an intermediate level crochet pattern, and the techniques you will need to know are harlequin stitch, double crochet, single crochet, color changes, and slip stitch.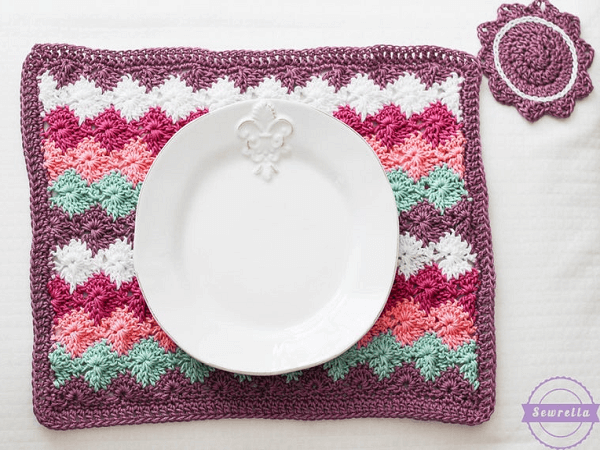 Get the Pattern by Sewrella here

14. Karmic Mandala Placemats Crochet Pattern by Part Pixy Patterns
Get the Pattern by Part Pixy Patterns here

15. Christmas Pinwheel Placemat Crochet Pattern by Mary Jane Protus
This Christmas Pinwheel Placemat is a wonderful way to set your table on Christmas morning. Sparkling with the colors of the season, this crocheted set also makes a lovely hostess gift if you're traveling over the holiday season.

You could even use this pattern to create placemats for any season! Use orange and black yarn for a Halloween placemat, or create summer spirals by using bright yellows, blues, pinks, greens, and oranges.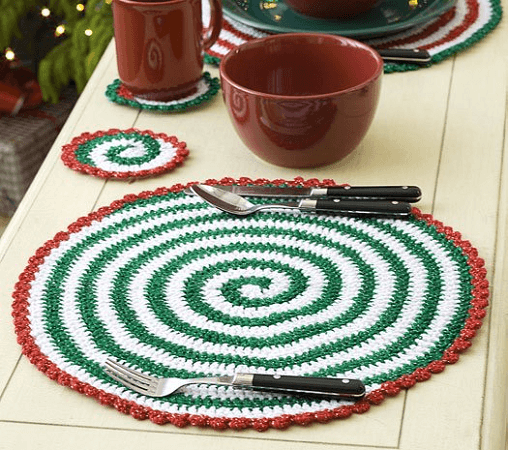 Get the Pattern here

16. Scallop Edge Placemats Crochet Pattern by Henna's Boutique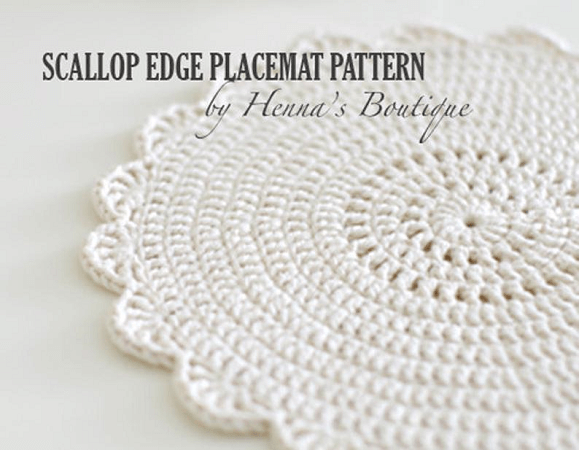 Get the Pattern by Henna's Boutique here

17. Bright Chevron Placemat Crochet Pattern by Moogly
This Bright Chevron Placemat makes a nice thick cloth that will protect your table from hot dishes and stains – and look good doing it.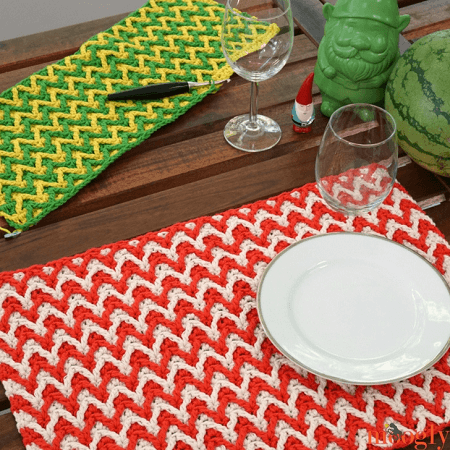 Get the Pattern here

18. Finesse Crochet Placemat Pattern by Melody's Makings
This Finesse Crochet Placemat is designed to add a little something extra and pretty to that holiday table. It is a short and sweet project you'll be thrilled to display throughout the holidays this year!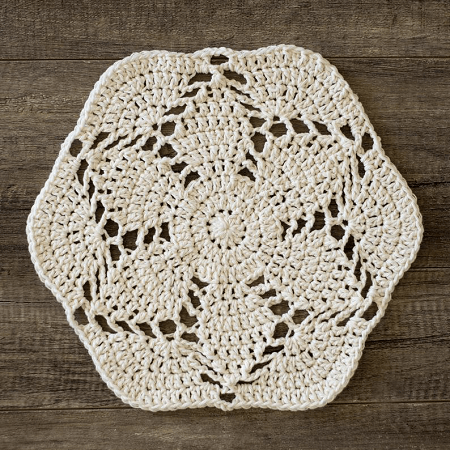 Get the Pattern by Melody's Makings here

19. Waffle Stitch Crochet Placemat Pattern by Yarn Godess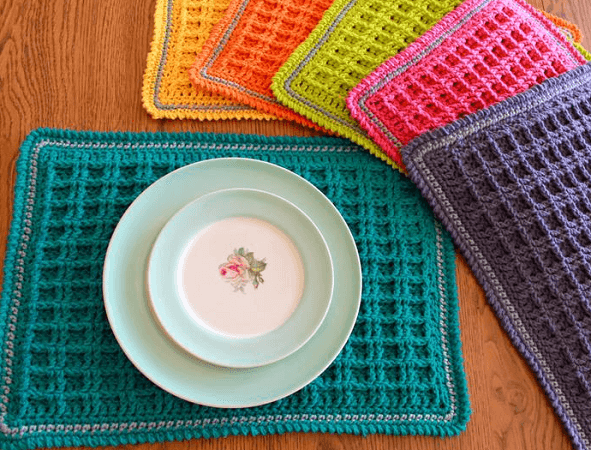 Get the Pattern by Yarn Godess here

20. Autumn Placemats Free Crochet Pattern by She Yarns
These double crochet placemats are worked in the round with two strands of yarn without turning and are finished with a reverse crochet stitch edge.

They make a beautiful addition to an autumn-inspired table setting. For a variation in color, replace one strand of yarn with solid autumn color. Pick from shades of red, brown, orange, brown, and green.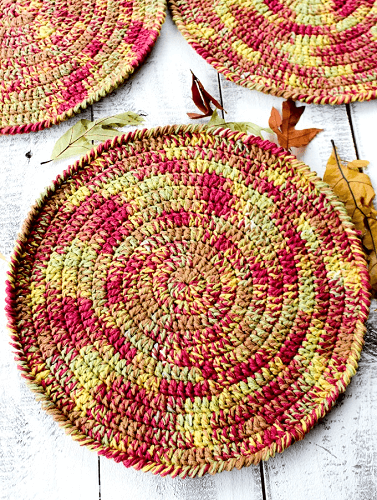 Get the Pattern here

21. Crochet Turkey Placemat Pattern by Bago Day Crochet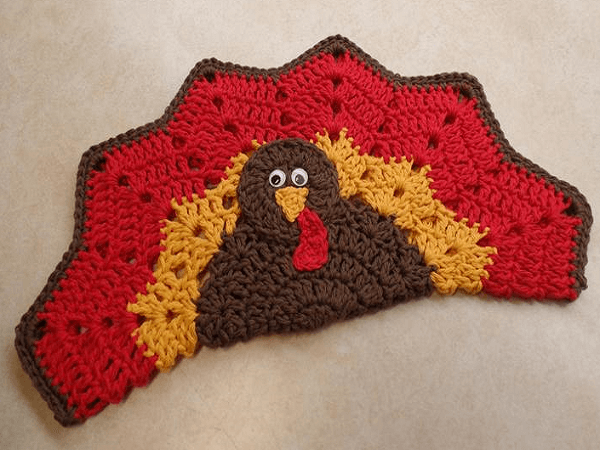 Get the Pattern by Bago Day Crochet here

22. Table Lace Placemat Crochet Pattern by Red Heart
Protect your table with this pretty Table Lace Placemat that's ideal for everyday use. The cotton yarn makes it sturdy and beautiful with a lovely lace pattern.

Select shades for your table setting, or begin with the version shown. It's a project that impresses, but only you'll know how easy it was to complete!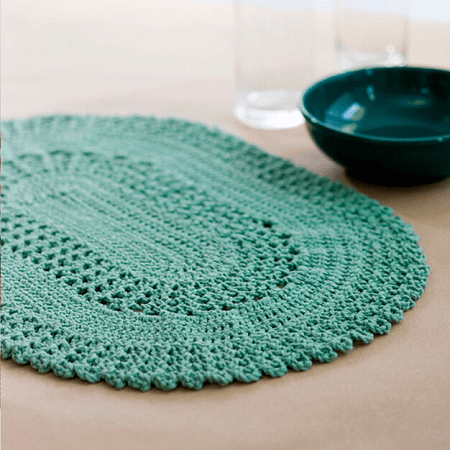 Get the Pattern here

23. Crochet Snowflake Placemat Pattern by The Pattern Paradise
This Crochet Snowflake Placemat is a great way to decorate your table during the holiday season. It is worked from side to side and starts out with a charted snowflake design.

The edges are worked in tapestry crochet and the center is a ribbed "knit-look" that works up super quick. You could also leave the ends long and trim them for a nice fringed edge if you like.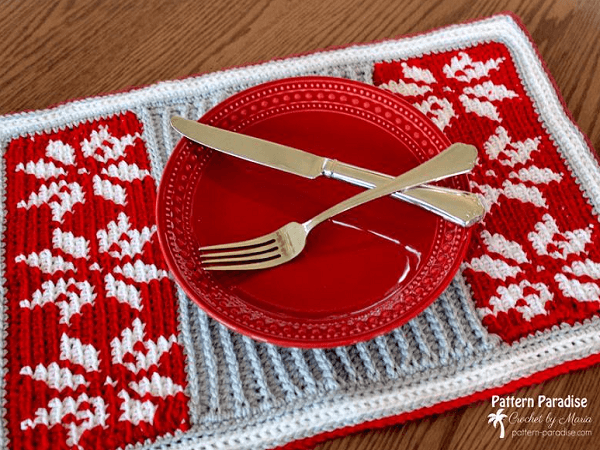 Get the Pattern by The Pattern Paradise here

24. Tunisian Crochet Round Placemat Pattern by Hook Loop Sarah
This lovely crochet round placemat or spiral centerpiece in Tunisian crochet is very versatile and an incredible piece of decor design for your home.

Its beauty is further enhanced by the colors and quality of the yarn used (given in the pattern). Your table will never look the same again!
Get the Pattern by Hook Loop Sarah here

25. Crochet Rainbow Rope Placemat Pattern by Lottie And Albert
Tactile and modern, these rainbow mats are an easy way to work with rope in crochet. Use neutral yarns for a calm, scandi look, or jazz up your design with fun rainbow brights.

Don't need any more placemats? Use your rope rainbows as trivets, or as a gorgeous wall-hanging instead.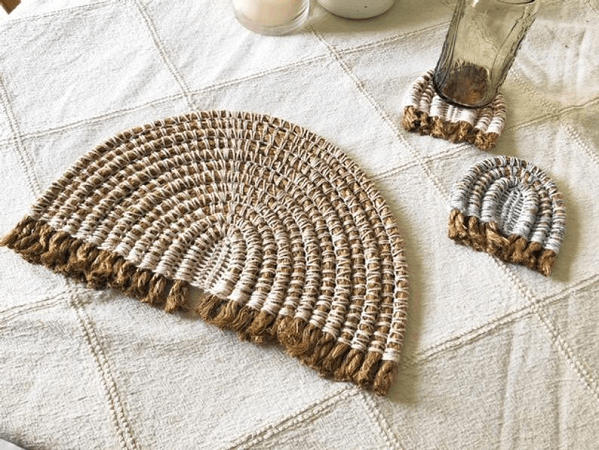 Get the Pattern by Lottie And Albert here

26. Coastal Placemat Crochet Pattern by Fiber Flux
This Coastal Placemat makes a lovely addition to a summertime table. Make a few for each guest at the table or perhaps just one to make a striking centerpiece. Fast, fun, and easy too!
Get the Pattern here

27. Crochet Dinosaur Placemat Pattern by Ira Rott Patterns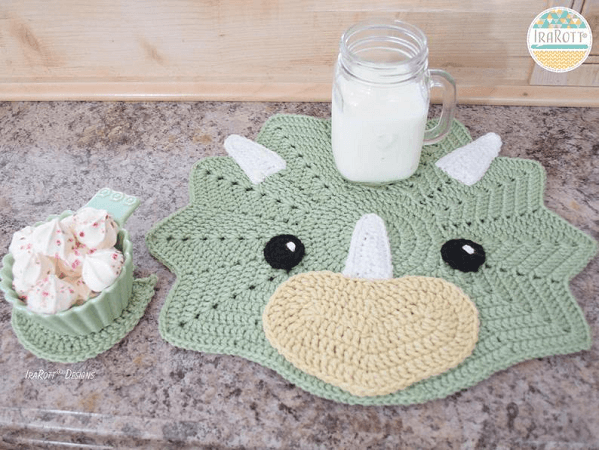 Get the Pattern by Ira Rott Patterns here

28. Crochet Celtic Placemat Pattern by Yarnspirations
Classically imagined in natural color for broad appeal, this Crochet Celtic Placemat brings a homey and welcoming feel to any table setting.

Stitch it as designed, or explore any shade of cotton thread yarn to make it delicate and beautiful to match your space and taste! Complete a set as a housewarming gift that comes straight from the heart.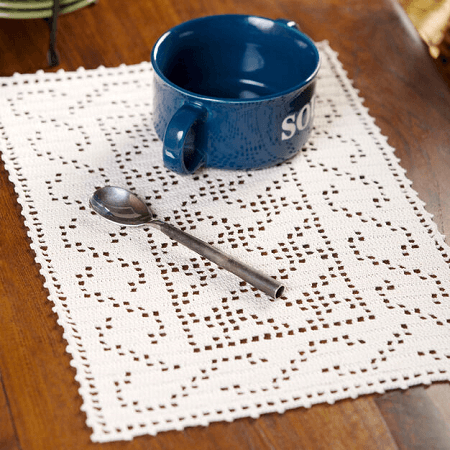 Get the Pattern here

29. Sliced Watermelon Placemat Crochet Pattern by Hookedo Patterns
This is a crochet pattern to create 6 watermelon shaped placemats and a watermelon shaped holder to neatly store them in.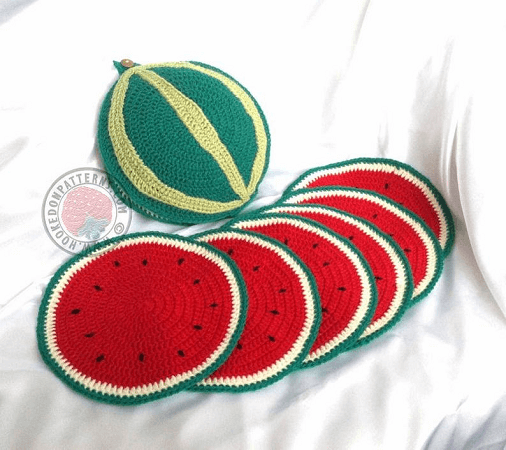 Get the Pattern by Hookedo Patterns here

30. Green Apple Placemat Crochet Pattern by Design By Bori
Get the Pattern here

31. Granny Circle Placemats Crochet Pattern by Purl Soho
These Granny Circle Placemats fit right into the mood of summer: bright, casual and as fresh as the morning!

Take the classic design of the granny square, spun it into a circle and add a colorful edge. The result is a simple and cheerful set of placemats that will be perfectly at home under a bowl of salted cucumber slices!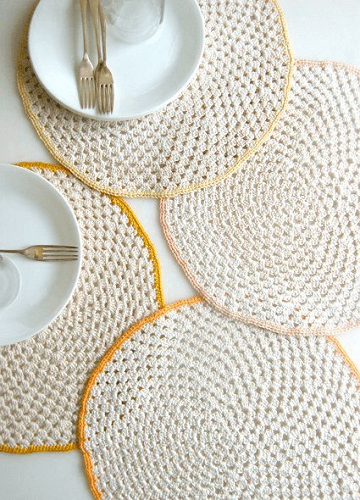 Get the Pattern here

32. Mandala Placemat Crochet Pattern by Knitting With Chopsticks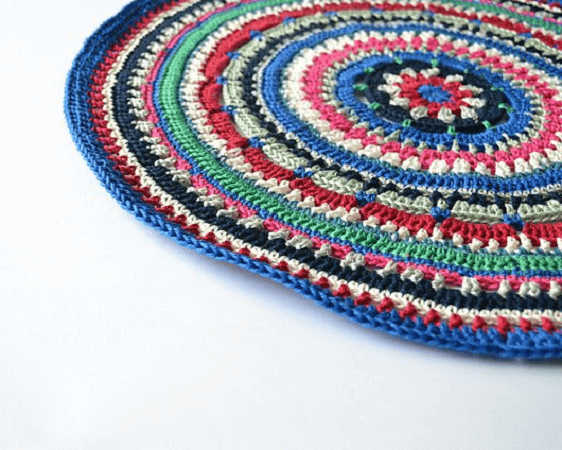 Get the Pattern here