I love to crochet and am always looking for patterns to inspire my creativity. I often buy single patterns, but I also enjoy crochet book PDFs. Crochet books offer a collection of designs and ideas in one easily accessible digital file. This makes it easy to work on a variety of projects while I am on the road.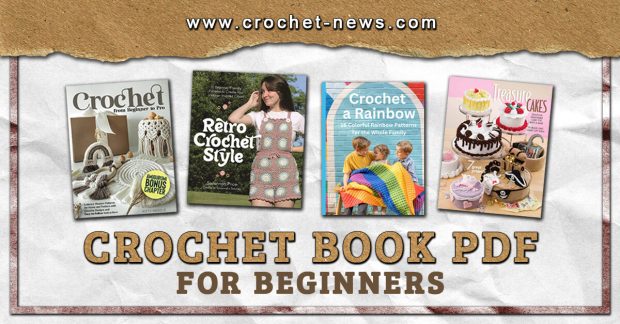 What are the Benefits of a Crochet Book PDF?
There are several benefits to using a crochet book in PDF format:
A crochet book PDF can easily be stored and carried on many types of electronic devices. This means you can have your crochet patterns with you wherever you go.
Many books PDFs have built-in search functions. This allows you to quickly locate specific patterns, stitches, and techniques within the book.
Some crochet book PDFs include clickable links to video tutorials, websites, and additional resources.
Crochet book PDFs often allow you to zoom in on text and images. This can make it a lot easier to read and follow patterns.
Books in PDF format are often cheaper than printed books. Plus, you do not have to wait for the book to be shipped.
Crochet book PDFs do not take up physical space. This is beneficial for those with limited storage space.
You can back up your crochet book PDFs to ensure you do not lose them.

16 Crochet Books
Here are 15 crochet books you may be interested in. Each book is filled with fun patterns that will inspire crocheters of every skill level.
1. Granny Pop Garment Collection Sweater Crochet Patterns PDF by MJsOffTheHookDesigns
Inside this crochet pattern book PDF, you will find six intermediate-level sweater patterns. Not only are these sweaters stylish, but also easy to make. All these patterns use the beautiful granny cluster stitch.
In the Granny Pop Collection crochet pattern book PDF, there are patterns for both adults and children. Each sweater pattern is worked from the top down. To make things even easier, the designer has provided step-by-step tutorials on YouTube.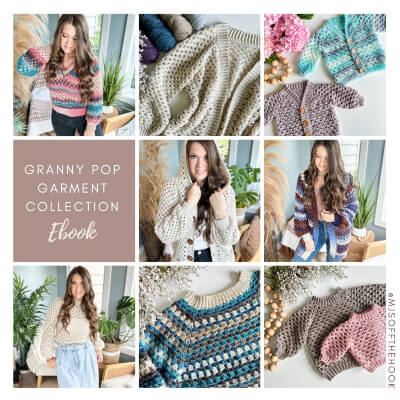 Get the Book by MJsOffTheHookDesigns Here
2. Timeless Textured Baby Beginners Crochet Patterns PDF by DavidandCharles
Create a timeless wardrobe for your little one's first years with this crochet patterns PDF. The finished pieces are the perfect blend of modern style and classic charm.
Included are 20 crochet patterns designed for babies and toddlers up to age 4. There are a variety of patterns, including rompers, hoodies, dresses, sweaters, cardigans, booties, bonnets, blankets, and more.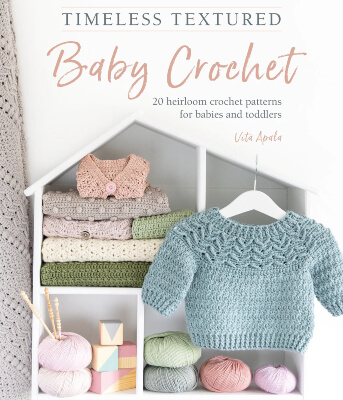 Get the Book by DavidandCharles Here
3. Cute Crocheted Animal Hats Crochet Books PDF by DemirHobby
Stay warm and stylish with one of these whimsical crocheted animal hats. The collection features 15 hat patterns inspired by adorable animals. You will find a wide variety of choices from cats and dogs to giraffes and zebras.
The book PDF includes step-by-step instructions, photos, and material lists for each pattern. These patterns are designed for everyone from beginners to experienced crocheters.
Find your favorite crochet animal hat patterns here.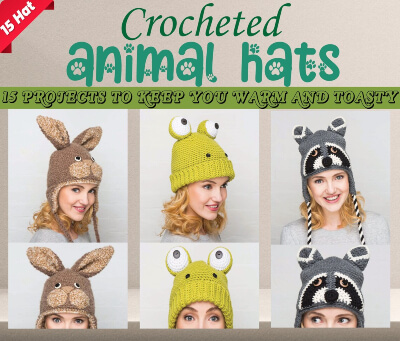 Get the Book by DemirHobby Here
4. 3D Granny Squares Crochet Patterns PDF by Caitie Moore
Are you ready to take granny squares to the next level? This crochet pattern PDF puts a fresh twist on the classic granny square. You can choose from a large selection of one hundred unique designs. Some of the designs include flowers, animals, food, and more.
In addition to the impressive collection of patterns, the book includes 10 projects that show you how to use the squares to make gifts. These projects include a baby blanket, a cushion, decorative garland, and patterns for special occasions. This crochet pattern PDF is available on Kindle Unlimited for free, as well as in hardcover and paperback formats.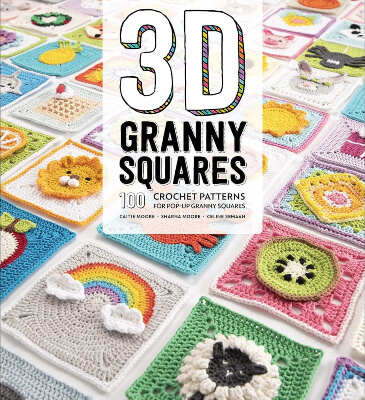 Get the Book by Caitie Moore Here
5. Kawaii Crochet Pattern Books by DavidandCharles
This delightful book PDF has 40 super-cute crochet patterns. You will find everything from adorable fruit and vegetables to fluffy clouds and festive Christmas creations. Each finished Kawaii crochet project would make a wonderful gift for a friend or loved one.
The book PDF has stunning flat-lay photography. The patterns are categorized into eight fun colour themes.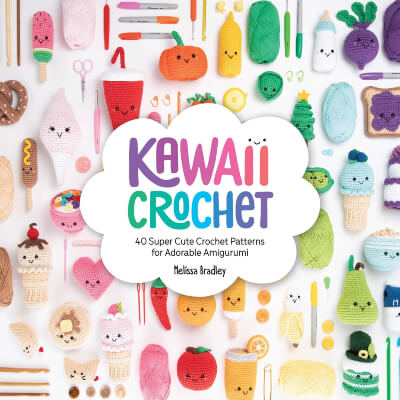 Get the Book by DavidandCharles Here
6. Hooded Farm Blanket Collection Crochet Books PDF by MJsOffTeHookDesigns
Children and adults alike will want to snuggle up in these warm hooded farm blankets. They are not only perfect for keeping cozy but also great for playtime.
In this PDF book, you will get 9 hooded animal patterns. There is a dog, cat, pig, horse, cow, baby cow, lamb, llama, and butterfly. The patterns come in various sizes, suitable for both children and adults. Some even include toddler sizes.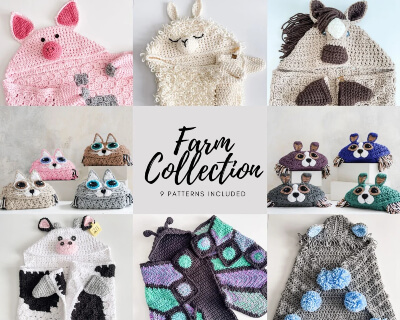 Get the Book by MJsOffTeHookDesigns Here
7. Harry Potter Crochet Wizardry Crochet Pattern Books by Insight Editions
Are you looking for a fun way to bring the enchantment of the Wizarding World to life? With over 20 official Harry Potter crochet patterns, you can create toys, keepsakes, and costume replicas. These finished projects are not only fun but also the perfect way to show off your Harry Potter fandom.
Inside the Harry Potter: Crochet Wizardry crochet book you will find patterns for every skill level. The book even provides behind-the-scenes facts, film quotes, concept art, and movie stills. You can choose to purchase the book in Kindle format, hardcover, or spiral-bound.
Also see: Crochet Harry Potter and Dobby Patterns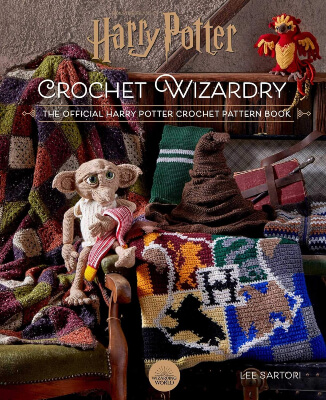 Get the Book by Insight Editions Here
8. Spooktacular Crochet Patterns PDF Format by MyFingersFly
Get ready for Halloween with this fantastic collection of Spooktacular crochet patterns. Once finished, these creations will be perfect for your holiday festivities.
The crochet patterns PDF contains over 30 hauntingly delightful patterns. There are projects for all skill levels, from easy to intermediate. You will find items like Frankenstein's monster, jack-o-lanterns, black cats, sugar skulls, bats, ghosts, hats, treat bags, home decor, and more.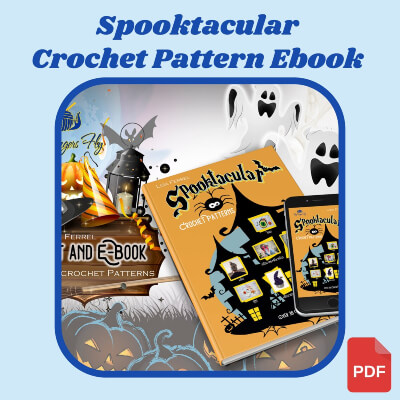 Get the Book by MyFingersFly Here
9. Rainbow Crochet Patterns PDF by MyFingersFly
No matter your crochet skill level, you will find this rainbow crochet patterns PDF is perfect for you. There are plenty of fun patterns that everyone can work on and enjoy making.
This ebook includes 16 beautiful designs to create 20 items. These include C2C blankets, a pillow, a handbag, an infinity scarf, and more. The patterns range in skill level from easy to intermediate.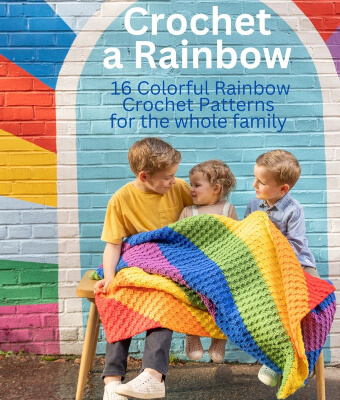 Get the Book by MyFingersFly Here
10. Crochet Storage Box with Cake Shapes by KittyhandmadeShop
This PDF book features a delightful collection of cake-themed storage boxes. These finished projects are not only handy for storage but also look incredible.
Within this PDF books are 7 delectable cake crochet patterns, including an Oreo cake, lemon twist cake, pirate cake, strawberry cake, and more. These patterns vary in size.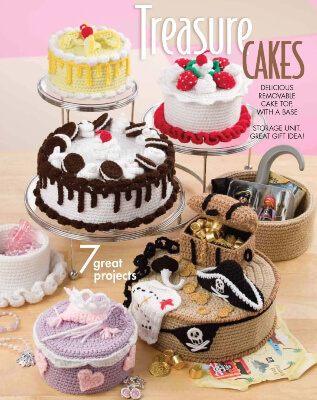 Get the Book by KittyhandmadeShop Here
11. Retro Beginners Crochet Patterns by Savannah Price
Craft a wardrobe that is as unique as you are with this vintage-inspired beginners crochet patterns. This book guides you through making sweaters, skirts, dresses, and pants styled from the 60s and 70s.
These crochet for beginners PDF patterns are a fusion of vintage-inspired florals and granny squares. Not only will your finished pieces be fun and colourful but also comfortable.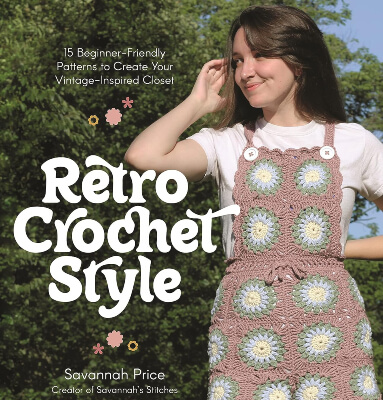 Find the Book by Savannah Price Here
12. Crochet from Beginner to Pro Crochet Book by Kitty Needle
This beginners crochet patterns shows you how to create stunning projects from home decor to fashionable accessories and more.
Start with the beginner-friendly pattern and work your way up to the advanced level patterns. It includes explanations of the crochet techniques and stitches used. There are also tips and tricks for troubleshooting common issues.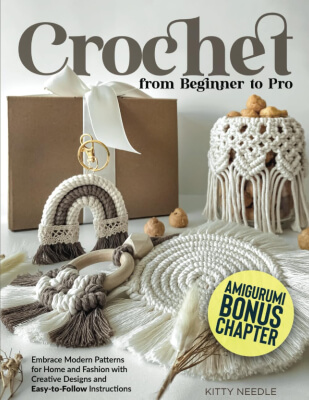 Get the Book by Kitty Needle Here
13. Household Crochet Patterns PDF by CraftABooo
Save money by making your own household items with the help of this crochet pattern book PDF. These crocheted creations not only help you to be frugal, but also add a touch of handmade charm to your home.
Inside this crochet pattern book PDF, you will find three beginner-friendly patterns. They include a washcloth, mop cover, and cup cozy. Each pattern is designed to build on your crochet skills and give you confidence.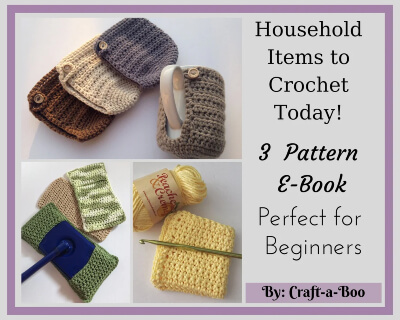 Get the Book by CraftABooo Here
14. Best Crochet Beanies Patterns by Charline Bincy
Here is a fantastic collection of beanies, caps, hats, and head-cover patterns. The finished products make unique gifts for friends and family.
With easy-to-follow instructions, these hats are perfect for all skill levels. Included are patterns for children, kids, and adults. The book is available in Kindle Edition and paperback.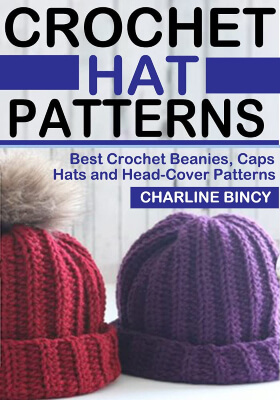 Get the Book by Charline Bincy Here
15. Crochet Granny Square Patterns by MazeArtDesigns002
This book is a must-have for anyone who enjoys making granny squares. With 365 crochet patterns, you have endless options for creating stunning decorations for your home.
This crochet pattern book PDF allows you to create a wide array of beautiful decorations. You can use the squares to make blankets, pillows, sweaters, scarves, coasters, and more. The possibilities are endless. You can even mix and match colours and patterns to create unique items.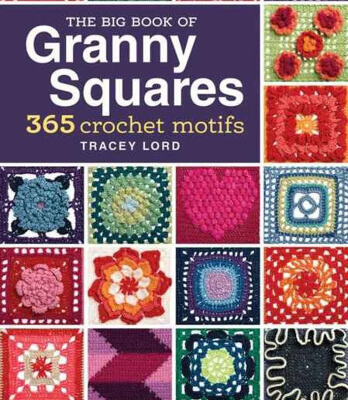 Get the Book by MazeArtDesigns002 Here
16. Basics and Beyond Free Crochet Book PDFs
This free crochet patterns for beginners downloadable PDF is essential if you are just starting out on your crocheting journey.
This Free Crochet Patterns For Beginners PDF guide is available exclusively on Craftsy, featuring 20 pages packed with tutorials, tips and tricks from experts.

Free Crochet Patterns For Beginners Tutorial E-Book Download
Frequently Asked Questions About Crochet Books
What is a crochet book?
A crochet book is a publication that provides instructions, patterns, and guidance for crocheters. Books are available in both digital and hard copy formats.
Are there crochet books for beginners?
Yes, there are many crochet books designed specifically for beginners. These books include step-by-step instructions and simple projects.
Do crochet books include patterns for different skill levels?
Yes, books often feature patterns for all skill levels. This allows everyone from beginners to advanced crocheters to create a variety of projects.
Are crochet books available in digital formats?
Yes, there are a lot of crochet pattern books that are available in digital format. They can often be downloaded and accessed on various electronic devices such as eReaders, tablets, smartphones, and computers.
Are crochet pattern books suitable for children and teens?
Yes, there are books designed for children and teens. They include age-appropriate projects and instructions.
Crochet book PDFs are valuable resources for crocheters of all levels. They offer a wide range of patterns for beginners and experienced crocheters.
With a variety of patterns, crochet pdf books can empower crafters to make countless crochet projects. Whether you are a beginner or an expert, crochet books PDFs open up a world of possibilities.
Download it instantly for now (you can even print it easily if you'd like) and enjoy it forever in the comfort of your home or even on the go.
There are so many amazing crochet patterns and tips that it can be overwhelming. Here at Crochet News we've got tons for you:
With your newfound crochet confidence, you can even teach friends and family members this beautiful and fun art!
The free crochet patterns for beginner's pdf would make the perfect gift for your crocheting buddy or for your child who wants to start out at crocheting. You will have them ecstatic with joy when you present them with this gift.
If you ever have any questions please feel free to get in touch via our contact us page.