Featuring patterns for crochet animal hats in a host of critters—including a chicken, frog, penguin, tiger, monkey, and more—this list packs a punch in the easy-to-do, fun-to-crochet category. Yes, animal hats like these are hot, and with these clever patterns, crocheters of all skill levels can create endearing hats to wear, to give, and to garner all kinds of compliments.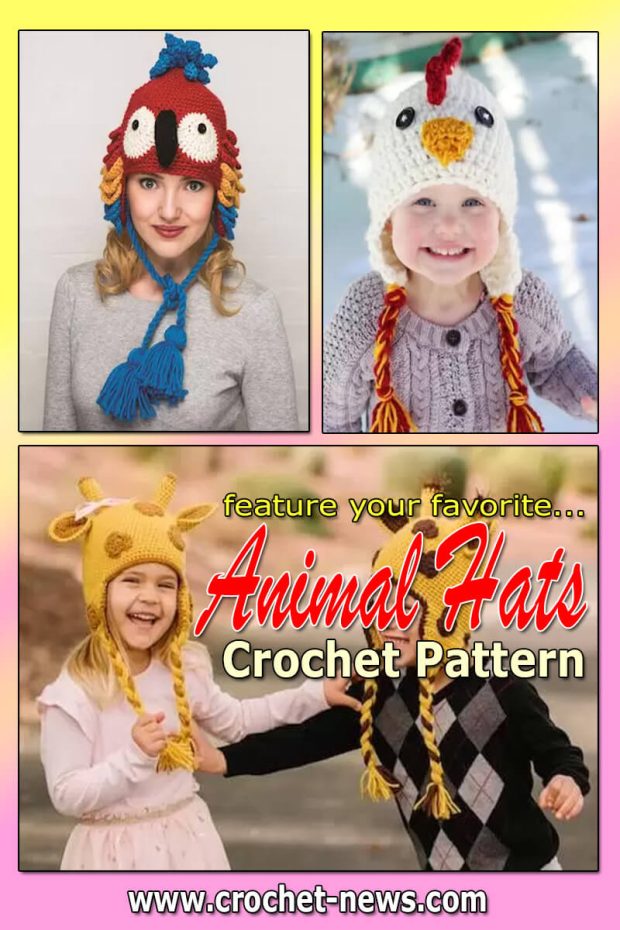 Everyone loves wearing something featuring their favorite animal, and there are 30 designs to choose from here. From animal silhouette motifs to attachable animal ears and more, this post is sure to inspire your crochet creativity!
30 Crochet Animal Hats Patterns

1. Crochet Koala Hat Pattern by Yarnspirations
Bring whimsy and happy times to their day when they wear this super adorable Koala hat. Begin your creative project with favorite shades to turn-out a comfortable hat they'll love to wear every day. It's a fun gift that's as imaginative as the child who wears it.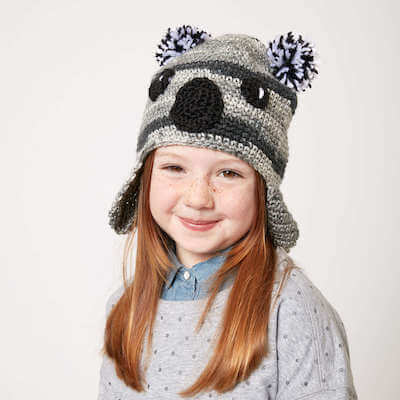 Get the Pattern here

2. Crochet Goat Hat Pattern by Morale Fiber
This twisty-horned, shaggy eared monstrosity could also be a ram, a yeti, a Wild Thing, or any number of raucous beasts. This Intermediate level animal crochet hat pattern uses techniques like single crochet, chain stitch, back loop only crochet, magic ring, and working in the round. 

The fuzzy, furry pile on the fabric comes from a dense layer of chain loops worked onto the hat every other round – it's very warm as well as having a truly unique texture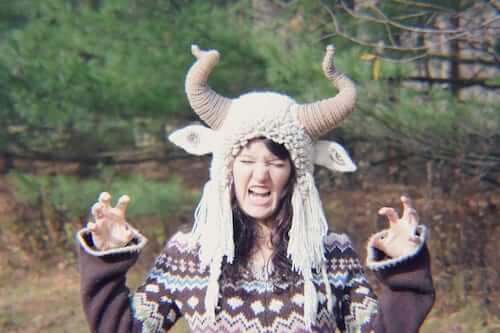 Get the Pattern by Morale Fiber here

3. Crochet Tiger Hat Pattern by Repeat Crafter Me
This gorgeous tiger hat comes with beautiful braids that can be tied together to make hat stable over the head. You can make it for boys and girls and in any size! It is great for a fun hat or to use as a photo prop.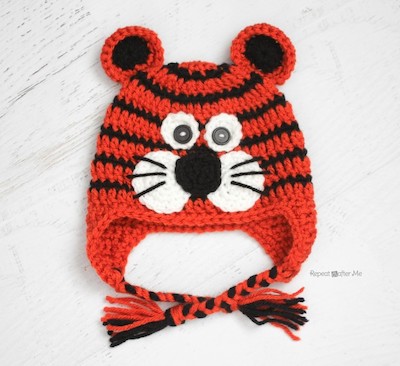 Get the Pattern here

4. Roxy, The Forest Fox Crochet Animal Hat Pattern by Ira Rott Patterns
I love fox. Roxy, the Forest Fox Hat is therefore one of my favorites! A cute little cover for your (or your little one's!) read, perfect for the other fox fans out there.

This hat pattern comes in 8 sizes to cozy up with your entire family on a special woodland adventure. It can be used as a fun addition to a Halloween costume or be worn on a cold winter day.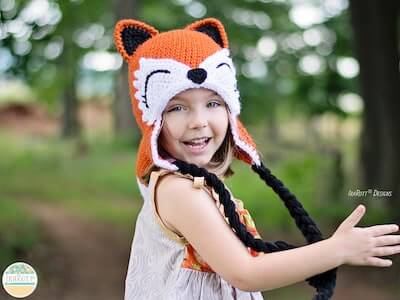 Get the Pattern by Ira Rott Patterns here

5. Crochet Horse Hat Pattern by The Unraveled Mitten
The kids will love this fun crochet horse hat with stand-up ears and even a mane! It's perfect for back-to-school, Hallowee, or just pretend play.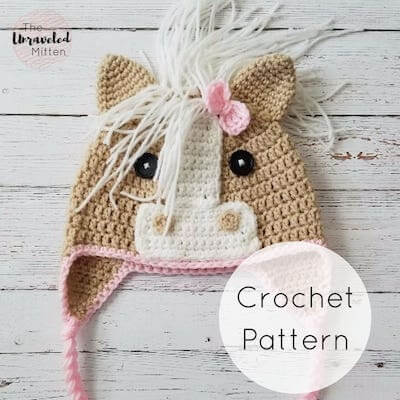 Get the Pattern by The Unraveled Mitten here

6. Crochet Giraffe Hat Pattern by Bri Abby HMA
If you're on the hunt for a fun hat for your little one, this might be it! Complete with cute little ears, horns, and spots, this Giraffe Hat is perfect for a photo shoot or a day at the zoo!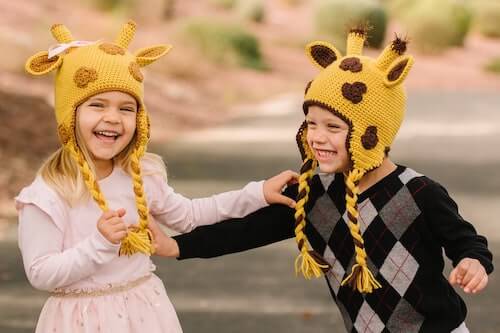 Get the Pattern by Bri Abby HMA here

7. Crochet Parrot Hat Pattern by Vanessa Mooncie
Brighten up a dull day with a brightly-colored parrot hat and add some tropical fun to your wardrobe!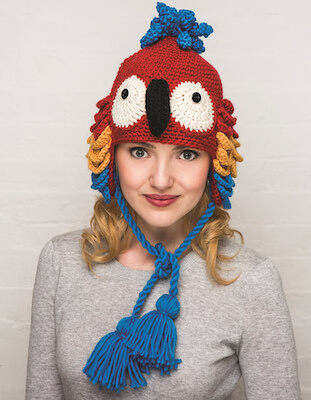 Get the Pattern here

8. Crochet Owl Be Warm Hat Pattern by Yarnutopia
This Owl Be Warm Hat is such a fabulous hat for your winter wardrobe! Change things up with this hat to make it uniquely your own–Eye color, Pom Poms, and yarn color can give this owl different characteristics. This hat is sure to be a real "hoot" in a crowd!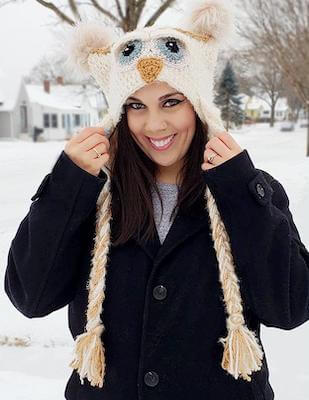 Get the Pattern here

9. Crochet Elephant Hat Pattern by Red Heart
You don't have to visit the zoo in order to see elephants! Crochet your very own with his insanely cute Elephant Crochet Hat. Since elephants never forget, maybe having a cool elephant hat is all kids need to remember to wear their hat. This one is easy to crochet and fun for taking photos.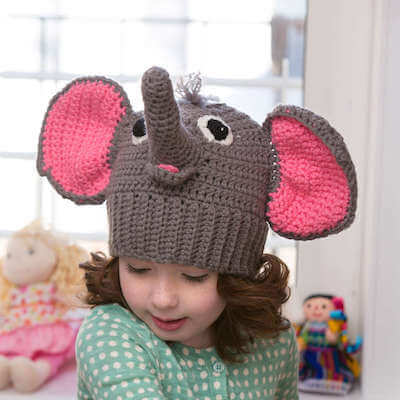 Get the Pattern here

10. Crochet Buffalo Hat Pattern by 5 Snowflakes Designs
This Buffalo Hat is pretty lifelike! It is made using two strands of yarn held together, so it is a really warm hat for winter. It also makes a great photo prop!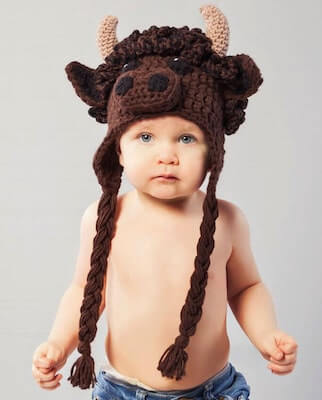 Get the Pattern by 5 Snowflakes Designs here

11. Squid Animal Hat Crochet Pattern by Nature's Hook
This fantastic Squid Hat is guaranteed to be your best buddy and bound to turn heads and receive compliments. This cute and fun squid beanie can be worn as a creative and unique expression to show your love of the ocean or as a cosplay costume.

This is a perfect statement piece to wear to the beach, aquarium, marine class, boat trip, cruise, costume, dive trip, festival—the opportunities are endless!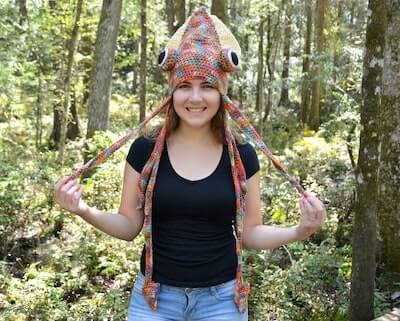 Get the Pattern by Nature's Hook here

12. Crochet Animal Bucket Hats Pattern by Moon Dragon PH
Bucket hats are back! And although the ones featured in this pattern are cute for kids, you could make a very natural hat in adult size and wear it for extra shade as well as a stylish accessory.
But where's the fun in keeping your bucket hats plain when you can transform them into animal bucket hats? This pattern includes instructions to make a dog, duck, pig, cat, and frog hats!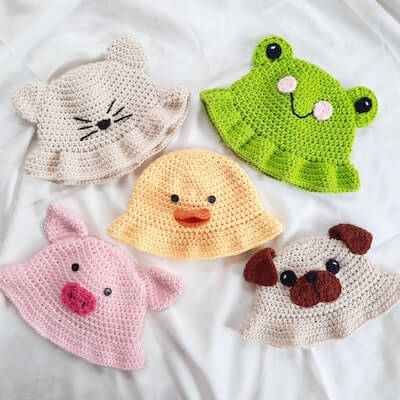 Get the Pattern by Moon Dragon PH here

13. Crochet Llama Hat Pattern by Lovable Loops
A llama hat would sure come in handy for a crochet llama Halloween costume or for dress up play. I love the braided tassels that hang below the ear flaps and just look at the adorable way the llama's furry head covers its eyes!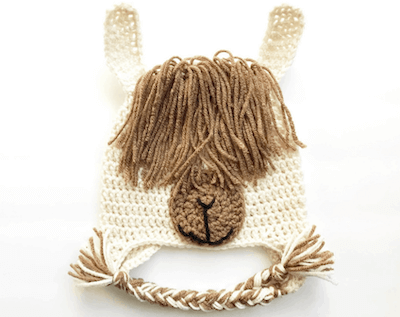 Get the Pattern here

14. Crochet Sloth Animal Hat Pattern by Repeat Crafter Me
Designed after the popular wildlife animal, the Crochet Sloth Hat, is sure to be a hit with the kids! Worked up with easy stitches, such as double crochet, as well as simple seaming, stitch along to watch this cute creature come to life.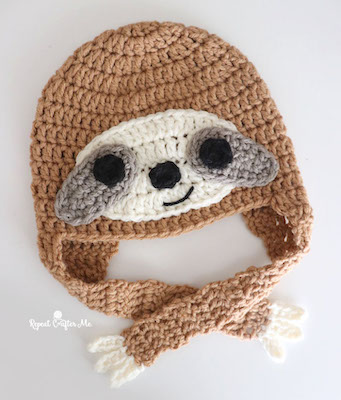 Get the Pattern here

15. Crochet Hippopotamus Animal Hat Pattern by Ira Rott Patterns
When life gives you a rainy day, play in the puddles and wear a fun hats. With Happy Hippo, the Hippopotamus you will love cool days a lot! The hat comes complete with the patterns for the eyes, snout, and even the hippos teeth hanging in front. Make it in gray, blue, or pink—the choice is yours!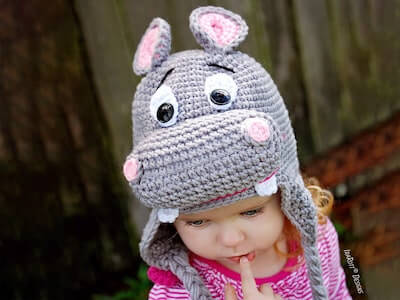 Get the Pattern by Ira Rott Patterns here

16. Crochet Panda Earflap Hat Pattern by Instructables
Add this endearing crochet hat to baby's wardrobe of adorable toppers to keep them warm. Every well-dressed child needs this precious panda hat, designed in classic colors. Keep it handy for the most memorable pictures to be treasured!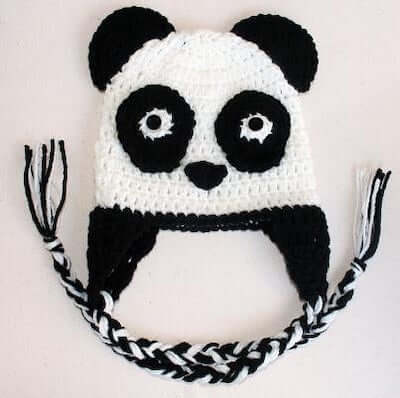 Get the Pattern here

17. Crochet Turtle Hat Pattern by Jenia's Designs
If you love turtles and find them cute (as you should), then you might want to have a hat inspired by them! This one-of-a-kind, fun, playful and super cute Turtle Hat features an adorable character with realistic looking turtle features. A great gift idea that is perfect for chilly days, picture time and as a part of a costume. 
Also see: Crochet Ninja Turtles Patterns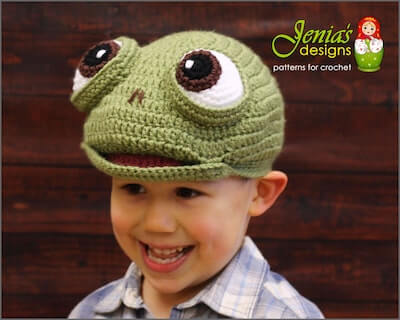 Get the Pattern by Jenia's Designs here

18. Crochet Ladybug Hat Pattern by Red Heart
A little girl will love wearing her hat when there's a cute, little ladybug right on top. Make it in red and black stripes for irresistible style.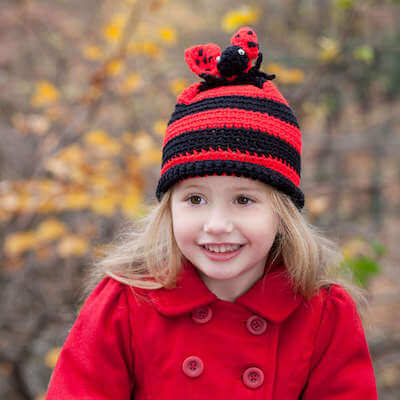 Get the Pattern here

19. Crochet Lamb Hat Pattern by Chrisette Designs
Work in bobble stitch to complete the textured look of this adorable crochet hat. Stitch it in any color that makes it special, or craft it as shown for a more traditional look. This hat is not just to keep your head warm, it's a mood booster!
Get the Pattern by Chrisette Designs here

20. Crochet Chicken Hat Pattern by Thyme Line
This Crochet Chicken Hat is a great hat for the chicken lovers in your family. So cute and colorful! It would be a perfect photo prop for a 1st birthday or newborn first photos.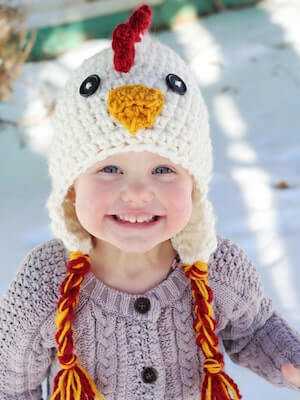 Get the Pattern by Thyme Line here

21. Crochet Puppy Dog Hat Pattern by Lizzziee
Here's one for all you dog lovers out there! This precious Puppy Dog Hat will be perfectly adorable on your little one. Crochet it in the colors shown, in feminine colors, or in any colors of your choice,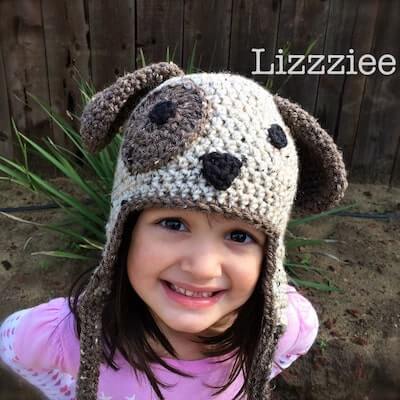 Get the Pattern by Lizzzie here

22. Crochet Lion Hat Pattern by Pig Loves Mouse
This lion hat is an adult hat but it will fit a small child if you add ties on the flaps. This would be perfect for cosplay, play time and Halloween. Also, if you are giving this to a small child to play with, you can omit the whiskers because they can be quite sharp at the ends.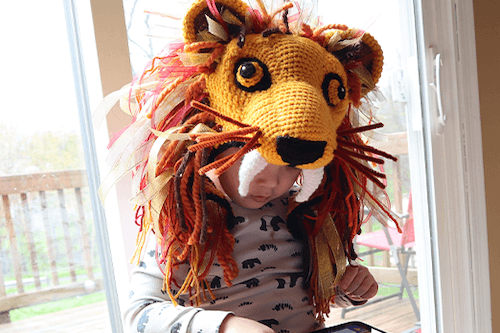 Get the Pattern here

23. Crochet Penguin Hat Pattern by Red Heart
Be ready for cold and snowy days with the perfect hat! This Penguin Hat is ideal for boys and girls and has earflaps for extra warmth and cool factor. Crochet it in a choice of three sizes.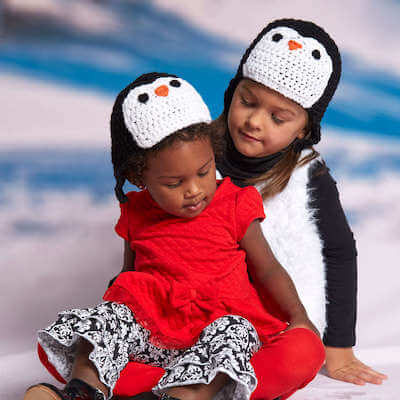 Get the Pattern here

24. Free Crochet Bunny Hat Pattern by Make & Do Crew
This Free Crochet Bunny Hat Pattern with floppy ears makes a darling Easter accessory, baby shower gift or winter cap. You'll find this crochet bunny hat to be a quick and easy project that's fun to whip up for your favorite kiddo.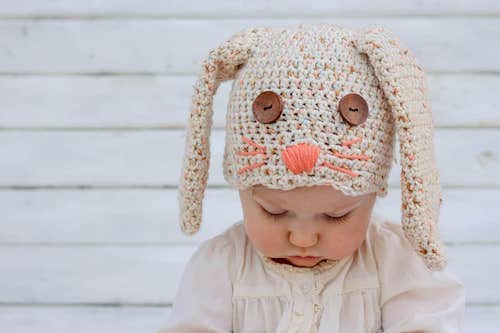 Get the Pattern here

25. Crochet Bear Hat Pattern by Bri Abby HMA
This Crochet Bear Hat Pattern provides many options! You can make a mama, papa or baby bear hat. Top off your bear hat with a bow or top hat. Make them with or without ear flaps & then choose between twists or pom poms!
More Crochet Bear Hat Patterns here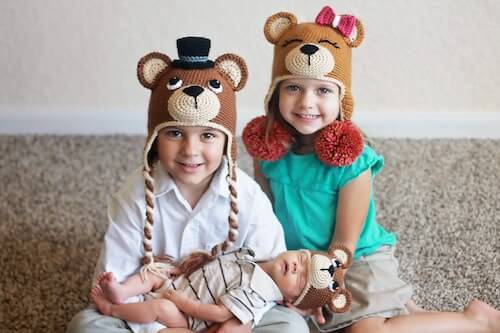 Get the Pattern by Bri Abby HMA here

26. Tops, The Triceratops Dinosaur Hat Crochet Pattern by Ira Rott Patterns
Tops, the Triceratops is a mysterious living creature from the majestic world of dinosaurs—the most attractive and noble animals loved by everyone. Create a unique hat collection for your entire triceratops family in a wide range of sizes.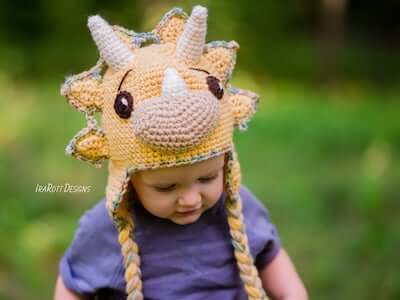 Get the Pattern by Ira Rott Patterns here

27. Whale Beret Hat Crochet Pattern by Hello Happy
Here's an adorable whale beret! Why wear a regular hat when you could wear a whale beret instead? The hat even includes a cute little tail on the back!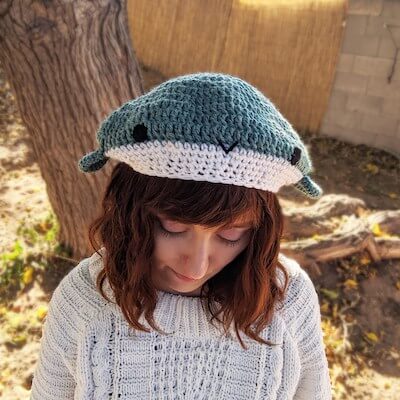 Get the Pattern by Hello Happy here

28. Crochet Cow Hat Pattern by Jenia's Designs
This Spring Cow Hat for girls features an adorable farm cow character with button eyes, horns, and a spring daisy in its mouth. It also integrates a seamless cap design and braided ties. The pattern sizing accommodates all ages from 3 months to adult. A great gift idea that is perfect for chilly days, picture time and back to school.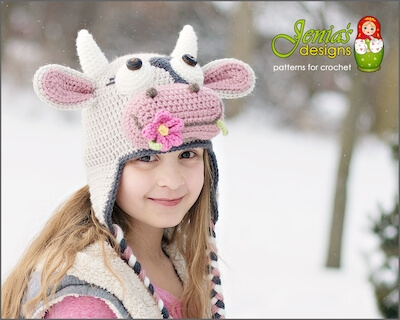 Get the Pattern by Jenia's Designs here

29. Crochet Siamese Cat Hat Pattern by Crochet By Jennifer
This Crochet Siamese Cat Hat makes a great hat for a photo shoot or for a photographer who needs photo props! You will get directions for two hat styles in this pattern: an earflap style with braids, and a beanie.

There are yarn color suggestions to make a seal point, chocolate point, blue point, and lilac point Siamese Cat hats. The pattern is written for worsted weight yarn, but suggestions are also given for bulky yarn.
If you love cats then be sure to check our list of crochet cat hat patterns.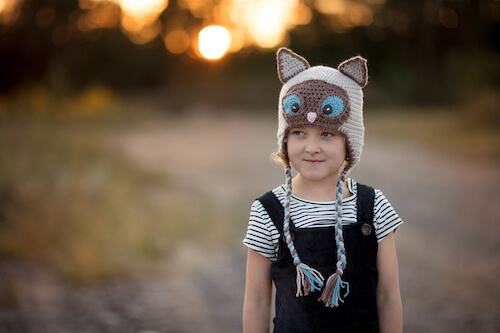 Get the Pattern here

30. Crochet Monkey Hat Pattern by The Friendly Red Fox
This Free Crochet Monkey Hat Pattern is perfect for the little monkey in your life. Made with sweet little ears, a sweet little expression, and those fun tassels. It comes in toddler, child and teen/adult size. So no matter how old your little monkey is (or if you are one yourself!) your head is covered!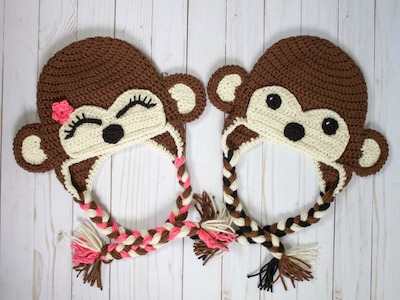 Get the Pattern here
Check out the chart below for crochet animal hats chart measurements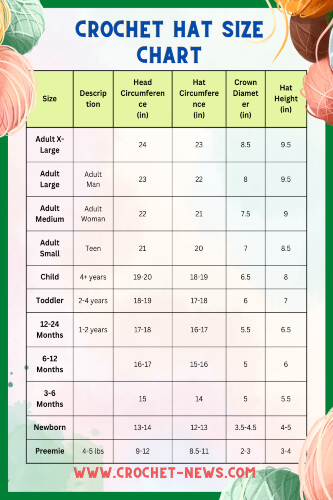 WHO DOESN'T LIKE TO WEAR A CROCHET ANIMAL HATS ON THEIR HEAD?
Show your love by posting your crochet animal hats to our Facebook Page. We can't wait to see your creations!
If you're looking for more fun hats to crochet next, check out these projects:
Life is too short to wear a boring hat. Let's have some fun today with these crochet animal hats patterns!