This crochet Viking hat and beard pattern will keep your head warm this winter.
If you were looking for a crocheting pattern that serves a utility purpose, then you are definitely in the right place.
Other than that the crochet Viking hat pattern is just fun piled on top of more fun!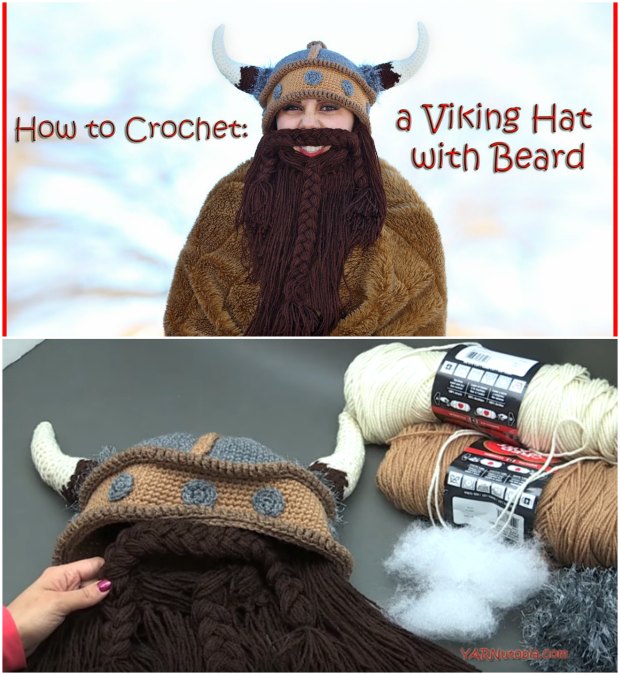 Crochet Viking Hat And Beard Pattern
I absolutely love making novelty items with a crochet, for the most part, is because when most people think of crocheting they think of their grandma's seat covers and tablecloths.
I just love proving that crocheting is as fun and extreme as it gets. If you are a fanatic like I am then I know that you feel the same way I do.
The crochet Viking hat will definitely put all the naysayers in their place, especially when they see you strutting your stuff with this unique hat during the winter. Run and hide the crocheting Vikings just came to town.
Crochet Viking Hat Materials
Red Heart Super Saver Yarn in 5 different colors (Cafe Latte, Aran, Chocolate Brown, Grey Heather, Warm Brown)
Size H hook (5.0 mm)
Optional scraps of faux fur or a furry yarn
2 x 1 inch buttons
Polyfill stuffing
Detailed Crochet Viking Hat Video Tutorial
When it comes to the crochet Viking hat you will need all the skills that you have in crocheting: from amigurumi crocheting to the basic crocheting techniques and everything in between. There is a detailed video tutorial on the pattern.
It is quite extensive and gives very concise instructions on how to make the crochet Viking hat. It is explained quite well but if you are a beginner just know you have stepped into a whole new world with this pattern.
In fact, I commend anyone who completes this work of love and dedication.
It is not for the weak of heart. A word of advice, if you start on the crochet Viking hat pattern don't stop, don't stop until you've conquered it with your bare hands.
You are definitely an honorary Viking in my books when you complete it.
Get Creative With Your Crochet Viking Hat
Even though the crochet Viking hat is as complicated as it gets don't let it stump you from getting creative. Play with the colors, give it your own personal touch and let your uniqueness shine through.
Especially for the beard, try and use different colored yarn to spice it up a bit. I also tried using thicker sized yarn. It definitely added more depth to my hat. It so nice and warm now.
Great For Playing Dress Up's Or Costume Parties
If you were looking for a pattern to go crazy with then the crochet Viking hat pattern is the one. Play dress up with the kids or save it for Halloween, or a cold winter night.
If you didn't have strangers coming up and talking to you out of the blue then you definitely will now.
In my opinion, this is one pattern you will absolutely have fun with. Now plunder away at your crochet chest and get making the Viking crochet hat pattern.
If you want to give this one a try, then you can follow all the steps in the very comprehensive video below.
If you do make one of these, PLEASE share a picture on our Facebook page. We're itching to see you in it!