Everyone loves Santa! Now you can hook up some cozy winter accessories to pay homage to the big man himself with these delightful crochet Santa hat patterns. These fantastic patterns can be crafted in sizes for adults and kids, so you'll all be cozy and snug when queuing for Santa's grotto or huddled around the tree. You can even make one for your cats and dogs. Wouldn't that be so cute?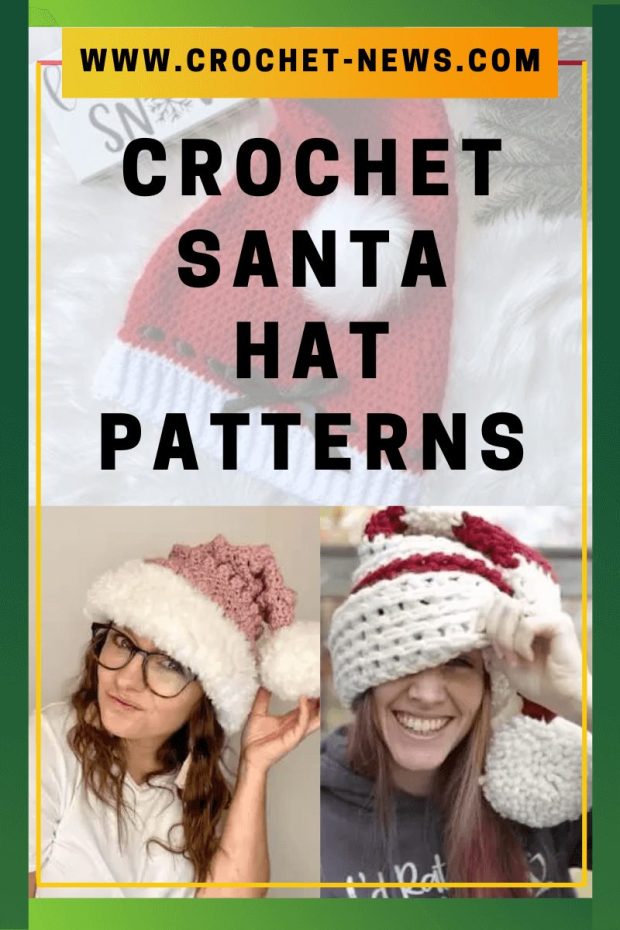 It's that time of year to don an adventurous red hat and bring Santa ho ho home! A true staple of the festive period, our favorite head accessories are a fun way to jazz up your outfit over the season, and why not stop at just the traditional red and white hat? Today, I bring you this list of Santa hats that are so holly jolly they'd make Kris Kringle himself blush!
15 Jolliest Crochet Santa Hat Patterns

1. Long Bobble Crochet Santa hat Pattern by Crochet Garden
This Santa hat crochet pattern is the must have pattern for the season! Little bobbles of snow adorn the brim, with a long stocking body filled with rustic charm, culminating in the the fluffiest pom pom in the North Pole! Sized for all of Santa's little helpers big and small, everyone will have their own bobble santa hat for the babies, for the kids and all the adults!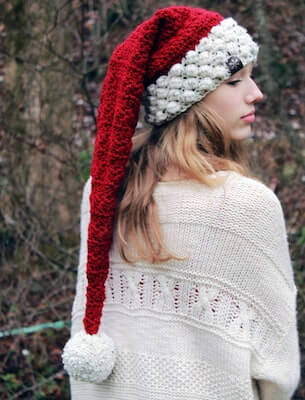 Get the Pattern by Crochet Garden here

2. Crochet Santa Baby Hat Pattern by Jo To The World Creations
Here's a super cute crochet baby hat for Christmas! It comes in three sizes, including newborn – 3 months, making it the perfect newborn Santa Hat for baby's first Christmas. It will keep your newborn baby's head nice and cozy as he or she enjoys the holiday season.

In addition to newborn size, this crochet santa hat free pattern also comes in the size of 3 – 6 months and 6 – 12 months. It's great for a baby boy or baby girl.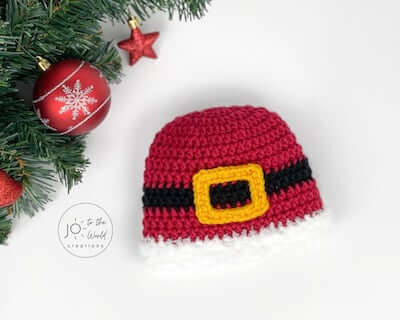 Get the Pattern here

3. Crochet Santa hat Hair Clip Pattern by Craft Passion
Since regular Santa hats may appear to be too big on a child, here's how to make a Santa hat hair clip instead! It's also suitable for adults who do not wish to wear a standard large-sized Santa hat. It's the subtle details that count.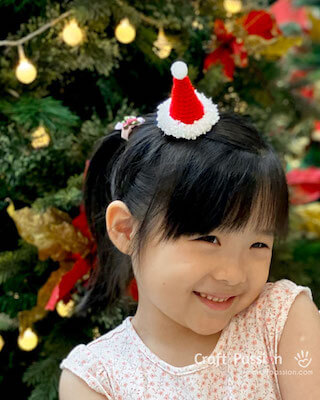 Get the Pattern here

4. Crochet Santa Hat Pattern For Large Dogs by Pawsome Crochet
With this hat on their head, your dog will be the most perfect Santa that ever was. This festive hat works up quickly and requires only basic crochet skills. It would be a perfect prop for your pet's Christmas photos or a great last minute gift for the pet lover on your list!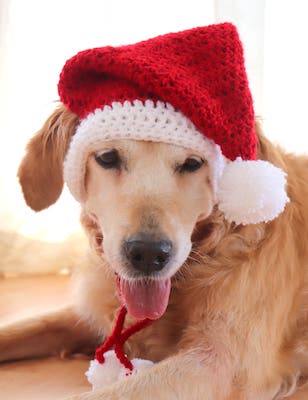 Get the Pattern by Pawsome Crochet here

5. Crochet Santa Hat Pattern by Knit And Crochet Evr Aft
Anytime of year is a great time to start making holiday projects. This easy to make Santa hat comes in three sizes to fit everyone in the family. Just think of the photo ops!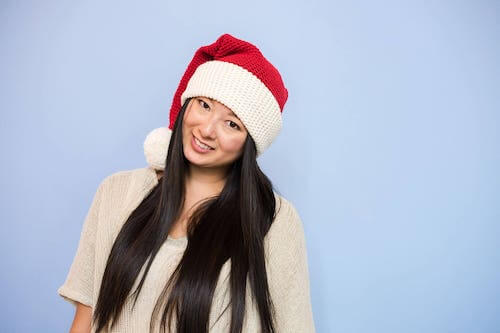 Get the Pattern by Knit And Crochet Evr Aft here

6. Free Crochet Santa hat Pattern by Pattern Paradise
Santa will look great and be ready for toy delivery in this adorable hat. The hat is worked in back loops to develop the texture, and works up quickly in worsted weight yarn. Add a little fun fur white trim and pompom and you are ready to go. There are sizes from baby to adult so there should be something for everyone.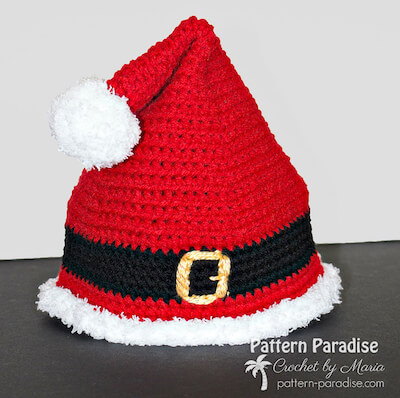 Get the Pattern here

7. Crochet Little Santa Sack Hat Pattern by The Stitchin Mommy
This adorable Little Santa Sack Hat is the perfect little hat for the holidays! It is also great for those holiday photo shoots. The The corner pom poms add an extra special touch and compliments the elegance of the shell stitch pattern and ribbing.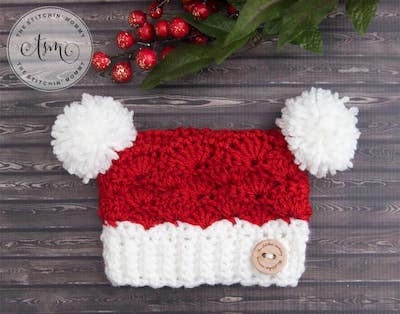 Get the Pattern by The Stitchin Mommy here

8. Crochet Plaid Santa Hat Pattern by Critteriffic Crochet
This Santa hat crochet pattern is sure to add some holiday Christmas Cheer to your wardrobe this season! This plaid cap works up wonderful in so many color combinations!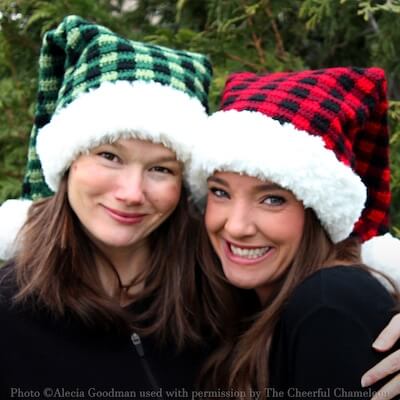 Get the Pattern by Critteriffic Crochet here

9. Crochet Santa Hat Pattern by The Loophole Fox
Seriously, who doesn't love a good crochet stocking cap, especially when they look like Santa and Elf hats. This crochet stocking cap pattern is super easy, pretty fast and has a lovely finish.

I love how easy these crochet Christmas hats are to create but they are by no means "too simple". Simple doesn't always have to be boring, so with the added ribbon around the brim and the fluffy pom pom on the long tail of the hat, this crochet Santa hat pattern is sure to be a favorite.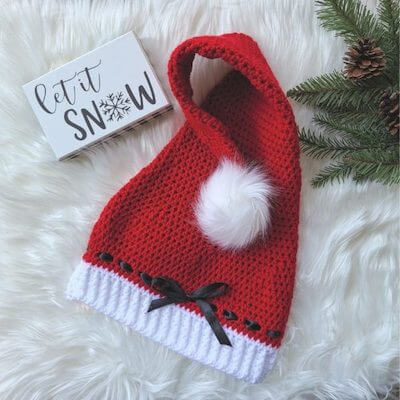 Get the Pattern here

10. Crochet Boho Santa Hat Pattern by A Crafty Concept
This Boho Santa Hat is a super fun and festive twist on the traditional Santa Hat design. With its bobbled texture and furry accents, this crochet Santa hat is sure to be a head-turner this holiday season.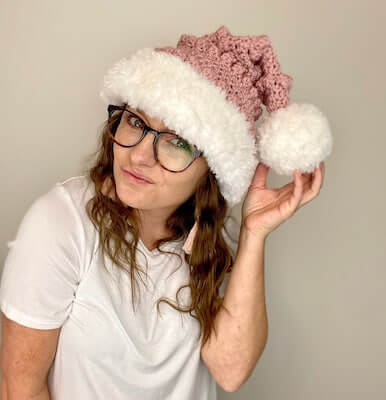 Get the Pattern here

11. Crochet Cat Santa hat Pattern by Pawsome Crochet
It's time to get our kitties ready for Christmas time, too, with this Crochet Cat Santa Hat Pattern. Whether you're looking for a fun stash buster or a quick last minute gift for the cat lover in your life, this pattern is the perfect way to spread some Christmas cheer.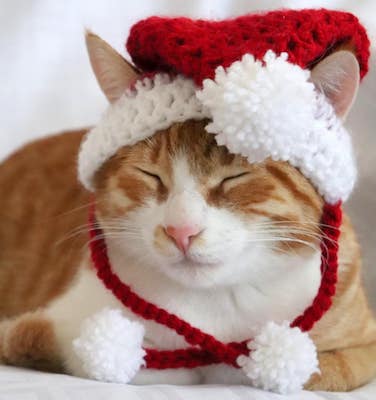 Get the Pattern by Pawsome Crochet here

12. Crochet Bearded Santa Hat Pattern by Ashlee Marie
This Crochet Bearded Santa Hat features festive red yarn trimmed with a double loop crochet stitch that creates a fun, fluffy look for the brim and poof. If you like to go all-out for the holidays, then this crochet Santa hat is perfect for you because it includes a pattern for a crochet beard to round out the ensemble!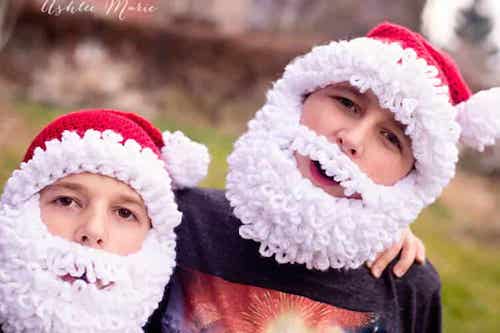 Get the Pattern here

13. Noelle Holiday Hat Crochet Pattern by Deni Made Designs
There is nothing naughty about this modern twist on the classic Santa hat. This Noelle Holiday Hat is sugar and spice and everything nice!

From the face-framing brim to the pom pom tipped point, this hat screams style! The braided ropes ties and mini poms accentuate the modern fit of the Noelle! To top it all off a peppermint inspired candy detail on the front of the hat makes this a fun yet functional piece for any holiday activity!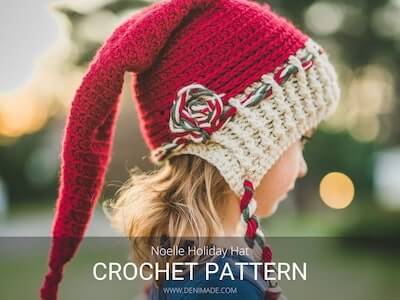 Get the Pattern by Deni Made Designs here

14. Crochet Santa Scarf Hat Pattern by Vliegende Hollander
You can now go outside in the coldest winters and stay warm while still looking festive, just put on this Christmas Hat and wrap the scarf around you. With this easy to follow and clear crochet pattern, you can make a Santa Hat Scarf for everyone in your family!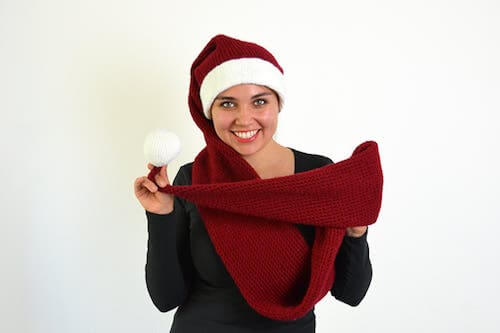 Get the Pattern by Vliegende Hollander here

15. Jumbo Santa hat Crochet Pattern by Pink Sheep Design
This Chunky XL Santa Hat is an easy to follow crochet pattern. This hat is created using super bulky weight yarn and is crocheted from the top down, in the round while also turning your work to create a beautiful textured look.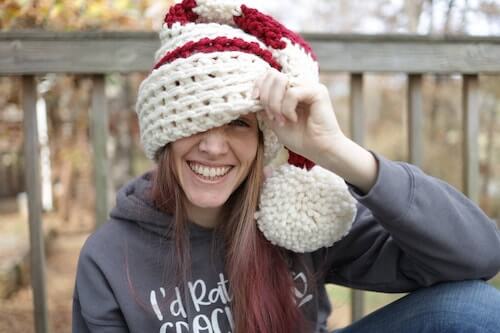 Get the Pattern by Pink Sheep Design here
Check out the chart below for crochet hat chart measurements: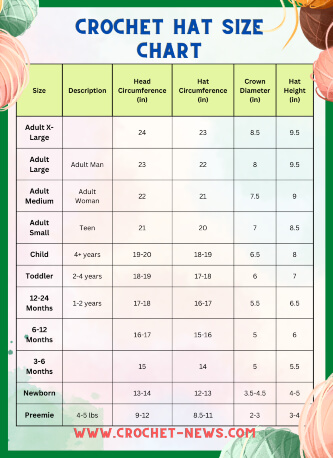 SHOW YOUR SPIRIT WITH A CHEERY CROCHET SANTA HAT THAT BRINGS INSTANT SMILES TO THE FACES OF FAMILY AND FRIENDS.
I know everyone is busy this time of year but I wanted to share these crochet Santa hat patterns in case you were also looking to increase your holiday cheer game! Don't forget to show us how you make your holiday hats by sharing pics on our Facebook Page.
Once you've made your crochet Santa hats, it's time to find your next Christmas project. But if you're not sure what to make next, you're in for a treat — we've got loads of Christmas crochet projects for you to try!
Needless to say, these crochet Santa hats are fun gifts for anyone who loves Christmas! Happy crocheting and I hope you are all having a merry holiday season!