Perfect for a pilot Halloween costume, or just for playtime fun, these crochet aviator hats look almost like the real thing from far away!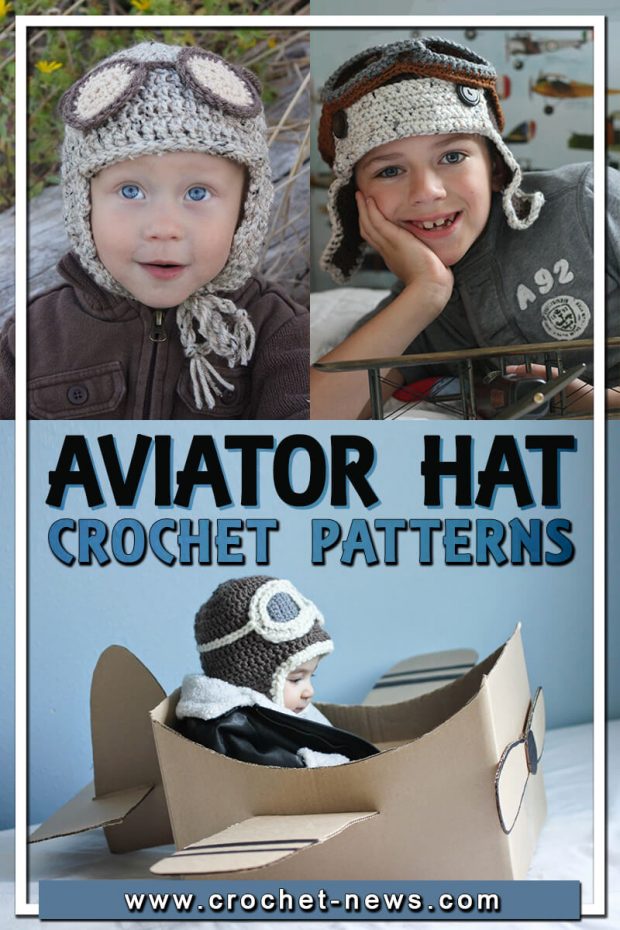 15 Aviator Hat Crochet Patterns
These aviator hats are super warm because of their fur-style design and the earflaps they use. This style of hat can fit everyone. Use it as a photo prop for a baby or an outdoors hat for every aviation lover you know!
1. Crochet Cumberland Aviator Hat Pattern by Pretty Darn Adorable
Keep cozy while looking super cool with this Crochet Cumberland Aviator Hat. Perfect to use as a photo prop or for keeping everyone warm from newborn to adults its unique texture will have people wondering where you got that hat!

Foxy it up with faux fur trim or keep it simple and classic using the same yarn for the whole hat. No matter how you make it is going to be a hit!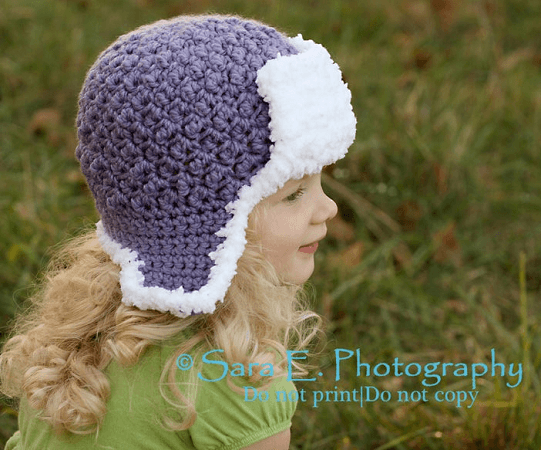 Get the Pattern by Pretty Darn Adorable here

2. Chic Aviator Hats Crochet Pattern by Red Heart
The aviator goes chic on this trendy crochet hat that's a popular pick for any teen on your list. Choose your favorite colorway and complete a hat that looks great, keeps you cozy and is comfy to wear.

Ear flaps bring added warmth, while a button-up brim is a cute finishing touch to this sporty style. It's a hit with the gang, and a toasty gift for the holidays and beyond!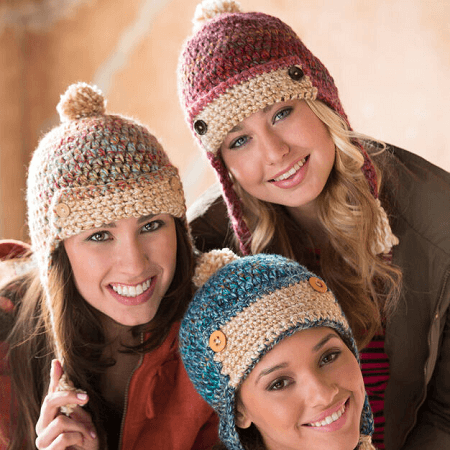 Get the Pattern here

3. Aviator Trapper Hat Crochet Pattern by Crochet Spot Patterns
Here is a unisex hat that is perfect for the cold winter season! This Aviator Trapper Hat is crocheted with super bulk weight yarn for extra warmth in the winter. Crochet this hat for the babies, the kids, and the adults!

With 5 different sizes in this pattern, you can crochet matching hats for the entire family. Choose the main color for the hat and a soft furry yarn as the contrasting color. Feel free to add your own ties for the ear flaps, or embellishments to the hat if desired.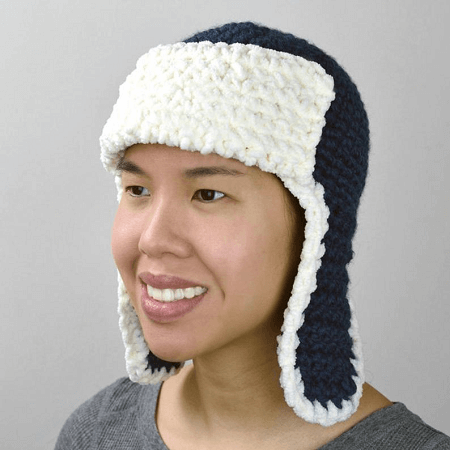 Get the Pattern by Crochet Spot Patterns here

4. Boys Aviator Hat Crochet Pattern by Whimsy Woolies
This cap features a tiny brim and earflaps, with goggles created separately, which are attached in the finishing. A sweet aviator cap for a sweet boy! The pattern includes sizes for 3-6mos, 6-12mos, 12-24mos, and 3-5yrs.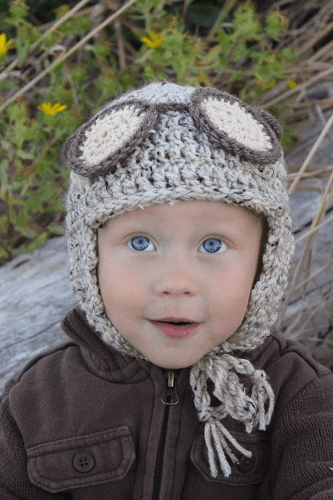 Get the Pattern by Whimsy Woolies here

5. Plaid Crochet Aviator Hat Pattern by Love Life Yarn
The thickest, warmest aviator crochet hat for your little one is here! This hat is created using two layers: a wool outer layer and a faux fur lining that's extra soft.

This Plaid Hat Crochet Aviator Hat is perfect for cooler months and looks super cute on babies and everyone!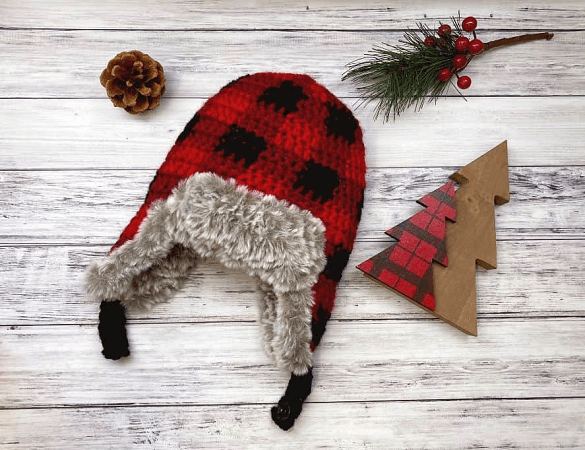 Get the Pattern here

6. Aviator Hat Crochet Pattern by Crochet Baby Boutique
These aviator hats are stylish and functional at the same time and would look great on anyone from newborns to teens. The flap on the forehead and the ear flaps provide extra warmth.

This aviator hat crochet pattern is easy and fun to work on. The fluffy stitch used on the forehead flap adds another dimension to the design.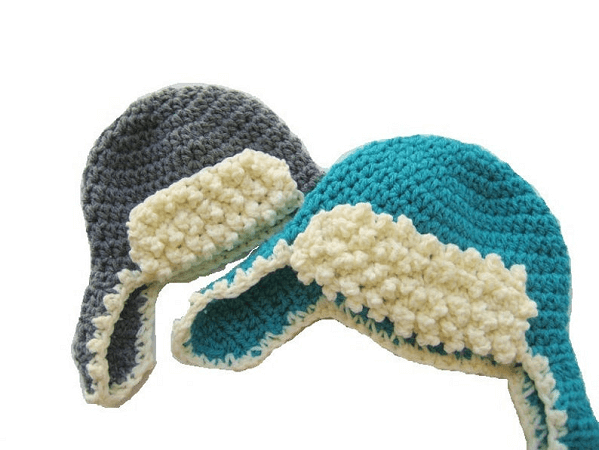 Get the Pattern by Crochet Baby Boutique here

7. Skylar Aviator Hat Crochet Pattern by Stitch Of Nature
This hat is too precious and can be worn by a little boy or girl making it a great gift for a gender-neutral baby shower! This Skylar Aviator Hat Crochet Pattern can outfit your entire family in a fun earflap hat.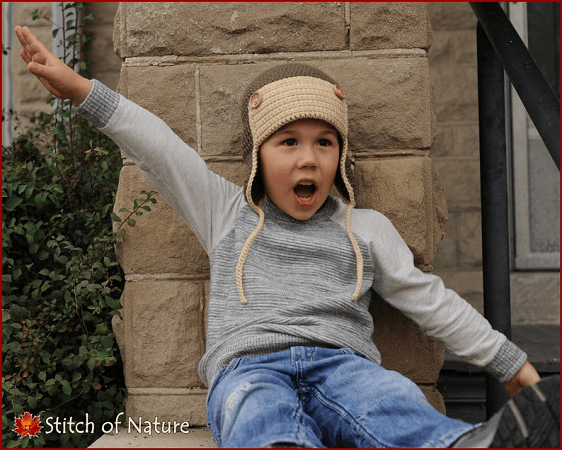 Get the Pattern by Stitch Of Nature here

8. Little Lindy's Aviator Hat Crochet Pattern by Yarnspirations
Your baby's next visit to the playground will become an adventure with this Little Lindy's Aviator Hat. Earflaps and a stylish front combine to make this crochet baby hat a unique addition to your little one's wardrobe. Winter's coming in for a landing, so make your tiny tot this adorable aviator style hat to keep them warm!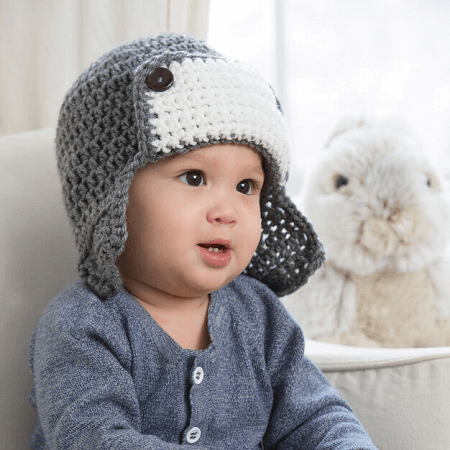 Get the Pattern here

9. Aviator Dog Hat Crochet Pattern by Posh Pooch Designs
Everyone needs a co-pilot! Your dog will be the hit of any party with this Aviator Dog Hat. It has ear holes and ties under the pet's muzzle so it can also be adapted to fit other sized dogs as well as cats or other pets.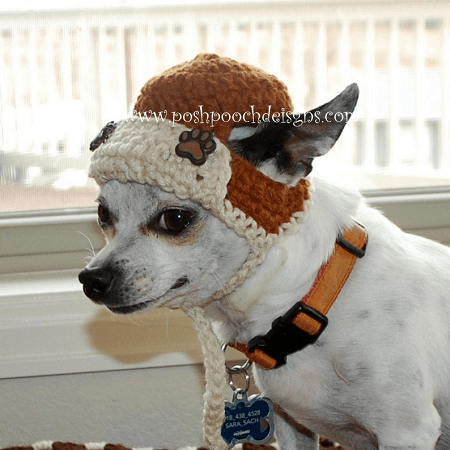 Get the Pattern by Posh Pooch Designs here

10. Newborn Aviator Hat Crochet Pattern by Hopeful Honey
Get ready to take off with your little wingman (or wing-woman) in this Newborn Aviator Hat. Using chain stitch, you can make this cap that resembles an old-fashioned aviator's hat.

This quick, easy pattern looks sweet with a light blue yarn. The flaps will keep the baby's ears and face warm. This fun, fashionable hat will have everyone cooing over your little flyer.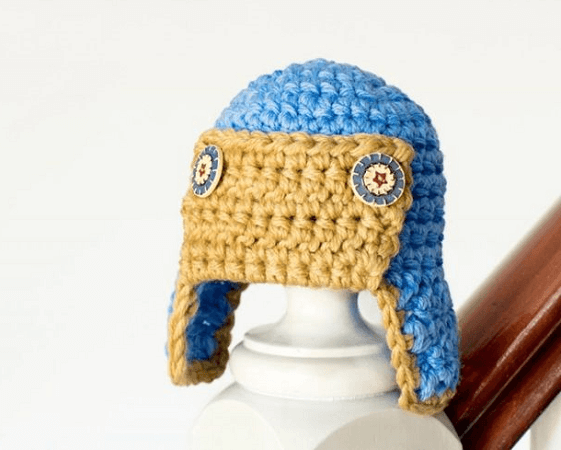 Get the Pattern here

11. Women's Aviator Hat Crochet Pattern by Whistle And Ivy
This classic Crochet Women's Aviator Hat is warm and cozy. It looks cute with large buttons, or crochet your own. Be sure to finish this cute hat with a big poofy pom-pom on top! This hat is worked with two strands, so it's fun, chunky, and really warm.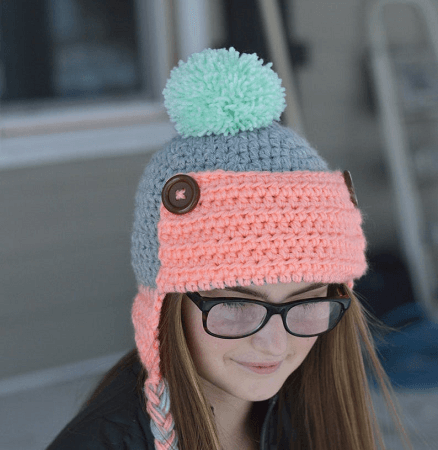 Get the Pattern by Whistle And Ivy here

12. An Unconventional Aviator Hat Crochet Pattern by Underground Crafter
Inspired by Amelia Earhart and her daring spirit, this Unconventional Crochet Aviator Hat is exactly as it's described. You will love that the ear flaps are asymmetrical and that it is an interesting spin on the classic aviator hat.

The eyelet pattern makes this hat more feminine than a regular hat, which once again embraces Amelia Earhart's memory. Delicate details and the wild color are balanced out by gunmetal buttons.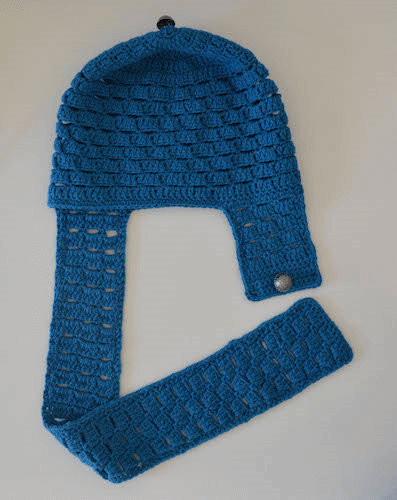 Get the Pattern here

13. Aviator Crochet Pilot Hat Pattern by Angels Chest
Match this aviator hat and goggles with a leather jacket and you and you're kids are ready to take to the skies this winter. The pattern comes complete with directions to make the hat and the goggles and is written in multiple sizes.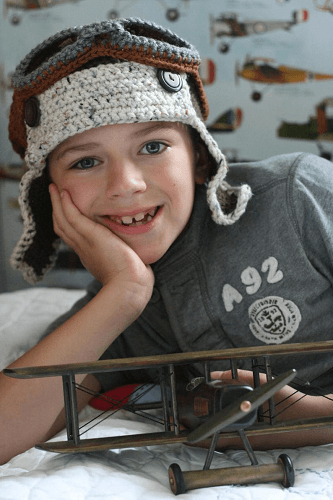 Get the Pattern by Angels Chest here

14. Red Baron Aviator Hat Crochet Pattern by Stitch Of Nature
Inspired by a love of adventure, this Red Baron Aviator Hat is a timeless classic hat that will keep you warm while looking cool and stylish. This fun aviator hat is great for those cold winter days or just to wear for fun. The pattern includes sizes newborn all the way to adults.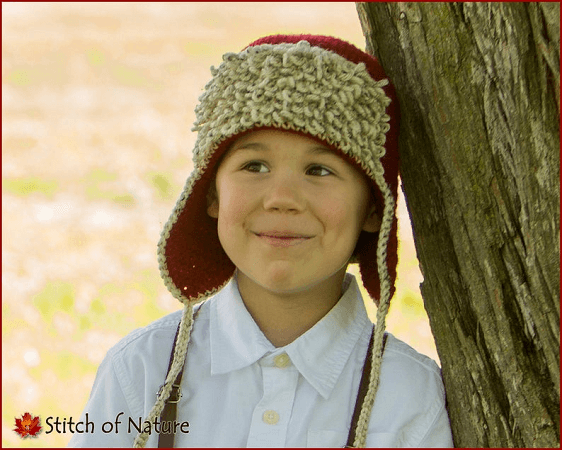 Get the Pattern by Stitch Of Nature here
15. Free Crochet Aviator Hat Pattern by Repeat Crafter Me
Imagine you are playing with your kids. You're flying planes over the Atlantic in battle formations over rough seas and colder winds. You have to keep your young ones happy and warm; you have to let them know that mommy loves them and cares for them.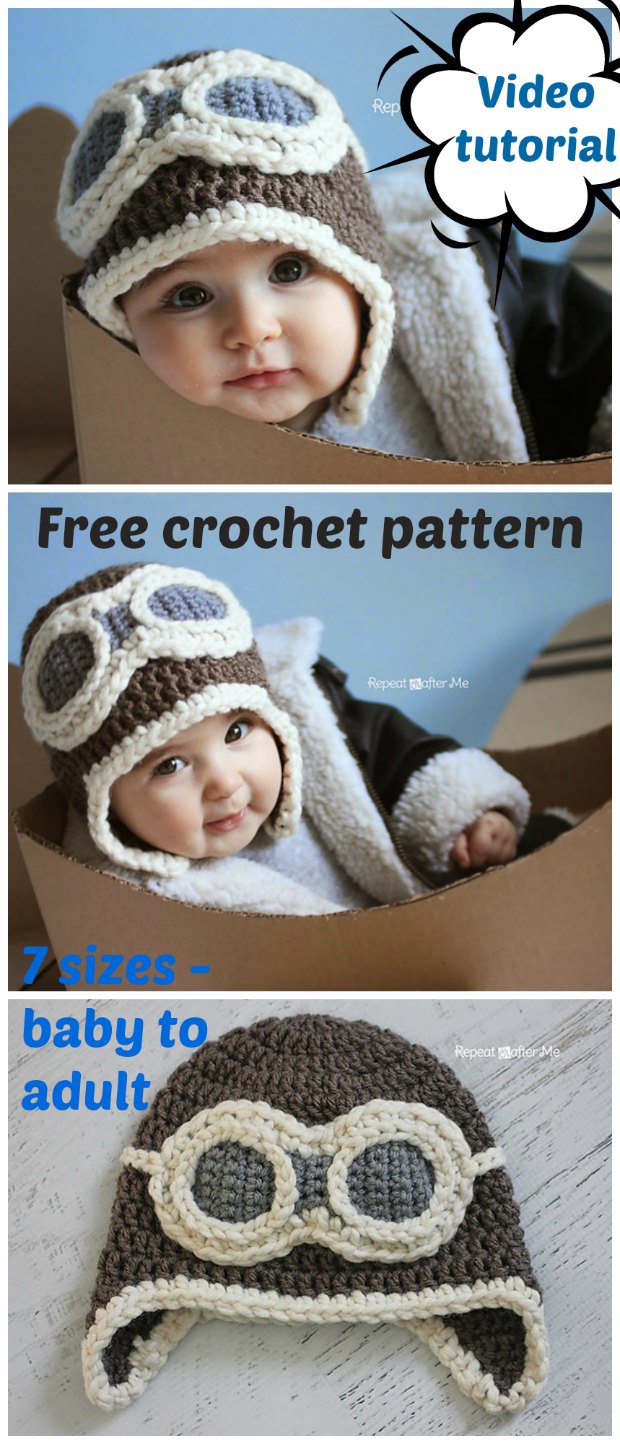 The crochet aviator hat; just the thing that your little pilot needs to brave the harsh conditions in the sky. Not only will it keep him snug and warm but also dashingly attractive. The young girls and their mothers will be swooning over your strapping young lad.
And it's free to learn with free online tutorials that will have you piloting your craft in no time.
So what materials do you need to soar the heights in this crochet aviator hat?
Crochet Aviator Hat Materials
– Worsted weight yarn in brown and gray. Recommended Lion Brand Vanna's Choice.
– Bulky weight yarn in cream or white. I used Lion Brand Wool-Ease Thick & Quick in Fisherman color.
– Size H Crochet Hook
– Tapestry Needle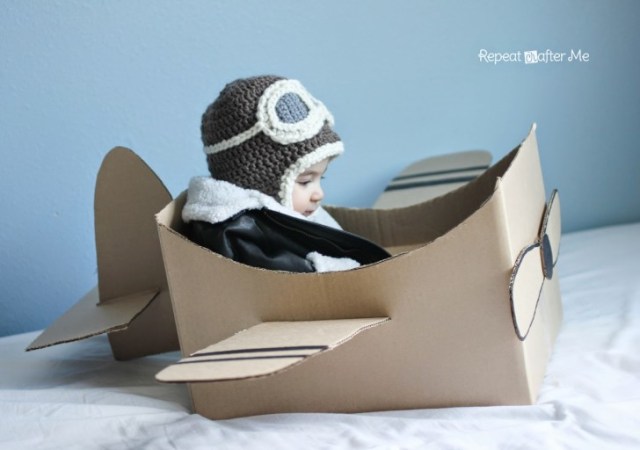 Crochet Aviator Hat Pattern Sizes
This pattern will enable you to make the hats in 7 different sizes.
0-3 months
3-6 months
6-9 months
9-12 months
toddler/preschooler
child
teen/adult
Video Tutorial Of The Crochet Aviator Hat Pattern
Sporting The Crochet Aviator Hat
You can make aviator hats to keep your family warm during the winter season. Nothing shows your affection more than a gift from the heart, especially one that you made with your own two hands.
You can also make one for your teenage daughter or son. Just something to keep them warm during this winter. In case you were wondering you can crochet as many sleeves as you want into the hat to increase its fluffiness.
The crochet aviator hat makes an excellent gift for a baby shower. It looks cute on a newborn and acts as a symbol of your good wishes for the infant. You can also use it to finish of your toddler's little aviator costume.
Crochet The Aviator Hat At Home
Real aviator hats and goggles can be quite expensive. If you start getting questions about them you can start taking orders. With the different sizes, you can cater for all customers. You can even add your touch to the designs.
Try playing with colors, various shades of brown will definitely add an effect. Try using different weight yarn; heavier yarn will produce a more three-dimensional result on the whole design. Just to enhance its realism.
So just to conclude, the crochet aviator hat is a free pattern, all you need to do is go online and get tutorials and literature necessary to tackle this project. It's fun and easy to pick up and soon you will be spinning the skies away with your aviator hats.
Add A Personal Touch to Your Own Crochet Aviator Hat
A great gift you can offer as a keepsake. It becomes a reminder of your love for that special someone. Perfect for your baby, keeping your warmth with them, wherever you are.
You can even knit their name into the design just to give it a personal touch. So get the crochet aviator hat pattern today and fly into the beautiful sunset spinning away.
Crochet Aviator Hat Instructions
Which crochet aviator hat patterns are your favorites?
If you do make one of these, please share a picture on our Facebook page. We're itching to see you in it! And for more fun kids and baby crochet hat patterns and adult crochet hat patterns to work on, check out our huge collection for more ideas!

Have fun with our other hat patterns such as our Crochet Bunny Patterns, Crochet Cabbage Patch Hat, and Troll Hat Rainbow Dress Up Pattern.
Give these crochet aviator hats your own personal touch and let your uniqueness shine through!