Crochet Baby Hat Patterns are perfect projects to keep in your "on the go" tote bag because they are small and portable.
And let's face it, you know there are always babies that need a sweet hat to wear.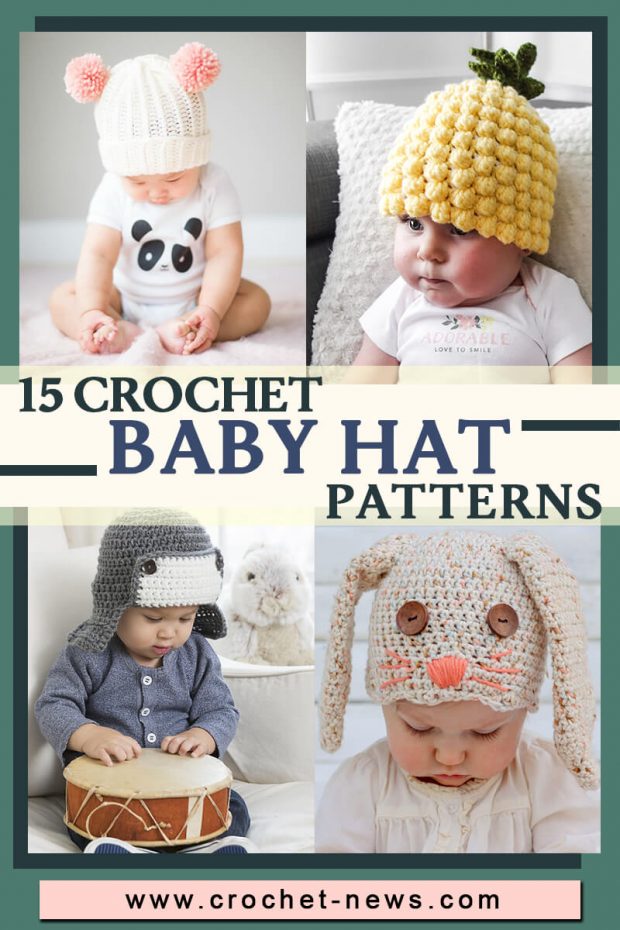 Is there anything more adorable than a crochet baby hat? Okay, maybe the baby itself! But besides those cute little chubby cheeks, baby hats have to be on the list of cutest things to crochet.
Browse through this collection to find ones that are cute, precious, silly, or just plain warm and cozy. With so much cuteness, you will want to make one of each for the new baby!

1. Bear Pom Baby Beanie Crochet Pattern by All About Ami
Crochet this adorable ribbed Bear Pom Baby Beanie Crochet Pattern that uses yarn pom poms as the bear ears!
It's a simple ribbed pattern topped with a pom pom for an extra cute touch. baby beanie crochet pattern
This adorable crochet baby beanie is quick to make and perfect for beginners. A great solution for last minute baby shower gifts!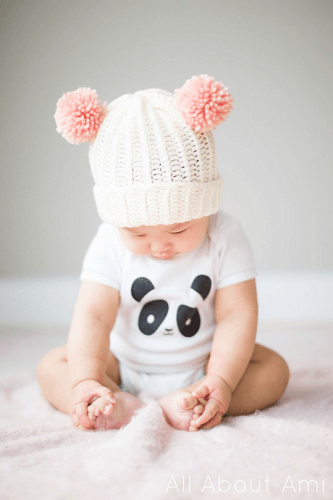 Get this crochet baby beanie here

2. Crochet Baby Beanie Pattern by Deanne Ramsay
Liven up a cool day with this bright and cheery floral-inspired design. You can use any yarn from fingering weight to light worsted.
This is a project created using basic stitches, simple color changes, and minimal shaping and finishing.
It incorporates a repetitive pattern using basic crochet stitches but may require some skill to master.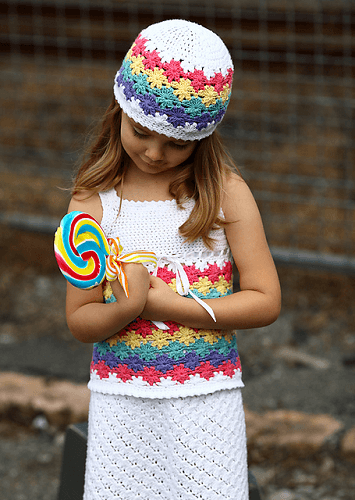 Get the Pattern here

3. Unicorn Baby Beanie Crochet Pattern by But First Crochet
What little girl or baby would not look adorable in a unicorn crochet baby hat? The pattern works up quickly and is adaptable to any size with simple measuring.
Little girls love unicorns and would be ecstatic to stroll around with mom, dad, grandma, or friends sporting their comfy, warm, and stylish beanie made just for them.
Get the Pattern by But First Crochet here

4. Pineapple Crochet Baby Hat Pattern by Crochet Mille
This Pineapple Crochet Baby Hat Pattern includes sizes for babies 0-10 years old toddler.
It has a nice puff textured design and the top of the hat is accented with green spiked leaves that resemble the appearance of a pineapple.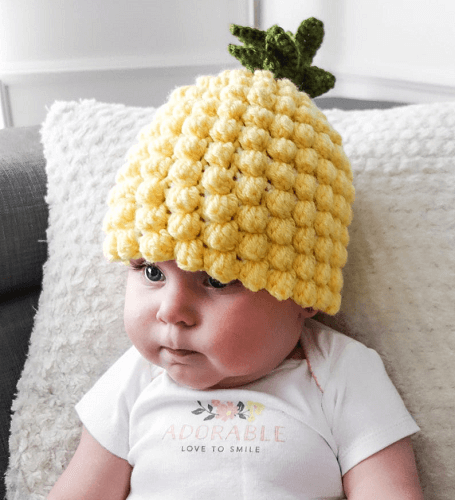 Get the Pattern by Crochet Mille here

5. Littlest Monster Baby Hat Crochet Pattern by Whistle And Ivy
This Littlest Monster Crochet Baby Hat is a fun addition to your Halloween festivities. Any baby would look so cute dressed up with this.
It's a unisex design so you can make it for both boys and girls!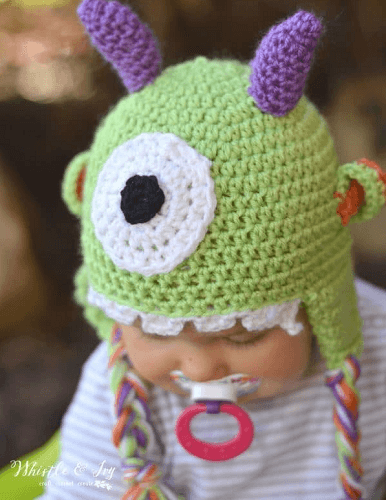 Get the Pattern here

6. Baby Crown Hat Crochet Pattern by Knitsy Crochet
With this easy crochet pattern, you can make an adorable baby crown hat in true royal style!
The crown is crocheted onto the hat itself like a rolled brim. You can create the hat to any color that you want.
This crochet baby hat is great for everyday wear, hospital hat, coming home outfit, baby photo prop, or to be given as a gift to a new parent at a baby shower!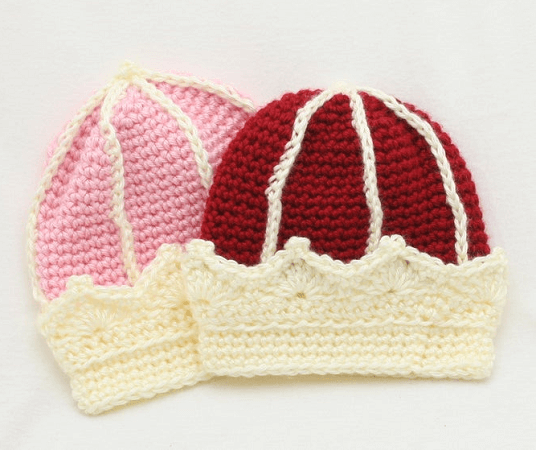 Get the Pattern by Knitsy Crochet here

7. Boy's Sun Baby Hat Crochet Pattern by Crochet Baby Boutique
This Boy's Sun Baby Hat Crochet Pattern would make a great addition to your baby boy's wardrobe.
The pattern is easy to work up and the hat has been kept simple to suit a boy with just a contrasting band. The hat is not expected to fit snugly like a beanie.
The hats are worked using worsted weight yarn ( size 4 medium) and hook G ( 4.25mm) for size 6-12 months and hook H ( 5mm) for all the other sizes.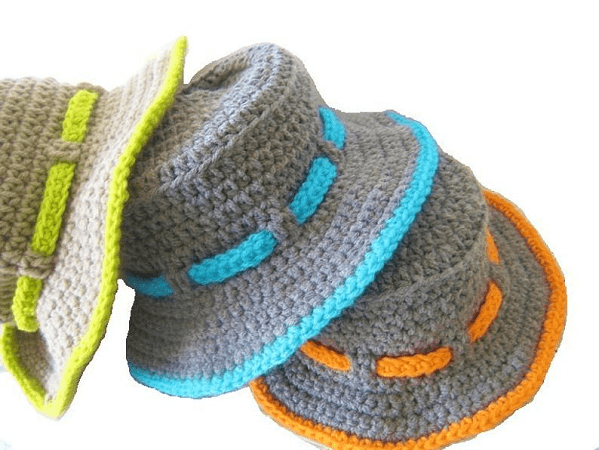 Get the Pattern by Crochet Baby Boutique here

8. Slouchy Baby Beanie Free Crochet Pattern by Sewrella
This Slouchy Baby Beanie Crochet Pattern is slightly slouchy in the back, but not too big that it would get in the way of playing. Just a relaxed fit!
This free crochet baby hat pattern is so very simple and so quick to work up! It only uses the most basic crochet stitches so it is very beginner friendly and a great project to practice in order to hone your new crochet skills!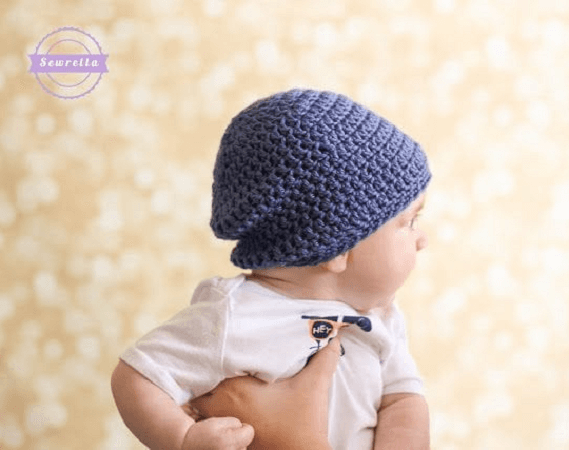 Get the free crochet baby hat pattern here

9. Crochet Baby Bunny Hat Pattern by Make And Do Crew
This Crochet Baby Bunny Hat Pattern is easier than it looks and makes a darling Easter accessory for your favorite baby or toddler.
This hat works for both boys and girls, it's so sweet and who doesn't love bunnies!?
It's quite quick to whip up and the only stitches used on the main body of the hat and ears are a half double crochet, half double crochet decrease, and a chain.
The scalloped edging uses a slip stitch, single crochet, double crochet, and triple crochet.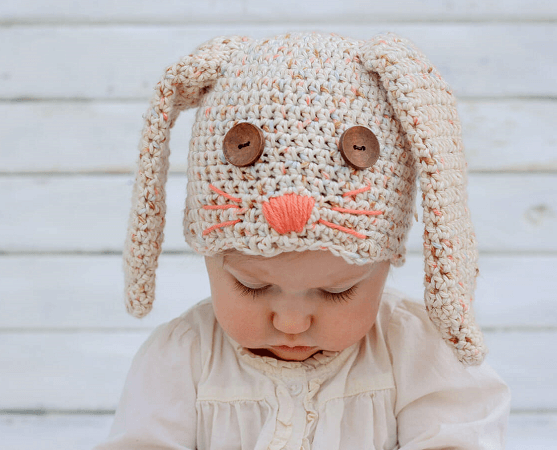 Get the Pattern here

10. Little Lindy's Aviator Baby Hat Crochet Pattern by Selena Baca
Keep your cuddly baby protected from the cold with this clever aviator-style crochet baby hat. Choose neutral shades as shown for a dashing look with any outfit.
Earflaps and a stylish front combine to make this crochet baby hat a unique addition to your little one's wardrobe.
You'll also love how easy this crochet pattern is to make, so consider making duplicates using yarn in different colors.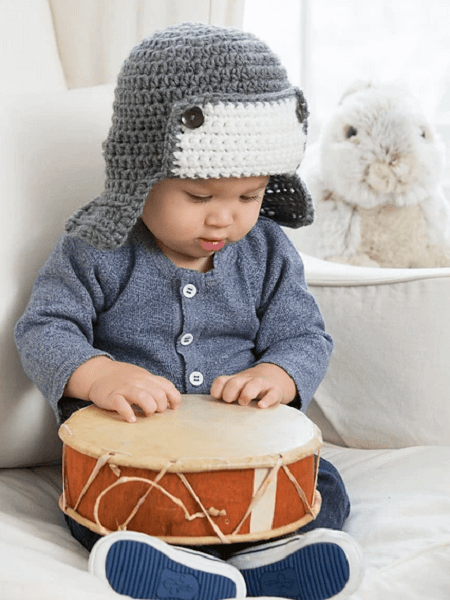 Get the Pattern here

11. Viking Warrior Baby Hat Crochet Pattern by DAC Crochet
Crochet this Viking Warrior Baby Hat to any baby who you think might appreciate a warm Viking helmet!
The design has a raised stitch design along the center front and back as well as the left and right sides.
It's a gender-neutral design looks that really cute on boys and girls(add the braids for girls).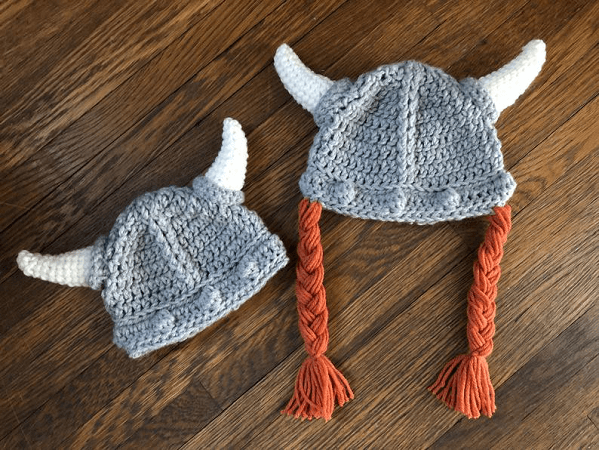 Get the Pattern by DAC Crochet here

12. Baseball Cap Crochet Baby Hat Pattern by Bowtykes
This easy Crochet Baseball Cap is perfect for those hot summery days. Throw on your favorite motifs, flowers, or letters, and customize it for your favorite team.
Directions for a five-petal flower are included in the pattern.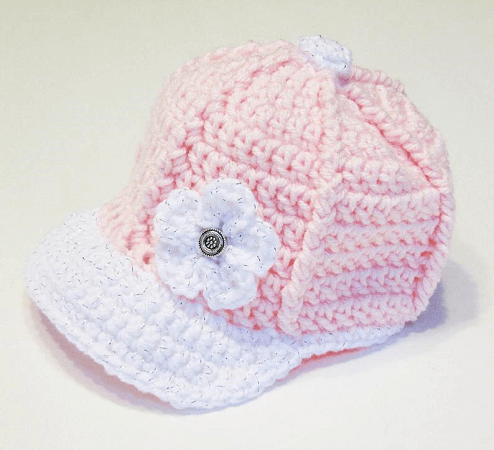 Get the Pattern by Bowtykes here

13. Berry Stitch Baby Hat Crochet Pattern by Daisy Farm Crafts
This Berry Stitch Baby Hat Crochet Pattern is worked in a spiral after you join the band with a tapestry needle and make an initial row of mesh stitch.
It's so delicate and this color placement is adorable!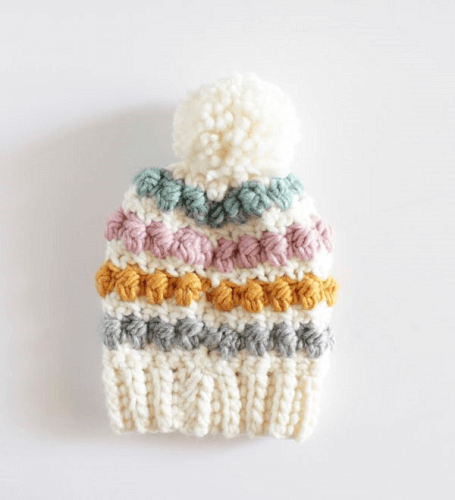 Get the baby hat crochet pattern here

14. Baby Pixie Hat Crochet Pattern by Mini Mae Crochet
Make your own pixie style crochet baby hat with only basic stitches! It's made with worsted weight yarn so it works up nice and quick for a fun evening project or last-minute gift-giving.
Perfect for your little boy or girl, this lovely hat will also keep your baby warm!
Get the Pattern by Mini Mae Crochet here

15. Pumpkin Free Crochet Baby Hat Pattern by Hanjan Crochet
Who doesn't need a pumpkin hat complete with stalk and leaf? It's an absolute must-have to any baby. Easy to make, the perfect gift, and a great little project for post stitch practice.
This cute little number comes in four sizes from baby to adult and is super simple to add rounds too so that it's the perfect fit.
It's made from the top-down and uses front post stitches to add texture.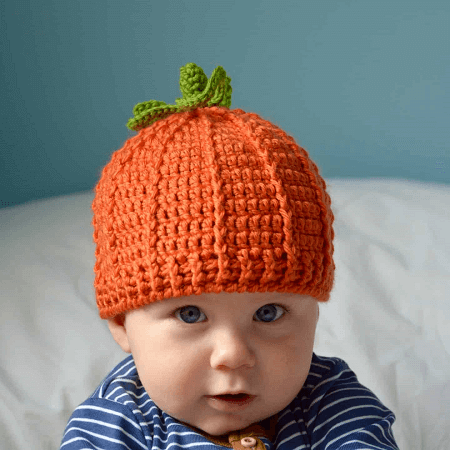 Get the Pumpkin Free Crochet Baby Hat Pattern here
You'll appreciate these crochet baby hat patterns no matter your level of crochet experience. There's something here that everyone can try!
If you do decide to make these baby hats, we would be so happy if you show us some pictures on our Facebook Page. It's always nice to see your versions!
Looking for other baby patterns to crochet? We have tons of free and paid patterns here.
Whether you are expecting a little one soon or you know someone else who is, these 27 crochet baby hat patterns are definitely going to come in handy!