One of the absolute titans when it came to my childhood, the majority of my toys were Ninja Turtle related! These heroes in a half-shell seem to be immortal, considering their semi-recent reboot has garnered their new popularity. With a mix of nostalgia and brand-new fans, there is a plethora of crochet patterns surrounding these guys. That's why I'm happy to share with you some of my favorite crochet Ninja Turtles patterns below!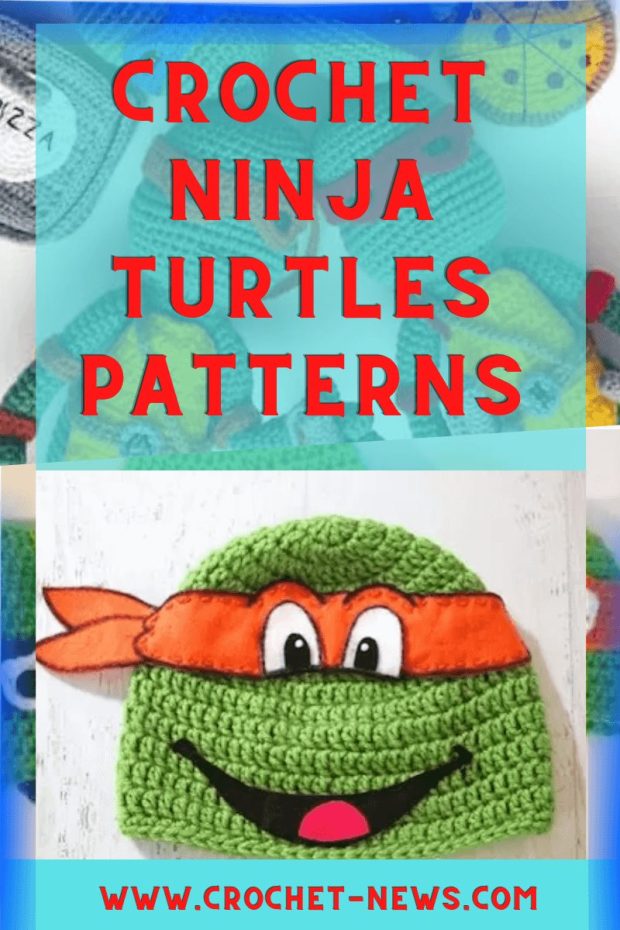 10 Crochet Ninja Turtles Patterns
When you've got a Ninja Turtle fan (or a fan yourself), you've usually got a pretty rabid case on your hands. Since the animated series release in 1987, they've touched thousands of hearts and have become an absolute powerhouse when it comes to toys and gift ideas, and with all of this stuff around, it's also nice to have a crocheted version of these sewer-dwelling Kung-Fu master turtles! From plush toys to accessories, I've got you covered!

1. Crochet Ninja Turtles Amigurumi Pattern by Outlaw Heart Creations
This pattern is truly radical crochet friends! Super simple to make, you don't need to be a crochet ninja to whip up these little guys! You can make all four turtles from this pattern — and their faces can easily be done in HTV (shown) or felt!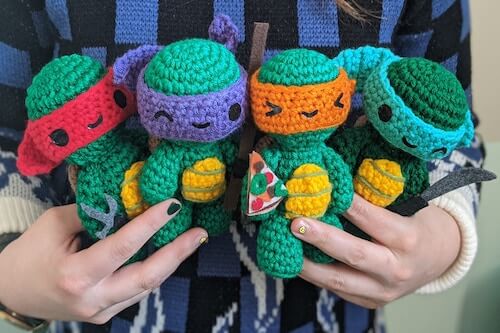 Get the Pattern by Outlaw Heart Creations here

2. Crochet Ninja Turtle Hat Pattern by Repeat Crafter Me
Cowabunga, Dude! Time to crochet a Ninja Turtle hat! This is a basic crochet hat pattern with felt embellishments for the face and mask. I like the way the classic TMNT faces look — much more kid friendly and using felt instead of crochet embellishments gives much more detail to the face, and a closer replica of the cartoon character.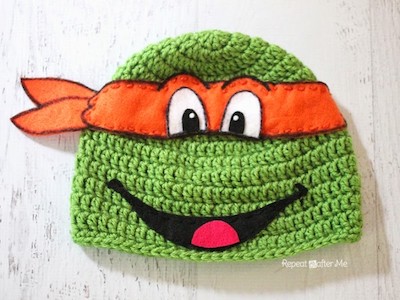 Get the Pattern here

3. Teenage Mutant Ninja Turtle Crochet Pattern by Amidorable Crochet
Hang out with your favorite radioactive reptiles whenever you want by crafting these Crochet Teenage Mutant Ninja Turtles. Using the helpful pattern you can expertly crochet the entire gang dressed in their signature colored bands.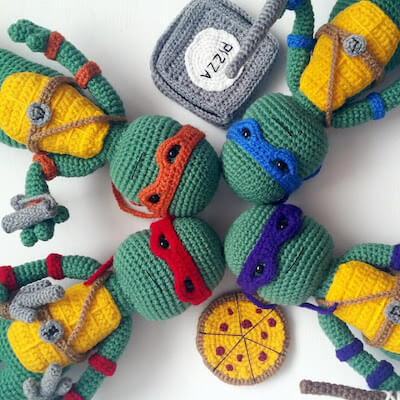 Get the Pattern here

4. Crochet Ninja Turtles Blanket Pattern by Lisa Vanilla
A good blanket can make all the difference when it comes to a good night's sleep. So, if you want your kid, who's a Ninja Turtles fan, to sleep peacefully, then making them this TMNT inspired afghan can be a good gifting idea. It is a perfect size for the turtle fan to snuggle under.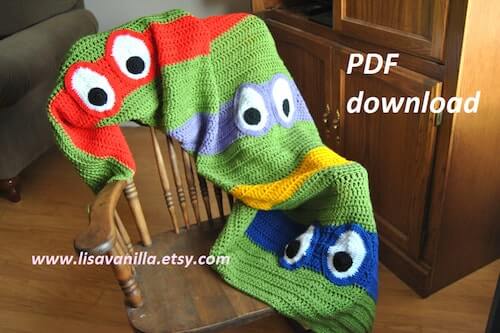 Get the Pattern by Lisa Vanilla here

5. Crochet Teenage Mutant Ninja Turtle Hearts by Maria's Blue Crayon
Valentine's Day is coming near! Make these cute TMNT hearts for your little Valentine's! These small hearts are fairly quick to make with a G hook and worsted weight yarn.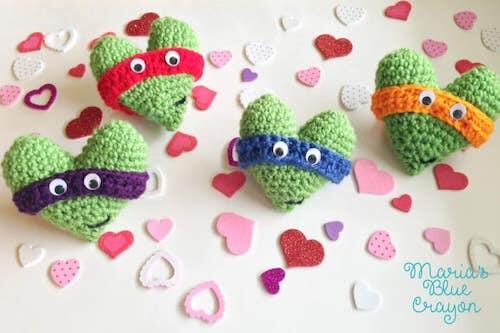 Get the Pattern here

6. Ninja Turtle Crochet Hat Pattern by Gramma Beans
Fight against cold weather and the Foot Clan simultaneously with these Teenage Mutant Ninja Turtles beanies. They come available in a variety styles like Leonardo, Donatello, Rafael, or Michelangelo – so you can choose your favorite turtle.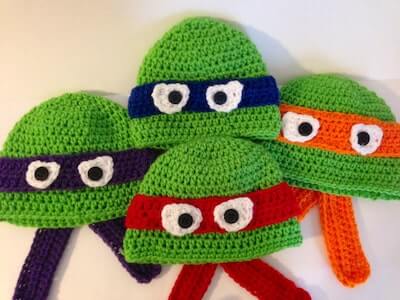 Get the Pattern by Gramma Beans here

7. Ninja Turtle Amigurumi Pattern by Ami Amour
Here are 4 very cute crochet ninja turtles named after the great Renaissance artists. Except instead of being Teenage Ninja Turtles, they're more like Baby Ninja Turtles!

With this free crochet ninja turtle pattern, the features include a color bandana to each differentiate one from the other, tiny legs and arms, and a green shellback, or rather should I say "turtles in a half shell?"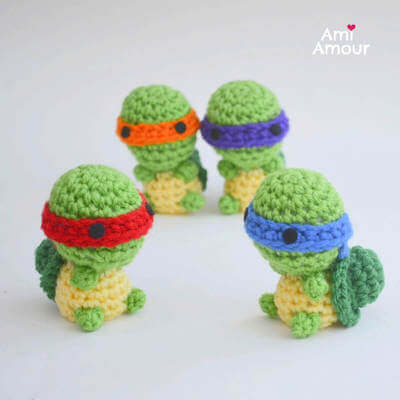 Get the Pattern here

8. Crochet Ninja Turtles Gloves Pattern by Wanita Legacy-Sabin
These gloves are the perfect addition to a Ninja Turtle costume, or to wear all winter to fight off Shredder should they happen to see him in the sewers!

These tipless 3 finger gloves have an opening for the thumb, and two openings on the top to make 3 fingers. I love the tipless tops so kids can still easily manipulate things while still being a totally gnarly turtle!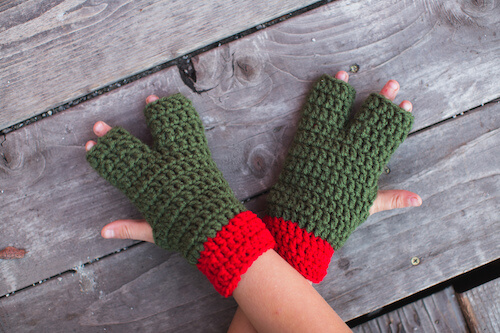 Get the Pattern here

9. Ninja Turtles Crochet Pattern by Nella's Cottage
Add some playful charm to your crochet projects with these Crochet Ninja Turtles Appliques! These fun designs are perfect for embellishing hats, blankets, clothes, and bags of your favorite TMNT fan.
Get the Pattern by Nella's Cottage here

10. Crochet Ninja Turtle Set Pattern by Tina Crochet Patterns
Dress your offspring like the pint sized warrior that he is with this Ninja Turtles Set. This TMNT set makes a perfect photo prop or gift for any infant! This pattern includes instructions on how to make all parts of the hat/beanie, diaper cover, and a cute little slice of pizza.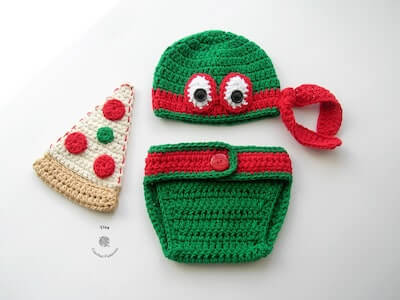 Get the Pattern by Tina Crochet Patterns here
Crochet Ninja Turtles Frequently Asked Questions
Is amigurumi easy?
Learning something new is never easy, but crocheting is a simple hobby that is relatively easy to learn. Furthermore, amigurumi is a great way to start your crocheting hobby because amigurumi projects are often short and simple, as opposed to crocheting larger items like blankets and garments.
Is amigurumi suitable for beginners?
Crocheting amigurumi is the most popular method of making stuffed animals because it is simple, quick, and can be done at home. This is a hobby that you can pursue on your own. Crocheting does not require you to be with anyone else. As a result, it's ideal for beginners, but it's also an excellent choice for those who want to learn how to crochet. All you need to get started is a hook and some thread. There are also numerous crochet tutorials and free patterns available online.
How long does it take to learn amigurumi?
If you're looking to start crocheting amigurumi, you may be wondering just how much time you'll need to get the hang of it. Depending on how much prior experience you have, it could take anywhere from a few hours top several weeks to learn how to crochet amigurumi.
Assuming your have some basic crochet techniques under your belt, picking up amigurumi could be done within the span of an afternoon, perhaps even 1-2 hours.
What are the best yarns for crochet toys?
When it comes to amigurumi, anything goes, but the best yarns are either cotton or acrylic. These are the ones I prefer for my toys because they are both easy to care for and have even, tight stitches that don't allow the stuffing to show through.
Can't get enough of all things related to turtles? Be sure to check our list of exciting amigurumi and crochet turtle patterns.
NO BETTER TIME THAN NOW TO SHOWER THE TMNT FAN IN YOUR LIFE WITH THESE CROCHET NINJA TURTLES!
I hope you found some great TMNT inspiration with this roundup and added a couple to your crochet to-do-list. I know there are several I want to make now!
Make sure to post your finished creations on our Facebook Page. I'd love to see your projects!
Check out our huge of collection of amigurumi patterns which includes your favorite movie characters and superheroes! Minions, Baby Yoda, Paw Patrol, Elmo, Captain America, Superman, Mario Bros, Snoopy, Totoro, and more!
If you love TMNT, bookmark this page and share these crochet Ninja Turtles with all your friends. Cowabunga!