When it comes to superheroes, Captain Steve Rogers is the embodiment of the all-American superhero. I mean, he is Captain America, and he didn't get that name by accident, either. He earned it long before he even became The First Avenger.

It's no wonder he's one of the most well-liked superheroes in the Marvel Universe. Since you're here, I'm sure you have someone you're hoping to find the best Captain America amigurumi patterns for.
10 Crochet Captain America Patterns
Whether you're looking for the best Captain America gift for the super fan in your life or a casual supporter, we're here to help.
We've searched the web and came up with 10 awesome crochet ideas for Captain Rogers fans of any age!

1. Captain America Amigurumi Pod Puppet Pattern by Club Crochet
Have your own crocheted Captain America sitting safe and sound on your dresser or hanging on your back pack!
This little crocheted Captain America from Marvel's The Avengers miniature amigurumi measures about 3 inches tall when finished.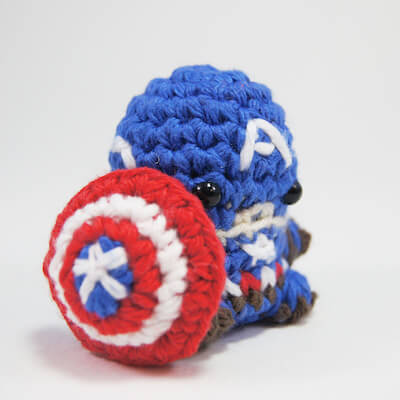 Get the Pattern here

2. Crochet Captain America Amigurumi Pattern by Monster Hook
How cute is this little Captain America amigurumi crochet doll? Look at his little shield! When completed, this Captain America doll measures approximately 5.5" tall.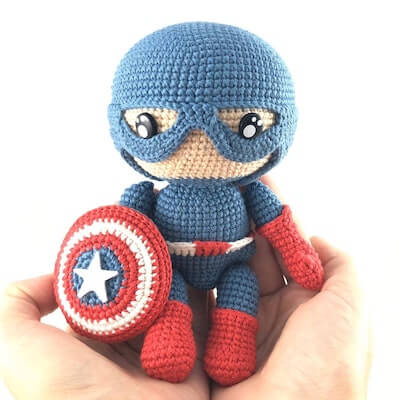 Get the Pattern by Monster Hook here

3. Captain America Lovey Crochet Pattern by Adventures In Yarnia
This Captain America inspired lovey blanket is the perfect cuddle companion for all crime fighting babies and Marvel fans alike!
This crochet captain america pattern measures approximately 18″ when completely spread out.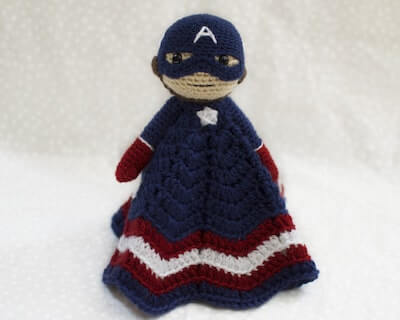 Get the Pattern by Adventures In Yarnia here
Also see: Crochet Lovey Patterns

4. Captain America Crochet Pattern by The Nomad Knot
If your child loves cuddle time, check out these Captain America amigurumi buddy. This soft plush toy is fun for playtime, nap time, or even traveling long distances in a car or plane.
This plushie comes in the perfect size for hugs from the little one. He or she can take their favorite hero wherever they go!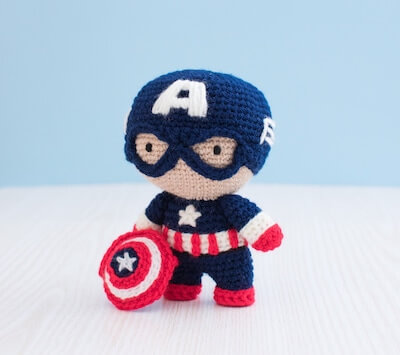 Get the Pattern by The Nomad Knot here

5. Crochet Captain America Hat Pattern by My Hookupz
This Superhero hat will be the favorite hat to wear this winter. If you or your little one loves Captain America you will absolutely love this hat!

This Captain America beanie has 2 ear flap options: shorter ear flaps with shields and a little longer ear flap with braided tails and shields. This crochet captain america pattern have instructions and detailed pictures for both.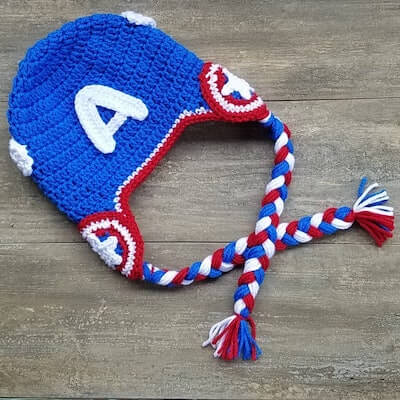 Get the Pattern by My Hookupz here

6. Captain America Amigurumi Pattern by Minasscraft
Although perhaps not quite as svelte as his movie portrayal, this Captain America Amigurumi is super cuddly!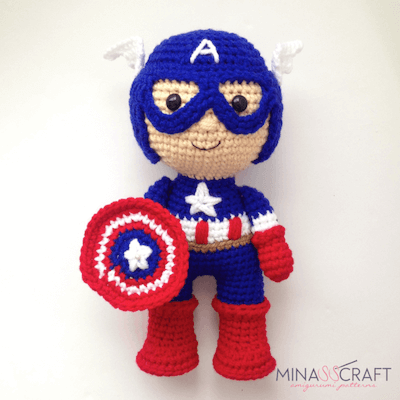 Get the Pattern here

7. Blanket Crochet Captain America Pattern by The Redeemed Zebra
This Crochet Captain America Blanket is perfect for any super hero lover or to be the ultimate boy mom on the sidelines!
The star is raised with textured stitching and the blanket is one piece, the star is totally incorporated into the blanket and is not simply sewn on the circle.

Additionally, this blanket is on the heavy side when completed weighing approximately 6.5lbs when completed. This is a perfect weight for a child with sensory issues to use as a weighted blanket!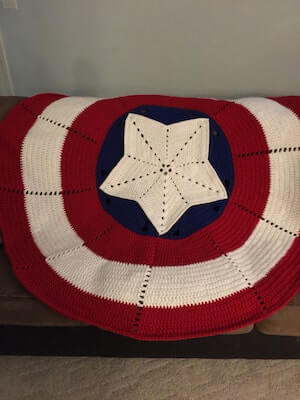 Get the Pattern by The Redeemed Zebra here

8. Captain America Amigurumi Crochet Pattern by Crown Country Crochet
For all the kids/men that just like action figures and for all us ladies that would just love for a superhero to arrive and swipe us off our feet, this Captain America Amigurumi is perfect for us!

Create your three-dimensional superhero which frame is constructed with pipe cleaners for sturdiness and pose-able limbs. You can now act out a variety of different scenes!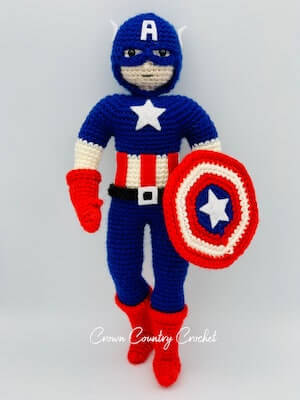 Get the Pattern by Crown Country Crochet here

9. Captain America Turtle Crochet Pattern by Tori Diane Crochet
Red, white, and blue are this little guy's favorite colors. This turtle is inspired by the Marvel hero, Captain America.
If you're a Marvel fan yourself or know someone who is, this tiny Captain America is a great addition to any Marvel fans collection!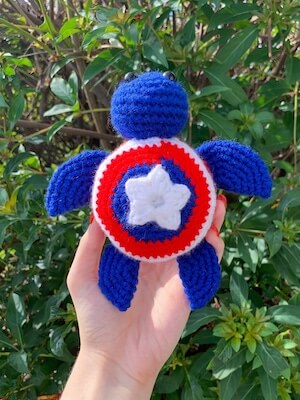 Get the Pattern by Tori Diane Crochet here

10. Crochet Captain America Amigurumi Pattern by Amigurumeria
If you will use the same yarn and hook, your amigurumi Captain America will measure approximately 5'' long and 3'' wide. Such a cute superhero that will fit in the palm of your hands!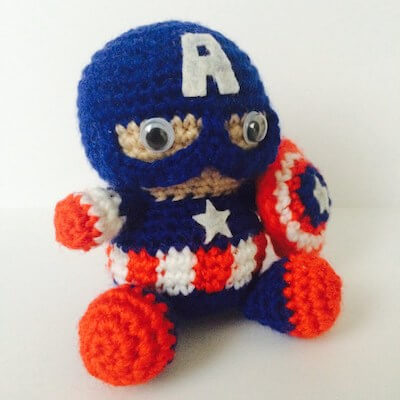 Get the Pattern by Amigurumeria here
WE HOPE WE'VE IMPARTED SOME GIFT INSPIRATION FOR THE ULTIMATE FAN IN YOUR LIFE WITH THESE CAPTAIN AMERICA CROCHET PATTERNS!
If you have someone else in mind, check out our other geeky and fandom-related crochet patterns: Superman Amigurumi Patterns, Crochet Batman Amigurumi Patterns, Spiderman Amigurumi Doll Patterns, and Hulk Amigurumi Patterns Once finished, please have a moment to share your works on our Facebook Page.

Want to show your favorite Marvel fan some extra love this year? Start crocheting these Captain America amigurumi patterns today!