If you've ever found yourself screaming "I'm Batman" then, well, you're really just human. You're also likely to appreciate these brilliant crochet batman patterns that will bring the Dark Knight into your home.
Proving that you can never have enough Batman in your life, definitely give these crafts a go next time you're in the mood for handmade fun. And there's plenty in this list for both kids and adults so you'll never run out of ideas.

1. Batman Amigurumi Crochet Pattern by 53 Stitches
The batman crochet amigurumi pattern is the perfect toy for your little hero-loving boy or girl.
This batman amigurumi toy is 18″ inches tall and is so much fun to play with! The 'Bat Buddy' Doll is made using amigurumi techniques meaning the finished product's quality is impeccable.
Without much ado, let's get to it. To the bat cave!
Batman is a well-loved hero from the Marvel universe. Batman's exploits in Gotham have earned him admiration and loathing in equal measure, depending on which side of the law you're standing on.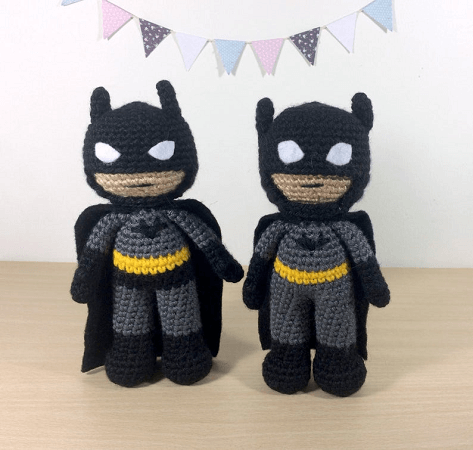 Get the full crochet pattern here

2. Batman Amigurumi Pattern by Venelopa Toys
Perfect for fantasy play, this Batman Amigurumi Pattern will spark a child's imagination. This amigurumi toy measuring a little over 17 centimeters is cute enough to impress any superhero lover and a perfect playing size!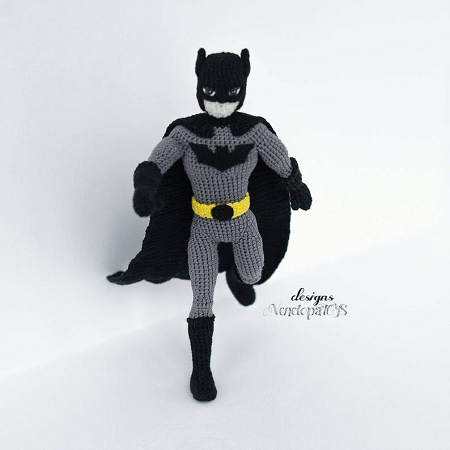 Get the Pattern by Venelopa Toys here

3. Crochet Batman Pattern by Inner Child Crochet
Who doesn't love a hero? At 12″ tall, this little Batman toy is perfect for hugging and playtime and is great for children who love superheroes but are too little for action figures. To complete the pattern you will need intermediate crocheting and basic hand-sewing skills.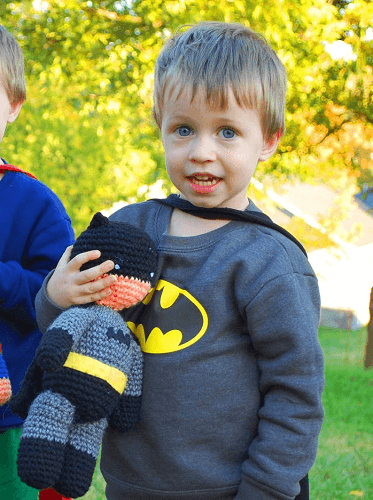 Get the Pattern by Inner Child Crochet here

4. Free Batman Crochet Pattern by Holly's Hobbies Crafts
Standing approximately 12-15 inches depending on the yarn and tension used, this doll is perfect for the superhero lover in your life (kids or adults)! All yarn used is worsted weight (4) but any acrylic worsted yarn will work.
Get the Pattern here

5. Baby Batman Amigurumi Crochet Pattern by Toys By Valerie
This Baby Batman Amigurumi is a simple pattern that is great for jokers out there who like a funny DIY to kill time. This toy measures 19 cm (7.5 inches) when using these materials. If you use different yarn and hook your toy will be more or less.
Get the Pattern by Toys By Valerie here

6. Batman Security Blanket Crochet Pattern by Paula Virmasalo
Batman tends to stick to the shadows and go unnoticed whenever possible, stalking to the darkness. That's why this subtle security blanket is a sneaky way of incorporating a bit of Batman into your home. Plus, it's a cozy blanket for your baby or toddler to snuggle with!
Find another Batman Lovey Pattern here plus 40 more adorable lovey crochet patterns.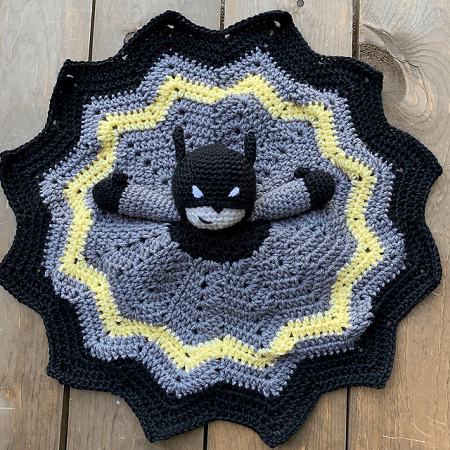 Get the Pattern here

7. Crochet Batman Costume Pattern by The Cozy Buckeye
This Batman Costume Set can be made into a wonderful gift or photography prop. This set is made for sleeping newborn babies to be transformed into a magical superhero for beautiful photographs.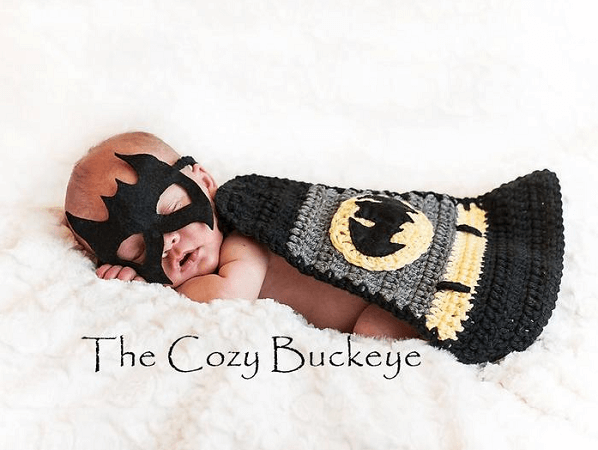 Get the Pattern by The Cozy Buckeye here

8. Crochet Batman Blanket Pattern by Sue Stitch
Subtle yet striking, thus Crochet Batman Blanket Pattern is a simple superhero inspired project for even the most inexperienced crocheters.

Making blankets inspired by Batman can be easy by choosing a thick or soft yarn for a cozy winter. This is also a perfect gifting option for your little young ones.
Get the Pattern by Sue Stitch here

9. The Incredible Batman Crochet Pattern by Pixel Perfect
Have a superhero fan in the family? This quick and easy project is sure to be a Batman fan favorite and can be used for projects big or small. This graph and pattern are designed for use with the corner to corner (C2C) stitch.
Get the Pattern here

10. Batman Crochet Cropped Top Pattern by Dream Crochet Shoppe
This Batman Crochet Cropped Top is perfect for anyone who is obsessed with Batman. It is created to represent this strong character in a fun and fresh way!

This detailed pattern was originally created in a US Women Small/Medium sizing with measurements that can be modified to any specific size.
Get the Pattern by Dream Crochet Shoppe here
Have a super time bringing Batman into your life with these fun Crochet Batman Patterns you can make today!
Once finished, please have a moment to share your works on our Facebook Page. Do you want more toy patterns? Take a look at our collection of Spider-Man Patterns, Crochet Rocket Patterns, and Volkswagen Beetle Crochet Pattern.
Adding a touch of the brawny Batman, these Crochet Batman Patterns will give you some serious crocheting goals!