Are you a fan of the Superhero genre? Do you ever find yourself screaming, "I'm Batman?" Then you will love these crochet Batman amigurumi patterns we have for you. We have included all types of crochet batman patterns, from a simple crochet Batman hat to Batman amigurumi dolls.
Below are 21 Batman crochet patterns. And they are not only for kids, but also adults. There is something for everyone. Because we are never too old for Batman.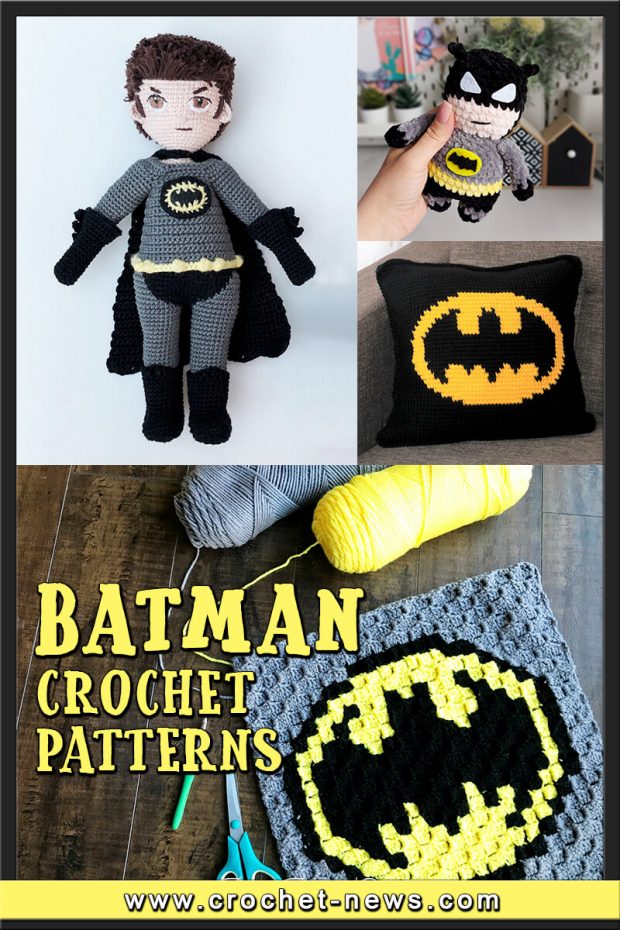 Proving that you can never have enough Batman in your life, definitely give these crafts a go next time you're in the mood for handmade fun. And there's plenty in this list for both kids and adults so you'll never run out of ideas.
 
1. Batman Amigurumi Crochet Pattern by 53 Stitches
The batman crochet amigurumi pattern is the perfect toy for your little hero-loving boy or girl.
This batman amigurumi toy is 18″ inches tall and is so much fun to play with! The 'Bat Buddy' Doll is made using amigurumi techniques meaning the finished product's quality is impeccable.
Without much ado, let's get to it. To the bat cave!
Batman is a well-loved hero from the Marvel universe. Batman's exploits in Gotham have earned him admiration and loathing in equal measure, depending on which side of the law you're standing on.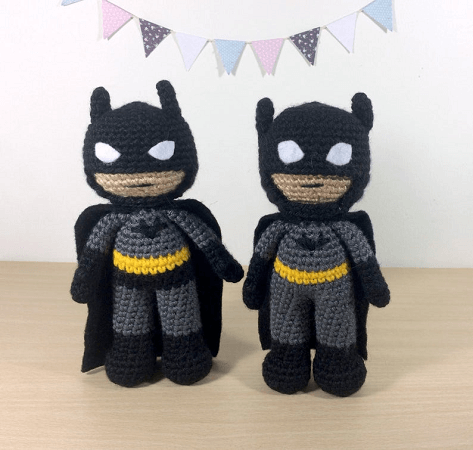 2. Crochet Batman Amigurumi Pattern by Venelopa Toys
Perfect for fantasy play, this Batman Amigurumi Pattern will spark a child's imagination. This amigurumi toy measuring a little over 17 centimeters is cute enough to impress any superhero lover and a perfect playing size!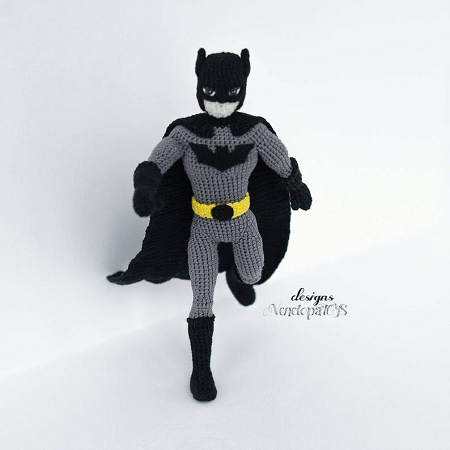 Get the Pattern by Venelopa Toys here
3. Crochet Batman Pattern by Inner Child Crochet
Who doesn't love a hero? At 12″ tall, this little Batman toy is perfect for hugging and playtime and is great for children who love superheroes but are too little for action figures. To complete the pattern you will need intermediate crocheting and basic hand-sewing skills.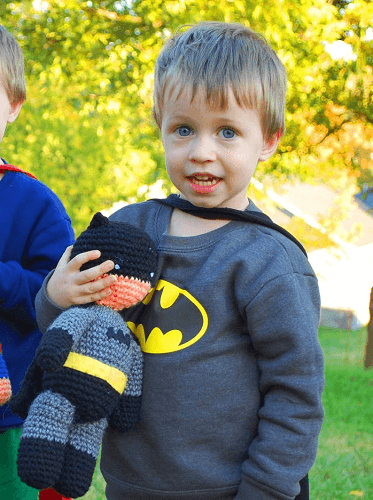 Get the Pattern by Inner Child Crochet here
4. Crochet Batman Amigurumi Boy Doll Pattern by LittleBeauMouse
Here is an intermediate level Batman crochet pattern. This pattern gives you the ability to make this doll his own wardrobe. The instructions are for his Batman outfit. But you can change the colours of his shoes, pants, and shirt to make this little guy a whole wardrobe.
The PDF download includes the doll body pattern, description and images of how to sew facial features and hair, and patterns for all the accessories. The finished doll measures approximately 9.05 inches (23 cm) tall.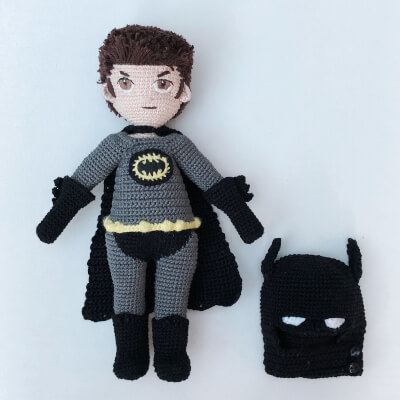 Find the Pattern by LittleBeauMouse HERE
5. Justice League Batman Crochet Blanket Pattern by MyVictoriaRose
Crochet this batman crochet blanket for any DC Comics fan. This blanket is perfect for cuddling up on the couch watching comic book inspired movies.
The completed blanket measures approximately 60 inches (152.4 cm) x 46 inches (116.84 cm). It is an intermediate level pattern that only uses basic crochet stitches.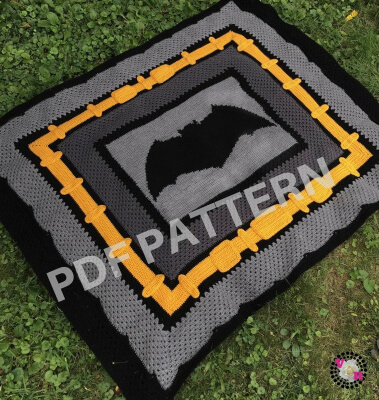 Find this Pattern by MyVictoriaRose HERE
6. Batman Security Blanket Crochet Pattern by Paula Virmasalo
Batman tends to stick to the shadows and go unnoticed whenever possible, stalking to the darkness. That's why this subtle security batman crochet blanket is a sneaky way of incorporating a bit of Batman into your home.
Plus, it's a cozy blanket for your baby or toddler to snuggle with!

Find another Batman Lovey Pattern here plus 40 more adorable lovey crochet patterns.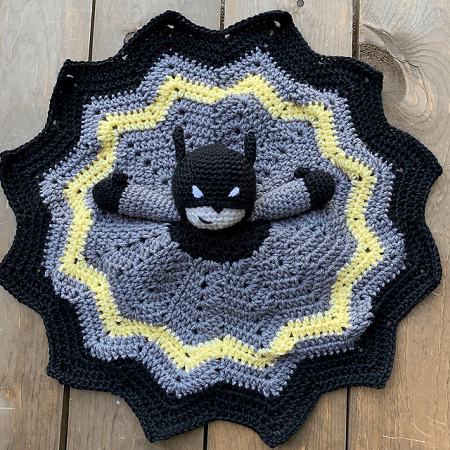 Get the Pattern here
7. Crochet Batman Costume Pattern by The Cozy Buckeye
This Batman Costume Set can be made into a wonderful gift or photography prop. This set is made for sleeping newborn babies to be transformed into a magical superhero for beautiful photographs.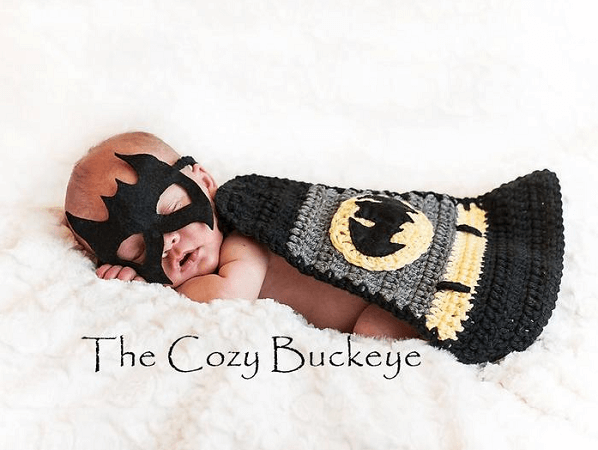 Get the Pattern by The Cozy Buckeye here
8. Batman Crochet Blanket Pattern by Sue Stitch
Subtle yet striking, thus Crochet Batman Blanket Pattern is a simple superhero inspired project for even the most inexperienced crocheters.

Making blankets inspired by Batman can be easy by choosing a thick or soft yarn for a cozy winter. This is also a perfect gifting option for your little young ones.
Get the Pattern by Sue Stitch here
9. Baby Batman Bib Crochet Pattern by creeksendinc
Use this baby Batman bib as a costume or just for fun. This adorable bib will make everyone laugh. The muscles are created with fibrefill stuffing. You can also use green yarn and make an Incredible Hulk bib.
To make this crochet Batman pattern, you will need beginner level crochet skills and basic sewing knowledge. The step-by-step pattern includes helpful pictures.
If you have a baby, you definitely need more bibs, check out our crochet baby bibs here.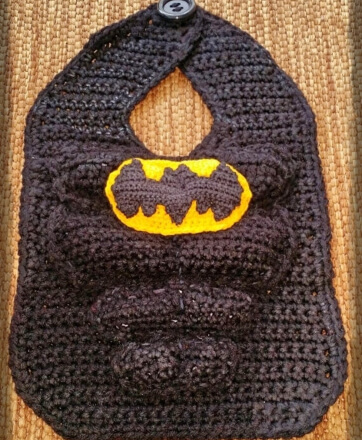 Find the Pattern by creeksendinc HERE
10. Batdog Caped Hoodie Cowl Crochet Pattern by Creeksendinc
Every dog is a superhero. If you are looking for a cute costume for your pup, check out this Batdog pattern.
This is a written step-by-step illustrated Batman crochet pattern. It works up quickly using simple stitches. This pattern can be used for small, medium, and large dogs.
Find the Pattern by creeksendinc HERE
11. Batman Logo Pillow Crochet Pattern by PillowPatternsByJC
Make this crochet Batman logo pillow for the superhero in your life. You can use this graphgan chart for Tunisian crochet, single crochet, c2c crochet, or cross stitching.
When using Tunisian crochet and a J size hook, the graph will create a 16 inch (40.64 cm) x 16 inch (40.64 cm) square.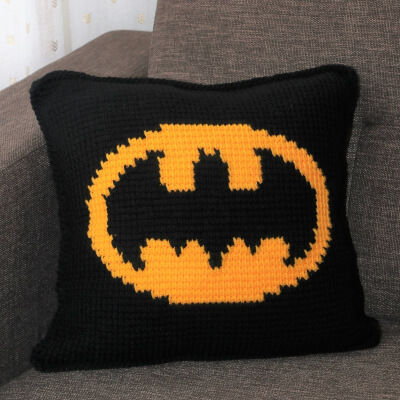 Find this Pattern by PillowPatternsByJC HERE
12. Crochet Batman Amigurumi Pattern by AmigumiByAna
Crochet this cute little Batman amigurumi pattern for the Batman lover in your life. There are two options available. You can make a regular squishy plush doll or make a doll with plastic joints.
The pattern contains many step-by-step photos and videos with English subtitles. The basic Batman amigurumi pattern can be completed by an advanced beginner.
The pattern that uses plastic joints is for an advanced level crocheter.  Completed, the toy is approximately 6.3 inches (16 cm) tall.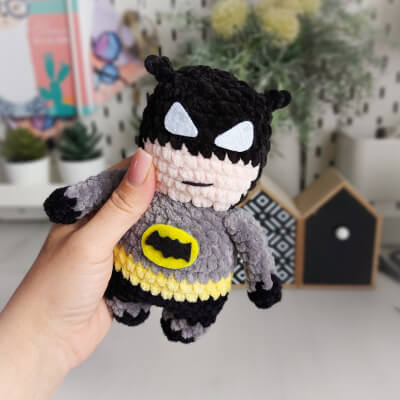 Find the Pattern by AmigumiByAna HERE
13. Batman Amigurumi Free Pattern from Tales of Twisted Fibers
Here is a free Batman crochet pattern. This amigurumi doll would make a great gift for a little boy. The pattern uses sock weight yarn, embroidery thread, a 2.5 mm crochet hook, 10 mm safety eyes, fiberfill, and a yarn needle.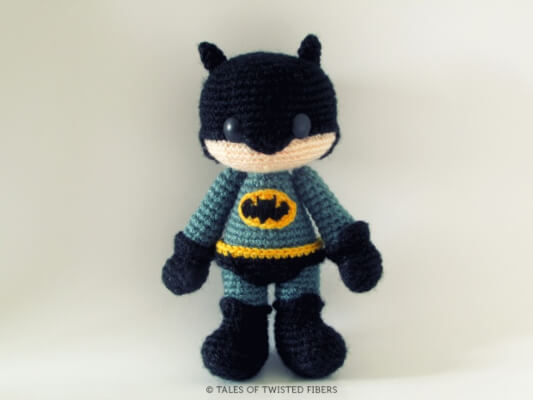 Find the Pattern from Tales of Twisted Fibers HERE
14. Pencil Holder Batman Crochet Pattern by LHCpatterns
If you work from home or have your own office, you need this Batman pencil holder. It would also work well for holding your children's art supplies. Everyone that sees it will smile. His floppy little arms and legs are absolutely adorable.
This PDF download is 9 pages long. It contains many detailed step-by-step photographs along with full pattern instructions. The finished size is 4.5 inches (11.5 cm).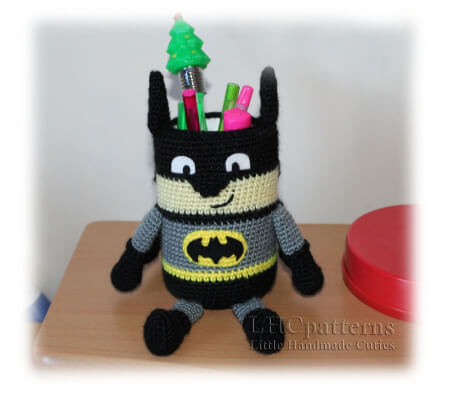 Find the Pattern by LHCpatterns HERE
15. Crochet Batman Amigurumi Bear Pattern by AmiAmor6
Even teddy bears can be superheroes. This crochet batman teddy bear would make a great gift for someone that collects stuffed bears.
This downloadable PDF crochet pattern consists of 30 pages of detailed step-by-step instructions, over 60 colourful close-up photos, and 5 video links. It is an intermediate to advanced level pattern.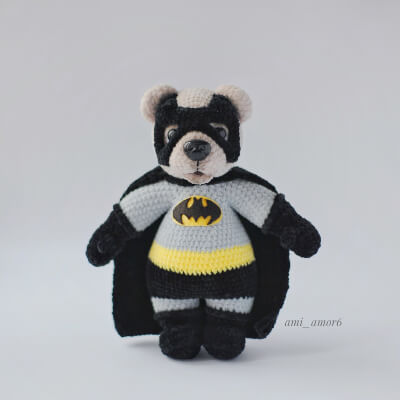 Find the Pattern by AmiAmor6 HERE
16. Crochet Pattern of Photo Frame BAT Superhero by TANATIcrochet
Turn anyone into Batman with this whimsical crocheted picture frame. It would make the ideal desk accessory for work or home.
To make this easy Batman crochet pattern, you should have previous amigurumi experience. The size of the finished frame will be 8 inches (21 cm) tall using sport weight yarn.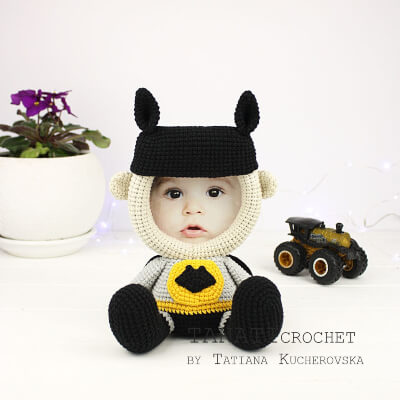 Find the Pattern by TANATIcrochet HERE
17. Super Heroes Amigurumi Crochet Balls Pattern by Mongoreto
With this pattern, you get instructions for Batman, Superman, The Incredible Hulk, and The Flash. Children will love playing with these plush amigurumi superhero balls.
These crochet balls are beginner-friendly. To make them you will need to know magic ring, sleep, single crochet stitch, chain, half crochet, double crochet, increase, and decrease.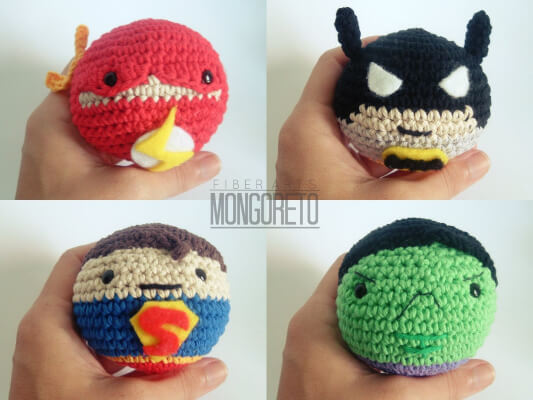 Find This Pattern by Mongoreto HERE
18. Batman Afghan Crochet Pattern from This Crafting Life
If you are looking for a free crochet Batman pattern to make a blanket, this one is amazing. It is large and will fit a queen size bed.
This pattern is not for the faint of heart. It is complicated and will take a lot of patience. But if you are dedicated to the craft, this Batman crochet blanket will be well worth your time.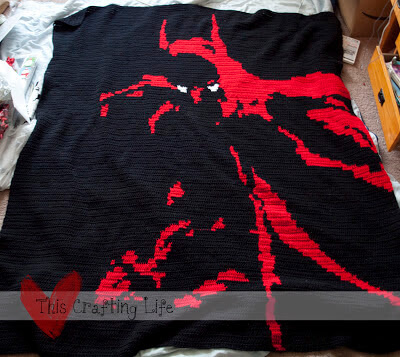 Find the Pattern from This Crafting Life HERE
19. Baby Batman Diaper Cover Crochet Pattern by PatternsJolie
Even a baby can dress up as Batman with this diaper cover. The bat is made with felt. It is not crocheted. So, you can easily change up the design and add the baby's initials instead if you choose.
This is an intermediate level Batman crochet pattern. There are lots of instructional photos and video tutorials. The pattern includes 4 sizes: 0–3 months (6-10 lbs), 3-6 months (9- 16 lbs), 6-9 months (15–23 lbs), and 9-12 months (22–28 lbs).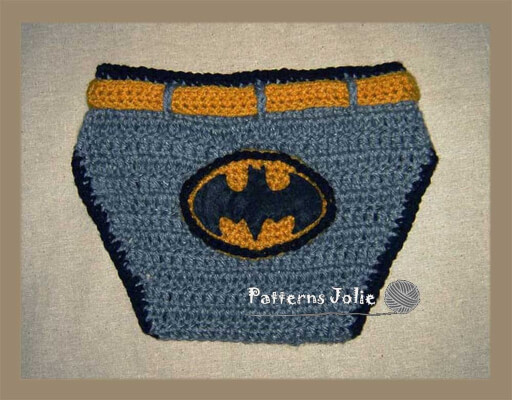 Find the Pattern by PatternsJolie HERE
20. Crochet Batman Rattle Pattern by Yarnabees
If you are making the Batman diaper cover, you need this awesome Batman rattle too. This thing is so cute. Babies will absolutely love it.
Once completed, this Batman rattle measures approximately 7 ½ inches tall. It is an intermediate pattern. You will need to know stitch, single crochet, chain, single crochet 2 together, round, repeat, half double crochet, and slip stitch.
You may also want to check these fun Crochet baby rattle patterns.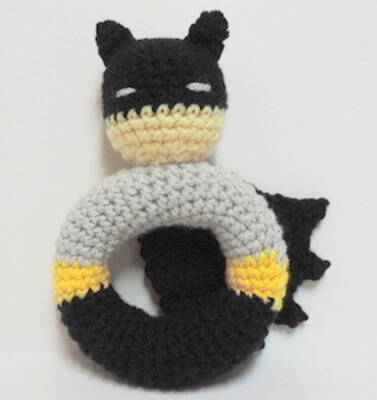 Find the Pattern by yarnabees HERE
21. Easiest Crocheted Christmas Stocking Pattern from Neeley's Knits
Here is a free Batman crochet pattern for Christmas. Make this crochet Christmas stocking for the Superhero in your life.
This stocking is easy to knit, unlike many other stocking patterns that are needlessly tedious. The construction is basically a seamless top-down sock with an afterthought heel.
The stitches used are half double crochet, single crochet two together, half double crochet two together, single crochet, stitch, and slip stitch.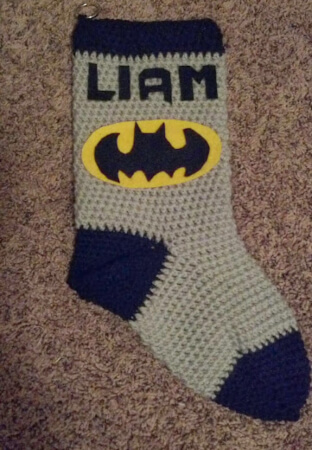 Find this Pattern from Neeley's Knits HERE
HAVE FUN MAKING THESE BATMAN AMIGURUMI CROCHET PATTERNS FOR THE SUPERHERO IN YOUR LIFE.
Once finished, please have a moment to share your works on our Facebook Page. Do you want more toy patterns? Take a look at our collection of Spider-Man Patterns, Crochet Rocket Patterns, and Volkswagen Beetle Crochet Pattern.
Batman has been a favourite character among children and adults for over 80 years. And he will surely be around for another 80. If you are a fan of DC Comics or know someone that is. Work up some of these Batman amigurumi crochet patterns.