Now your dream can become a reality with these 10 Crochet Rocket Patterns!
Did you ever dream of becoming an astronaut – visit planets and galaxies far far away, flying through space with the speed of light?
These rocket ships are so much fun to decorate a kids room, use as party decor or favors, or just to use your imagination. Make them in any color combination to look as smart as any rocket scientist!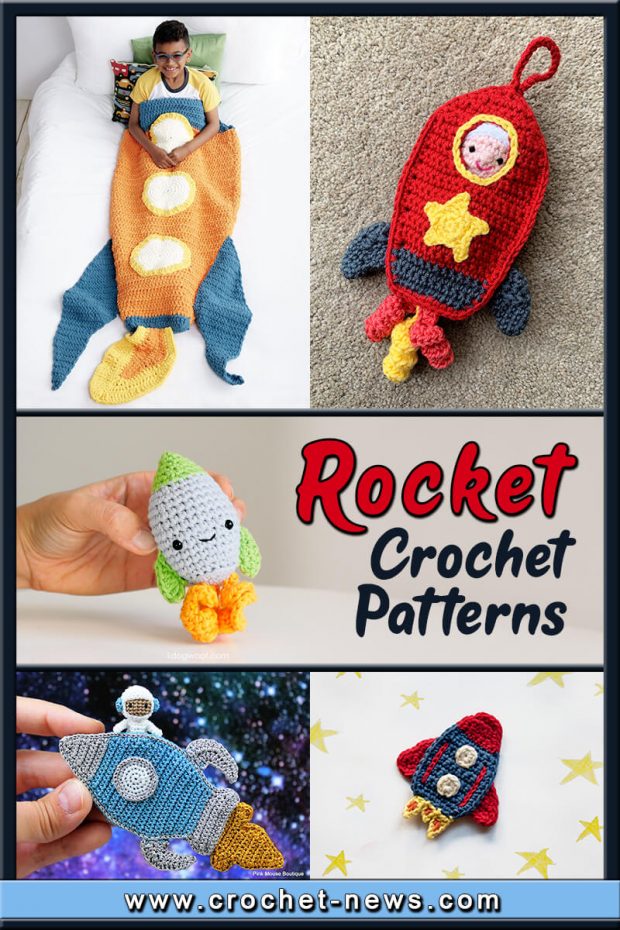 1. Crochet Space Rocket Toy Pattern by Mila Toys Patterns
The height of the finished toy is about 11 cm ( 4.33 inches ). If you use different yarn and/or crochet hook sizes, the size will be different.
This Crochet Space Rocket Toy is a perfect size for children (or adults!) who love space and want a craft that fits in the palm of your hand or pocket.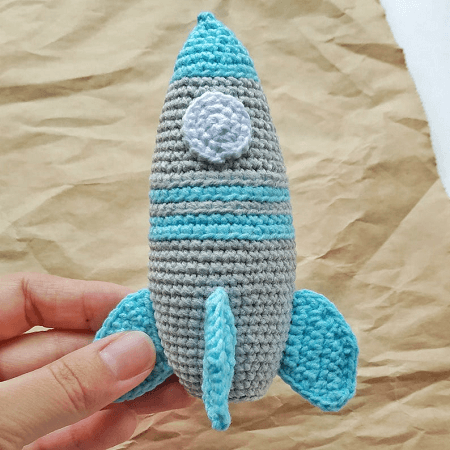 Get the Pattern by Mila Toys Patterns here

2. Rocket Lovey Crochet Pattern by Tilly Some
This Rocket Lovey is a plush toy and security blanket all in one! It's perfect for baby's little hands and will surely become a friend for your baby. You can create something really special for your little one!
You can use this pattern to make larger or smaller lovey by using finer or bulkier yarn.

Check out more Crochet Lovey Patterns here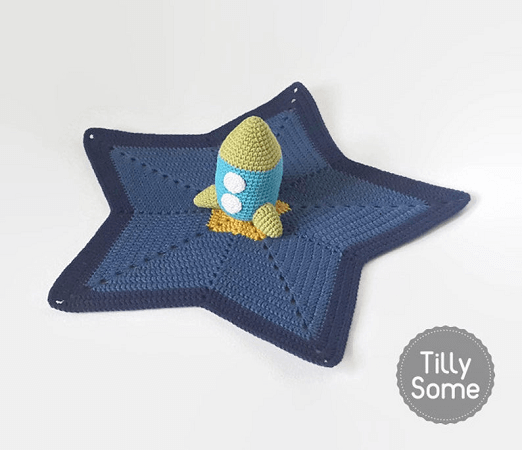 Get the Pattern by Tilly Some here

3. Rocket Ship Crochet Pattern by Petals To Picots
Not only are these Rocket Ships great for indoor play but would also be perfect for patriotic decor!
To make these you will need a worsted weight yarn, an H crochet hook, an empty paper towel tube, optional newspaper and fiberfill.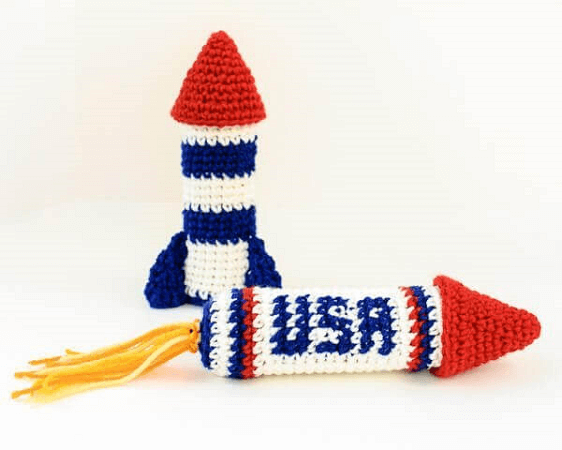 Get the Pattern here

4. Rocket Pocket Pal Crochet Pattern by Lau Loves Crochet
This design is for a small doll, as well as a rocket for them to live in!
You attach the arms to the doll as you work, and so the only sewing involved with this, is to attach the hat and to embroider the facial details!
This Rocket Pocket Pal Crochet Pattern also includes a poem that can be printed out to accompany the Pocket Pal if it's a gift (or being made to sell as a gift).
Get the Pattern by Lau Loves Crochet here

5. Free Crochet Rocket Pattern by Elisa's Crochet
This Rocket Free Crochet Pattern has the instructions to make a fun and colorful rocket that the little space lover in your life will love!
It is so soft yet serious, as it is going to carry the small astronaut far into distant space!
It's an excellent idea for a Baby shower gift, a birthday present for a boy, and even to a grown up teen – to all, who dreams of flying into the infinite sky!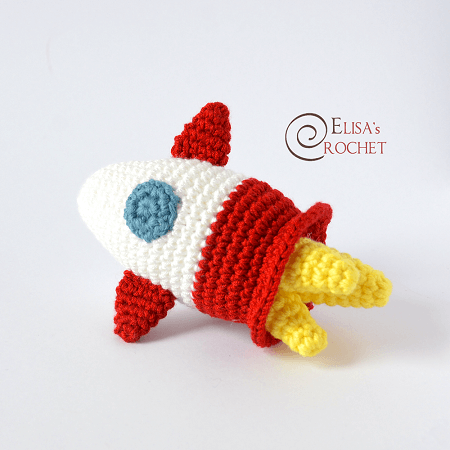 Get the Pattern here

6. Ray, The Rocket Amigurumi Crochet Pattern by Tremendu
Are you looking for an adventure? Ray, The Rocket is here to take you to a rocket ride.
The pattern is very easy to follow with detailed instructions and lots of photos to help you out. Ray the Rocket is 10 inches tall approximately, using worsted weight yarn.
Get the Pattern by Tremendu here

7. Applique Rocket Crochet Pattern by One And Two Company
The pattern provides instructions to make a cute Crochet Rocket Applique that can be used in innumerable ways – decorate and personalize your favorite objects like hats, t-shirts, bags, school knap-sacks, and lots of other stuff you can think of.

This rocket measures approximately 4.3 inches using worsted weight yarn. You can make the pattern larger or smaller by changing the type of yarn and hook.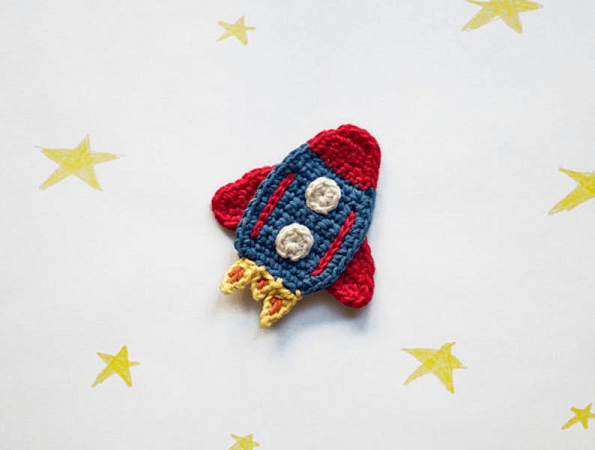 Get the Pattern by One And Two Company here

8. Crochet Rocket Ship Snuggle Sack Blanket Pattern by Yarnspirations
We love snuggle sacks as much as you do, so let's blast-off with this Rocket Ship Crochet Snuggle Sack, just in time for the slumber party.
Bernat Blanket Brights makes it super cozy in your choice of energetic, bright shades. This snuggle sack certainly adds a playful vibe to any gathering of friends.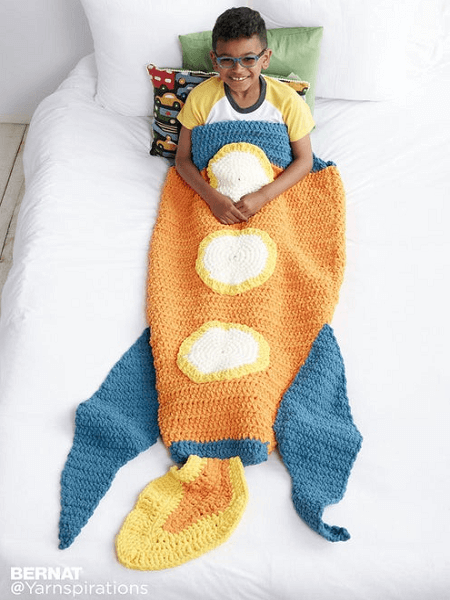 Get the Pattern here

9. Amigurumi Crochet Rocket Pattern Free by 1 Dog Woof
You can make this Amigurumi Rocket in any color you'd like, fit for girls, boys, and astronauts of all ages.
The construction of this rocket is worked seamed to keep everything on an even keel, with just the tip being a different color.
The flames are reminiscent of jellyfish tentacles. You have the freedom here to make the curly-cues any way you'd like, long and thin, or short and fat.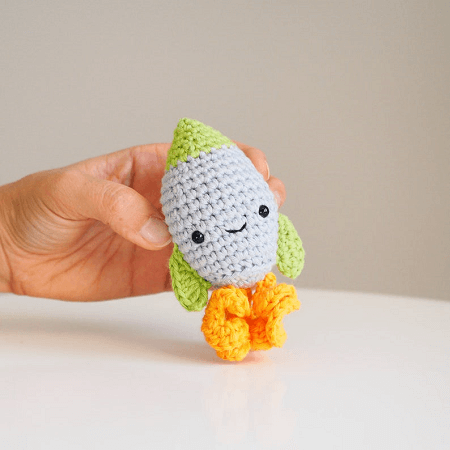 Get the Pattern here

10. Tommy, The Astronaut And Rocket Ship Crochet Pattern by Pink Mouse Boutique
This beautiful pattern includes instructions on how to make the tiny one inch astronaut and his rocket ship key chain.
Tommy, The Astronaut is made with Lizbeth size 20 thread and Clover Amour 1.25 mm hook. The rocket ship is made with Lizbeth 20 metallic thread and Clover Amour 1.50 mm hook.
Check out our compilation of crochet keychains for more options.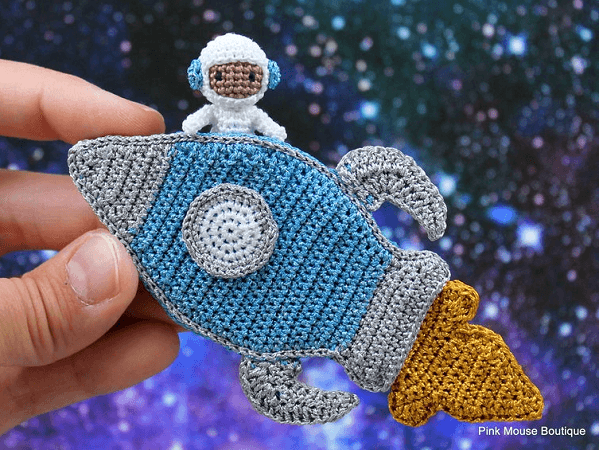 Get the Pattern by Pink Mouse Boutique here
We hope this roundup of these crochet rocket patterns has you over the moon!
If you enjoyed these patterns and are showing it off to the world, be sure to also share pics on our Facebook Page. We can't wait to see all your creations!
You can also head over to our other collection of Crochet Toy Patterns, Pirate Ship Crochet Pattern, Baby Toy Crochet Patterns, and Volkswagen Beetle Crochet Pattern . You will surely find something to crochet next!
Happy hooking with these Crochet Rocket Patterns and be ready to blast off into space!