Ahoy, mateys! If pirates your kids be, then crochet pirate patterns we have for ye! Whether you and your child is obsessed with Peter Pan, knows every installment of Disney's "Pirates of the Caribbean," or just enjoys a good ole' high-seas swashbuckling adventure, you're going to love these crochet pirate patterns we have below!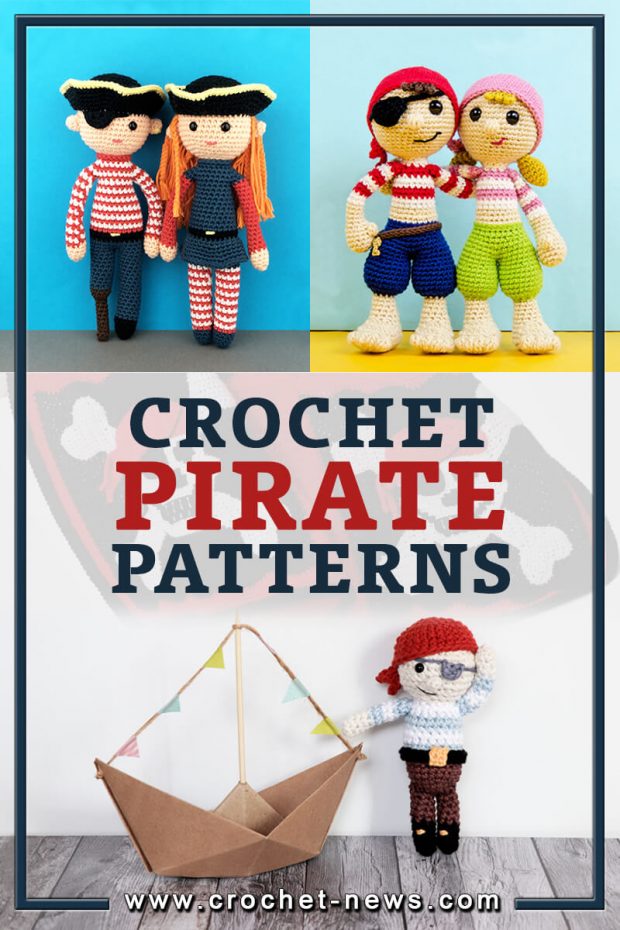 There are plenty of patterns here that feature pirates to play with, ships to sail, and of course, a pirate costume for everyone!
So from Captain Hook to Captain Jack Sparrow, from Blackbeard to Bluebeard, check out these 12 fun pirate projects to make your home a little less landlubber and a lot more seaworthy!

1. Pirate Set Crochet Pattern by Amigurumisnl
Playing pirates is a must, no matter what your age. Here is a complete pirate playset to set fire to any imagination! Complete with pirate ship, treasure chest, pirate flag, and more. Find more amigurumi shark patterns here.
There are plenty of options to customize the final look, it really is up to your imagination.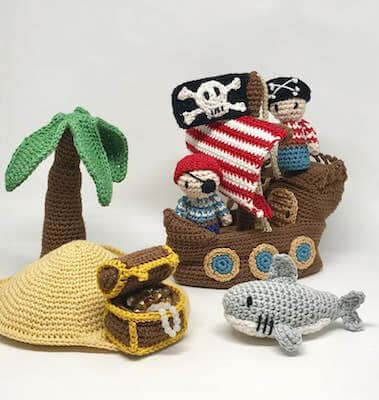 Get the Pattern by Amigurumisnl here

2. Crochet Halloween Pirate Pattern by Red Heart
Release his inner swashbuckler with these accessories for the pirate in your life! Cap, belt and eye patch are all very easy to crochet for Halloween fun.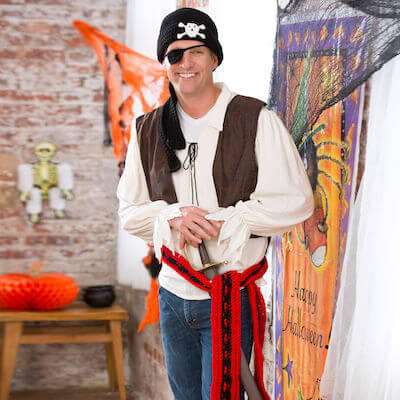 Get the Pattern here

3. Joy Little Pirate Free Crochet Pattern by Thoresby Cottage
This jolly little pirate makes a perfect companion for adventurers on the hunt for buried treasure. This adorable replica will create much fun at your kid's playtime, or just add to your growing amigurumi collection.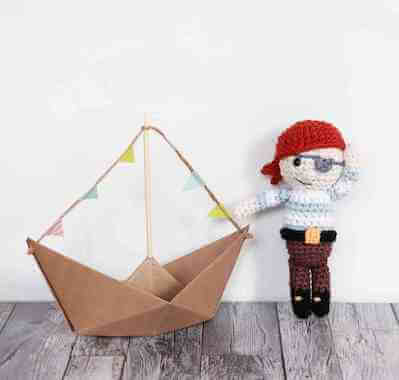 Get the Pattern here

4. Crochet Pirate Set Pattern by Vliegende Hollander
Now you can become an awesome pirate yourself with this very sweet Pirate Hat crochet pattern set! The set features patterns for the pirate hat, pirate eyepatch and the pirate hook just like Captain Hook had one.
The pirate hat has skulls on both sides and a red bandana.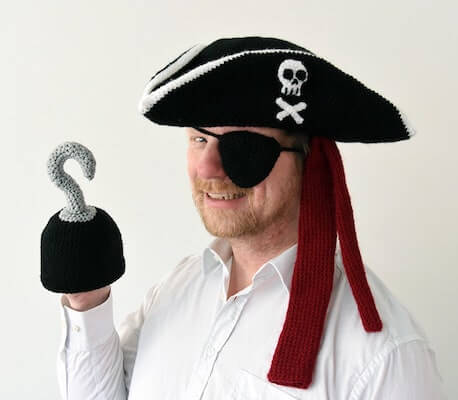 Get the Pattern by Vliegende Hollander here

5. Peg Leg Pete and Polly Pirate Crochet Pattern by Make Me Roar
If your little one is a fan of pirates, then they'll love Peg Leg Pete and Polly! this darling amigurumi duo have all your classic pirate features – tai-corner hats, an eyepatch, wooden leg – all you need to sail the seven seas!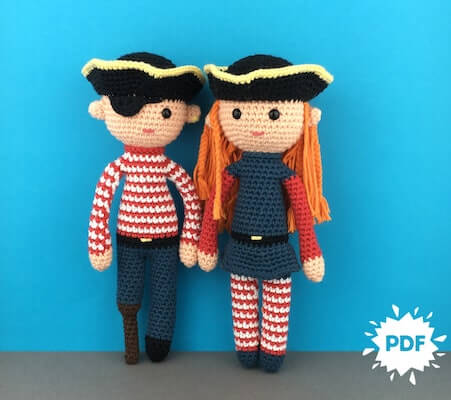 Get the Pattern by Make Me Roar here

6. Crochet Pirate Throw Pattern by Yarnspirations
The time you take to craft this animated throw with incredible detail is worth it when you see the smiles on kids' faces. Start this journey with your creative spirit and craft a classic as shown.
It's a blanket that any tiny pirate loves to cuddle-up with at nap time!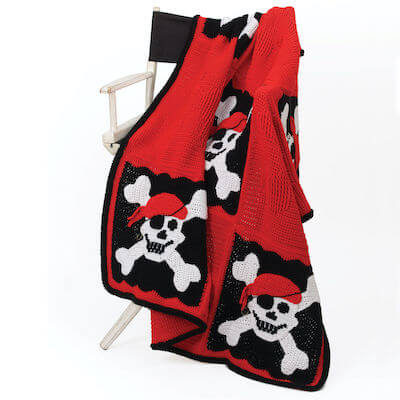 Get the Pattern here

7. Crochet Pirate Pattern by Nella's Cottage
Boys love play acting and this pirate appliqué is sure to please any little guy! The pattern provides instructions to make a cute crochet applique that can be used in inumerable ways – decorate and personalize your favorite objects like hats, t-shirts, bags, school knap-sacks and lots of other stuff you can think of!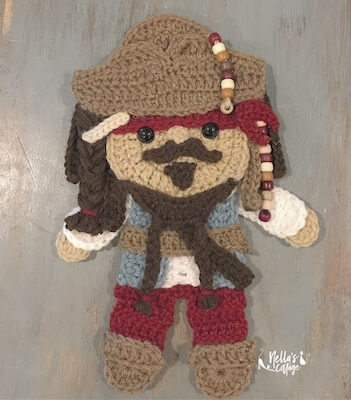 Get the Pattern by Nella's Cottage here

8. Crochet Pirate Eye Patch Pattern by Crochet Spot Patterns
Super fun and super simple, this pirate's eye patch works up in minutes and is good for hours of play or for a quick 'costume' while handing out candy this Trick or Treat.

Acrylic, acrylic mix, cotton or cotton mix yarns are recommended to prevent eye irritation and also to keep the eye patches strap from stretching too much!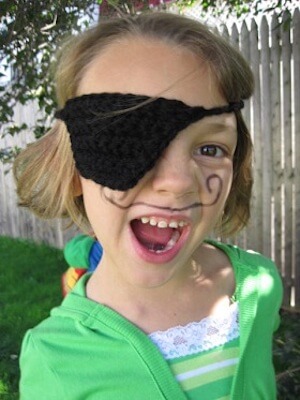 Get the Pattern here

9. Crochet Amigurumi Pirate Pattern by One And Two Company
Pete and Penny love to sail the seven seas! They travel around the world seeking treasure and adventures, making friends wherever they go. Would you like to sail away on an adventure with them? These patterns include boy and girl versions.

Pete and Penny the Pirates Amigurumi is the perfect friend for your child, sweet and charming, you can customize it as you like. It's also a fantastic gift for a nursery or even do it for you!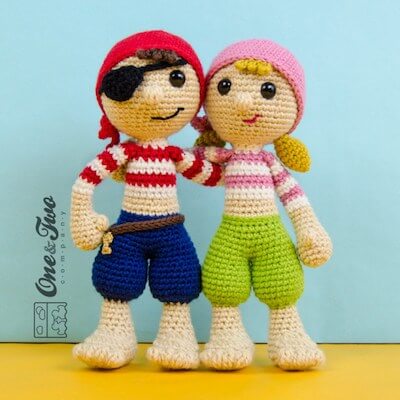 Get the Pattern by One And Two Company here

10. Crochet Pirate Outfit Pattern by AMK Crochet
This crochet pattern gives you the instructions, so that you can makes a fun pirate hat, eye patch, pants, and sword set. Perfect photo prop for every little boy and girl! Great for any newborn photo session!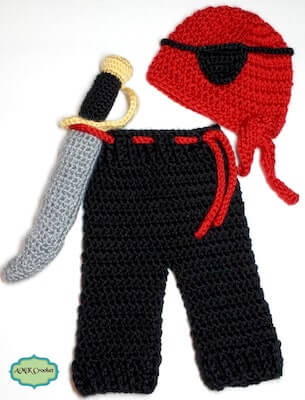 Get the Pattern by AMK Crochet here

11. Crochet Pirate Hat Pattern by Ketis Crochet
This Pirate Hat and Scarf is easy to make and is perfect as Halloween costume, any theme party or make it as an awesome present! You can wear them separate or together for more complete look
Get the Pattern by Ketis Crochet here

12. Pirate Crochet Ship Amigurumi Toy by Skymagenta Craft
If you asked me, Crochet amigurumi toys are the best play items you can get your kids. The crochet pirate ship pattern is on a whole new exciting level.
Admit it; your face lights up at the mention of Jack Sparrow, Captain Barbosa, Blackbeard, Will Turner, Davy Jones and more legendary albeit fictional pirates.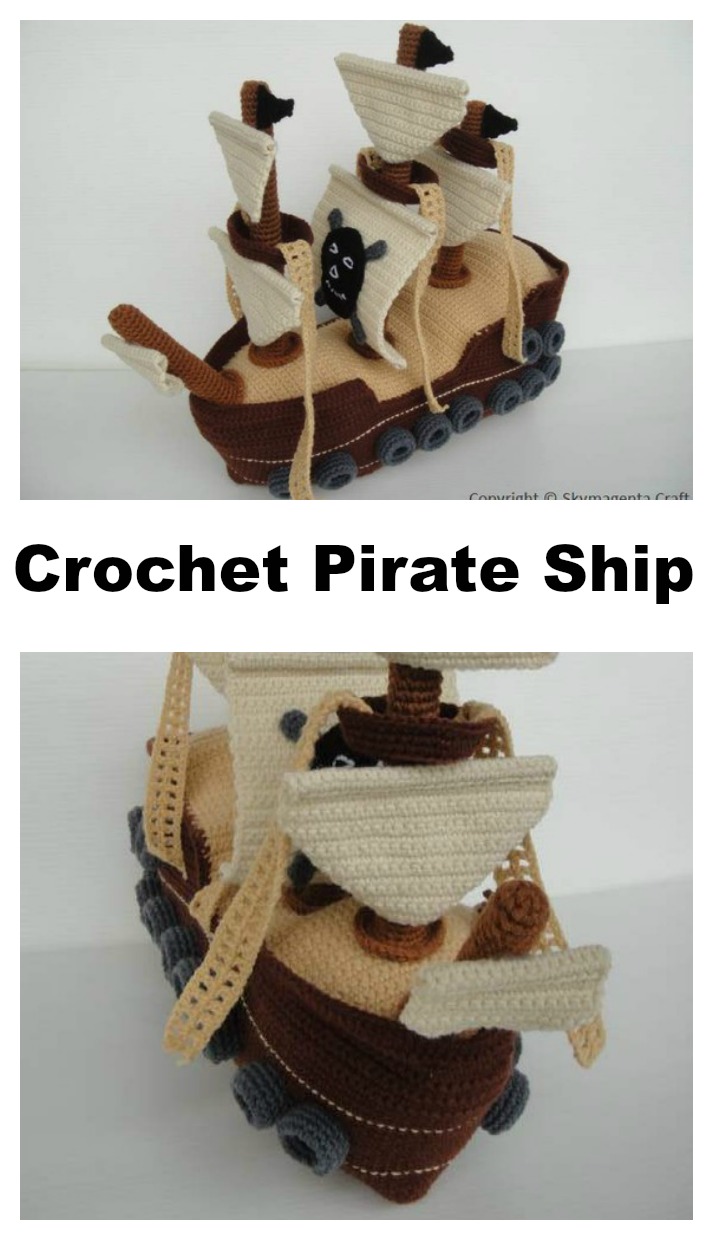 My guess is, your little ones run wild with stories and adventures of marauding pirates and tales of their exploits on the high seas. Every great pirate needs a ship.
And so does your little man. Want to make your little boy's day? Indulge him a little in a bit of pirate play. This crochet pirate ship is a perfect way to do it!
Spark some imagination and creativity in your home with this amigurumi toy. Can you imagine all the fun your kids will have when playing with this crochet pirate ship?
Think of all the adventures sailing the seven seas, discovering uncharted islands and the best part, the doubloons, treasure, me hearties! Avast, ye mateys, let's take a look at the materials you will need to pull this off.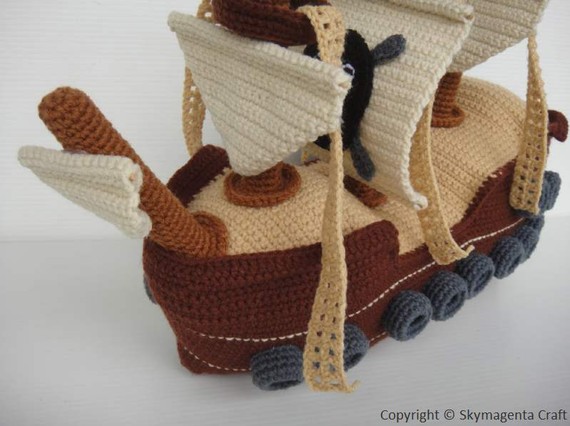 Pirate Ship Materials
S size 6 or 4.0mm hook
A tapestry needle
Glue gun
Stitch markers
Fiberfill or any stuffing you prefer
Finished Size
The finished crochet pirate ship is 30centimeters or 11.8 inches long.
Intermediate Skill Level
The basic skill level required to execute this charming little pirate ship is intermediate. It is necessary that you have a strong understanding of crochet terms abbreviations and be able to follow the instructions.
The pattern is patented and can be purchased then downloaded in PDF format alongside accompanying detailed instructions.
The crochet pirate ship amigurumi toy's instructions are written in simple American English using standard U.S crocheting terms and abbreviations. A knowledge of the art and craft would be an added advantage considering the pirate ship does have a cardboard skeleton.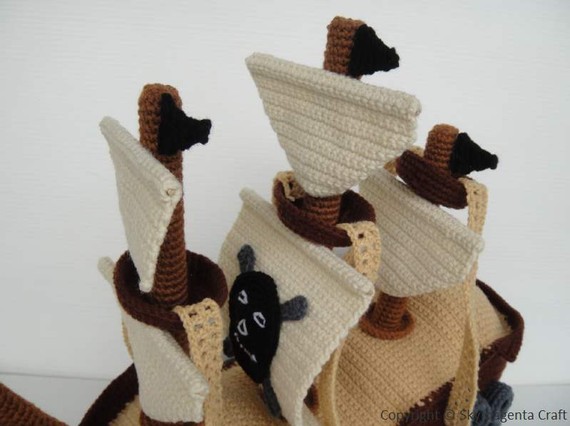 What Color Will Your Ship Be?
Concerning the choice of colors, that'll be entirely up to you. It is however recommended to use darker shades such as brown, grey and black. Pirates are after all not the most colorful bunch. Makes sure to include the classic skull and crossbones pattern on the finished crochet pirate ship's sails for the purpose of authentic appeal.
We do not want your little budding pirate to be confused for a seafaring merchant, no sir. You can settle on any type of weighted yarn while making sure you avoid lace weight yarn when creating this crochet pirate ship or any amigurumi toy in that case.
Lace weight yarn is only good for elegant shawls and the likes but doesn't drape well for amigurumi toys that require keeping their shapes.
Pirates have such an appeal to both adults and children alike. That would explain why the Pirates of the Caribbean franchise is among the highest grossing Box office movies of all time. If you have watched any of these pirate flicks, you might have noticed that the pirate ships are quite a big deal.
From the Flying Dutchman to Captain Salazar's Silent Mary, the Black Pearl and the Dying Gull among others, there is a certain emphasis on the importance of a pirate having his own ship. Let's face it; plastic toys are not an option here. Why not create this lovely amigurumi pirate ship for your little pirates and make their day?
Let The Pirate Games Begin
I created one of this stunning pieces, and it turned out to be the gateway to even more fun. We (my kids and I) ended up playing dress up as pirates and learning the pirate lingo. I cannot begin to explain how much fun the entire experience was. Shiver me timbers! It was one for the pirate ledgers.
There's nothing I love more than seeing my kids happy and full of life. I have taken on numerous amigurumi projects in the past, but none can rival this crochet pirate ship project. Know what would be fun? A handful of amigurumi pirate ships. Having our own fleet, nothing would beat that. I have contemplated creating a handful of these ships to give the kids more variety.
Just think of all the names your kids could come up with for each of the pirate ships you crochet. I'm shaking with excitement just imagining it. Bring some pirate charm into your home today, try the pirate ship amigurumi project.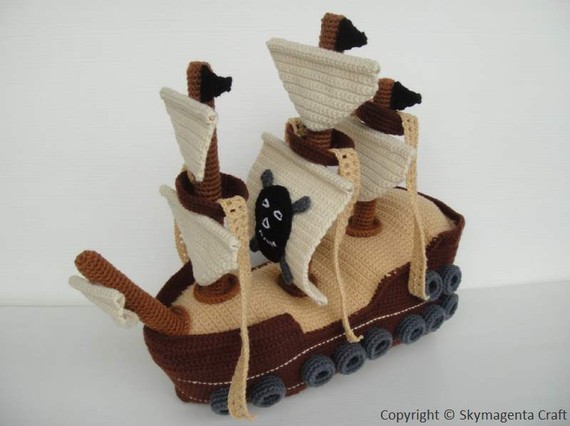 Now Getting Started
You can access this wonderful pattern through the link below and start sailing the wild waves of crochet.
IF IT BE PIRATE FUN YOU BE SEEKING, AVAST! YOU HAVE FOUND THESE CROCHET PIRATE PATTERNS!
Once finished, please have a moment to share your works on our Facebook Page. Can't get enough? Check our vast collection of crochet toy patterns you can make on your next free time!

If you've got the skills or are wanting to pick up some new tricks to add to your crochet game, these adorable crochet pirate patterns are perfect for you. Get started today!