Amigurumi Shark Crochet Pattern
If you wanted to make a cute amigurumi toy for your kid then it's your lucky day. When I found this lovely amigurumi shark crochet pattern I just fell in love. I had to try it out as soon as possible and the results are breathtaking.
I can tell you this; nothing brings you more fulfillment than bringing something to life with your own two hands. I love the amigurumi shark but the icing on the cake is that my son is absolutely crazy about his new shark doll.
If you are new to amigurumi then it's a skill that you will definitely want to have once you see this cute crochet shark amigurumi.
And there are tons of other things you can also make with amigurumi patterns but for now, let's stick with the shark. So, the following are the things you will need to create your very own crochet shark amigurumi:
Amigurumi Shark Materials
H (5 mm) hook
embroidery needle
safety eyes
black yarn for the detailing
scissors
polyester fiberfill
Most materials are in your standard crocheting kit so won't need to buy much from the store.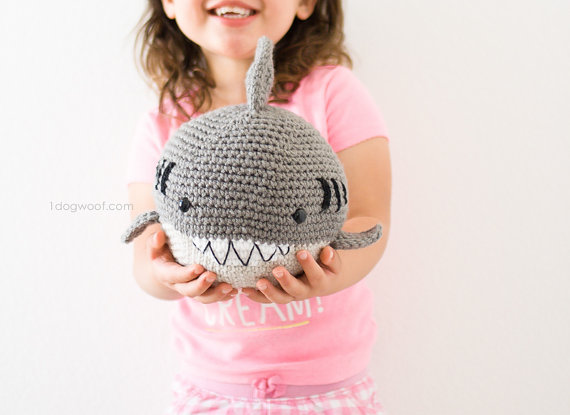 Easy To Follow Downloadable PDF
The crochet shark amigurumi pattern itself is given in the form of a tutorial and a pdf. Both work in tandem to ensure that you get the most stunning crochet shark ever made.
They are explained in simple English both British and American English, so, you won't have any trouble understanding them.
They are also rich with illustrations and diagrams to guide you through every step. Now amigurumi crocheting is not for beginners since it has some quite technical aspects to it.
But, I believe if you follow the detailed instructions fully, at the end of the day you will have your own crochet shark amigurumi.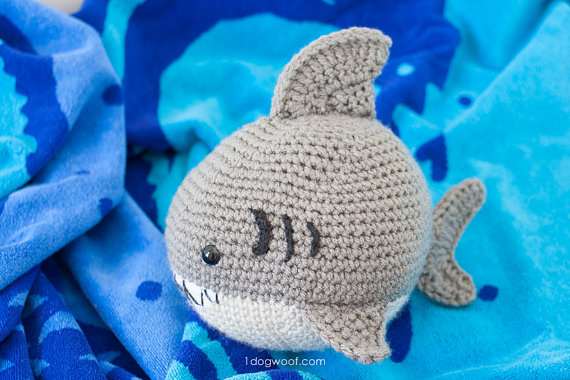 Be Creative
You can also choose to play around with your crochet amigurumi shark. It's not a must you produce an exact replica of the one in the tutorial. Change up the colors to give your shark a new spin.
If you let yourself, you can actually come up with spectacular creations with this pattern.
Try stitching in your signature or make one in your kid's favorite color to give it a personal touch. Also, the thicker yarn will produce different results; your shark will be puffier and have more depth which I think you will also love.
Virtually harmless from the real thing, the crochet shark amigurumi can be used for anything. It can make a perfect gift for a neighbor or a loved one. It can make a beloved toy for your tiny tot to throw around. Fluffy and cuddly the crochet shark is just a tiny ball of fun.
Another way of using the amigurumi shark is as a decorative piece in your home. It will make the perfect conversation starter. Try placing it in a conspicuous corner of your room and it is bound to get noticed.
You can even use bigger dimensions to turn it into a pillow for your bedroom. It is just something unique.
So after all of that, you have no excuse not to want the amigurumi shark crochet pattern. At least by far, it won't hurt to have this addition to your crocheting skill set.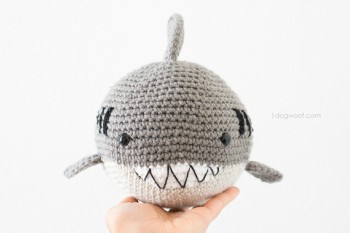 2. Shark Crochet Pattern by Little Green Bear Gifts
Get the Pattern by Little Green Gifts here

3. Hammerhead Shark Crochet Pattern by Spin A Yarn Crochet
Get the Pattern here

4. Whitney, The Whale Shark Crochet Pattern by The Kotton Kaboodle
Get the Pattern by The Kotton Kaboodle here

5. Crochet Shark Pouf Pattern by Bri Abby HMA
Get the Pattern by Bri Abby HMA here

6. Shark Amigurumi Pattern by 3am Grace Designs
Get the Pattern here

8. Chum, The Shark Amigurumi Pattern by Critter Beans
Get the Pattern by Critter Beans here

9. Crochet Shark Amigurumi Pattern by Crochet Wonders Design
Get the Pattern by Crochet Wonders Design here

10. Crochet Shark Pattern by Theresa's Crochet Shop
Get the Pattern here

11. Party Shark Amigurumi Pattern by Airali Design
Get the Pattern by Airali Design here

12. Shark Amigurumi Free Crochet Pattern by Spin A Yarn Crochet
Get the Pattern here

13. Finlay, The Shark Crochet Pattern by Elisa's Crochet
Get the Pattern by Elisa'sCrochet here

14. Crochet Shark Appliques Pattern by the Yarn Conspiracy
Get the Pattern by The Yarn Conspiracy here

15. Shark Hand Puppet Amigurumi Pattern by Jor Magia
Get the Pattern by Jor Magia here