Celebrate your love for the creatures of the deep with these "fin"-tastic Crochet Shark Patterns.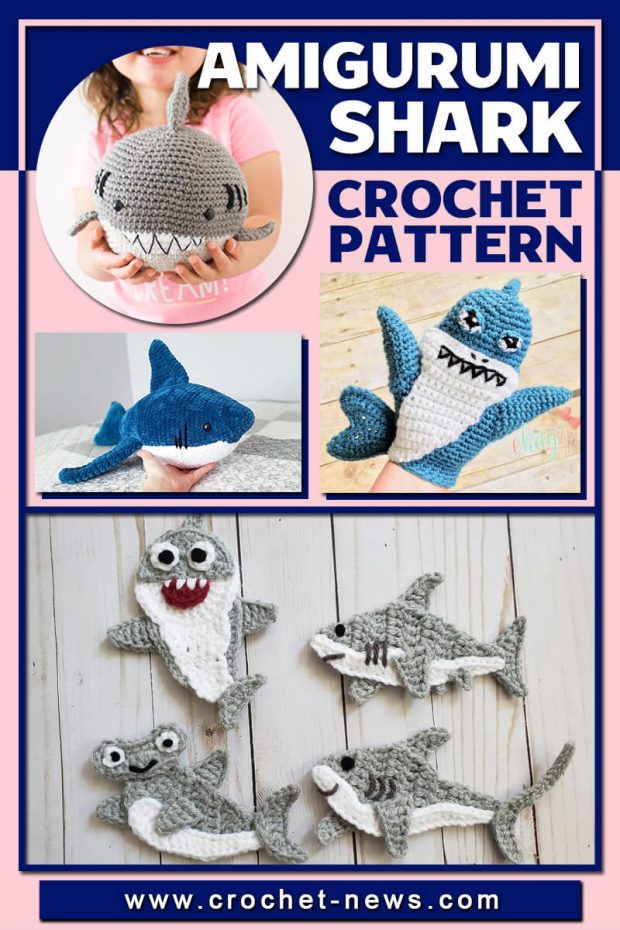 Who said that sharks cannot be cute? This list of crochet shark pattern definitely is!
You have to admit that sharks are one of the most magnificent creatures on this planet. People are either afraid or absolutely fascinated by them.

From 12 cuddly amigurumi sharks to 5 bonus shark-themed patterns including shark hat, blanket, applique, and more, you can find a few to fit any aspect of your life.

1. Amigurumi Shark Crochet Pattern by 1 Dog Woof
If you wanted to make a cute amigurumi toy for your kid then it's your lucky day. When I found this lovely amigurumi shark crochet pattern I just fell in love.
I had to try it out as soon as possible and the results are breathtaking.
I can tell you this; nothing brings you more fulfillment than bringing something to life with your own two hands.
I love the amigurumi shark but the icing on the cake is that my son is absolutely crazy about his new shark doll.
If you are new to amigurumi then it's a skill that you will definitely want to have once you see this cute crochet shark amigurumi.
And there are tons of other things you can also make with amigurumi patterns but for now, let's stick with the shark.
So, the following are the things you will need to create your very own crochet shark amigurumi:
Amigurumi Shark Materials
H (5 mm) hook
Red Heart With Love in White and Pewter
Lion Brand Vanna's Choice Solids in Linen
embroidery needle
safety eyes
black yarn for the detailing
scissors
polyester fiberfill
Most materials are in your standard crocheting kit so won't need to buy much from the store.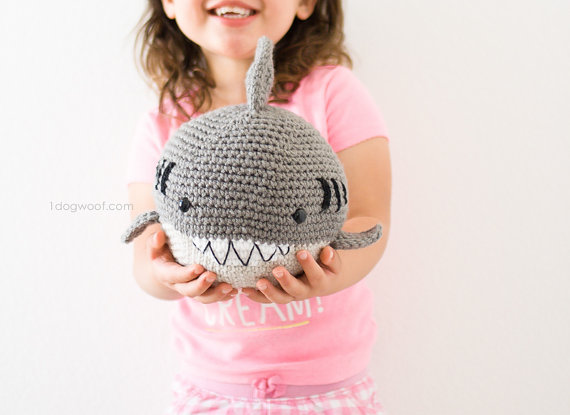 Easy To Follow Downloadable PDF
The shark crochet pattern itself is given in the form of a tutorial and a pdf. Both work in tandem to ensure that you get the most stunning crochet shark ever made.
They are explained in simple English both British and American English, so, you won't have any trouble understanding them.
They are also rich with illustrations and diagrams to guide you through every step. Now amigurumi crocheting is not for beginners since it has some quite technical aspects to it.
But, I believe if you follow the detailed instructions fully, at the end of the day you will have your own crochet shark amigurumi.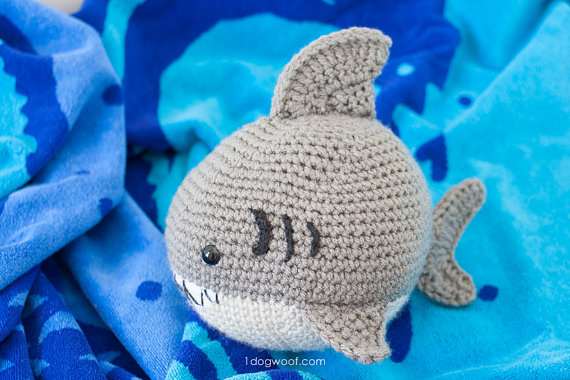 Be Creative
You can also choose to play around with your crochet amigurumi shark. It's not a must you produce an exact replica of the one in the tutorial. Change up the colors to give your shark a new spin.
If you let yourself, you can actually come up with spectacular creations with this shark crochet pattern.
Try stitching in your signature or make one in your kid's favorite color to give it a personal touch.
Also, the thicker yarn will produce different results; your shark will be puffier and have more depth which I think you will also love.
Virtually harmless from the real thing, the crochet shark amigurumi can be used for anything. It can make a perfect gift for a neighbor or a loved one.
It can make a beloved toy for your tiny tot to throw around. Fluffy and cuddly the crochet shark is just a tiny ball of fun.
Another way of using the amigurumi shark is as a decorative piece in your home. It will make the perfect conversation starter.
Try placing it in a conspicuous corner of your room and it is bound to get noticed.
You can even use bigger dimensions to turn it into a pillow for your bedroom. It is just something unique.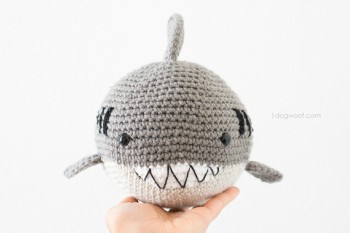 2. Shark Crochet Pattern by Little Green Bear Gifts
These super cute Sharks are a must make and you are going to love making them! He is 13 inches long (when made with the recommended materials).

Whip up these adorable sea creatures in a variety of colors and have a perfect desk buddy!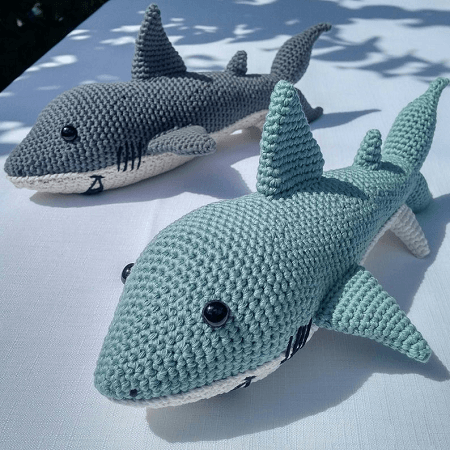 Get the Pattern by Little Green Gifts here

3. Hammerhead Shark Crochet Pattern by Spin A Yarn Crochet
This Hammerhead Shark is a unique amigurumi made in the ragdoll-style; separate pieces worked in flat rows and joined together to give it that charming and distinctive 2-D appearance.

The finished dimensions are approximately 18 cm/7″ from the tip of the head to the tail fins and about 12.5 cm/5″ from the tip of the dorsal fin to the bottom of the belly.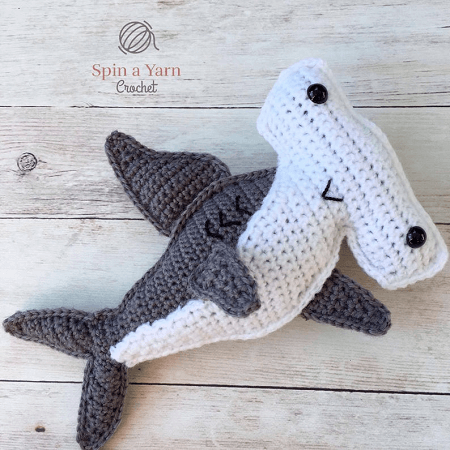 Get the Pattern here

4. Whitney, The Whale Shark Crochet Pattern by The Kotton Kaboodle
Everything will be alright with this cutie around! Whitney, the Whale Shark is so chubby and cuddly, you'll have a fin-tastic time hanging with her!

Please keep in mind that this is an advanced pattern. It takes time and works to make the speckled pattern on the shark's back, but it makes a beautiful finished product!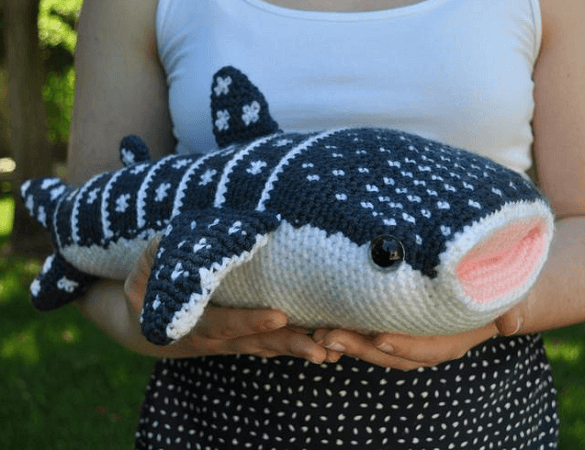 Get the Pattern by The Kotton Kaboodle here

5. Crochet Shark Pouf Pattern by Bri Abby HMA
This pouf is perfect for all those shark lovers. Poufs are such a fun way to add dimension and texture to a room.

This shark pouf makes for a great decoration piece in your kid's room, living room, or playroom. Put your feet up on it or use it for extra seating.

You can even fill it with bean bag filling to make it a bean bag with personality. Not only is it cute decor but the kids loved this as a photo prop!
See more Crochet Pouf Patterns here.
Get the Pattern by Bri Abby HMA here

6. Shark Amigurumi Pattern by 3am Grace Designs
This Shark Amigurumi is the perfect mix of scary and adorable!

This is an easy/beginner level crochet pattern. The techniques you will need to know are single crochet, single crochet increase, single crochet decrease, half double crochet, double crochet, chain stitch, and slip stitch.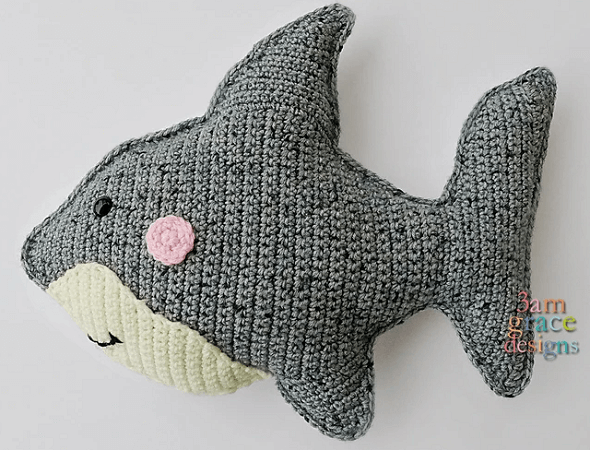 Get the Pattern here

7. Chum, The Shark Amigurumi Pattern by Critter Beans
Chum is an adorable little amigurumi shark that will swim right into your heart!
They measure 5″ long, 4″ tall (finished size will vary depending on your yarn weight, hook size and tension).
These adorable cuties are certainly not scary at all. Instead they make a stunning toy that's soft and cuddly but also perfect gift for big or smak shark lovers.
Get the Pattern by Critter Beans here

8. Crochet Shark Amigurumi Pattern by Crochet Wonders Design
Using big chunky yarn, this cute shark amigurumi will be a cuddly friend that even the youngest kids will love!
It's quite easy to make and the results are stunning. Give it as a gift or make yourself a whole shark family!
Get the Pattern by Crochet Wonders Design here

9. Crochet Shark Pattern by Theresa's Crochet Shop
Create your own adorable shark in just a couple of hours! This Great White shark is safe to play with. He won't bite!

Only basic crocheting skills will be needed to finished one: chain, single crochet, increasing, and decreasing.
Get the Pattern here

10. Party Shark Amigurumi Pattern by Airali Design
Party Shark is a crochet pattern to make the cutest amigurumi shark wearing a party hat with a pompom on top!

They measure 16 cm (6 ¼ in) long when using the indicated yarn. These adorable sharks will be perfect as a rattle or an anchor to a cute baby mobile. Or take them out with you when you go to a beach party!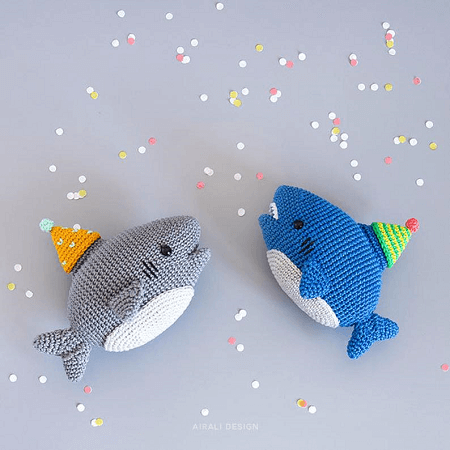 Get the Pattern by Airali Design here

11. Amigurumi Crochet Shark Free Pattern by Spin A Yarn Crochet
This ragdoll style shark is a cute pattern that you can turn into a keychain or a charm. Use a bulky yarn and corresponding hook to create a squishy and huggable toy or an adorable pillow.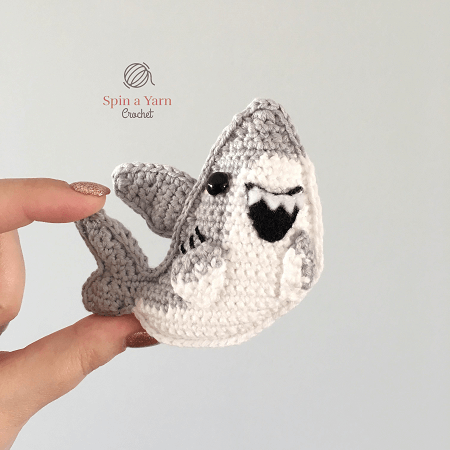 Get this crochet shark free pattern here

12. Tiny Shark Amigurumi Pattern by La Cigogne
This Tiny Shark Amigurumi is a lovely tiny crochet gift for people who love sharks, a nice gift for a Birthday, Christmas, lovely party favor! He measures 7 x 5.5 cm / 2.7 x 2.1 inches – just the right size for a pocket pal!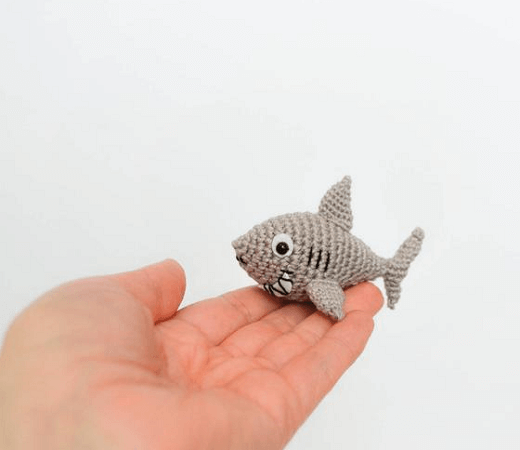 Get the Pattern by La Cigogne here

13. Shark Hand Puppet Crochet Pattern by Ekay G
This Shark Hand Puppet is great for creative play and storytime. It could also be made in cotton yarn for a bath puppet. It is easy to make and a great addition to your child's creative collection!

The size is made in one size, fitting children through adults, so that parents can play too! However, it can easily be adjusted by tightening your gauge or going down a hook size, if you'd like one to fit small children better.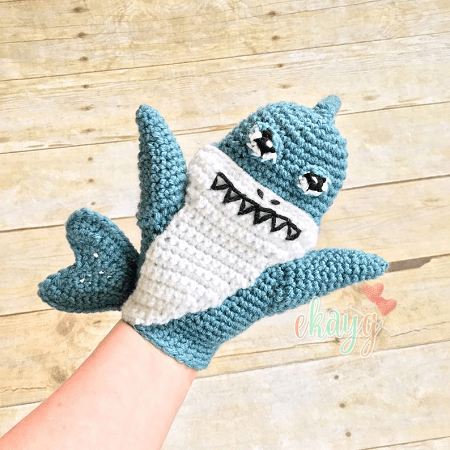 Get the Pattern by Ekay G here

14. Crochet Shark Appliques Pattern by the Yarn Conspiracy
These Crochet Shark Appliques would be great to apply to any project!

You can add them to beach towels, turn them into keychain or fridge magnet, you can also make several and make a garland, or attach a ribbon to make them into bookmarks!

The cute shark/s is 6 x 4", the Hammerhead is 3.5"x 5.5", Great White is 3.5"x 5.5", Thresher is 4"x 6.5". You can adjust the size by using a different hook size.
Get the Pattern by The Yarn Conspiracy here

15. Crochet Shark Hat Pattern by Repeat Crafter Me
If you are a fan of Shark Week or Sharknado then this shark crochet hat is for you! It would also make an adorable Halloween costume or a fun fall/winter hat!

This awesome shark hat surely is a winter must-have for you and your kids. This shark crochet pattern is available for young souls of any age. Your friends and family members will love it so much!
Get the Pattern here

16. Shark Hooded Blanket Crochet Pattern by Crafty Kitty Crochet
Here's a shark crochet pattern that you can really sink your teeth into! This Shark Hooded Blanket is so soft, cozy, and designed with a fun, comedic look in mind!

The hood is made to look like the face of a shark, with the opening of the hood looking like the open mouth of a shark just about to enjoy a hearty meal: the person wearing the hood!

Complete with gums, teeth, eyes, and a fin – this blanket is hilariously detailed!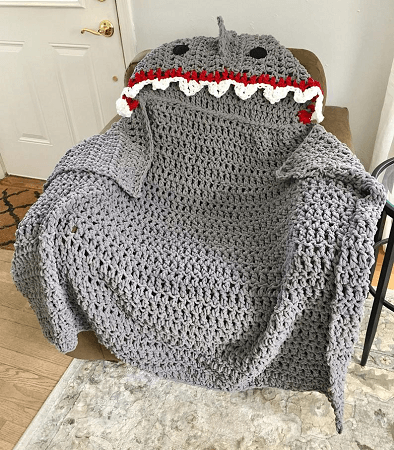 Get the Pattern by Crafty Kitty Crochet here

17. Bow Crochet Shark Pattern by But First Crochet
This shark bow can be attached to headbands, hair clips, dog collars, book bags, whatever you want to hot glue it to, you can! This shark crochet pattern is simple and works up quickly.

This fun bow is perfect for dressing up, parties, photoshoots, or for everyday wear.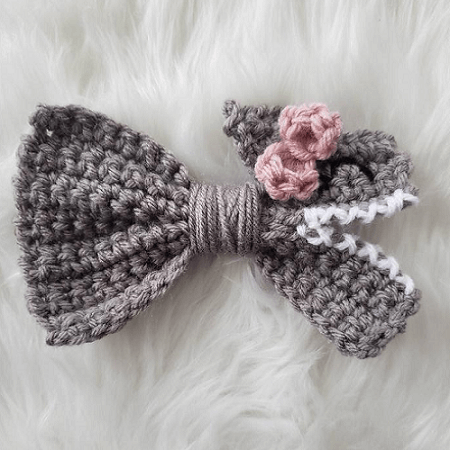 Get the Pattern by But First Crochet here
Time to get your hooks out and make some of these awesome crochet shark patterns!
Once you're done, be sure to share your finished works with us. Post some pics of your crocheted sharks on our Facebook Page. We'd love to see them!
Once you get started on the first few, you won't be able to resist crocheting a few more pieces of the ocean to go along with it. So, you better check our collection of other ocean animal crochet patterns for Crochet Octopus, Turtle, Jellyfish, and more!
So after all of that, you have no excuse not to want these crochet shark patterns At least by far, it won't hurt to have this addition to your crocheting skill set!