These 21 Crochet Jellyfish Patterns would make great mobiles for nurseries, playrooms, or a sea-themed room, as a fun way to dry little hands in bathrooms, or just a squishy to hang out with!
Jellyfish are one of the most exciting attractive sea creature to see whenever we go to the aquarium. It's a sheer delight to watch them in light and darkness. Would it not be a perfect idea to bring these delightful jellyfishes home?
Don't worry, the wiggly little tentacles on these jellyfishes won't sting you. We promise!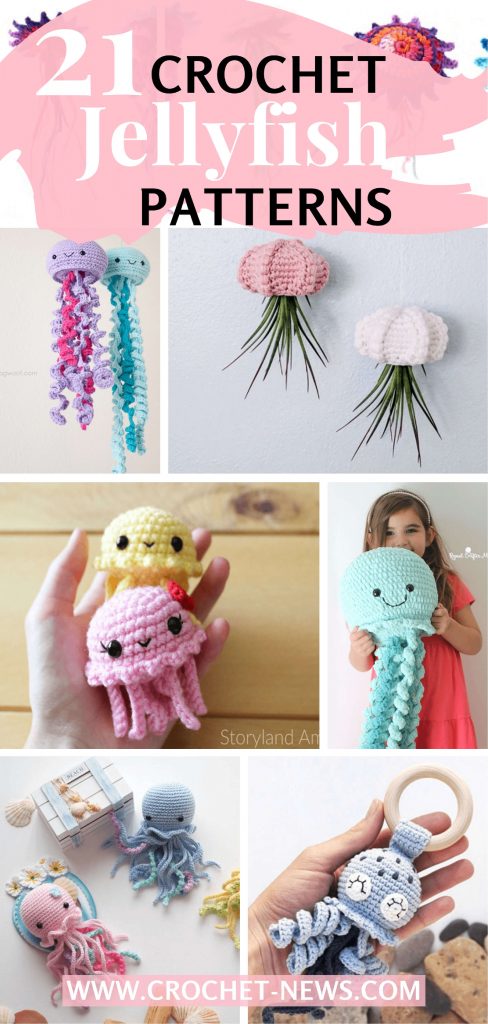 21 Crochet Jellyfish Patterns
1. Crochet Jellyfish Amigurumi Pattern by Tikva Patterns
This fancy jellyfish loves the spring so much, she even wears branch-like tentacles to look like a spring tree! This colorful crochet jellyfish is just adorable and would look great hanging over a baby's crib.
They are soft and cuddly and can easily turn into a toy when baby is a bit older.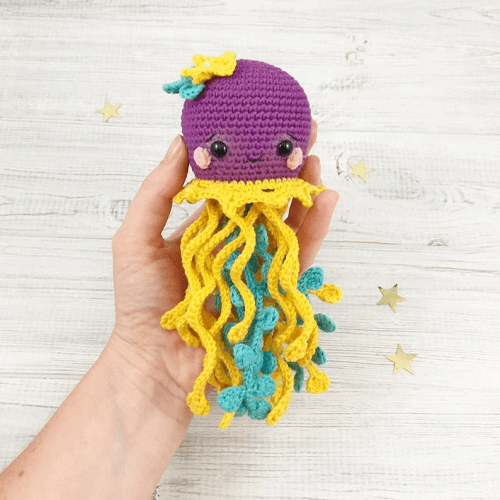 Get this Pattern by Tikva Patterns here

2. Easy Crochet Jellyfish Pattern by R Nata
This crochet pattern contains a detailed description of how to create a Jellyfish toy, with a great number of step-by-step photos and a list of necessary materials.
These little cuties are great helpers and will be very happy to settle in every children's room. Your kids are gonna love them!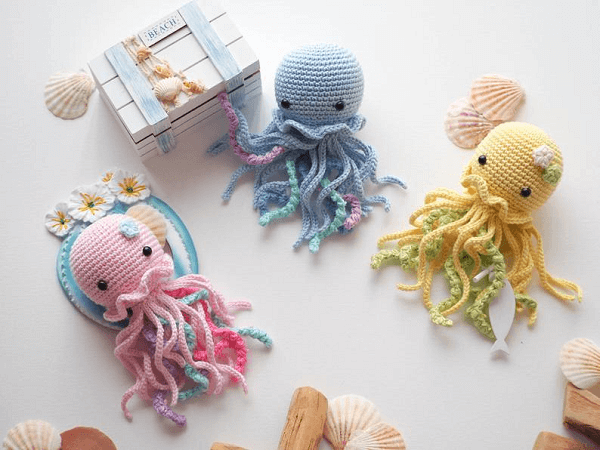 Get this Pattern by R Nata here

3. Crochet Jellyfish Pattern by One Dog Woof
The final size of this jellyfish is about 15 to 18 inches long, with the head about 5 inches across. The length of the jellyfish is up to you and how you want to make and arrange the curly cues.
These colorful crochet jellyfish are just adorable and would look great hanging over a baby's crib.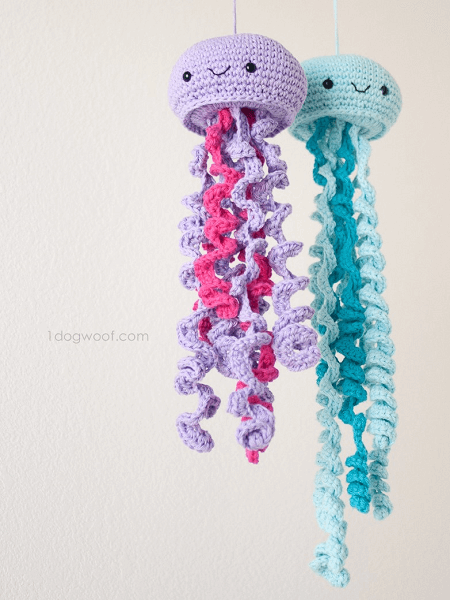 Get this Pattern here

4. Giant Crochet Jellyfish Pattern by Repeat Crafter Me
This giant jellyfish works up in only a few hours! It's approximately 23 inches long and 9 inches wide. Super cute, super soft, super big, super easy and quick to crochet! This is a great gift for all ages!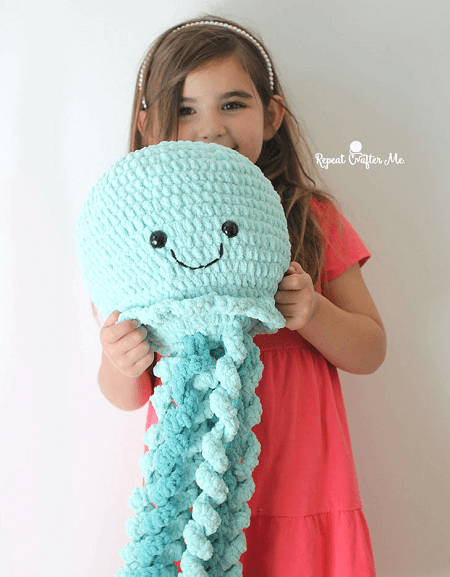 Get this Pattern here

5. Amigurumi Jellyfish Pattern by Theresa's Crochet Shop
Create your own sweet jellyfish in just a couple of hours! This easy-to-follow pattern includes detailed instructions and pictures on how to crochet and assemble all the parts to make this jellyfish and her headband!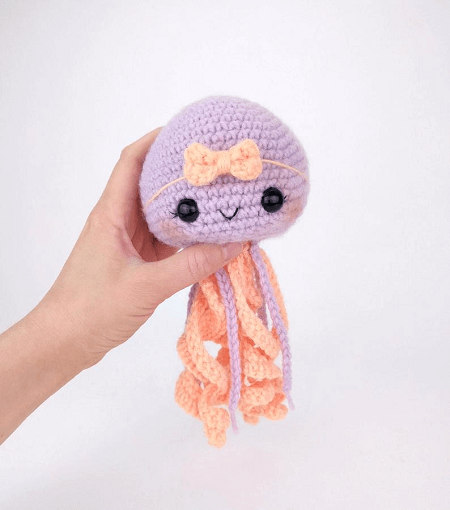 Get this Pattern by Theresa's Crochet Shop here

6. Crochet Jellyfish Applique Pattern by Golden Lucy Crafts
You will need to know how to make a chain, single crochet, double crochet, treble crochet and slip stitch to complete this project. This cute little Jellyfish has countless uses!
It would make a beautiful stand-alone decoration or display in a frame, or a great addition to a blanket or card!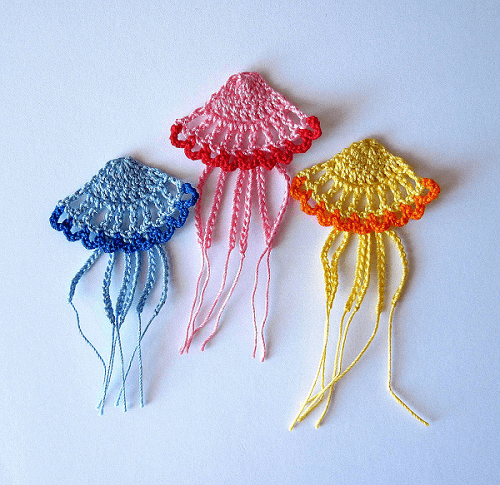 Get this Pattern by Golden Lucy Crafts here

7. Crochet Jellyfish Air Planter Pattern by Hello Happy
Make an adorable hanging jellyfish air planter with this crochet pattern! This planter will air plants with up to a 1.5-inch base. The pattern only includes instructions for one size.
Instructions for hanging are also included. And of course, you'll need an air plant!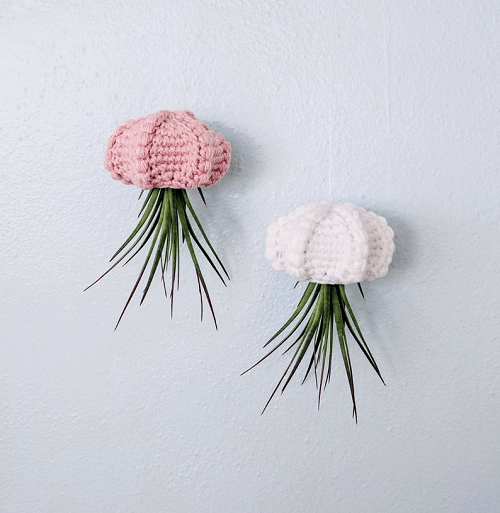 Get this Pattern by Hello Happy here

8. Key Chain Free Crochet Jellyfish Pattern by The Friendly Red Fox
This little crochet jellyfish pattern makes a key chain that is about 4 inches tall, but that includes the wavy tentacles. Perfect size for key chains, or as a little backpack friend. Very quick, this will become a fan favorite for when you need a quick make!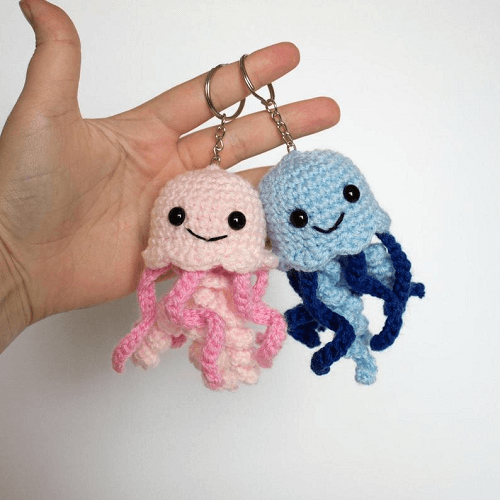 Get this Pattern here

9. Crochet Jellyfish Pillow Amigurumi Pattern by Alyse Crochet
This pillow is so much fun to make, and uses simple stitches for a stress-free crocheting experience! Make it in vibrant colors to brighten a child's bedroom, or use a solid color for a more sophisticated statement piece!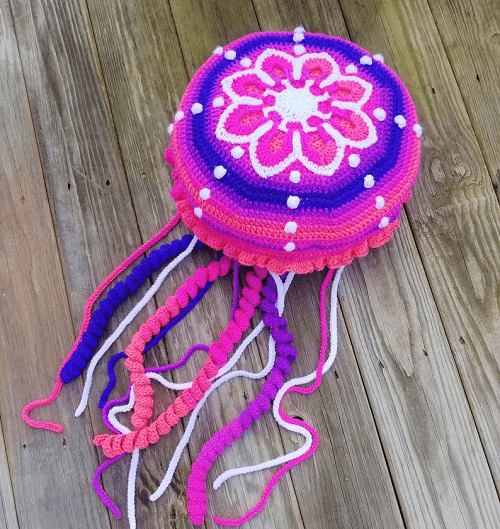 Get this Pattern by Alyse Crochet here

10. Crochet Baby Amigurumi Jellyfish Pattern by Storyland Amis
There are three different versions of these jellies so you can make one with long tentacles or short and stubby tentacles. You can make your jelly be a girl by adding eyelashes and a cute heart bow!
There are so many fun things you could try with these cuties. You can make one in an hour or less!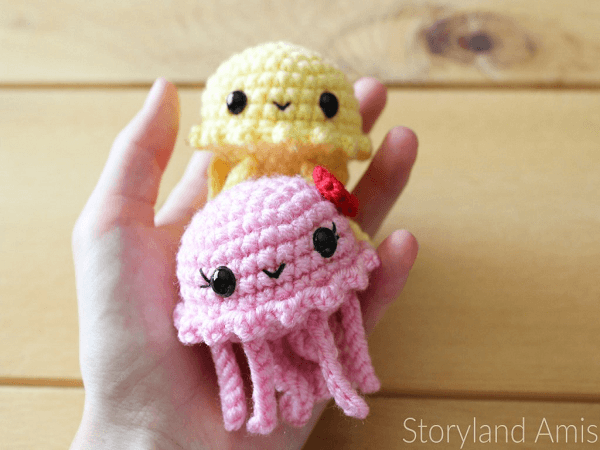 Get this Pattern here

11. Crochet Jellyfish Rattle Pattern by House Sleeping Toys
This jellyfish teether/rattle makes a great gift for babies. The tentacles are meant to remind the baby of the umbilical cord and being in the womb. The presence of the jellyfish toy helps promote a calming effect in babies. A nice maternity gift for family and friends.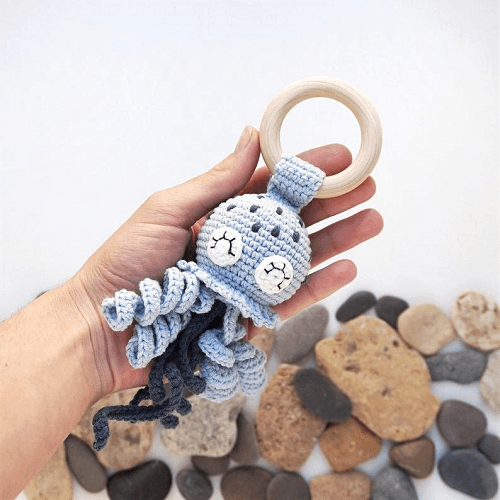 Get this Pattern by House Sleeping Toys here

12. Crochet Ragdoll Jellyfish Pattern by Yarn Hild
You can whip up one of these in one evening and you can go crazy with the color combinations. This would be a nice welcome to the world gift for a newborn!
But if you want to make it for a baby or a toddler, be sure to make it ultra-safe so the parts won't fall off!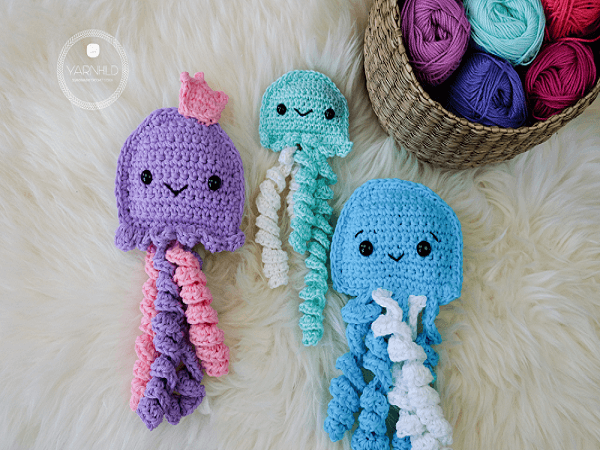 Get this Pattern here

13. Crochet Jellyfish Hat Pattern by Mynt Kat
This is a pattern for a jellyfish hat, crocheted in the round with tentacles worked separately and sewed on. Any medium yarn can be used, handspun or bulky would give a different texture but can still be adjusted for a good fit. Gauge is not very important as the brim can be adjusted for a perfect fit.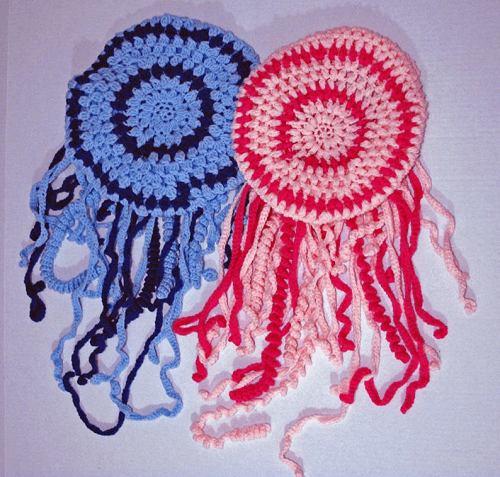 Get this Pattern by Mynt Kat here

14. Crochet Jellyfish Bookmark Decor Pattern by Little Owls Hut
These cute jellyfishes can be used as bookmarks and for a wide variety of craft projects including fabric applique and embellishments for cards and scrapbooks. They would also be perfect to decorate kid's clothes, bags, cushions, pillows, home decor projects, etc.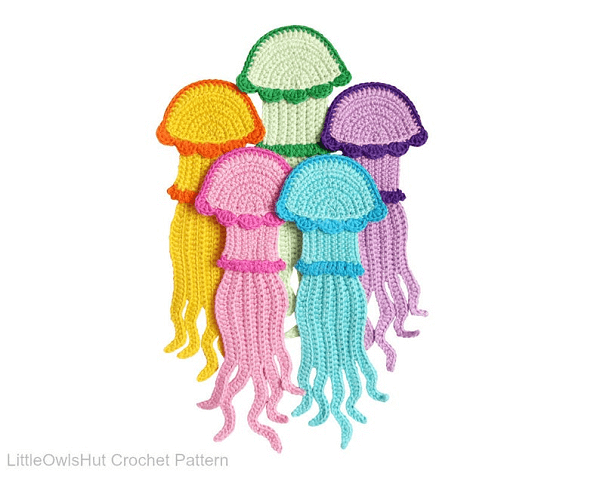 Get this Pattern by Little Owls Hut here

15. Crochet Jiggly Jellyfish Pattern by Knot Bad Ami
Create your own cute jellyfish with this written pattern that includes photo tutorials of steps and the process to create a bow.
This basic and beginner-friendly DIY project is perfect for any crocheter and works with any type of worsted weight yarn. A cute addition to any home.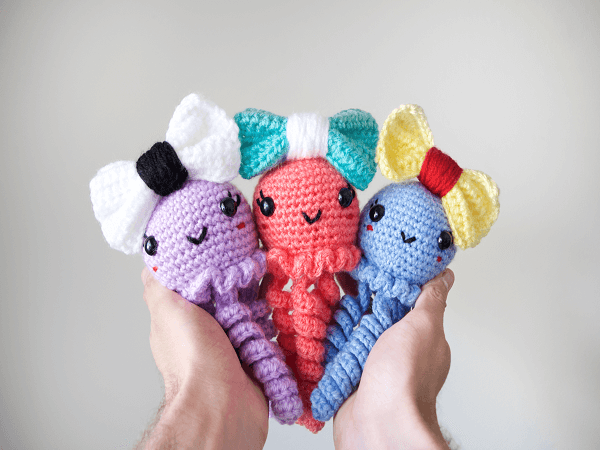 Get this Pattern here

16. Jellyfish Crochet Pattern by Olino Hobby
This crochet pattern set consists of 4 different variations of crochet jellyfish. At the finish, you will have beautiful underwater creatures. Use them as decoration or as a playset for children. This will be the best toy for your children or a wonderful gift for your friends.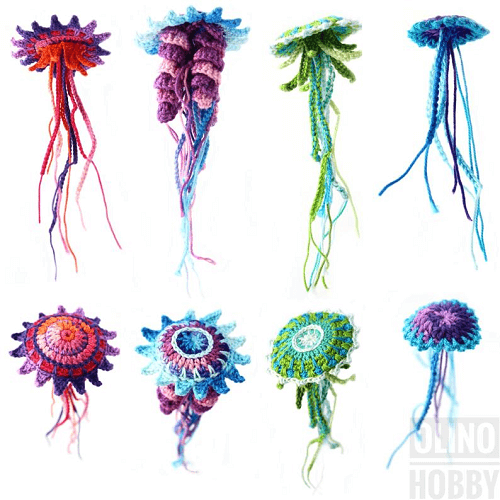 Get this Pattern by Olino Hobby here

17. Crochet Chubby Jellyfish Pattern by Croochet
Everybody needs a chubby jelly friend! This chubby round jellyfish is adorable and the perfect buddy for an ocean lover. These cuties would love to sit on your office desk in your home. Make them in your favorite colors!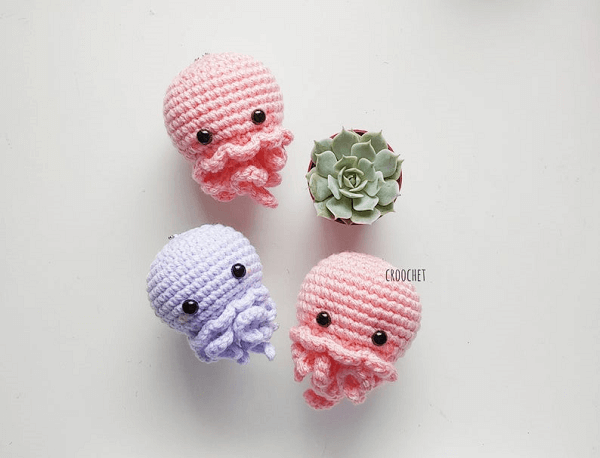 Get this Pattern by Croochet here

18. Crochet Amigurumi Jellyfish Decor Pattern by Un Peu Sauvage Shop
This pattern is for a crochet jellyfish made with amigurumi technique. You can use this jellyfish as a mobile for a nursery, to decor a kid's room or a decoration for a baby shower.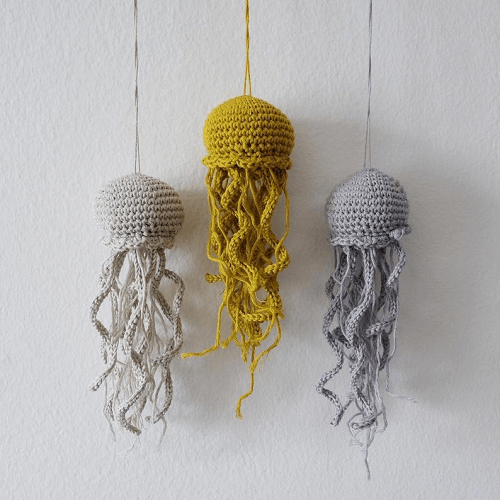 Get this Pattern by Un Peu Sauvage Shop here

19. Crochet Jellyfish Earrings Pattern by Crochet Knit Jewelry
They will swing playfully when you turn your head. Perfect finish to your summer outfit. This beautiful crochet jellyfish set of earrings is something that every girl will love to have in her collection.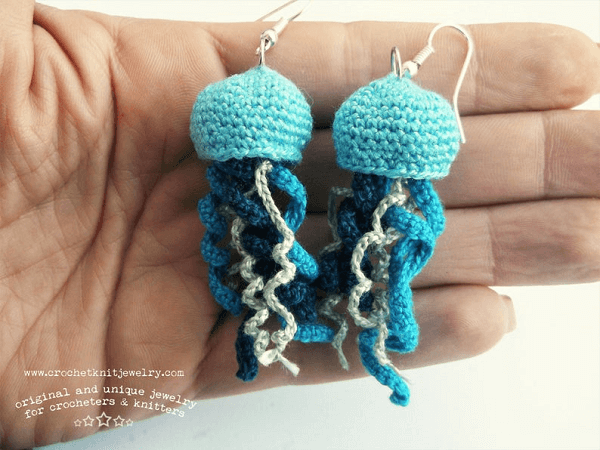 Get this Pattern by Crochet Knit Jewelry here

20. Jellyfish Coin Purse Crochet Pattern by Lau Loves Crochet
This pattern is 5 pages long and contains loads of photos to guide you through every step of the process.
The good news is that the tentacles are worked in the round and do not have to be sewn on separately making it as quick and easy as possible!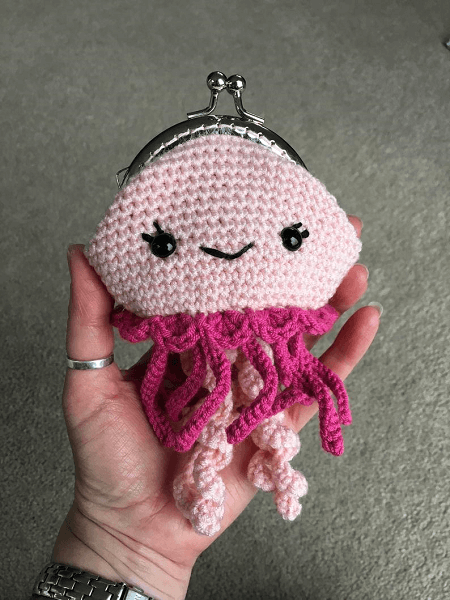 Get this Pattern by Lau Loves Crochet here

21. Amigurumi Jellyfish Crochet Pattern by 3 AM Grace Designs
The color combinations for this cutie are absolutely endless! Striped, variegated, or solid, he will look amazing in whatever colorway you choose! This is an easy/beginner level crochet pattern.
The techniques you will need to know are single crochet, single crochet increase, single crochet decrease, half double crochet, double crochet, treble crochet, chain stitch, and slip stitch.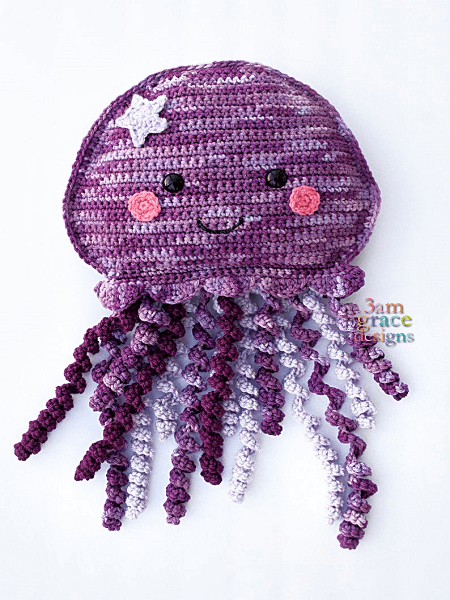 Get this Pattern here
How adorable are these marine cuties? Remember, be careful playing with the jellyfish and don't get tangled up!
We hope you enjoy making your very own Jellyfish! We can't wait to see your creativity. When you complete one, please share it on our Facebook Page. We love seeing your work!
Want more of the cutest crochet toy patterns? View our collections here.
We sure did fall head over heels when we came across these Crochet Jellyfish Patterns and there is something for everyone!