People are being crazy with crochet octopus patterns so it's time to jump on the bandwagon and make one!
The octopus is, despite all the scary old sailor stories and its eight long tentacles, a fascinating creature.
This unusual and wonderful ocean animal makes a lovely nursery decoration, a unique accessory, or a huggable softie with eight embracing arms.
Celebrate the magnanimity of these creatures by browsing through these collection of octopus crochet pattern below. These octopuses are too cute to pass by!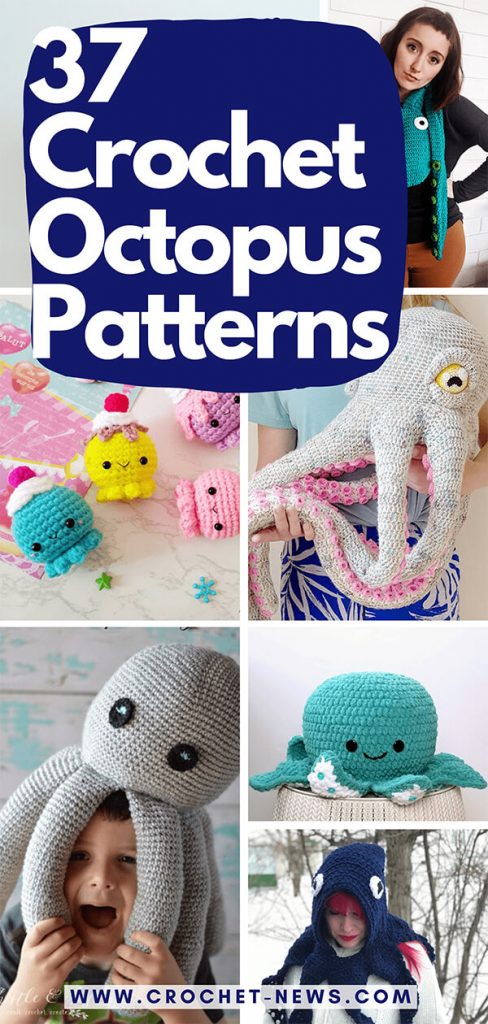 1. Apollo, The Giant Crochet Amigurumi Octopus Pattern by Projectarian
Apollo the Octopus is a life-sized snuggle buddy! With long, floppy tentacles he naturally poses like a real octopus.
He has happy, shining eyes and enough suckers on his tentacles to make you feel like you've accomplished something tremendous by the end of this project!
Apollo can be made with or without his suckers, depending on how much time you'd like to spend creating your gigantic new friend.
Get the amigurumi octopus pattern by Projectarian here

2. Realistic Amigurumi Octopus Pattern by Elena's Times
This Realistic Amigurumi Octopus is like a real octopus — with life-like eyes and even a funnel (sometimes called a siphon), which is a tubular opening in sandy color on a side of the head, below the eye – it serves as a pathway for water.
This crochet octopus has an arm span of approximately 43 inches (108cm),
if made from Super Bulky (Category 6) yarn and L-11 (8mm) hook size.
Also, there is a crochet pattern for the rock that the octopus likes to stay on.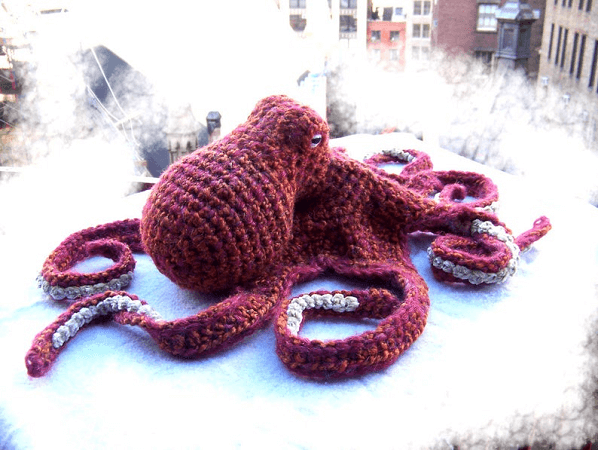 Get the Pattern by Elena's Times here

3. Crochet Amigurumi Octopus Pattern by Croby Patterns
This Crochet Amigurumi Octopus Pattern is very easy to follow. Just work in rounds all the time and you will see how beautiful the final result will be.
It is made using DK weight yarn and 3.00mm crochet hook for the body and 3.5mm crochet hook for the eyes circles.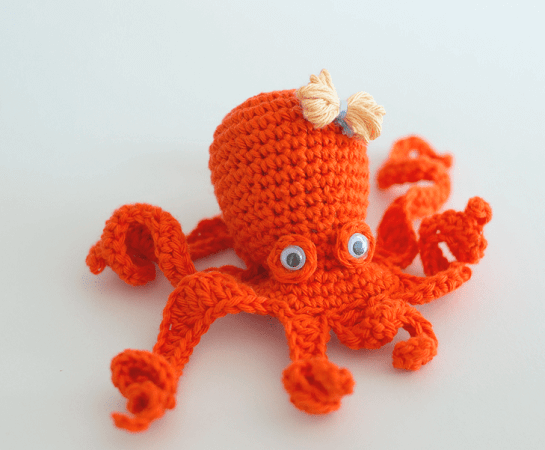 Get the Pattern here

4. Crochet Kraken Octopus Shawl Pattern by Yarn Geek Makes
This is a filet crochet pattern with the image of the Kraken built into a graph/chart from which you make the shawl.
Using a wool-blend DK weight yarn, the shawl works up fairly quick, and it is super lightweight and still very cozy to wear.
It's perfect for any outing: wear it as a wrap for a formal event or wear it wrapped up as a triangle scarf for something more casual!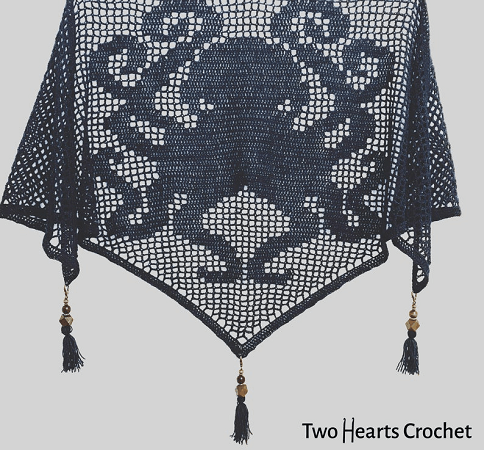 Get the Pattern by Yarn Geek Makes here

5. Mini Crochet Octopus Pattern by Crochet Toys For Kids
You cannot help but smile at the adorable amigurumi animals this Mini Octopus Crochet Pattern makes.
These mini crocheted amigurumi octopus pattern will make for great stocking fillers. In addition, you could easily turn them into little keyrings. So why not make one for all your friends and family?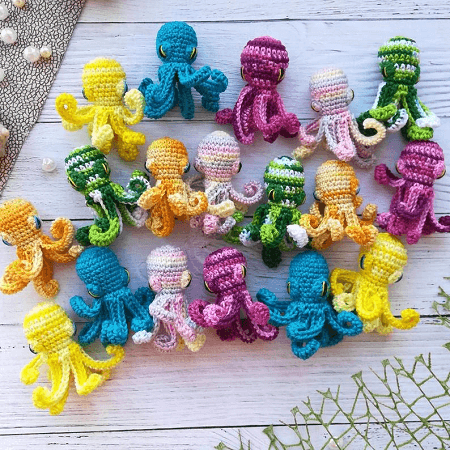 Get the Pattern by Crochet Toys For Kids here

6. Octopus For A Preemie Crochet Pattern by My Nomad Home
This octopus for a preemie toy uses crochet eyes so you don't have to worry about safety eyes. Note that there aren't specific instructions for personalizing the octopus with accessories, but you can get some great inspiration from the photos.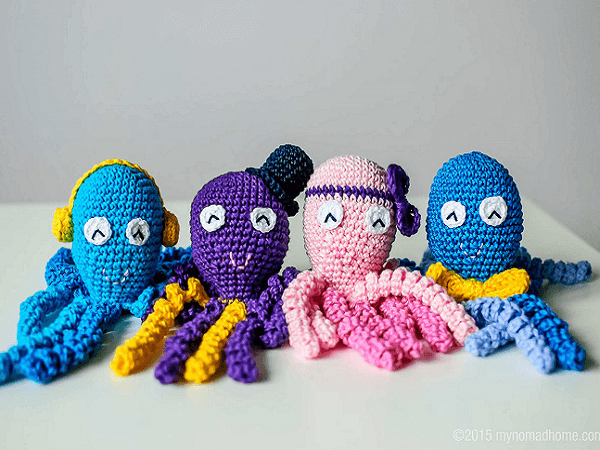 Get the Pattern here

7. Octopus With Headphone Crochet Pattern by Snacksie's Handicraft
These crochet octopus wearing headphones are looking for a music lover buddy! As a reference, using finger yarn with a 2.5mm hook will produce an octopus plush of about 5.5cm/2in tall.
Using a thicker yarn and bigger hook will make a bigger octopus and thinner yarn and smaller hook will make a smaller one.
If you are a beginner trying out amigurumi, you can use a thicker yarn to further reduce the difficulty of this project.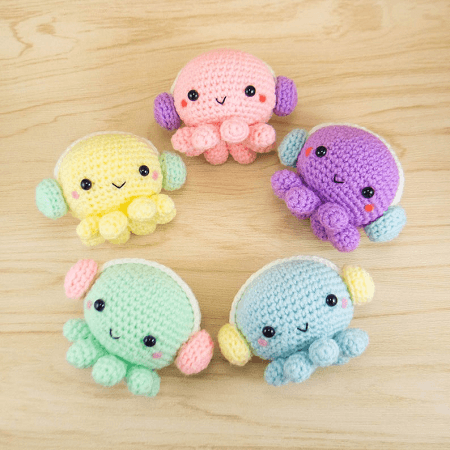 Get the Pattern by Snacksie's Handicraft here

8. Free Crochet Octopus Pattern by Handy Little Me
This Free Crochet Octopus Pattern is unique from the others because the designer provides you with three different ways to finish off the toy.
This allows you to create several different styles, which is fun for you as the creator and also makes the gift a little more special for the family.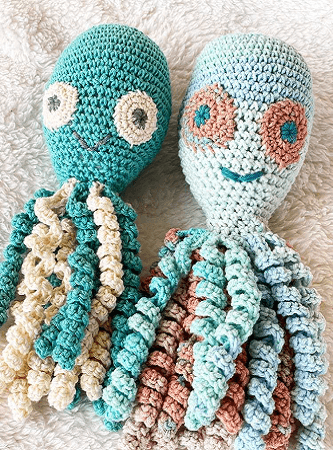 Get the Pattern here

9. Crochet Amigurumi Octopus Pattern by The Friendly Red Fox
This Crochet Amigurumi Octopus Pattern is a perfect beginner pattern for those new to amigurumi. You can also add a rattle to make it fun to wave around.
You will need to know how to use a magic circle, single crochet, and how to increase and invisible decrease.
You will also need to know how to use the half-double, double and triple crochet.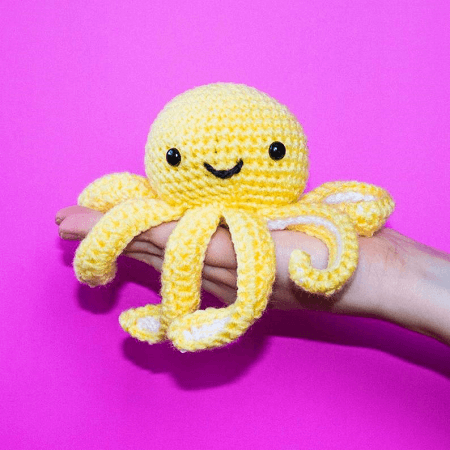 Get the Pattern by The Friendly Red Fox here

10. Crochet Octopus Scarf Pattern by Hello Happy
Make a funny crochet octopus scarf with this crochet pattern! You'll need around 500 yards of worsted (weight 4) yarn for a 4 tentacle scarf and 1000 yards for an 8 tentacle scarf, along with a 4mm hook.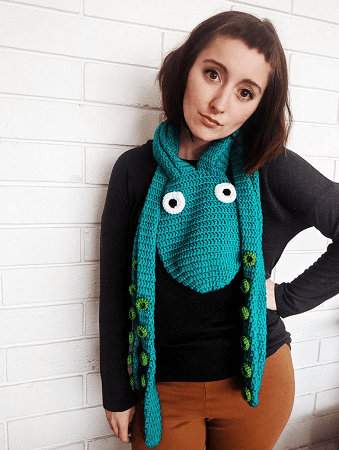 Get the Pattern by Hello Happy here

11. Crochet Octopus Pattern by Lil Crochet Love
These sassy cephalopods are great for older babies, kids, and adults! Fun to cuddle, dangle, and throw! Or add a touch of sweetness to any ocean-themed decor.
Make these crochet octopus pattern in your favorite pastel or rainbow colors for a more happier look. They are so easy to make you'll want to whip up a few for everyone!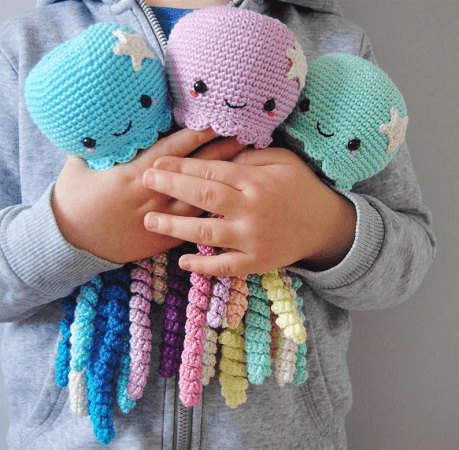 Get the Pattern by Lil Crochet Love here

12. How To Crochet An Octopus by Mollie Johanson
This adorable free crochet octopus pattern is extra soft for snuggling and has twisting tentacles that babies can grab onto.
Of course, any child can enjoy this cuddly cephalopod toy, so prepare to make a few for friends and family too!
Because the face is embroidered, you don't need to worry about small parts that aren't safe for young children.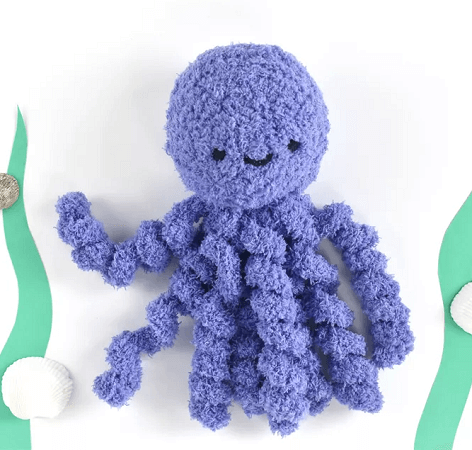 Get the Pattern here

13. Giant Squishy Crochet Octopus Pattern by Left Handed Crocheter
This giant squishy crochet octopus is pretty simple, and the technique created for attaching the legs makes it easier and looks better.
The Bernat Blanket Yarn makes this octopus extra big, and extra soft. It does require a lot of poly-fil, but it's worth it to have this huggable creature to cuddle up with or use as a pillow.
Get the Pattern here

14. Inky, The Octopus Rug Crochet Pattern by Ira Rott Patterns
Meet Inky, the octopus rug. He would like to say hello to your home! This beautiful crochet rug will go perfectly in your little one's nursery room. Serves best as a playmat or just nursery decor.
He is approximately 44" (111.75 cm) from the top down & 50" (127 cm) across. Your finished size may vary slightly depending on the materials used & your tension.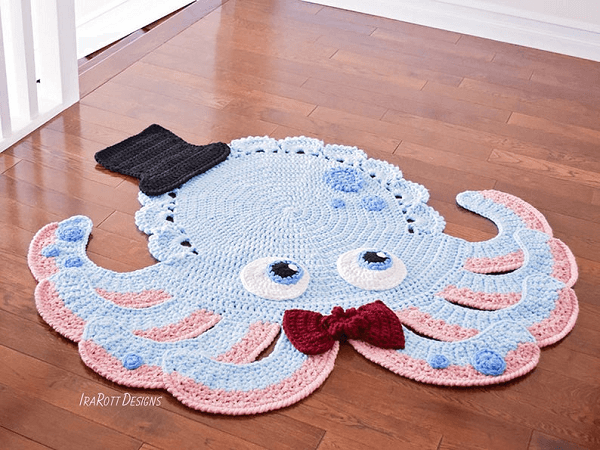 Get the Pattern by Ira Rott Patterns here

15. Squish Octopus Crochet Pattern by Moogly
The Octopus Squish is a cute, cuddly, very squishy free crochet pattern!
It's filled with a microbead pillow ball, making it addictively huggable! And by using Bernat Blanket, it works up pretty darn quickly too – and is just as soft as can be! If you prefer, of course, you can fill it with Fiberfill.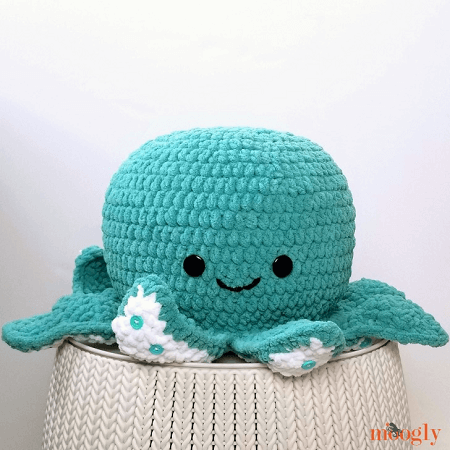 Get the Pattern here

16. Brooch Octopus Crochet Pattern by Mavdrik Toys
Measuring 3.5 x 2.5 cm, this octopus brooch is the best traveling companion wherever you go! Attach and pin it on your bag or clothes to flaunt your buddy in the cutest and fashionable style!
Only basic crocheting skills will be needed to make this pattern: chain, single crochet, increasing, decreasing, and slip stitch.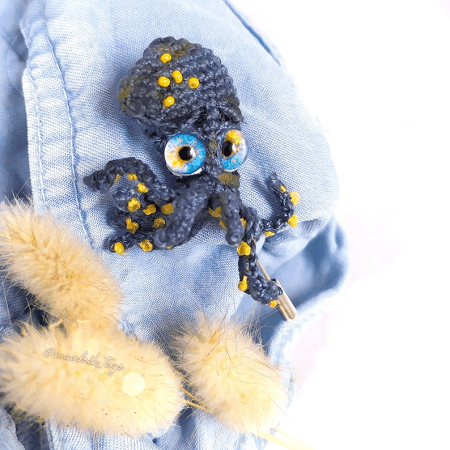 Get the Pattern by Mavdrik Toys here

17. Octopus Crochet Pattern by Patchwork Moose
This crochet octopus is rather large, his head measures about 9 inches/23 cm in height and he spans 45 inches/115 cm across, from tentacle tip to tip using an Aran weight yarn.
However, he can be made from any weight yarn and appropriate hook for different sizes. He would make such a wonderful birthday gift or gift for the holidays!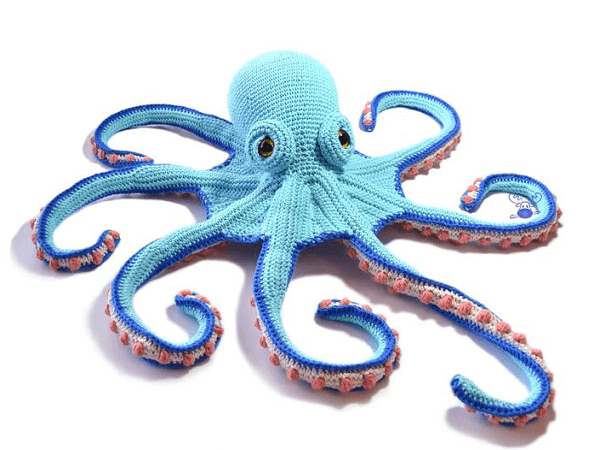 Get the Pattern by Patchwork Moose here

18. Toy Crochet Octopus Pattern by R Nata
These crocheted octopus toys are great helpers and will be very happy to settle in every children's room. Your kids are gonna love them!
Made with cotton yarn, these lovely creatures would be a perfect gift for someone who has given birth to a premature baby or for your little one who loves the sea!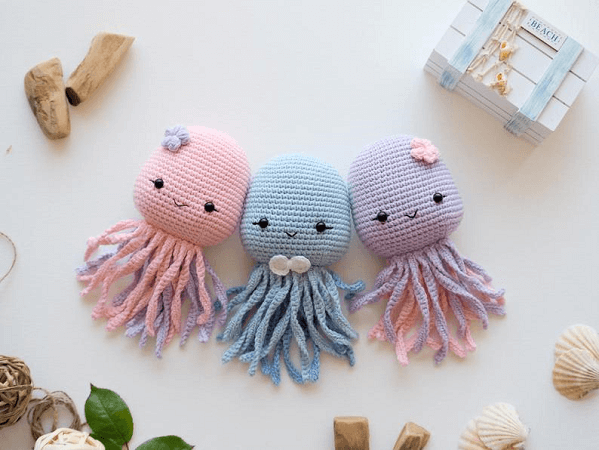 Get the Pattern by R Nata here

19. Granny Square Octopus Crochet Pattern by Maria's Blue Crayon
This adorable and easy to make octopus granny square is the perfect way to show your love for this wonderful creature.
You could make it into a scarf, blanket, pillow –the possibilities are endless! It works up quickly and can be customized with all kinds of colors. What a great gift idea for any ocean-themed home!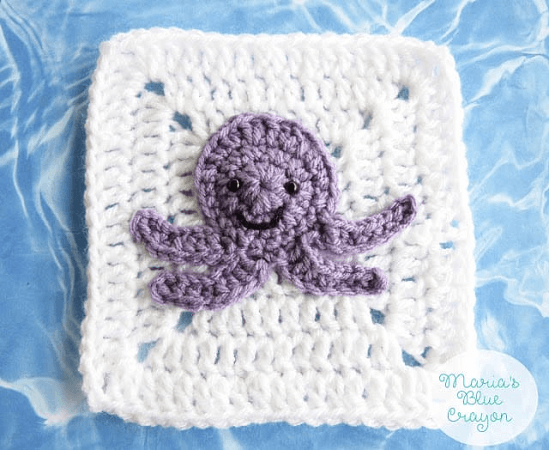 Get the Pattern here

20. Little Octopus Amigurumi Crochet Pattern by Goozell Toys
This Little Octopus Amigurumi has very big beautiful eyes, everyone will fall in love with it! It's small – you can put it in your bag and carry it with you! The height of the finished octopus 3.5" (8-9 cm).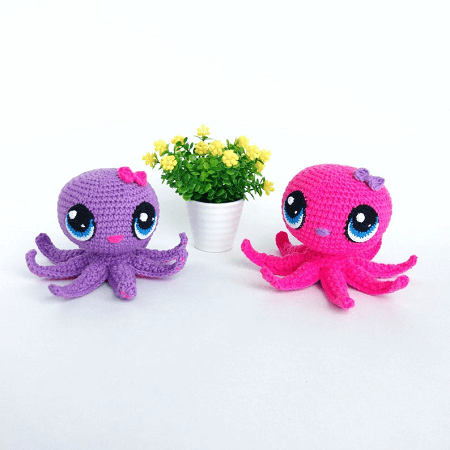 Get the Pattern by Goozell Toys here

21. Cupcake Amigurumi Octopus Pattern by A Little Love Everyday
Are you ready for a crazy underwater adventure?These coloful tiny little fellows are waiting for you!
Adorable round decorations like this Cupcake Amigurumi Octopus will look so pretty as single hanging ornaments or parts of a cute garland.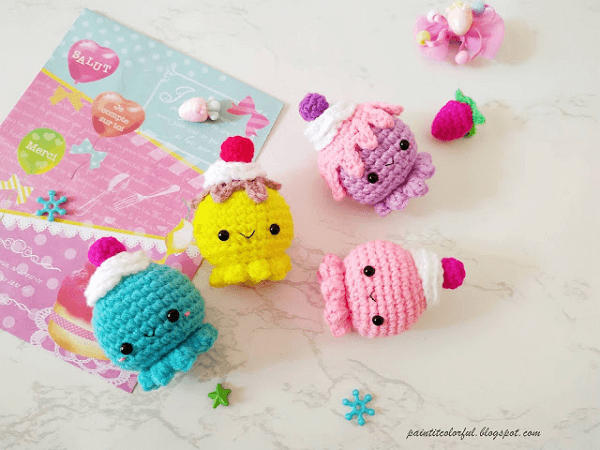 Get the Pattern here

22. Oleg, The Crochet Octopus Pattern by Lalylala
If your child wants a doll to play with and a huggable friend, then check out the totally adorable Oleg, the octopus.
Oleg will measure 27 cm (10.5 inches) using fingering weight yarn on a 2.25 mm crochet hook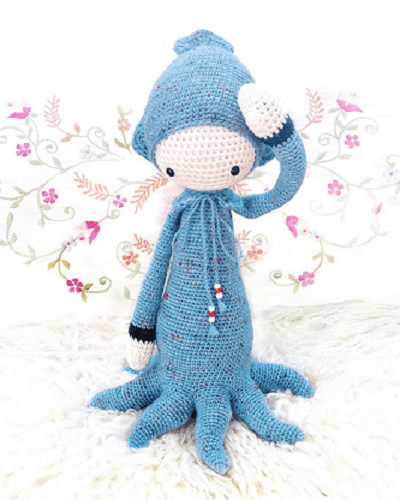 Get the Pattern by Lalylala here

23. Crochet Octopus Hat Pattern by Nature's Hook
Make a cephalopod to wear on your head with this Crochet Octopus Hat Pattern! Guaranteed to be your best buddy and bound to turn heads and receive compliments.
This cute and fun octopus beanie can be worn as a creative and unique expression to show your love of the ocean or as a costume or cosplay.
This is a perfect statement piece to wear to the beach, aquarium, marine class, boat trip, cruise, costume, dive trip, festival…the opportunities are endless!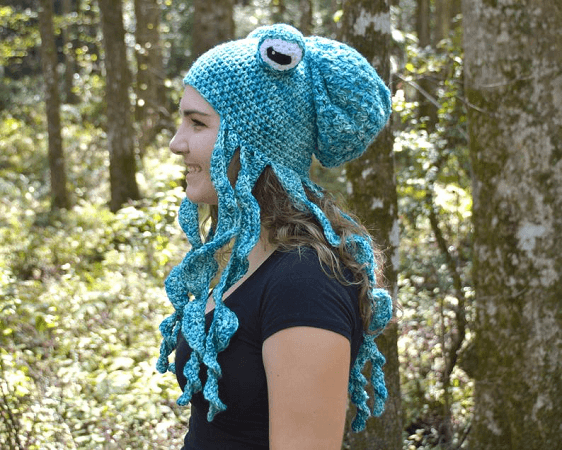 Get the Pattern by Nature's Hook here

24. Egg Cozy Octopus Crochet Pattern by Tamara Kelly
This Octopus Egg Cozy brings the Kraken to your holiday this spring! Why an octopus egg cozy? Why not!?
Octopi don't have anything to do with Easter (though they do lay eggs!). But making crochet curlicues is so much fun, and these little creatures will make you smile!
Each Octopus Egg Cozy uses 2 buttons (or a bit of yarn if preferred). So while you can do some yarn stash busting with these, you can also go through all your buttons and have fun matching them up for each cozy!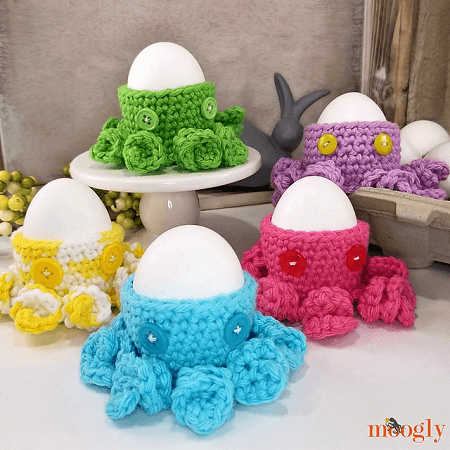 Get the Pattern here

25. Penelope, The Octopus Pin Cushion Crochet Pattern by Heart Hook Home
Meet your new little friend and deskmate, Penelope. She's an octopus with class and a secret weapon.
You see, Penelope is a pin sharpening pin cushion. It's true! And she is a free crochet pattern! Penelope is unique in that her body is not stuffed with Polyfill as with regular amigurumi.
Her body is stuffed with steel wool that will help her sharpen the pins as they are used.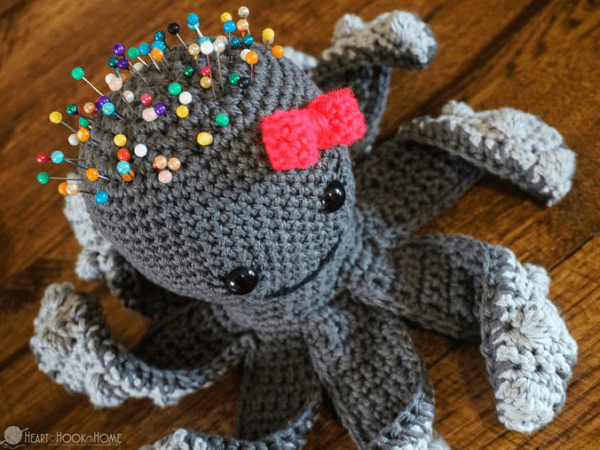 Get the Pattern here

26. Octopus Keychain Crochet Pattern by Handmade By Hennek
This Octopus Keychain Crochet Pattern is worked in the round, using a stitch marker, from the head down using one continuous piece of yarn.
It requires no breaks in yarn unless you want a color change.
It does give instructions to make the item into a keychain or zipper pull but can be used in multiple ways such as garland, mobiles or little stuffies if you use thicker yarn.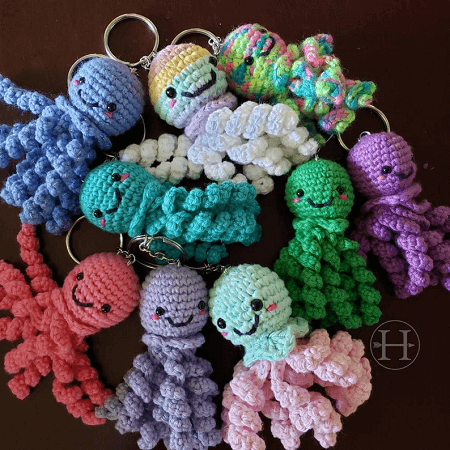 Get the Pattern by Handmade By Hennek here

27. Huge Octopus Crochet Pattern by Mama Moseley Creations
This octopus is pretty big measuring a whopping 19 inches tall by 64 inches wide! If your gauge swatch measures smaller-your octopus will be smaller as well.
This huge octopus will fit perfectly into the interior of your home and would be a total hit at your office!
Let your creativity flow and choose the color palette you'd love to see this beautiful creature in.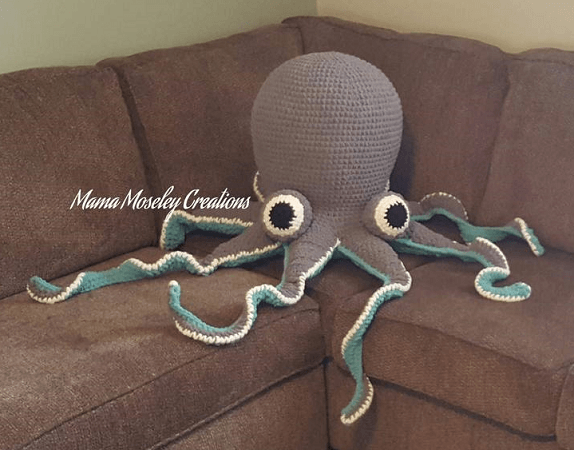 Get the Pattern by Mama Moseley Creations here

28. Plush Free Crochet Octopus Pattern by Whistle And Ivy
This darling plush crochet octopus is an easy crochet pattern, perfect for beginners. You will love your new squishy, soft sea friend.
This octopus is made with simple construction, so it's a crochet pattern that is perfect for beginners. And for some reason, kids just love playing with all those soft, floppy octopus arms!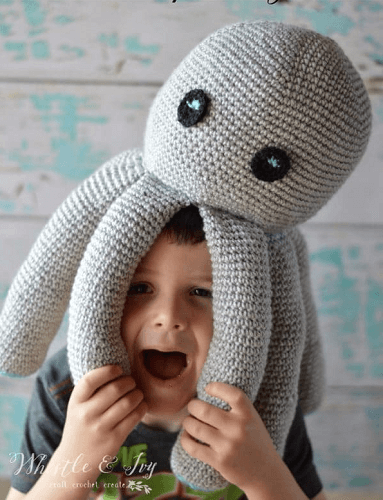 Get the Pattern here

29. Crochet Octopus Amigurumi Pattern by Solid Marl
From teeny baby comfort, let's move to big kids! Who wouldn't want a snuggle with this giant octopus?
He's easy to make and made from 100% lambswool so he's super soft!
The octopus is easy to make if you have made any crochet animals before you will be able to make this amazing octopus!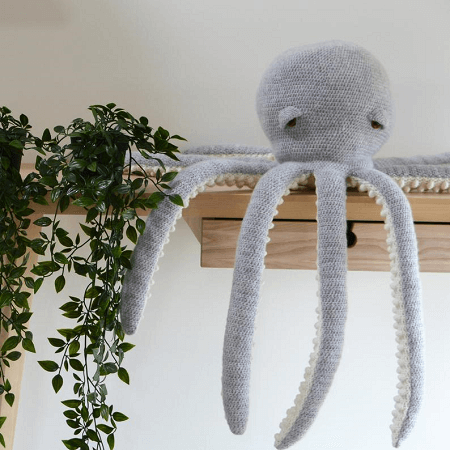 Get the Pattern by Solid Marl here

30. Gus, The Octopus Bag Crochet Pattern by Heidi Yates
Gus, the octopus bag is a friendly octopus that is great for your kids or for your inner child. He is made with worsted weight yarn and works up very quickly!
The bag measures approximately 18" across x 16" long without tentacles. You can stock him up with plenty of your things since he's big enough to handle it!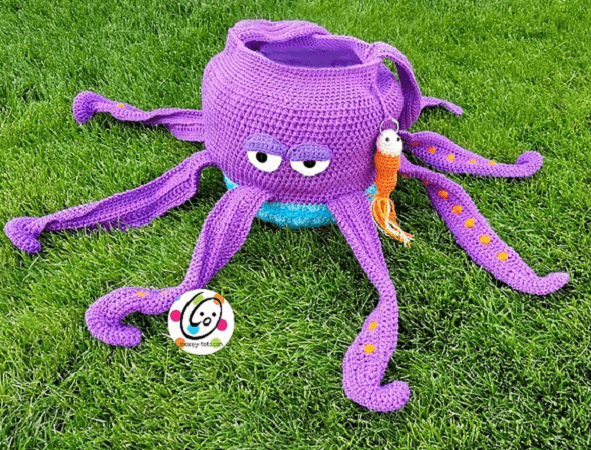 Get the Pattern here

31. Octopuses For Preemies Crochet Pattern by Lilla Bjorn Crochet
If you want to avoid the issue of safety eyes altogether, then one option is to go for the eyes entirely.
They aren't necessary to make a cute crochet octopus. Lilla Bjorn Crochet used this pattern and explains why she chose a no-eyes design.
The amigurumi octopus pattern is by Anastasia Popova of Crochet for Babies.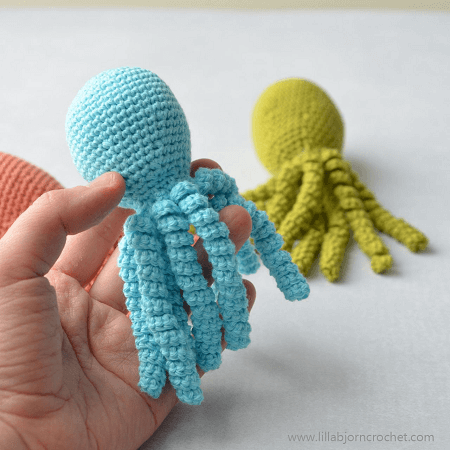 Get the Pattern here

32. Octopus Hood Crochet Pattern by Les Tuques De Stephanie
With this easy crochet pattern, you will be able to create an Octopus hood in one size for adult standards.
Wearing this hood with tentacles and big eyes is a fun way to get your "Kraken" on. It would make the perfect accent to your Halloween costume and your everyday winter wardrobe!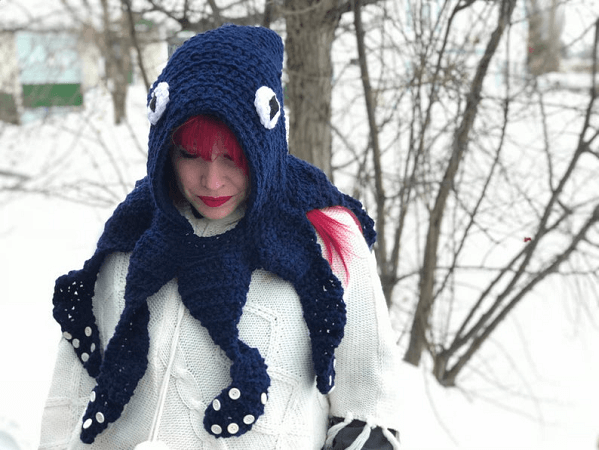 Get the Pattern by Les Tuques Stephanie here

33. Amigurumi Octopus Pattern by Lilleliis
In this Amigurumi Octopus Pattern, the tentacles are crocheted to the body, so it`s safer for little babies.
Also, no safety eyes are used. Instead, the eyes can be embroidered or skipped at all. You only need to add the ruffle later.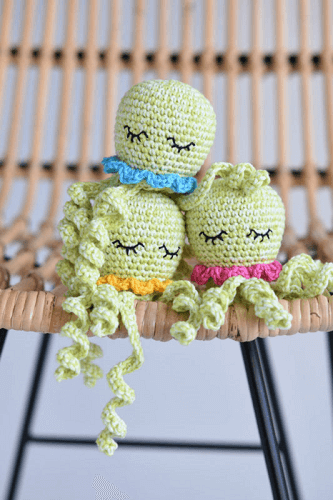 Get the Pattern here

34. Octopus With Ice Cream Cone Crochet Pattern by Juli HM Toys
How cute is this crochet octopus with ice cream cone on top of its head? This would be a cute gift idea for friends, family members, or sweet knick-knacks for your desk or dresser.
To crochet this octopus crochet pattern with ice cream cone you should know how to do a magic ring, chain, single crochet, how to make an increase, and invisible decrease.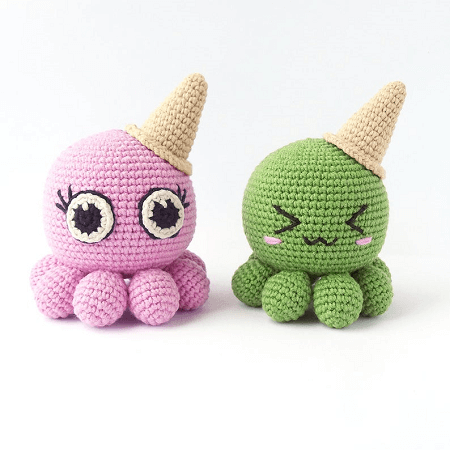 Get the Pattern by Juli HM Toys here

35. Amigurumi Octopus Crochet Pattern by Crafty Intentions
Two Amigurumi Octopus Crochet Pattern for the price of one! The effect is amigurumi-like, though there are some stitches other than single crochet.
The gauge is not crucial to the pattern as long as the stitches are tight enough to hold the stuffing.
The eyes can be 15 mm safety eyes or to make this baby-safe sew the eyes on with yarn or felt. The perfect toy for a girl or boy!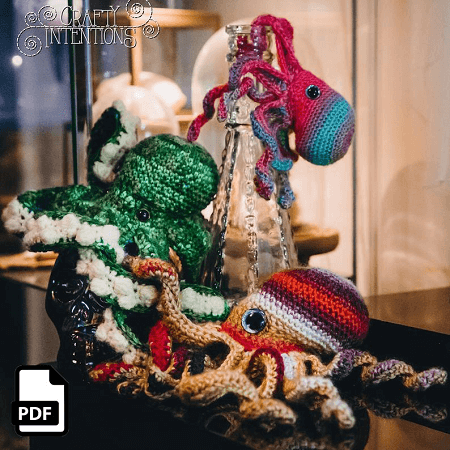 Get the Pattern by Crafty Intentions here

36. Applique Crochet Octopus Pattern by The Sequin Turtle
This Applique Crochet Octopus Pattern is a basic pattern to show you how to make a little octopus applique. It can be simply modified to create the size and shape you need.
All you have to do is change the number of stitches in the first round, the number of increase rounds, or the number of chains for each tentacle to make a wide variety of these cute little things.
Have fun experimenting – that's the best part of this project!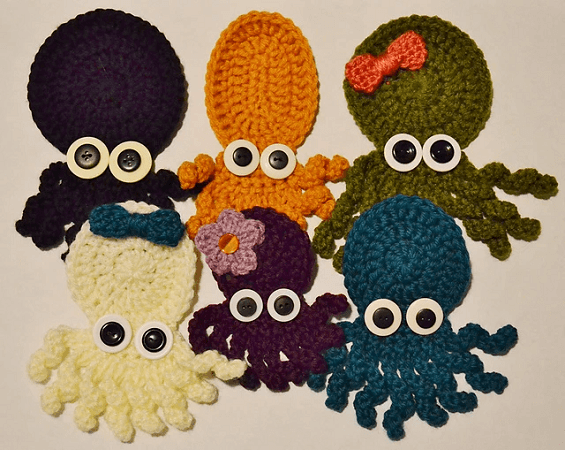 Get the Pattern here

37. Baby Octopus Crochet Pattern by Crochet 4 Fun By Mei
The resulting baby octopus will be approximately 6 cm/2.7" tall and is designed to be made with any fingering weight cotton yarn.
These crochet octopus are so cute and so easy to make! And you can make them pretty fast too!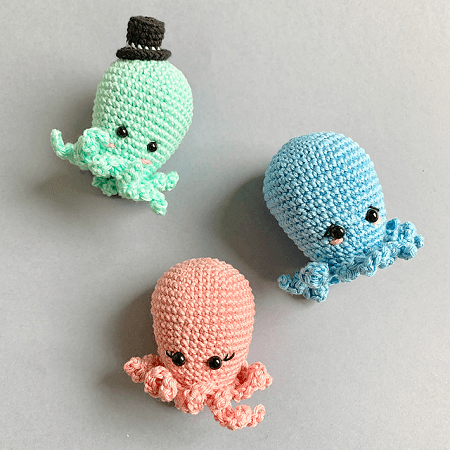 Get the Pattern here
Crochet Octopus Patterns Frequently Asked Questions
Is it hard to crochet an octopus?
The good news is that most crochet octopus patterns are simple! They require basic skills such as knowing how to make a magic ring (also known as a magic circle), slip st (sl st), and, in most cases, simple stitches such as single crochet or double crochet.
Of course, each pattern is unique and designed by a different person, so you may find some that use different techniques, but they are all worked in the round (abbreviated rnd) and some use a chain stitch instead of a magic ring.
What do you need to crochet an octopus?
You'll need yarn and a crochet hook (of course! ), a stitch marker or two to keep track of where you are in your rounds, a yarn needle (also known as a tapestry needle) for attaching pieces and weaving in ends, and stuffing to give it some squish.
Why crochet octopus for premature babies?
Crochet octopuses are used to comfort premature babies in the NICU. The curly tentacles are said to resemble the umbilical cord and may aid in preventing the baby from pulling on their breathing tubes.
What kind of yarn do you use for NICU octopus?
A NICU octopus is best made with 100% cotton yarn. Make sure to pick something that can be machine washed and dried, as the toy will need to be cleaned before being given to a baby.
What's the best size for crochet NICU octopus?
The recommended size of the octopus is around 7-9 cm in length of the head and around 15-17 cm in head circumference. However, the head's size is not as important as the length of tentacles.
Due to safety reasons, they should not exceed 20cm when stretched at a maximum. So in my opinion, it's better to make them shorter.
Which of these crochet octopus pattern are your favorites?
If these crochet octopus patterns have triggered your love for ocean crafts, do check out our crochet patterns based on other ocean creatures like narwhals, seal, jellyfish, turtles, and more!
There's a whole beautiful world out there, underwater!
When you make your own version of these octopus crochet patterns, please do share your finished works on our Facebook Page. We'd love to see what you came up with!
Now, let's get our hooks busy with these crochet octopus patterns and have fun exploring all the different colors, designs, and sizes of these amazing creatures!