The narwhal truly is the Unicorn of the Sea! These cute critters have become hugely popular in kids' cartoons and media in general. And why shouldn't they? They're like an adorable combination of a whale, a unicorn, and a mermaid! Ready to hop on the nautical trend? Browse some of our favorite crochet narwhal patterns below.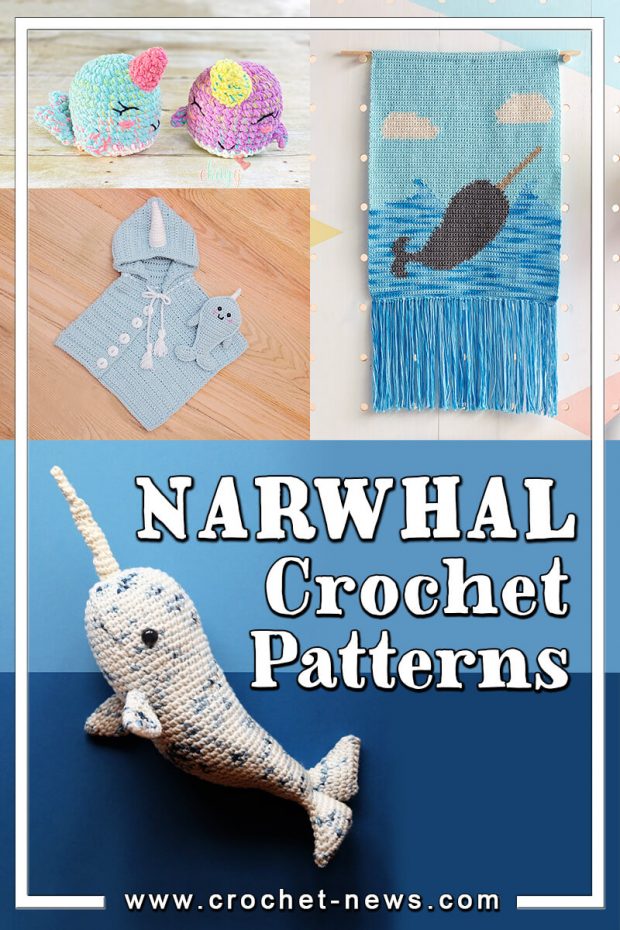 We've found everything from adorable stuffed narwhals to super-cute narwhal blankets and decor. There are enough patterns here for you to enjoy nothing but narwhals for as long as you and your kids are obsessed with them!

1. Wall Hanging Crochet Narwhal Free Pattern by Yarnspirations
Tones of blue surround a playful narwhal motif on this soothing décor piece. Work in single crochet, then finish with a generous fringe – it's the perfect crochet wall hanging to add personality and a sense of tranquility to any room.
Pattern includes a helpful chart, so if you've been meaning to try intarsia, this project is for you!
In case you want a boho themed room, check out these macrame wall hanging patterns.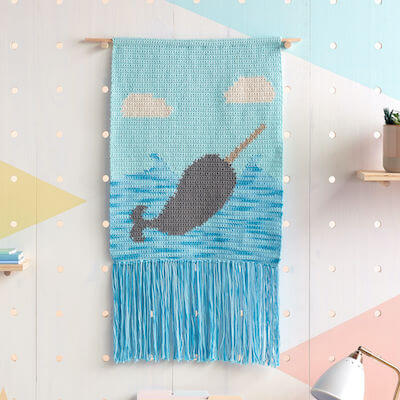 Get the Pattern here

2. Amigurumi Narwhal Crochet Pattern by Crafty Kitty Crochet
Now you can crochet your very own little Narwhal with this fun, fast, easy crochet pattern! It uses very little yarn, so it makes a great stash buster.
Gift it as a toy, use it as a decorative plushie, or even make a whole bunch as stocking stuffers – the possibilities are endless!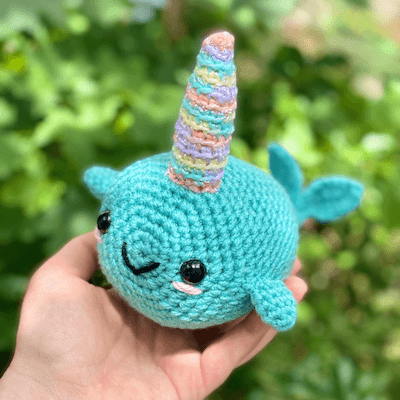 Get the Pattern here

3. Free Narwhal Amigurumi Crochet Pattern by A Little Love Everyday
These amigurumi narwhals are tiny, cute and very easy to make. You can skip the tusk and you'll get a whale. Serves as a two in one pattern!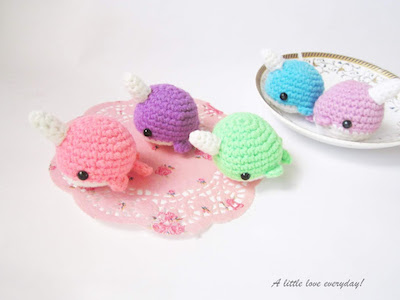 Get the Pattern here

4. Stargazer Narwhal Crochet Pattern by Irene Strange
This pattern is written in US crochet terms, with step by step photos to help along the way. The mouth is shaped when making the body, the tail is worked seamlessly with the body at the end.

The toys is finished with subtle gold embroidery along the horn and a starry constellation on the back for a bit of sparkle – adding a star sign to the back would make it a lovely newborn gift.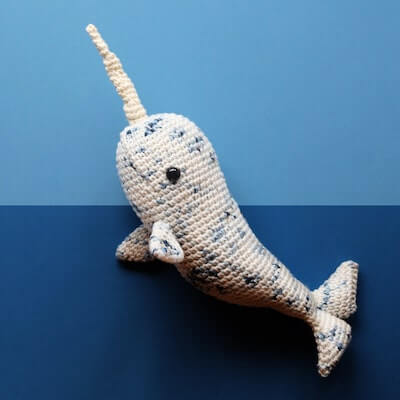 Get the Pattern by Irene Strange here

5. Crochet Narwhal Comforter Pattern by Olives Toy Box
This Crochet Narwhal Comforter is light weight and has a large tail fin with no stuffing inside, so it is easy for babies to hold.

It is made with two different yarns – two different textures to explore! You can put a plastic bead in one side fin, little squeaker in the other, some crinkly plastic in the tail fins or even a little bell in the horn to make it even more entertaining.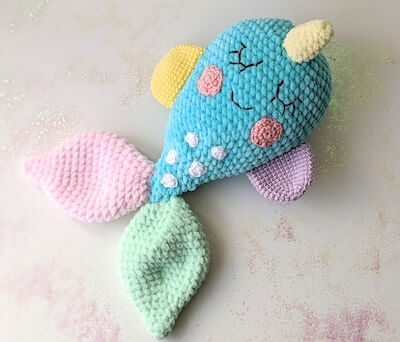 Get the Pattern by Olives Toy Box here

6. Ned And Norman Crochet Narwhal Pattern by Red Heart
Although these tiny narwhals are smaller than the real thing, they make up for it with playful personalities! Create your versions using any colors you prefer, or stitch them as designed.
You only need 1 wheel of yarn which includes the 4 shades that complete this duo. Norman and Ned would love to be your next project!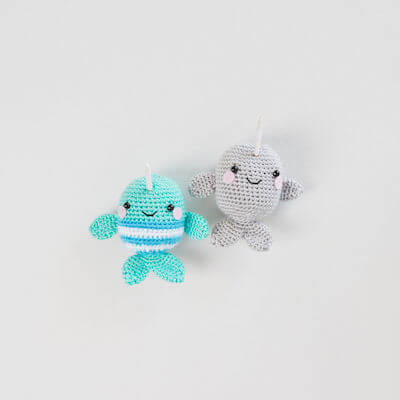 Get the Pattern here

7. Crochet Narwhal Squish Pattern by Moogly
This Crochet Narwhal Squish is just the perfect size, and so huggable. It is made with super bulky yarn so it's a speedy project to make, taking just an evening or two. Of course, if you prefer, you can fill it with Fiberfill.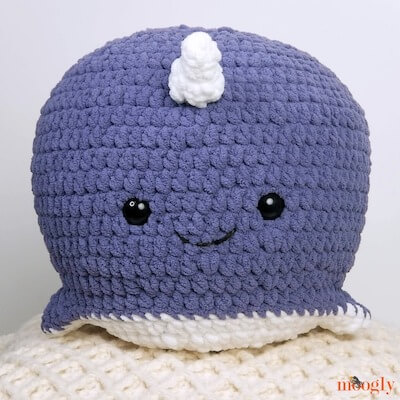 Get the Pattern here

8. Crochet Narwhal Blanket Pattern by Mayhem And Majesty
Create you're own adorable Narwhal blanket for yourself, or to sell in your handmade shop. It's sure to delight kids and adults of all ages!

This pattern comes with patterns for four different blanket patterns, all charts are included along with the numerical pattern instructions. You can easily do less panels for a smaller blanket or more panels and more unicorns for a larger blanket.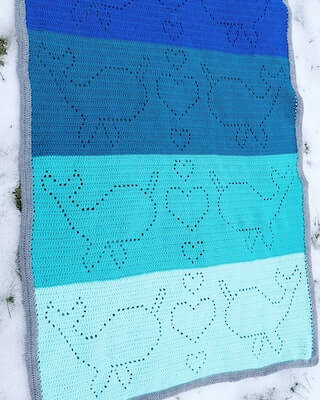 Get the Pattern by Mayhem And Majesty here

9. Crochet Narwhal Pattern by The Friendly Red Fox
Ned and Norah, the narwhals are made with bulky size 5 yarn which is pretty fun for amigurumi and it makes the crochet narwhal a fun size pretty quickly.
But you do not need to use it, a regular worsted weight works just fine. Your amigurumi narwhal will be just a little bit smaller (and pretty dang cute that way, too!)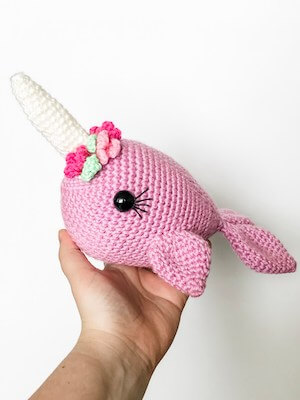 Get the Pattern by The Friendly Red Fox here

10. Free Giant Narwhal Crochet Pattern by Keep Calm And Crochet On U.K.
Looking for the perfect cuddle companion? This giant narwhal is ready for some big cuddles! With this special buddy on hand, you are sure to have a whale of a time!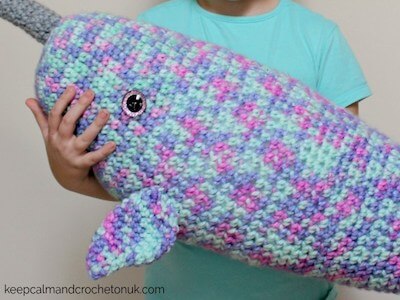 Get the Pattern here

11. Narwhal Crochet Poncho And Buddy Pattern by Briana K Designs
Dress up like a sea creature of the north with this narwhal poncho and buddy crochet pattern. This cute child poncho is fun with the extra little buddy.
The Narwhal poncho has buttons for easy removal and a tie to keep the hood in place. The poncho is great to bundle up a child in style for the fall and winter season.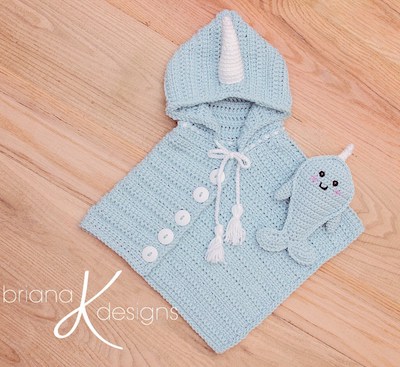 Get the Pattern by Briana K Designs here

12. Crochet Puffy Stuffy Narwhal Pattern by Ekay G
This Puffy Stuffy Narwhal is just so cute! The soft texture of this yarn makes a wonderful stuffed animal, and the simple nature of these Puffy Stuffies appeal to the imaginations of a large variety of ages!

These can be made with just the blanket yarn and K hook, or combine some worsted with the yarn for a fun added touch of color, and go up to an L hook for a bigger size!
Get the Pattern by Ekay G here
DID YOU KNOW A GROUP OF NARWHALS IS CALLED A BLESSING? MAKE A FEW OF THESE CROCHET NARWHALS FOR A BLESSED BLESSING OF YOUR OWN!
Don't forget to share your oceanic makes with us over on our Facebook Page.  We'd love to see them!
Once you get started on the first few, you won't be able to resist crocheting a few more pieces of the ocean to go along with it. So, don't miss our collection of other ocean animal crochet patterns for Crochet Octopus, Whales, Seals, Turtles, Jellyfish, Sharks, Fish, walrus, Crocodiles, Platypus and more!

Narwhal lovers are fanciful (just like their favorite creature), so treat them to a gift as unique as they are with a crochet narwhals today!