Create comfy cushions or extra seats around your house with these 24 Crochet Pouf Patterns!
Never has there been a more versatile piece of furniture than the crochet pouffe. It's a table, a seat, and a place to rest your feet all at once while remaining so easy to move around that it can almost earn the title of a throw pillow.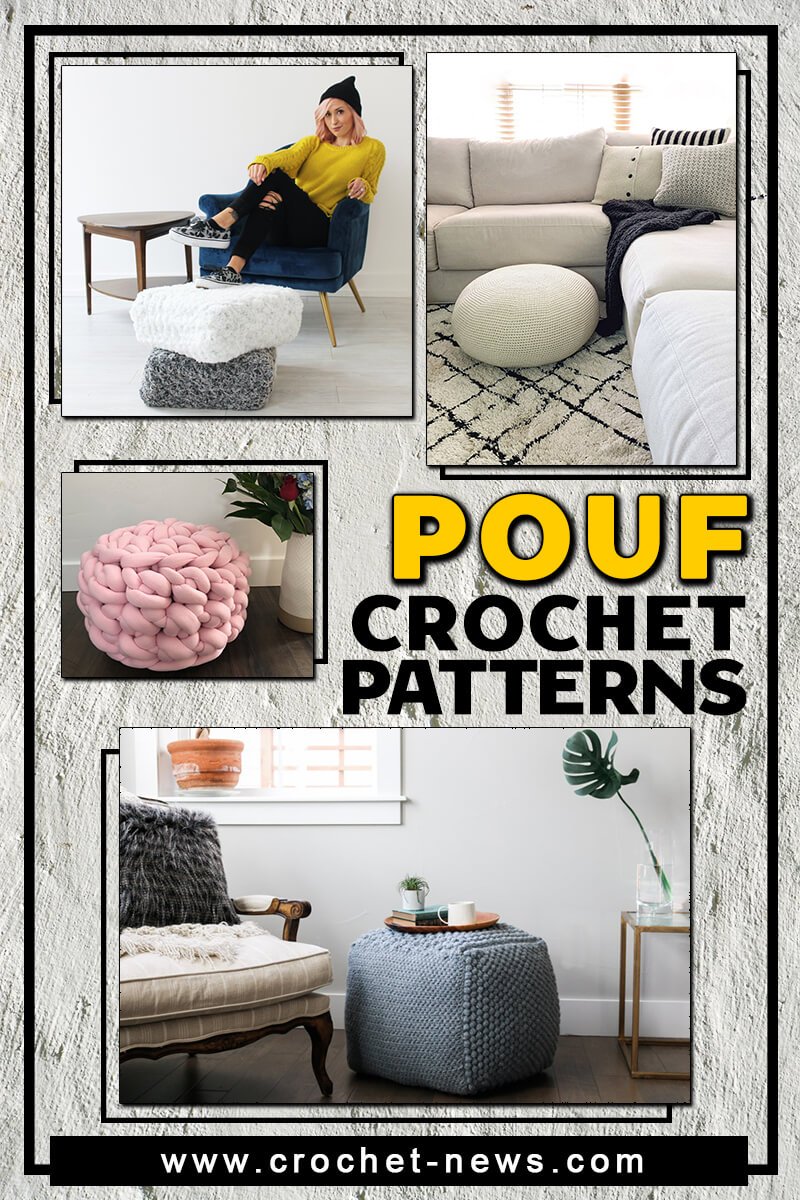 24 Crochet Pouf Patterns
Make one, two, or three. After all, it's never bad to have too many poufs around the house!

1. Crochet Bobbles Pouf Pattern by Is Woolish
This bobbles pouf is fun to make, it works up very quickly and is perfect to be used as a seat, a table, and a footrest when needed.
You can use this crochet foot rest in any interior design – regardless of whether your premises are modern and elegant, or perhaps minimalist.
Free crochet bobble stitch tutorial here.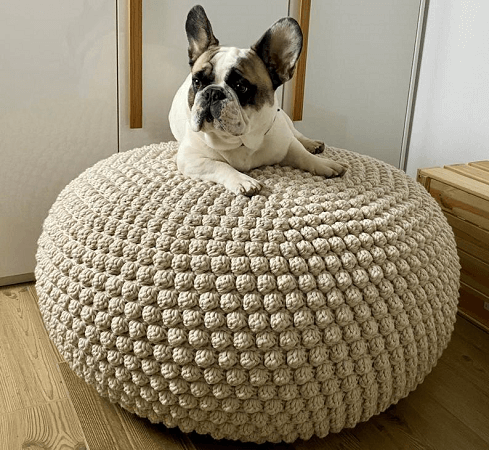 Get the Pattern by Is Woolish here

2. Round Minimalist Floor Pouf Crochet Pattern by Minimalism With Yarn
Make your own modern minimalist floor pouf for your home!
The simple, refined design fits any decor, from the living room, bedroom, guest room, or nursery. Use it as extra seating on the floor or as a footrest, for yourself or the kids.
Use any color or fiber you desire that fits the pattern to suit your unique style at home.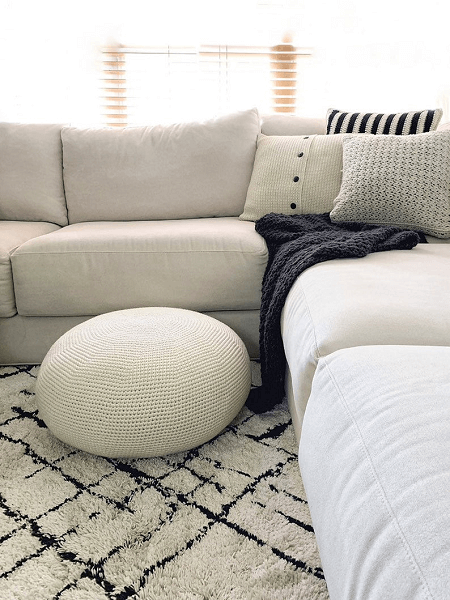 Get the Pattern by Minimalism With Yarn here

3. Free Pouf Crochet Ottoman Pattern by Make And Do Crew
This Pouf Free Crochet Pattern lets you'll build new skills while making your own functional furniture. Worked in six squares with six different stitches, this large show-stopper is a surprisingly portable project.
This crochet pouf makes a great seat or ottoman, or set a tray on it to make a texture-rich side table. Perfect crochet project for nurseries, living rooms, or bedrooms.
Get the Pattern here

4. Crochet Floor Pouf Pattern by Sweet Everly B
Whether you need extra seating when guests stop by, like to put your feet up, or have kids who love floor pillows, this crochet footstool is for you.
With a classic round shape and hints of modern design, this crochet pouf pattern is what your room needs. The finished size of this overstuffed floor cushion is 20″ wide by 13″ high.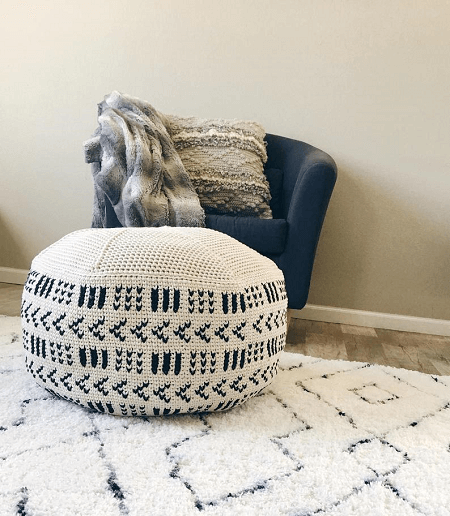 Get the Pattern by Sweet Everly B here

5. Mosaic Floor Pouf Crochet Pattern by Yarn And Chai
Settling in for a long evening of crochet? Rest your feet (or your cup of coffee) on this beautiful piece of crochet foot rest.
You'll need two different yarns to achieve the mosaic effect of this pattern. First, you'll need a chunky #5 yarn that will be the base color of your pouf.
Second, you'll need a different colored yarn for the mosaic pattern on the sides of the pouf. Whether you choose a solid, variegated, or self-striping yarn, the effect will be awesome!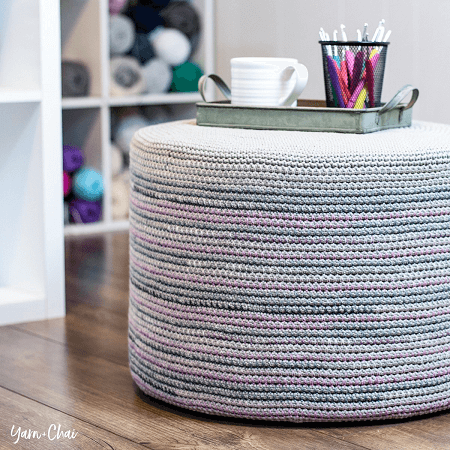 6. Peppermint Kiss Crochet Pouf Pattern by Crafting Friends Designs
This Peppermint Kiss Crochet Pouf Pattern is a must-have for any kid to enjoy during the holidays! They'll have fun kicking back and reading books or watching movies in this amazing bean bag chair.
Whip up each section in a different color to enjoy throughout the year or coordinate with their room decor.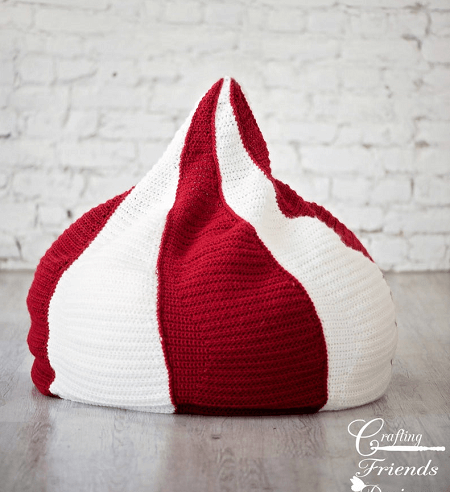 Get the Pattern by Crafting Friends Designs here

7. Boho Crochet Pouf Pattern by Dark N Twisty Housewife
The Boho look is coming back for home decor and this crochet pouf pattern makes an awesome addition to any room! This Boho Pouf Crochet Pattern s made using puffs and loop stitches. It measures about 19 in tall x 21 in wide when made with a bulky yarn.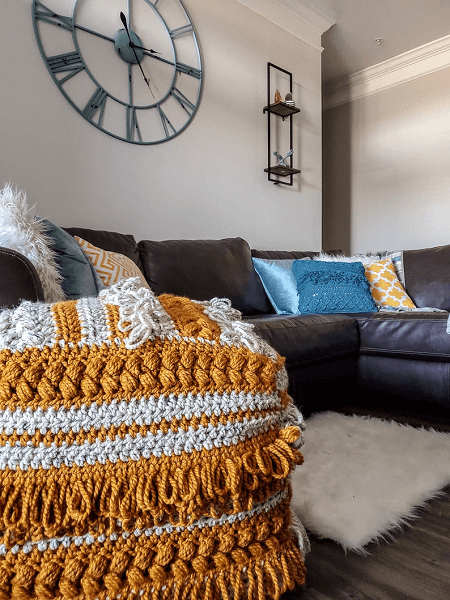 Get the Pattern by Dark N Twisty Housewife here

8. Crochet Plaid Floor Pouf Pattern by Whistle And Ivy
This comfy crochet plaid floor pouf goes with your holiday or everyday rustic decor. Made with two strands of yarn, it works up quickly. You can even use things from around your home as stuffing. The riveted leather handles are the perfect finishing touch.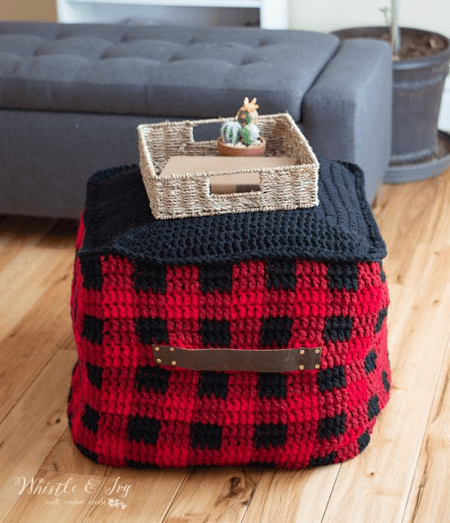 Get the Pattern here

9. Giant Crochet Floor Pouf Pattern by Is Woolish
This pouf is fun to make, it works up very quickly and is perfect to be used as a seat, a table and a footrest when needed. Neutral colors makes it a versatile decor piece, but explore different colors to tell a bolder story!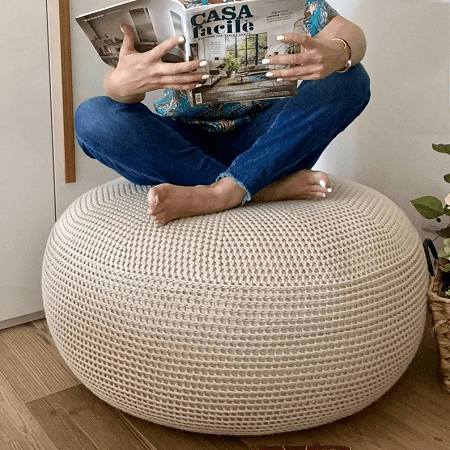 Get the Pattern by Is Woolish here

10. Crochet Oak Stump Ottoman Pattern by Speckless
This Oak Stump Ottoman is perfect for a wilderness-themed nursery or for kicking up your feet at the cabin. This little stump is soft, yet sturdy, and measures about 12.5 inches tall, 13 inches in diameter, and 41 inches in circumference. For an experienced crocheter, this pattern is easily customizable in size and detail!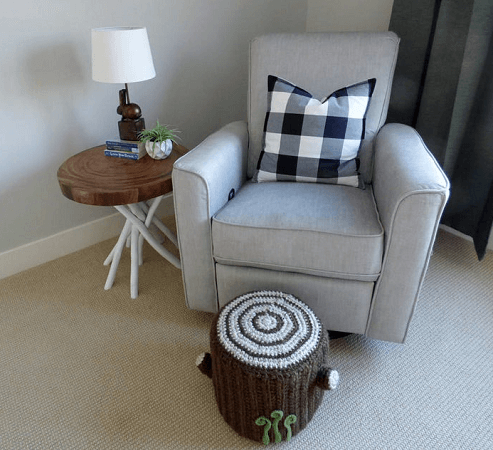 Get the Pattern by Speckless here

11. Crochet Cable Footstool Pattern by Midknits
Crochet your own Cable Footstool with this unique pattern. Stuffed with pillows and comforters (or even your stuffed animals), this footstool is soft, cozy, and has a drawstring bottom so it can be stuffed, re-stuffed, and easily washed.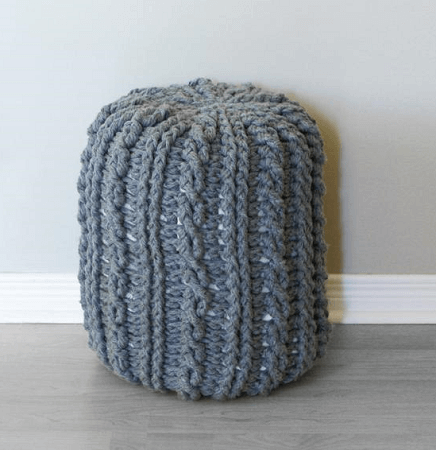 Get the Pattern by Midknits here

12. Square Pouf Crochet Pattern by Red Heart
Every space could use an extra surface or somewhere to rest your feet after a long day at work. Crochet this pouf for so many purposes by simply coordinating the color that works in your space.

It's easy to move near any seat in the house or wherever it's needed—plus we love the casual textural look. Choose a playful shade and crochet a pouf for the kids' room too!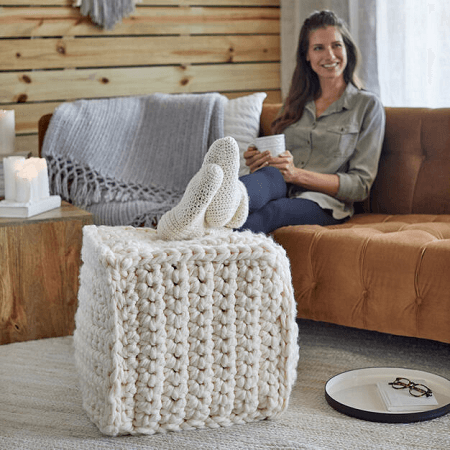 Get the Pattern here

13. Crochet Shark Pouffe Pattern by Bri Abby HMA
This pouf is perfect for all those shark lovers and makes for a great decoration piece in your kid's room, living room or play room. Put your feet up on it or use it for extra seating.

You can even fill it with bean bag filling to make it a bean bag with personality. Not only is it cute decor but the kids loved this as a photo prop!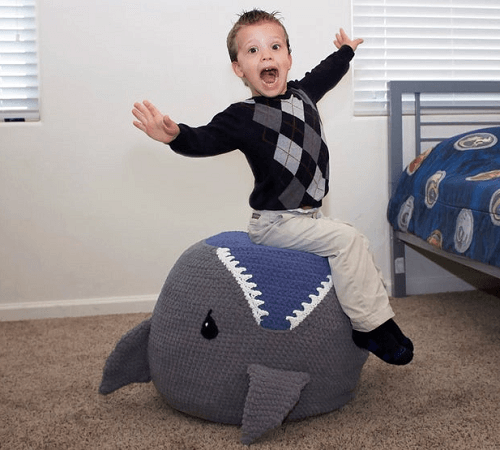 Get the Pattern by Bri Abby HMA here

14. Giant Donut Floor Pouf Pattern by Twinkie Chan
Seriously, is there anything cuter than this Giant Donut Floor Pouf? This easy crochet pattern will transform your room into a space that's uniquely yours by providing a cushy, cozy place to sit or rest your feet.

Stick with the colors as written or switch things up to go along with your favorite donut type – the choice is yours!
To satisfy your cravings, here's more Crochet Donut Patterns.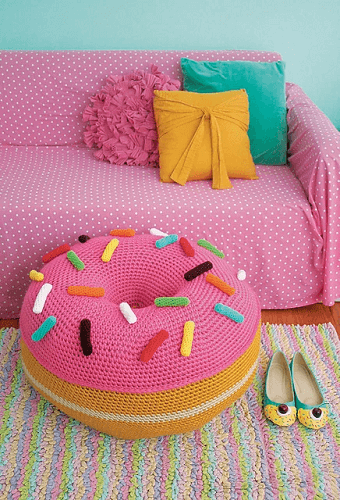 15. Easy Crochet Pouf Pattern by Yarnspirations
Add a touch of fun to any room with this Easy Crochet Pouf Pattern. This unexpected piece brings a pop of color to the living and bedroom. Have fun with color and enjoy this pouf as a cozy footrest, or extra seat that always comes in handy.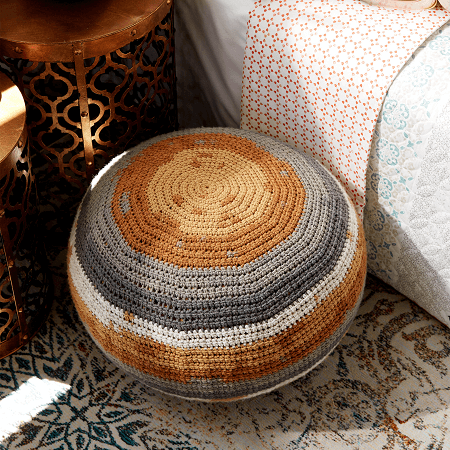 Get the Pattern here

16. Monster Pouffe Crochet Pattern by Joni Memmott
It's time to add some personality to your home! This Monster Pouffe is the perfect way to add something fresh to your child's room or playroom. You can even add it to your living room if you want to add a splash of fun!

It is designed so you can switch up the look and colors to match any decor. Put your feet up on your monster pouf or use it for extra seating. It also makes a fun, giant stuffed toy! You can make it using regular worsted weight yarn, furry yarn, or super bulky yarn.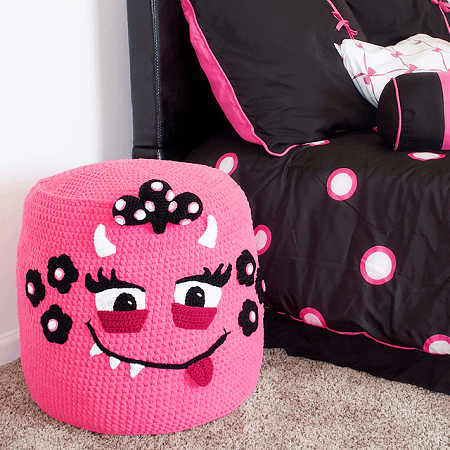 Get the Pattern by Joni Memmott here

17. Scraptastic Ottoman Free Crochet Pattern by Beatrice Ryan Designs
This Scraptastic Ottoman is a super easy and fun home accessory you can make in no time at all. Yarn, filling, and a hook and you are all set to make this colorful and comfortable foot rest!

Using a large bean bag filling, this is soft yet firm and lightweight! Easy to move and can be made in any color scheme to match your home decor.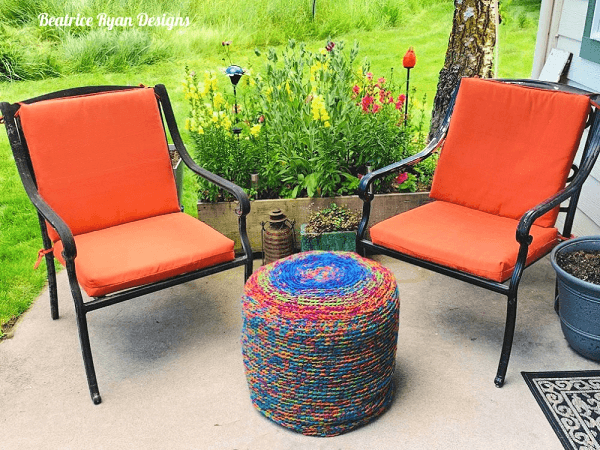 18. Jumbo Crochet Floor Pouffe Pattern by Evelyn And Peter
You could end up using your hands/arms to crochet this Jumbo Crochet Floor Pouf instead of a hook. The benefit of hand crochet is that the pouf is super easy and fast, you can make one for each of your kids in one weekend!

If you would rather use a hook instead, a 30.00mm size should work properly! It's also easy to customize for a larger pouf.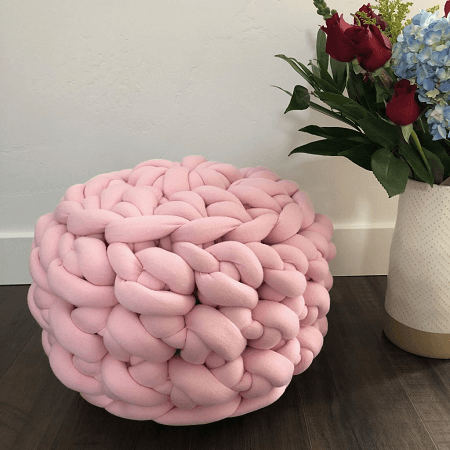 Get the Pattern here

19. Owl Pouf Crochet Pattern by Joni Memmott
Do you want to stay trendy? Poufs are the "in" thing. It's a fun way to add some spunky decor to your home. Make this Owl Pouf with a scarf in your favorite team colors or leave the scarf off all-together.

This owl pouf makes a great decoration for your living room or for your kid's room. Put your feet up on it or use it for extra seating. With these detailed instructions, even those with little crochet experience can find success creating their own masterpieces!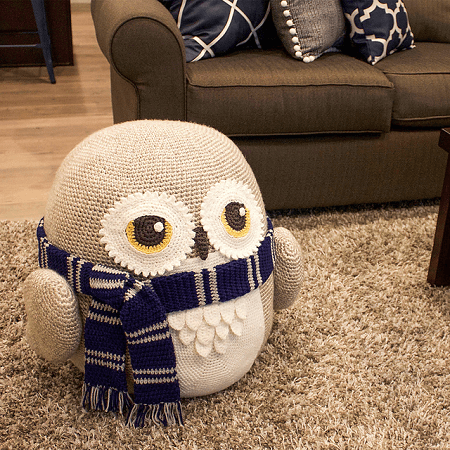 Get the Pattern by Joni Memmott here

20. Crochet Apple Foot Rest Pattern by Yarnspirations
You won't believe how easy it is to make this playful foot rest. With excellent stitch definition, use super bulky yarn in whatever bold shades you choose to complete this functional beauty. We love this as a fun gift for dad too!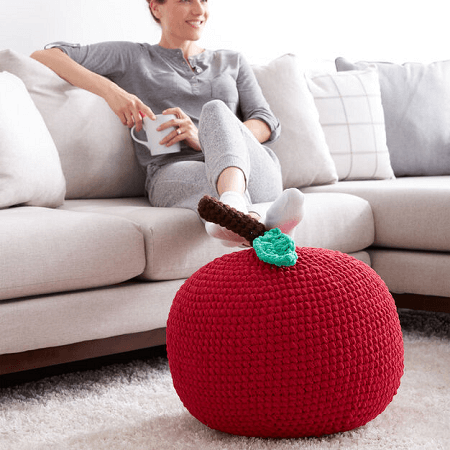 Get the Pattern here

21. Faux Furry Floor Pouffe Crochet Pattern by The Hook Nook Life
This is a beginner-friendly Faux Furry Floor Pouf project that you can get done in the same amount of time as it takes to pick out one online. Not even joking!

You get to use your 2.5mm crochet hook, the thickest, most scrumptious fluffy yarn, and get the near-instant satisfaction of completing a project in record time. Plus, you can make two, stack them up, and use it as a gorgeous foot ottoman1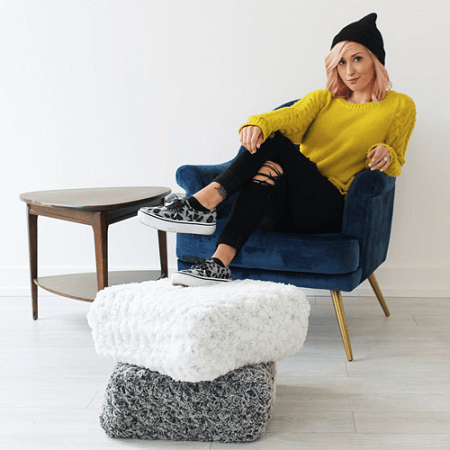 Get the Pattern here

22. Easy Adjustable Ottoman Crochet Pattern by Crochet Spot Patterns
This crochet pouf is easy to make! The pattern uses a big hook and thick, super bulky yarn. Crochet this pouf as one solid piece, or crochet it as a removable cover so that you can wash it easily when it gets dirty.

Want a bigger or smaller pouf? No problem, this pattern has instructions for adjusting the size to make the pouf as big or small as you desire. Make it as tall or wide as you like! The pattern will also instruct on different filling and stuffing options to use so that you can choose one that you prefer.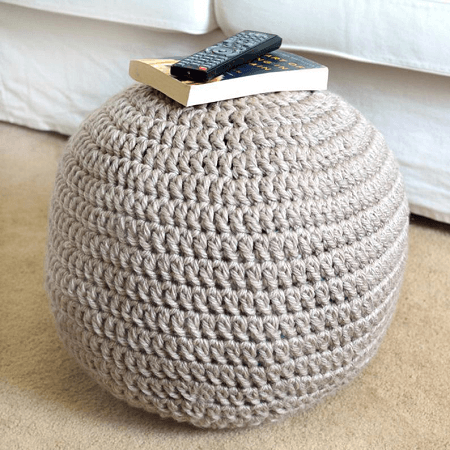 Get the Pattern by Crochet Spot Patterns here

23. Argyle Bean Bag Ottoman Crochet Pattern by Red Heart
The versatility of this crochet ottoman is appreciated whenever you need an extra seat or resting surface. Put your feet up as you stitch in your favorite shades to reveal a popular argyle design.

Make it as shown, or crochet it with lustrous colors that fit your décor. It perfectly enhances the function and beauty of any living area. Use an inexpensive bean bag chair to fill the form and complete your ottoman.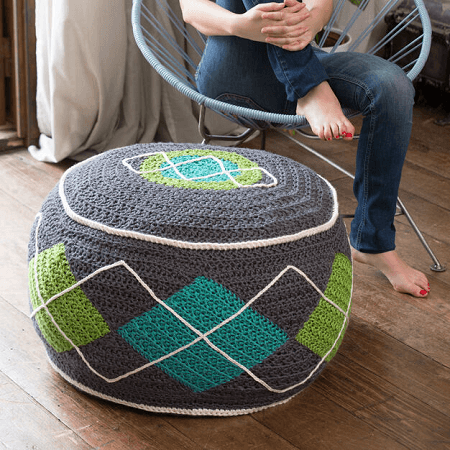 Get the Pattern here

24. Crochet Floor Pouf Pattern by MJs Off The Hook Designs
At the end of every long day, all I want to do is settle down with a good book in my favorite chair and kick my feet up. It's been a tradition for me but I've always had a problem with my footstool.
You see after a while the hard surface always gets uncomfortable for my feet and that's where the crochet floor pouf comes in.
A stunning design meant to give you maximum comfort for as long as you want it. The crochet floor pouf is just what the name says, it's a puffy round ball of crocheting magic that you place on the floor and get to put your feet on it. And, it is absolutely beautiful. I regret not having run into this pattern sooner.
So what do you require to make your own amazing crochet floor pouf?
Crochet Floor Pouf Materials
3 skeins Bernat Handicrafter Chunky total 645 yards,
1 large bag of polyester stuffing 64 oz
8mm crochet hook (L)
Tapestry Needle
Crochet Floor Pouf Is Easier Than It Looks
Due to its size, the crochet floor pouf pattern may seem complicated but it is actually a simple pattern. You also have a choice of how to get this pattern into your life.
There is a PDF with written instructions if you prefer reading and if you are more visually acute then there is a tutorial made just for you.
The instructions are given in great detail so you do not miss a step but again this is a simple pattern. There are no technical stitches involved in this crochet pattern.
Even if you are a beginner, you will definitely get the hang of it if you follow the directions given. The end result of your patience will be a beautifully made crochet floor pouf.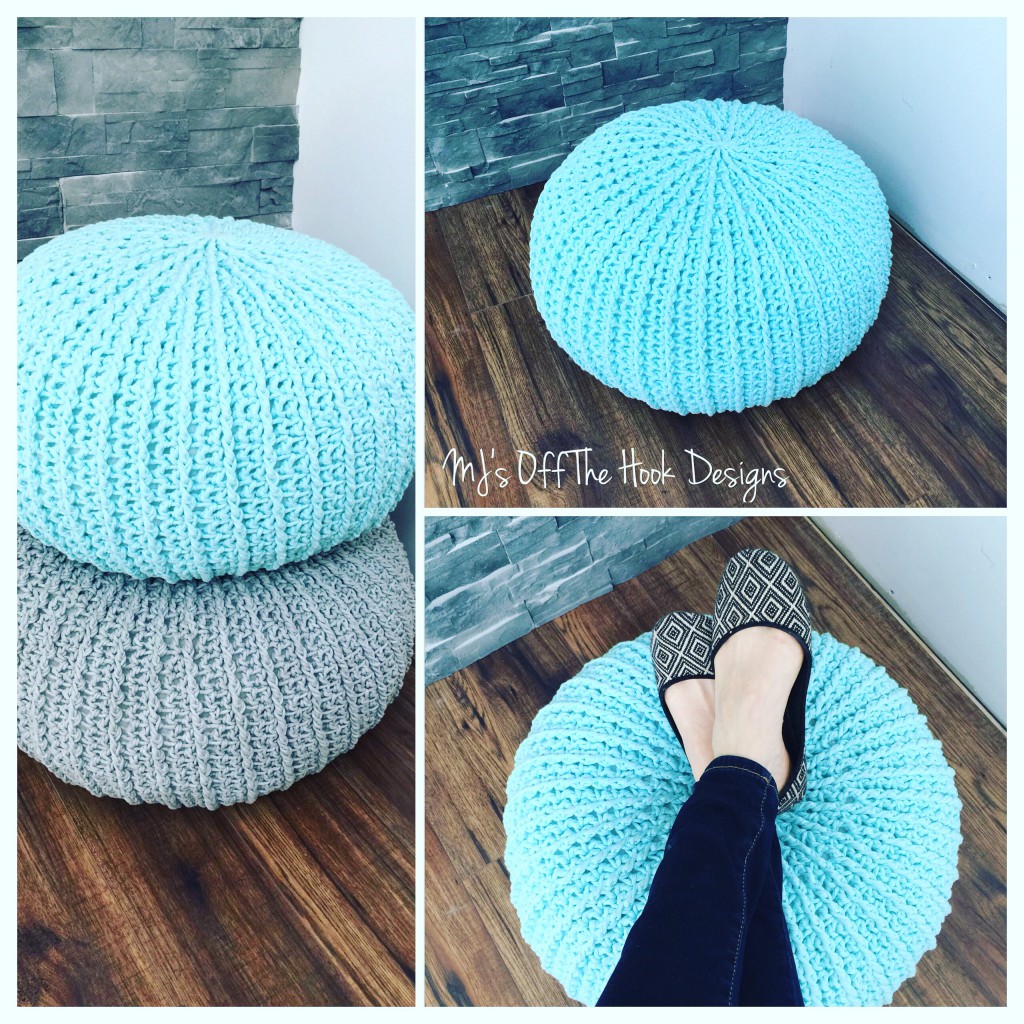 Any Color You Like
With the crochet floor pouf pattern, you can let your imagination roam wild. Do not limit your creativity because this pattern certainly gives a lot of room to add your own personal touch to it.
Due to the fact that the crochet pouf pattern uses a solid block color means that you can get to play around with the colors.
Choose any color yarn and get crocheting away or you could mix up the colors to come up with an even more interesting design. Add your touch by putting a little embroidery on the poufs.
You could even sign in your name just to personalize it further. Beadwork, rind stones and even ribbons, anything and nearly everything goes well with the crochet floor pouf pattern.
It Can Have Multiple Uses
Below is the one which I made for at my house and I sit on it to meditate. It also comes in handy for some yoga moves. I didn't use the stuffing, but I had an old pillow which I used instead.
With the pillow being a little bigger then expected it has stretched the stitches a little.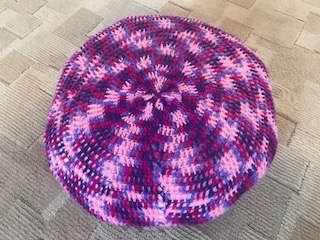 Now the primary use for the crochet floor pouf may be as a crochet foot rest but it can also serve a myriad of other purposes too. It can be used as a decorative piece.
You can place a few different colored poufs around the house and they will definitely change the ambiance.
You can use the crochet floor pouf as a small stand to place light objects on. Try using them as seats for your kids' room, if you expand the dimensions a bit they make quite comfortable seats.
There are plenty more uses of the crochet floor pouf but you can only discover them if you make one.
The crochet floor pouf pattern is definitely one that I would recommend a die-hard crocheter to have. With so many uses and its stunning design, the crochet pouf pattern is one addition to your house that you will absolutely love.
How to crochet a floor pouf video tutorial
Thanks to the guys at MJs for this wonderful pattern
With these crochet pouf patterns you can create a gorgeous crochet pouf in no time, then put your feet up and relax.
The best part is that you can use any color or style that you like in making your crochet pouf. You don't have to spend loads of money to buy a pouf because you can easily make one yourself! We're excited to see what you make, so please do share them on our Facebook Page!
Looking for more fun crochet patterns, listed some articles below:
Enhance the look and style of your space with a gorgeous crochet pouf patterns and you won't regret it!