Let's celebrate our love for bananas with these crochet banana patterns! From banana keychains to banana toys, and even banana-themed accessories that add a tropical twist to your everyday style – these crocheted fruits will look fresh and ripe all year long!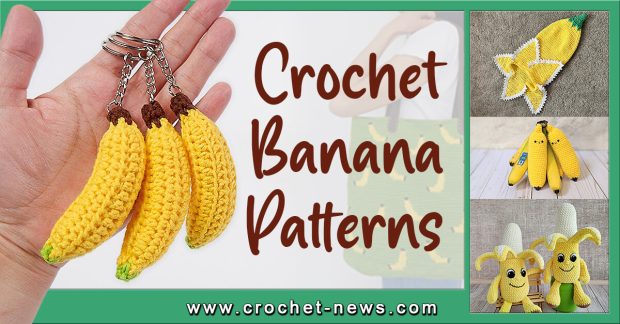 21 Crochet Banana Patterns
While real bananas are sweet and delicious, they may ripen and decay in just a few days. To satisfy your cravings, these crochet bananas are here to stay, looking fresh 365 days a year. With your favorite brightest yellow yarn, you can create a bunch of these crochet bananas that look so real, you might be tempted to take a bite!

1. Crochet Banana Pattern by Off The Beaten Hook
This pattern includes the method for crocheting the fruit in 2 different ways: unpeeled and peeled, which includes the banana and a removable peel. It will be a delightful addition to your child's eco-friendly toys.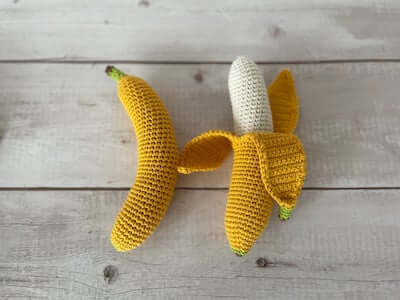 Get the Pattern by Off The Beaten Hook here

2. Giant Amigurumi Crochet Banana Pattern by Bear And Pumpkin Co
Create a larger-than-life banana amigurumi with this fun and oversized crochet pattern. This giant banana amigurumi will be a whimsical addition to your crochet fruit collection or a unique decoration piece for your home.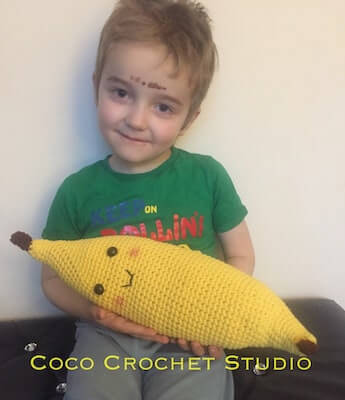 Get the Pattern by Bear And Pumpkin Co here

3. Crochet Banana Baby Cocoon Pattern by Ke Aloha Crochet
Make an adorable and cozy banana-themed baby cocoon with this delightful crochet pattern. Perfect for newborn photo shoots or keeping your little one snug and warm, this banana baby cocoon is as cute as it is functional.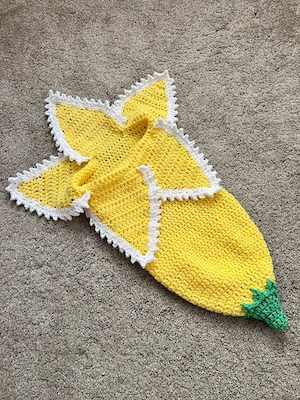 Get the Pattern by Ke Aloha Crochet here

4. Crochet Banana Peel Slippers Pattern by Pops De Milk
Step into kitsch and comfort with this Crochet Banana Peel Slippers Pattern. This delightful pattern allows you to create your very own pair of unique and cozy slippers, inspired by the playful shape of a banana peel.

Using worsted weight acrylic yarn, these slippers offer both comfort and durability, making them ideal for everyday wear. Not only are they a charming addition to your own footwear collection, but they also make for a fantastic handmade gift for friends and loved ones.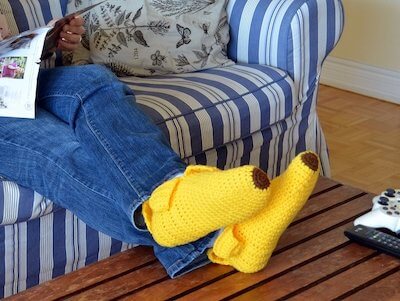 Get the Pattern here

5. Chalk Bag Free Crochet Banana Pattern by Hook Yarn Carabiner
Here's a fun and functional crochet banana chalk bag that's perfect for rock climbers or anyone in need of chalk during physical activities. It's made almost entirely using half double crochet stitches and worsted weight yarn, so you can whip up this in just an hour!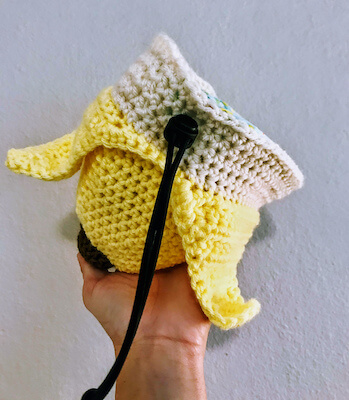 Get the Pattern here

6. Crochet Banana Baby Hat Pattern by HGS Designs
Isn't this little banana hat so precious? It is designed to resemble a banana, making it a charming and playful accessory for your little one – but feel free to change up the colors as you wish. With instructions for babies aged 0 to 12 months, it makes a great baby shower gift, too!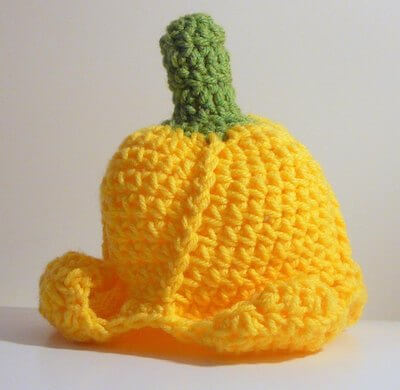 Get the Pattern by HGS Designs here

7. Banana Crochet Pattern by Little Conkers
Just the look of this crochet banana makes me crave for a real one! This crochet fruit is ideal for a variety of purposes, whether you want to yarn bomb, create playful children's toys, or make a striking centerpiece. The banana peel is worked end to end to give it a realistic look.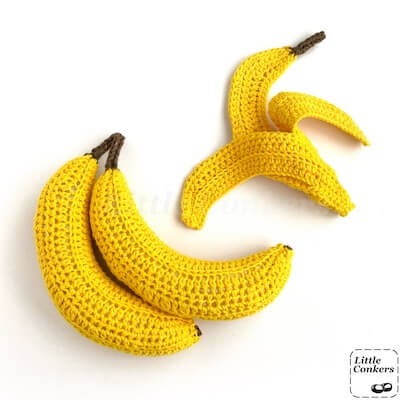 Get the Pattern by Little Conkers here

8. Crochet Amigurumi Banana Pattern by Vliegende Hollander
With this pattern, you can easily crochet an adorable banana plushie that is perfect for playtime, decoration, or gifting. You can also customize your creation by adding eyes, a mouth, or other embellishments to give your banana amigurumi its own unique personality.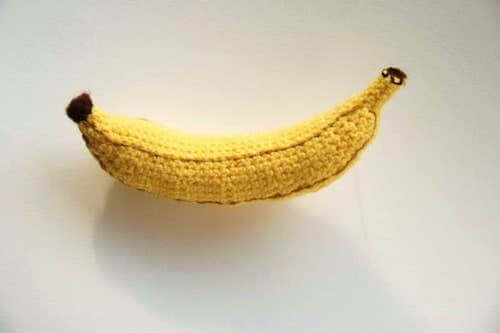 Get the Pattern by Vliegende Hollander here

9. Banana Kid Crochet Pattern by Crafty Is Cool Crochet
Here's a little kid wearing a banana costume, complete with tiny banana legs and a stem on top. The best part? It can even stand on its own! Customize it by changing the colors or attach an ornament hook or a ribbon to hang it up on your Christmas tree.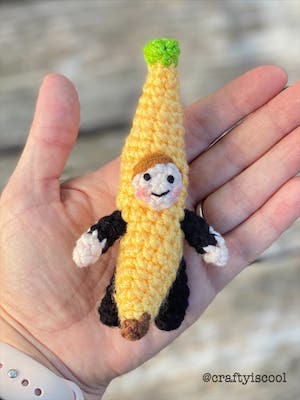 Get the Pattern by Crafty Is Cool Crochet here

10. Crochet Toy Banana Pattern by Drops Design
Easy enough for the beginning crocheter but with enough subtle details to maintain interest, you'll learn skills and tricks that make crocheting 3D objects a breeze. This banana will stitch up in less than an hour and is perfect for a play kitchen or a decorative fruity spread.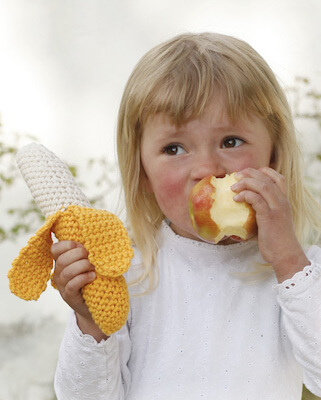 Get the Pattern here

11. Mini Crochet Banana Pattern by Trishagurumi
Do you love miniature crochet patterns? Here's a mini banana that is perfectly scaled-down and just measures less than 5 cm height.

You can get the banana even smaller (less than 2.5cm) by using crochet thread with a recommended hook size of 1.25-1.5 mm. It will be the perfect size for funny, unique crochet earrings.
For more unique earrings, try these Wire Crochet Earrings Patterns.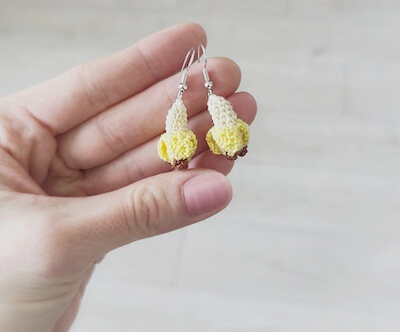 Get the Pattern here

12. Crochet Banana Applique Pattern by Crochet Bao
This little bunch of bananas work up in minutes and a great way to use up some scrap yarn. Once completed, these Crochet Banana Appliques can be used to spruce up various items. Attach them to blankets, bags, hats, or clothing – the possibilities are endless!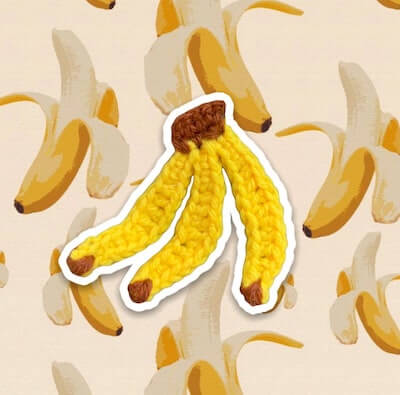 Get the Pattern by Crochet Bao here

13. Crochet Banana Play Food Pattern by Baby Cakes Studios
Now you can crochet a sweet kawaii banana for the play kitchen or as a decoration for the children's room. It's sure to be a hit with kids of all ages!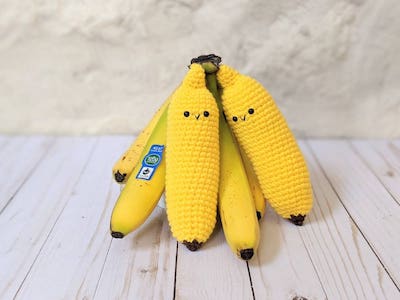 Get the Pattern by Baby Cakes Studios here

14. Banana Lip Balm Holder Crochet Pattern by One Paisley Pig
Get ready to add a touch of whimsy to your daily essentials with this delightful Crochet Banana Lip Balm Holder. This charming pattern combines both style and functionality, making it the perfect accessory for keeping your chapstick or lip balm within easy reach while on the go.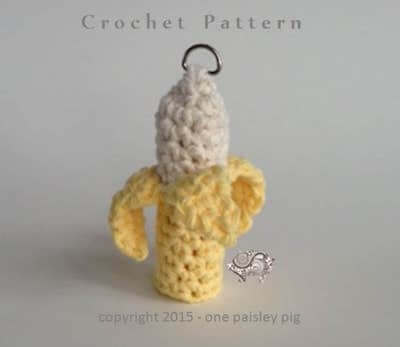 Get the Pattern by One Paisley Pig here

15. Crochet Banana Doll Pattern by Gennadi Shop
Here's a unique take on a classic banana amigurumi. Complete with arms, legs, and an expressive face, this banana doll is perfect for hugs and imaginative play.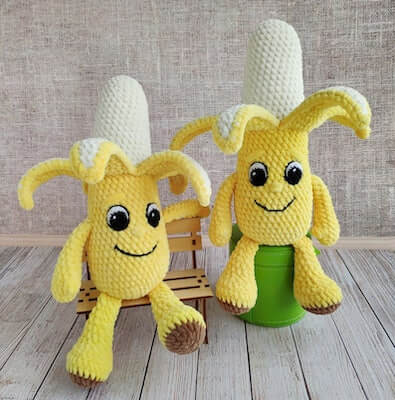 Get the Pattern by Gennadi Shop here

16. Crochet Banana Tote Bag Pattern by Chabe Patterns
Take your love for bananas wherever you go with this Crochet Banana Tote Bag. This roomy and functional tote is perfect for carrying all your beach day must-haves while celebrating the beauty of nature's bounty.

It's also an excellent project to practice your tapestry crochet skills, with multiple colors at a time. Opt for a classic banana yellow, or experiment with different shades to create your unique tropical tote!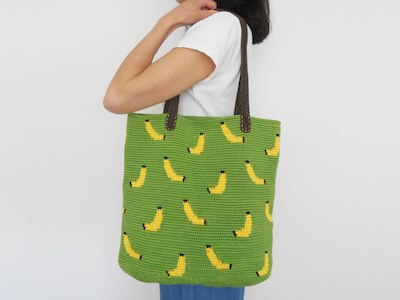 Get the Pattern here

17. Crochet Banana Scarf Pattern by Pops De Milk
Unleash your creativity with this Crochet Banana Scarf Pattern. This versatile pattern allows you to craft a trendy and fun accessory that adds a whimsical twist to your outfit. With clear instructions and simple stitches, this pattern is suitable for crocheters of all skill levels.

Whether you wear it as a fashionable statement or a unique conversation starter, this scarf will definitely turn heads.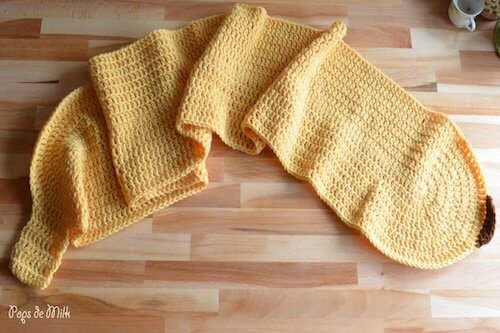 Get the Pattern here

18. Crochet Banana Bucket Hat Pattern by Crocheigh
Need a new hat for your bucket list? Throw a banana on your head with this Crochet Banana Bucket Hat! Perfect for a sunny day, this sun hat will give enough while showing off your love for bananas.

This pattern comes in a standard adult size but there are detailed instructions as to how to alter the pattern to your size.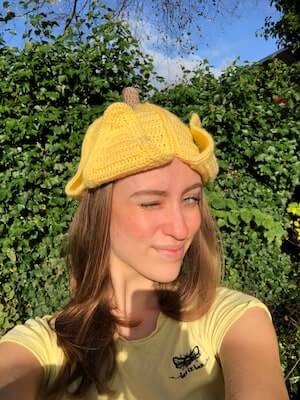 Get the Pattern by Crocheigh here

19. Banana Amigurumi Crochet Pattern by The Turtle Trunk
Measuring 6.5 inches tall, this banana crochet pattern is a quick, beginner friendly, and uses minimal supplies! Add a cute face for extra fun!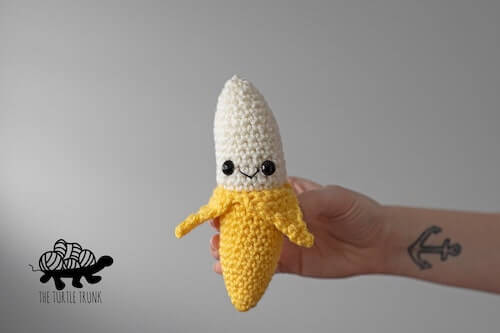 Get the Pattern by The Turtle Trunk here

20. Crochet Beaming Banana Pattern by Cilla Crochets
The peeled look and the realistic banana curve created by stitches alone (no pipe cleaners needed!) are my favorite features of this design. A fun, quick and easy banana crochet pattern that's fun for the kids and craft fair sales!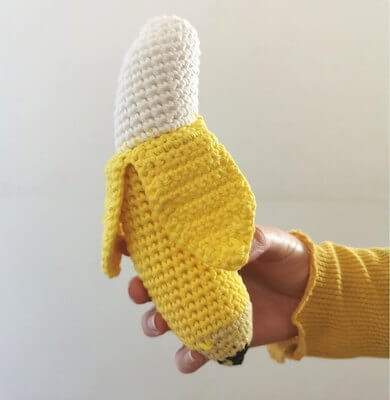 Get the Pattern by Cilla Crochets here

21. Crochet Mini Keychain Banana Pattern by Happy Berry Crochet
Crochet yourself this sweet Mini Crochet Banana Keychain! It would make the perfect little bag charm or accessory for a fun summer outfit.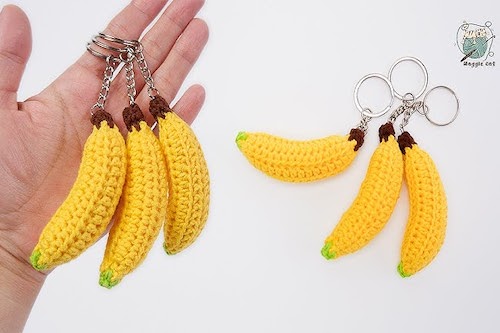 Get the Pattern here
WHICH CROCHET BANANA PATTERNS ARE YOU GOING TO MAKE?
I'd love to see your finished projects so, let your crocheted bananas take center stage on our Facebook Page!
The crochet fun doesn't stop here! Why not continue this healthy crochet adventure by whipping up an entire basket of fruits and vegetables? Whether it's pineapples, carrots, or pumpkins, there are countless possibilities to explore!
Whip up one or all of these crochet banana patterns and keep your banana fresh forever!