Snuggle up with a warm beverage and start crocheting pumpkins of all kinds this fall! From stuffed gourd to wooly wearables, these crochet pumpkin patterns have all you need for the season.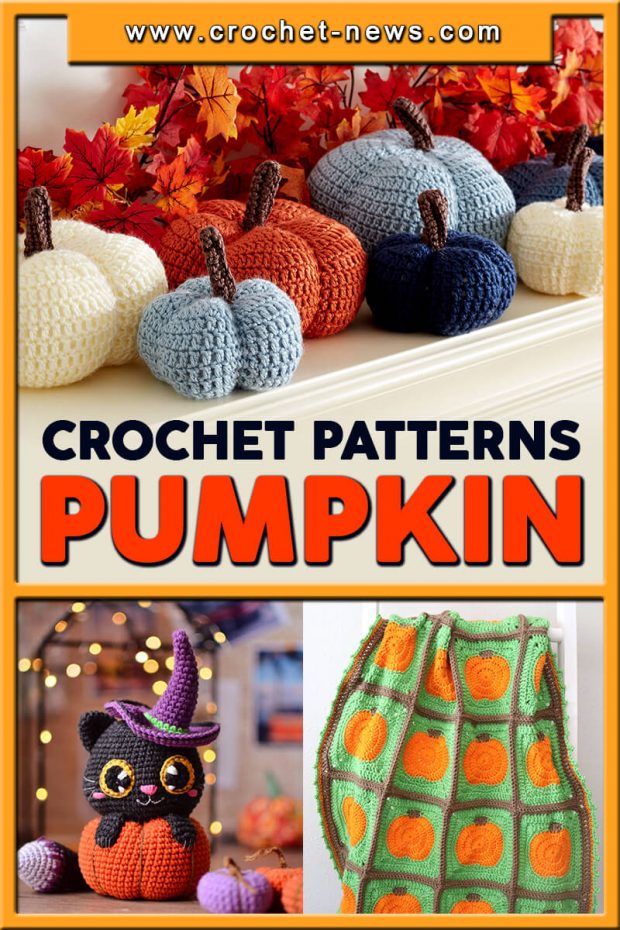 37 Pumpkin Crochet Patterns
Fall is the time for pumpkin spice and everything nice. Why not decorate your home with a few crocheted pumpkins? Best of all, you don't even need to rely solely on orange yarn, as these patterns have plenty of modern designs along with the classics. Grab your hooks and cast on some autumn fun!

1. Amigurumi Pumpkin Crochet Pattern by Yarnspirations
What's autumn without some pumpkins? These lovable tributes to the real thing perfectly adorn any harvest table. They're easy to make in your choice of seasonal colors. They're so perfect for the season, definitely make extras to showcase as playful accents on any autumn décor project.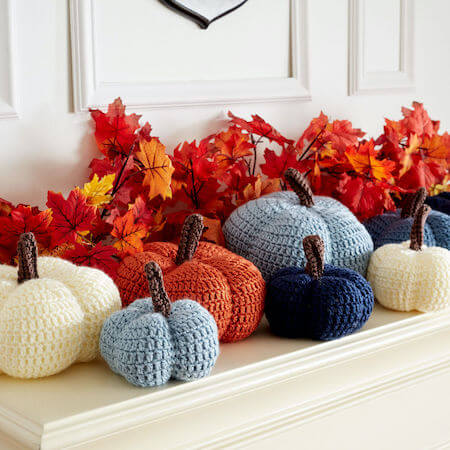 Get the Pattern here

2. Crochet Pumpkin Patch Blanket Pattern by Red Heart
This granny square blanket is the perfect addition to your home for fall! Crochet this Pumpkin Patch Blanket as shown or select your favorite colors to match your decor.
Make it spooky for Halloween or spice it up for Thanksgiving weekend. No matter the shades you choose, the whole family is sure to love this festive blanket during the fall season!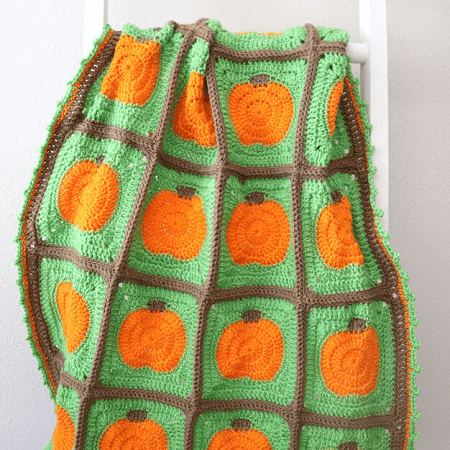 Get the Pattern here

3. Tartan Plaid Amigurumi Pumpkin Crochet Pattern by Whistle And Ivy
These Tartan Plaid Amigurumi Pumpkin add the perfect touch of rustic to your fall or thanksgiving home decor. The finished crochet plaid amigurumi pumpkins look intricate but the color work and texture are easier than you think!

These crochet pumpkins are perfect decor from the beginning of October for Halloween all the way to the end of November with Thanksgiving.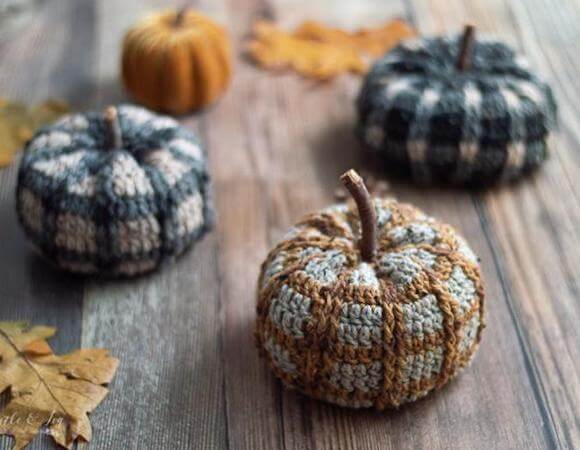 Get the Pattern by Whistle And Ivy here

4. Crochet Pumpkin Placemat Pattern by Highland Hickory Designs
Wouldn't your seasonal or holiday table look so cute with this Crochet Pumpkin Placemat at every place setting? It certainly would! This placemat is incredibly versatile this time of year. You can use it from the beginning of fall until the beginning of the Christmas season!

Constructed of basic granny squares, these mats work up quickly and easily. The solid granny squares also allow less crumbs to fall through onto your table or tablecloth.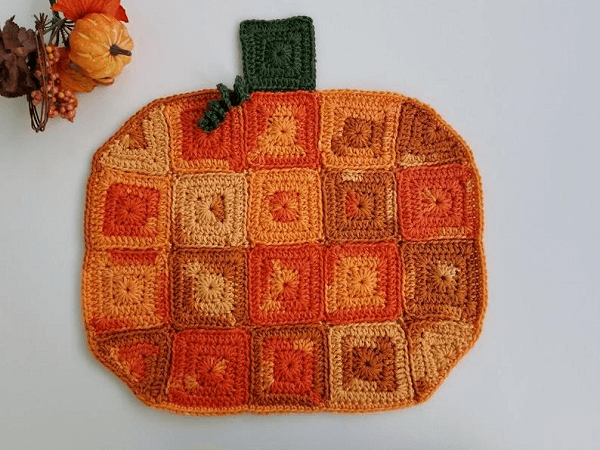 Get the Pattern by Highland Hickory Designs here

5. Free Crochet Pumpkin Pattern by Grace And Yarn
Make your own farmhouse amigurumi pumpkin perfect for home decor, gifting, or to share at your Fall craft fairs! The repetitive rows make for a great project to work on while you watch your favorite show (and add the perfect texture!).
Get the Pattern here

6. Snuggle Sack Crochet Pumpkin Pattern by DAC Crochet
Crochet this Pumpkin Baby Cocoon with a matching hat and use it as a cute Halloween costume, photo prop, or just a warm sack to tuck a baby into.

The ridged lines give it a distinct pumpkin look. Feel free to customize the cocoon by sewing or embroidering on your own jack-o-lantern face! You can even omit the pumpkin's stem to create a traditionally baby cocoon set.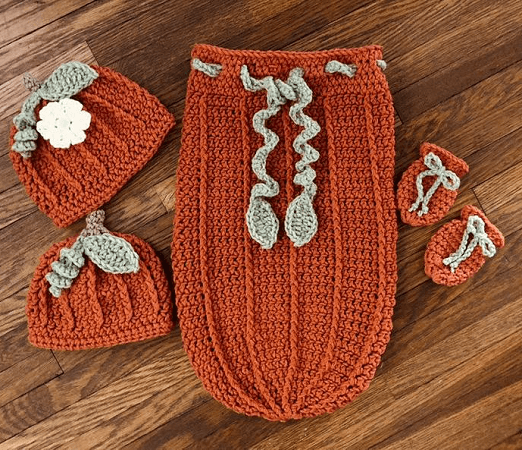 Get the Pattern by DAC Crochet here

7. Coasters Crochet Pumpkin Pattern by Traverse Bay Crochet
Decorate your home for Fall with these cute crochet pumpkin coasters that are so quick and easy to crochet. You can also create a fall decoration with a pumpkin garland – simply weave a string through the stems.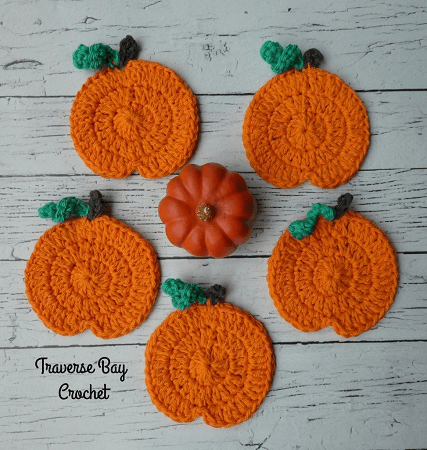 Get the Pattern here

8. Granny Square Pumpkin Crochet Pattern by Torreya Treasures
If you're looking for a multipurpose Halloween decoration idea, this Granny Square Pumpkin Crochet Pattern is just the thing.

With this pattern, you can make the most amazing pumpkin blanket or coasters. The crochet pumpkin pattern functions as a practical accessory as well as festive holiday decor. It can be used at Thanksgiving, too.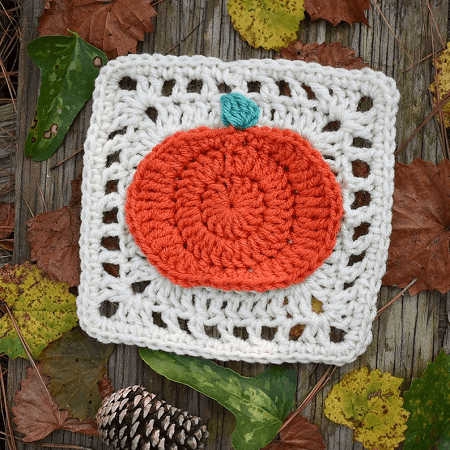 Get the Pattern by Torreya Treasures here

9. Crochet Cat In Pumpkin Pattern by Magic Filament
This adorable little cat in pumpkin is sure to be a family-favorite Halloween decoration! Combining two icons of Halloween – pumpkins and black cats – this amigurumi pumpkin crochet pattern is the perfect amigurumi project for fall. Finished item is approximately 10cm.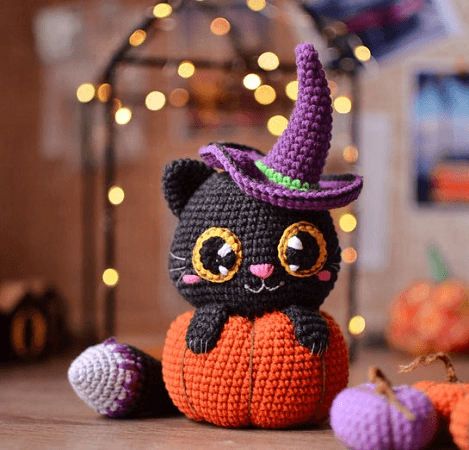 Get the Pattern by Magic Filament here

10. Rustic Garland Crochet Pumpkin Pattern by The Knotted Nest Shop
This Rustic Garland Crochet Pumpkin will have your home ready for fall in no time! Fast and easy to make, these 2D style pumpkins (two flat panels, stuffed and joined together) can be made into a garland, arranged in a fall basket, used as place setting decor, or anything else you can dream up!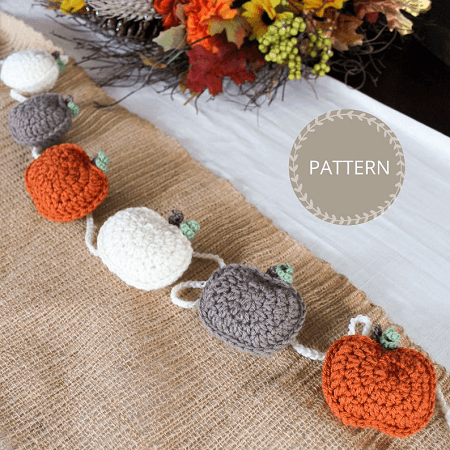 Get the Pattern by The Knotted Nest Shop here

11. Free Wavel Crochet Pumpkin Pattern by Meghan Makes Do
The crisp air in the morning means it's time for all things fall! Add a little rustic decor to your home with this Wavel Pumpkin. The repetitive stitches and simple construction make this the perfect project to relax with this season.
The mini waffle stitch used creates the most amazing texture and the repetitive stitches are great for getting lost in the process.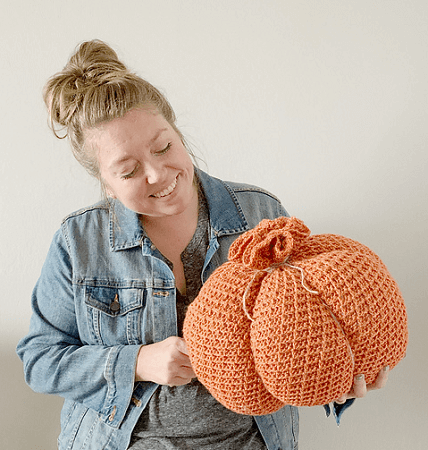 Get the Pattern here

12. Baby Rattle Pumpkin Crochet Pattern by A Crafty Concept
This Baby Rattle Pumpkin is the perfect fall-themed baby gift! A crochet rattle, with autumn colors and amazing texture. They may be too small to pick out a pumpkin at the pumpkin patch but the babies will love shaking their own special pumpkin! This is a great quick project for all the babies in your life!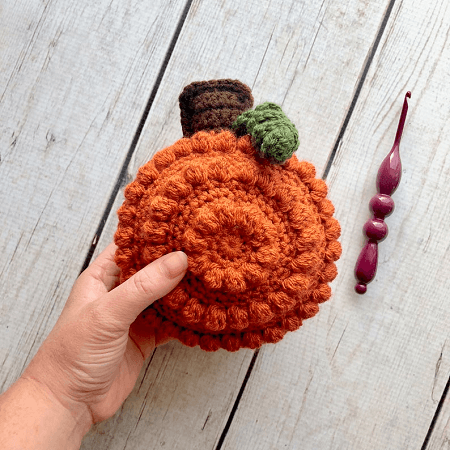 Get the Pattern by A Crafty Concept here

13. Pumpkin Jar Cozy Crochet Pattern by Briana Olsen
This cozy turns a pint size canning jar into a cute Fall table decoration. It also makes a great gift and is adorable filled with candies or mixes. This cozy works up very quickly and makes a fun project with endless possibilities!

Check these 10 crochet jar cover patterns for more ideas!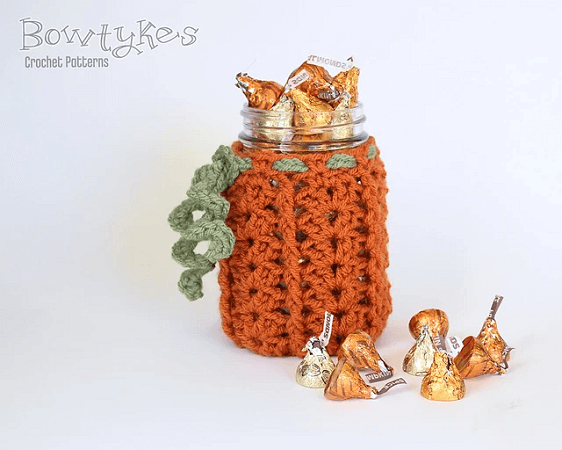 Get the Pattern here

14. Three Little Amigurumi Pumpkin Crochet Pattern by Red Heart
These pumpkins are perfect for little hands to hold or toss around, without smashing pumpkins! Crochet all your pumpkins with the same color or various colors as shown for a haunting Halloween accessory.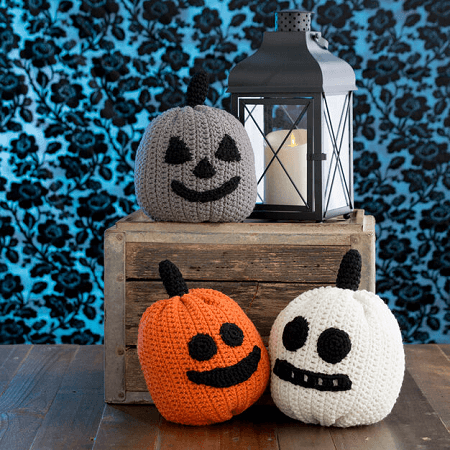 Get the Pattern here

15. Crochet Pumpkin Hat Pattern by Han Jan Crochet
Who doesn't need a Pumpkin Hat complete with stalk and leaf? It's an absolute must-have to anyone. Easy to make, the perfect gift, and a great little project for post stitch practice.

This cute little number comes in four sizes from baby to adult and is super simple to add rounds too so that it's the perfect fit. It's made from the top-down and uses front post stitches to add texture.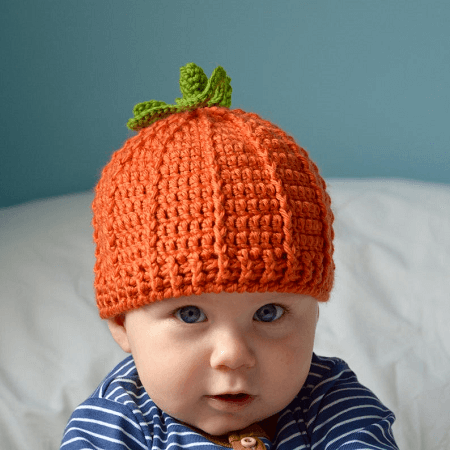 Get the Pattern by Han Jan Crochet here

16. Mini Crochet Pumpkin Pie Pattern by Lulu's Little Shop
Are you a fan of pumpkin pie? Without a doubt, it's such a delicious dessert. Create your own Mini Pumpkin Pie with a whipped cream that looks like a tiny white flower on top. A tasty team come true, right? Decorate your Thanksgiving table with this pie or use it as a play food for the kids!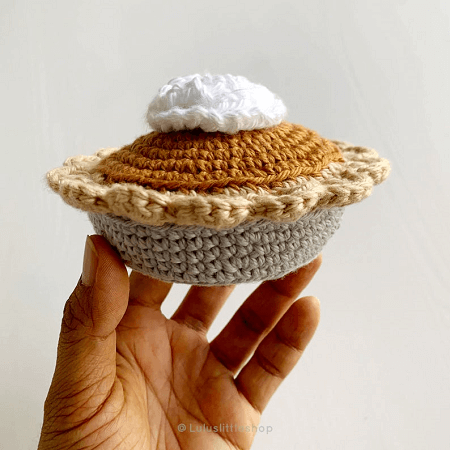 Get the Pattern by Lulu's Little Shop here

17. Amigurumi Pumpkin Crochet Pattern by Petals To Picots
This sweet little crochet pumpkin pattern is perfect for kicking off the Autumn season. And of course no Fall scene would be complete without small adorable crochet pumpkins scattered around. It's a super simple pattern with only single crochet stitches and some basic increases and decreases for shaping.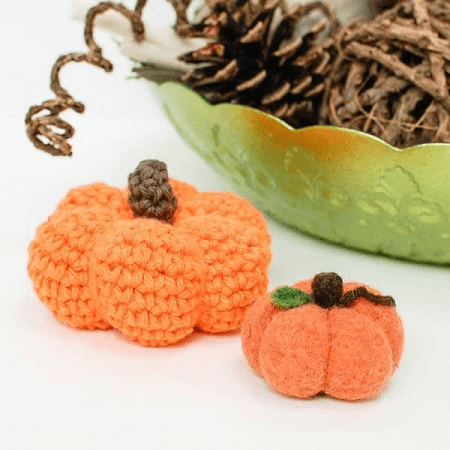 Get the Pattern here

18. Basket Crochet Pumpkin Pattern by Desert Blossom Crafts
Decorate for Fall with your very own set of Pumpkin Baskets! These baskets are simple to make—made entirely of single crochet—yet the intricate look of Tapestry crochet will impress anyone who sees them!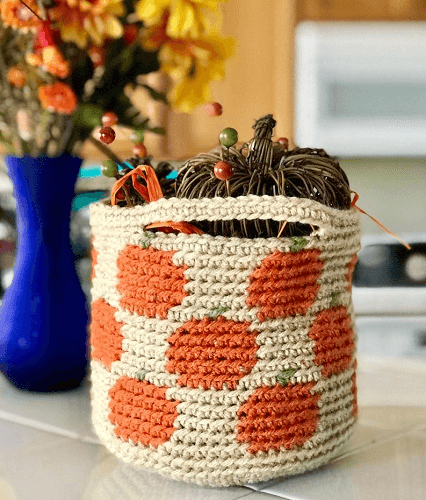 Get the Pattern by Desert Blossom Crafts here

19. Spicy Free Crochet Pumpkin Pattern by Red Heart
There are so many ways to enjoy these crochet pumpkins, from displaying them on the mantel, to enhancing a Thanksgiving centerpiece, to enriching a harvest display on the porch. These creatively designed, ripple-stitch pumpkins come to life in shades you like. They're quick to crochet so have fun decorating your home throughout the fall season.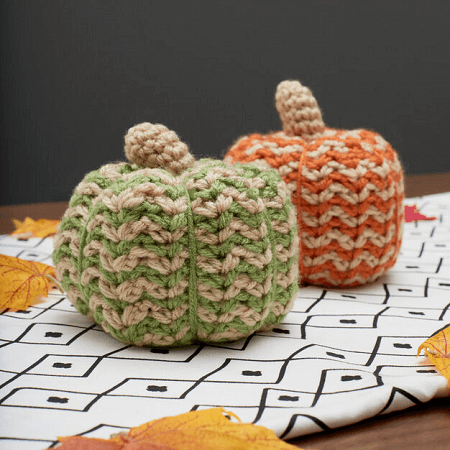 Get the Pattern here

20. Pumpkin Patch Poncho Crochet Pattern by Crafty Kitty Crochet
It's Pumpkin Everything season, and in case you don't have enough Pumpkin Spice in your life, here is an accessory that is sure to hit the spot when it comes to your pumpkin cravings!

The poncho is made to look like a pumpkin fresh out of the patch, complete with "ridges" throughout the body of the poncho. The top part of the poncho, the cowl-like portion that sits on the neck, is made to look like a weathered, rustic stem.

To top it all off, the crochet pumpkin pattern free features instructions on how to make curly green "vines", which really accentuates the authentic pumpkin look!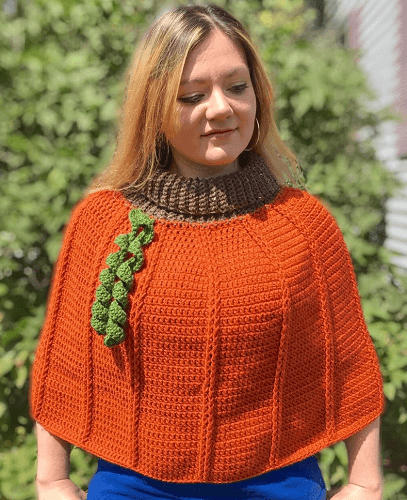 Get the Pattern by Crafty Kitty Crochet here

21. Mudcloth Crochet Pumpkin Pattern by Megmade With Love
This is a crochet pattern for the Mudcloth Crochet Pumpkin, made with super bulky yarn so it works up super quick. It's simple and elegant – and will make a great addition to your pumpkin collection for fall.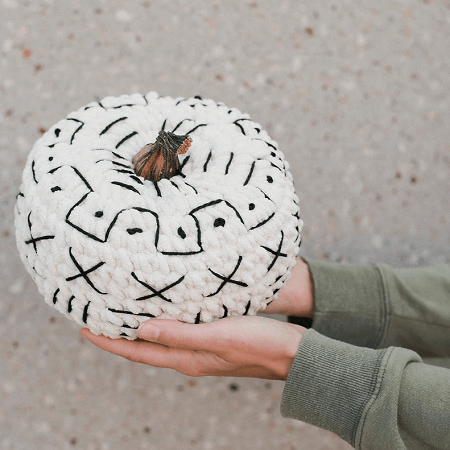 Get the Pattern by Megmade With Love here

22. Tunisian Pumpkin Crochet Pattern by One Dog Woof
This Tunisian Pumpkin Crochet Pattern is full of texture and personality, is easy to make, and looks knit enough for crocheters who are looking for that knit ribbed look. The best part is, both sides of the Tunisian Crochet fabric is so unique, you can make 2 very different looking pumpkins from a single pattern.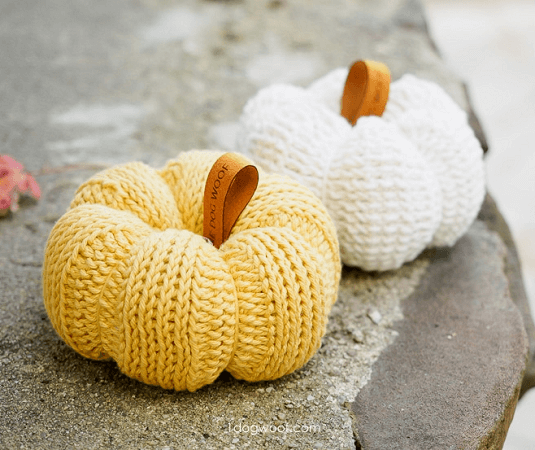 Get the Pattern here

23. Luxe Leopard Pumpkin Crochet Pattern by Crafting 4 Weeks
These Luxe Leopard Pumpkins are ferociously fun crochet pumpkins. These tapestry pumpkins come in three different sizes and can be done in two or three colors. Choose between the knit-look waistcoat stitch or use regular single crochet. These beauties look complex but are simple to make and will be beautiful fall decor for years to come.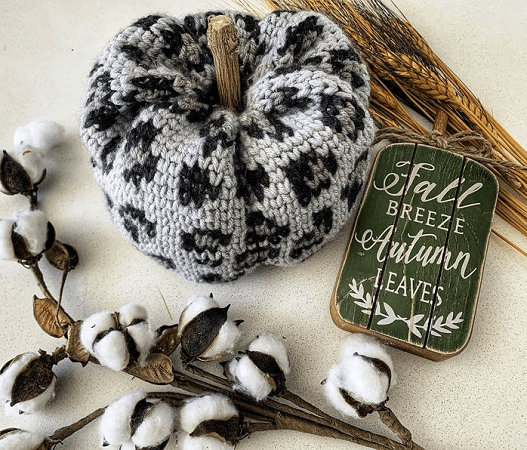 Get the Pattern by Crafting 4 Weeks here

24. Crochet Succulent Pumpkin Cozy Pattern by MJs Off The Hook Designs
This tutorial not only teaches you how to crochet the succulent pumpkin cozy but also how to make pot the succulents. This would complement your farmhouse decor and make a stunning Fall centerpiece.

If you can crochet, then you'll find the succulent pumpkin cozy quick and easy Fall decor to make. You'll need to know how to double crochet, front post double crochet, and work in the round.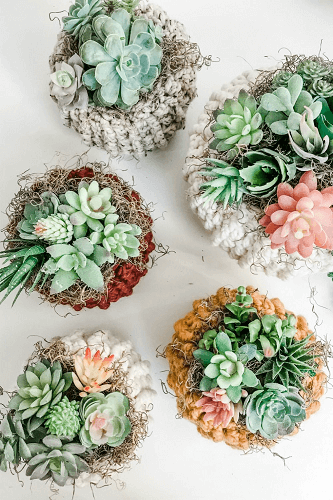 Get the Pattern here

25. BOO Pumpkin Crochet Pattern by Who's Homemade
These BOO Amigurumi Pumpkins consist of 3 pumpkins that spell out the word BOO! These would look amazing sitting on the mantel or even outside on the porch! Add some fake cobwebs and spiders around them to really make them spooky! These are so fun and can be made with any color combinations.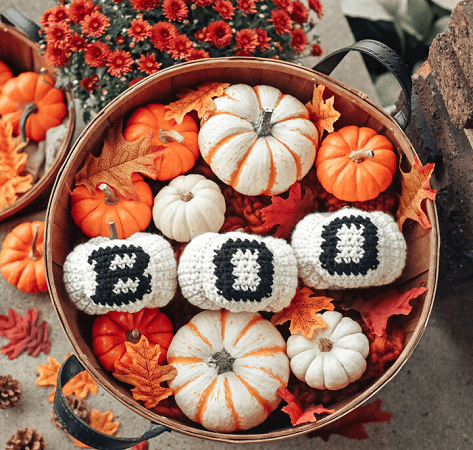 Get the Pattern here

26. Cat Hat Pumpkin Crochet Pattern by Pawsome Crochet
This fun Cat Hat Pumpkin Crochet Pattern would be perfect for your fall festivities. This crochet cat hat pattern works up quickly and is an excellent stash buster. And of course the finished hat makes an adorable photo prop (or gift!) for Halloween or Thanksgiving.
Check out these crochet cat hat patterns for more!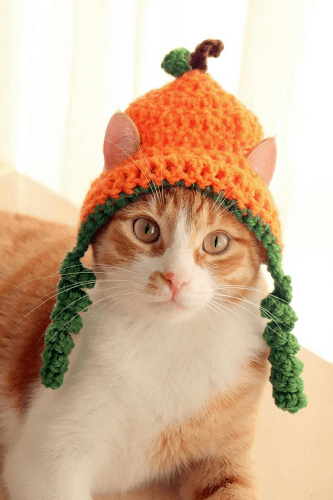 Get the Pattern by Pawsome Crochet here

27. Crochet Pumpkin Keychain Pattern by Toy Story Patterns AU
Since this little cute crochet pumpkin keychain is so quick and easy to make, you could easily make a few as Halloween party favors for a Halloween or dinner party, or add them to a Halloween treat bag for any special kiddos in your life. This crochet pattern is suitable for beginners and a great scrap buster project.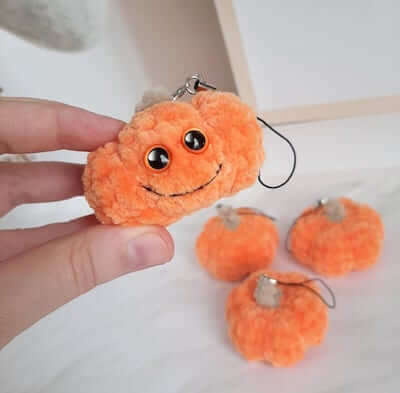 Get the Pattern by Toy Story Patterns AU here

28. Newsboy Pumpkin Crochet Hat Pattern by Red Heart
Here's a Newsboy Pumpkin Hat that's a perfect project to stand out during Halloween or Thanksgiving. You'll crochet in the round, starting from the top and using various stitches like half double crochet, double crochet front and back post, and single crochet to create a textured fabric.

The hat's brim is folded at the back to form a peak, making it a stylish addition to your colorful fall wardrobe!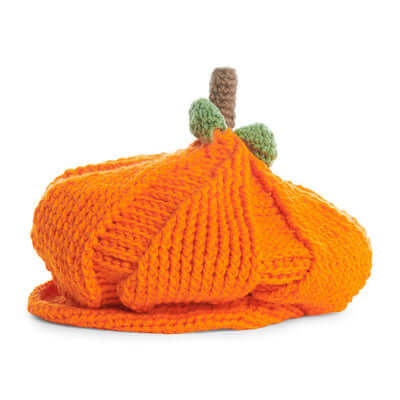 Get the Pattern here

29. Crochet Boho Pumpkin Pattern by Days Crochet NC
Make this crocheted pumpkin for a beautiful boho fall home decor project! If you love good textures, this pattern uses a beautiful diamond shape stitch that adds an interest to what might otherwise be a plain design.

Incorporate tassels, and you'll create an elegant table decoration for the fall season!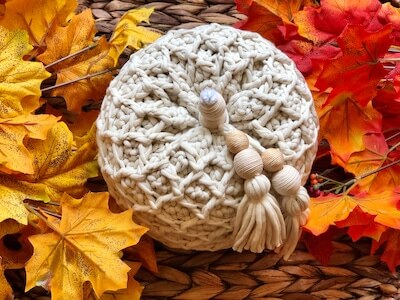 Get the Pattern by Days Crochet NC here

30. Crochet Chunky Pumpkin Pattern by Tarama Kelly
If you're a fan of fall decor, you won't want to miss this Crochet Chunky Pumpkin. It's crocheted in the round from the base up using basic stitches such as chains, single crochets, and double crochets.

The pumpkin's plush and chunky texture is provided by the super-bulky yarn, and there's no need for stuffing. Create a pumpkin like the one shown or make an entire collection using any colors you imagine.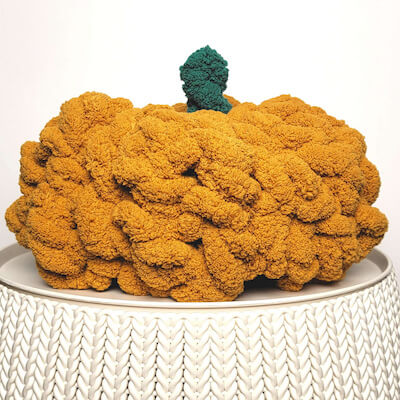 Get the Pattern here

31. Tunisian Crochet Pumpkin Pillow Cover Pattern by Half Double Patterns
Autumn is a charming time of the year. Freshen up your home with this colorful Tunisian Crochet Pumpkin Pillow Cover. It's an ideal project for bringing a cozy autumn feel to your home or subtly infusing a hint of Halloween vibes, no matter the season.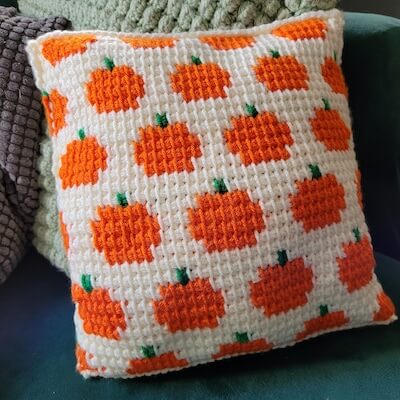 Get the Pattern by Half Double Patterns here

32. Crochet Pumpkin Centerpiece Pattern by Winding Road Crochet
Here's another way to make your fall decor interesting. These cute stacked pumpkins are the perfect table centerpiece, or make two for the ends of your mantle. The pumpkins are made from basic rectangles that are gathered and sewn to form the pumpkin shape.

You can customize this centerpiece by using different floral picks. Sunflowers would be pretty. You can also adjist the size by only using two pumpkins or using the medium and small pumpkin then adding a mini pumpkin or even some gourds.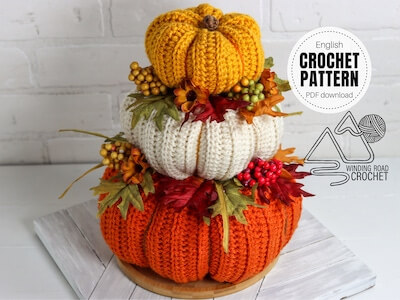 Get the Pattern by Winding Road Crochet here

33. Crochet Pumpkin Gnomes Pattern by Mufficorn
Get ready to add an adorable crochet pumpkin gnome to this year's fall decorations. I can bet that they will look gorgeous with all your crochet pumpkins as a centerpiece on your table or your bookshelves!
One of these gnomes can be used as an adorable candy bowl to hold your favorite sweets! Using this pattern you'll be able to crochet pumpkins and small candies, as well.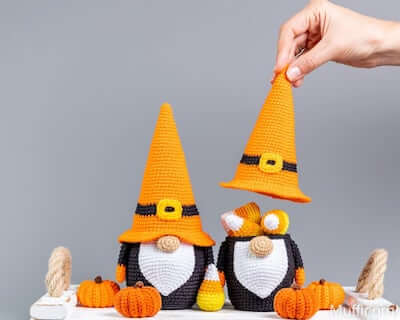 Get the Pattern by Mufficorn here

34. Tunisian Crochet Honeycomb Pumpkin Pattern by The Purple Poncho
There are so many pumpkin designs floating around out there, so I love a unique eye-catching pumpkin pattern. This Tunisian Honeycomb Pumpkin is certainly an original design! I love the texture created by the honeycomb pattern and how different colors of yarn can be combined for differing effects!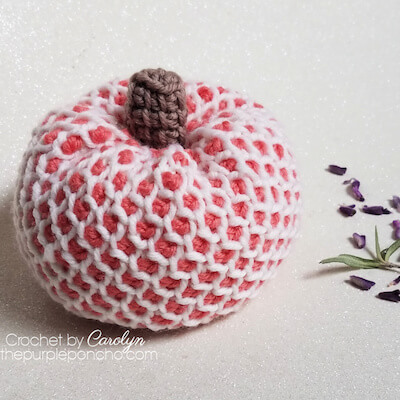 Get the Pattern here

35. Crochet Argyle Pumpkin Pattern by Yarnspirations
With its charming argyle design, this crochet pumpkin is a delightful addition to any fall decor. The pattern is worked in the round and incorporates linked double crochet, chain stitch embroidery, and appliqué techniques.

Measuring around 4″ x 7¾", display it on a table or shelf, or incorporate it into your autumn-themed decorations for even more whimsy.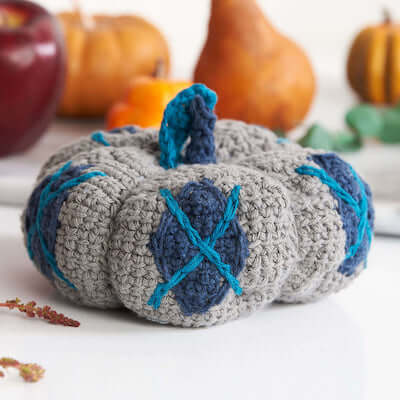 Get the Pattern here

36. Lighted Jack O' Lantern Pumpkin Crochet Pattern by Krochet Keepers
This spooky Lighted Jack O' Lantern Pumpkin is a fun crochet project, and much less messy than the real thing!
With basic stitches that even a beginner can handle, you can create these delightful pumpkins for year-round decor (minus the face), or alternatively, you can include the Jack O' Lantern face to bring a little hocus-pocus to your Halloween decor.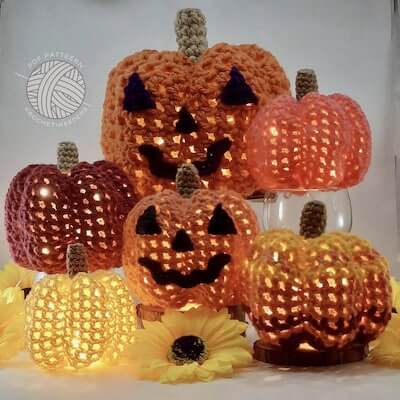 Get the Pattern by Krochet Keepers here

37. Crochet Pumpkin Wall Hanging Pattern by Little Light Design Com
This Crochet Pumpkin Wall Hanging would make the perfect gift for the pumpkin lover in your life who loves modern and trendy wall decor. A subtle and classic way to add some fall decor to your house!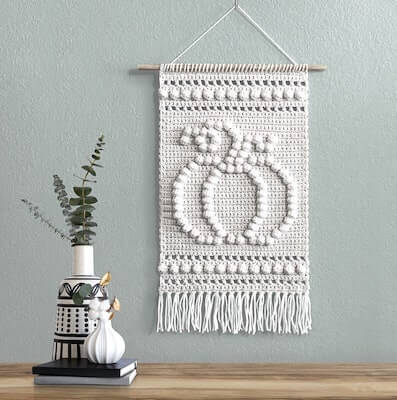 Get the Pattern by Little Light Design Com here
Who is in urgent need of crochet pumpkin patterns? We all are!
Instead of store-bought Fall decor, wouldn't you much rather display your own handiwork? Make some of these crochet pumpkin patterns then try your hand at some knitted pumpkin patterns. You may also want to check our collection of Crochet Decor Patterns for some potential weekend projects.

We hope you can start working on some crochet decor projects like these crochet pumpkin patterns of your own! Happy crocheting!