1. Crochet Jar Covers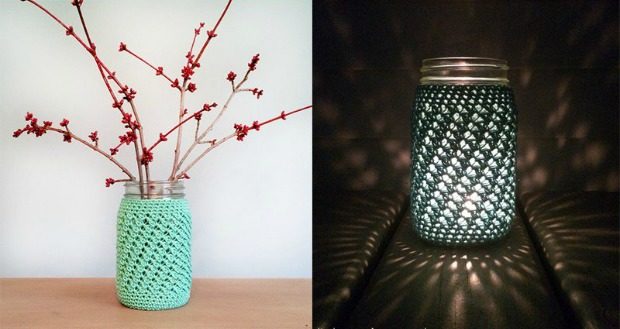 These crochet jar covers are a wonderful way to bring a home made and cozy touch to your home decor in the most simplistic way. You can crochet these jar covers in various textures and colors to suit your own taste. Whatever color you decide on, we're sure that these jar covers will not disappoint! Simply slip a cover over a clear mason jar, light a tea candle inside it and enjoy the warm comfort that it brings to your home.
We recommend grouping three of these jars together to create a beautiful theme. Either use three different colors which compliment each other, or three different shades of the same color.
You can find the link to the free pattern by clicking the link below.
Happy crocheting!
If you love this idea, check more crochet home decor ideas by clicking here.
2. Foxy Crochet Mason Jar Cozy
Brighten up your mornings with this fox-themed crochet mason jar cozy!
Start your day right and turn your gloomy mornings to a sun-filled one by having your morning drinks with this fox mason jar cozy. Its color alone can definitely brighten up your day!
This mason jar cozy will come in handy whether you prefer a hot coffee for your breakfast or enjoy an iced coffee latte.
It's the perfect way to protect your hands from the heat of your coffee or from the numbing coldness of your latte.
If you want to know how to make this fun foxy crochet mason jar cozy, continue reading this article!
Bright and Fun Patterns From PopsDeMilk
If you love the bright and colorful style of this crochet mason jar cozy, you should definitely checkout PopsDeMilk's other patterns!
They also have other animal designs, and even designs for other occasions like Christmas and Halloween. Kids, and adults alike, will love the Santa Claus and Frankenstein cozy!
Aside from mason jar cozy patterns, they also have patterns for various amigurumi. Have you seen their amigurumi animals and popular characters?
If you're looking for irresistible, fun, and colorful patterns, PopsDeMilk got you covered.
Bulky and Cozy Bernat Blanket Yarn for the Crochet Mason Jar Cozy
We have to admit, using the orange color for the yarn made this mason jar cozy more striking. Good thing Bernat Blanket Yarn in Pumpkin Spice has the perfect shade of orange to make this cute fox mason jar sleeve.
The super bulky and super cozy chenille-style yarn is perfect for absorbing the hotness or coldness of your beverage. Aside from using it in home decors, it can also be used in blankets and afghans.
If you're planning to make other patterns, this yarn is also available in a wide array of colors.
More About the Fox-themed Crochet Mason Jar Cozy
We already know the huge effect of the bright orange yarn to this fun crochet mason jar cozy, so let's have a closer look at its pattern.
When we first saw this crochet mason jar cozy, we instantly knew it's a fox because of those little ears. Aside from its color, the pointy little ears made it so recognizable.
Do you see how even the smallest detail can make a huge impact on a pattern? We love how they added the slanted white felt and the safety eyes to represent the eyes of a fox.
However, if you do not have safety eyes, feel free to use regular buttons or embroider the eyes as a substitute.
Aside from the eyes, they also included an adorable tail with a white tip. Its tiny size gives this already adorable mason jar cozy an added charm.
Skill Level
Beginner
Materials Needed
Worsted weight yarn – Bernat Blanket Yarn in Pumpkin Spice, Scrap White Yarn for the Tail
7mm safety eyes
Scrap piece of felt in cream or white and black.
Embroidery thread and needle
Stitches Used
Chain Stitch – Chain Stitch beginner's Guide
Single crochet Stitch – Single Crochet Stitch Written and Video Tutorial
Double Crochet Stitch – DoubleCrochet Stitch Written and Video Tutorial
Triple Crochet Stitch
Working in back loop only
Decrease
Brighter Mornings With the Crochet Mason Jar cozy
We hope your days have been extra bright and cheerful after using this crochet mason jar cozy! This cute foxy crochet can surely turn even the gloomiest mornings into a sunny one.
Let the community know how this mason jar cozy was able to brighten your mornings! Post a picture of how your breakfast meals look like with this cozy on our Facebook Page.
Looking for other fox-themed crochet creations for yourself or even your kids? Check out our list of Crochet Fox Patterns to add to your collection!
We hope you enjoyed making this crochet mason jar cozy, what projects are you planning to work on next?