Who knew such a little jar could make such a huge impact? Give those jars a different look without breaking the bank thanks to these crochet jar cover patterns. You'll never look at these little guys the same again – and that's a promise.
These crochet jar covers are a wonderful way to bring a homemade and cozy touch to your home decor in the most simplistic way. You can crochet these jar covers in various textures and colors to suit your own taste.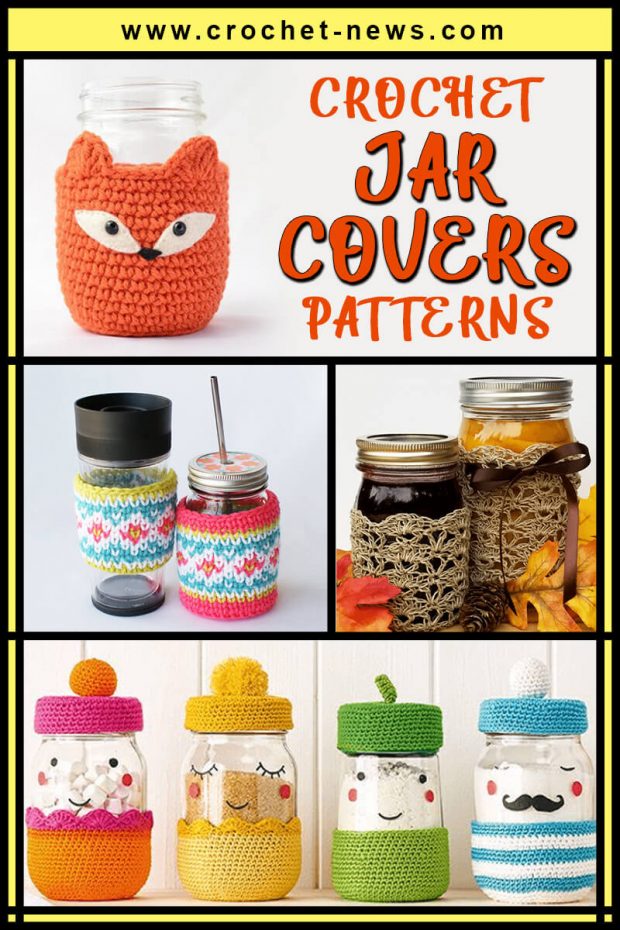 1. Crochet Jar Covers
Whatever color you decide, we're sure that these jar covers will not disappoint! Simply slip a cover over a clear mason jar, light a tea candle inside it and enjoy the warm comfort that it brings to your home.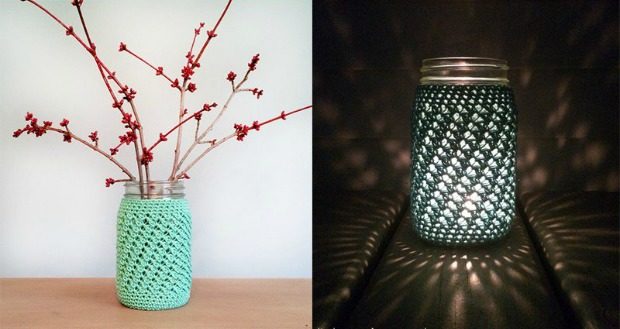 We recommend grouping three of these jars together to create a beautiful theme. Either use three different colors which compliment each other, or three different shades of the same color.
You can find the link to the free pattern by clicking the link below.
Happy crocheting!
If you love this idea, check more crochet home decor ideas by clicking here.
2. Crochet Jar Cozy Pattern by The Little Bee NZ
These Crochet Jar Cozies are a quick, satisfying project – great for around the house & just perfect for gifts! Use them as a jar cozy for candles or a vase, or use the basket alone for storing all sorts of small things.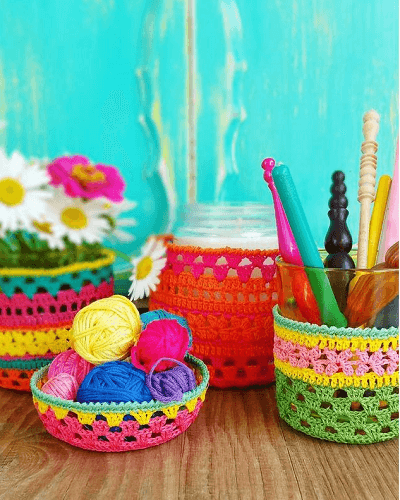 Get the Pattern by The Little Bee NZ here
3. Crochet Pineapple Jar Cozy Pattern by Yarnutopia
This is a really fun cozy that can be used as summer bbq decor, for pineapple themed birthday parties or for just dressing up the mason jars in your kitchen!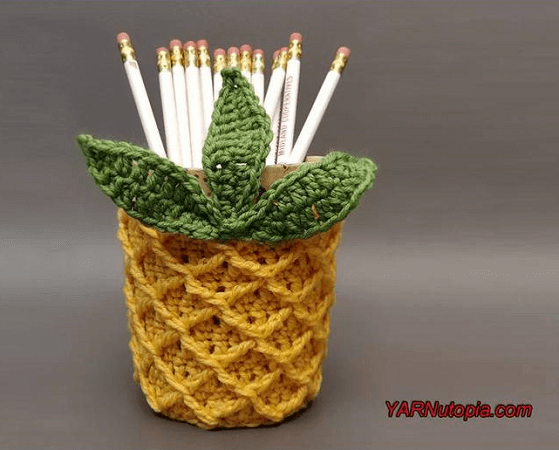 Get the Pattern by Yarnutopia here
4. Foxy Crochet Mason Jar Cozy
Brighten up your mornings with this fox-themed crochet mason jar cozy!
Start your day right and turn your gloomy mornings to a sun-filled one by having your morning drinks with this fox mason jar cozy. Its color alone can definitely brighten up your day!
This mason jar cozy will come in handy whether you prefer a hot coffee for your breakfast or enjoy an iced coffee latte.
It's the perfect way to protect your hands from the heat of your coffee or from the numbing coldness of your latte.
If you want to know how to make this fun foxy crochet mason jar cozy, continue reading this article!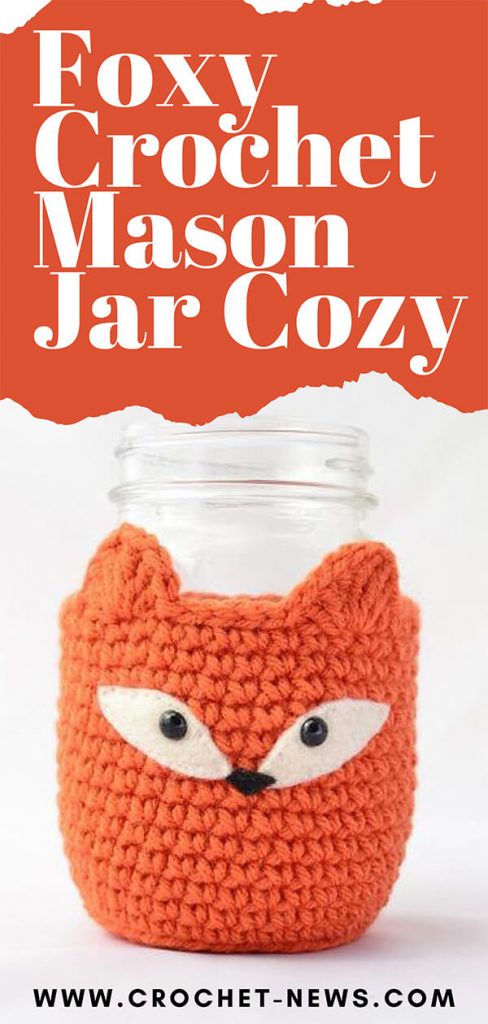 Bright and Fun Patterns From PopsDeMilk
If you love the bright and colorful style of this crochet mason jar cozy, you should definitely checkout PopsDeMilk's other patterns!
They also have other animal designs, and even designs for other occasions like Christmas and Halloween. Kids, and adults alike, will love the Santa Claus and Frankenstein cozy!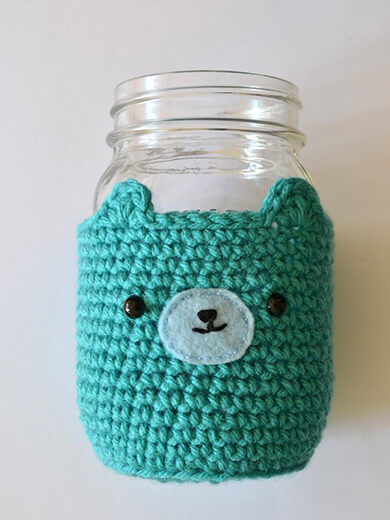 Aside from mason jar cozy patterns, they also have patterns for various amigurumi. Have you seen their amigurumi animals and popular characters?
If you're looking for irresistible, fun, and colorful patterns, PopsDeMilk got you covered. 
Bulky and Cozy Bernat Blanket Yarn for the Crochet Mason Jar Cozy
We have to admit, using the orange color for the yarn made this mason jar cozy more striking. Good thing Bernat Blanket Yarn in Pumpkin Spice has the perfect shade of orange to make this cute fox mason jar sleeve.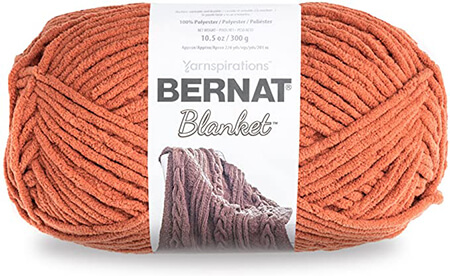 The super bulky and super cozy chenille-style yarn is perfect for absorbing the hotness or coldness of your beverage. Aside from using it in home decors, it can also be used in blankets and afghans.
If you're planning to make other patterns, this yarn is also available in a wide array of colors.
More About the Fox-themed Crochet Mason Jar Cozy
We already know the huge effect of the bright orange yarn to this fun crochet mason jar cozy, so let's have a closer look at its pattern.
When we first saw this crochet mason jar cozy, we instantly knew it's a fox because of those little ears. Aside from its color, the pointy little ears made it so recognizable.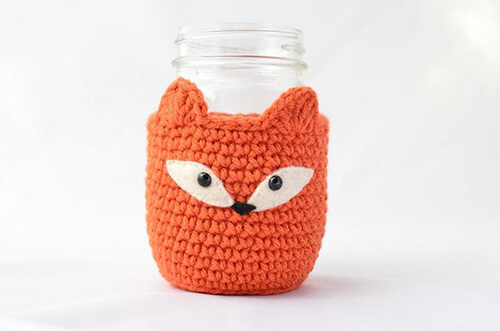 Do you see how even the smallest detail can make a huge impact on a pattern? We love how they added the slanted white felt and the safety eyes to represent the eyes of a fox.
However, if you do not have safety eyes, feel free to use regular buttons or embroider the eyes as a substitute.
Aside from the eyes, they also included an adorable tail with a white tip. Its tiny size gives this already adorable mason jar cozy an added charm.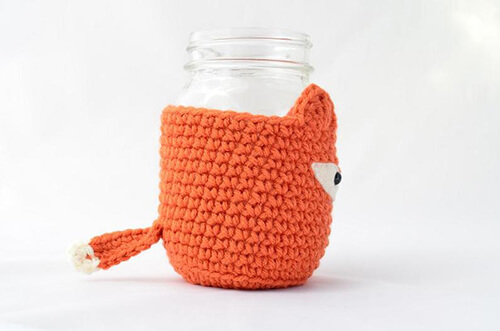 Skill Level
Beginner
Materials Needed
Worsted weight yarn – Bernat Blanket Yarn in Pumpkin Spice, Scrap White Yarn for the Tail
7mm safety eyes
Scrap piece of felt in cream or white and black.
Embroidery thread and needle
Stitches Used
Chain Stitch – Chain Stitch beginner's Guide
Single crochet Stitch – Single Crochet Stitch Written and Video Tutorial
Double Crochet Stitch – DoubleCrochet Stitch Written and Video Tutorial
Triple Crochet Stitch
Working in back loop only
Decrease
Brighter Mornings With the Crochet Mason Jar cozy
We hope your days have been extra bright and cheerful after using this crochet mason jar cozy! This cute foxy crochet can surely turn even the gloomiest mornings into a sunny one.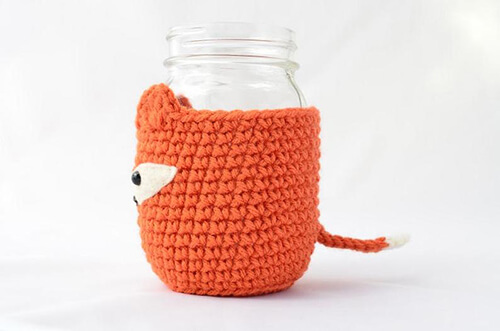 Let the community know how this mason jar cozy was able to brighten your mornings! Post a picture of how your breakfast meals look like with this cozy on our Facebook Page.
Looking for other fox-themed crochet creations for yourself or even your kids? Check out our list of Crochet Fox Patterns to add to your collection!
We hope you enjoyed making this crochet mason jar cozy, what projects are you planning to work on next?
5. Crochet Mason Jar Cover Pattern by Kirsten Holloway Designs
These crochet canning jar cozy patterns combine the rustic farmhouse feel of hemp with the elegance of lace for a unique home decor piece that you can make in an hour or so.

These canning jar covers would also make great gifts when giving away home-canned jams, jellies, preserves, or fruit to friends and neighbors.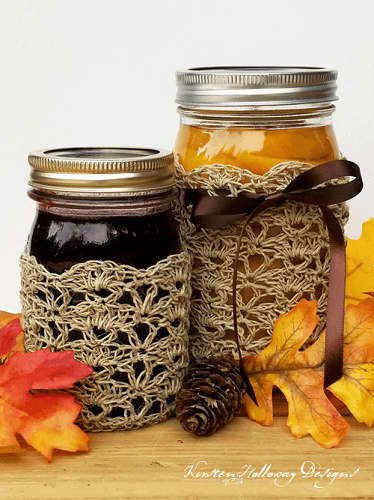 Get the Pattern here
6. Santa Candy Jar Cover Crochet Pattern by Red Heart
Check out this creative way to dress up your holiday treats for family and friends! Make it classic, or give Santa a distinctive new look using unexpected colors. This cute jar cozy is easy to crochet and makes a perfect presentation piece for the holiday entertaining season.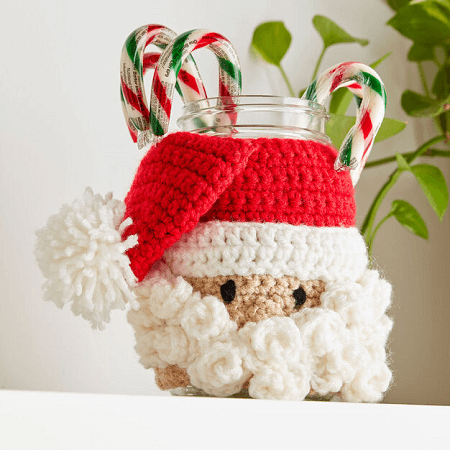 Get the Pattern here
7. Fair Isle Jar Cozies Crochet Pattern by Midknits
This pattern includes instructions to create the pint jar cozy, the plastic lid insert, and the coffee cup sleeve.

The pint jar cozy can be used as a free-standing vessel to hold pencils, crochet hooks, and other assorted tools; as a planter cozy to dress up a small plant pot; or it can be combined with a pint-size canning jar, the lid insert, and a straw to make an amazingly convenient travel cup.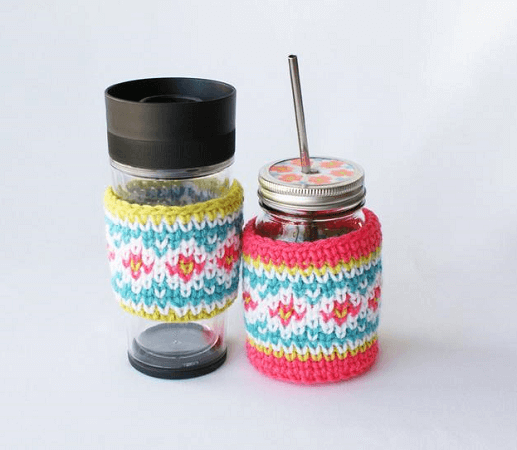 Get the Pattern by Midknits here
8. Crochet Mason Jar Cozy Pattern by Petals To Picots
This Crochet Mason Jar Cozy Pattern is a great way to use up any leftover yarn you have lying around the house. Mason jars have a variety of uses, so these colorful cozies can be used for practically anything including pencil holders.

They are a great way to add a splash of color to your desk. Crochet a striped mason jar cozy, or add a few crochet flowers to incorporate a feminine touch to these crocheted cozies.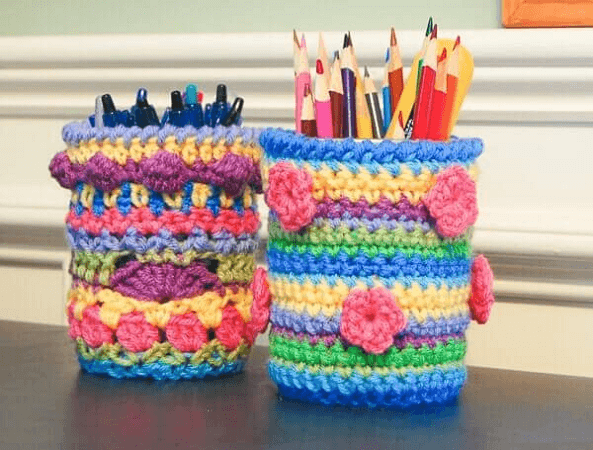 Get the Pattern here
9. Sparkling Jar Cozy Crochet Pattern by Red Heart
Take an everyday Mason jar from ordinary to extraordinary with a lacy crochet cozy. Perfect for adding a soft touch to your decor or for decorating jars containing food gifts.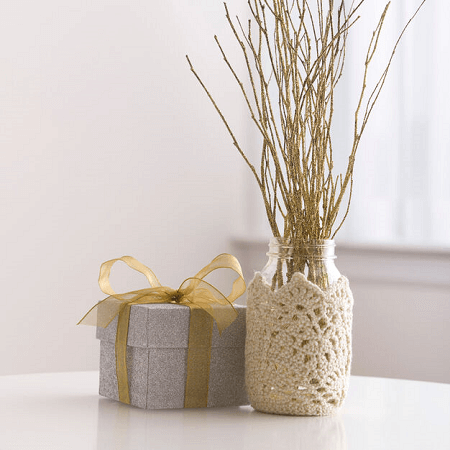 Get the Pattern here
10. Crochet Jar Covers Pattern by Phoebe Burt
Create your own set of characters by customizing this project how you wish – you can crochet in stripes, and add different toppers or trims – and drawing in your own faces.

They also make fun gifts when customized to look like your recipients. Use 100% cotton yarn as it can be washed frequently and maintains its shape and colour.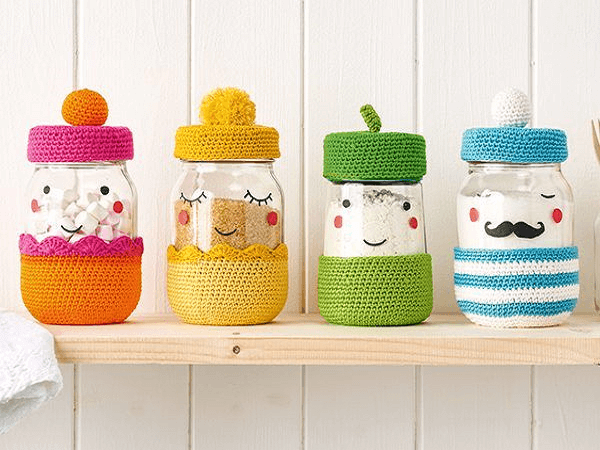 Get the Pattern here
Upcycle your old jars and decorate them with these gorgeous crochet jar covers.
The end results, of course, are mason jar cozies for yourself or friends or family who love using jars for canning necessity and home decoration. When you finished one, please do share some pictures on our Facebook Page. We'd love to see how they turned out!

For more decorative patterns for your home, check out this page for Crochet Decors. We have tons of patterns you can choose from.
There are about as many uses for mason jars as there are stars in the sky. So make them look extra pretty with these crochet jar cover patterns today!