Here's a fun collection of crochet fox patterns for all the fox lovers out there (and I hope there's a ton of you as these little animals are so adorable).

From the wearable to the huggable but all showing the playful side of this woodland friend.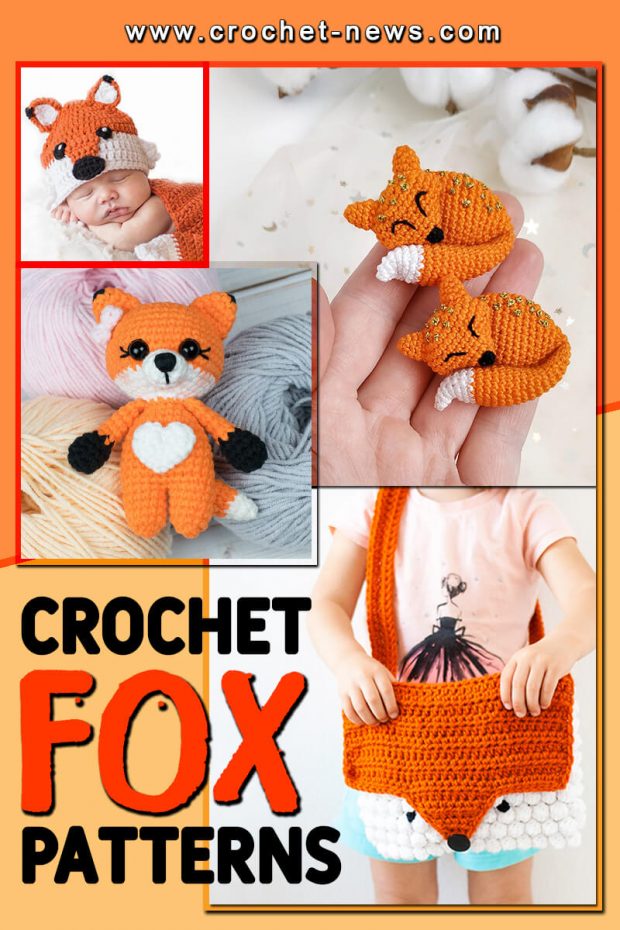 Foxes are trending hot these days, and I'm sure you've seen them pop un on Pinterest, in stores, and just about everywhere else.
Crochet news is also on top of this trend and we have some awesome patterns just waiting to get on your hooks, and they are just right below!

1. Mr. Furu, The Amigurumi Fox Pattern by Craft Passion
Get ready for the Fall's and the Woodland's theme craft with Mr. Furu, the Fox! This orange amigurumi fox loves to wear a pair of wired glasses.
He measures about 10 inches tall. It is crocheted using a 3.5mm crochet hook in the colorwork of orange, white, and black acrylic yarns.
Unlike the normal amigurumi crochet method, the pattern of fox amigurumi calls for "Split Single Crochet Stitch", some may know it as "Crochet Knit Stitch" or "Waistcoat Stitch" where the hook is inserted in between the legs of the next stitch.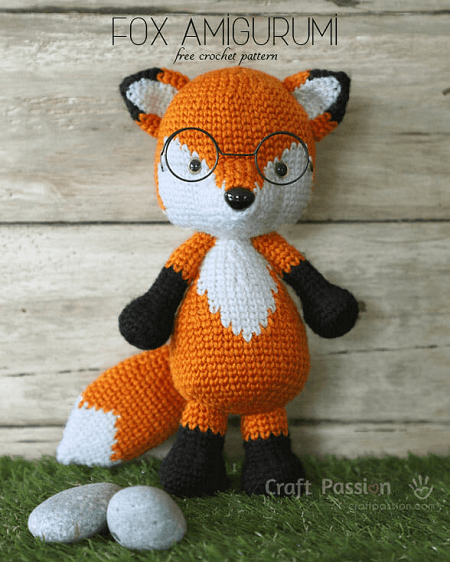 Get the Pattern here

2. Lucy, The Amigurumi Fox Crochet Pattern by Yarn Wave Shop
Meet Lucy, the fox. She is a cute amigurumi fox for cuddling or putting on display. The size of the finished toy is about 14 cm (5.5 inches) if using indicated yarn and hook.
This crochet fox is just the right size for cuddles and fortunately for you, he's a very affectionate little guy. With this easy-to-follow fox crochet pattern, you can now make your own super cute fox!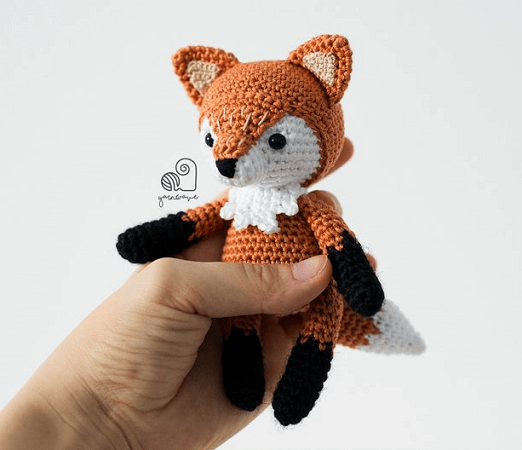 Get the Pattern by Yarn Wave Shop here

3. Sleepy Fox Lovey Crochet Pattern by Tilly Some
This blanket is easy for babies to hold on to and is so cute! This Sweet Sleepy Fox Lovey is a plush toy and security blanket all in one! She will become a good friend for your baby.
Made with cotton yarn, this blanket is warm and soft, but light in weight, perfect for babies of all sizes and ages.
Make this lovey your own by choosing your own color or stick with the neutral warm orange or browns for a unisex blanket!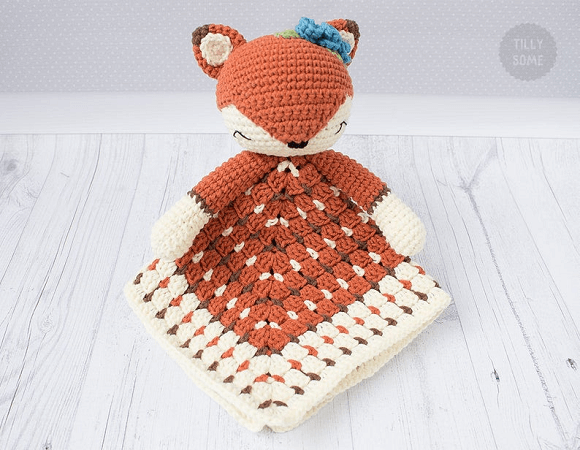 Get the Pattern by Tilly Some here

4. Ragdoll Free Fox Crochet Pattern by Spin A Yarn Crochet
This cute sleepy pal is the sweetest project ever, so cute! It will certainly be an amazing gift for both adults and kids.
This fox pattern is made in Ragdoll style, separate pieces worked in flat rows and then joined together to give them that unique 2-D look.
Make more of those cute flowers to decorate your accessories or make small brooches instead! The possibilities are endless.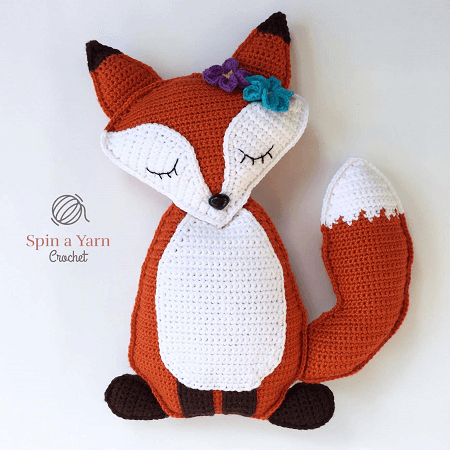 Get the Pattern here

5. Sleeping Fox Brooch Crochet Pattern by Crochet Pattern By Lily
Fall is the time for cozy sweaters, hot tea and bright foxes. Such crochet brooch is sure to brighten up your mood even on a cheerless day.
This sleeping fox brooch is a perfect accessory for any coat, jacket or even bag. Easy to make with full instructions and photos to guide you through
They can be made up in a few hours and would make the ideal last minute gift!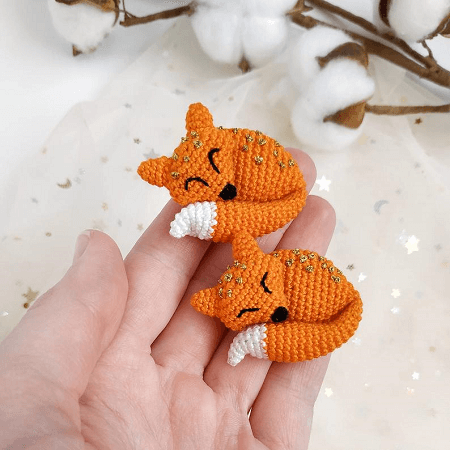 Get the Pattern by Crochet Pattern By Lily here

6. Amigurumi Plush Fox Free Crochet Pattern by Amigurumi Space
This amigurumi plush fox is about 33cm tall. It is a super soft plushie that can become your baby's favorite toy.
It is made from baby plush yarn and is so cozy – perfect as a sleeping buddy. Can you imagine the delight of a child who will receive a gift such a toy? Yes and adult, too!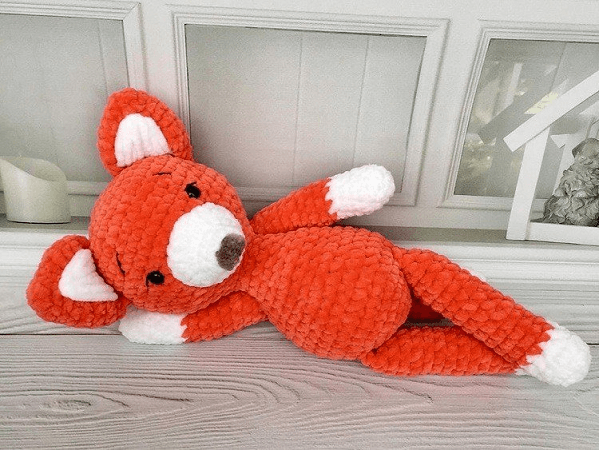 Get the free fox crochet pattern here

7. Crochet Woodland Fox Rug Pattern by Deborah O Leary Pattern
Add a little bit of woodland whimsy to a baby nursery. This sweet rug is adorable and easy to make. It is made with hardy, inexpensive acrylic yarn that washes well and holds up to foot traffic.
This adorable fox rug measures approximately 27 inches in diameter and comes in a wonderful pumpkin orange and off-white. Wouldn't this perfect in a kid's room?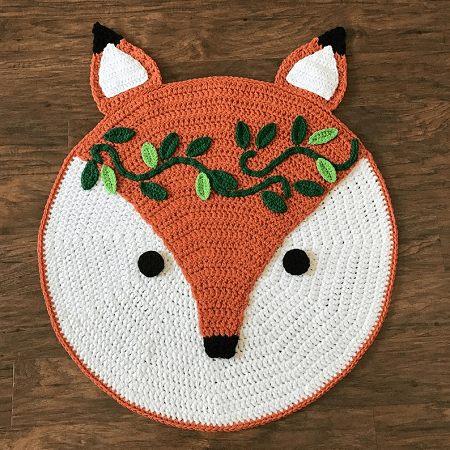 Get the Pattern by Deborah O Leary Pattern here

8. Boho Fox Crochet Pattern by Nella's Cottage
This cute boho fox applique would make a great addition to a crochet hat, dress, blanket, or any other project you are working on. It would even look great as a decoration for a baby shower or animal themed party.
This works up to be about 7″ tall with 3.75mm hook. Crochet it in gray or its classic orange color and add a flower crown for a boho look!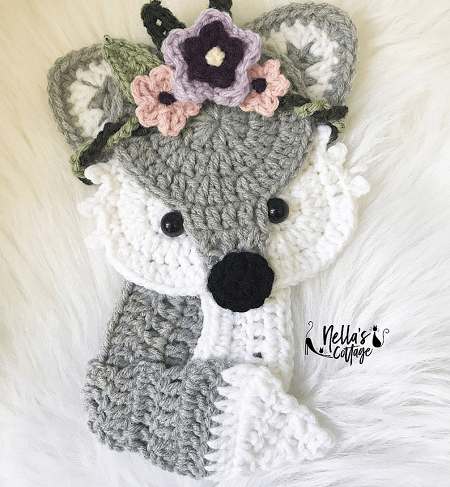 Get the Pattern by Nella's Cottage here

9. Tiny Amigurumi Fox Crochet Pattern by Amigurumi Today
This tiny amigurumi fox is so cute! Perfect for your (not so) small child, or just for sitting on your shelf and being adorable.
The height of the finished amigurumi fox is about 10cm without ears. This is a marvelous last-minute crochet project for making an adorably looking gift for your dear one!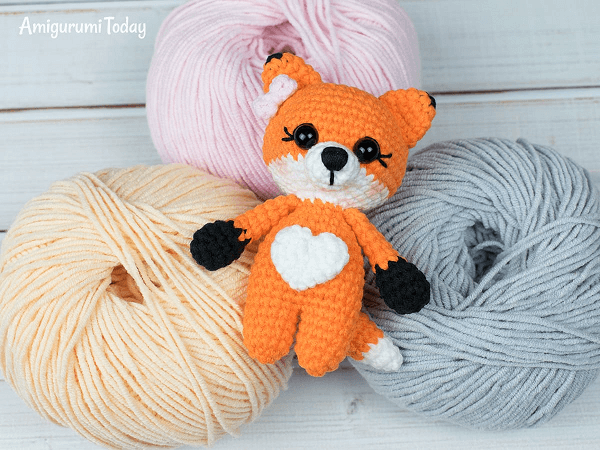 Get the Pattern here

10. Crochet Fox Pattern by The Friendly Red Fox
This Crochet Fox Pattern makes a finished softy about 12 inches from feet to ear or about 8.5 from the bottom. The body and head are made in one piece and you will attach the other pieces separately.
You will need to know how to use a magic circle, single crochet, and how to increase and invisible decrease to make this adorable toy.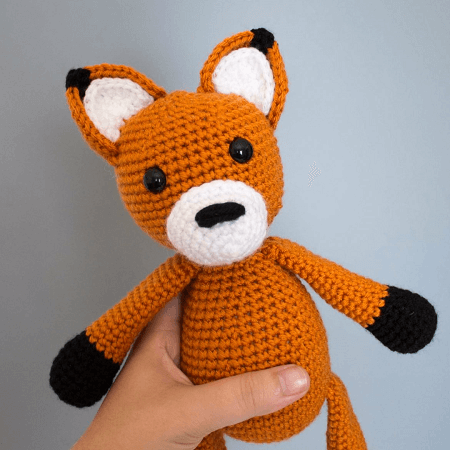 Get the Pattern here

11. Newborn Hat And Cape Set Fox Crochet Pattern by The Cozy Buckeye
This newborn fox hat and cape set can be made into a wonderful gift or photography prop. This set is made for a sleeping newborn baby to be transformed into a Cuddly Fox for amazing photographs.
So whether you're looking for a costume or a newborn photo prop, this fox outfit is simply adorable!
This outfit is intended to be for photography use only and babies should not be left unattended in this outfit.

Discover more super-cute crochet baby blanket patterns here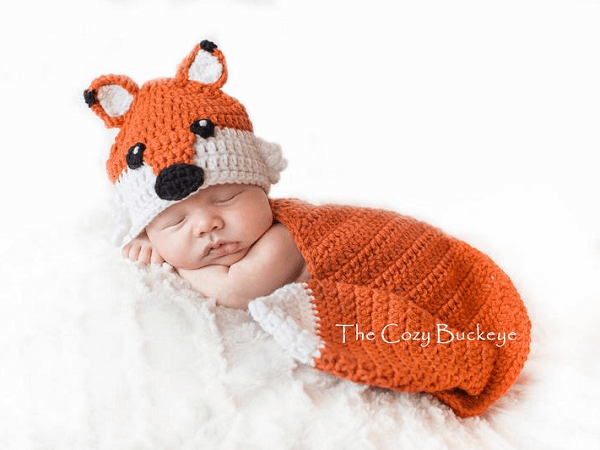 Get the Pattern by The Cozy Buckeye here

12. Simple Fox Bookmark Crochet Pattern by Yarn Wave Shop
Crochet a cute little fox bookmark buddy to keep you company while you read! This adorable fox is a great gift for yourself or book-loving friends.
This fox is made with DK weight yarn and measures about 24 cm (9.5 inches) if using indicated yarn and a crochet hook.

30+ Adorable crochet bookmark patterns here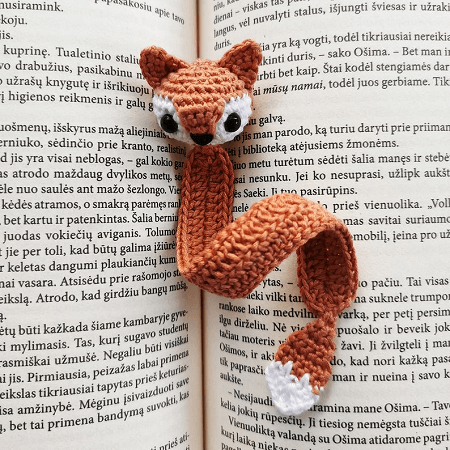 Get the Pattern by Yarn Wave Shop here

13. Purse Free Fox Crochet Pattern by 1 Dog Woof
This adorable crochet fox purse is perfect for kids to use or even as a fun little clutch to carry while strolling around town.
This Crochet Fox Pattern is very versatile as it can easily be turned into a fox clutch – just remove the strap.
The best thing is, it does not need a full skein of either the orange or the white yarn to make one!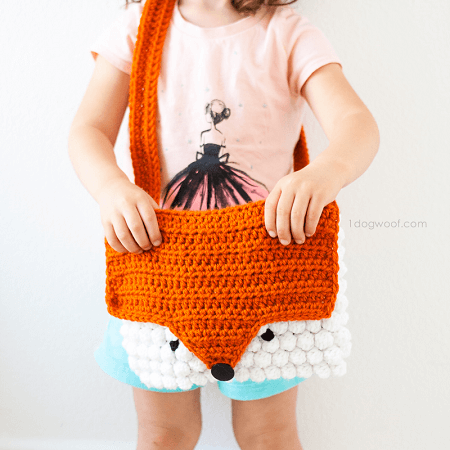 Get the Pattern here

14. Fibi, The Crochet Fox Amigurumi Pattern by Lalylala
Fibi, the Fox loves her fancy fox-costume and is mighty proud of her nice white tail-tip.
She will measure 27 cm (10.5 inches) if using fingering weight yarn on a 2.25 mm crochet hook. You may also use a worsted weight yarn on a 4 mm hook to make your fox bigger and cuddly!
This crochet amigurumi fox pattern is suitable for beginners as everything is explained step by step.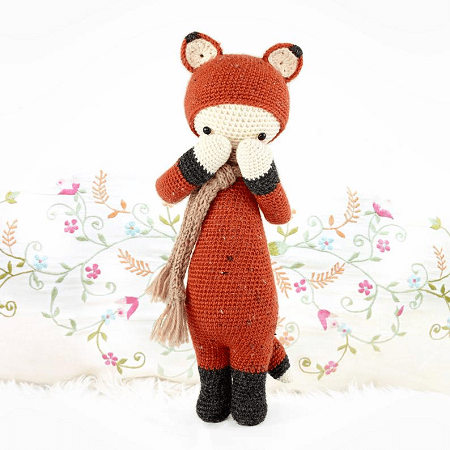 Get the Pattern by Lalylala here
15. Crochet Mask Fox Video Pattern
This crochet mask fox pattern is perfect for anyone who has a little one who loves to play dress up, this fox is so fun to expand their imagination. These are perfect for masquerade play, character building, and pretend activities.
Great for many occasions; the possibilities are endless. These would make great learning tools for kids, teaching them drama, acting, and role play.
It's great for schools, small play groups. Someone on Facebook mentioned these would be great for children's hospitals too. They are easy to wear and comfortable!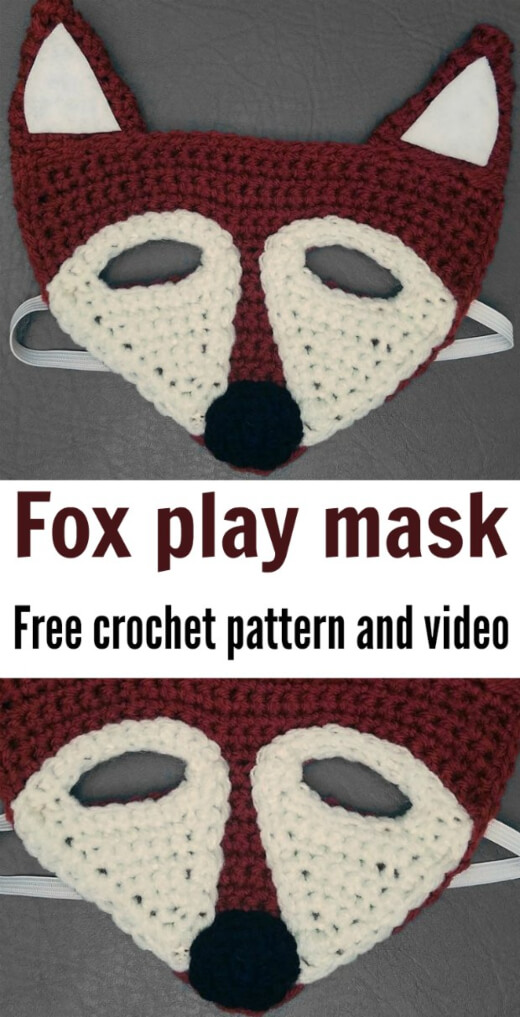 CROCHET MASK FOX MATERIALS NEEDED:
–Red Heart Super Saver Yarn in Soft White, Black and Redwood
-G-4.25mm Crochet Hook
–White Felt
–Tacky Glue
–Yarn Needle
–Scissors
-Elastic
16. Amigurumi Fox Long Legged Crochet Pattern
The Amigurumi Fox toy is simply adorable! Your kids will love playing and cuddling this long-legged stuffed amigurumi toy.
My kids love playing make-believe and after the Fantastic Mr. Fox movie, I knew the next big thing was going to be a stuffed amigurumi fox.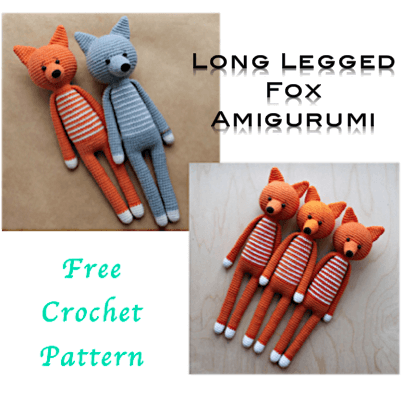 Have you watched the movie "Fantastic Mr. Fox"? If not I insist you watch it immediately. The story line revolves around a family of foxes and their exploits.
Turned out I was right. I put together three of these lovely pieces and you can't begin to imagine all the creative games they came up with. It was like watching the movie all over again.
They have been spending quite some time with their new long-legged stuffed crochet fox friends. Anything to keep the kids occupied right? The crochet fox pattern doesn't necessarily have to be a play item for the kids.
You could put one on display among your amigurumi toy collectables collection.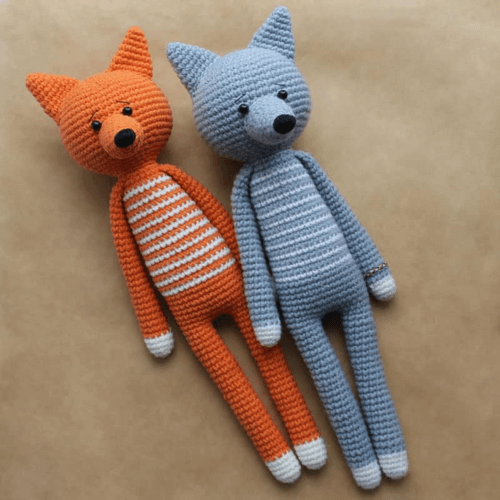 Supplies For The Crochet Fox Pattern
My amigurumi collection has grown over the past few years expanded to include all manner of toys which include reindeer, rabbits, giraffes, stuffed sharks and more.
This latest addition looks pretty sitting in my lounge and is quite the conversational piece as it emerges. You can never be too old to snuggle up with one of these and make your home just that little bit cozier.
Take some time out of your busy schedule and make yourself one of these amigurumi fox crochet dolls. Here's what you will need;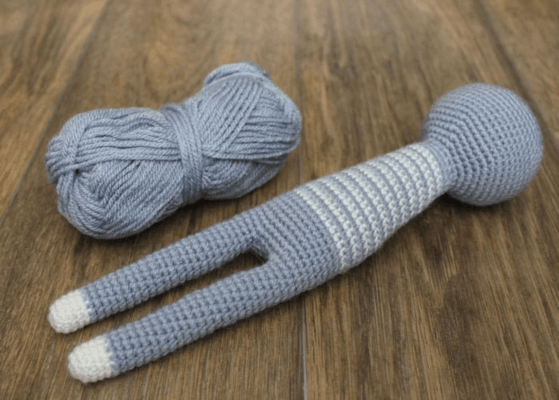 Crochet Fox Materials
Yarn in white (or beige) and Rouge
2 mm crochet hook
Sewing needle and scissors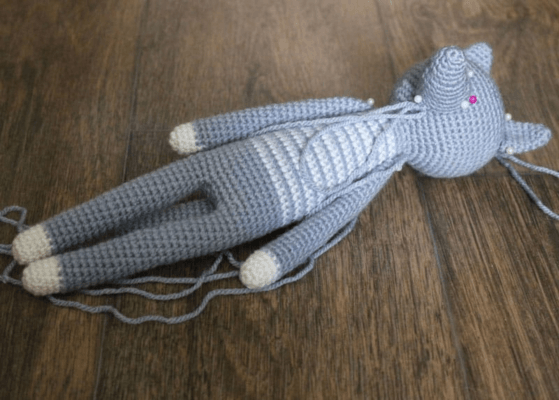 Skill Level For Crochet Fox Pattern
The amigurumi fox crochet pattern requires an intermediate to advanced skill level to accomplish. Individuals new to the pattern can download the pattern as a PDF file from Amigurumi Today. The file comes with detailed instructions that explain every stage of the process.
For a beginner with a strong knowledge of the basic crochet terms, the pattern should help put together a decent stuffed toy. I highly recommend you try this one of a kind piece sometime. If you are a fan of stuffed toys, then the amigurumi fox crochet toy is a must-have.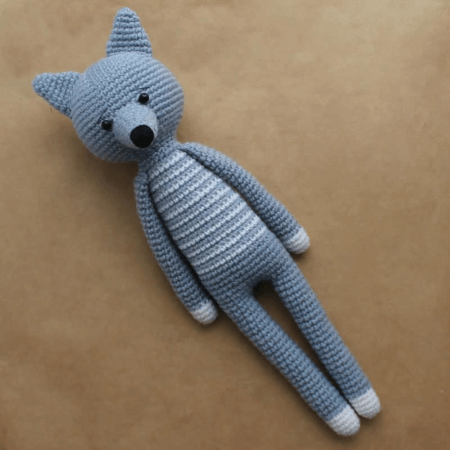 Crochet Fox Pattern Chew Toy?
Foxes and most members of the dog family have a special place in my heart. Being a dog person, it is easy to see why I instantly fell in love with this stuffed toy pattern the first time I saw it.
I consider myself lucky to be the owner of a Great Dane. The problem with creating amigurumi toys especially where the house in question has a dog is, the toys end up getting chewed on.
I have witnessed this recur one-too-many times before and my solution is simple. Crochet up an amigurumi fox crochet toy for each of my kids and one for the big guy. I've realized he has a preference for some toys over others but the fox toy served its purpose.
Sounds like a waste of yarn and effort doesn't it? I firmly assure you it is not. I have a pair of possessive kids who don't exactly get with the whole toy sharing programme. Throw in a 120-pound dog and you have a recipe for trouble.
So, a couple of these stuffed toys should help keep everyone happy. Here's what I recommend you do, gather the supplies and put together a couple of these crochet fox pattern toys.
Donate the stuffed toys to the kid's section of your local hospital. It's the small things that have the biggest impact on people.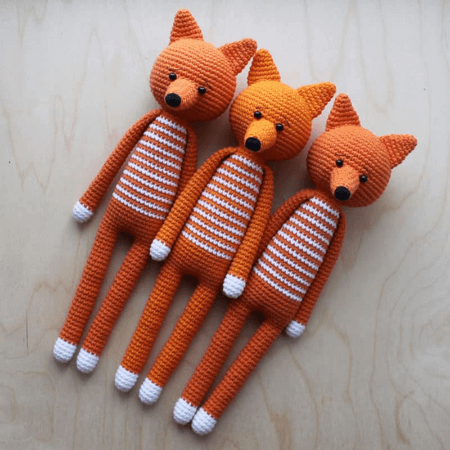 I have been collecting stuffed toys for a while now, some from way back and a handful of recent ones. I can confidently assert that I would pick stuffed animals over plastic toys any time. Yeah, sure plastic can be recycled and everything but think of the carbon footprint.
Be a good human, crochet up one of these amigurumi fox toys instead.
Get The Free Amigurumi Fox Crochet Pattern Here
17. Baby Blanket Fox Crochet Pattern by CozyNorthWoods
This cosy crochet fox blanket would look adorable in any fox or animal-themed nursery. The pattern is an easy-to-follow graph with written instructions.
Each panel measures approximately 12" x 9" without the border. The finished blanket measures approximately 33" long x 27" wide. Easily add more squares to increase the size of the blanket.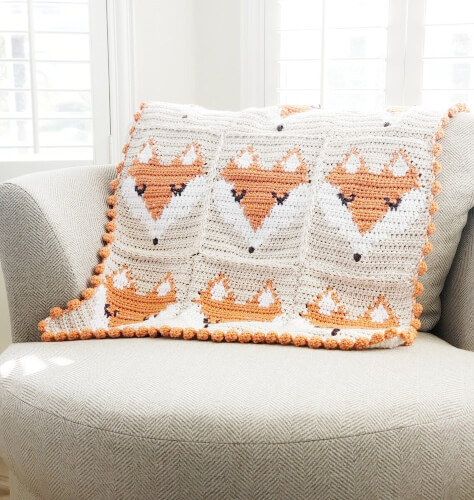 Get the Pattern by CozyNorthWoods HERE
18. C2C Crochet Fox Blanket Pattern by Kali @ the Friendly Red Fox
This free fox crochet pattern is adorned with 20 colourful fox squares. The pattern uses the corner-to-corner crochet method.
The pattern is for 1 square. Simply make 20 of them, arrange them in a 4' x 5' rectangle, and stitch them together. You can add any type of border you like.
Get the Pattern by Kali @ the Friendly Red Fox HERE
19. Baby Fox Love Crochet Pattern by AllyssabethsCrochet
Here is a super cute baby animal graphghan crochet fox blanket pattern. It makes a great baby shower gift for a forest or animal-themed nursery.
This is a charted graph pattern. It has written row-by-row colour block instructions for corner-to-corner stitches. The charted graph pattern can also be used with mini C2C, single crochet, bobble stitch, block stitch or Tunisian simple stitch (afghan stitch).
It can also be used for cross stitching, embroidery, needlepoint, plastic canvas, and knitting.
Get the Pattern by AllyssabethsCrochet HERE
20. Fox Crochet Baby Blanket Pattern by MyCrochetStories
Here is an intermediate level crochet fox blanket pattern. It has very detailed instructions, so a determined beginner may be able to finish it too.
The finished fox blanket measures approximately 27.5" x 27.5". It is made with 30 fox faces. Use natural colours for a nursery with woodland decor. Or brighten it up with fun colours for a whimsical animal-inspired nursery.
Here are more adorable Crochet Animal Blanket Patterns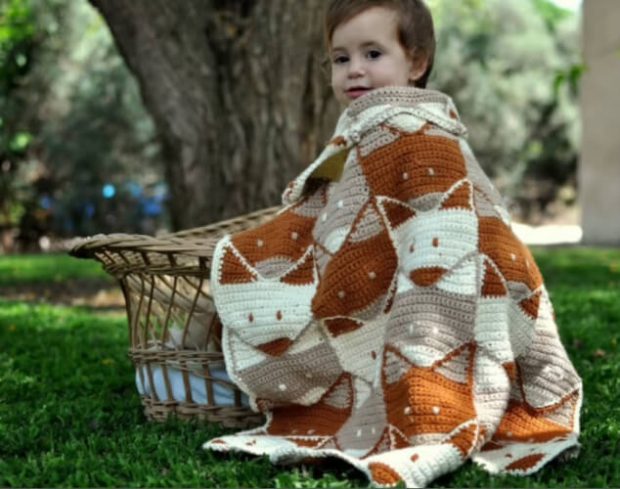 Find the Pattern by MyCrochetStories HERE
21. Baby Fox Bobble Stitch Blanket Pattern by Melu Crochet
This cute and whimsical baby fox blanket would look perfect in any woodland-inspired nursery. It has a modern design and a lot of texture. Do not let the bobble stitch scare you. There is a step-by-step bobble stitch guide included.
The finished size of this blanket will vary depending on the type of yarn you use. The creator of the pattern recommends using aran/worsted yarn with a 7 mm hook.
Using her recommendation, the blanket will measure approximately 31 ½" x 32 ½".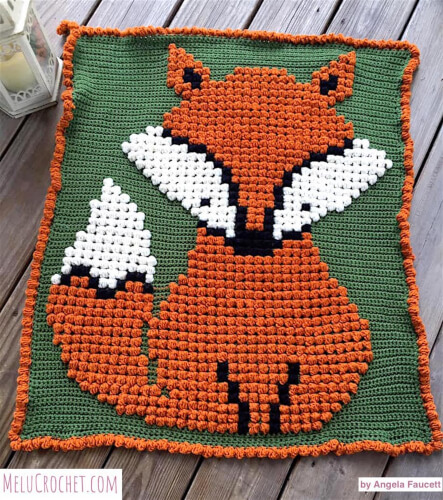 Get the Pattern from MeluCrochet HERE
There's just something so appealing about these little crochet fox critters!
Their sleeky-yet-cuddly bodies, their cute faces, and their sly grins, foxes certainly have an appeal that's hard to deny. We'd love to see any of your work, share a pic over on our Facebook Page.
If you're feeling foxy, break out the hooks and crochet one of these cute crochet fox patterns!