Christmas is only around the corner. Get into the holiday spirit with these Crochet Reindeer Patterns! These cute reindeer characters will be a great addition to your holiday decorations and a perfect gift for the little ones, and friends.
We have collected 20 of the most adorable and cutest Reindeer Crochet patterns to choose from. Pick your favorite from this list and start hooking!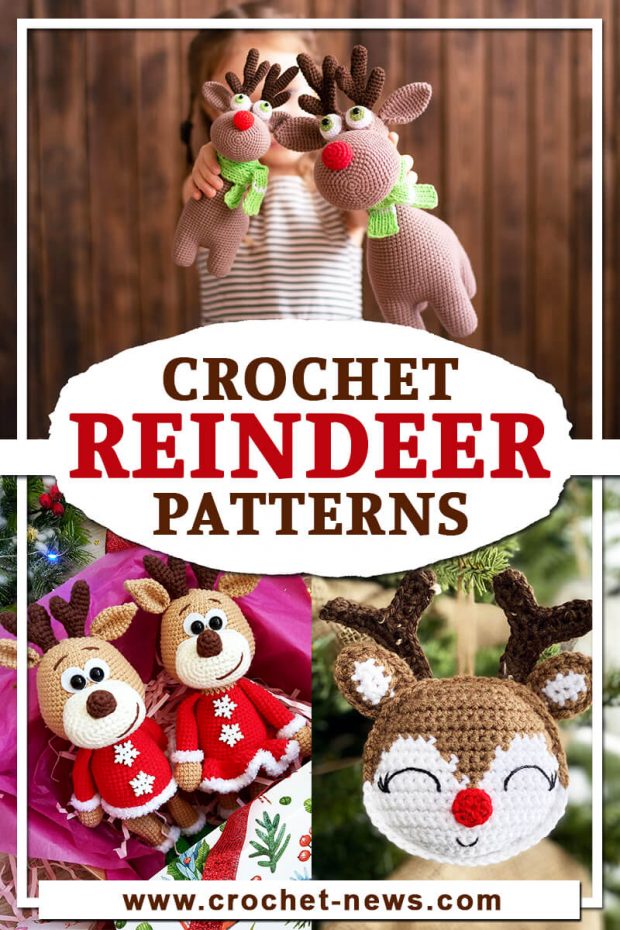 20 Crochet Reindeer Patterns to complete your Christmas Decor or to be the perfect snuggly toy

1. Rudolf Reindeer Crochet Pattern by My Krisssie Dolls
A very easy to follow crochet pattern that can be used by beginners. This is free in both English and Dutch. Add your style by choosing your own colors.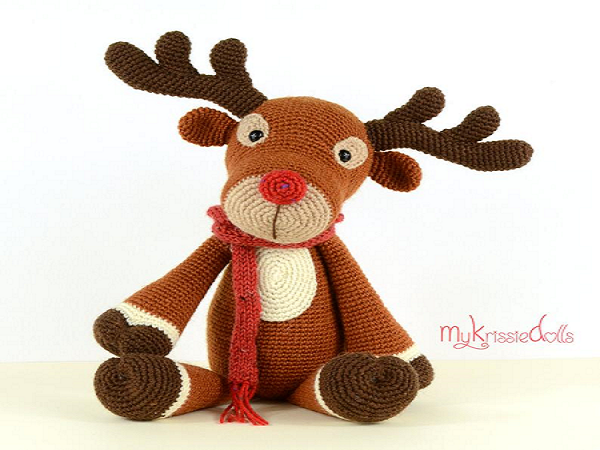 Get Rudolf The Reindeer Pattern here
2. Rudolph Reindeer Ornament Crochet Pattern by Ana Rosa
This quick to make crochet pattern only needs an easy skill level to finish. A great crochet Christmas ornament to hang on your Christmas Tree.
Get Rudolf Christmas Tree Ornament Pattern here
3. Crochet Reindeer Pattern by Plyushki Toys Patterns
This pattern includes details on how to crochet a boy and a girl Reindeer. A medium crochet skill level is needed to complete this project.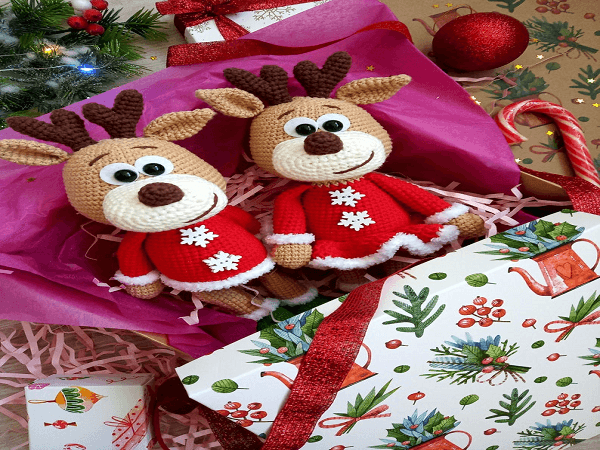 Get this Pattern by Plyushki Toys Patterns here
4. Rudolf The Reindeer Crochet Pattern by Mommy Patterns
Step-by-step photos and the list of necessary materials are provided in order to complete this Christmas amigurumi pattern. This pattern only needs an easy to medium crochet skill level to finish.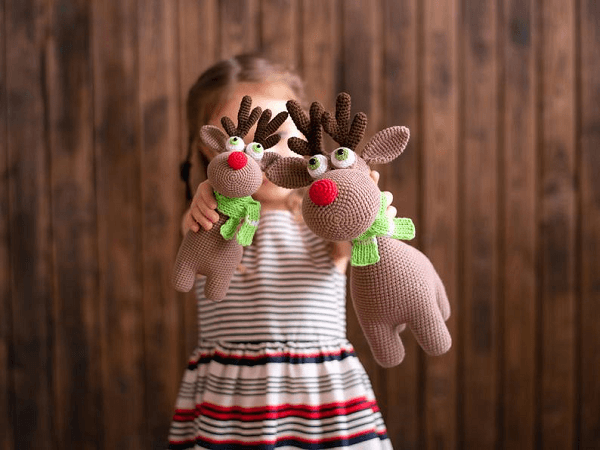 Get MommyPatterns' Rudolf Pattern here
5. Comet, The Reindeer Amigurumi Pattern by DIY Fluffies
It's Christmas season and it's time for reindeer. If you want to be traditional, but still have a modern take a look at Comet, the Reindeer Amigurumi.

Comet the Reindeer (21 cm/ 8 inch tall) on the photo is made with Catania yarn and a 2.5 4/0 size hook. If you use thicker yarn and a bigger hook, your amigurumi will turn out bigger.

Try on a different color for the reindeer top to give it a more festive feel. I find that red makes our cute reindeer even more Christmassy.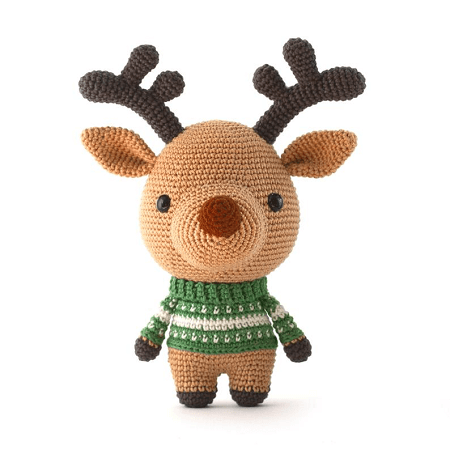 Get the Pattern by DIY Fluffies here
6. Amigurumi Reindeer Pattern by Grace and Yarn
To make this crochet, you will want to be familiar with a magic circle, invisible decrease, and sewing on parts. This pattern is filled with photos to help beginners in crocheting.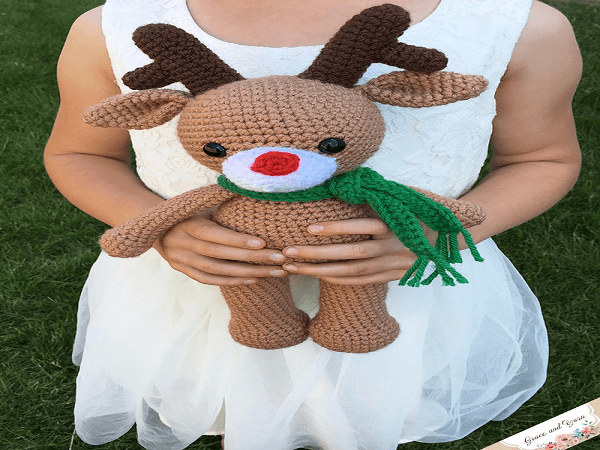 Get Grace and Yarn's Amigurumi Reindeer Pattern here
7. Rattle Crochet Reindeer Pattern by R Nata
This Crochet Reindeer Rattle is perfect for little hands and a great gift for a new bub. These cuties are jolly rattle toys, that also doubles as a teether for babies. These handmade pieces are a must make on your Christmas list!
Get the Pattern by R Nata here
8. Holiday Crochet Reindeer Pattern Free by Spin A Yarn Studio
Who could resist these cozy holiday reindeer and their festive sweaters? Wouldn't these guys look so sweet on a bench with some Christmas accent pillows, or even set up on a mantel with some snow? They would make great cuddle buddies, especially during the holidays!

The pattern incorporates the tapestry (or intarsia) crochet technique and has a lot of colorwork. The finished measurement is approximately 36 cm from top to bottom.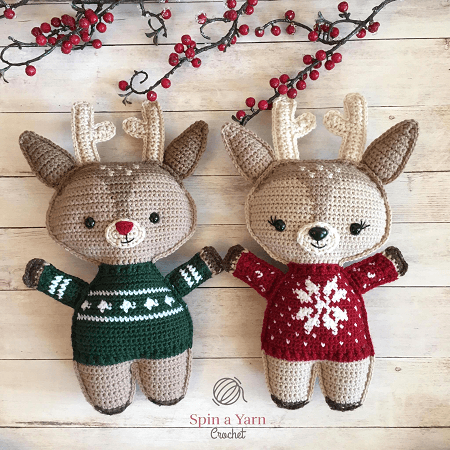 Get the Pattern here
9. Mug Cozy Crochet Reindeer Pattern by Haak Maar Raak
This Reindeer Mug Cozy is the perfect Christmas project. This mug cozy include a fluffy butt!

Keep drinks warm and hands comfortable with this festive mug cozy. It's simple to fit for any cup or mug, and you don't need lots of yarn.

Best of all, you can make this fairly quickly and use up of the remaining yarn, perfect project for a last-minute gift!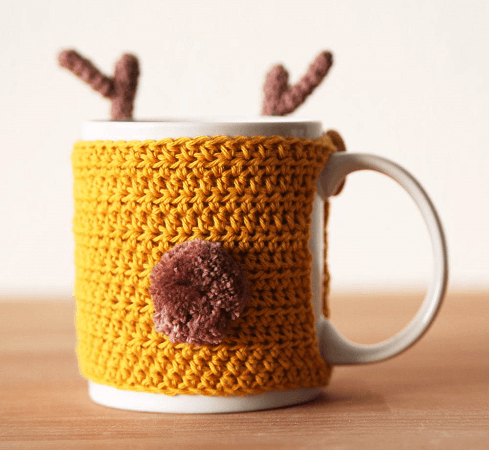 Get the Pattern here
10. Christmas Crochet Reindeer Pattern by Vendulka M
Crochet this cute and funny Christmas Reindeer and bring joy and lots of smiles for the holidays!

The finished reindeer has a of height 24 cm/9.4 inches (measured without antlers). The pattern also includes instructions on how to make the adorable reindeer's hoodie.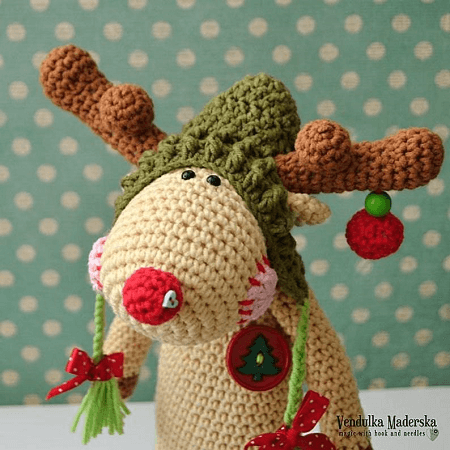 Get the Pattern by Vendulka M here
11. Festive Amigurumi Reindeer Pattern by Nansy Oops
This little Festive Reindeer Amigurumi can be crocheted relatively quickly and is perfect as a decorative figurine, gift, or key chain.

This reindeer is excellent for any doll house or collection of miniatures. Make a bunch of this cutie for you and your friends. They will adore you forever!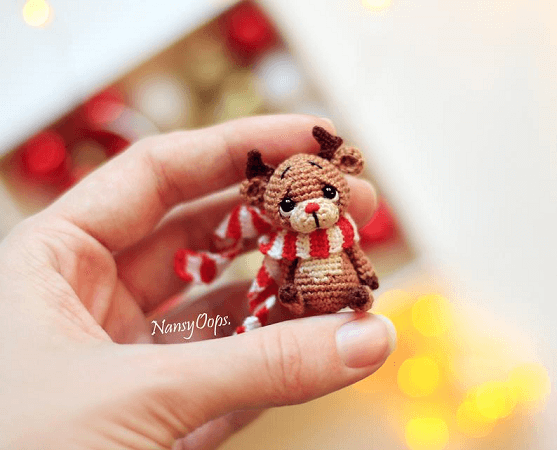 Get the Pattern by Nansy Oops here
12. Festive Headband Crochet Reindeer Pattern by Chain 8 Designs
You can prepare for Christmas in so many ways – buy dresses, decorate the house and prepare dinner. Your kids want to be included too!

This Festive Reindeer Headband is a simple way for them to feel the spirit of the holiday. Sweet antlers, ears, and decor are crocheted and placed on a simple headband.

Make a set of these for the whole family!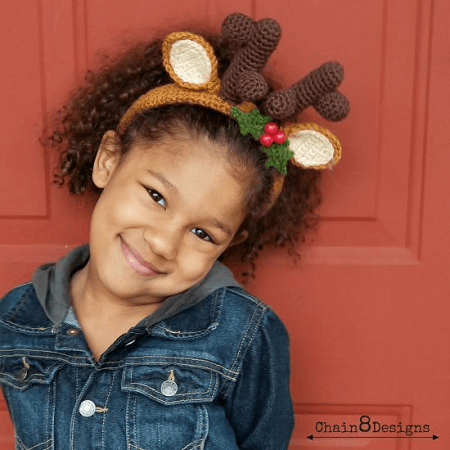 Get the Pattern here
13. Reindeer Baby Booties Crochet Pattern by One And Two Company
These adorable little reindeer booties with antlers and the red nose are a beautiful loving gift for expecting or new parents, especially in the cold season, as well as a cute accessory for Christmas-themed baby photos.

This pattern contains the description for 3 sizes: 0-3 months, 3-6 months, and 6-12 months.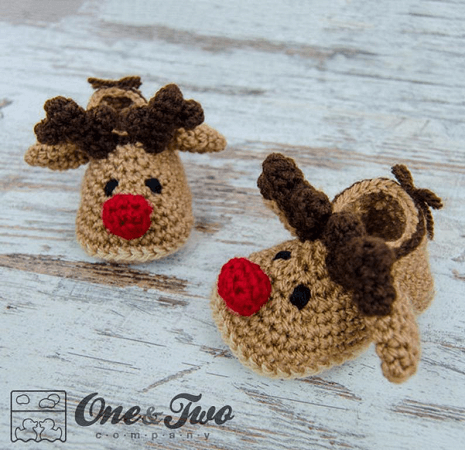 Get the Pattern by One And Two Company here
14. Reindeer Amigurumi Rattle Free Pattern By Stip & Haak
Isn't this Crochet Reindeer adorable?  The free pattern from Stip and HAAK is for a baby's rattle, but it could also be a teething ring, or even omit the ring and create the reindeer as a hanging ornament for your tree.  

Or add him as a fun embellishment to your silly holiday hat! Crochet patterns can easily be adapted to be used for slightly different projects.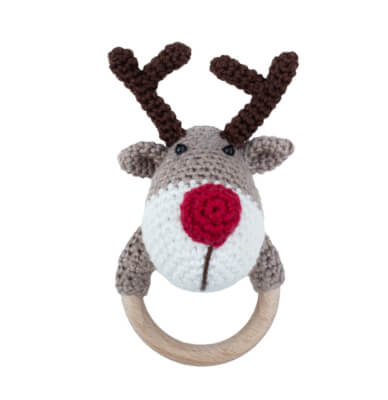 Get the Pattern here
15. Crochet Reindeer Rug Pattern by Ira Rott Patterns
This Crochet Reindeer Rug is a lace animal rug or reading mat using a granny square technique.

This adorable rug is a great addition to any children's room, it will be your favorite place to play and play your child!
Get the Pattern by Ira Rott Patterns here
16. Christmas Crochet Reindeer Pattern by Lovely Baby Gift
Here is one more Christmas Crochet Reindeer Pattern to your attention! It can help you to make a unique gift full of your love, care, and heart warmth. Put this cute present under the Christmas tree and delight your loved ones!

This amigurumi toy can be made with sport or worsted weight yarn. The finished deer size is about 14.5 inches with antlers (37 cm) when done with sport weight yarn and size C crochet hook (2.75 mm).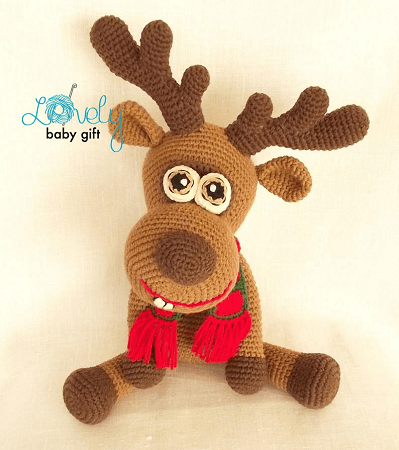 Get the Pattern by Lovely Baby Gift here
17. Reindeer Applique Crochet Pattern by Fancy Infancy Crochet
This Reindeer Applique has so many uses! Add a string to the top and it is an ornament. Sew it onto a backpack, tote, or your favorite winter sweater.

Place in a frame and you have a unique piece of home decor. The possibilities are endless!

You can use this pattern to make larger or smaller applique by using finer or bulkier yarn. Don't forget to choose the right hook size!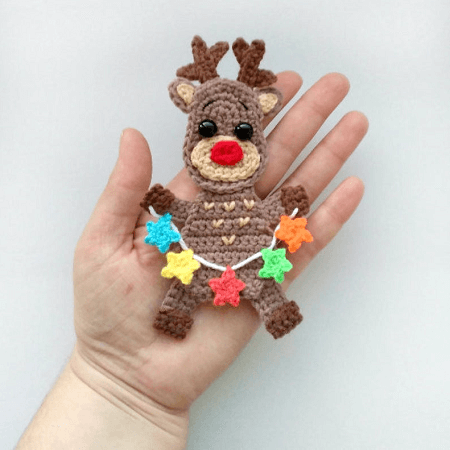 Get the Pattern by Fancy Infancy Crochet here
18. Cuddle Me Crochet Reindeer Pattern by Amigurumi Today
Place this adorable Cuddle Me Reindeer under the tree to make Christmas morning extra cuddly! It will bring the holiday spirit to your home and delight all your guests.

You can also give it out to a friend or coworker as Secret Santa gift that can be snuggled all year long!

In case you use the specified yarn and hook, your Cuddle Me Reindeer will be about 20 cm tall including horns. The pattern can also work well with the yarn of other weight, but the size of the finished crochet toy will be different.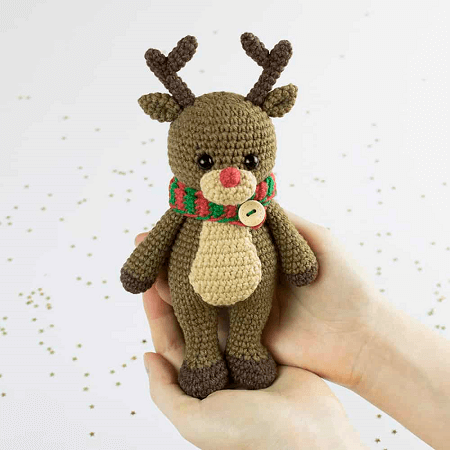 Get the Pattern here
19. Amigurumi Reindeer Pattern by Amiguroom Toys
Looking for a project for Christmas? You are going to love this free reindeer amigurumi pattern. Since this crochet toy is easy and quick to make, it will make a fine Christmas project.

Soft and cuddly, these reindeers will delight both you and your kids with their cheerful personality.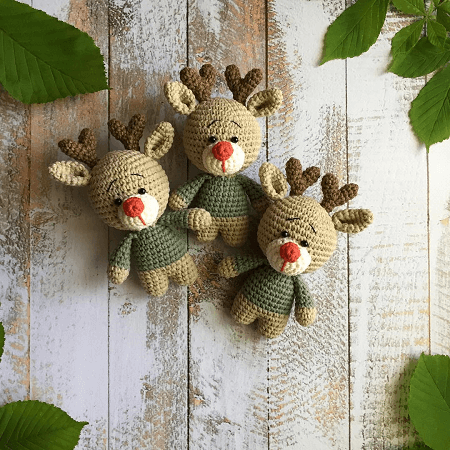 Get the Pattern here
20. Rudolph Ornament Crochet Reindeer Pattern by Spin A Yarn Studio
This adorable Rudolph Reindeer Ornament is a unique decoration that is easy to craft due to its construction; separate pieces worked flat and then joined together.

The perfect small and easy gift or decoration for your holiday tree! Super festive and a lot of fun! For beginner to intermediate crocheters, this guy is so fast to make!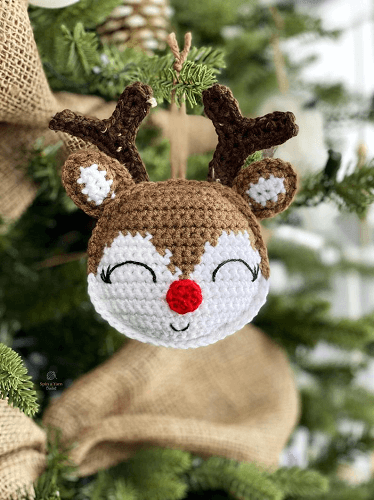 Get the Pattern by Spin A Yarn Studio here
Finishing Our Crochet Reindeer Pattern Roundup
If you're looking for inspiration for some other great Crochet Christmas Patterns check out our Christmas category which includes our round ups of:
We hope you have enjoyed these adorable crochet reindeer patterns as much as the Crochet News Team did finding them.