Since elves are such a hardworking and admirable part of Christmas, it would be fun to celebrate these often-overlooked subjects and find the very best Crochet Elf Patterns the internet has to offer.
Christmas is such a busy time and you probably need all the help you can get. With that thought in mind, why not crochet up some little helpers in the form of these colorful elves?
Or turn your own little ones into little magical helpers with a crochet elf hat and crochet elf slippers.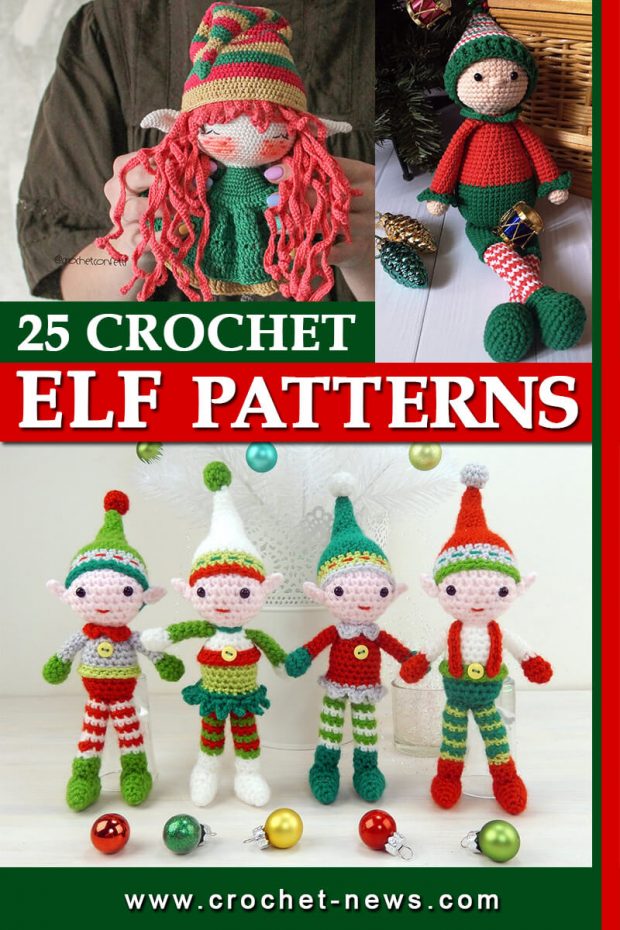 25 Crochet Elf Patterns to spread their magical powers around your home
1. Elf With Candy Bowl Crochet Pattern by Mary Abbie
This elf pattern comes with a useful candy bowl. Detailed photos and stitch count for every row are included to help you finish this project.
This cute elf is a wonderful holiday decoration that is sure to bring a smile to any face.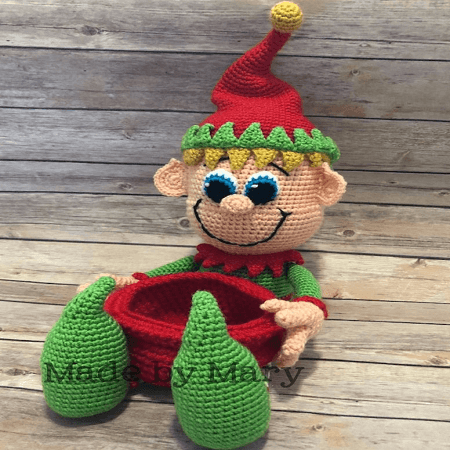 2. Amigurumi Crocheted Elf Pattern by Storyland Amis
You will only need basic crocheting skills to make this pattern. This easy crochet pattern is only 8 pages long, including plenty of step-by-step photos to help you along the way.
This elf is named Elvis and he would love to be your little helper this Christmas! Check her website for more patterns!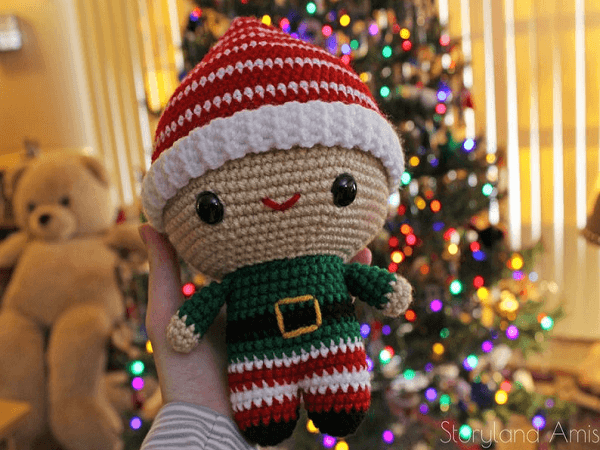 Get this Elf Pattern by Storyland Amis here
3. Free Crochet Elf Pattern by Loops And Love
You can make Trixie Elf and Twinkle Elf with this pattern. Whether you choose to make one, or the pair, these elves are perfect for cuddling, decorating, or gift-giving this holiday season.
They are bound to put a smile on everyone's faces.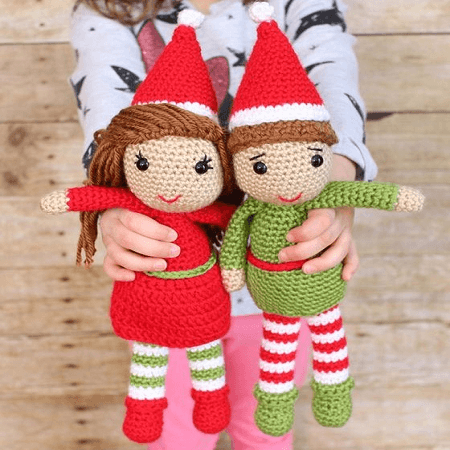 Get this Pattern here
4. Christmas Crochet Elf Pattern by Funny Stitch
You need to have basic knitting skills to finish this project. This pattern consists easy to follow with step-by-step detailed instructions with plenty of photos to help beginners.
Put this charming little Christmas Elf on a shelf or under your Christmas tree right next to the Christmas presents.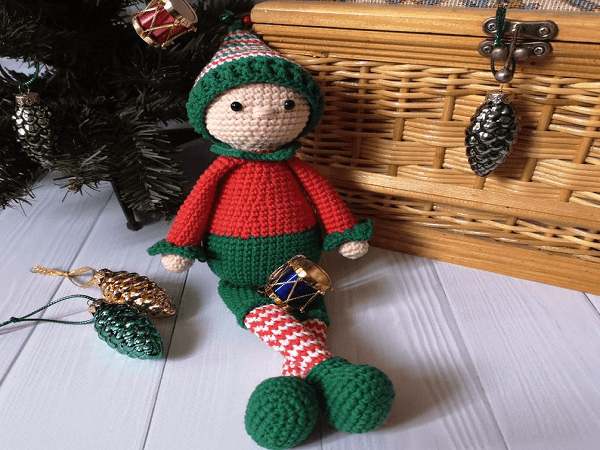 Get this Pattern by Funny Stitch here
5. Free Crochet Elf Pattern by Crochet For You
This Crochet Elf Ornament is a great addition to your festive decors. An easy and simple pattern to follow and complete. Make plenty of this with different colored hats and hang them from your Christmas trees.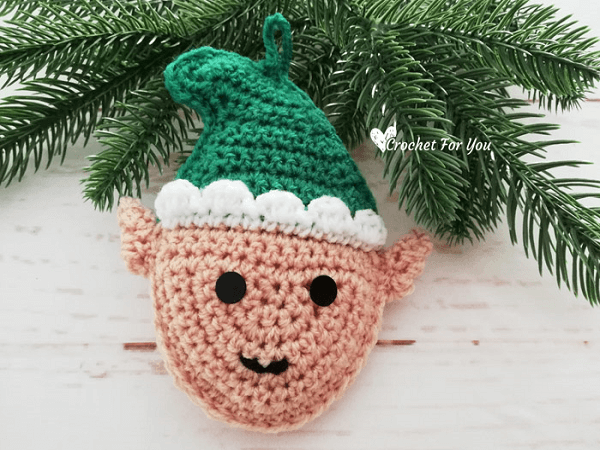 Get this Pattern here
6. Buddy, The Everyone's Elf Pal Crochet Pattern by Crafty Is Cool Crochet
This pattern only uses simple stitches and easy to find supplies. You will be able to whip up this adorable Elf in no time. Buddy the Elf will be your favorite thing to crochet this holiday season.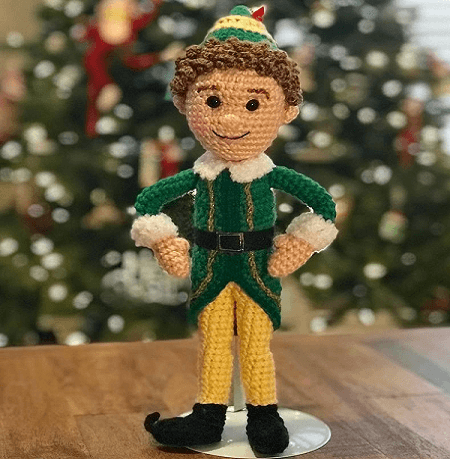 7. Crochet Elf Pattern by The Friendly Red Fox
This sweet little elf was designed to sit on a shelf. This pattern comes with a cute little hat and a scarf. Making him ready for the cold winters at the North Pole but he would love to come into your home and celebrate the holidays, too!
Make one out of this pattern with your favorite colors.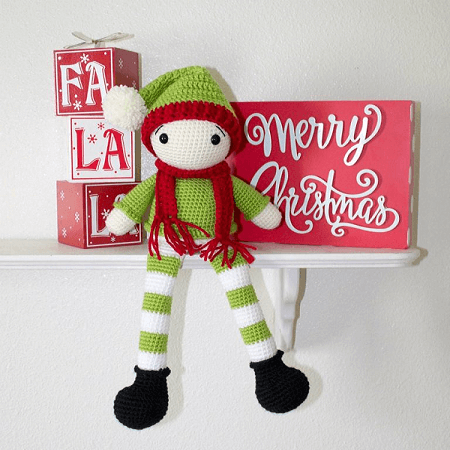 Get this Pattern by The Friendly Red Fox here
8. Amigurumi Elf Crochet Pattern by Il Dikko
You need to have an advanced crochet skill level to complete this cute elf. This pattern is very detailed and contains a lot of pictures to help you with the progress.
A beautifully photographed pattern with incredibly detailed easy-to-follow instructions.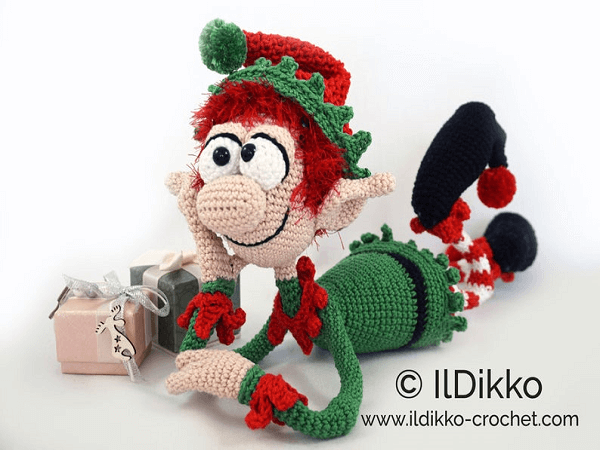 9. Crochet Christmas Elves Ornaments Pattern by All From Jade
With this pattern, you will be able to make two different Christmas Elves. This is a great project for beginners. This pattern comes in English and French Language.
The perfect ornaments to hang from your Christmas tree!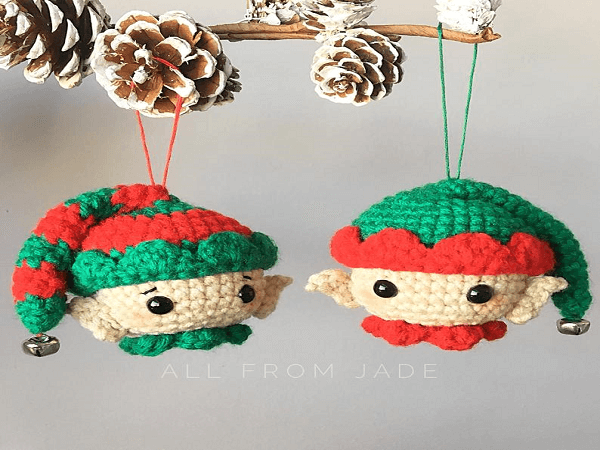 Get this Pattern by All From Jade here
10. Crochet Elf Amigurumi Pattern by Amigurumi Today
These elves are perfect to add colors to your decorations and Christmas trees. This pattern contains photos that explain all the difficult details. Make it your own by doing this crochet in any color that you like.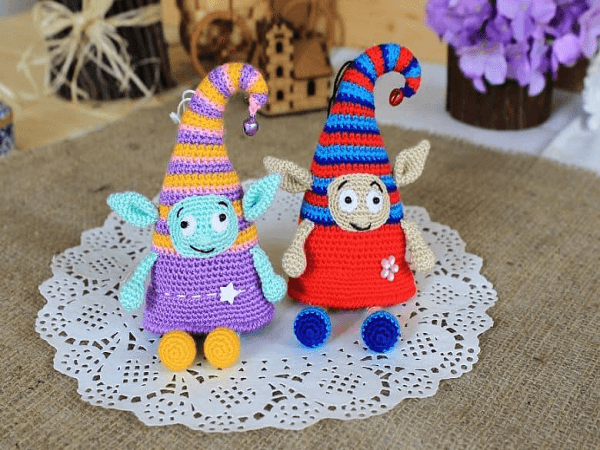 Get this Amigurumi Today's Pattern here
11. Crochet Christmas Elf Pattern by JB Crochet Wizard
This pattern includes enough photos and step by step instructions to make this adorable elf crochet. You will want to make many of this for the holidays for home decor and as gifts!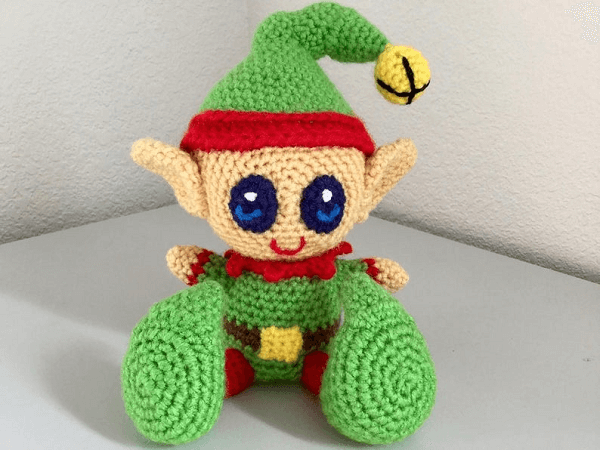 12. Christmas Crochet Elves Pattern by Amigurumi BB
Detailed written instructions with pictures make it easy to follow and put together. Make them as colorful as possible. These are happy elves and love to be dressed in crazy and bright holiday colors.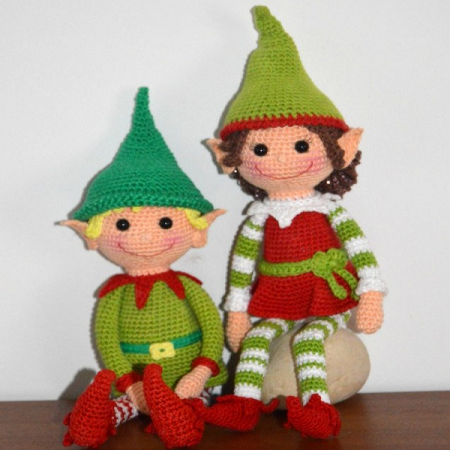 Get this Amigurumi BB's Pattern here
13. Christmas Elf Quartet Crochet Pattern by Moji Moji Design
This pattern includes instructions for all four elves. There are two girls in dresses and two boys in pantsuits. These elves will make a delightful addition to your festive decorations and would be ideal to give as gifts.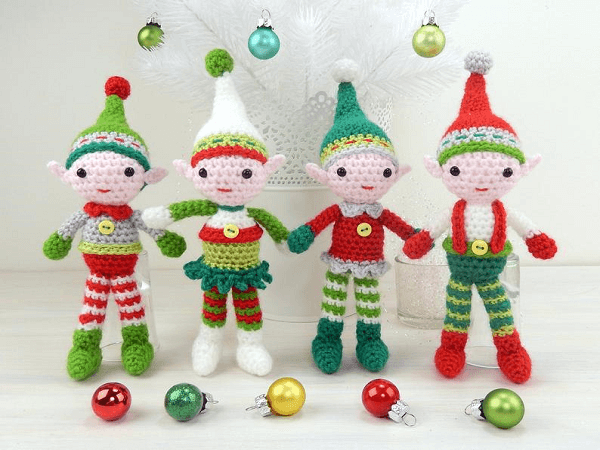 Get this Pattern by Moji Moji Design here
14. Christmas Boy Amigurumi Elf Crochet Pattern by Crochet Cute Dolls
The pattern is written in English, using US crochet terminology for right-handed crocheters. It contains detailed instructions with many step-by-step photos and useful tips.
This elf boy will bring joy into your home this Christmas season.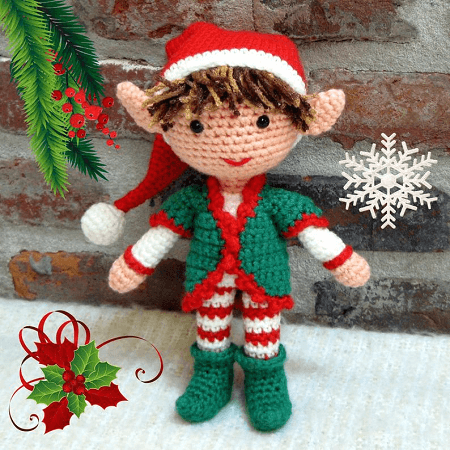 15. Extra Small Crochet Elf Pattern by Yarn Universe
You will need to know how to make a magic ring, how to single crochet, how to make invisible decreases and how to change colors to make this cute little elf. This is a fun little project to put you in a festive mood.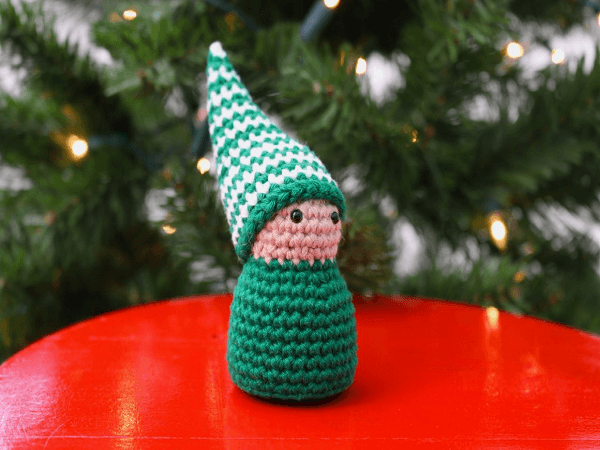 Get this Yarn Universe's Pattern here
16. Crochet Waldorf Amigurumi Elf Pattern by Pink Mouse Boutique
You need to have experience with Amigurumi in order to finish this sweet little elf. The instructions are well written and this pattern has lots of great instructional photos to help you along the way.
These Waldorf Elf's are great decorations to hang from your Christmas trees.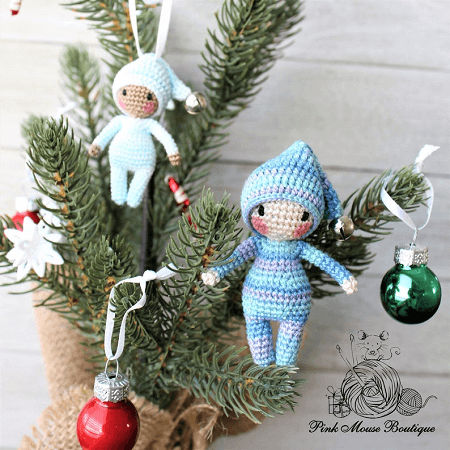 17. Elf In A Present Sleeping Bag Crochet Pattern by Lau Loves Crochet
This pattern includes instructions to make both the Elf and his present sleeping bag. You can remove the elf in his sleeping bag, too.
This pattern is 13 pages long and contains loads of photos to help you every step of the way.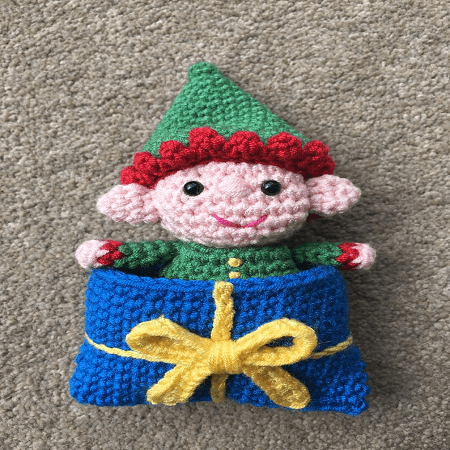 18. Crochet Elf Applique Pattern by Golden Lucy Crafts
This cute crochet Elf applique/ornament will be a wonderful DIY decoration for your Christmas Tree. You can also use it as an embellishment of various items for Christmas.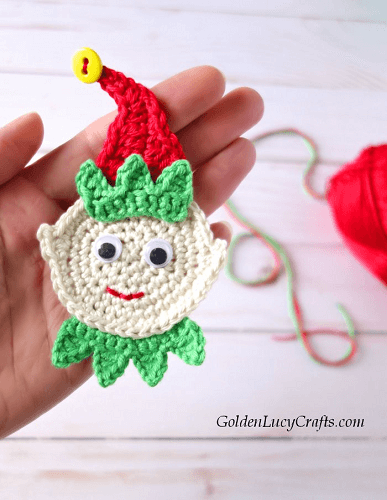 Get the Pattern here
19. Christmas Elf Crochet Pattern by Crochet Confetti Shop
This Crochet Christmas Elf is bound to get you in the holiday spirit! Let her guard all the presents under the tree as a cute homemade Christmas decoration.

You could even give it as an early Christmas present to your kids so they have something to play with before opening the rest of their gifts.

Make her in festive colors of red and green or choose the ones that match your decor!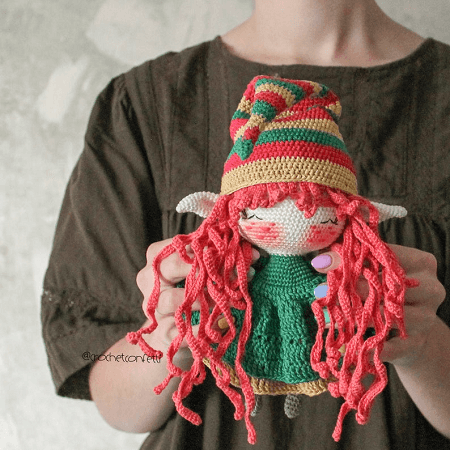 Get the Pattern by Crochet Confetti Shop here
20. Elf Belly Pot Holder Crochet Pattern by Blackstone Designs
Get your kitchen holiday-ready with this adorable Elf Belly Pot Holder! It even has a front pocket for adding cookie mix, spatulas, whisks, or other fun giftable.
This is super easy to make and only takes a short amount of time to finish! For more pot holder patterns, check out these 27 Crochet Potholder Patterns.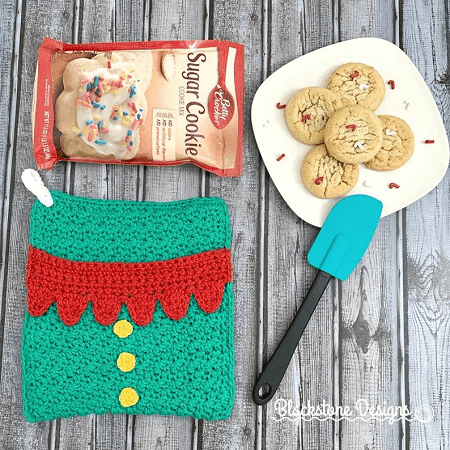 Get the Pattern by Blackstone Designs here
21. Ollie Crochet Elf Pattern by The Blue Elephants
Ollie Crochet Elf Pattern is a really easy crochet elf pattern, but there are a lot of parts involved. His overalls, boots, and hat are all removable, and although each piece is simple enough to make, keep in mind that it takes a little longer to work such small items.
It's totally worth it, though! Just look at how cute his outfit is!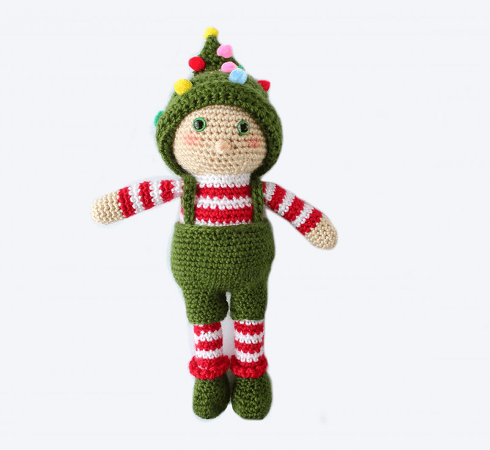 Get the Pattern here
22. Amigurumi Christmas Elf Crochet Pattern by Supergurumi
Are you looking for creating something very special for Christmas time? The little Amigurumi Christmas Elf will not disappoint you.

This elf is crocheted with chain stitches, slip stitches, single crochet stitches, and half double crochet stitches and is easy to crochet.

It could make the perfect Christmas decoration, a lovely Christmas ornament, or a really cute stocking filler.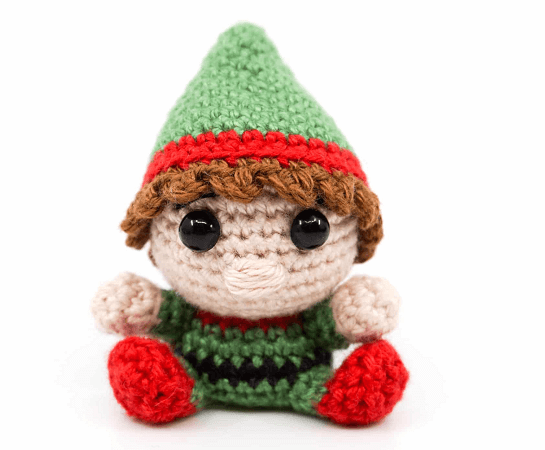 Get the Pattern here
23. Crochet Elf Apron Pattern by Repeat Crafter Me
You and your little helper will whip up cookies for Santa in no time with this Crochet Elf Apron Pattern. This darling apron will be a seasonal favorite!

The pattern is made to fit children but it would be easy to add more rows to make it taller or add more chains to your starting chain to make it wider.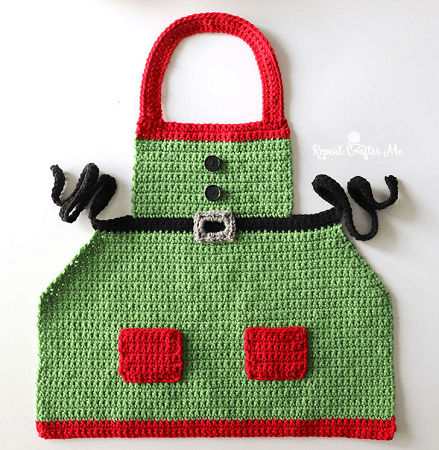 Get the Pattern here
24. Lily, The Christmas Elf Doll Amigurumi Pattern by Yarnspirations
Lily the Christmas Elf Doll has been working hard preparing special presents for good boys and girls. Make her come to life with a jolly personality in shades that please.
Make her authentic, or play around with tones to complete her using colors your child enjoys best.It's this holiday's hottest hit, so you may want to make a few!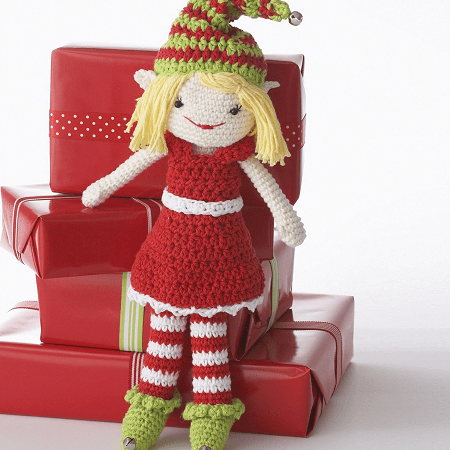 Get the Pattern here
25. Crochet Elf Slippers Pattern by Hookedo Patterns
These Crochet Elf Slippers will keep your toes warm in those colder Christmas months. Celebrate the holidays with a little elfin cheer!
This whimsical pair can be made in any size from petite women's sizes to the largest daddy elf sizes. Choose festive colors and add bells or pom poms!
Get the Pattern by Hookedo Patterns here
Pick Your Fave Crochet Elf Patterns and Hook into them
Pick one or two from this list and start making it as gifts or cute decorations for your home.
Be sure to check out our Christmas stocking patterns, Christmas tree patterns, and our many, many more Christmas Crochet Patterns for more ideas on how to spice up the festivity.
Here are our Favourite Crochet Christmas Pattern Lists
I hope you have enjoyed scrolling through these lovely Crochet Elf Patterns as much as I have.